1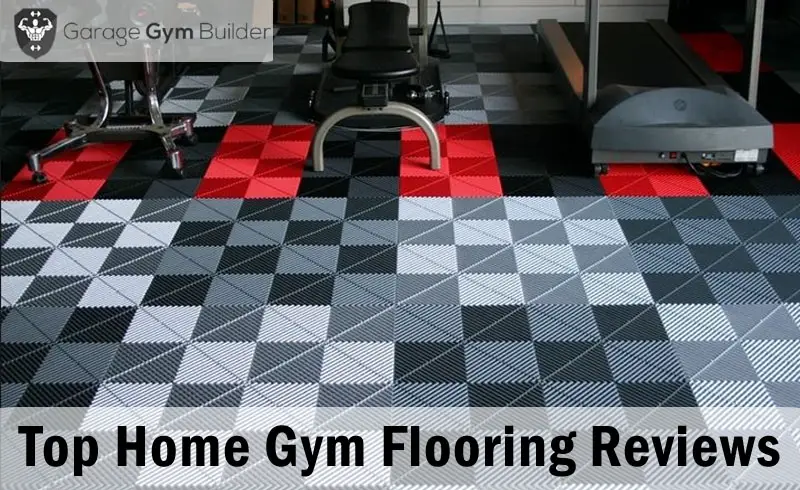 Best Home Gym Flooring Reviews 2018
What type of flooring should a garage gym have?
Garage gym flooring is one of the most important aspects of building and maintaining a health, stable home gym. Many pieces of equipment will completely destroy your floor if you don't have proper floor mats installed.
On top of potential damage, good flooring will also keep things quiet while you do exercises like deadlfts and other olympic lifts.
When I built my garage gym I researched and purchased the available products out there for about two weeks before settling on the Rubber Cal Elephant Bark Floor Mat for myself. All the options listed below are great options, and come in a variety of sizes. See which one works for you. I've listed the details below:
Best Value (Our favorite)
Rubber Cal Elephant Bark Floor Mat
Rating: 4.9
Price:​ $$
Many different sizes available. Made from recycled materials. 3/16" thick. The basic package comes with a 4' x 4' tile (16 sq feet). However, you can order sizes up to 4' x 25' feet.
XMark Fitness Ultra Thick Gym Flooring
Rating: 4.7
Price:​ $$$
Rubber flooring. Ideal for Concrete/high impact exercises. Each order comes with one 4' x 6' tile for a total of 24 sq feet. Options available for 1/2" and 3/8" thickness
Interlocking foam. 3/8" thick. Each order Comes with twelve 2' x 2' tiles for a total of 48 sq feet.
Rating: 4.3
Price:​ $
Interlocking foam. 1/2" thick. Each order Comes with six 2' x 2' tiles for a total of 24 sq feet.
Rating: 4.3
Price:​ $
You just decided to convert your own garage into a garage gym because you have enough space for it, but before you could buy the necessary equipment to fill the space, you have to think about filling the interior with the right design. Aside from the gym mirrors, you also have to think about the type of flooring you want your gym to have. You should think about your gym as a gym, not as part of the house. The flooring that all gyms have been different from the type of flooring that households has. Picking the wrong type of flooring will only damage the material and the floor beneath it. To avoid this, you must do your research first and find out which of the type of flooring suits your budget or the one your gym really needs.
Different Types of Flooring for your Garage Gym
Some households do not make a complete redo of their garage just to fit the right type of flooring to it. All they did was to install a material that is comfortable to walk on and something that is perfect for every equipment it stops on. They range from rubber to concrete. The most popular options are as follows:
Rubber Horse Stall Mats – Some people may be surprised by this choice, but the horse stall mats are one of the most popular choices in garage gyms. These dense and heavy rubber mats are designed for horse stalls in order to ease up the knee joints of the horse, are perfectly suited for exercise rooms and gyms, home or garage. They come in large sheets about four feet by six feet, with the weight that you need a partner to carry them back to your garage gym of about 100 pounds. A number of customers and garage gym owners have reported that the horse stall mats do not interlock, but they are not a problem due to its sheer weight, and other owners have stated that these stall mats have its own prominent edges. The cost of this material is one great advantage, estimated to run from $1.60 per sq.ft.
Rogue Fitness - This comes with a price, and if you are the type never to mind how much you are going to spend in your garage gym, this is another option you should take a look at. The Rogue Fitness Facility has the flooring or mats that will definitely last forever. Many have given 4 out of 5 stars because of their durability, indestructibility and quality. But, if you are going to buy their materials online, you will have to pay for the shipping. Some options may differ from one another, and it can be confusing on how much it will really total everything. Just be careful that you do not end up with a very expensive shopping. Rogue Fitness is common in commercial gym floorings, because it is where people constantly come and go, thus the need for high quality.
Home Gym Flooring Reviews
The following materials are used for home gyms, but they also come with a price if you choose the options below.
Cork Flooring – this type of flooring has never run out of style since a few years back because of its eco-friendly material, made up of 100% biodegradable and renewable material. Since cork material is very soft, it leaves you the question of whether or not they are fitted for garage gym floorings. Cork absorbs impact, but the downside is when you move the equipment to another location, it will tear up the material when dragged over it.
Interlocking Foam Tiles – although not the kind of garage gym friendly material you are looking for, the EVA foam is easy to acquire and comes at a very light weight, not to mention it is available in a variety of pretty colors. They are fairly cheap, but the downside of this material is that it dents easily and they do not decompress very well. When weights are dropped, it has the tendency to bounce back, forming a hazard. Its surface is unstable and mushy, especially at times when a person is holding heavy weight equipments.Want to know more about other gym equipment? Click here for an in depth guide (with pictures and videos).