Mini Stair Stepper Reviews: The 2019's Top 10
last updated
Sep 29, 2019
Walk into any gym and you will see massive stair stepper machines. In your home, a mini stair stepper can be just as effective but simpler to use. This simplicity helps make the mini stepper a popular standard for home fitness enthusiasts. In this article, we uncover the top 10 mini steppers available for home use. Our favorite was was Sunny Health & Fitness Twister. This one adds a twist function to engage your core while you step. A close second was the Duro Med Mini Stepper. And we also liked the Xiser commercial portable stepper. This stepper is cost-effective and gives good results. They are also easy to set up and tear down. They will take up little space in your home gym. For these reasons, we can recommend these as a helpful addition to your home gym.
In a Hurry? The test winner after 22 hours of research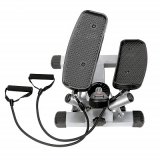 Sunny Health & Fitness Twister Stepper
Why is it better?
Adjustable resistance
Heavy duty steel construction
LCD computer
Skid-resistant foot pads
In a
Hurry? Editors choice: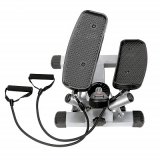 Test Winner: Sunny Health & Fitness Twister Stepper

42
Researched Sources
7k
Reviews Considered
16
Hours Researching
14
Products Evaluated
Durability
Ease of Use
Adjustability
Weight
Value
By Default
10 Best Mini Steppers Reviewed
1

. Sunny Health & Fitness Twister Stepper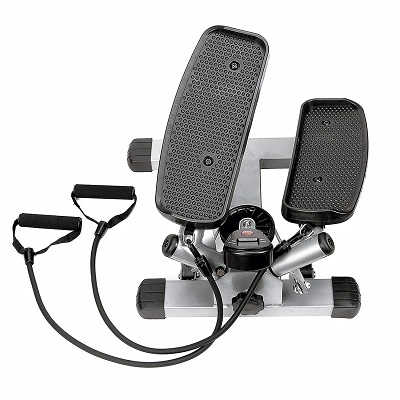 Adjustable resistance
Heavy duty steel construction
LCD computer
Skid-resistant foot pads
Stride length not high enough for some users
The Sunny Health & Fitness Twister Stepper will help you burn more calories with built in resistance bands that simulate the action of dumbbells.
This lets you work both your upper and lower body, at once.
Read more
The stepping mechanism of this mini stair stepper is provided by way of individual hydraulic arms that provide a smooth, quiet operation. The additional twisting motion enhances your workout by letting you target the sides of your waist. Although the range of motion is limited and is no replacement for walking or running outside, you can still get an effective calorie burning workout.
In addition to the resistance bands, the Sunny Twist Stepper features a digital monitor and a height adjustment. The monitor gives you distance and time, as well as cumulative progress from all your workouts. Heart rate would be nice, but we found that the low cost and simplicity of a mini stepper means very few of them to have heart rate capability.
Changing the height will also change resistance. If you'd rather not deal with the bands at all, they are easy to remove. The inner frame is made of steel, and the footpads are oversized for fall protection. Height adjustment is via a twist knob. The max user weight is 250 pounds. The Sunny Twist Stepper weighs just twenty pounds.
2

. Xiser Commercial Portable Stepper



Aluminum alloy construction
Range of resistance levels
Suitable for advanced training
Very stable and durable
No provision for upper body training
The Xiser Commercial Portable Stepper is a well-constructed stepper machine that can satisfy users of all fitness levels and interest. Thanks to a sprint interval feature, serious athletes can even use the Xiser in between longer training workouts.
Read more
Not many of the steppers we looked at offer interval and HIIT capability. The Xiser stands out for this reason. It is durable and feels solid when you step on to it. The silver colored aluminum alloy finish is attractive and appealing. Every part of the stepper is cast molded, with no welding joints and no potential weak spots.
The stepper has a resistance knob that lets you choose effortlessly from a stripped down resistance menu. The three training levels offered by the Xiser are Walk, High Speed, and Run. Although this mini stair stepper caters to more experienced exercisers, the Xiser is welcoming of beginners as well. Seasoned athletes can get a challenge that other steppers may not give them, and novices can ease their way into more intense aerobic workouts.
This super compact unit weighs just 14 pounds, even with the onboard hydraulic system. It can withstand user weights of up to 400 pounds.
3

. Stamina In-Motion Elliptical Trainer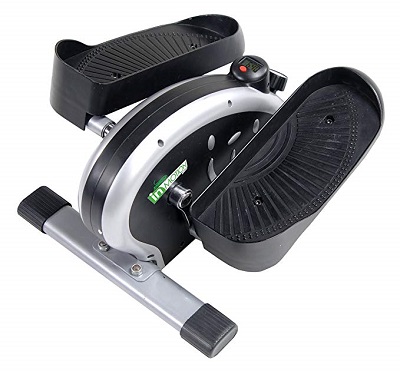 Provides an elliptical foot pedal motion
Electronic monitor
Optional resistance Bands
Bi-directional movement
Doesn't give a complete elliptical stride
The Stamina In-Motion Elliptical Trainer provides a great low-impact cardio and strength workout that is simple, safe, and effective.
Read more
It gives you an elliptical stepping motion to extend your results beyond what you get from stepping straight up and down. The In-Motion comes with resistance bands to allow you to work your upper body while you step with your legs.
The Stamina In-Motion Elliptical has an electronic monitor that tracks the number of strides, distance, exercise time and calories burned. A tension control lets you chose your workout intensity. The foot pedals are bi-directional, allowing you to work your muscles from different angles. This makes it a cross between a small stepper and a mini elliptical machine.
The Stamina In-Motion Elliptical Trainer offers a compact, low impact workout for the whole body. The resistance bands and elliptical motion allow for a fuller muscle engagement than other mini-steppers. The range of motion may not be as true as what you'd experience in a commercial gym setting, but you can still get an effective workout on this unit.
4

. Stamina In-Stride Pro Electronic Stepper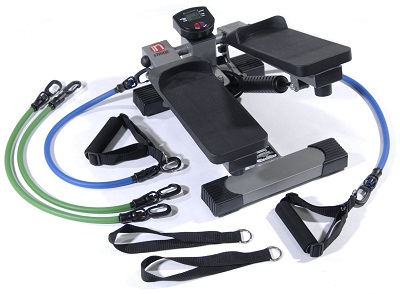 Electronic monitor display
Lightweight and compact
Sturdy steel construction
Skid-resistant rubber floor protectors
This is a remarkably lightweight and compact machine with enough options to keep you interested and fuel your workouts.
Read more
Weighing in at 20 pounds, the unit has a footprint of just 12 x 16 inches. Two hydraulic cylinders provide resistance. The stepper comes with two optional resistance tubes to help you exercise your upper body while you step. There is also a battery operated fitness monitor onboard, which gives you total steps, steps per minute, time spent exercising, and calorie burn.
Two rubber resistance tubes connect to it. This adds an upper body component to your leg and a cardio routine. There are four bands, two with light resistance and two with the medium. Hand straps aid with holding on to the bands while you move.
The Stamina InStride is made of strong steel and features textured footpads to aid with staying in place. The bottom feet are rubberized to prevent floor scratching. Overall, this is a solid stepper that will provide you with both upper and lower body calorie burn at a reasonable price.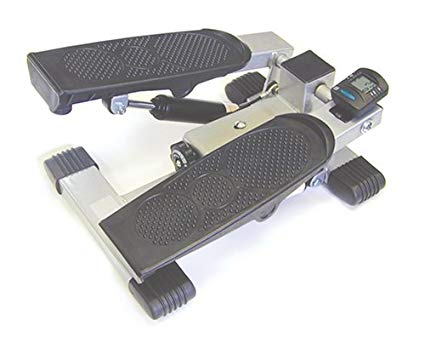 Heavy gauge steel construction
High-impact foot rests
Non-skid feet
Natural stepping motion
The Duro Med is a compact mini exercise machine made of heavy gauge steel, complete with high impact composite footrests and non-skid feet to prevent slipping.
Read more
A natural stepping motion comes courtesy of two hydraulic arms. Resistance is adjustable, so you can intensify your cardio workout at any time. A built-in computer gives you your number of steps, plus elapsed workout time. It's a basic feature but still can help you with daily step goals.
Pulley systems compliment the hydraulic resistance, making the step action smoother and encouraging a complete range of motion. Strong steel construction gives the unit a user weight capacity of 250 pounds. The Duro Med is remarkably lightweight and portable at just six pounds.
The computer takes two AA batteries, which are not included. Between the pedals, you can find the adjustable tension knob. The low impact nature of this machine suits it to rehabbing as well as daily cardio workouts.
6

. Harrison Mini Stair Stepper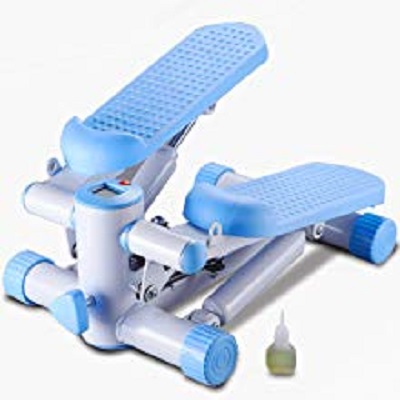 Lightweight and portable
Has an onboard computer
Massaging pedals
Reasonable price point
Requires regular lubrication
This compact, budget-friendly unit is easy on the eyes and features slip-resistant textured massaging footplates.
Read more
The simple LCD computer gives time as well as calorie burn and strides per minute. The unit is designed for convenience and portability, with a footprint so small as to be practically invisible. You can work out anywhere with the Harrison mini stepper--at home, in the office, or on the road in a hotel room. Operation is quiet enough that you will not wake or disturb anyone.
Resistance is through an adjustable knob. The construction is so simple that the unit requires no assembly, but it is sturdy enough to keep up with you as you pursue cardio fitness. Harrison even offers a thirty-day warranty.
The mini stair stepper weighs 14 pounds, with a user weight of up to 220 pounds. A single included AA battery powers the computer. Harrison's Amazon listing claims that "barefoot exercise.
7

. Iuhan Health Fitness Mini Stepper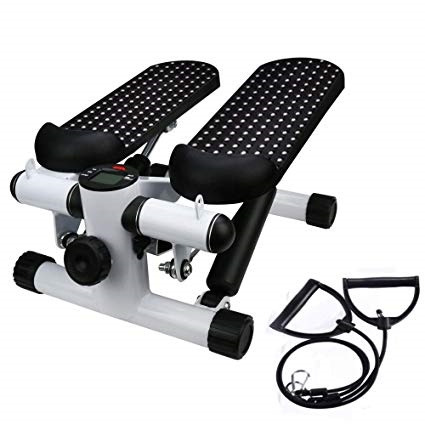 Extremely budget friendly
Comes with a 30-day warranty
Adjustable resistance
Iron construction
Some of Iuhan's Amazon descriptions are unclear
The hydraulically operated Iuhan mini stepper machine includes a resistance band for upper body toning, and is quiet enough to call itself "mute."
Read more
The high definition display gives an unusual number of data points for it. You can track the time you spend exercising, as well as your steps per minute and speed. The hydraulic resistance on this product as a part of the best portable stair steppers list is easy to adjust with a between the pedal's knob. The resistance bands allow you to get a full body workout if you decide to.
The pedals on the Luhan stepper are plastic, with an iron frame and steel hydraulic rods. It comes in black or white in color. Purchase includes a glass cover, to protect the unit and keep dust out when not in use. Reviewers are not consistent with how difficult the assembly is.
Luhan is not a well-known company, and this is part of the reason for this unit's low price. However, Amazon reviews are largely positive, and there is a warranty. We think you will be able to get a consistent and effective workout from the Luhan.
8

. Stamina Space Saving Folding Steppers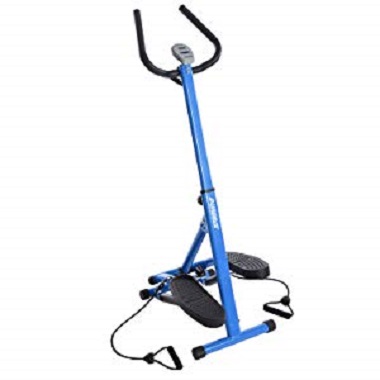 Portable and compact
Comfort handlebars
Easy to assemble and use
Good for taking the stress off joints
The Stamina Space Saving Folding Stepper, as the name suggests, is a full-featured mini stepper that you can fit in a tight space and fold up for convenient storage.
Read more
Hydraulic resistance is quiet, and resistance bands are included for upper body work. A convenient monitor gives calories, steps, and time, with the ability to scan through all the data by pushing a button.
The unit has a standing handlebar you can grab, which is nice for a portable unit. Handgrips on the bars provide comfort. The handlebar has an ergonomic design to help with body alignment and prevent soreness or fatigue. Textured footplates help your feet stay in place, and there are nonskid ends on the feet that will not damage your hard floors.
The mini stair stepper is easy on your joints and will let you do a variety of upper body resistance band exercises while you work on your cardio. Reviewers praised the machine's quiet operation, compact design, and suitability for senior exercisers or those with joint problems.
9

. Gold's Gym Mini Stepper with Monitor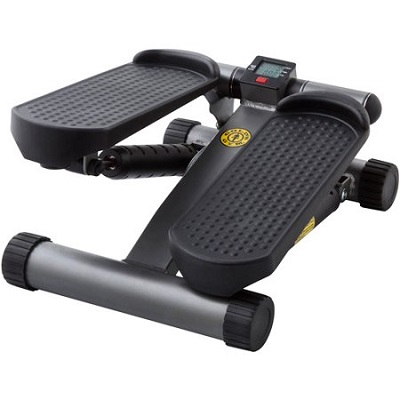 Lightweight and portable
Has a simple onboard monitor
Low profile can fit under the desk
Has some twisting capability
Comes with very few features
This low impact workout machine carries the reliable Golds name and features a user weight capacity of 250 pounds.
Read more
The machine comes in at a reasonable price point, especially for a Golds Gym branded product. There are no handlebars or resistance bands, so only lower body workouts are possible. You can still build up your cardio strength and endurance while sparing excess strain on your joints.
Although it isn't in the name, the Golds Gym stair stepper also provides an extra twisting motion. This helps you get more of a glutes workout in addition to working your thighs, hips, and calves as you get in your cardio workout.
The Golds Gym mini stair stepper has a user weight capacity of 250 pounds. Its dimensions are 15 inches long by 14 inches wide by 12.50 inches high. This one is designed for shuttling back and forth during travel, and you could easily hide one under your desk for quick exercise sessions at work.
10

. Wagan EL2273 Mini Stepper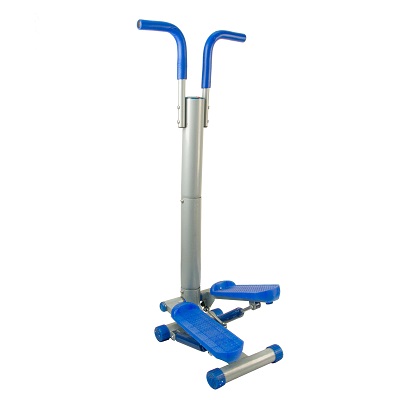 Lightweight, portable
Has a simple computer monitor
Comes with good owners manual
Only takes one battery
Bare bones with few features
The Wagan is a handlebar unit that features a digital display and will not take up a great deal of room.
Read more
It includes a digital display with steps, time, and calories burned. It has a footprint of just 1 X 1.5 feet, making it ideal for apartments and other small living spaces. It weighs 27 pounds, making it a bit heavier than some other compact units, but still not too much of a strain. A single AAA battery is included with purchase, to power the computer.
The Wagan ranks high in Amazon's step machines list. Wagan claims that just 15 minutes a day on their stepper will drastically improve your health. We agree that 15 minutes a day is a great starting point for a beginner. There are no resistance bands, but you can get an upper body workout by pulling on the handlebars. Assembly is easy, and the mini stair stepper is made from tubular steel for durability and stability.
The Wagan Mini Stepper has a user weight capacity of 225 pounds. It has gas assisted shocks, so need to lubricate or worry about hydraulic oil. The LCD display is extra large to make it easy to read during your exercise session.
Criteria Used for Evaluation


Durability
If the machine stays in shape, it will help you do the same.
Mini steppers, like other forms of portable exercise equipment, are plagued by bad craftsmanship.
You can almost certainly find a stepper at a price lower than any of the ones we have reviewed. But it still holds true that you get what you pay for. The mini stair stepper that comes apart quickly does not provide a consistent step motion, and comes with no warranty can end up costing you more money when you have to replace it.
For our reviews, we paid attention to the construction materials and engineering specs. We looked at unit weight and weight capacity. We read reviews and spent time with the owner's manuals. We want to make sure that all the products we share are reliable and will not break down and leave you in a jam. After all, in your home gym, you should be focused on meeting your fitness goals, not repairing or replacing inferior equipment.


Ease of Use
Easy use does not mean easy workouts.
There are not many pieces of fitness equipment easier to use than a mini stepper. Ideally, after assembly, you just put it into position, turn on the monitor if there is one, and walk. It does the work of providing resistance.
But still, there are design differences that can make a unit difficult to put into action, and this can make you less likely to use it. Nobody wants to be inconvenienced in their home gym.
Tension adjustment knobs should be located between the pedals. This is the standard placement. You can access it by bending down. If you are quick enough, you may be able to do this mid-stride. But some lower end stepper options have a tension knob mounted on the rear of the base. We don't think this is a deal breaker if the stepper has ample features, but it is still a bit more difficult to deal with.
As long as we are talking about ease of use, we can mention handlebar steppers. The handlebars of the stepper can help with balance, and often the monitor display and tensioner will be between the handlebars. This way you can adjust the tension and read your data without having to change position.


Adjustability
Everyone is different, and the best designed machines take this into account.
There is not much that can be adjusted on the mini stair stepper. The main thing is the resistance. We looked at how many levels of resistance each machine had, and how effective they were at toning your legs. People are at different fitness levels and have varying degrees of experience. So it is good to be able to dial in the resistance that will give you the properly challenging workout and get your heart rate to where it should be. Units with LCD displays make this even easier because you can experiment with different tension settings and watch how your calories burned changes in real time, thanks to it. It would be great to have mini stair stepper with heart rate monitors, but their design does not seem to allow for this.


Weight
Gym quality stair steppers are designed to stay in one place. Ours, in this review, are not.
How hard can it be to pick up a stepper and move it around? Honestly, it should not be difficult or present much of a strain. We examined the weights of each stepper unit to help you make an informed decision. You may have a need to transport your stepper each day. Or you may have to travel a lot because of your job. In those cases, you need to know how heavy a unit is when you make a purchase decision.
Also, a unit that weighs too little may feel flimsy or insufficient for someone with a large frame. You can trust the manufacturer's weight capacity ratings, but feel is important. If you are heavyset and like to feel something solid and immovable beneath you, a unit with handlebars or steel pedals may be the way to go.


Value
The real value of a mini stepper shows itself over time.
It goes without saying that most consumers are willing to pay a bit more for a product with the features they want, or for one backed by a company with a solid history behind it.
But how much is "a bit more," and when does the extra cash become too much? It's easy to be overwhelmed with the sheer amount of choices and volume of features you can opt-in for. We think it is best to make a list. You can do this before you even look at a single review after you have decided to invest in a stepper.
The list can include
Your budget;
How often you will use the machine;
What kind of construction you prefer;
Your desired level of comfort;
How often you will have to move the unit;
And other data points as needed. Although mini steppers are a fairly simple tool, shopping for the mini stair stepper should be a conscientious decision, with careful planning and consideration. Being stuck with an inferior unit, or having more features than you can use, is never a good value.
Expert Interviews & Opinions
Most Important Criteria
(According to our experts opinion)
Experts Opinion
Editors Opinion
Users Opinion
By Default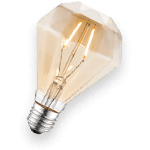 How Effective are Mini Steppers?
Yes, though not as effective as a full sized gym stepper, exercise bike, or elliptical. A mini stepper brings about the same cardio and strength benefits as brisk outdoor walking, when used properly and consistently.
The basic goal of all cardio exercise is to get your heart rate up to cardio fitness level, which varies by person and resting heart rate. Mini steppers can do this. They are a good option for people who don't have much time to work out, or who just prefer to be indoors instead of outdoors. If you live in an area that gets excessively cold during the winter, the mini stepper may be what keeps you moving for a while.
Mini steppers, like elliptical trainers, are also a good option for people with joint problems.
At the end of the day, anything that gets your heart rate up and inspires you to move is going to be an effective exercise. You should not expect to do marathon training on a mini stepper, but it can increase your overall health and energy level. That is a pretty great payoff for something that is usually a small time and cash investment.
Thinking About Aerobic Steps
There is an alternative to the mini stepper that is cheaper, more portable, and more versatile. It can be used indoors and stowed away easily, like a stair stepper. That alternative is called the aerobic step.
You have seen steps if you have ever been to the gym. They are rectangular plastic structures. They usually have removable feet, which you can use to raise the step and get a more intense workout.
At its most simple, the step is just a surface that you step onto and then down from, repeatedly, to increase your heart rate. This builds your cardiovascular strength and endurance, while also giving your leg muscles a workout.
Unlike with a mini stepper, there are almost endless variations of exercises you can perform with a fixed aerobic step. You can go from side to side or front to back on one. You can do kicks or incorporate light dumbbells. You can step up and then do lunges or squats on a step, getting more than one exercise in one repetition. You can even safely do plyometric box jumps with a step.
The main reason to stay away from an aerobic step is joint pain. The step is medium to high impact, not as low impact as a mini stepper. If you doctor clears you for it, and you can learn how to keep the impact lower when needed, an aerobic step could be a great option for you.
Other Factors to Consider


Accessories
There are only a handful of accessories that come with a mini stepper. The main ones are attachable resistance bands. These get your arms and upper body into the act, earning you more results from your workout. We looked at the bands carefully, considering their thickness and even the type of hand grips they had. Resistance bands should be comfortable and easy to use and should pop off of your mini stepper if you do not want to use them. Sometimes, resistance bands can be used independently of the machine. We consider that an added benefit.


Application
To be considered for this review, each mini stepper machine had to have just one application: step exercise. There are plenty of steppers that combine an elliptical trainer action with the basic step. Sometimes total gym type units will have step capability built in. Then there are pedal machines, which can often go under a desk, which are related to a mini stepper.
We did not want to consider any of those additions for our mini stepper review. We kept our chosen products simple and within a realistic price range. Extra applications and capabilities can drive up the price of what we think should be an economical tool you can use in your home gym.
Frequently Asked Questions
q:

How does a mini stepper work?

a:

The operation of a mini stair stepper is simple, which is part of its appeal. Fewer moving parts means less that can go wrong.

The pedals on a mini stair stepper go up and down, mimicking the natural motion of walking. They do not go in an orbital motion like a bicycle or elliptical. Hydraulic oil provides the resistance, flowing through the two cylinders or pistons you see attached to the pedals. This resistance is what pushes your heart rate up and makes your leg muscles work harder to keep you moving.

Mini stair steppers may not all look the same, but they will all work using some variation of this basic design. The frame of the mini stair stepper has to be big enough to allow for free movement of your feet, but still small enough to be compact. Mini steppers are typically purchased as a space saving solution.
q:

Why are some harder to assemble?

a:

This usually has to do with the sensors for the computer monitor. If you have to connect wires, this will add to assembly time and to the complexity of assembly. Even with the wires, a mini stair stepper is typically faster to assemble than a larger piece of equipment. There are not that many parts, but they do have to be placed, aligned, and tightened properly to ensure good performance.
q:

Is this all I need to do for my legs?

a:

No. In fact, compared to almost any weight-bearing exercise, the mini stepper will be inferior in leg muscle development. We recommend viewing the stepper as a way to keep your heart healthy, which will help you burn more calories and may slow some illnesses. For leg strength, especially if you are involved in sport, we suggest squats, leg presses, calf raises, leg extensions and another exercise that let you move the weight with your leg muscles. This includes lunges and other bodyweight exercises.
q:

Shouldn't all steppers have handlebars for stability?

a:

No, although you may opt for secure handlebars if you know you have balance or motion control issues. Today's portable stair steppers have a wide footbed, full range of motion, raised edges, and usually a textured surface, all to keep you firmly in place even while doing intense exercise.
q:

Will my stepper need maintenance?

a:

Any piece of exercise equipment will require some maintenance. Usually, all a mini stepper needs is an occasional wipe down with a clean rag. You can use a mild spray on your mini stair stepper. If it has been sitting for a while, you may want to use a broom with gentle bristles to knock dust and dirt away.

You may want to cover your mini stair stepper with a towel or sheet, or even a small tarp when it is not in use. This will prevent dust from settling. Keeping the mini stair stepper under a bed will also help protect it from dust.