2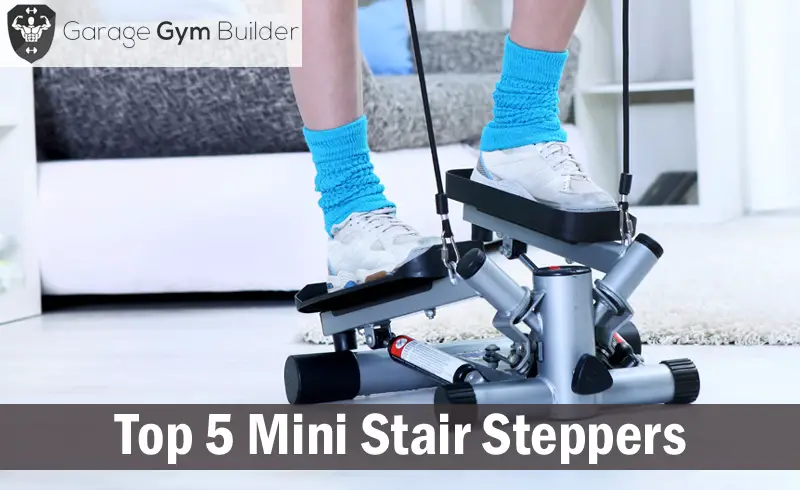 2017's Top 5 Mini Stair Steppers
Walk into any commercial gym and you'll see big expensive stair stepper machines. When it comes to home exercise equipment, however, stair steppers are not nearly as imposing.
In fact, it is the mini stepper that is by far the most popular type of home stepper. In this article, we will uncover the top 5 mini steppers in today's marketplace.
Our favorite mini stepper was the Sunny Health & Fitness Twister. This unique machine adds in a twist function to engage your mid-section while you're stepping. A close second was the Duro Med Mini Stepper. We also gave a lot of props to the Xiser commercial portable stepper, the Stamina In-Motion Elliptical Trainer and the Stamina In-Stride Pro Electronic Trainer.
Why are mini steppers so popular?
Mini steppers provide you with a very cost effective form of exercise. The mini stair stepper is a pared down version of the stepper you'll find in the gym. Yet, it essentially does the same thing. This makes it very affordable.
Mini stair of mini stair steppers are extremely versatile. They take up hardly any space and can be used anywhere, at any time. You can even get your workout in in front of the TV.​
Another key benefit is the lack of set-up time. Research shows that if it takes more than a few minutes to set up for a workout, many people won't bother. With the mini stepper, however, there is no set up; you simply pull it out and you're ready to go.​
5 Best Mini Stair Steppers
The Sunny Health & Fitness Twister Stepper will help you burn more calories due to the addition of resistance bands. These bands simulate the action of dumbbells, allowing you to work both your upper and lower body, at the the same time.
The actual stepping mechanism is provided by way of individual hydraulic arms and provides a smooth, quiet operation. The additional twisting motion of the stepper provides another element to the workout, allowing you to target the sides of your waist.
PROS
Adjustable resistance

Heavy duty steel construction

LCD computer

Skid resistant foot pads

Band resistance

Twist function
CONS
Stride length not high enough

Hydraulic arms get hot after prolonged use
Summary
The Sunny Health & Fitness Twister Stepper has some innovative features that allow you to get in a more intense workout, such as resistance bands and twist function. It is well made and provides for a fluid quiet stepping motion. The stepping range of motion is somewhat limited, but you'll still get and effective workout with this mini stepper.
The Xiser Commercial Portable Stepper is a top of the line stepper for the serious exerciser. It works great for a normal step workout, but was designed for sprint interval training. This makes it unique in the world of mini steppers. The Xiser provides enough resistance to allow you to perform high intensity interval training workouts.
The Xiser is a very solid, durable unit. It comes in a silver colored aluminum alloy, which looks very good. In addition every part of the stepper has been cast molded. This means that there are no welding spots, and therefore no weak points, on the structure of the stepper.
The resistance knob provides for an easy, smooth transition between the training levels. This stepper provides three resistance levels:
The Xiser is a well made mini stepper that caters to the general fitness enthusiast as well as the more serious trainer.
PROS
Aluminum alloy construction
Range of resistance levels
Suitable for advanced training
Very stable and durable
Allows for HIIT training

CONS
Expensive

No provision for upper body training
Summary
The Xiser Mini Stepper is a high spec stepper designed for all fitness types. Unlike most models it will provide a challenging workout for the more advanced athlete. The machine is more expensive than most other home mini steppers, but offers benefits beyond what you would normally find.​
The Stamina In-Motion Elliptical Trainer provides a great low-impact cardio and strength workout. You'll get a simple, safe and effective workout on this machine. It gives you an elliptical stepping motion to extend your results beyond what you get from stepping straight up and down. It comes with resistance bands to allow you to work the upper body as well as the lower body.
The Stamina trainer has an electronic monitor that tracks the number of strides, distance, exercise time and calories burned. A tension control lets you chose your workout intensity. The foot pedals are bi-directional, allowing you to work your muscles from differing angles. This makes it a cross between a mini stepper and a mini elliptical machine.
PROS
Provides an elliptical foot pedal motion
Electronic monitor
Resistance Bands
Bi-directional movement
CONS
Stride length is a little short
Doesn't give a true elliptical stride

Summary
The Stamina In-Motion Elliptical Trainer offers a compact, low impact workout for the whole body. The resistance bands and elliptical motion allow for a fuller muscle engagement than other mini steppers. The range of motion may not be as true as what you'd experience in a commercial gym setting, but you can still get an effective workout on this unit.
The Stamina In-Stride Pro Electronic Stepper is a very compact, lightweight exercise machine. It weighs just 20 pounds and has a foot-print of just 12 x 16 inches. Resistance is provided by two smooth hydraulic cylinders.
Two rubber resistance tubes connect to the stepper. This adds an upper body component to your leg and cardio routine. It also comes with a battery operated multi-functional fitness monitor.
PROS
Electronic monitor display
Lightweight and compact
Sturdy steel construction
Skid resistant rubber floor protectors
Wide, textured foot pedals
CONS
No adjustable resistance
The unit may squeak while in use
Summary
The Stamina In-Stride Pro Electronic Stepper provides a reliable stepping and upper body band workout on a solid, compact machine. It is a stylish, well-made unit that will deliver an effective workout at a good price.
The Duro Med mini stepper is a compact mini exercise machine made of heavy gauge steel. It has high-impact composite foot rests and non-skid feet to prevent slipping.
Two hydraulic arms provide a smooth, natural stepping motion. Adjustable resistance allows you to increase the tension as you progressively get fitter.
It also comes with a built-in digital computer to record the elapsed time and number of steps taken.
PROS
Heavy gauge steel construction
High-impact foot rests
Non-skid feet
Natural stepping motion
Adjustable resistance
Summary
The Duro Med mini stepper provides a smooth, natural stepping motion. The unit is very durable and sits on the floor rigidly. The foot pads and provide a non-skid floor contact, meaning you can exercise without fear of lateral movement. You won't get an upper body workout with this one, but your legs and cardio system will be well worked.
Mini Stepper Buyer's Guide
When shopping for a mini-stepper there are a number of things that you should look out for. The following are the key points to be aware of:
Safety is paramount:

There are a number of mini steppers out there that do not have the strength or rigidity to keep you safe when you are exercising on them. Some models do not adhere to their surface. The result is that you tend to slip around as you are stepping up and down. This is very damaging to your ankles. If you are unable to test out the stepper in person, you need to check online reviews from users, specifically looking for information about the strength and rigidity of the mini stepper.

The durability of the mini stepper

is another prime factor. Many steppers are not designed for longevity. A key indicator of the durability of a mini stepper is the length of the warranty. If the manufacturer is not willing to stand behind their product, why should you invest in it?The durability of the mini stepper is another prime factor. Many steppers are not designed for longevity. A key indicator of the durability of a mini stepper is the length of the warranty. If the manufacturer is not willing to stand behind their product, why should you invest in it?

Does the mini-stepper provide a range of resistance levels?

After a month or so, you will find yourself getting fitter and stronger. In order to keep making progress, you need to progressively increase the intensity of the workout. If the stepper doesn't have an increasing tension knob, you won't be able to.

What is the maximum weight limit of the mini-stepper?

If you are too heavy for the machine, it will not last very long.

Does the mini stepper machine come with extra options to extend your workout?

Some machines have resistance bands that can be attached to allow you to work your upper body as well as your lower body.
Can You
Really

Get a Good Workout on a Mini Stepper?

Clearly, a mini-stepper will not give you the same level of workout as a full blown commercial stepper would. But you can definitely get an effective workout on a mini stepper machine. The basis of any type of cardio training equipment is to get the legs pumping. When that happens, then the heart starts pumping as well. A pumping heart will lead to cardiovascular benefits, and pumping legs will lead to muscular benefits.

Even though the movement pattern of the mini stepper is very simple, it is also effective at doing the two basics - moving your legs and pumping your heart. The mini stepper will benefit from these two functions by doing two things for you. It will get you aerobically fitter and it will burn calories to help you to lose body fat. In the process of losing body fat, you will be able to tone, trim and tighten the muscles of your thighs, glutes, hamstrings and calves.

The mini stepper is designed for light use by beginners to exercise or people who are after an easy, regular calorie burning workout. It will have limited resistance so will not be suitable for those who are after a more intense type of workout.​
Conclusion
Mini stepper machines are often looked upon as a gimmicky exercise 'toys' that can't give you a real workout. But, as we've discovered, mini steppers have a definite place in the home fitness arsenal of people who are after a regular, no hassle fat burning exerciser. Still, there are a lot of shoddy manufacturers of mini steppers in the market place. Use our Top 5 five mini steppers reviews to guide you to the best of the best. If mini steppers still aren't your thing, check out our complete guide on stair stepping equipment and machines plus another in depth article about stair climbers. We cover all the bases in those articles.