Best Gym Gloves for Weight Lifting in 2021
last updated:
Jan 07, 2021
The quality of your grip can make or break your workout or weight training session. Unless you've got a secure, slip-free hold on the bar, you are likely to stop your set short of target muscle failure. The last thing you want is to smash up your hands every time you rep out at the gym.
Yet, blisters, calluses, and abrasions are part of the territory when you're serious about working out. That's why you need a quality pair of workout gloves to get you through your workout. Weight lifting gloves strengthen your grip, increase your comfort level, and stop you from ripping up your palms. In this article, we identify the best workout gloves for both men and women to allow you to push yourself to the limit in the gym. Be sure to check out all the great information about the gym gloves we have here for you!
This is the best product on our list that is currently in stock: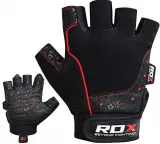 RDX Breathable
Why is it better?
Finger Web Zones
Anatomical Pad System
Coolmax Lycra
Motion Zones Over Knuckles
Reduces Hand Fatigue
In a
Hurry? Editors choice: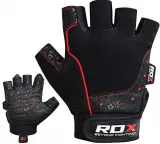 Test Winner: RDX Breathable

35
Researched Sources
12k
Reviews Considered
24
Hours Researching
14
Products Evaluated
Features
Fit
Comfort
Materials
Effectiveness
By Default
Criteria Used for Evaluation

Features
If you never tried weight lifting before, using gloves for the gym might seem unusual to you. But if you are an avid lifter, then you know why gloves are a much-needed part of your gym routine, and we will discuss just how much they help your progress.
Using gloves while weight lifting will help improve and strengthen the grip you have on your weights. It is common for hands to become quite sweaty during weightlifting, which can seriously hinder the grip you have on the weights. Weight lifting gloves will keep your hands on the weights and keep them safely in position, rather than letting your hands slip from your grasp.
Calluses and blisters are also a common occurrence when you are lifting weights. If you have blisters, it can be painful. If the blisters burst, it will be even more painful, and you might even get an infection! It is because you cannot comfortably maintain your grip on the weights.
The weightlifting gloves can hide these small imperfections while allowing you to maintain a secure grip on the weights. At the same time, it prevents future calluses and blisters from forming during your weight training program.
Using weight lifting gloves can also provide your hands and wrists with much-needed support while you are lifting heavyweights. The material of the gloves also faces scrutiny, as this material will be what helps stabilize your wrists. It is because the wrists bend backward while you lift the weights. Weightlifting gloves can also help increase the pressure capacity that your hands and wrists can handle during weight training so that you can lift more weights effectively and safely. The gloves will help distribute the weight more evenly, especially while you are performing deadlifts and upright rows. Adding wrist straps to the weightlifting gloves can also help you increase the amount of weight you can handle during your training sessions. As you can see, gloves are quite an essential part of your session, and if you are serious about lifting, you shouldn't skip out on them!

Fit
If you participate in exercises and weight training activities that involve dumbbells, pull-up bars and the like, then you know that after these sessions, your hands can become very sore and even raw if you don't utilize workout gloves for the added protection and support you need.
Your weightlifting gloves should fit so that they will not risk moving and sliding around while you are lifting weights. If they slide around, it can turn disastrous because you can easily lose your grip on the weights. Of course, this is dangerous when you are doing overhead lifts.
The workout gloves should also be comfortable to wear and should not cause additional pain when you are wearing them. If you experience any discomfort, then you most likely purchased the wrong size for you.
Many weightlifting gloves come as fingerless options as well. It is, so they still offer you the support you need for your hands, wrists, and palms. However, it may be easier to grip if the top half of your fingers can still be exposed.
Good weightlifting gloves should also be extremely durable, flexible and breathable. The gloves are going to be used very often in weight training programs. As a result, it is important that they can maintain their shape and support for continued usage. Finding a non-slip material for the palm is also a good idea to help prevent slipping. Flexibility will allow more movement. They may take more time for you to break in than the other more rigid weightlifting gloves. However, you will find that the more movement you are allowed and the better grip you can get will be a big advantage to you in the long run. Fingerless gloves are the more breathable option and tend to be lighter in weight. Some gloves even have mesh materials to allow increased air circulation. If you choose leather weightlifting gloves, remember that the material will definitely be less breathable and less flexible. Neoprene gloves are better and can wick moisture away from your hands and provide you with a very suitable workout glove.
The closure of your gloves will also affect the fit. When the gloves were first brought into life, we still didn't know about elastic or velcro closures. So we had to work with what we had, and that was a drawstring closure. But if you ever owned anything that had such a closure, you probably felt how uncomfortable it is when the string cuts into your skin, and you also noticed how much circulation it cuts off. Other users saw this as well, and some changes had to be implemented. This is when the elastic closure was thought of. Since elastic closures are pliable, they soon gained traction and were a super popular choice. But, the drawback here is that the elastic closure lost its properties over time and with use. Sooner or later, the elastic would give in ultimately making the fit awfully loose, and you'd need to head out to buy an entirely new pair!

Comfort
The comfort of your gloves is a super important factor, because if your gloves lack padding you could end up with some pretty messed up injuries. If your gloves lack cushioning, they will cause what they are meant to prevent - blisters and calluses, thanks to the rubbing between the material and your skin.
At first, the foam was the material chosen as padding. Foam is quite cushy and comfy, and multiple layers are needed between your skin and the weight to protect you adequately. Sadly, these layers get worn down quite fast, and you have left once again with an uncomfortable glove. Because of this, many gloves today are padded with gel or silicone, whichever the manufacturer chooses to use.
Gel pads are quite popular and are used in many different sports equipment today. They are great as pads and as insulators too, keeping you both warm and cushy at the same time. The gel absorbs the energy of impact quite effectively, saving your joints from any unnecessary strain. But, when you lift, no type of shock will be delivered to your gloves rendering the gel pads almost completely useless. Some companies still choose to use it because it's able to adapt to prevent the friction caused by lifting, but it's overshadowed by silicone by a long shot.
Silicone is soft and bendy, and can easily negate the stubborn friction and rubbing when you grip your weights. Silicone is also super sticky, which lets you have a secure grip on your weights. Because of these things, silicone is the best possible option for the pads in your gloves and should be the thing you look for first when buying your new mitts.

Materials
When weight lifting gloves were first created, they were made out of leather. Leather is a might material, as many shoe manufacturers already know, simply because it can withstand years and years of use, and come out stronger than it was. It is all thanks to your skin, or specifically, thanks to the oil found on your skin. When you exercise, the oils secreted by your skin are absorbed by the leather, making it supple and soft. Leather also stretches quite nicely, and molds to the shape of your hands, which made it the most popular glove material.
As time went by, leather was slowly but surely forgotten. Yes, it is great, but it's natural, and all-natural things degrade over time. It also wasn't so breathable, trapping in heat and making you sweat beyond belief. Lucky for us, technology advanced, and soon enough, we had a myriad of new fibers to test out. It was when gloves made out of Neoprene or Nylon started to appear, boasting improved durability and strength. Nylon did not last for a long time though - even though it was very breathable and light, it simply didn't offer a good grip since it was too slippery. It lacked grip inside as well, causing blisters and friction burn.
Today, most of the gloves are made out of Neoprene. It is a synthetic material, most commonly used to create wetsuits. Neoprene hugs your skin nicely, and molds to the shape of your hands, giving you a snug fit. Neoprene is also on the thicker side, so it gives you padding without any cushioning added in. It can wick away moisture too, keeping your hands dry and odor-free. Since it's washing machine-friendly, you can pop it in for a quick dry, and they'll be good as new, making the material easy to maintain. The only drawback here is the latex fiber found inside - if you are allergic to it, you won't be able to use Neoprene gloves!

Effectiveness
Although using gloves seems like a reasonable choice, many experienced weight lifters and pros still choose to avoid them. Why is that, are they simply not that effective?
One of the most important reasons why some builders avoid gloves is because they can't feel the weight properly. With a layer of material present between your hands and the weights, you lose some of the sensation you might feel when your hands are bare, which can cloud your judgment, and you could hurt yourself. One more thing to think about when using gloves is your grip. When you grab a bar with your gloves on, it will feel thicker, and it might seem easier to lift. It will make it seem like you've got quite a powerful grip, which is not true if you are a beginner. You need to work on your grip strength naturally, which is why some pros do not recommend wearing a glove until you've got a good grip.
Finally, many people worry about developing blisters and calluses, while others wear them like pride marks. When it comes to lifting, calluses are not all that bad, although they are painful. Some pros recommend sucking it up a bit here, to help the nerve endings in your hands build up strength, which will make lifting even easier.
In the end, the effectiveness of the gloves will be determined by your personal preferences, and nothing more. If you want to wear gloves - go for it! And if not, don't wear them. It's best to wear them when things start to get heavy since you probably won't need them before you get to the big guns!
Expert Interviews & Opinions
Most Important Criteria
(According to our experts opinion)
Experts Opinion
Editors Opinion
Users Opinion
By Default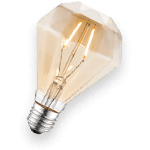 The Birth Of The Glove
Believe it or not, the fitness glove was created way before the rubber glove. Their history goes way back to the early Greeks and Romans! They were primarily fingerless gloves, made out of leather or silk, and were used to carry heavy objects. They were popularized when weight lifting was included in the Olympic Games, in the year 1896.
Other Factors to Consider

Support
Not all gloves are created equally - some offer us support, while others do not. The ones that do not provide any support are not truly bad; they don't protect the wrist as much. Some people would not benefit from having this type of support. Think of cyclists, for an example - they have to be able to bend their hands without anything restraining them, and they cannot do that if there is a thick piece of material preventing them from doing so. A lot of sports require you to move your hands, and the people enthusiastic about those sports would not benefit from gloves with support.
On the other hand, many athletes benefit from having such gloves, and sometimes they are a necessity. The support on the gloves is simply a long strip of fabric that goes beyond your wrist. Many gloves made for gyms have this support, as they are heavy and thick, and they restrict the movement of the hands, locking them in place. The support is tightened around the wrist with a velcro strip, to create an ideal fit. As a weight lifter, you need your wrists to be locked into position, since bending the wrist as you hold a heavy load could be catastrophic! Your wrists need to be balanced and properly aligned to avoid injuries.

Breathability
One more thing you should look out for is how breathable your gloves are. Something that you will be doing as you start your routine is sweat. Having something that doesn't let air circulate your hands will be distracting, and will make your gloves smell bad even after one use. If you wish your gloves to be breathable, first things first, they must be made out of the right material combo. Mesh perforations on the back let the hot air escape, and invite the cool air in, keeping sweat at bay. One more way you can let air escape is by switching up the model of your gloves. Fingerless gloves hug your hands the most, and you are most likely to sweat in them. Other models have a more open surface area that lets your hands cool down naturally. In the end, you don't want to sweat too much since you could end up with blisters, calluses, and maybe even fungus!

Bottom Line
All in all, weight lifting gloves are just one more piece of equipment designed to make weight lifting an enjoyable experience. They protect us from the injuries large bars and loads can cause, and keep our wrists stable. With them, you will be able to progress faster, and you won't have any painful bumps on the palms of your hands to keep you distracted. If you do not like them, you can skip using them, but when you get into lifting super heavyweights, we recommend you start using them since you'll only experience benefits! We hope our guide has helped you find your new pair, and that you will enjoy using it.
Frequently Asked Questions
q:

Why are the gloves fingerless?

a:

Your fingers are the most sensitive part of your body. There are millions of nerve endings here, and they help you gauge your surroundings. If there is a strip of fabric obstructing the nerves from doing their job, it's likely that you would hurt yourself. Your fingertips need to grip the bar correctly, and your joints need to be flexible, so you have a proper hook grip. Gloves with fingers wouldn't allow you to do any of these things, making them useless for lifting!
q:

What are the main parts of a workout gloves?

a:

Although there are some differences in the various models of weight lifting gloves, they are all made the same way. There is the palm side - a cushy area with either spandex, silicone or microfiber cushioning, and distinct surfaces that give you a better grip on the bars. The backside is simply the back of the glove and the wrist area, which usually has some ventilation perforations. The finger stalls are the opening through which you guide your fingers. And the wrist end of the wrap is the area that secures your wrists.
q:

Can I use chalk instead of workout gloves?

a:

Chalk, whether it is solid or liquid, is used by athletes to secure their grip and prevent slippage. Many experts agree that chalk trumps gloves because it does not interfere with your body form, nor does it hinder your strength. There are no conclusive studies that have determined gloves affect your strength, though, and this is quite a controversial subject in the gym community. It is why you can continue using your gloves without worrying, or you can switch to chalk - whatever works the best for you! Chalk, whether it is solid or liquid, is used by athletes to secure their grip and prevent slippage.
q:

Are there different types of workout gloves?

a:

Variety is the spice of life - many different types of gloves exist, and they were all created with your preferences in mind. The most common type is the half fingered glove. Their breathability is not so great, but they have optimal wrist support and blister protection. They are also great insulators. The fingerless gloves have fingerless stalls and leave your knuckles open. They are the most original design, and they provide maximum flexibility and breathability while still giving you plenty of protection and support. The four fingers open top palmless glove is just what the name implies. It does not restrict your thumb, and it promotes the fluid movement of your hands. With these gloves, you develop your grip, while still being safe from blisters and calluses. Grip pads are great if you tend to sweat too much, and they are easy to take on and off. They also come with wrist support. And last but not least, five half-finger gloves protect your creases from injury and have excellent breathability.
q:

How do I wash my workout gloves?

a:

Although the gloves are used to prevent injuries, if you don't keep them clean, they might be the cause of some diseases, like fungal diseases. They are also a breeding ground for bacteria, and if you have any wounds on your hands, you might be exposing yourself to infection without really knowing it! You cannot wash the gloves every day, but you still shouldn't wait to wash them until they start to smell bad since they will already have a dirty surface by then. Some workout gloves can be washed in a machine safely, like Neoprene gloves. You must be sure that they are machine washable, and once you do, pop them in and let them air dry indoors. Avoid the sun, as it could damage the material. You can also wash them thoroughly by hand, using lukewarm water and mild soap. Ensure they are completely soap free once you hand them to dry!
Subscribe to our newsletter