Top 10 CrossFit Gloves For Pull Ups Reviewed and Rated
last updated:
Feb 11, 2020
Pull-up is, without a doubt, one of the toughest kinds of exercise you can do. They require a lot of upper body strength and take a lot of practice to master. But, they do provide you with a lot of benefits, and they do develop muscles rapidly, so they probably shouldn't be skipped. They can be super hard if you have sensitive palms, or if you do a lot of reps because blisters or corns can develop. This is why we have pull up gloves!
Crossfit usually requires you to do rapid motions on the bar, and will definitely put some strain on the palms of your hands. It's absolutely vital that you protect yourself, and you can do that easily with gloves. In this guide, we review what we believe are the top 10 choices, and explain why they are an important piece of fitness equipment!
In a Hurry? The test winner after 10 hours of research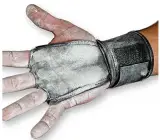 JerkFit WODies
Why is it better?
Made In America
Provides A Natural Glide
Made With Premium Materials
Dryer Safe
Two-in-One Design
42
Researched Sources
8k
Reviews Considered
17
Hours Researching
14
Products Evaluated
Fit
Effectiveness
Breathability
Flexibility
Materials
By Default
10 Best Gloves for CrossFit Pull Ups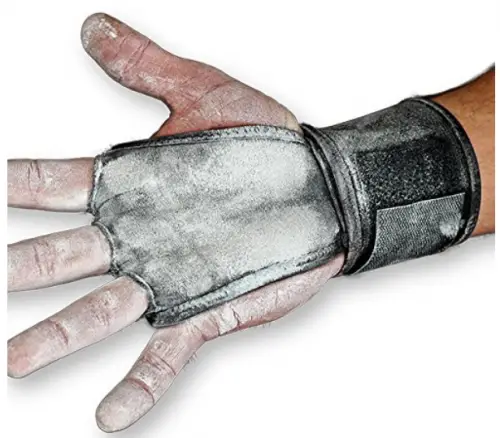 Made In America
Provides A Natural Glide
Made With Premium Materials
Dryer Safe
Two-in-One Design
JerkFit WODies workout gloves are the original three-finger gloves with added wrist support to provide you with a high level of grip and wrist protection when you're lifting. These gloves have been made by Crossfit athletes for Crossfit athletes.
Read more
Each glove has been hand-made in the USA from high quality, hypo-allergenic latex-free woven neoprene-like elastic material. They will provide you with a natural glide on the bar that absorbs friction n, unlike many competitors, lays flat to prevent punching and pinching. Jerkfit pull-up gloves are made with a special GRIP-RIDGE TECHNOLOGY consisting of tiny ridges that hold more chalk for even more grip, increased comfort, and durability. The glove is available in four sizes, from small to XLarge.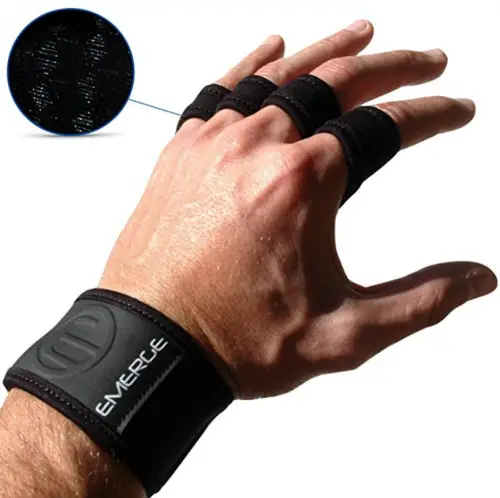 Four Neoprene Finger Holes
Easy To Break-In
Variety Of Sizes
Money-Back Guarantee
Emerge provide extremely comfortable black callus guard workout protectors. These protectors are fully breathable and made from very durable textured synthetic leather, which actually molds to the bar you are holding.
Read more
They feature four neoprene finger holes for comfort and full callus protection, and secure double attached wrist wraps for extended wrist support. Unlike the one size fits all options that lesser grips provide, Emerge grips come in a range of sizes to allow you to get the perfect fit. You can check our easy fit size guide below to help you to choose the right fit for you."​
The grips come with rigid wrist support. This is designed to protect the wrist when performing exercises that place the hand in a compromising position. The wrist support is by way of velcro strip which can easily be secured in place by the user.
Emerge Fitness Workout Gloves are also machine washable. They provide a tight fit that is not uncomfortable and will not impede your ability to naturally hold onto the bar.
3

. Emerge Fitness Cross Training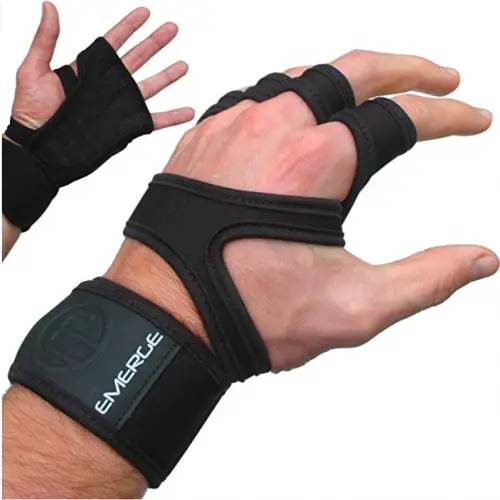 Stronger Grip
Extra Stabilization
Breathable And Comfy
For Many Training Styles
Another great choice from Emerge – The Pull-Up Fitness Gloves. Emerge Fitness is deeply immersed in the fitness way of life.
Read more
They know Crossfit inside out, with everyone who works there being a devoted CrossFitter themselves. That means that they don't just make products from a design concept; they create the gear that they would love to train with. The Emerge Fitness standards are quality, durability, and reliability.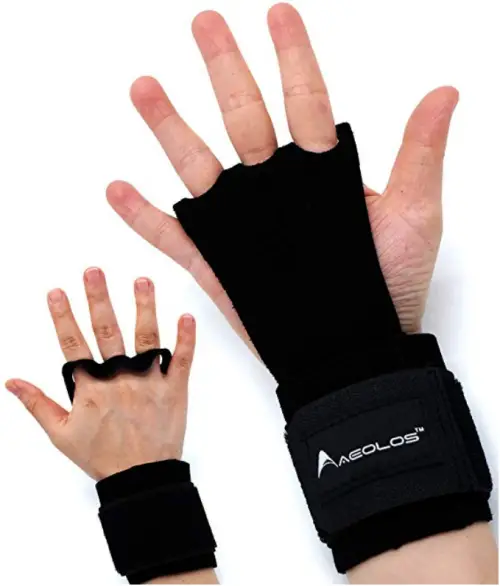 Premium Leather
Ergonomically Design
Free Carrying Bag
Safe Wrist Support
AEOLOS Leather Gymnastic Hand Grips are made from premium quality leather to provide you with a soft grip, form-fitting grip experience. This grip provides great wrist support and stability, while also protecting your fingers and palms from calluses and tears.
Read more
AEOLOS pull up gloves perfectly encircle your wrists and can be easily adjusted for comfort. They have been ergonomically designed to minimize pressure, reduce wrist strain and remain steady throughout even the most grueling workout session.
AEOLOS grips provide full palm protection. You also get a free carry bag, along with a 100% satisfaction guarantee.
5

. Profitness Cross Training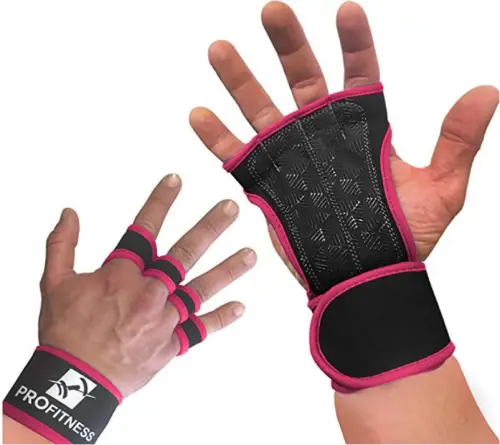 Different Color Choices
Enhanced Grip
Versatile Use
Silicone Grip On
Profitness Cross-Training gloves provide you with abrasion-resistant minimalist gloves and integrated wrist wraps. It offers full palm protection while also provide open back globes and fingers to enhance your natural feel an grip and preventing sweat build-up and odor.
Read more
The silicone grip gives you a superior hold on the bar that is secure and comfortable. The nylon glove body is extremely breathable while the flexible velcro closure provides you with a very secure hold.
Profitness workout gloves are ergonomically designed to provide you with a high level of flexibility and hand ventilation. This is a very effective glove for both beginners and seasoned weight trainers. Palm calluses on skin will be thing of the past when you wear these gloves.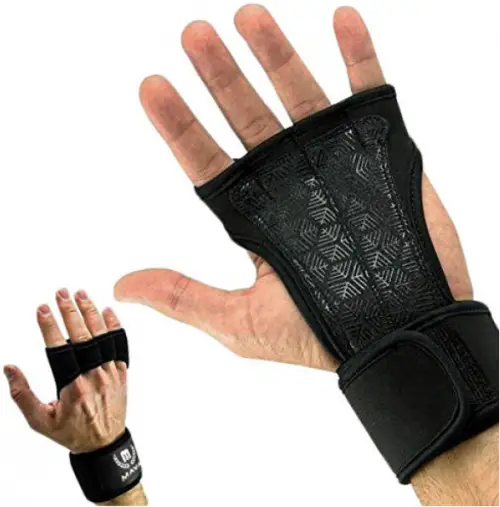 Extra Leather
Integrated Wrist Wraps
Hook And Loop Closure
Unique Palm Design
The Mava Sports Cross Training glove is a minimalist hand and wrist support that is made from top quality neoprene and with a thin leather padding.
Read more
A unique silicone padding design provides you with an advanced level of comfort and support. The adjustable velcro wrist strap allows you to adjust your level of wrist protection and holds securely throughout every rep of every set. The open and breathable design of this glove provides you with a sweat-free and airy level of support.
7

. Fit Active Sports Ventilated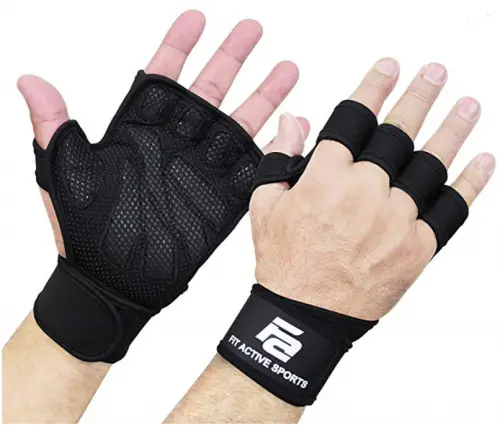 Silicon Printed Neoprene
Extra Tight Grip
Velcro Closure
Very Ventilated
The Fit Active Sports CrossFit glove provides full palm and wrist protection. It fully covers the entire palm while keeping the fingers open. The thumb is also protected. The glove is made from silicone printed neoprene, material which is water-resistant and extremely resilient to ensure durability and tear resistance.
Read more
Wrist wraps are integrated into this glove with a secure velcro wrap around the enclosure.
The open hand design of the Fit Active glove ensures that you get maximum comfort and breathability, as it allows your fingers to move freely without impediment. The high degree of ventilation also ensures that these gloves are completely odor-free.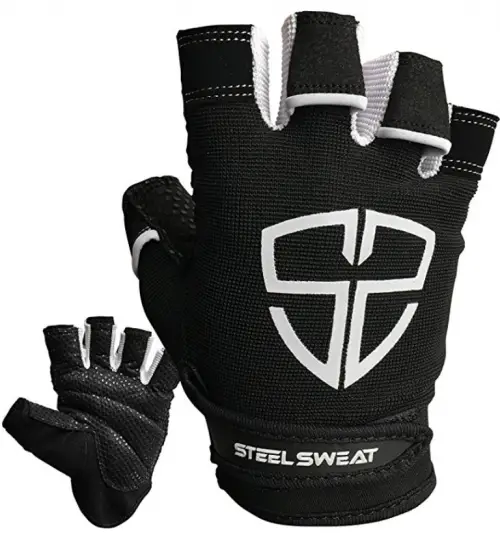 Very Padded
Moisture Wicking
Easy To Get On And Off
Double Stitched
The Steel Sweat workout glove is a full workout glove that covers your entire hand and fingers up to the middle joint. This glove makes use of StretchAir performance material that allows for a flexible fit, enhanced ventilation, and moisture-wicking properties.
Read more
As a result, your hands will stay dry during your workout, regardless of the temperature in the gym. The grippy palm pads that are built into this glove provides you with a very secure, yet comfortable, hold. The gloves feature durable double stitching to ensure durability. These gloves may be machine washed to keep them odor-free and clean.
9

. Gladiator Gym Gear Neoprene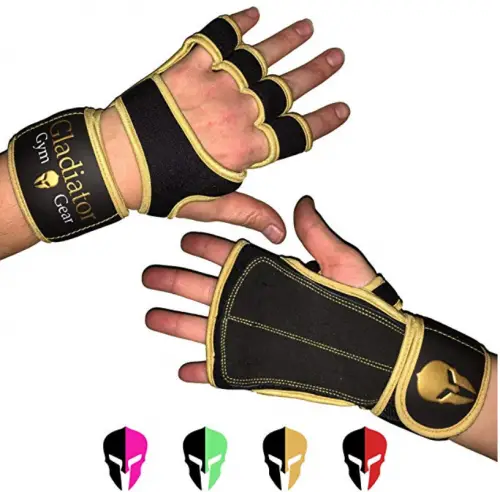 High-Quality Construction
Lightweight Construction
Optimal Protection
Colorful Options
Gladiator Gym Gear workout gloves are made from neoprene with protective leather palm padding. The open-back design provides a good level of breathability around the hand area. The palm side of the glove provides complete covering up to the mid finger joint.
Read more
The reverse of the glove features an open back fingerless design which allows for more flexibility and breathability. The glove features integrated wrist support to enhance your level of support when going heavy on your lifts. Secure velcro straps ensure that you get a tight fit when you need it. The gloves are available in four colors; pink, green, gold and red.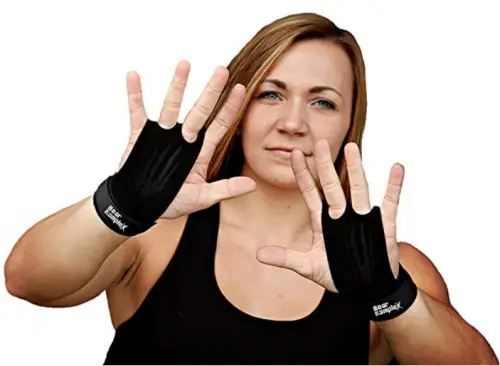 Quadruple Stitching
Superior Leather
Carabiner Grip Included
Two And Three Hole Options
The folks at Bear Komplex are intimately acquainted with the pain that comes from workout induced torn hands and calluses. It's what drove them to create their super comfy grips. They're made out of highest quality leather that actually molds to the bar.
Read more
The wrist strap includes a design that will stop the buckle from digging into your wrist, which is a problem with many brands.
The Bear Komplex callus guard and CrossFit grips come in a range of sizes and two color options. Bear Komplex also offers either two or three-finger hole grip options.
Criteria Used for Evaluation

Fit
The way your gloves fit you is probably the most important thing about them, before everything else. This is because an ill-fitting glove can mean the difference between a successful session at the gym and a hurt wrist or palms, or even worse.
The gloves protect your palms from getting torn up and damaged when you exercise. As you work out, your palms will get sweaty and you will begin to lose your grip on the bar, which is what you don't want to happen when you need to pull up your own bodyweight! This is why you need a pair of pull up gloves - one that fits you well! An ill-fitting pair can either constrict your movement too much, or it can be too loose and distract you from what you're supposed to be doing. The fit will be affected by the features, padding, the style of the gloves, and the material. You can either have gloves or grips when you do pull-ups, but your better option is the grips. This is because the gloves can constrict your fingers too much, not letting them move. Grips, on the other hand, will only cover your palm, which is what you need to have protected in order to do a proper pull-up. The leather strip covering your palms must not be tight - it has to be loose, in fact, it has to be so loose that you might even wonder whether the grips are too big for you or not. This is because that bit of material that is loose needs to wrap around the pole, essentially padding your palms. There is a mix between gloves and grips - fingerless, yet with wrist wraps and pads on the palm area. The wrist wraps are there to secure the gloves around your hands. They must be tight, but they shouldn't restrict your movement, so be careful when you adjust your wraps, always make sure to test the fit beforehand.
If you have grips with finger holes, chances are that they are too tight around your fingers. This is normal, and the holes will stretch out over time. But whatever you do, do not pull, stretch or cut the holes, because this will make the tear! You can try pulling a sharpie or a thicker pencil through the holes, and then carefully work on stretching them out. Concentrate on stretching out the bottom of the holes, not the top part. If your grips are too rigid, they need to be broken in. You can try softening them up, by rolling them around with your hands. Wear them for shorter periods of time, preferably before you head to the gym so that they have the time to mold to the shape of your palms and fingers. Your grips, or gloves, will need at least two or three days to be broken in completely, so do not worry if they do not fit you to the tee when you first buy them!

Effectiveness
Now let's talk about how effective gloves and grips really are and do you need them or not. Some fitness enthusiasts believe that by using weightlifting gloves for working out is cheating. This is because you have that little bit of extra help that keeps you going, as opposed to not wearing gloves at all. Others believe that gloves will weaken your grip, and make you too attached to them. What you decide to do in the end will depend on what your goals are.
You can usually tell whether a person lifts or does pull-ups by looking at their hands. Their palms will be riddled with calluses, blisters, or maybe even wounds. Although none of these things are life-threatening, they are definitely bothersome and can be quite painful if left untreated. No one wants their hands to be rough and damaged, and doing mundane tasks, let alone doing pull-ups, is very difficult when pain shoots through the palms of your hands when you move around even just a little bit.
Also, you have your wrists to think about as well. Your wrists are the thinnest area on your body. There isn't that much developing to be done on them, as they do not have a lot of muscle surrounding them in the first place. You can develop them to the max very easily, and fast. The straps of your gloves and grips will wrap around them and support them, giving them a break, reducing muscle fatigue. The wraps also keep the muscles and surrounding tissues compact and bunched up together, allowing them to work in unison.
And we have a problem with sweating. You will inevitably sweat when you work out, and your palms are one of the sweatiest areas on your body so you will sweat, a lot. This will make your palms prune up, and prune sweaty palms do not have a good grip, so you risk slipping down from the bar! At one moment you could be happy doing pull-ups, and the next thing you know, you've suddenly slipped and fallen down! The texture of your gloves will always give you a grippy surface, and the material will wick the sweat away, keeping you both dry and safe.
But, what about the potential drawbacks? Truth be told, your grip won't be able to develop that much when you have grips or gloves on. This is because that extra strip of material prevents your hands from gripping the bar firmly, so you don't get to use your full power. Also, some argue that the grips and gloves prevent you from keeping proper form, and pull-ups are all about proper form, and so is every form of working out. Furthermore, you lose the ability to actually feel what you are gripping. This is not so important when you do pull-ups, but it bothers some people enough that they drop the whole idea of gloves. The good thing is, this is true for gloves, most of the time. Grips will not impact your session so much, and they will only benefit you, keeping you safe and strong!

Breathability
Your gloves need to allow your skin to breathe. They also need to allow your palms to perspire, since this is a basic body function to help cool you down. If your gloves do not allow your skin to breathe, you can develop some nasty rashes and infections, or you can just become sweatier and smellier, and no one wants that!
The breathability of your gloves and their moisture-wicking properties will be largely affected by the material they are made out of, and by their construction. Leather gloves are definitely the sturdiest, but if they are solid leather, your hands may not breathe too well, and leather does not wick away moisture naturally. This is why usually the surface of your gloves is made out of leather, or the gripping area, while the part closest to your palms is made out of a different material that breathes well and keeps sweat at bay. Fingerless gloves and grips are the best regarding breathability since they leave most of your fingers or palms exposed to air so they can function properly. Mesh inserts and ventilation holes also help the airflow over your skin, to gently cool you down and keep the sweat at bay. So make sure that your gloves are breathable, and you won't have issues with bad smells and other sweat-related issues!

Flexibility
Flexible gloves are vital to your progress. Imagine putting on a pair of rigid gloves that immobilize you, and then attempting to actually do something with them. Impossible, right? A pair that is too stiff will not allow your fingers or your wrists to move properly, which can cause aching, joint pain, and even injuries caused by bad form.
The flexibility of your gloves depends on what the material used to create them is, and what the model of the gloves is. Leather gloves will be stiff, but only for a little while. Just like leather shoes, they need to be broken in before they soften up and mold to the shape of your hands. But gloves or grips will never be made out of leather solely because that is pricey, and not too convenient. They usually have mesh or polyester panels or inserts, and since both of these materials are quite flexible, the gloves will be flexible too. This brings us to grips. Grips are naturally flexible - the patch of material under your palms needs to be able to bend, so you can fold it under your palms and then place it around the whole circumference of the bars. The wrist wraps are bendy and flexible too, and the only problem is the finger holes, which do get stretched out over time, so that's all fine and dandy too. So if you want super stretchy gloves, go for ones that have velcro or mesh inserts, and if you want to feel like you basically have nothing strapped to your hands, grips are the way to go.

Materials
What your gloves are made out of says a lot about them. The material they are made out of will affect almost every aspect of your gloves - the breathability, flexibility, comfort, weight, and even fit, so what you choose may as well impact the quality of your exercise.
Most of the gloves and grips are made out of some leather variety, be it genuine or synthetic. These two do not differ so much. Real leather will be heavier, sturdier and stiffer, and of course, it will not be cheap. Synthetic leather is vegan and vegetarian-friendly, it can withstand a lot of damage, and it's much cheaper to produce, but it's not so durable, and it tends to peel, but that shouldn't worry you that much. No matter what kind of leather your gloves are made out of, the construction will determine their fate in the end. Thin leather or any kind of fabric will not be able to survive constant abuse and pulling and tearing. Nylon and neoprene are also common, but they are not so grippy like leather is, and maybe more suited for lifting gloves. So your best bet is leather, but don't be afraid to give other options a go!
Expert Interviews & Opinions
Most Important Criteria
(According to our experts opinion)
Experts Opinion
Editors Opinion
Users Opinion
By Default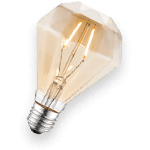 Finger Holes
Finger holes are not such a problem when it comes to gloves - they all have five of them, right? But the situation changes when we mention grips. Grips either have two openings or three openings for you to slide your delicate fingers through. Two-finger holes are the norm since they won't affect your flexibility. A lot of people do not need more than two finger holes, but some people still prefer grips with three holes. These grips are ideal for people that have wide, flat palms. This is because grips with three finger holes are wider, and they will offer more coverage for your wide palms, which is what you need if protection is the main purpose of your gloves. The extra space between your third finger probably won't distract you that much, and won't affect your grip at all so you can choose whatever fits you the best!
Materials
Gloves are only as good as the materials from which they are made.
With this thought in mind, you should look closely at the purpose for use and then check that the materials match and can perform for the purpose.
Many people will pass a store window and see a pair of training gloves at a seriously low budget price. Unfortunately, they also find that when they buy them, these do not last long and they are back to hunting for a good pair of gloves.
It is all about materials, if you want durability and performance from gloves, be happy to invest a decent amount of money
Other Factors to Consider

Model
The model you choose depends on how much protection you need, or want, and how strong you want your grip to be. Of course, grips will allow you to grip better, hence the name. They are also much more breathable since most of your skin is left exposed. They only go around your wrist, where a strap securely holds the grips down, and two or three holes are present for you to pull your fingers through. Gloves, on the other hand, can be both fingerless and full, but you don't need regular gloves for pull-ups so we will focus on the fingerless variety. These gloves are much more likely to have some sort of padding on the palm, which can help with the blisters and calluses - but at the same time, it doesn't allow you to control your grip, or to feel the surface of the bar, which can be troublesome for some people. But don't be quick to abandon gloves! They will offer you much more protection and stability than grips would, so it all boils down to what you want, just like with everything else.

Comfort
Your gloves need to be comfy. This is because gloves that cut into your skin prevent your blood from flowing and circulating or cause your fingers to swell up. Not only can this cause health issues, but it can also prevent you from concentrating on doing what you came to do, which is to exercise. You can then potentially hurt yourself even more, and no one wants that! So, we've established that your gloves need to be comfortable. You can be certain that your gloves will be comfy if they fit you well. Ill-fitting gloves are a recipe for discomfort! Also, if they have no odd stitches, if the material is good and not cheap, you won't have any issues. Some glove manufacturers like to add pads to the palm area of their gloves. These pads are usually made out of high-density foam, although they can be made out of gel too. They will cushion your palms even more, but this can be a problem as much as it can be helpful - you won't be able to grip the bar well, and you won't feel the bar that well either, and people are usually put off by this, so don't go for overly padded gloves!

Durability
Your gloves need to be durable. They will be used often at the gym, and you will pull on them and grab them and tear them, so they must be very sturdy. This is ensured when you choose a properly crafted glove, made out of the right materials and stitched tightly and securely. Reinforced stitches, double or triple, make your gloves very sturdy but may affect the flexibility. Leather is definitely super sturdy, but it can be pricey. Just make sure that your gloves are properly constructed, and you will have no problems with their durability!

Bottom Line
Love them or hate them, pull-up gloves are here to stay. They can be very helpful when you do your set, but they can also hinder your progress. This is why it's very important that you make the right choice! Our guide has provided you with enough info that can let you know just what to look for, based on your needs and personal preferences. If you're tired of looking into your callused and blistered palms, give pull up gloves a try!
Frequently Asked Questions
q:

Do I need pull up gloves?

a:

There are many conflicting opinions out there about whether you need to wear gloves or not. Naysayers believe that the gloves do not let you develop your grip properly and that they cause muscle weakness and atrophy. They also say that gloves do not allow you to feel what you are gripping, causing you to lose proper form. But on the other hand, gloves do help protect your delicate skin from blisters and calluses, that some people like to proudly display. If you are unsure whether you should buy gloves or not, give grips a try - they are simple, only protect your palms, and they keep your wrists in check, without actually affecting your grip or performance!
q:

How do I clean my pull up gloves?

a:

Cleaning your gloves or grips is very important. This is because sweat tends to accumulate there, and if you care about your hygiene even a little bit, you will want to get rid of that sweat. Th care for your gloves depends on what the gloves are made out of. Pure leather gloves do not like the washing machine, and they should only be gently wiped, just like leather shoes. Neoprene or polyester gloves can sometimes be thrown in the machine, but read the instructions of the manufacturers just in case. Hand washing should be done with mild dish soap, and a soft rag dipped in lukewarm water. Let the gloves air dry - avoid the dryer since it will make them shrink!
q:

How do I know that my gloves fit me well?

a:

The fit of your gloves is very important, so you must make sure that they fit you well. But how do you know you have the proper fit? Well, a dead giveaway is how tight they feel around your palms and fingers. If you cannot move your hands properly, even after the initial break-in period, chances are that you have a pair that is too small, and you should stop wearing it. A pair that is too loose will wiggle around and won't be able to sit tightly around your fingers. This is true even for grips, where the palm area has to be loose - if the area around the fingers is loose too, your gloves may be too big.
q:

Does the material my gloves are made out of matter?

a:

It does since it will affect the fit and comfort, but the construction matters more. Your gloves can be made out of the best leather out there, but if it was brought together poorly, it probably won't matter how good it is! Leather, or synthetic leather, is probably your best bet, but neoprene, nylon or polyester are not too bad either, granted that they are mixed together well and properly constructed. So yes, the material does matter!
q:

Can I use chalk powder instead of gloves?

a:

Chalk powder is a pretty good glove or grip alternative. This is because chalk soaks up all the excess moisture from your hands, and gives you a much better grip. Because of this, the likelihood of blisters or calluses developing also diminishes. But you need to re-apply chalk all the time, so it may be less convenient than grips or gloves are. If you dislike the way gloves feel around your palms, just go for the chalk!
Subscribe to our newsletter