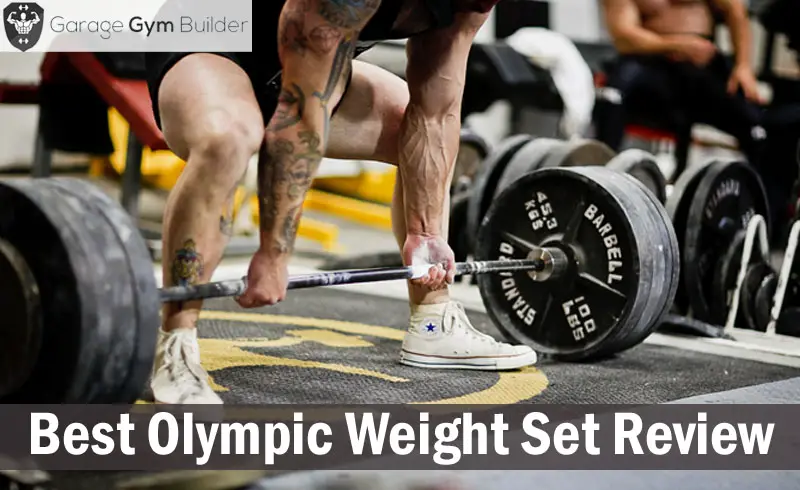 Best Olympic Weight Set Review 2018
When you're serious about lifting weight at home, you need a serious weightlifting set. That means getting an Olympic bar and plates. Olympic equipment will allow you to train with heavy duty, reliable plates and bars, without having to worry about bars bending or plates not fitting. However, there is a huge range of quality in what's available. In this article, we provide in-depth reviews of the ten best olympic weight systems for home use.
A Quick Overview of the 10 Best Olympic Weight Sets
The best Olympic weightlifting set that we came across was the Fringe Sport Bar and Color Bumper set. It gives you a very high quality Bomba Barbell and OneFit Wonder color coded bumper plates for an excellent quality weightlifting experience. These are the best olympic weight plates you will find.
The 300 lb CAP Barbell bar and weights are the best value high quality set on the market and is our second favorite. Our third favorite is the York Barbell 300 pound bar and plates, with its dual grip and quality cast iron plates.
We've rated the top 10 Olympic weight plate sets and rated them on a scale of 1-5 on the key factors of price and durability. We've also added an overall score to make it easy for you to compare. In the following section, we go in depth on each one.​
The Top 10 In Depth
The Fringe Sports set includes the Bomba Barbell V2, which features knurling all the way to the collars, an increased loadable area on the bar and a strength of 206,000 psi. It is finished in black zinc to provide maximum rust protection. The bar also provides aerospace grade self lubricating bronze bushings. All of this adds up to the best olympic weightlifting bar on the market.
OneFit Wonder olympic weight set bumper plates accompany the bar. Fringe Sports set are made from low bounce rubber and are constructed to take heavy duty treatment. Included are top quality easily adjustable superstrap collars.
This combination of olympic bar and bumper plates set provides you with the best olympic weight set that we have seen.​
Bomba Barbell
OneFit Wonder Bumper Plates
Aerospace grade self lubricating bushings
2 x 45 lb

2 x 35 lb

2 x 25 lb

2 x 10 lb

4 x 5 lb

2 x 2.5 lb
The CAP plates are slimline and feature easy grip design to make it easy to carry the weights. The plates are relatively accurate and look stylish. This is a high quality cheap Olympic weight set. It's definitely the best value for money that we came across. All of this adds up to a great budget weight set.
Slimline CAP plates

Great price point

300 lbs of solid, cast iron weight
The York 300 lb. weight set is a top quality 2 inch G-2 internationl set. It provides a dual grip design to make it easier to gain a firm hold on the bar. It comes with pairs of 45, 35, 25, 10, and 2.5 lb plates, as well as four 5 lb plates. You also get a pair of olympic spring collars and a 7 foot bar.
York are the oldest and most respected manufacturer of weight plates in the world. They have been producing quality weight plates and bars since 1932. That gives us the confidence that this product will deliver exactly what you need - top quality weights and bars that are accurate, strong and reliable.
Dual grip design

4 x 5lb plates

York reputation
The Marcy 300 lb eco olympic weight set provides a 5 foot long two-piece bar, along with 100 pounds of vinyl plates, filled with concrete. The vinyl coating of the plates provides extra protection when handling them. With this set you get a pair of 25, 15 and 10 pound plates, along with a couple of spring collars.
This is an effective starter set that will easily fit under your couch when not in use. The bar will fit together securely with the aid of a hammer (so long as you securely connect the screw between the two parts). The plates are easy to carry around. This set comes with a full money back guarantee.
Vinyl coated concrete plates

Compact and easily storable

5 foot long two-piece bar
Bar requires fitting together
The Gold's Gym 110 lb olympic style weight set is a seven piece set, consisting of a 3-piece olympic bar and sets of 5, 10, and 25 pound plates. The weights are made of cast iron, and are round and flat. They feature an outer grip design to make them easy to carry. You also get a pair of spring collars with this set.
The three piece olympic bar is easy to put together with a hammer and is very secure when assembled. When apart, it is easy to transport. However, the bar weighs a third less than a conventional olympic bar (30 pounds compared to 45 pounds).
This is very good beginners set. More advanced trainers will soon outgrow the weight provided here.​
3 piece olympic bar

Slimline, flat cast iron plates

Spring collars provided
Bar a third lighter than conventional olympic bars
The Troy full olympic weight set comes with a complete set of 14 olympic plates. The plates are constructed from solid cast iron and coated with a black satin finish that makes them tough and rust resistant. Each plate is machine milled for the best diameter fit possible. The olympic bar is rated to handle 600 pounds. With 300 pounds of weight, you'll have everything you'll need for a quality workout.
With this set you get pairs of 45, 35, 25, 10, 5 and 2.5 lb pounds. It also comes with a pair of reliable, easy on spring collars. The bar has rotating sleeves and knurling across the extended hand grip area. This is an excellent starter / intermediate set.
14 olympic plates

Plates machine milled for exact diameter

Rotating sleeves on the bar
Black satin paint may peel after a few month's use
The 210 lb (pound) olympic weight set from Ader Sports provides you with a standard length 7 foot olympic bar, cast iron plates and spring loaded collars. The plates provided are a pair of 35, 25, 10 and 2.5 pound plates. You also get four 5 pounders. The 45 pound bar has a length of 51 inches between collars and is very strong and solid. It has a 750 pound capacity.
The plates are made of quality cast iron and feature a black paint finish. The have thick lip around their perimeter to allow for ease of transport. The weights sit securely on the bar and easily slip on and off when loading them. The heavy duty collars ensure they stay in place.
750 pound bar capacity

Thick lip around plate edges

Heavy duty collars
The VTX 300 lb. olympic weight set rubber provides you with 225 pounds of weight, a 7 foot chrome olympic bar and a pair of spring collars. You get two 45, 35, 25, 10, 2.5 b plates, along with four 5 lb plates. The plates are VTX rubber encased and have a very handy grip feature to make it easy to carry. An integrated metal sleeve on each plate makes for a secure fit on the bar.
These weights are strong and durable and the VTX rubber coating will make sure that they won't make marks on your floor. On the downside, the weights are coated in vinyl when they arrive, which has a strong odor and is a little messy.
VTX rubber encased plates

Grip feature on plates

Integrated metal sleeve
The Rogue Bravo CrossFit Olympic package includes a lot more than an olympic bar and plates but we've included it here because it is such good quality and value. You get a Rogue 230 lb Rogue HG Bumper weight set, consisting of pairs of 10, 25, 35 and 45 pound plates. It is accompanied by a Rogue Ohio Olympic bar.
The bar is 190 KSI and has dual knurling. It is plated in black zinc and black oxide. The bar comes with a lifetime guarantee against bending or breaking. You also get a set of Rogue HG collars to give you the most secure fit imaginable. This set also includes two kettlebells, a set of Rogue wooden rings, a Rogue medicine ball, speed-rope and Abmat.
Bumper plates

Dual knurling on bar

HG collars
The Rubber Grip Olympic barbell and weight set provides a plate set encased in heavy duty rubber to protect your floors. The quad grip design makes it easy to carry and position the plates on the 7 foot Olympic bar. The plates are impact resistant and extremely durable. An integrated metal sleeve inserted into each plate makes sure that it will easily slip onto the bar and will hold securely. These plates won't chip, rust or crack.
The set comes complete with a pair of quick release spring collars. In terms of weight, you get a pair of each of the 45, 35, 25, 10, 5 and 2.5 pound plates. The weights do produce a strong odor.
Quad grip on plates

Rubber coating on plates

Integrated metal sleeve on plates
Now you know where to buy olympic weights, it's time to learn how to use them. Did you know that you can get a great workout with just your Olympic weightlifting routine? Check out this informative training video for a challenging workout to get you started . . .
Conclusion
The best olympic weight set we found is the Fringe Sport Bar and Color Bumper set. This premium quality set provides you with a Bomba barbell and color bumper set that will give you the best performance possible. We also loved the CAP Barbell set, which has an excellent price point for such a quality set.
Rounding out our top three barbell olympic weight sets is the classic York Barbell 300 pound set, which provides a high end dual grip bar and cast iron plates.