Best Ab Wheels Reviewed and Rated
last updated:
Feb 11, 2020
The Ab Roller, or ab wheel as is it sometimes called, is one of those familiar exercise devices that seem to have been around for ages. When they first hit the market most people tossed them aside as an amusing gimmick and did not take them seriously as a training device.
Today, the abdominal roller wheel has gone through quite a facelift, however. They have gotten fancier, benefited from better technology and are more durable.
They promise amazing results, some of which may be hype. Look beyond that, though, and you can find a few gems that will help you transform your waistline. We have pulled together a list of some of our favorites products for you to choose the best ab roller for your needs. Let's get rolling!
In a Hurry? The test winner after 18 hrs of research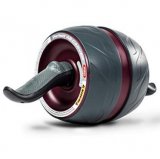 Perfect Fitness Ab Carver Pro
Why is it better?
Carbon steel spring gives extra resistance
The extra-wide tread provides stability
Comes with a digital workout
Comes with high-quality knee pads
44
Researched Sources
8k
Reviews Considered
18
Hours Researching
14
Products Evaluated
Ease of Use
Portability
Materials
Durability
Features
By Default
10 Best Ab Rollers
1

. Perfect Fitness Ab Carver Pro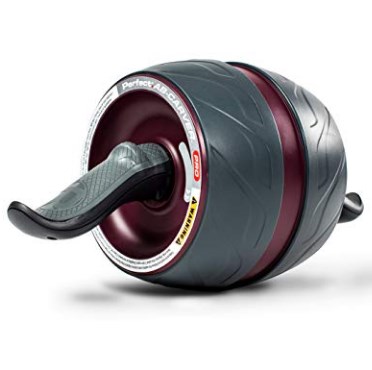 Carbon steel spring gives extra resistance
The extra-wide tread provides stability
Comes with a digital workout
Comes with high-quality knee pads
Handles may buckle for heavier users
The lock does not provide a full range of motion
Spring cannot be removed
The Ab Carver Pro has some distinct features which set it apart from the rest of the pack. This ab roller will allow new users to enjoy the benefits of the roll movement safely without compromising their form or the health of their lower back. The angled design on both the track and the handles are examples of attention to detail that make the Perfect Ab Carver an effective abdominal roller. The stylish, professional design and extra-wide tread make this a quality offering.
Read more
The Perfect Fitness Ab Carver Pro was designed by a Navy Seal in his quest to find a better core training solution for the soldiers that he was whipping into shape. He hit upon the idea of adding kinetic energy into the training mix in the form of a carbon steel spring which provides resistance when you roll the wheel out and assistance when you roll it back in.
Many of even the best ab wheels are really hard to use and put a lot of strain on the lower back. The Ab Carver was designed to allow for the new user to attain the benefits of the stretch and contraction while still being successful in performing the move.
They did this with a few exceptional innovations. First, the track is much wider than a traditional Ab Roller. This dramatically increases the balance of the wheel. The track is also slightly angled to allow for the carving motion which fully engages the internal and external obliques at the sides of the waist.
The handles are angled down which allows you to better engage the triceps muscles and not put so much effort on the shoulder. This gives you more engagement and control. It also turns the Ab Carver from an Ab device into an Ab and Arm device. The kinetic engine in the form of a heavy-duty spring allows you to get resistance on the way out as the spring coils up and as well as assistance on the way back.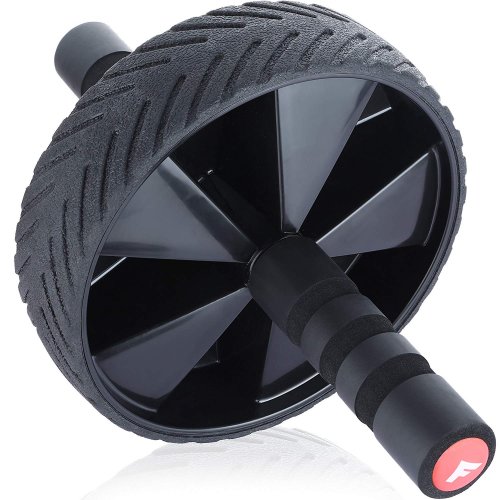 Very comfortable hand grips
Non-slip rubber wheel
Stable, smooth, and fluid movement
Two bonus ebooks and bonus knee pads
Cannot add resistance
Single wheel only
The FitNessery Ab Wheel is a simple, functional single wheel roller that performs an effective job of hitting your abs and intercostals. It doesn't have the extra features found on some models but does come with bonus knee pads, training, and nutrition ebooks. This is a good, basic ab trainer.
Read more
The FitNessery Ab Wheel is a simple, no-frills ab trainer that provides you with a smooth-rolling, durable wheel. It is made of strong stainless steel, non-slip rubber, and durable PVC. The handles of the foam roller are made from comfortable EVA foam padding to give you a safe, secure grip.
Your purchase of the FitNessery Ab Wheel also includes two training ebooks and a pair of knee pads to add to your comfort while training. This extremely popular wheel will give you a solid, reliable workout, with the solidity to allow your training from a number of different angles so you can target your obliques and intercostals.
The FitNessery Ab Wheel will work effectively on any type of surface and through any movement angle.
This product also boasts a no questions asked lifetime guarantee. They know you will be satisfied with the benefits this wheel will bring to your workout.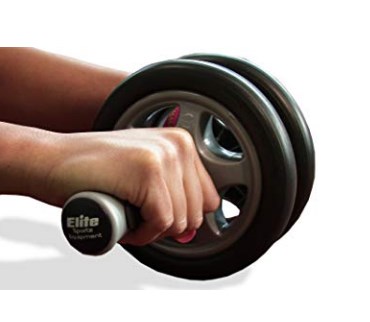 Provides a full range of motion
Features a double wheel design
Made with quality materials
Super comfortable handles
Cannot target your intercostals
The Elite Sportz is an impressive ab roller. The double wheel design and sturdy manufacture put it a cut above the competition. Great for the frontal abs, but limited stimulation of the sides of the waist. This roller would make a great addition to your workout collection.
Read more
The Elite Sportz Ab Wheel Roller has a pretty basic abdominal roller design that does the job for which it was intended. This device is actually a double wheel, providing a greater range of motion. Having the double wheel also makes it more stable than the single wheel models.
The Elite Sportz Ab Wheel Roller comes with super deluxe comfort handles to keep your hands from callusing. The elite roller has not one but two ab wheels, which work together to provide you with better balance and increased resistance. They are extremely high quality.
The unit comes pre-assembled so it is ready to use out of the box. You will also enjoy back up support with online DVD access.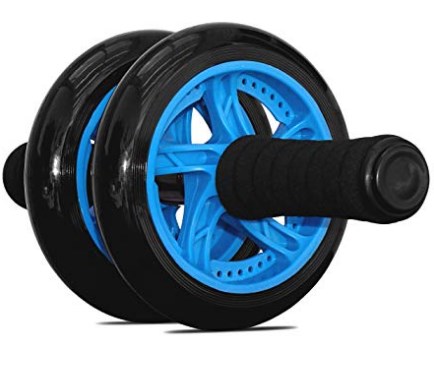 Dual wheels for balance and stability
Comes with quality knee pad
Easy to assemble and carry with you
Ultra-durable lightweight design
Soft high grip foam handles
Not as sturdy and durable as some other brands
The Maximiza Ab Wheel is another double wheel unit that is very popular with users. Its design is not as robust as the previous two units. The overall size of the machine is smaller and it does not have angled handles or wheels. However, the Maximiza is an ab roller that will do the job you need it to do effectively and reliably.
Featuring a wobble-free design and coming with a premium knee pad, the Maximiza is suitable for all user levels. Newcomers to ab roller exercise will appreciate the balance and stability that you get with this abdominal roller exerciser.
Read more
Garren Fitness created the Maximiza Ab Wheel with the beginner in mind. This wheel has a dual wheel design for added stability and comfort during your exercise. It will give you the perfect core workout. This abdominal roller wheel is easy and quick to assemble, and simple to use. It is also made to be convenient so you can use it anywhere, anytime. The durable, lightweight design makes it easy to take with you.
The comfortable foam hand grips and knee pad will make your workout a pleasure. The soft knee pad will protect your knees against any pain or grinding during your extension, even on solid wood floors, thin carpets or flooring at home or at the office. The safe, high grip foam handles are specifically designed with superior non-slip handling.
This ab wheel is on our list of the best ab rollers because it is strong and safe, suitable for anyone who wants to develop those core muscles and strengthen their abs, arms, and back muscles as well. If you are tired of doing situps or using ab machines that do not give you the results you are after, this roller would be a perfect addition to your home gym equipment.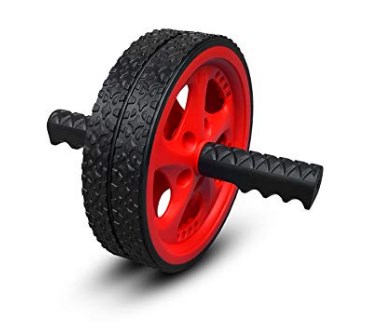 Will smoothly roll on any surface
Easy to assemble
Great for beginners
There is no handgrip adding
No internal spring
No bonus extras
The Valeo Ab Roller Wheel is a cost-effective, simple ab trainer. It has double wheels which are impressive for a wheel in the budget category. You will get an effective workout for your upper and lower abs, along with your intercostals. There a couple of disadvantages here; the handgrips, absent of padding, are not very comfortable and it doesn't come with any bonus extras.
Read more
The Valeo Ab Roller Wheel in an extremely affordable double wheel roller that provides added rigidity and ease of roll. It will allow you to get in a great workout on any surface. The wheel is made from plastic, yet provides all the strength that you will need for normal home use. The non-slip wheels ensure that you get a smooth roll-on wood, plaster or carpet.
With its double wheel design, this ab wheel takes a little bit of construction. However, it is extremely easy to put together. This is the best ab wheel for entry-level. It's a great fit for people who are not used to working out with an abdominal wheel. It provides you with contoured handles for enhanced grip which is comfortable and slips resistant. This ab wheel is also compact and lightweight, easy to put together and take anywhere with you. There is a fitness guide with exercises included to guide you through a complete workout.
6

. Power Systems Power Wheel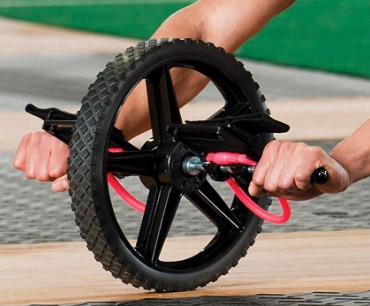 Soft foam hand grips
Also has foot pedals with adjustable straps
Heavy-duty tire tread promotes traction
Multi-directional wheel
Foot pedals take some getting used to
This abdominal roller exerciser is the ultimate core training tool. You can use this quality piece of equipment to strengthen your core. Challenge your obliques and glutes. Enjoy comfortable, soft foam hand grips or you can switch to the pedals for a lower body workout. The pedals give you a huge amount of intense workout versatility.
Read more
The Power Systems Power Wheel will be a quality addition to your workout equipment. The patented Lifeline revolutionary design lets you put your hand's shoulder length apart to allow for greater body motion. This ab roller wheel has a greater range of motion than a lot of the other models on the list.
Hand on the bar exercises allow you to work towards six-pack ads and a strong lower back. Do push-ups, crawls or pike ups with your feet on the bar to strengthen your chest, shoulders, and arms. Or from the other direction with your feet on the bar you can do leg lifts and curls to develop your glutes, hamstrings, and thighs. This roller will provide such a great overall workout. It has a 13-inch multi-directional smooth wheel which is heavy-duty with tire treads that promote extra traction. Use this equipment to increase your balance, coordination, and stamina.
7

. Sports Research Ab Wheel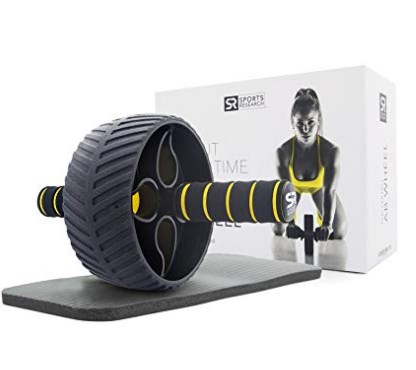 Has a wide wheel
Is extremely stable
Has comfortable handles
Free knee pad and workout guide
The Sports Research Ab Wheel is a much wider wheel than you find on most rollers at two inches thick. This wheel is three inches thick provides you with an outstanding level of stability when rolling out, resulting in a more productive and intense workout. This is a premium performance wheel with all the features you need to take it with you and work out anywhere you get a chance. Use it to carve left, right and center.
Read more
The Sports Research Ab Wheel will make a perfect addition to your home gym equipment. The wheel itself is three inches wide to provide amazing stability during your workout. The handles on this abdominal wheel are ultra-comfortable. They are ergonomically designed to prevent discomfort in your hands and generously padded to ensure that you do not get any calluses or other hand injuries. The handles are also removable for compact storage.
Your purchase of the Sports Research ab wheel comes with a complimentary knee pad to cushion your knees against hard floors or thin carpet. You also get a handy workout guide to get you started on your way to a flatter midsection. Your purchase is protected by a one year warranty.
8

. King Athletic Ab Roller Wheel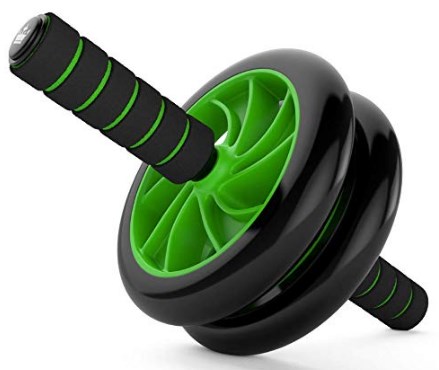 Heavy-duty construction
Double wheel
Steel rod supports up to 500 lbs.
200% guarantee
The King Athletic Ab Roller Wheel features a heavy-duty metal shaft that ensures durability and ease of movement. This is a double wheel roller, providing you with an extremely smooth rollout. The dual traction wheel also ensures a good level of grip on every type of surface. Your purchase gives you access to two free ebooks which will give you all the training information you will ever need. The unit assembles in seconds.
Read more
The King Athletic Ab Roller Wheel is a smart design. The non-slip rubber wheels have reinforced spokes and an option to space the wheels further apart for added stability. The steel rod is designed to support up to 500 pounds of weight and has comfortable foam handles. The whole thing is easy to break down so you can easily take it with you to the gym or even in your luggage for a road trip. The instructions are included inside the box.
While many ab-rollers are not built to be durable, the King features a strong metal shaft and a wheel with dual traction for the best grip. It is made with materials that are safe for the environment and is best for an exercise that uses your range of motion to the fullest. It also comes with a 200% guarantee, meaning if you are not satisfied with this abdominal roller exerciser the manufacturer will send you a replacement and your money back. This wheel is a great way to burn calories, develop your muscle mass, and surpass your fitness goals.
9

. Power Guidance Ab Wheel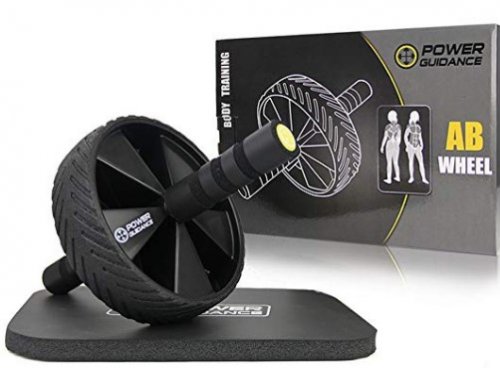 Has a wide wheel
Easy to put together
Comes with a thick mat
Lightweight and portable
Handles are a little too big
The Power Guidance Ab Wheel is a pretty simple single wheel design ab roller. It is made from high quality hardened plastic, and steel, with a high-density rubber wheel to provide the best traction on any surface. The extra-large wheel is two inches wide to ensure that your training experience is smooth, stable and secure.
This device is extra lightweight and portable, easy to assemble, and does a great job of working your abs and intercostals. Your purchase comes with an extra-thick mat for knee support.
Read more
Power Guidance is another stellar ad roller with innovative, non-slippery rubber, comfortable foam grips and an extra thick knee pad included with your purchase. The rod is stainless steel. This wheel is an effective tool for developing your core strength. It will help to improve your abs and lower back strength, as well as decrease any chance of muscular injury.
The Power Fitness Ab Wheel is quality fitness equipment, made of hard plastic and steel which is designed for durability, safety, and load capacity. The materials will not damage the floor or make any irritating noises when you use it. The foam handles minimize hand fatigue while helping you with easy control and comfort. This set up is ultra-lightweight and easy to assemble, so you can achieve your fitness goal wherever you are.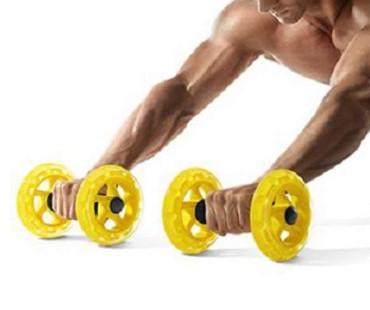 Non-slip wheels that move together
Soft foam handles
Lightweight and portable
Two separate handsets
The workout may be too hard for some people
SKLZ challenges you to try a slightly different way of ab roller training with these two unattached wheelsets. This set will help you develop dynamic core strength by being able to tone all of your midsection muscles at once using a variety of different angles. You can use a wide variety of different push-up variations and also some different types of stretching to improve your flexibility. This set up will work for you whether you are a beginner, intermediate, or expert level in your training.
Read more
SKLZ is committed to elevating the athlete in you with this set of ab roller wheels. The SKLZ set is a flexible fun way to enjoy a high-quality workout. This set features two separate handsets with non-slip wheels and nice ergonomic foam handles. The set is lightweight and portable, easy to throw in your gym bag and take anywhere with you.
These wheels will help you enhance your workout by providing a different variety of traditional plank and pushup exercises. You can develop better pillar strength as well in your shoulders, torso, and hips. Benefit your body with enhanced core strength and improved flexibility by toning your midsection using a variety of different rolling angles. You can train harder as the wheels on each side of your hands help to destabilize your movements which make your shoulders, torso, and hips work harder than ever. They also provide a training guide to help you perform at your best.
Criteria Used for Evaluation

Ease of Use
Ease of use is probably the most important criteria in any exercise equipment. You want something that is simple so you will be inspired to pick it up and use it on a regular basis. An easy to use ab wheel will be simple to assemble and be ready to use in minutes. It should roll easily on any surface without damaging the floor.
The handles should be easy on your hands and the wheel should offer a little resistance so you can get a good workout. It is also helpful if the roller comes with a good thick knee pad which will protect your knees anywhere while you are exercising. Most of the rollers on our list meet all these criteria.

Portability
Ab rollers are small so they are not too hard to carry out with you but they can be a little cumbersome. It is much easier if you can find one which disassembles and reassembles fairly easy, so you can take it apart to fit into a gym bag or even in your luggage but it is also not so complicated that you cannot put it together for a quick workout when you get a chance.

Materials
Ab rollers are usually economical but you do not want to scrimp when it comes to buying one made of the highest quality materials, so it will last longer and for general safety reasons. If you have a wheel that slips or breaks it could cause unnecessary injury. Look for a wheel made of non-slip rubber with a nice wide tread so it will be stable.
The handles should be sturdy enough to hold your weight with good grip features and maybe even be ergonomic so they will be easy on your hands. Most of these ab wheels also come with knee pads but pay special attention to be sure the padding is nice and thick to protect your knees during exercise so you will not have to think about them during your workout. You will also want to make sure the material the knee pad is made out of will not slip while you are extending or pulling back.

Durability
As we mentioned before, you want to find the best ab roller which is ready to stand up to years of use on a regular basis. It should be able to withstand your weight and be sturdy enough not to break during use. The handles should hold up to the constant grind of holding you while the wheel moves forward repeatedly. It should also stay sturdy even when you take it apart and put it back together over and over. Be sure you consider the knee pad too. It should be made of a material that is not going to fray or get slick over time.

Features
Before making any purchase, it is always important to consider how you will be using the product and make sure the distinguishing features match up to your special needs. Are you going to be taking it with you all the time? So being able to assemble the roller easily will be the most important. Do you have hardwood floors or thin carpet where you plan to be using the ab roller? You will want to make sure the roller you choose is designed for these surfaces.
Other features include having a knee pad that comes with the device so you are ready for your workout as soon as you open the box. Some of these wheels also come with digital workouts or free ebooks which, of course, makes a nice perk when purchasing your ideal ab roller.
Expert Interviews & Opinions
Most Important Criteria
(According to our experts opinion)
Experts Opinion
Editors Opinion
Users Opinion
By Default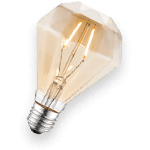 Features
Features are extras and think if you need them?
All brands offer great products, the more you pay, the more features you get. Consider your training aims, if there are features design in which do not fit your aims, you could save on money. Choose a brand that offers a range of features that meet your fitness aims. If your aims are high, pay a bit higher, if they are not so high and just standard, pay a standard price.
Materials
There are a lot of cheap imported products that are massed produced overseas and do not offer the same level of performance and quality that a trusted brand will produce.
Go for a known brand that will have been pre-researched to ensure it is built from a combination of quality and high performing materials. This way in the long term, you will save money because the product will give a good life-span. This is better than having to buy again to replace a product which had been built from low-quality materials.
Frequently Asked Questions
q:

Is using an ab roller good for my back?

a:

The biggest disadvantage of using an ab roller wheel is that it may put added pressure on your lower back. If your back muscles are weak or your hip flexors are tight, you may want to work on strengthening those muscles before using an ab roller. Be sure to ask your doctor about it.
q:

Will an ab roller help me burn off some belly fat?

a:

Several studies have shown that targeted ab exercise does not help much with removing belly fat. Fat mass needs to be broken down before it can enter the bloodstream and go out of your body. However, the ab roller will help in an untargeted way because any type of regular exercise will help speed up your metabolism and burn calories and fat.
q:

Why would I use an ab roller?

a:

Ab rollers work to strengthen your core which helps the rest of your body, including your posture. It works on various specific muscles. The rollout you do with these wheels is more of a challenge than a lot of other ab exercises and a little more fun. Strengthening your core helps to improve your overall posture and balance. Using an ab roller is also convenient, as you do not have to go to a gym to do this type of exercise. You can use an ab roller almost anywhere
q:

How did ab rollers start?

a:

They were invented by a guy named Don Brown who owned a chain of health clubs in New Jersey. Mr. Brown knew there was a market for exercise equipment which would work exclusively on Abs.
q:

What muscles does the ab roller target?

a:

They are a very versatile piece of equipment that can work about 20 different muscles. It will definitely help you to improve your abs, butt, and thighs. The ab roller can work on 20 different muscles but it is also possible to target specific ones. They are designed so you can stretch out forward and work part of the muscles. Then you can veer from side to side as your muscles get stronger.
Subscribe to our newsletter