Top 10 Home Gym Flooring Mats Reviewed
last updated:
Feb 12, 2020
You just decided to convert your own garage into a garage gym because you have enough space for it, but before you could buy the necessary equipment to fill the space, you have to think about filling the interior with the right design. Aside from the gym mirrors, you also have to think about the best home gym flooring you want your gym to have. The type of floor your gym has is one of the most important aspects of building and maintaining a healthy, stable home gym. Many types of training units will totally mess-up your floor if you don't install the right type of flooring. On top of potential damage, good flooring will also keep things quiet while you do exercises like deadlifts and other Olympic lifts.
In a Hurry? The test winner after 12 hours of research: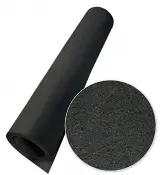 Elephant Bark Flooring Mat
Why is it better?
One Piece Mat
Recycled Materials
Range Of Sizes
Easy DIY Installation
43
Researched Sources
10k
Reviews Considered
12
Hours Researching
13
Products Evaluated
Comfort
Materials
Size
Use
Effectiveness
By Default
10 Best Home Gym Flooring
1

. Elephant Bark Flooring Mat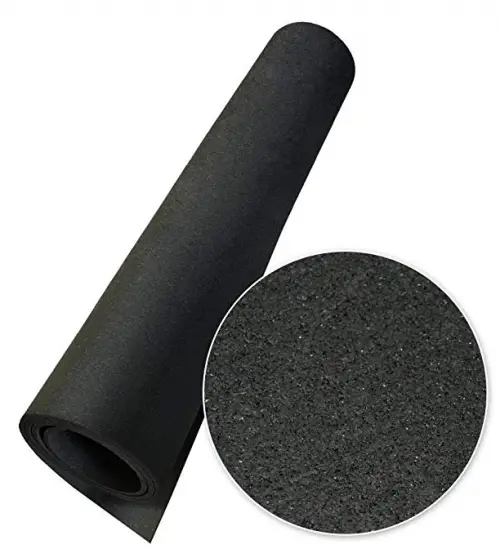 One Piece Mat
Recycled Materials
Range Of Sizes
Easy DIY Installation
From Rubber-Cal, heavy-duty and stylish underfoot support and protection. This gym flooring for your home has different sizes available. Made from recycled materials. 3/16" thick. The basic package comes with a 4' x 4' tile (16 sq feet). However, you can order sizes up to 4' x 25' feet.
Read more
This flooring for home gym is very easy to install, and there's no need to use adhesives or pricey installers. It has great UV resistance and water-resistance as well, so you can install the outdoors too without worrying about damage. If you worry about your color options, there's no need! These home gym floorings come in a big range of colors with bright attention-grabbing speckles. It will protect you from impact while reducing vibrations.
2

. Gorilla Mats Premium Large Exercise Mat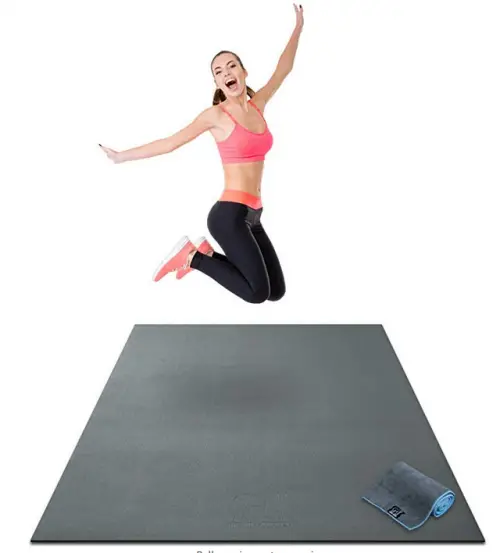 One Piece Large Mat
Reversible Colors
Thick Double-Sided Design
Non-Slip
This is a 6 foot by 4 foot by ¼ inch thick home gym floor that provides a high density, non-slip performance workout surface. Circle pattern button grips prevent the mat from sliding around. Made from eco-friendly non-toxic materials. This mat is available in two reversible colors.
Read more
This oversized mat simply unrolls to give your feet softness and comfort. The mat is definitely large enough to give you as much room for your exercises as you need. It does a pretty decent job of protecting your floors too! Each home gym floor comes with a microfiber towel. There are velcro straps on the sides so you can store the flooring for your home gym away with ease. This home gym flooring is backed by a lifetime warranty, so go ahead and exercise your heart out!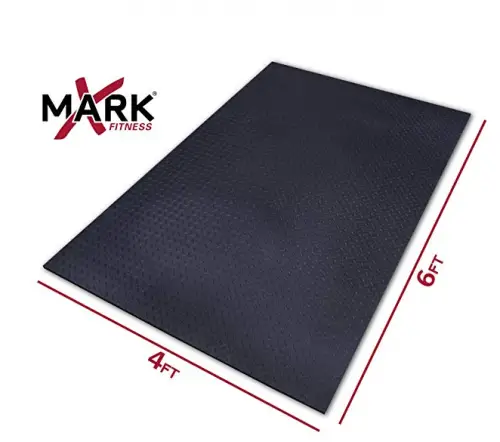 Recycled Rubber
Heavy Duty
High Impact
Range Of Thicknesses
Rubber flooring. Ideal for Concrete/high impact exercises. Each order comes with one 4' x 6' tile for a total of 24 sq feet. Options available for 1/2" and 3/8" thickness.
Read more
This is a heavy-duty home gym flooring that can withstand a lot of jumping and pounding. The surface is textured to help you stay upright and balanced. The rubber is recycled, so it might have some minor imperfections, but nothing that should impact your exercises!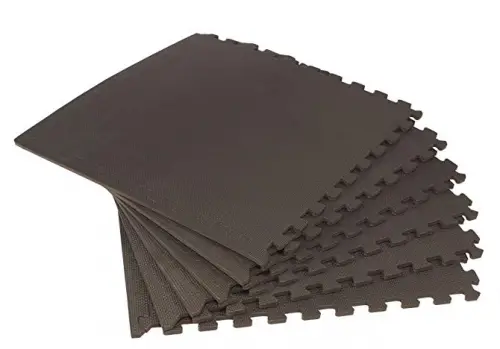 Interlocking Foam
Bright, Vibrant Colors
12 Tiles Per Pack
Covers 48 Square Feet
This flooring for home gym fits together like puzzle pieces, and you can simply place it all-around your floor without having to glue it together. 3/8" thick. Each order Comes with twelve 2' x 2' tiles for a total of 48 sq feet.
Read more
These home gym floor mats come in a huge range of bright and vibrant colors, so if your home gym needs a breath of life, give these mats a try! These home gym flooring mats come with orange anti-fatigue tiles. If you want, you can get these mats in a checkerboard pattern as well. These home gym flooring mats will match with every mat this company sells, so there no need to worry about a specific item, just make sure you've got mats from the same company.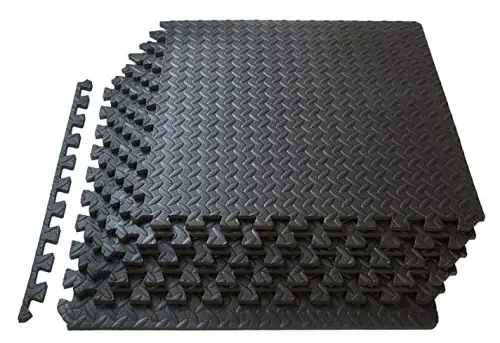 Ribbed Surface
High-density EVA Foam
Half-inch Thick
Water-resistant
These tiles are also interlocking like regular puzzle pieces are, giving you a very easy way to install them. Each order comes with six 2' x 2' tiles for a total of 24 square feet.
Read more
The home gym floor mats are hardy and non-skid thanks to their great construction. They are lightweight and fit easily around one another. The home gym floor tiles are water-resistant, and they lower noise and vibrations, so if you've got neighbors who don't like loud noises, these tiles are your solution. The home gym flooring mats are made out of high-density EVA foam, without a trace of toxic materials inside!
Sound Dampening
Impact-absorption
Very Sturdy
Easy Install
Waffle Pattern On Base
This comes with a price, and if you are the type never to mind how much you are going to spend in your garage gym, this is another option you should take a look at. The Rogue Fitness Facility has the flooring or mats that will definitely last forever. Many have given 4 out of 5 stars because of their durability, indestructibility, and quality.
Read more
But, if you are going to buy their materials online, you will have to pay for the shipping. Some options may differ from one another, and it can be confusing on how much it will really total everything. Just be careful that you do not end up with very expensive shopping. Rogue Fitness is common in commercial home gym flooring because it is where people constantly come and go, thus the need for high quality.
7

. Balance From Exercise Mat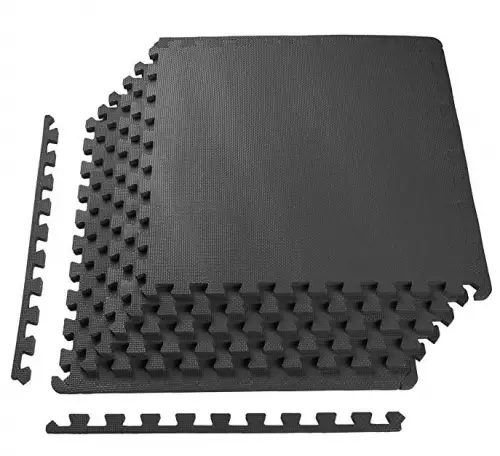 Easy To Assemble
Hardy
Non-stick
2-Year Warranty
EVA Foam interlocking tiles that are durable and non-stick, their tiles are easily laid puzzle style. You have a choice of a ½ inch thick, 24 and 144 square feet, as well as a ¾ inch thick 24 and 96 square foot packages.
Read more
This home gym floor is enduring and non-skid too, creating a safe and comfy exercise environment. Since this is also a puzzle piece flooring, the tiles will connect easily and give you what you need in just a few minutes' time. They are easy to clean, water-resistant and lower noises, so they are ideal home gym workout flooring for any kind of gym.
8

. INCStores Interlocking Foam Tiles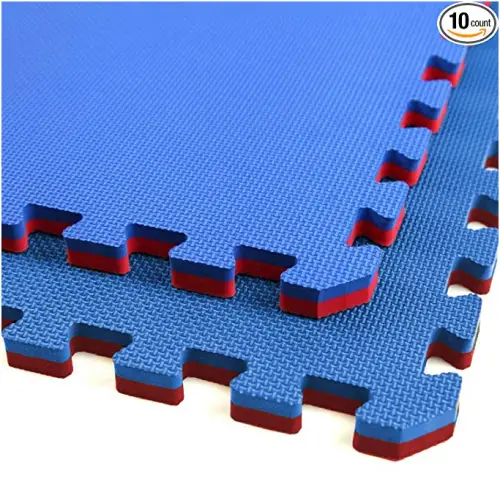 Reversible Colors
Detachable Edge Pieces
Waterproof
Mold And Mildew Resistant
Generates A Lot Of Static
Reversible color interlocking tiles, detachable edge pieces, 24 x 24 x ¾ inches, high density closed cell EVA. These tiles are water-proof and mold and mildew resistant.
Read more
These interlocking foam tiles come in two beloved colors that can be reversed at any given time. Two attachable pieces are included that act as edges, so you can turn any gym flooring for your home into a border or a corner. The thickness and the colors of these tiles may change over time, so it's something worth remembering when you see your home gym flooring started to change.
9

. YES4ALL Interlocking Foam Mats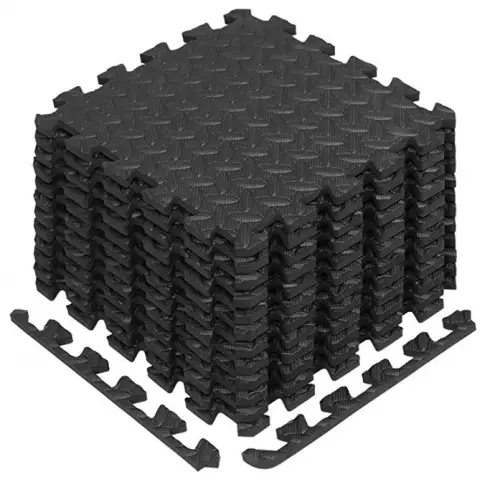 Non-stick
Shock-Absorbing
Half-inch Thick
Water And Noise Resistant
Non-stick textured and shock-absorbing EVA foam rubber tiles that measure 12" x 12" x 0.5". Lightweight puzzle pieces that can be very easily assembled. Water-resistant and noise-reducing design. One-year warranty.
Read more
Yet again, these tiles are in the form of puzzle pieces that can be very easily put together. The mats are very easy to clean and are noise dampening and water-resistant, so they're perfect home gym floor for any kind of gym. These tiles come with a one year warranty, giving you the possibility to replace the gym flooring for your home if they get damaged before that period expires.
10

. Sorbus Wood Grain Gym Flooring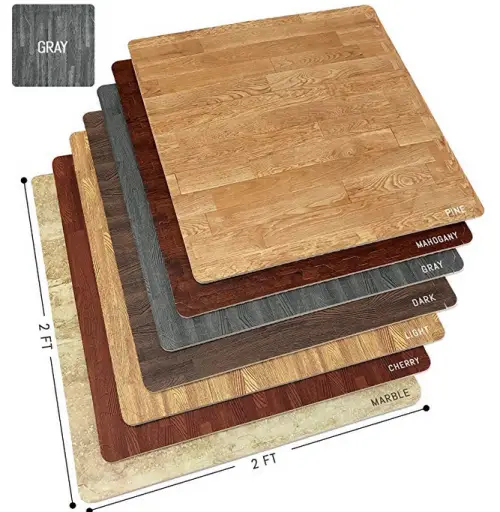 Range Of Wood Grain Patterns
Plastic Cover
Detachable Edge Pieces
Comfy And Safe
Interlocking Parts Stick Up
Sorbus Wood Grain Gym Flooring makes your gym look like a fancy high-end gym thanks to the faux wood surface and patterns that style your home gym. Although the picture doesn't show it, these tiles interlock thanks to their jigsaw pattern, easily and conveniently. Each padded tile measures 24 inches in length and 24 inches in width.
Read more
Detachable edge home gym floor pieces are included, to mask away the puzzle edges making these tiles look like regular hardy wood even more. The tiles of the home gym floor are super easy to clean thanks to the plastic surface and are water-resistant too. The home gym flooring plastic surface protects the tiles from spillage, making then non-absorbent as well.
Criteria Used for Evaluation
Expert Interviews & Opinions
Most Important Criteria
(According to our experts opinion)
Experts Opinion
Editors Opinion
Users Opinion
By Default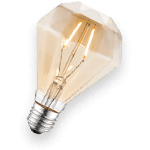 Thickness
Something you should really consider before making a gym flooring choice is how thick the tiles are. Gym tiles come in a range of thicknesses that all have their specific applications. Generally speaking, the thicker the tiles the better experience you will have, simply because you will be comfier, and the tiles will be hardier. There are rough estimates of the thickness your gym may need, depending on what you're going to be using it for. For cardio and plates, you need tiles that are six to twelve millimeters thick. Functional training desires flooring that is at least ten millimeters thick, while dumbbell and CrossFit areas have to have super thick tiles which are at least 15 mm thick. Rack areas and weightlifting areas are absolutely devastating towards your floor, so make sure to protect it by choosing tiles that are 40 mm thick, or even more!
Flammability
The flammability of your home gym floor may be the last thing on your mind, but trust us, it's something you should definitely think about. A gym isn't usually a fire hazard, but accidents do happen and it's vital you stay protected. The standards you need to look out for are defined by an EU standard, DIN EN 13501-1, giving you a rough estimate about the floors flammability, gas emission and how much flaming particles tend to fly around. When commercial gyms are created, the regulations must be followed, so you have to do the same thing for your home gym. There are plenty of not-so-flammable options out there, so if you care about your health (and potentially life) choose the safest tiles you can find!
Other Factors to Consider

Compression
The compression rate and the density of your tiles is also something you should consider, but since they are widely affected by other major criteria we mentioned, we will shortly describe why you should consider this in the first place. EVA Foam, for example, is very compressive, but that's actually something that you shouldn't go for! This will bring you closer to the floor, and EVA doesn't bounce back that well, even though it really is dense, so you're left with a permanently thinner floor. Rubber mats and floors should withstand at least 900 kgs per cube meter, and the higher this number is, the more durable your tiles will be. If you can't figure out how dense and compressive the tiles are, you can always order a test example to try them out and see whether that particular tile meets your requirements or not!

Water Resistance
Water-resistance is important if your gym tiles are going to be outside, or if you plan on cleaning them more often than not. Of course, EVA foam will be very absorbent, so it might be prone to mildew and foam. This is not true if the tiles have some sort of film or shell protecting them from all of this, and most of them do. This makes cleaning up much easier, and there's less chance that stinky odors will form to pester your sensitive nose. After all, a bad smell can put everyone off of the idea of working out, especially when you realize that you will be breathing that smell intensely over the next hour or so. Rubber is much better at being water-resistant since it naturally has these properties. It is porous though, so a good protective surface will help it dry faster and keep mold out.

Portability
Some gym tiles can be disassembled whenever you want to, and you can then easily store them away, or even pack them in a back to move them someplace else. This is very true for puzzle tiles, as they are usually small, and can be moved around the gym at will. Rubber tiles can also be shifted everywhere unless they are glued to the floor. A home gym flooring might not be so important, unless you're someone who tends to move around a lot, or if you move the tiles underneath every piece of equipment you use, opposed to just putting the tiles all across the floor.

Bottom Line
You should think about your gym as a gym, not as part of the house. The floor underneath your feet in your gym should be vastly different from the floor found all-around your house. The wrong choice of floor material can seriously damage your equipment, the floor underneath it, and maybe even you! To make sure this doesn't happen, you must thoroughly research the type of home gym flooring you need for your gym, and of course what fits in your budget. We hope our guide has helped you make an easy choice!
Frequently Asked Questions
q:

What type of flooring is the best?

a:

Well, every material we mentioned has its own set of benefits and drawbacks. The general consensus is that rubber tiles are the best option out there. Why is that, you may wonder? Well, EVA tiles are very squishy and bouncy, which is exactly why you might not even want them in the first place. They will not spring back when compressed, leaving you with thinner floors than you started with. Secondly, these tiles are not firm, so you won't have a stable foundation! Your floor must not move around when you lift heavyweights. EVA floors are great if you plan on doing yoga and simple exercises on them though since they are quite cushy. Cork floors are a great option too, since it's eco-friendly, and truth be told, it looks quite cool. But cork is not durable - once you tear it up, it's game over! And, it won't cushion you that well. Rubber is obviously the best option out there, just make sure to choose rubber tiles for gyms, not for horse stalls!
q:

Are gym tiles odor-resistant?

a:

Well, depends on what kind of tile you go for. Some tiles are water-resistant, so they are odor-resistant too, at least to some degree. Other floor tiles, like EVA floors, absorb sweat and every kind of moisture that reaches them, giving bacteria and other microbes a chance to grow and develop, and they can cause some serious odor! On the other hand, some tiles may produce odors all on their own, like rubber tiles. We're all familiar with that rubber smell! Some people may even like it, but it can't be good to inhale that all the time. You can get this smell out by cleaning your floor thoroughly, and by making sure that you didn't by a home gym flooring for horse stalls since they tend to be really smelly. Let the tiles sit in the sun for a certain period of time, so they can air out. Let the sun do the work for you!
q:

Can I slip on these gym floors?

a:

Again, this depends on what kind of tiles you've opted for. EVA foam is generally slip-proof since it's porous and it absorbs moisture, preventing you from slipping around. Cork does the very same thing, but if it has a protective outer layer, it may be a hazard. Rubber tends to be the slippery one, but luckily the producers of these tiles realized this quite quickly, and they started texturing their tiles, giving them small knobs and textures that prevent you from slipping around too much, or completely! Your choice of shoes can also affect this, and if you have the right kind of sole for the job, you won't slip around at all.
q:

Do I need to have flooring?

a:

Every respectable gym needs to have good flooring. The tiles will provide you with many benefits a simple hardwood or cement floor cannot. It will protect you from falling damage, and your equipment as well, softening the fall and absorbing all impact-forces. A good floor will provide you with a stable surface to stand on while cushioning our feet and your body if you do exercises on the floor. The equipment you have will stay in place, instead of rolling around and jiggling when you use it. A great home gym flooring will make doing things on the ground much more fun! And lastly, a colorful surface will make your gym pop, essentially giving you joy whenever you step into it.
q:

Can I replace my tiles at any given time?

a:

This is the best thing about gym floors - they are almost never glued to one place, and they can be moved around and replaced whenever you feel like it! Just make sure to not replace your tiles very often, since that can be quite an investment, plus you might need to get used to the floors over and over again, as opposed to enjoying one kind for a longer period of time. Your tiles will need to be replaced someday - whenever they have serious dents, tears, when they're compressed so much that they feel like the actual floor, or when they're so torn up that they don't even cover the floor anymore. Luckily, you really can replace the home gym flooring whenever you feel like it!
Subscribe to our newsletter