Top 10 Exercise Mats for Home Fitness
last updated:
Feb 12, 2020
A big part of enjoying a successful session in your home gym or in a lot of the studio classes is to start at the foundation with a quality, durable exercise mat. You want to take care of your body with a mat that is going to support your body's movements as well as prevent any injuries. You want the correct size, fitness, and texture to cover your fitness style perfectly. It needs the right amount of cushion to protect your body and also the right amount of traction so that when the sweat starts, it does not cause any slipping. There is a huge variety of exercise mats on the market, so we have done the research for you and come up with a list of the best exercise mats to help with your buying decisions.
In a Hurry? The test winner after 42 hrs of research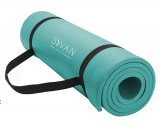 Sivan Health and Fitness
Why is it better?
Removable carry strap
Made from high-density foam
Comes in a wide variety of colors
31
Researched Sources
12k
Reviews Considered
42
Hours Researching
20
Products Evaluated
Features
Comfort
Durability
Materials
Portability
By Default
10 Best Exercise Mats
1

. Sivan Health and Fitness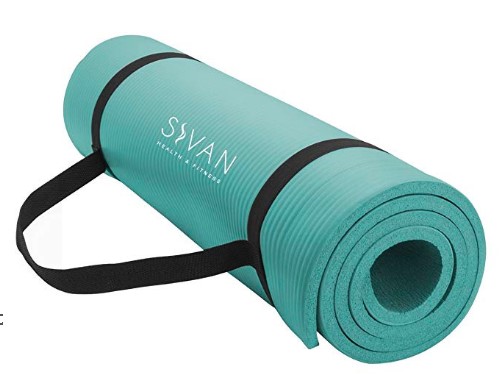 Removable carry strap
Made from high-density foam
Comes in a wide variety of colors
Gets slippery when you sweat a lot
This mat from Sivan Health and Fitness is wide enough to be comfortable for all shapes and sizes. It works perfectly for pilates, yoga, toning, or stretching workouts. This is a half-inch ultra-thick mat made with memory foam to protect your joints and knees while still gripping the floor to give you a good balance. There is one surface that is ribbed while the other one is smooth. The non-slip side prevents injuries by gripping the floor. The material is durable, long-lasting, and easy to clean. It also features a carry strap.
Read more
The Sivan yoga mat is made from NBR foam and is perfect to help you cultivate a healthy body, mind, and soul. You can use this mat to fully enhance your workout journey. Enjoy your everyday routine, use it to warm up before your class, or stretch your possibilities. This mat travels perfectly. You can use the shoulder strap to transport your mat to classes, your favorite gym, or anywhere else you want to work out. This mat is comfortable with an extra thick and dense material. It is durable enough to stand up to numerous stretches and yoga classes.
It is made of high-density foam which has non-skid ridges on one side. Placed against the floor, this mat will give you excellent stability during your workout. The carry strap is integrated into the design to make this mat easy to carry with you. The mat is about two feet wide and almost six feet long. It is available in a huge variety of colors so you are guaranteed to find one that matches your style. This thick NBR foam is designed for the best shock absorption from exercise impact. It is made to comfort and support your body. Just wipe it down for a slip-free and clean surface. When you are not using it, the mat is easy to roll up and transport using the removable strap.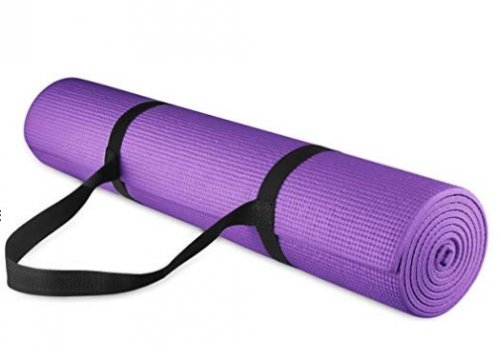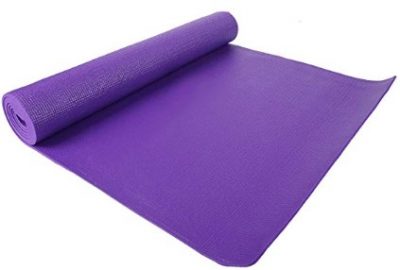 Very easy to clean
High quality, anti-slip technology
Lightweight and portable
Crumbles when used with shoes
The BalanceFrom yoga mat features the advantage of excellent slip resistance to prevent you from harming yourself during a workout. It allows you an exceptional resilience so you can keep your balance while doing any type of exercise style. It also has a moisture-resistant technology so it is easy to wash after use with soap and water. It is easy to carry with you since it is lightweight and has a nice strap.
Read more
This mat is 2 feet wide and 68 inches long to give you plenty of room for comfort while you are working out. The ¼ inch thick mat is made from eco-friendly, high-density material, which supports and cushions your hips, spine, knees, and elbows against the hard floor and keeps you balanced. It has non-slip double-sided surfaces, so you have a slip-resistant advantage to help you prevent any injuries. When you are done with your sweaty workout you can easily wash it with soap and water thanks to the moisture-resistant technology. It is lightweight with easy strapping so it is easy to store and to transport with you to the gym.
This mat is an extra thick premium mat made of high-density foam material which is perfect to cushion your joints against the hard floors. It is made of an anti-tearing net integrated into the material so it can be used for most yoga poses or other activities while exercising. The mat has moisture resistant technology which lets you wash it with soap and water.
3

. Aurorae Classic/Printed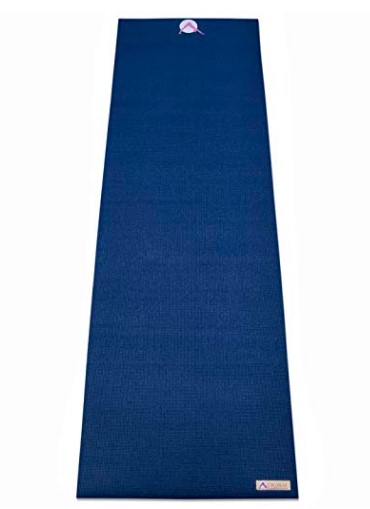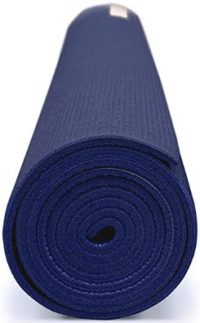 Free rosin bag
Includes no toxic materials
Lightweight and durable
Gets slippery if you sweat a lot
The Aurorae exercise mat is an impressive six-foot-long and two feet wide. The Rising Moon focal point is set to help you focus on colors that illuminate. This mat is lightweight and durable, as well as odorless. They are also easy to wash. These mats have also been tested to confirm they are non-toxic, containing no phenols, phthalates, PAHS, silicone, latex or rubber. These are all-purpose mats that can be used by any member of the family for pilates, aerobic, or even outdoor activities like fishing and camping.
Read more
These exercise mats have the perfect surface designed to protect your joints and your knees. They also grip the floor so you are set for the balance poses. This mat is ¼ inch thick because mats any thicker can make it hard to hold the balance poses and makes the surface unstable. Thicker is not always better. These mats are lightweight and odorless. They are also durable and easy to take care of.
These mats have also been tested and approved as non-toxic and hypoallergenic. They do not contain any of the questionable materials which not only makes them safe to use, but it also makes them better for our environment. They are constructed from non-toxic resin and do not emit the toxic chemicals or gases that some do. The focal point icon works with you to have a focus on your poses and the mats are available in colors which will help you define your inner self. There are tips included in the package with each mat. There are tips to keep you from slipping and also how to take care of the mat. You can use the free rosin bag to absorb any sweat so you can get more gripping power.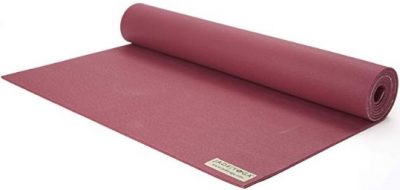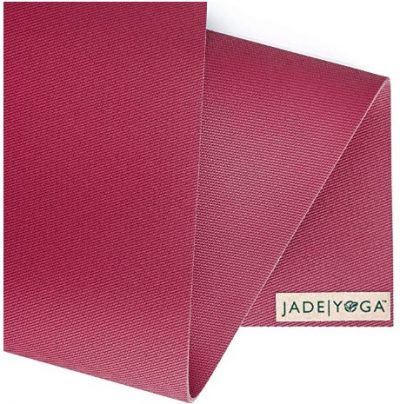 Made with all-natural materials
Company plants trees for each mat sold
Comes in lots of colors
Colors may not be as they appear
The Jade Harmony mat gives you fantastic traction. They are made of natural rubber that has a stronger grip and better cushion than the synthetic rubbers on the market. This is their most popular mat and is 3/16 inch thick which gives great cushion and stability for your standing poses. It is perfect for any use or level. These mats have superior quality designed with the best materials to guarantee outstanding performance. They are also designed to last.
Read more
The Jade mats have everything you could want. They come in cool colors and provide excellent traction. They are also comfortable and are constructed with sustainable materials. These mats are made with natural rubber which has a stronger grip and better cushioning than the synthetic rubbers. Jade Harmony wants to be sustainable and fortunately, rubber is sustainable and performs excellently. They are committed to returning back to the Earth the products that they use. The mats are made from trees and this company plants a tree for every mat they sell.
They first launched its brand of mats for yoga in 2002. The company originally sold non-slip rubber rug and carpet mats. Some people were using them for yoga mats so it made sense for them to branch into specializing in yoga products. They recognized that most yoga mats are slippery which makes practicing yoga not only annoying but unsafe. They worked to address this issue while sticking to their core values of using high quality and natural materials. After some testing, they were successful and the Harmony line was created. Their mats are designed with open cell natural rubber. It gives you an optimum grip for your long poses and during intense practice. It is great for all types of yoga.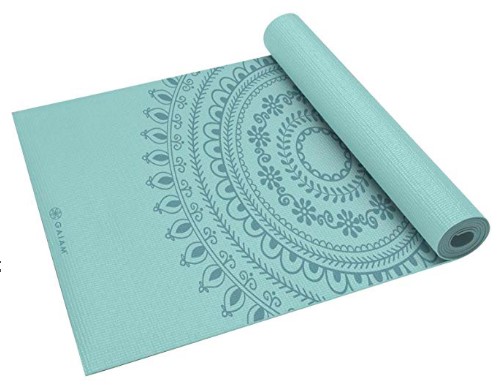 Extra thick
Comes with a free yoga class
Non-slip surface
You need to lay it out for a few days before you use it to get rid of the odor
Gaiam makes a lightweight yet durable exercise mat. They are designed extra thick to give you better cushioning for your joints during yoga or any other exercise. The mat gives you a textured non-slip surface with quality traction and grip as well as a stylish design to keep you focused and motivated. The mat is non-toxic and free of harmful synthetics. It is a healthier choice for you and the planet. This mat includes a bonus downloadable yoga workout which will get you started on your healthy journey.
Read more
The Gaiam is a super thick mat with a stable no-slip cushioned surface for you to practice on. It is great for studio or home use and will give you the comfort and safety you need to get proper alignment and maintain poses as well as helping to protect your joints. It is made without the top six most harmful phthalates, so it is healthier for you and for the planet. When you first get it, you should unroll it and air it out for 2-3 days before you plan to use it.
These mats are thick and give you a surface that is non-slip and stable for practicing yoga. It is perfect to use at home or take to class with you and gives you great cushioning to protect your joints. This mat has a nice textured sticky surface so you get great traction and grip. It is also stylish enough to keep you motivated and having fun. When you receive this mat, you also receive a yoga workout so you can even get a head start.
There is also the app called Gaiam Yoga Studio which gives you 25 hours of video classes. You will see over 280 poses and a teacher commentary that is easy to work through to help you with your goals. It is available on Google Play, the Apple App Store, Amazon, and Microsoft. You can download more practices onto your devices so you can workout anywhere.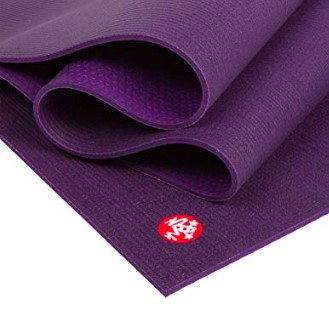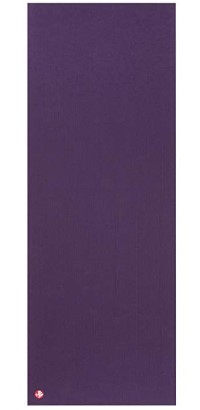 Made of high-density cushion
Will not peel, flake, or fade
Has quality grip finish
Cannot be submerged in water
The Manduka PRO series of mats will help to cut down the PVC mats entering landfills every year and the toxic emissions that may be released into our atmosphere. This mat is made of high-density cushion to give you unmatched support and joint protection. They come in two different sizes so you can find the perfect one for your body type. The surface is closed-cell to keep the sweat from absorbing into your mat. These mats are non-toxic, latex-free, and are manufactured emissions-free.
Read more
This mat is super dense and plenty spacious with an excellent grip to give you comfort and cushioning that is unmatched. It is designed to be durable with excellent performance and is back by the company's promise that it will not flake, fade, or peel for life. It is made with cushioning that is ultra-dense and a performance grip finish that gets better and better with time. It has a closed-cell surface and is OEKO-TEX certified. The mat is also non-toxic and 100 percent free of latex.
The Maduka PRO mat is guaranteed by the company for life. They promise to never flake, peel or fade. It has a quality performance grip and is designed to be worn in like your favorite jeans. The grip improves with use. The cushioning is dense and goes beyond the standards for the industry at 6mm. This mat will help to protect your joints while keeping you stable. The closed-cell mat surface is designed to keep dirt, sweat, or bacteria from absorbing into the surface of the mat. It also makes cleaning a breeze. To store this mat, you roll it up with the top side facing outwards. This will help the corners stay flat when you roll it out to practice. To clean it, you can wipe it down after every practice with the Manuka All-Purpose Mat Wash, which is formulated specifically to clean it without causing any slips or damaging the surface.
7

. HemingWeigh Extra Thick Foam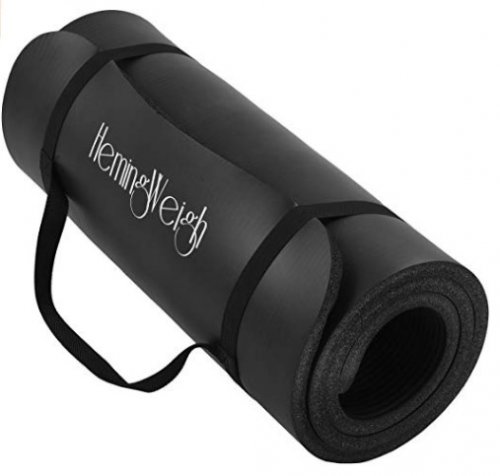 Extra thick foam
Integrated self-strapping system
Double-sided surface
Strong odor when you first get it
The HemingWeigh mat is designed with extra thick foam. It has a no-slip, double-sided makes a secure grip on the floor to keep you protected and secure while you train. This yoga mat has a self-strapping system that is integrated into the mat to make it easy to store and carry. It is perfect for people who like to bring their own mat to class. This mat is durable and lightweight so it will not rip or fray. The extra-thick cushioning will make you comfortable during your workout with excellent absorption and impact.
Read more
This mat is designed to make your workouts convenient and comfortable with their exclusive thick foam and plenty of room for pilates, yoga, ab workouts, mobility work, stretching, and meditation. It features a non-slip, double-sided surface which keeps a firm grip on the floor to keep you safe when you are training. It is designed with a self-strapping system that makes it easy to travel with, carry to class, or store.
This is a mat made of superior materials that are durable and built to last. You do not have to settle for second best. This lightweight mat will not rip, fray, or tear like the inferior knock-off brands. Thousands trust this mat because it is unmatched. If your mat wears down within two years it will be replaced for free.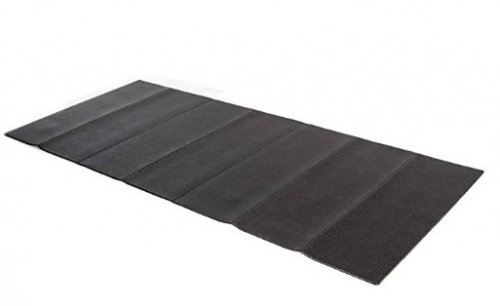 Closed-cell foam material
3 foot by 7 foot
Quarter-inch thick
The Stamina Fold-to-Fit mat is high-quality equipment that will protect your joints as well as keep your floor from getting damaged during your workout. This mat can be used with almost any type of exercise equipment in any space. It is made with a foam material that is closed cell so it is touch but it also has enough given to absorb impact, keep down vibration and keep any carpet fibers out of your equipment. It is perfect for any type of equipment you have in your home gym.
Read more
The Stamina mat is a durable, high-quality mat that will help you avoid damage to your floors from being damaged by gym equipment. It can be used with any type of equipment in almost any type of gym space. The mat is made from foam material which is a closed-cell. It is tough enough to protect the floor yet it is soft enough to keep the vibration down, absorb impact from your workout, and stop any fibers in the carpet from getting into your equipment. They are perfect to use with any kind of equipment.
These mats protect your floors and carpets. They have a non-slip textured pebble surface which is easy to clean. They are about 3 feet by 7 feet long and can be used with any exercise equipment. You can protect your floors that equipment can cause with this mat which is a quarter-inch thick. This mat is safe and easy to clean.
9

. ProsourceFit Extra Thick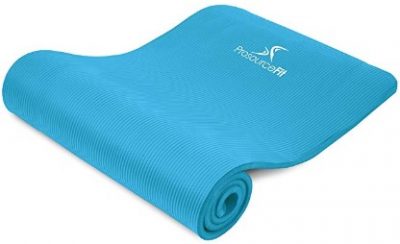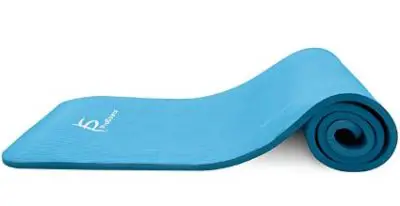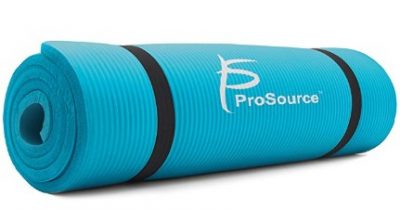 Free carrying strap
Ribbed design for improved grip
Repels moisture
The ProsourceFit mat is extra thick at a half-inch and is dense enough to protect even your most sensitive joints so you can have a comfortable workout. It is versatile enough to be used for many different workouts like yoga and pilates. It is also extra-large so anyone can use it. The NBR material keeps out moisture so it is low maintenance and easy to clean. The non-slip surface grips the floor to give you good stability and the ribbed design will improve your grip. It comes with a convenient carrying strap.
Read more
The Prosource mat is extra thick and perfect for pilates or yoga. It will reduce any pain and work towards helping you perfect your poses. The cushioning is of high density to give you extra support for sensitive joints. The mat is ½-inch thick and made with durable foam so it could also be used for abdominal workouts or stretching. This mat gives you more cushion under your body which allows you to focus on your balance and flow and balance.
This mat is a little longer than the stand mats so it works for a variety of users. The thick foam gives you an extra cushion for any sore joints while still letting you stay balanced. This mat is suitable for any member of the family and comes in eight color options so there is one to match your style. The mat has a non-slip surface for better stability which lets you flow between your poses easily and safely. The ribbed material gives your hands a good grip and gives the mat traction if you use it on wood floors. It is perfect to use for general fitness routines and will give you a soft, padded surface to protect your joints.
It is made from NBR rubber which is moisture resistant. This material makes it easy to clean as well as being durable. It will not let sweat soak into the mat and cause odor or bacteria. This mat can be cleaned quickly by simply wiping it down with a damp cloth. It also comes with a free yoga mat sling so it is easy to store or carry. The strap is not attached so it will not get in your way, and you can slide the loops on and off at each side with no effort.
10

. Everlast 2x6 Folding Mat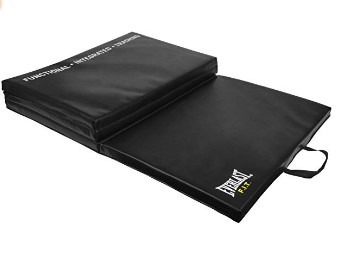 Folds into sections
Durable and easy to clean
Sewn-on handles
The Everlast Folding mat is a durable mat you can use for a variety of workouts. It is thick enough to keep you comfortable during your working and when you are done it folds in sections, making the whole mat easy to storage or transport. The mat's shell is sturdy and easy to clean with soap and water so it will be non-slipping and sanitized for the next use. It also includes sewn on handles which makes carrying it to class easy.
Read more
The Everlast mat is aptly named. It is durable, comfortable, functional, and perfect for your home gym. The materials are durable and sturdy which will allow you to own this mat and use it for years to come. The non-absorbent outer shell stands up to sweat or moisture and can be easily wiped down to keep it clean. The mat is designed to give you ample cushioning and a foundation that is stable for your fitness goals. This exercise mat is foldable, so it can be easily stored when you are not using it. It also includes two solid handles that are sewn on to make it easy to carry. The official logo is on the exterior. It is perfect for any member of the family and it can be used by tumblers or gymnasts, dancers, or anyone who does daily stretches.
The mat is 1 ⅝ inch thick and folds up smaller for easy storage and making it easier to carry. It is made of tough and durable construction which will stand up to any exercise that is part of your life. It will stand up to tumbling, gymnastics, or dance. It has a non-absorbent shell that is easy to clean with soap and water. It also has sewn on handles for easy transport.
Criteria Used for Evaluation

Features
One of the first things to look at when you are choosing the perfect exercise mat is the thickness. This will determine how much comfort you are going to get out of it. If it is too thin, your knees will get banged up. On the other hand, if the mat is too thick you will not have a strong connection to the floor and your poses may get wobbly. A good yoga mat should be about ⅛ inch thick or at the very most, up to ¼ inch thick. There are wafer-thin mats also available which are advertised as travel yoga mats so they fold up easily, do not weigh a lot, and will fit into a suitcase.
You will want to consider the room you will have to store your mat when you are not using it. It is also important to learn how easy it is to carry, especially if you go to a gym or class to work out. Just be sure you find that perfect range between joint comfort and connection to the floor. If you do not have a lot of storage, have to carry it to a studio to work out, and are fine with just a little padding you will probably be good with a standard mat about ⅛ inch thick.
The material used to make the mat is also extremely important. It can determine the texture, the grip if it is eco-friendly, how spongy it is, and how it will wear over time. Most of the standard mats are made of PVC, also known as vinyl. There are more earth-friendly options though including natural rubber, jute, and cotton. If you have an allergy to latex, you will want to avoid the mats made of rubber. If you wish to use one that is tried and true, choose a mat made from PVC which will stand up to your use for years. Sponginess will vary with different materials but PVC probably has the most give off the yoga mats. Cotton and jute will have the least.

Comfort
Comfort is vital when you are choosing an exercise mat. In order to get a good workout, you need to be able to focus on the movement and not have to deal with pain. As we talked about before, there are mats with a different level of thickness for different purposes so you will want to find one which helps you with your goals. A thicker mat helps to protect your joints and absorb any impact. It will also be less prone to tearing. The thicker mat will make it harder to be in touch with the floor though so you may lose some stability. They are also a little harder to pack around. Some mats are made with memory foam so it forms with what you are doing.
You want a mat that is non-slip so you can feel comfortable and safe while you are working out. Having something with a little bit of a grip gives you more confidence in being able to exercise without slipping. You also want a mat that has plenty of room for the workout you want to do, so if you are a larger person you will want to look for a wider mat. You will want to consider what type of exercise you will be doing on the mat to know if you will need an extra-long one.

Durability
Durability is a big consideration when it comes to exercise mats. Foam is great for protecting your joints and absorbs shock, but it is not very strong and can shred or tear. If you are doing an intense workout the mat may rip or it could develop indentations. They can also lose their grip texture or the mat may start to curl. The best way to avoid most of these issues is to do your research. Read reviews and guides like this article. A thicker mat will be less likely to tear as easily if you are doing intense workouts. If you need a good grip, a mat with a rougher surface or ribbed texture is going to maintain a good grip for a longer time.
Some mats actually have mesh in the foam to help them be more durable and last longer. The mesh makes it so the foam cannot stretch as much so it is less likely to tear. If you move around a lot on your mat then this would be a great feature to have. You can prevent getting permanent indentations in your mat by looking for high-density foam or a rubber core. You want a mat that will not peel, flake, or fade. It should also be moisture resistant so you do not have to worry about it absorbing sweat to cause odor or bacteria. Speaking of which, you want a mat that is going to be easy to clean.

Materials
The materials used in your exercise mat is important. Most of the mats are made with rubber or foam. It needs to be a material that is sturdy but will also have some give to it so your joints will be cushioned and it can absorb impacts during your workout. One of the materials used is NBR foam which is known for its vibration dampening abilities. Foam is an excellent material except that it can tear easily so you will see mesh sometimes included to help make it stand up better. Memory is a nice material as well to cushion your joints. It is nice if you can find a mat that does not expose you to toxic chemicals or which is not putting toxic chemicals into the air during manufacturing. Most yoga mats are made from PVC foam. It has a non-slip nature which helps you hold your postures better.
Many mats are moisture resistant which will not let sweat soak into the mat. Sweat has salt in it which will break down the foam which is why it is important to keep it cleaned off your mat. You can use a moist towel to keep it cleaned off. There are other mats that are actually designed to absorb the sweat. They do this because it keeps the mat from becoming slippery. This type of mat is cleaned by throwing it into the washing machine and then line-drying it. The only disadvantage to this system is that you have to plan ahead because it may take a couple of days to dry.

Portability
Since your mat is not going to be something you use throughout the day, you are going to want one which is easy to put away between uses. Most of them roll up when you are not using them. The nicer designs will have a strap that keeps the mat rolled up. Some of the straps also come with handles so you can carry the mat. This is especially helpful if you take your mat to the gym or a class where you need to carry it on a regular basis.
There are some bigger mats that fold up instead of rolling and have some handles to help you carry them. There are also mats like the puzzle piece ones which are meant to be laid down on your home gym floor and left there. They are not really designed to be portable at all.
Expert Interviews & Opinions
Most Important Criteria
(According to our experts opinion)
Experts Opinion
Editors Opinion
Users Opinion
By Default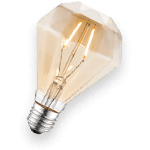 Make Special Note Of Mat Thickness
Before you choose which mat to buy, you need to consider what activity you will be doing with it. The biggest difference between a regular exercise mat and a yoga mat is the thickness of the mat. Exercise mats tend to be thicker but only a difference of a quarter of an inch. If you are using the mat for yoga, some of the poses call for a connection between your body and the floor. The thicker mat may make that a little harder.
Getting Sweat Stains Out
The best way to get the stains out starts with filling your bathtub with warm water. Add a mild detergent like dish soap or hypoallergenic laundry soap to the water. Then submerge the mat and let it soak for 5 to 10 minutes. This helps to break loose all of the oils, dirt, and odor.
Other Factors to Consider

Value
It is simple. You want to make sure you get your money's worth. Some of the mats may seem like they are a little spendy compared to the others. It may seem like the cost is not worth it, but if you are someone who works out on a regular basis it probably is worth it. If you work out daily, a cheap mat is not going to stand up to the use. Believe it or not, there is a lot of force put on your mat while doing some yoga poses like a downward dog for example. Mixing that with the salt from your sweat would erode a cheap mat fairly quickly, so if you are committed to this workout it may be worth the investment of a more expensive mat.
Frequently Asked Questions
q:

What is an exercise mat?

a:

An exercise mat is a specially designed non-slip mat you use during a fitness activity to help protect your body while you are exercising. It helps to cushion your hands and feet from the hard floor. It also helps avoid injuries and keep you from slipping so you can get a good workout and perform your stretches safely. They are affordable and should last you a while if you take care of it.
q:

How do I clean my exercise mat?

a:

You will want to clean your mat every time you use it with a dry cloth. When you get home you can use an antibacterial cleanser or a mixture of water and white vinegar to get it good and clean. Just run a gently moistened cloth with the mixture across the surface of the mat.
q:

How thick of a mat do I need?

a:

When it comes to the thickness, it depends on what activity you are planning to use it for. You want a mat that is going to protect your knees or hands from the hard floor, but not one that is so thick you cannot get a good workout. Most of the time, a half-inch mat is good because you can complete most exercises on it and not lose your balance. Some athletes would rather have a thick mat for their gym workout and a thin non-skid one for yoga but it is not absolutely necessary. Just find the one that fits you best.
q:

Which side of the mat goes on the floor?

a:

If your exercise mat has a design on it, it is easy to place the correct side down. Just put the design face up. If you have a reversible mat, you can put either side up or down. If both sides are the same, make sure you take a closer look at which side is smooth and which one is bumpy. Put the bumpy side down.
q:

Do I need an exercise mat?

a:

If most of your exercise sessions are at home, you can get away without using an exercise mat. Especially if you have carpet on the floors, a mat will not be necessary to do your workouts. If you prefer, the exercise mats do stay nice and flat on the floor and will give you better traction than using a towel.
q:

Can you put workout mats on carpet?

a:

It is a better idea to use them on a hard floor. If you are laying a foam or rubber mat over carpeting, it might tend to sink in at the seams. This might cause the rolls or tiles to come apart.
Subscribe to our newsletter