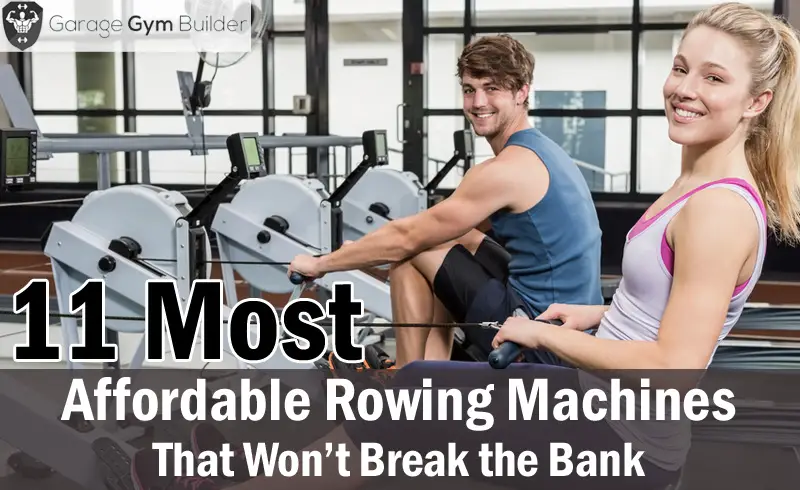 Best 11 Affordable Rowing Machines That Won't Break the Bank
A rowing machine is an essential piece of home gym cardio equipment. It will fast track weight loss, build stamina and build muscle. But rowers can be expensive. Often cheap rowers are very low quality. Fortunately, we've gone in deep to bring you the 11 best value rowing machines that will deliver a great workout without breaking the bank.
A Quick Overview of the 11 Best Affordable Rowing Machines
Our favorite affordable rowing machine is the Sunny Health and Fitness SF-RW5612. This dual function machine works as a rower and an upper body resistance machine. It offers 8 levels of smooth, adjustable resistance and extra comfortable settings. We were also very impressed with the Stamina Black Chrome air rower, which provides an excellent air resistance workout at a great price.
The cheapest quality rower of all is the Sunny Health and Fitness hydraulic position driven machine, which gives you a smooth action, free seat glide and comfortable seat, all for under $100.
​To make it easy for you to compare the best priced rowing machines, we've rated the Top 11 in terms of price and durability, and then given them an overall quality rating. In the following section, we'll provide in-depth reviews of our Top 11 affordable rowers.
| Product | Product Name | Price | Durability | Overall | Product Link |
| --- | --- | --- | --- | --- | --- |
| | | 5/5 | 4.75/5 | 4.75/5 | |
| | | 4.75/5 | 4.75/5 | 4.75/5 | |
| | | 5/5 | 4.25/5 | 4.5/5 | |
| | | 4.5/5 | 4.5/5 | 4.5/5 | |
| | | 4.5/5 | 4.25/5 | 4.25/5 | |
| | | 4.5/5 | 4.25/5 | 4.5/5 | |
| | | 4.25/5 | 4.25/5 | 4.25/5 | |
| | | 4/5 | 4.25/5 | 4.25/5 | |
| | | 4.5/5 | 4/5 | 4.25/5 | |
| | | 4/5 | 4/5 | 4/5 | |
| | | 4/5 | 4.5/5 | 4.25/5 | |
The Top 11 In Depth
The Sunny Health and Fitness SF-RW5612 is the best rowing machine under $500. It is a dual function affordable machine that will give you a great rowing workout as well as doubling as a resistance training machine for the muscles of your upper body. You get a magnetic tension system with 8 levels of adjustable resistance. The movement of the cable is very smooth, allowing for a jerk free motion.
This Sunny rower has high spec fittings that you normally wouldn't see in rower under $400. The seat is extra wide and thickly padded for comfort. The footplates are dual function, providing an ideal rowing platform and then adjusting to hold you secure while performing resistance movements.
PROS
Dual function wrower and resistance trainer
Great price
8 levels of adjustable resistance
CONS
Rail doesn't completely fold for storage
At under $300, the Stamina Black Chrome is among the cheapest air rower machines that we have ever come across. Yet, you are not having to sacrifice quality for cost here. This is a wind resistance rower that packs in multi function performance. The large, easy to read monitor provides all the data you need. You also get a comfortable padded, upholstered seat which allows you to row for longer than 30 minutes without discomfort.
The wind resistance motion on this machine is very smooth. The faster you row, the more resistance you generate. The wind turbine is quite noisy, however. An angled seat rail allows for efficient gliding of the seat as you row. The unit has portable wheels and folds for easy storage.
PROS
Large, easy to read monitor

Large, padded upholstered seat

Smooth wind resistance
CONS
Band resistance doesn't kick in during first third of the movement
The Sunny Health and Fitness rowing machine is the best cheap rowing machine that we reviewed. It is the best machine that you'll find for under $100. This hydraulic piston driven rower gives you 12 levels of adjustable resistance. The rowing motion is relatively smooth and jerk free. The seat glides smoothly and is comfortable to sit on. The foot plates pivot to position your legs better and add comfort.
A simple electronic monitor displays all of the workout data that you need to know. The unit is solid and compact and folds easily for storage. It is a reliable rower that will give you a decent workout at an unbeatable price.
PROS
Cheapest value machine on the market

12 levels of adjustable resistance

Foot plates pivot
The Soozier magnetic folding rower is the best rowing machine under $200 that we have found. It has built-in shock absorption, preventing vibration as you row. 8 levels of magnetic resistance provide you plenty of resistance options. While the rowing motion is not totally smooth, it is nowhere near as jerky as you find in other models at this price point. The Soozier has a thick rubber band rowing strap and a rugged, steel frame.
The angled seat on this inexpensive rowing machine allows for an easy, natural return. A simple but functional ABS monitor provides the data that you need to know. When not being used, the unit can be stored in an upright position, giving it an amazingly compact foot print.
PROS
Built-in shock absorption

8 levels of magnetic resistance

Thick band strap

Compact footprint
The Stamina Body Trac Glider 160 is a compressor rowing machine with a difference. It features full range of motion two piece arms to gives you an authentic arm rowing motion. You also get a quality ball bearing seat roller system that provides you with a smooth back and forth glide. A solid steel frame and aluminum glide rail ensure that the Glider 160 will last the distance.
The monitor on the Glider 160 has recently been upgraded to provide you with tracking time, stroke count, calories burned and total scan in a scan function format. You also get a handy tablet holder to hold your device securely in place while you row. The whole things folds up compactly for easy storage.
PROS
Two-piece arms

Ball bearing seat roller system

Upgraded monitor
CONS
After a period of use, a squealing noise can be heard when you row
The GoPlus magnetic rower comes in a close second, after the Soozier, as our favorite budget magnetic rower. It provides 8 variable shock resistance levels, a solid frame and a relatively smooth rowing performance. The ABS monitor is on a par with the Soozier, meaning that is basic but functional. The scan function will scroll through all of your data as you train. NBR handle grips and generous seat padding provide a comfortable rowing experience.
The GoPlus features a very compact design that makes this a great choice if you're limited on space. It is suitable for people of all body frames and heights, having a maximum user weight of 250 pounds. The GoPlus Magnetic rower weighs in at just 57.2 pounds.
PROS
8 variable shock resistance levels

Solid frame

Compact design
CONS
Wobbles slightly when going fast
Rowing machines do a whole lot more than improve your cardiovascular endurance. The following clip provides 10 reasons why you need to make rowing a regular part of your training routine . . .
You want a rowing machine but you have limited space available. Check out our article on 9 Compact and Portable Rowing Machines for Small Spaces to find the ideal machine for your small space.
The Stamina in-motion rower is our best value compressor driven rowing motion. The rowing action is not as fluid as you get from a magnetic or air resistance machine, but still provides a quality row. This unit is made with a solid steel frame and features 5 levels of adjustable resistance. A bright, clear monitor will keep you up-to-date with your training data, scanning through as you are training.
The oversized footplates have pivots, as well as adjustable straps to lock you into position. The seat is very comfortable, featuring thick padding at double stitching. Foam grip handles provide a sweat free, secure grip. This compact unit is able to be stored on it's end, providing a very small footprint.
PROS
Solid steel frame

Pivoting foot plates

Comfortable seat
CONS
Need to lubricate the compressor and handles
The Titan Fitness Magnetic rower is the best rowing machine under $300 with magnetic resistance that we have encountered. It provides an incredibly smooth pulling action for a machine at this price point. This unit is adaptable enough to be used by people of all heights and body frames. A large LCD screen gives you a very clear readout of all your training data, including calories and total row count.
With 8 levels of adjustable magnetic resistance, you'll constantly be challenged when using this rower. It features large, slip resistant pedals, a comfortable padded seat and foam grip handles that are slip and sweat resistant. The unit is compact, and can be quickly folded and stood on end when not in use.
PROS
Very smooth pulling action

8 levels of adjustable resistance

Large, slip resistant pedals
CONS
Assembly is a little tricky
The Leopold compression rowing machine is a good basic rower that provides you with 12 levels of resistance, operated from a centrally located dial adjustment. The hydraulic arm provides a decent simulation of rowing, though it can be a little jerky. You can adjust the seat to three angles to increase the intensity of the workout. A simple LCD monitor track all of your vital training statistics.
The body of the Leopold compression rower is made from sturdy steel. It is very compact, with its foldable storage dimensions going down to 51 x 12 x 6.5 inches. Assembly of the unit is very easy, making this is a good value basic rower that should give you years of faithful service.
PROS
12 levels of resistance

Seat adjustable to 3 angles

Very compact
CONS
The handles are a little narrow
The most popular rowing machines on the planet are in the Concept 2 range. Find out if Concept 2 deserves its reputation as the best with our Concept 2 Rowing Machines 2017 - it's an eye opener!
The Velocity Fitness Magnetic Rower provides a drum magnetic control resistance to give you a smoother, more natural rowing experience. It also features electronic tension to maintain the ideal strap tension at all times. A great feature of this machine is that it comes complete with a chest strap heart rate monitor to allow for the most accurate pulse monitoring. You get of 12 exercise programs on this machine, with 6 of them customizable.
The monitor on the Velocity Fitness Magnetic Rower features a large LCD screen. It provides a rolling readout of time, count, stroke/minutes, distance, calories, watts and pulse. The saddle is made from molded polyurethane to give and ergonomic feel that is also comfortable. It also has a space saving, foldable design.
PROS
Drum magnetic roll resistance

Electronic tension

Comes with chest strap heart rate monitor
CONS
Frame may start to wear after several months
For a full overview of the best rowers on the home fitness market, regardless of price, check out our Best Rowing Machines Review 2017 - you are bound to find what you need!
The H20 Fitness RX-750 is the best cheap water rowing machine that we have found. This machine will give you the nearest approximation to real on the water rowing that you will ever experience. In addition, you will get an incredibly smooth workout, that is very low impact. That makes this machine the ideal choice for people suffering from joint issues.
Working out on the H20 is a very relaxing experience. It actually feels and sounds just like rowing on the lake. This unit comes with a solid, steel rail frame and ergonomically designed fittings such as the large comfortable padded seat, pivoting foot plates and molded handles. The max user weight is an impressive 350 pounds.
PROS
Very realistic rowing experience

Soothing and calming

Padded seat and pivoting footplates

Max user weight 350 pounds
Water rowing is the most realistic, soothing way to row. Check out the best waterrowers on the planet with our Waterrower Machines Review 2017 - you'll be glad you did!
Conclusion
The best value rowing machine that we found is the Sunny Health and Fitness SF-RW5612, a dual function rower and upper body trainer. This magnetic rower provides a very natural action and is very solid and compact. Our second best value machine is the Stamina Black chrome air rower, which offers high end air rower specs at a budget price.
The best good cheap rowing machine that we reviewed was the Sunny Health and Fitness Rower, a hydraulic tension machine that provides a quality workout at an unbeatable price.
Best 11 Affordable Rowing Machines
Rated
5
/5 based on
11
reviews