10 Best Men's Compression Shirts
last updated:
Feb 12, 2020
The wearing of compression clothing to improve athletic performance and speed up recovery has rapidly gained acceptance in the fitness community. Compression clothing is available for all parts of the body. The market has responded to the demand for compression clothing with many companies producing compressions shirts. The leading brands are 2XU and Skins. In this article, we focus on compression shirts, which come in both short and long sleeve versions.
Compression shirts have been designed to provide a tight fit that compresses the part of the body on which they were being worn. Often different levels of pressure are applied to different parts of the body. We'll review the top 3 players in the various market segments, dig deep on the supposed and real benefits of compression shirts and provide you with invaluable buyers guide so you can be confident in making your purchasing decision.
This is the best product on our list that is currently in stock: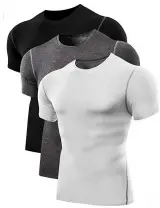 Neleus Athletic
Why is it better?
85% Polyester / 15 Spandex
Very Flexible
Flat Lock Seams
Ergonomic Compression
3
Researched Sources
5k
Reviews Considered
12
Hours Researching
10
Products Evaluated
Effectiveness
Materials
Fit
Advanced Features
Breathability
By Default
10 Best Compression Shirts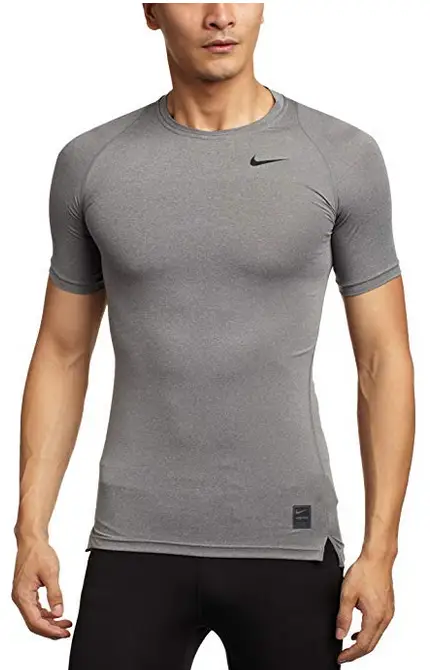 92% Polyester / 8% Spandex
Dit Fit Technology
Interlocking Seams
Interior Taping For Comfort
Mesh Panels
The Nike Men's Pro Cool is another polyester/spandex blend (92% polyester / 8% spandex) that delivers a comfortable yet tight fit for maximum compression. It features Nike's classic dry-fit technology that effectively manages moisture, wicks away sweat, and keeps you dry while you are working out.
Read more
The shirt will automatically adjust to your sweat ratio, allowing you to operate at your ideal body temperature. This shirt makes use of a network of interlocking seams that provide an extremely comfortable fit that contours to your body and provides a flattering body-hugging fit thanks to built-in hem vents. The ProCool is available in several cool colors so that you can choose the one that best fits your wardrobe.
2

. Generic Superhero Costume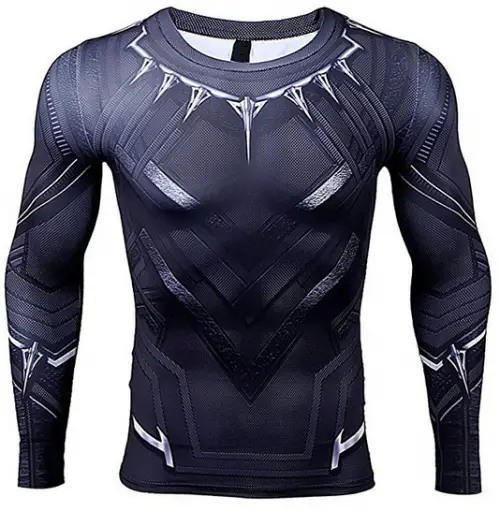 Non Abrasive Fabric
Great Quality Printed Designs
Super Elastic
Two-way Air Ciculation
The Generic Superhero compression costume is a Superhero range of compressions shirts that are available in a large number of designs. They are made from 87% polyester and 13% spandex that provides you with excellent elasticity and flexibility.
Read more
The nonabrasive fabric material feels very comfortable against the skin while also providing you with a superior level of moisture-wicking technology to remove sweat and keep you nice and dry. The printed designs on these Superhero compression shirts are very high quality, providing long-lasting durability and bright, non-fade colors. The range of Superhero characters available extends to all of the characters from the latest Superhero movies, including Deadpool and Black Panther.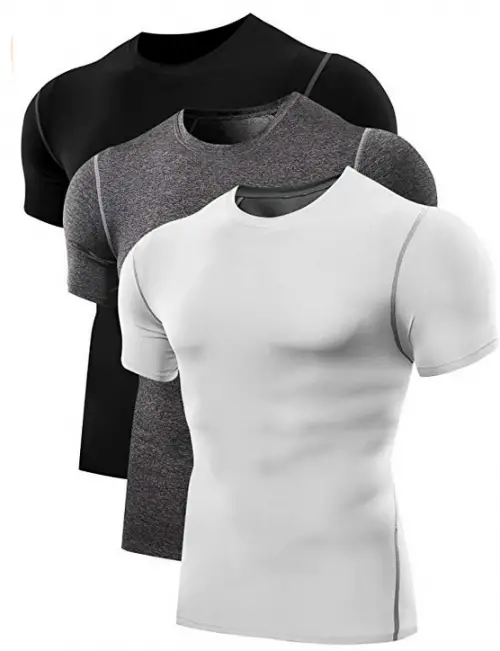 85% Polyester / 15 Spandex
Very Flexible
Flat Lock Seams
Ergonomic Compression
​Sizing Chart Not Accurate
The Neleus Men's Workout Athletic Compression Shirt is made from a blend of 85% polyester and 15% spandex. It delivers a firm yet comfortable fit that provides maximum compression around the deltoids, pecs, and abdominals. You also get a high degree of flexibility, which allows for a free range of movement during your workout.
Read more
A moisture transport system sweeps away sweat and dries quickly. The shirt features flat-lock seams to prevent any potential chafing. The seams are also comprised of four needles and six-line stitching to provide the most significant level of strength and durability. The Neleus compression shirt is constructed with a wicking technology that makes it extremely breathable and dry during extreme sports activity. The seamless design of this shirt is also ideal for reducing friction.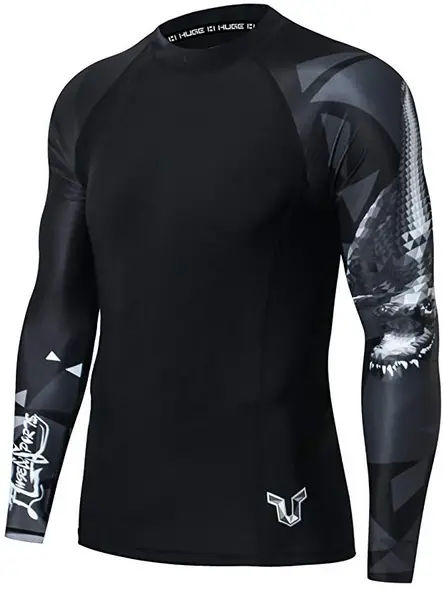 Superior Flexibility
UPF 50
Two Way Stretch Fabric
Nylon And Elastane Blend
Animal Symbols
The Huge Sports Wildling Series compression shirt is made from 80% polyamide nylon and 20% elastane to deliver an incredibly soft wearing garment that also has superior flexibility. The Huge Sports Wild series of compression garments merge the animal totem with the aesthetics of geometry to produce a truly unique look and style.
Read more
This compression shirt provides with a massive UPF 50 level of sun protection so you can confidently train in the summer heat for hours on end. The two-way stretch fabric stabilizes muscles with compression to prevent fatigue and energy loss. The breathable fabric balances out the temperature while also eliminating sweat and moisture. A woven tape behind the neck is designed to reduce friction. This shirt also features regional pressure application.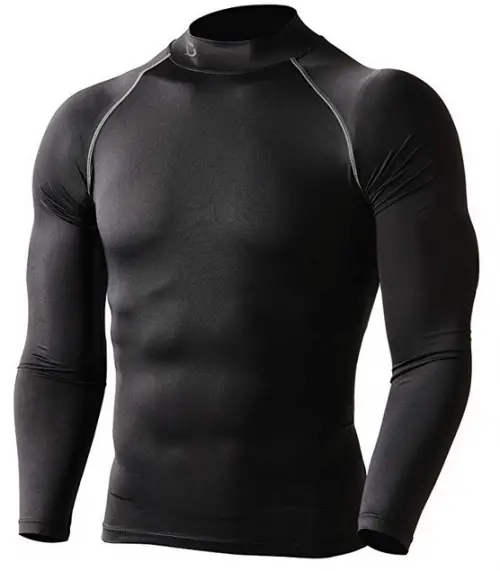 Quick Dry Transport System
Good Heat Retention
UPF 30
Water Absorption Layer
The Defender Men's QuickDry baseline long sleeve compression shirt is a 92% polyester / 8% spandex blend shirt that provides you with a high level of compression for your entire upper body. It is a lightweight shirt that provides very little in the way of restriction.
Read more
It incorporates a quick and dry transport system that will quickly wick away sweat from the body to keep you cool and dry. This shirt will also keep you warm in winter, as it provides you with the right level of heat retention. You also get UPF 30 sun protection when you wear this shirt. The Defender Men's QuickDry can be used as either an under or an outer garment. It also works great when worn under your sports uniform. This Defender shirt works just as well as the leading brands, yet it comes in at a considerably lower price point. You should be aware, however, that the sizing runs very small, even for a compression garment.
6

. Under Armour TAC HeatGear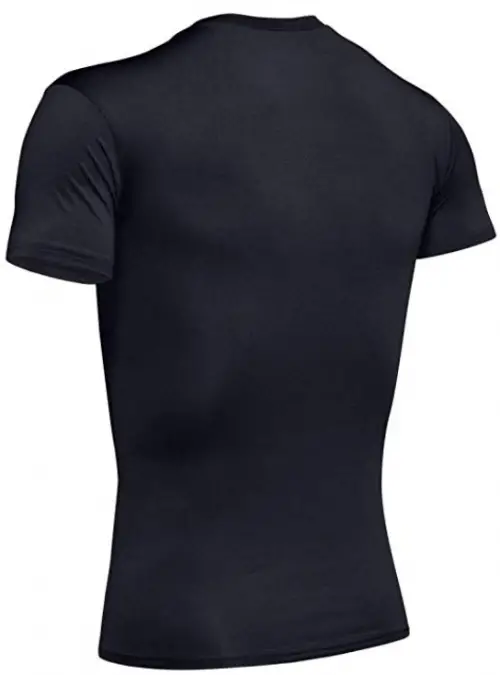 4-Stretch Fabric
Advanced Moisture Treatment
Anti-Odor Properties
Armour Baselayer
The Under Armor Men's Tactical HeatGear has been marketed as the second skin that will make you a better athlete. This shirt provides you with a very soft, lightweight, and comfortable fitting shirt that feels great against your skin. The unique four-stretch fabrication of this shirt will improve your range of motion while exercising.
Read more
The shirt also has built-in moisture-wicking properties that will remove sweat thanks to the advanced moisture treatment system. The shirt also includes anti-odor features that prevent the growth of bacteria causing microbes. The shirt is made from a blend of polyester and elastane. The shirt has a good level of durability and should last for years. This shirt has a UPF rating of 30+, so it will give you the right level of sun protection while training outdoors. One complaint that some people have mentioned is that the seams under the armpits tend to dig in.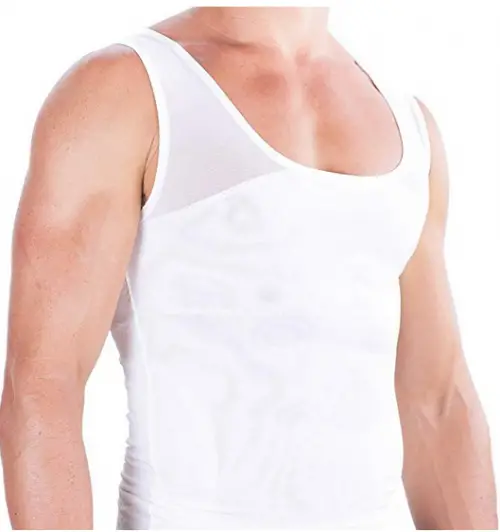 Great For Gynecomastia
Chest Slimming
Girdle Binder
Shoulder Mesh Area
Great Undergarment
The Esteem Apparel chest compression shirt is specially designed for people who are suffering from gynecomastia. The shirt will provide an immediate chest slimming appearance. This shirt features a girdle binder to produce a slim looking chest underneath any garment. The shoulder mesh material makes this shirt very comfortable as well as extremely easy to put on and take off. The shirt is made from a high-quality nylon/spandex blend, so you know that it is very stretchable and comfortable.
Read more
The Esteem Apparel chest compression shirt has been designed to be worn as an undergarment. It is highly breathable and soft to the skin, making it ideal for wearing under your workout clothing. This shirt is suitable for post-surgery compression. It will immediately flatten out your chest and your abdominal wall, providing you with relief from gynecomastia without having to resort to medication or surgery. It is also a great way to relieve the anxiety that many men confront as a result of this condition.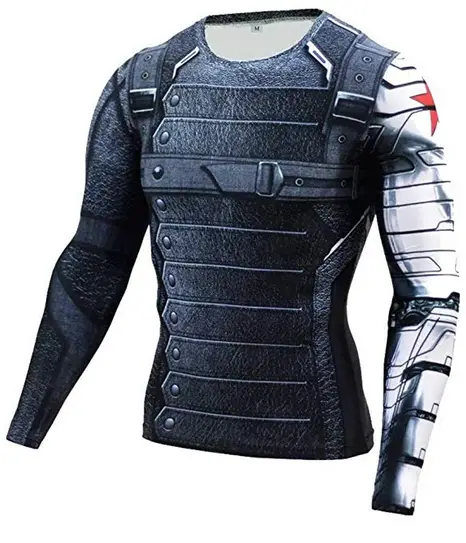 Pull-on Closure
Lightweight
Allows Great Mobility
Plenty Of Choices
The CosFunMax shirt is made from lightweight, moisture-wicking fabric, consisting of 86% polyester and 14% spandex. It provides you with a 4-way stretch fabrication that provides greater mobility in any direction while you are training. The Black Panther styled shirt looks fantastic and is perfect for people who are wanting to try out Cosplay in real life.
Read more
This superhero shirt is ideal for Cosplay, but it is equally effective as a conventional training compression garment. It features advanced moisture-wicking technology that rapidly removes sweat, keeping you cool and dry throughout your training. It provides you with the right level of compression to fast track oxygen and nutrients to your working muscle groups. However, the costume design of the shirt may cause some restriction of movement on some compound exercise movements. The print quality on this superhero compression shirt is not as high as the Generic Superhero compression costume. Some people have complained that the print started to fade over time.
9

. Red Plume WInter Warrior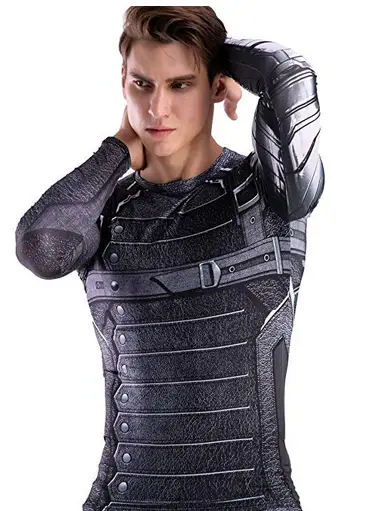 Soft And Breathable
Odor Resistant
Fine Digital Printing
Full Elasticity
The Red Plume Men's Compression Sports Fitness shirt provides from 86% polyester and 14% recycled polyester fiber. It provides you with a professional elastically stretchable fabric to provide the ultimate level of fit and comfort. Computer-controlled digital printing will not fade or change color in time.
Read more
It includes a good level of exercise compression and includes moisture-wicking technology to remove sweat to keep you dry and to control your training temperature. There is also an anti-odor technology involved in the fabric to prevent odors that could lead to bacteria build-up. The Red Plume range of men's compression shirts comes in at a very affordable price point, making it extremely competitive on the market. As well as being an excellent look for Cosplay or Halloween, it can also be used as a conventional training shirt for working out in the gym or outdoors. It provides you with the right level of SPF protection from the sun while training outside.
10

. Under Armour HeatGear Sleevless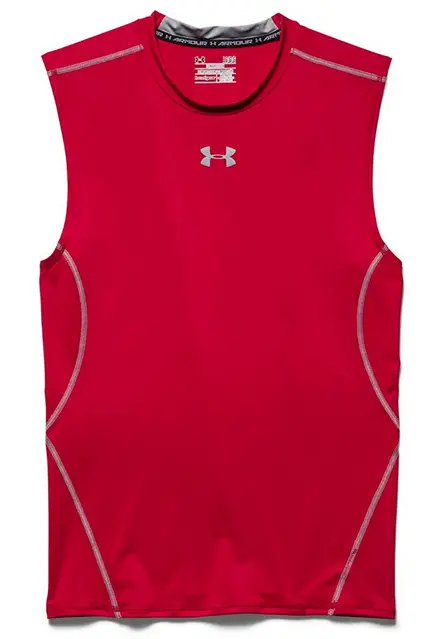 Heatgear Fabric
Underarm Panels
UA Compression
Moisture-wicking
The Under Armor Men's HeatGear Sleeveless Compression Shirt is constructed from a blend of 84% polyester and 16% elastane. The HeatGear fabric provides you with all the benefits of compression training, combined with the comfort of a highly flexible garment. Stretch mesh underarm panels deliver strategic ventilation.
Read more
You also get UPF30+ protection to keep you safe under the sun. Also, there is get a high level of moisture-wicking technology to get rid of sweat build-up and excess moisture. There is a mesh panel on the back of the neck to prevent any friction from the stitching. Built-in anti-odor technology will ensure that no odor causes microbes. Mesh panels have been strategically placed on the back of the neck for more significant compression.
Criteria Used for Evaluation

Effectiveness
Compression shirts are primarily designed as a training aid. They are purposefully very tight on the skin. It is achieved with the use of spandex fibers. It makes it very uncomfortable for your muscles when you are working out. The idea is that the tightness will result in a higher rate of blood circulation, which will fast track oxygen and nutrients to the muscles. The tightness is also meant to keep the muscle tight and engaged while you are exercising.
A compression shirt for men provides a level of therapeutic compression that gives you compression without restricting your range of motion. Compression shirts are about 15 percent smaller than a plain t-shirt or tank top. They are believed to make your exercise performance more efficient by limiting any extraneous movement. As an example, when you are doing the bench press, the compression shirt keeps your key training muscles - the pectorals, triceps and front deltoids - tight and engaged, leading to better performance. Many powerlifters wear men's compression shirts to get their bench totals as high as possible.
There have been many claims made regarding the benefits of compression shirts, the majority of them coming from the people who make the compression clothing. The main benefits that are promoted are as follows: improved blood circulation, decreased post-workout soreness, increased endurance, injury prevention. Many people like to wear compression shirts because they like the Superhero look that it produces in terms of its tightness. Guys who have some muscle to show off may enjoy that bulging muscle look. Because compression shirts are in fashion right now, they may also enjoy the style aspect of the garment. Then, of course, there is a positive placebo effect of wearing compression clothing.
Many people believe that compression shirts only work on the top 3 inches of the human body - the brain. Having spent a sizable amount of money on a garment designed to improve performance and feeling comfortable - if slightly tight - while wearing the clothing, many people will perform better because they are convinced that they should do so.
While it is true that there is a positive placebo effect when it comes to compression shirts, that is not to say that there no real benefits to be derived from wearing them. However, the reality is that the substantial scientific evidence behind the use of compression shirts as a training aid is limited. Much of that evidence is specific to compression clothing for other areas of the body (most notably the legs), but we can extrapolate the findings to cover compression shirts.
In 2016, a study was conducted that involved long-distance runners and the ability of compression shorts to improve post-run recovery. It was seen that the wearing of compression shorts markedly improved recovery time and post-run muscle soreness. It was suggested that this was primarily due to the increased flow of oxygen and nutrients to the target muscles that resulted from the increased compression. The speeding up of the blood circulation process will also enhance the removal of lactic acid from the working muscle, which is another factor that leads to improved recovery and reduced post-exercise muscle soreness.
As already mentioned, wearing compression clothing may also help to keep your muscles on point while you are working out. There will be a marked decrease in muscle vibration as a result of the tightness of the garment. This especially comes into play when you are performing more complex exercises, such as the bench press, squat or deadlift. While there is, no doubt, a placebo effect where - you feel more in control because you are wearing the compression shirt - the tightness on the muscle will also reduce extraneous movement, making you a more efficient athlete.
Compression shirts may feel quite uncomfortable as a result of their tightness. The tightness can also produce sweat more readily. Fortunately, many compression shirts include advanced moisture-wicking properties that will help to remove sweat from your skin quickly. It will also keep you comfortable during and after your workout. It will both allow you to exercise more efficiently and to recover faster.
On the other hand, some compression shirt manufacturers include thermal technology to help to keep you want during the workout. It helps to maintain consistent body temperature during warm-ups, training, and cool down. Many compression shirts also include a level of UV protection to keep you safe when you are training out under the sunlight.
There have been many claims that compression shirts, along with other compression garments, are effective weight loss aids. So, do these claims stack up? The genesis of the compression to lose weight belief goes back to those neoprene bands that people have been wearing around their waists for decades. It was claimed that the bands would melt away the fat that lies beneath them as a result of the increased core body temperature and leads to increased sweating. It was also believed that a vibrating movement of the band would also lead to fat loss because it breaks up the cellulite sufficiently to make the skin smoother.
It is true that compression clothing, including compression shirts, will make you sweat more (which is why you should buy a shirt with built-in moisture-wicking properties), and you will lose water weight as a result. But there is a big difference between water weight and fat loss. Drink a liter of water, and you will have put that weight straight back on!
Some types of compression garments will make you look slimmer. That is because their tightness acts much like a girdle to keep the fatty areas tightly compressed. Also, medical-grade compression garments are often used following weight loss surgery. But this is not to enhance the weight loss process but, instead, to reduce post-surgery pain and speed up the healing process.
The answer, then, is that compressions garments will not help you to lose weight. Using compression clothing for that purpose can be dangerous. Excess tightness around the core can cause the muscle in that area to relax, leading to loss of muscle tone. They can also lead to overheating, which may result in dizziness. The excess loss of water through increased sweating may also lead to dehydration.

Materials
There is a range of materials that compression shirts may be made for. The construction material will have a lot to do with the durability, breathability, and fit. Here are the main ones and what to consider with each.
Polyester is the most common choice for men's compression shirts. While not the most durable of materials, polyester is the right choice if you are going to be training outdoors. It is water-resistant, and it is more resistant to UV radiation than any other material that is used for compression shirt construction. With this material, you do not have to worry about the material fading in the sun or the fibers breaking down.
Nylon can also be seen as a material of choice. Nylon is quite a common material in compression shirt construction. It usually has a blend ratio of 2 to 1 with lycra, with which it is usually paired. After neoprene, nylon is the most durable fiber used in compression short construction. It is also the most water-resistant natural fiber that you will come across. And, because it is a smooth fiber, nylon will not irritate those who have a skin condition.
Lycra is also known as spandex. You will find it, to a lesser or greater degree, in virtually every men's compression shirt on the market. The higher the lycra content, the better. Its great benefit is that it provides a great deal of flexibility while still retaining its shape. It is, therefore, the spandex that allows for the form-hugging fit of compression shorts. It will enable them to perform without any restriction of movement.
Of all of the materials in this list, neoprene is the least breathable. Neoprene is resistant to water and sunlight so it will nor deteriorate from extended outdoor use. It is also thermal and heat resistant. While being thick, it is also lightweight, which makes it a popular choice for protective sports gear. Neoprene is technically a rubber and is far more durable than most other compression shirt construction materials. It is not as breathable as other materials, however.

Fit
You should also consider the way your shirt fits you and how comfortable it is. If you never tried a compression shirt on, the chances are that you will think that the shirt is small, or too tight. But this is the sole purpose of the shirt - it has to be slightly closer than what you are comfy with to work. And when you are used to the tightness, you will start craving it, thanks to the benefits they provide us with.
But you must make sure that the shirt you bought is not too small. If it digs into your skin too much, or if it restricts your movement, you need a bigger size. If it's too loose and feels like a regular shirt does, then you need to go down a size. Compression shirts for men are supposed to be 15% smaller than regular shirts are! Also, make sure that no parts are rubbing and pinching your skin to enjoy the fit of your shirts. Curved seams and even prickly patterns can be a problem and a distraction from the task at hand.

Advanced Features
Your shirt should do much more than compress you and make you look good. And speaking of compression, you must first recognize the Level of Compression your shirt has. Look for the compression level of the shirt. Graduated compression means that the level changes in different parts of the garment, which is believed to increase the effectiveness of the compression. Compression levels of between 20-30 mmHg are the best. Many compression shirts have panels embedded in them which have been placed in specific areas, such as over the abs or pectoral muscles.
You should look for compression shirts that have inbuilt moisture wicking and sweat removal properties. Now, how does this correctly work? First, let's think about how much an average Joe sweats. The maximum amount a person can produce over an hour is one full gallon. Now imagine that gallon soaked up in your shirt. Not a comforting thought, right? Your shirt has a magical blend of materials that keep you safe from all of this sweat and moisture. Cotton does not do this well and keeps the sweat stuck to your body.
On the other hand, polyester, nylon, and lycra blends pull away from the moisture from your body through something known as capillary action. Small conduits that look similar to the ones found in our own body pull sweat away from your body and onto the surface of the shirt, allowing the moisture to evaporate on the surface of the shirt, instead of on your skin. It also makes it less possible for odors to develop, so invest in a good moisture-wicking compression shirt.

Breathability
Your compression shirt needs to allow your skin to breathe properly and cool down. You might think that this is impossible for a shirt that will sit so tight against your skin, which is true if the shirt does not have the right blend of materials to help your body breathe. A pure polyester shirt, without any panels that help air circulate, will feel suffocating and uncomfortable.
On the other hand, the shirts we have mentioned here do allow your skin to function normally while wicking sweat and moisture away from you to keep you both cool and dry. It's vital that you stay somewhat cool while you exercise since a particularly strenuous session can raise your body temp significantly, which can be dangerous if you have no way to cool yourself down. By inserting mesh panels, ventilation areas, and moisture-wicking fabrics, shirt manufacturers make sure that you remain cool and dry and allow fresh, cool air to go underneath your shirt and refresh your skin.
Expert Interviews & Opinions
Most Important Criteria
(According to our experts opinion)
Experts Opinion
Editors Opinion
Users Opinion
By Default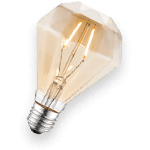 The Superhero
Ever wanted to feel like a superhero? Well, now is your chance! Compression shirts became hugely popular as a result of the saturation of Superhero movies that we have been subject to over the past decade. It's not surprising, then, that a whole new sub-category has developed focusing on compression shirts that follow the design and include the logos and other emblazoned images that are worn by the various Superheroes on screen. Of course, these garments are more than just a gimmick, as they include all of the compression benefits of other compression shirts. The majority of Superhero compression shirts are long sleeved. Choose which superhero you want to be today, and you're good to go!
Other Factors to Consider

Style
The style of the shirt you have chosen is an important criterion, but it's more of a reflection of your personal preferences than anything else. Of course, you don't want to wear a long sleeve shirt when it's a million degrees outside, but the choices are logical and shouldn't be confusing. Still, we decided to list the styles compression shirts came in and threw in some suggestions.
Your options when buying compressions shirts are the following: the sleeveless compression shirt, the short-sleeve compression shirt, the long-sleeve compression shirt, and the superhero compression shirt, which is just a different type of long-sleeve compression shirt with superhero logos on the front. If you are going to be primarily wearing your compression shirt as an undergarment, you will be better off with a sleeveless compression shirt. It is also the best option if you will be wearing a compression shirt under your sports uniform. Short-sleeved shirts are suitable for very warm climates and for those who want freer arm movement. Long-sleeved shirts will keep you warmer and will also provide compression for your biceps, triceps, and forearms. If you're going to look as stylish as possible, you might consider going with a Superhero compression shirt.

Bottom Line
Compression shirts may make you look like a Superhero, but they will not instantly turn you into one. While some of the claims relating to compression shirts are over the top, there are some genuine benefits from wearing them. If you'd like to see what the benefits are for yourself, then choose a shirt from our list and believe us when we say that you will enjoy using it. We hope our guide has made choosing easier, and that you will enjoy using your compression shirt as much as we enjoyed writing about it!
Frequently Asked Questions
q:

Can compression shirts help with loose skin?

a:

Loose skin is sad, and usually hard-to-bear, the reality of losing a lot of weight. It also brings risks, with rashes and infections developing under the many folds. Why should you suffer from even more bad things once you get rid of all that weight? If you are not so young, your skin has lost its elasticity, or you lost weight way too rapidly, and it never got the chance to bounce back to its original self. But, one way you can keep loose skin stay healthy and controlled is by wearing compression clothing. It holds the skin in place and reduces rubbing, so you have less of a chance to develop infections. Sadly, it will not make your skin like it was before, but it can help manage the side effects.
q:

Can I overheat in compression shirts?

a:

It is quite a sound question, especially when you think about how close the shirts are to your skin, and how flustered you get while exercising. But the tight clothing has been specially made to actually control the heat. But if you have heart issues, you might have to be wary about wearing these shirts in warm weather. The extra layer and warmth could put extra strain on your heart, and you should do your best to avoid that. With that being said, you cannot overheat in these garments, so you don't have to worry about that.
q:

Can I wear compression shirts in warm weather?

a:

If you have worn compression clothing before, you already probably know that you can get very hot in it, thanks to the close skin contact. Which begs the question, can you wear it during summer, when the weather is hot, to begin with? Most of the time, you can safely wear your compression shirt no matter how warm the weather is. It is because these shirts draw moisture out and keep it on the surface. This moisture then evaporates and cools down, keeping you cool as well. Give it a go and see if it works for you.
q:

Which sport can I use compression clothing for?

a:

For every sport, you can think of! The added benefits from the shirts, like the reduced muscle vibration, can be helpful in all circumstances, and why not use this for your benefit. But you still have garments developed especially for every sport, and you might see even more benefits if you buy shirts explicitly designed for the sport you are interested in.
q:

Can compression clothes reduce the risk of injuries?

a:

Although this seems far fetched, there has been a lot of promising results that showcase the ability of compression shirts to keep us safe from hurting ourselves. The tight layer of clothing acts as extra support and aligns your muscles and joints the right way. This way, there is less chance that you will hurt yourself, but if you do manage to injure yourself, do not expect that the injury will be less severe - the shirts can only lessen the risk, not the actual harm done!
Subscribe to our newsletter