10 Best Compression Sleeves For Calves and Shin Splints
last updated:
Mar 25, 2021
Compression sleeves bring you relief and allow you to keep going when your calves and shins tell you to stop. They work based on graduated compression so that there is more compression at the ankle and a loosening up as it moves up the leg. The calf compression sleeve benefit of this is that it helps to resist the effect of gravity and is great for shin splints, calf cramps, and Achilles tendonitis.
To help you find the best calf compression sleeve for your personal needs, we bring you the best compression sleeves for calves on the market today, based on breathability, compression, comfort, materials, and value.
In a Hurry? The test winner after 17 hrs of research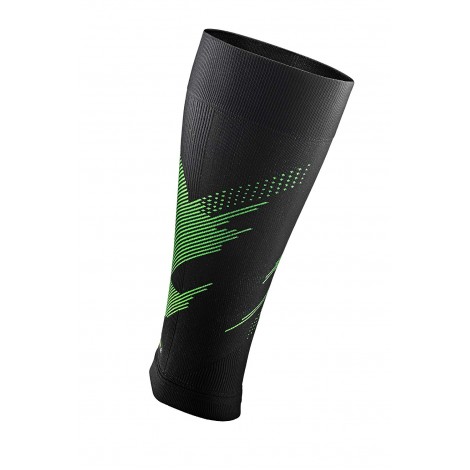 Rockay Blaze Compression Calf Sleeve
Why is it better?
Moisture-wicking, Quick dry material
Quality Tested
Anti Bacterial and Anti Odor
Extra Durable
44
Researched Sources
9k
Reviews Considered
17
Hours Researching
14
Products Evaluated
Breathability
Comfort
Compression
Durability
Value
Ease of Use
By Default
10 Best Calf Compression Sleeves
1

. Rockay Blaze Compression Calf Sleeve
Moisture-wicking, Quick dry material
Quality Tested
Anti Bacterial and Anti Odor
Extra Durable
Compression Sleeves are made in Europe and made from premium quality moisture-wicking material. These compression calf sleeves are treated with anti-odor and anti-bacterial Polygiene Stays Fresh Technology.
Read more
The Rockay Blaze compression sleeves have passed rigorous Swisslastic's state of the art compression test. They have exceptional graduated compression of 16-23 mmHg, which makes them highly effective. The sleeve comes with a no questions asked quality guarantee. The product is tested with athletes and other professionals for the best outcomes even after multiple uses.
These sleeves have a Polygiene treatment that keeps them fresh by preventing bacteria and eliminating the build-up of odor. Also, Rockay enhances the breathability of these sleeves by designing them to have ventilation zones & lightweight mesh to ensure ease of airflow.
These calf compression sleeves are backed by a no questions asked, no conditions, lifetime guarantee.
2

. Emerge Compression Calf Sleeve Shin Splint Protector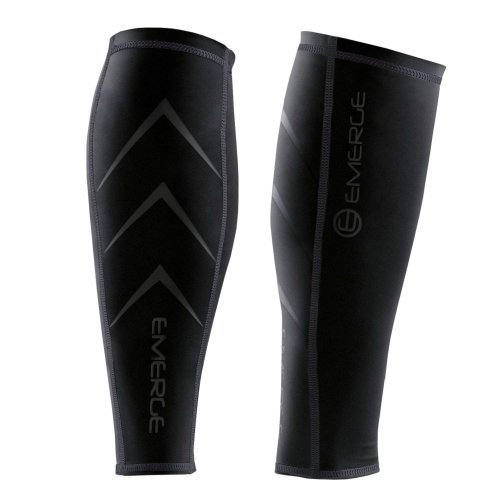 Very Resilient and form-fitting
Graduated compression
SPF 50 Sun Protection
Emerge compression sleeves for shin splints are a full length lower leg protector that is constructed from professional grade 70 Denier Investa Lycra and feature medical circular 360 degrees knit construction.
Read more
Emerge compression sleeves feature a graduated compression fit to boost blood circulation for fast track recovery and healing by getting oxygen to the cells faster.
They are an extremely flexible and form-fitting compression sleeve that does a great job of relieving and preventing shin splints and swelling.
The Emerge compression sleeves for shin splints feature an SPF 50 sun protection factor of 50 along with extreme moisture management for maximum comfort.
These calf compression sleeves, which also come with a 100% lifetime guarantee, are the most comfortable, form-fitting, and effective compression calf sleeves that we have ever come across.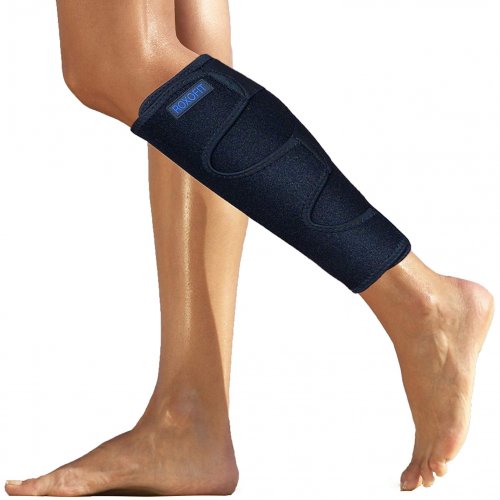 Easy to apply
Wide and durable hook fasteners
Very comfortable
Contoured design
The Roxofit Shin Brace is a super adjustable and comfortable calf compression sleeve made out of soft neoprene. It is easy to apply as you can put it on without slipping it over your foot.
Read more
The Roxofit Shin Brace provides you with a very comfortable fit that is easy to get on and off. Because it can be put on by only wrapping it around the calf, users can avoid discomfort and the possibility of incurring extra pain to injury by not having to pull it up over the foot. It features wide and durable hook fasteners that adjust to suit your specific requirements. It prevents slippage, ensuring that the brace stays firmly in place, even when you are mobile and active. An elastic binding, which is reinforced with a silicone grip, enhances the fit.
This sleeve is also abrasion resistant and sweat resistant and is also a very stylish looking and extremely functional as a brace.
The contoured design of this compression calf sleeve also enhances movement, allowing you to run and jump freely.
4

. MAVA Sports Compression Calf Sleeve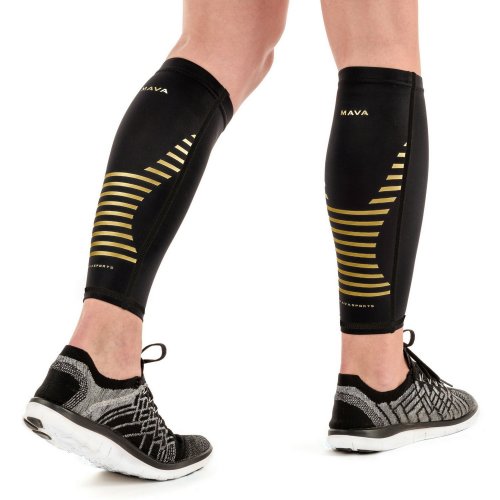 Easy fit
Moisture-wicking
Breathable
Graduated compression
MAVA Sports calf compression sleeves provide you with an extremely comfortable, moisture-wicking, breathable design made out of 85% nylon and 15% spandex.
Read more
You get an extra level of calf and shin support in a design made from tightly woven blended synthetic fabric. These compression calf sleeves provide you with a graduated compression level of between 18-25 mmHg.
This level of graduated compression allows for stimulated blood flow for enhanced nutrient delivery to the affected area. The sleeve is anatomically shaped to enhance recovery and support the natural exercise movement.
5

. McDavid Compression Calf Sleeve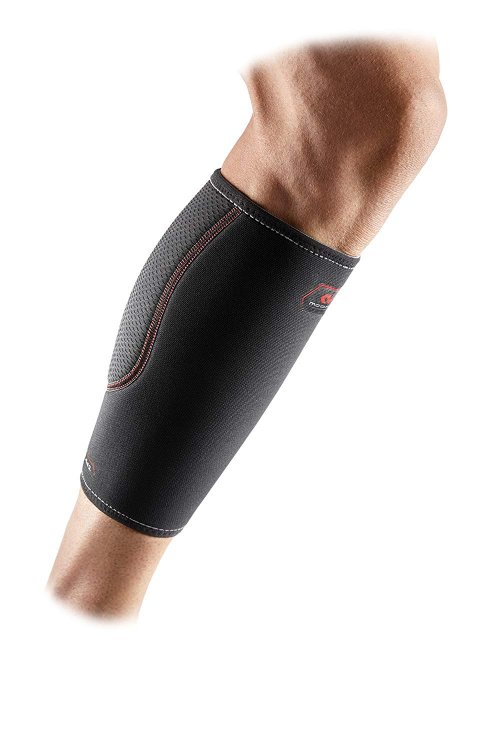 5 needle stitch design
Four-way stretch material
Fully reversible
The McDavid Compression Calf Sleeve is a shorter size sleeve made with four-way stretch fabric technology and exclusive five-needle stitch design.
Read more
The unique materials and construction of this calf compression sleeve provide a flatter, cleaner, and stronger seam that doesn't compromise comfort.
The durable seams will not cause any irritation. The heavy-duty nylon fabric featured on the outside of the sleeve gives you enhanced strength and durability. It also means that this compression calf sleeve will stay up longer, even when you're running and jumping. This compression sleeve is latex-free, to be safe for you and the environment.
​The McDavid compression sleeve is contoured for easy pull-on. It is guaranteed to provide Level One Primary Protection. And the stretch material offers maximum fit and enhanced performance. The compression sleeve is also fully reversible, allowing users to rotate between which fabric comes in contact with body heat and moisture.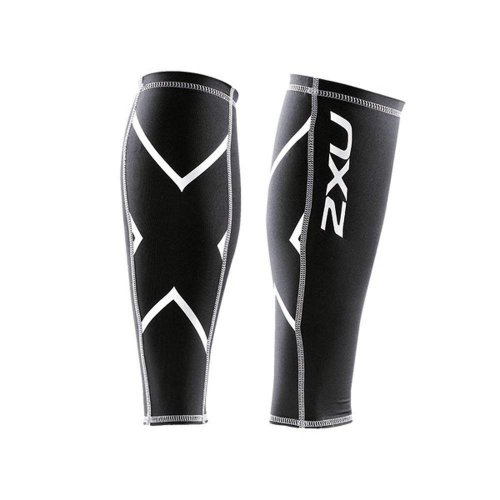 Breathable and Flexible
Moisture Management Technology
Muscle Containment Technology
​2XU compression calf guards are full length lower leg compression sleeves. They are constructed from 70 Denier Invista Lycra to deliver consistent pressure.
Read more
They feature a graduated compression fit, with the greater pressure being based around the ankle.​ The fabrication of the sleeve uses the well known 360-degree medical circular construction that creates consistent pressure throughout the sleeve. The muscle containment technology used with the 2XU compression calf guards dramatically reduces vibration and oscillation, reducing muscle fatigue.
Extreme moisture management technology prevents the build-up of sweat and discomfort while wearing these calf compression sleeves. SPF50 sun protection gives you maximum burn protection when exercising outdoors.
The 2XU is a very breathable and lightweight compression calf sleeve that slips on and off very quickly. Flatlock seams reduce chafing and irritation, while the high filament makeup of the yarn enhances dryness to wick away sweat from the skin to the exterior of the fabric.
7

. Physix Gear Compression Calf Sleeve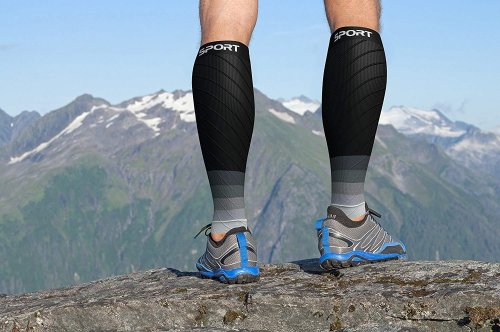 Very durable
The double stitching on seams
Covers entire lower leg
Breathable
The Physix Gear Compression sleeve is extremely durable and long-lasting lower leg support with a fashionable look. It features double stitching on all the seams.
Read more
It is a long sleeve to cover your entire lower leg including your ankles. It adds protection to the ankle joint and all the ligaments and tendons connecting to the Achilles. These sleeves are easy to slip on and off, which is a rarity among calf compression sleeves. The comfortable base layer breathable material provides you with a cozy fit and does a great job of treating varicose veins.
This sleeve provides you with excellent moisture wicking properties as well and feels very good against the skin.
And finally, these calf sleeves also come with a lifetime guarantee and a downloadable guide for tips and tricks to getting the most out of this product.
8

. Day Tip Compression Calf Sleeve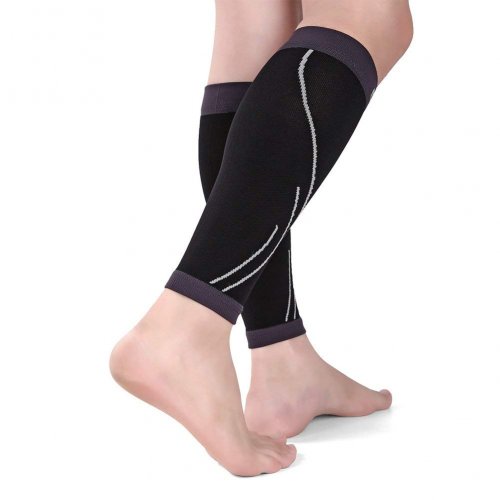 Breathable and durable
15-20 mmHg graduated compression
Moisture-wicking
Not the most well constructed
The Day Tip Calf Compression Sleeves are made from premium quality, breathable, and durable compression fabric. You get calf sleeve graduated compression between 15-20 mmHg.
Read more
The graduated compression combined with quality fabric provides you with enhanced blood circulation for faster recovery, even as your shin splints disappear. These sleeves are also extremely comfortable to wear due to having a breathable fabric design that enhances blood circulation.
They are recommended for everyday use, especially for professionals who are on their feet for periods, like teachers, doctors, etc. The lightweight moisture-wicking technology reduces sweat build-up and doesn't weigh your leg down.
Day Tip compression calf sleeves provide graduated compression with lighter compression at the top of the calf muscle. These leg sleeves are ideal for basketball, running, and athletic training, but also encouraged people who work extended shifts on their feet.
9

. Blitzu Compression Socks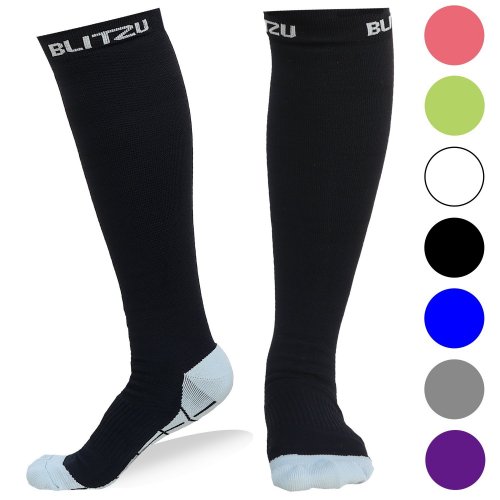 Full-length socks
High vel of graduated compression
Kinesiology taping design
Power premium performance fabric
BLITZU compression socks are a knee height sock that provides you with 20-30 mmHg of graduated compression, making it one of the highest levels of compression we have come across in lower leg support.
Read more
The high compression level means that you will get enhanced transportation of nutrients and oxygen to the injured area to facilitate faster recovery. These one-of-a-kind compression socks combine the stability of kinesiology taping with the performance of compression fabric. It makes them ideal for the relief of varicose veins. IT also makes them suitable for everyday use.
BLITZU socks are made from power premium performance fabric. They deliver 360-degree stretch for greater flexibility and durability. They also stay put cuffs that ensure that they won't slip down while you are moving around. They provide a sleek, stylish, fashionable design that is available in a wide range of colors.
A 100% satisfaction guarantee also backs these socks.
10

. Thirty48 Compression Calf Sleeve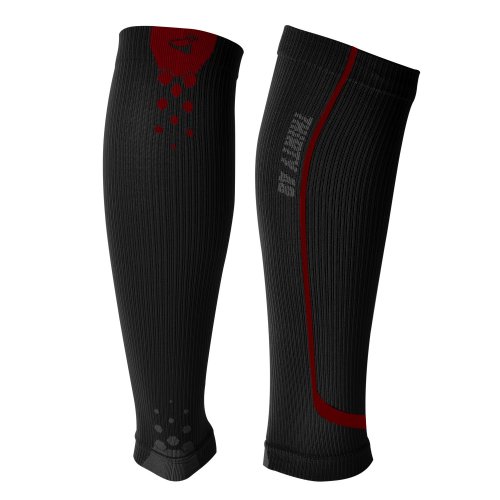 Enhanced airflow
Heel tab
Graduating compression
The Thirty48 compression calf sleeves are made with Catalyst AF design providing superior airflow to help increase circulation.
Read more
The synthetic blended fabric of the Thirty48 compression calf sleeve is 87% nylon and 13% spandex with COOLMAX technology. It is a great blend to ensure that the compression sleeve stays tight even with long term use. ​And the COOLMAX enhances the dry comfort and airflow of the fabric.
The Thirty48 sleeves are available in two different compression levels allowing you to match your specific requirements – the red, black, and blue sleeves provide 20-30 mmHg compression, while the other colors offer 15-22 mmHg.
All calf compression sleeves feature graduating compression of light, moderate and firm, running from the upper calf to the ankle; this provides better blood flow and overall support.
These compression calf sleeves also come with a handy heel tab to make it even easier to put them on.
Criteria Used for Evaluation

Breathability
Breathability is defined as the effective ability of moisture, air, and vapor to move and permeate through a material or fabric. So its no wonder breathability is an important factor to keep in mind when researching compression calf sleeves. You want to make sure your legs can breathe no matter what activity or exercise you are engaging in. Breathability increases comfort and decreases moisture and odor build-up. To determine a product's level of breathability, we looked at the permeability of the materials used to make the sleeve, its thickness, and if any fabric treatments were added to enhance moisture-wicking or the like.

Comfort
Although compression sleeves are supposed to create compression for your legs, they are not supposed to hurt or bring any discomfort or pain. We factored in fabric material and how it feels against the skin to determine how good a product feels to the touch. We also factored in how well a product stayed in place while being used, as products that slip or move are irritating and therefore not as good as others that stay comfortably in place. Next, we considered the compression level, and how tightly a product fit at either end of the sleeve, or on foot for the socks.

Compression
Compression is what sets compression sleeves apart from just fabric sleeves and socks. The compression levels were measured to determine the effectiveness of product compression. We also factored in the level of graduated compression throughout the sleeve, with products that had a wider range or a higher maximum compression rating as being superior in the compression department. Just because a sleeve is tight doesn't mean it is an effective use of compression, however. So we had to factor that in.

Materials
Materials are so necessary for products of this nature. We looked at the quality of materials along with their known benefits and how well they were constructed. We also took into consideration whether or not the materials feel good against the skin and if seams or other parts of the materials caused any irritation. And we also carefully considered if materials had any fabric technology to increase their performance, like odor resistance or antibacterial treatments.

Ease of Use
Ease of Use is so essential for compression sleeves, as many who use them are indeed recovering from injury or have limited mobility. Not all users of course, but even if someone is in great shape, having a shin compression sleeve that is a pain to put on and take off is still not very pleasant. So we looked at how easy it was to put a product on, take it off, and also adjust it once it was on and in place.
Expert Interviews & Opinions
Most Important Criteria
(According to our experts opinion)
Experts Opinion
Editors Opinion
Users Opinion
By Default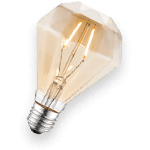 Brand
When buying this type of product, you should stay with a brand name because you can feel sure you will get the best performance.
Brand names are companies that will have carried out extensive research into the design and preparation of a product and importantly, they will have tested it. It means when you lay out your money, you will get the level of quality and performance which you expect to get. There are many brand options so you should go online, read a few authoritative reviews to narrow down your choice of which brand product you will buy.
Comfort is very important
Compression clothing plays a vital role for providing distributed compression where you most need it, and if you invest in a product which has not been pre-searched for comfort and performance by the makers, you could find you have a great looking product, the design is excellent, but the comfort level is far too low. Read online reviews, see what others say about the product, see how many positive reviews exist, look at negative reviews, and see what people are saying about the product.
Frequently Asked Questions
q:

What exactly are shin splints?

a:

Shin splints are pain that can be caused if you overuse your legs and shinbone, which is the frontal bone located in the lower leg. Shin splints most often plague runners because of the excessive use they put on their shins while they are running and training. For that reason, it is crucial that you find the best compression sleeves for running and stay protected.
People who are at a higher risk of developing shin splints are women, people with flat feet, athletes, and even dancers. Also, sports like tennis, soccer, and basketball in which the athlete needs to be able to run and then stop short and then stop and start are susceptible to developing shin splints.
Some symptoms of shin splints include a dull ache in the front part of your lower leg, pain on either side of the shin bone especially if it happens during exercise, muscle pain and muscle soreness, swelling in your legs, or numbness and weakness in your feet. It is always best to see a doctor if you experience any of these symptoms so they can suggest standard treatment methods for you if you are suffering from shin splints.
A compression garment, elevation, ice packs, and over the counter medication are most commonly what is recommended to help treat shin splints. On our list above are some of the best compression sleeves for shin splints.
q:

What does graduated compression mean?

a:

Graduated compression stockings, compression leg sleeves, and compression socks help to promote the circulation in your legs and they can apply a certain amount of pressure near the ankle that then gradually is applied less and less as the pressure moves up the leg. Think of it as a tapered pressure. This distribution of compression aids in combating the effects of gravity to help with keeping deoxygenated blood flowing, and making its way back up to the heart.
q:

How do I know what size to buy?

a:

The right fit is crucial so that you can take advantage of the compression that the socks, stockings, or sleeves can provide you.
To measure calf compression sleeves, you should sit in a chair with your legs at a ninety-degree angle. You can then measure the distance from one finger below to the bend in your knee to the floor. Another way to check your size is to measure your calf circumference at its widest point. Those two measurements can then be put next to a sizing chart for the brand you're interested in to help you find the perfect fit for your anatomy.
So between those two measurements, you should be able to figure out your appropriate size no matter what product you're choosing.
q:

What are compression sleeves good for?

a:

Compression sleeves are great for a wide range of activities and are said to have an even wider array of benefits. While most people assume compression socks are reserved for athletes and fitness enthusiasts, they work exceptionally well for anyone who spends a lot of extended time standing on their feet. Professions such as Doctors, Nurses, Teachers, Massage Therapists see quite a bit of compression sleeve use. And they have even been known to help pregnant women maintain comfort during pregnancy and keep swelling of legs down that is sometimes frequent during pregnancy.
Compression sleeves are beneficial for keeping blood flow moving efficiently, to reduce leg swelling, ease the discomfort of injury and sore muscles, and also aids in supplying much-needed support to the lower legs. Circulation is stimulated when using compression sleeves as well. And when blood flow increases, your performance improves while muscle and overall body fatigue decrease. And finally, compression helps with recovery time, allowing you to get back out there quicker.
q:

Should I wear compression sock or calf sleeve?

a:

There are a few things to consider when choosing between calf compression sleeves and full-on compression socks. Consider your individual needs and uses for the product, and also your preferences. If you are recovering from an ankle injury, the arch of your foot, or even the lower Achilles, or just someone using them for management of blood flow, the compression sock will likely serve your needs better. If you are rehabilitating from an injury farther up your leg or dealing with shin splints, the compression sleeves will likely be better for your needs.
Of course, it also depends on your preferences. If you prefer to workout with minimalist shoes or bare feet, you probably aren't going to enjoy wearing socks. On the other hand, if you love a specific pair or type of sock, it might be best to use the sleeve to keep wearing the sock you already know you prefer to wear.
Subscribe to our newsletter