The 13 Best Punching Bags of 2023
last updated:
Jan 07, 2021
You don't have to be a boxer to include a punching bag as part of your home gym equipment roster. Spending time on the heavy bag is one of the best things you can do to get in shape. It will provide you with a great overall workout, with an emphasis on churning through the calories.
In this article, we'll provide you with everything you need to know to make the best-informed purchasing decision possible. We'll also provide you with some great sample workouts as well as reviews of the best punching bags on the market in 2020!
In a Hurry? The test winner after 16 hrs of research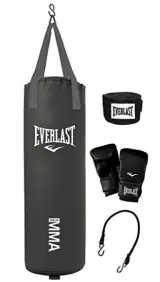 Everlast Heavy
Why is it better?
​Comes with hand wraps and gloves
​Great shock absorbency
Adjustable chain
42
Researched Sources
8k
Reviews Considered
16
Hours Researching
14
Products Evaluated
Application
Durability
Ease of Use
Value
Materials
By Default
13 Best Punching Bags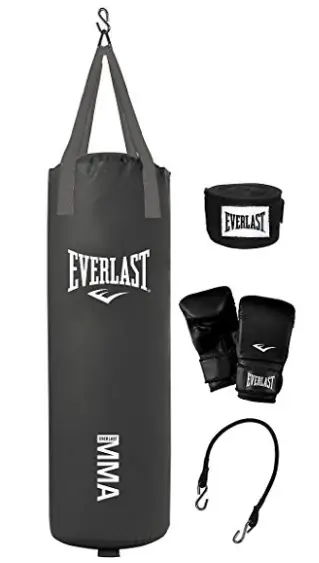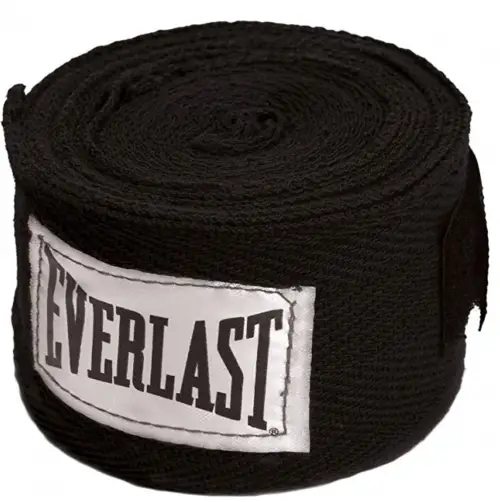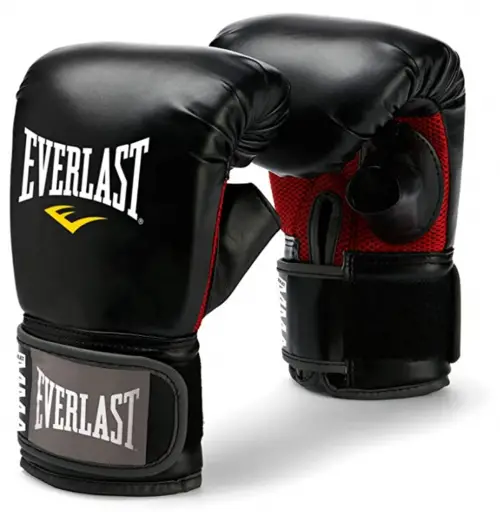 ​Comes with hand wraps and gloves
​Great shock absorbency
Adjustable chain
May be too light for larger boxers
The Everlast Heavy punching bag comes as part of a kit that provides you with a poly canvas heavy bag, a pair of hand-wraps and a pair of bag gloves. The inner filling of this bag is a blend of natural and synthetic fibers, which is typical of Everlast heavy bags. This provides you with superior shock absorbency, which is a key reason that we have rated the Everlast as our favorite heavy bag for home use.
Read more
The punching bag is not as heavy as what you would find in a commercial gym. That's because those bags are designed for a lot more punishment and for users of all different sizes and shapes. At 70 and 80 pounds, the bag is ideal for Muay Thai and other martial arts applications. If you're a bigger guy who is solely into boxing, however, you will probably want to upgrade to the 100-pound version of this bag.
The Everlast punching bag grants you a good amount of giving when you strike it, which is important for avoiding injury, especially when you are practicing your kicking technique.
The chain that comes with the bag is adjustable so you can hang it at just the right height for you. You also get a pair of heavy-duty nylon straps to help to securely hang the bag.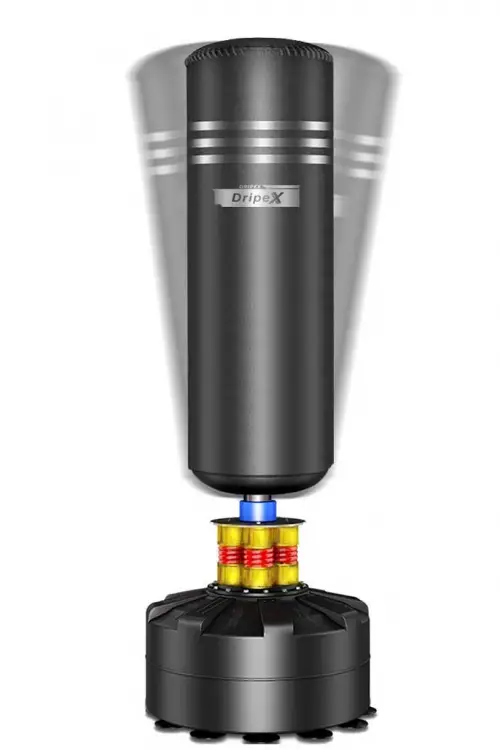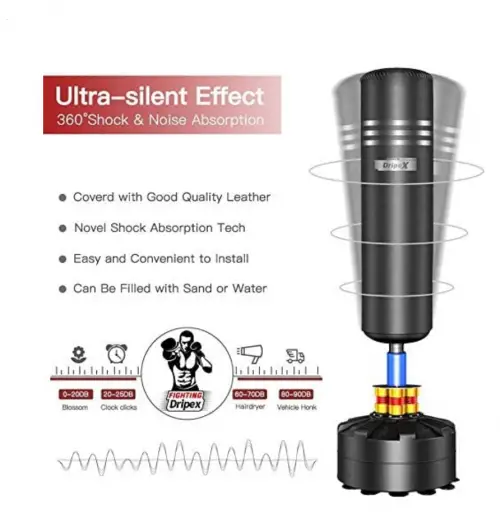 360-degree shock absorbers
TPU absorbers
No installation required
The bag needs to be re-tightened often
No need to dig out your toolbox or drill holes into your ceiling joists with this freestanding design from Dripex. What we love most about this design is that it is composed of heavy-duty materials that can withstand some of your most intense training, and it can stand strongly on its own for quick and easy setup. Plus, it comes in at a price point that won't break the bank.
Read more
What makes this design stand out from the rest is that it has a strong and sturdy base that holds the bag in place as you train. The base is composed of a rounded ABS tank that allows users to simply roll it from place to place when you need to change location. It also hosts dual TPU absorbers and 360-degree shock absorbers that keep this bag upright and stable.
The bag is made from 2mm thickened PU leather that is incredibly tough and tear-resistant. Under that thick layer of synthetic leather is high-density EPE foam that works to protect your hands and wrists with intense punches and kicks. At its core is a stainless steel stabilizing bar that makes this design one of the more durable free-standing designs out there on the market.
If you are in the market for a freestanding design that is quick and easy to set up, this option from Dripex is a great choice. Many freestanding designs are a little less durable than their mounted counterparts, but the smart stability and durability features in this option make it one of the best freestanding bags that money can buy.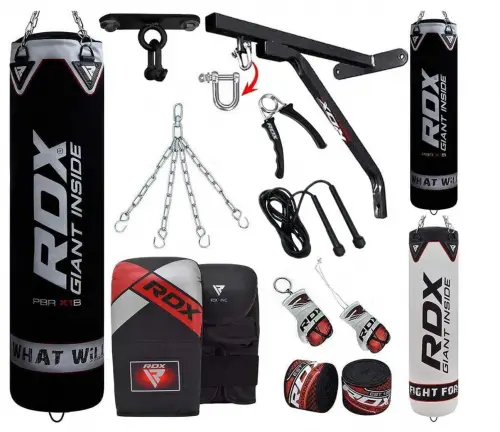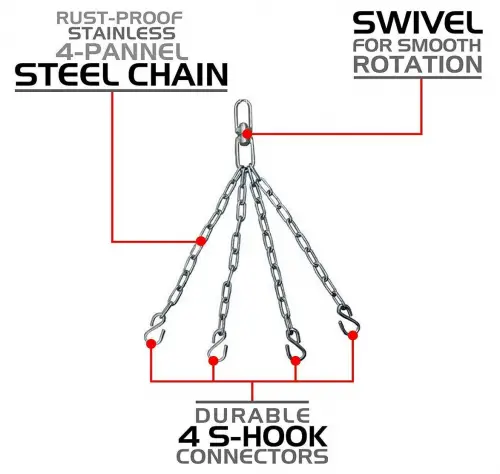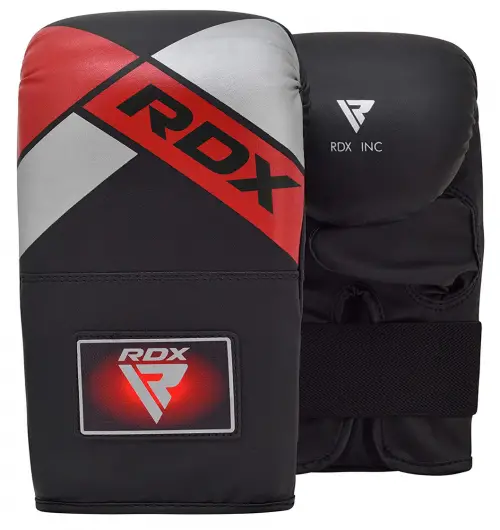 Lots of extras
​Good shock absorbency
​Zip opening
Textile padding may sink to the bottom of the bag over time
The RDX Punching Bag Kit provides you with a heavy-duty RDX punching bag, a wall bracket, hand wraps, steel chain, jump rope, hand gripper, boxing gloves, punch bag strap and boxing glove keyring, making it the most complete kit we have come across.
Read more
The punching bag is filled with shredded textiles, which have been chosen due to their shock-absorbing capacity. However, you may find that after years of use, the textile padding may tend to sink, leaving you with not enough padding at the top of the bag. Keep in mind there is a zip opening at the top of the bag which allows you to add more interior filling if you wish.
The exterior of this bag features twin coated Rex leather. This is synthetic leather which is very strong and durable. That means no tearing and assists in the bag's shock-absorbing capability. It is also waterproof but you wouldn't want to leave this bag outside for extended periods of time.
There are four heavy-duty D rings at the top of the bag for you to attach the chain. These are both riveted and double stitched to the bag for extra strength.
This is a good choice for beginners, providing you with everything you need to get started in the world of boxing training.
4

. Outslayer Muay Thai Heavy Duty



130 pounds
Adjustable straps
72 inches long
Fabric may sink over time
The Outslayer Muay Thai heavy duty bag and other very similar bags are a beast of a bag that weighs in at 130 pounds and sometimes more. That makes it ideal for big guys who weigh in at more than 200 pounds. At 72 inches in height, this is the tallest bag that Outslayer produces.
Read more
Twelve-inch straps allow you to adjust the height of the bag in order to customize it. Outslayer uses top quality filler and covers material to ensure that their bags provide you with plenty of shock absorbency. It is filled with fabric and the exterior is the same heavy-duty that is used on the Outslayer 300 pound bag.
Unlike many inferior quality bags, this option will not produce hard and soft spots with time. The surface will remain even throughout.
The bag is designed so that great combinations of low kicks can be practiced in succession and then it is so easy to instantly switch to upper body combinations using the feet, hands or elbows. It does not give or lose shape so it holds solid for very punishing routines where some other bags will lose shape due to the regular pounding of both the upper and lower areas of the bag.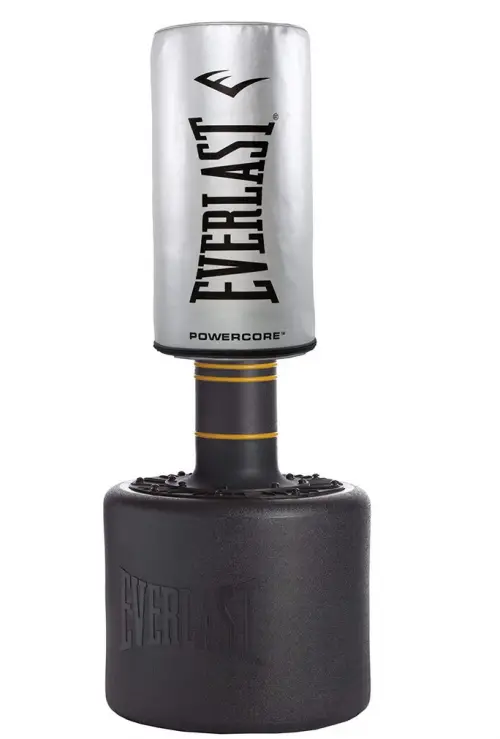 Freestanding
NEVATEAR exterior shell
Interior air pocket for added support
For those willing to pay a little bit extra for something that hails from one of the most trusted brands out there on the market, this freestanding design from Everlast is worth every penny. It is composed of quality materials that hold up well over time, and the freestanding base means that you won't need to dig out your toolbox to mount it to your wall or ceiling in your home gym.
Read more
The very first thing that we noticed about this design is that it boasts a wide and stable base with a bag that is slightly smaller than some of the beefy designs that we have seen so far. The peculiar shape actually makes this bag a little more stable and less likely to topple over with a particularly powerful punch. The rounded base is coated in a layer of ABS plastic, and the design makes it easy to roll from room to room as needed.
What makes this sleek design stand out from the pack is what is found in the bag. The outside is composed of a thick layer of incredibly durable NEVATEAR materials that is resistant to wearing and tearing over the years. This material is composed of a blend of synthetic leather as well as webbed vinyl for unmatched durability.
The inside of the bag has a layer of foam that surrounds an air pocket that works to help protect your hands and joints from heavy hits. If you are in the market for something that is designed for intense use that will hold up quite well over the years, this design from Everlast is worth every penny.
6

. Ringside Boxing Muay Thai | 100 Pound



Strong Powerhide exterior
2-inch soft fill
Choice of colors
10 -year warranty
High shipping cost
Slippery surface
The Ringside Boxing 100 pound heavy bag is a long full-length heavy-duty bag designed for Muay Thai and other martial arts training. The strong resilient power hide exterior provides you with a very tough covering that ensures no tears while providing smooth contact with your skin.
Read more
The inside of the bag is filled with a 2-inch soft fill, providing you with a good deal of protection when you pound your hand into the bag. Every seam in this bag is solid and tight, giving you confidence that the bag will last for many years to come.
With this bag you get a choice of colors, including red and black. The hanging straps are supported by sturdy steel rivets and sturdy stitching. Reliably solid and secure at the seams and packed with materials which consistently absorb the strikes, no jolt on impact but the exact right level of giving.
You get an impressive 10-year warranty as well. However, there is a rather heavy shipping cost on this product. The bag also has a rather slippery surface, which may cause your punch to glance off target.
7

. Combat Sports Heavy Duty



72 inches long
Heavy-duty synthetic leather exterior
Good level of absorbency
Inner fabric lining tends to settle to the bottom
The exterior of these bags is made from a heavy-duty synthetic leather which is forgiving and is more comfortable to strike with your unprotected hands and feet than canvas exterior bags. Because the bag is heavy and suspended from above, this means that while training you can move around the bag to deliver combined kicks and punches.
Read more
Any swinging reaction will be a result of how hard the bag can be hit though it will take a lot of power to move it as it is densely packed and can absorb a lot of energy.
This bag comes in a dark black color and is rather lightweight for its size. This bag is lighter than many other options this size which will give it a tendency to swing more than usual.
Users will get a good lifespan from this punching bag and it is very well designed with the durability you would expect from this style of training bag.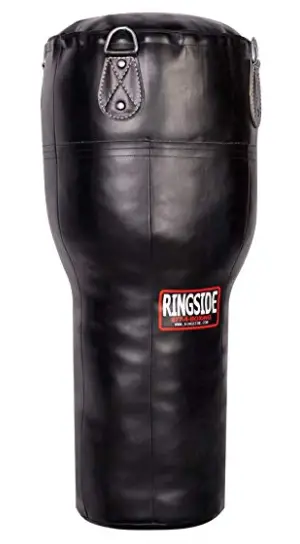 Uppercut training
Good for practicing different combinations
Durable
Not for heavy-duty training
All bags designed for uppercut training work through the same design. Uppercuts training bags are a feature in all gyms because the uppercut is a punch that every boxer must develop. The bag design is very different from heavy bags or light bags because it has a sloped area that is angled to take the uppercut punch and give a realistic angled surface for absorbing the blow.
Read more
These bags can be obtained as hanging bags or free standing and they are a popular feature in clubs for boxers and for training at home. Packed with materials that will absorb the upper impact from an angle, these bags are durable and offer boxers a method for practicing a very powerful hit.
As the bag is gradually angled, this means a boxer can practice an uppercut strike or punch for opponents which can be different heights. The angle offers a chance to train with a good variety of fast or powerful combinations; most of these bags are made from very tough leather which can take years of punishment and still be good for the purpose.
These bags also offer a design that lets boxers try out so many different angled hits and combinations.



Good quality bag
Durable
Punch absorbancy
Many bag options and weights
Some might prefer another brand
The Everlast 70 pound canvas heavy bag contains a special blender fill of sanitized synthetic and natural fibers that provide a good level of shock absorbency. The premium synthetic poly-canvas exterior is extremely durable, ensuring that this bag will last a long time.
Read more
The bag features heavy-duty nylon straps that are double stitched to provide extra strength, while the double strap loop grants enhanced functionality. This is a high-quality no-frills bag that does its job well.
Everlast has a good history when it comes down to producing very reliable, durable punching bags at a good range of bag weights.
They offer bags that have different skins, leather, synthetic leather, synthetic poly-canvas are all very tried and tested options on the bags for this brand.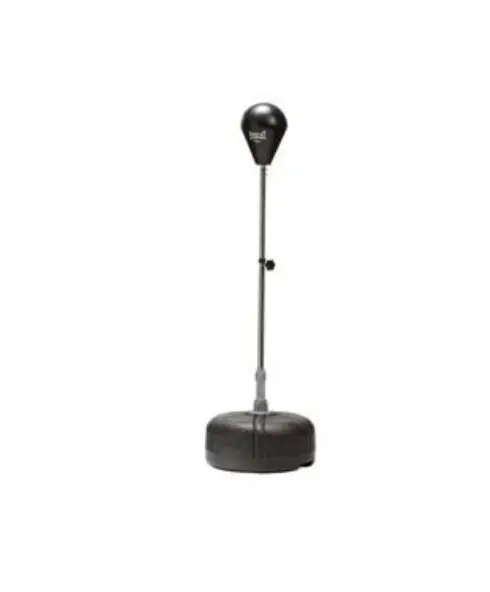 Very small frame
Affordable
Great for speed
Do you need to work on your speed? If you have all of the power you want but feel your speed and reflexes need a bit of training, this simple reflex bag from Everlast is a great option (and a must-have for any home gym). We love that it is made from quality materials you have come to expect from Everlast, and it comes in at an incredibly affordable price point that makes it worth checking out.
Read more
Just like all of your standard heavy bags, this speed bag boasts a heavy base that holds the unit in place as you hammer down punches. The base is able to be filled with sand or water and has a rounded frame that makes it easy to move when you need to make space for even more gym equipment.
What makes this reflex bag different from your standard heavy bag is that it has a small tear-drop shaped frame. A smaller bag moves quicker and provides a smaller target to hit which is great for your reflexes. Plus, the lighter frame reduces the risk of injury when casually training.
This design from Everlast is perfect for skilled boxers that want to hone in on their speed but it is also great for newbies that simply want a unique cardio workout to help melt away stress and shed some pounds. We love that it comes in at a super affordable price point that is perfect for all budgets.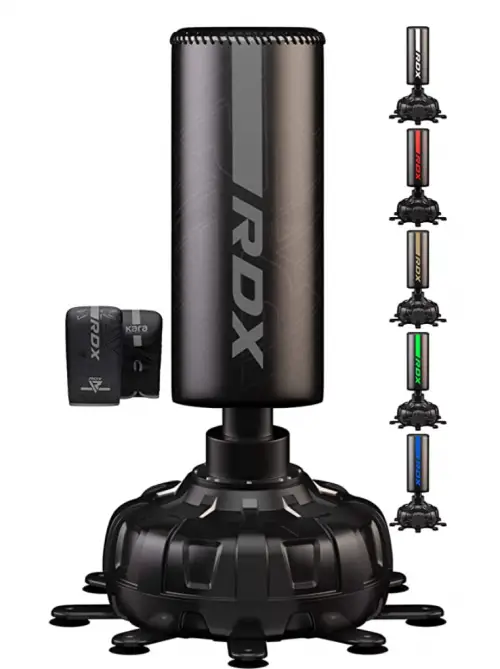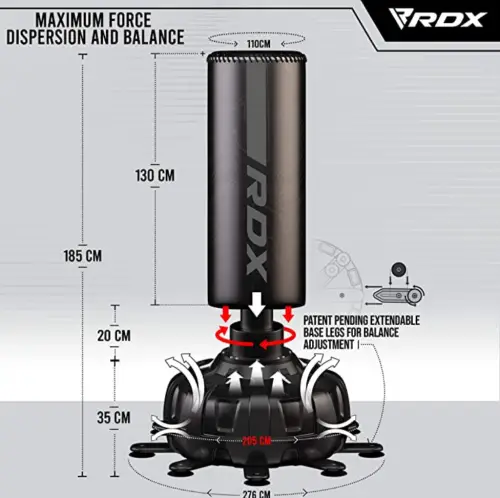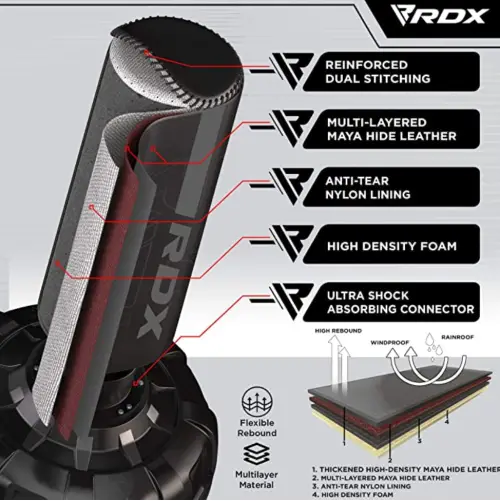 Glove included
Added suction cup support
Easy to move
RDX is a brand that ensures that you have all of the tools that you need to fit in a safe and effective workout. Just like the mounted option we explored earlier, this freestanding model from RDX is made from tough materials that hold up well over time. It also comes with a host of accessories to ensure that you engage in safe workouts and helps to keep your training new and exciting.
Read more
What we liked about this design is that it doesn't require you to mount it to a wall or ceiling. It has a large, rounded base that is able to be filled with sand or water to ensure that it stays put as you train. The rounded plastic base also makes it easy to move without the need to drain the main chamber.
Unlike some of the other freestanding designs that we have seen, this design is also reinforced with a series of suction cups on the base to really ensure that it stays firmly in place as you train. The main bag is available in many different color options to add some flair to your home gym, and this bag even comes with a pair of modest sparring gloves to get you started.
If you are in the market for something that comes from a trusted brand that is packed with features to help you get the most out of your workouts, this freestanding design from RDX is an excellent choice. It may cost a little bit more than some of the other freestanding designs that we have seen so far, but the smart features included make it well worth the price tag.
12

. Century Aerobic Wavemaster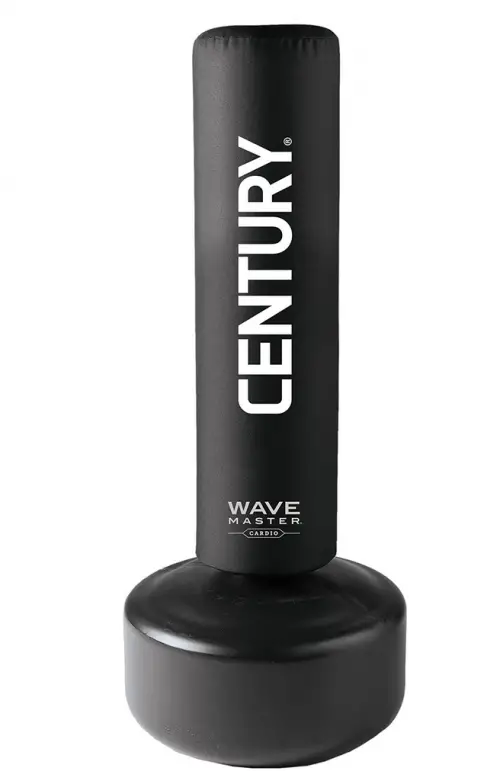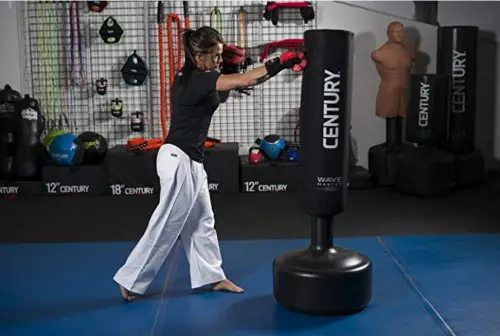 What we liked most about this freestanding design is that it has a simple build that makes it perfect for light training or aerobic workouts. It is composed of quality materials that hold up quite well over the years, and the freestanding design means that you won't need to mount it to a wall or ceiling beam in our basement or garage.
Read more
The very first thing that we noticed about this design from Century is that it boasts a smaller frame when compared to some of the other heavy bags out there on the market. This smaller frame makes it a little more lightweight and easy to punch and kick for heart-pounding workouts that take it easy on your joints.
We also like that this design is incredibly easy to set up. Simply fill the base with water or sand for a weight that won't shift around or fall over as you use it. The base is constructed with ABS plastic with a rounded shape that makes it easy to move when you need to clear up some space.
If you are a newbie to fighting and want something that will allow you to melt away stress while burning calories at the same time. This simple design from Century is a great choice. It is composed of quality materials that hold up well over time and comes in at a price point that won't break the bank.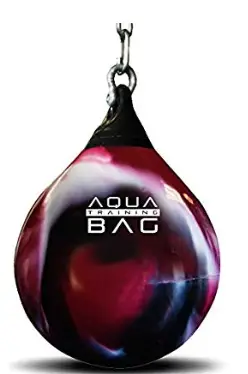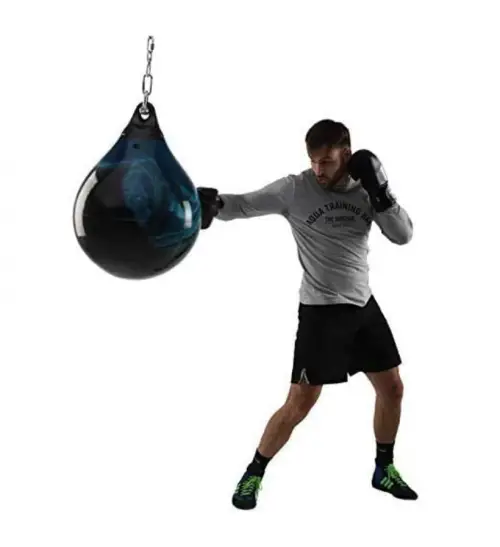 Water filled
Low shipping cost
Natural human body feel
Great for uppercuts
Not as big as a traditional heavy bag
The Aqua Training 190 Pound Punching Bag is a unique water-filled teardrop-shaped heavy bag. A great advantage of this bag is that it ships unfilled so only weighs 15 pounds, keeping your shipping costs way down. The water inner feels very much like striking a human body when you hit the bag.
Read more
It is also great for learning how to hit your target. In addition, the unique teardrop design allows for a great deal of training versatility and is great for practicing your uppercuts.
This style of punching bag takes boxing training to another level; they are filled with water and generally give a good solid target to hit, though water does have flexibility from impact. They are hanging back and it's very easy to move around them while practicing a good range of combinations.
These bags come with a two-year warranty and are known as durable and reliable.
Criteria Used for Evaluation

Application
Application comes with technique
During our research, we applied the criteria of application for the different punchbags. This was done from a viewpoint that the bags allow a wide range of practice for boxing or martial arts application.
Punches
There are many types of punches and to assure you can train all of it we looked to see that boxing bags offered a broad enough surface to allow a person to maneuver around and practice different punches and combinations, this means that by moving freely a boxer can work on increasing agility which during a contest is very important.
Kicks
When a brand stated that a bag is good for martial arts training, we looked for evidence to support this in terms of the bag providing a kicking surface for different kicks at all different heights.
Our selection covers mostly heavy-duty bags but a few models are also mid-range. All of them offer the potential for a great fighting training session.

Durability
Without good durability, it won't last long
Durability for boxing bags and kick bags is a seriously important criterion. Each bag we researched had to meet high standards of durability; we were impressed by the use of leather, synthetic leather, a range of durable synthetics and even thick durable rubber for water bags.
Heavy duty bags need to be exceptionally durable because these are the focus of very heavy-duty training and they take an incredible pounding; there are not many materials capable of withstanding such harsh treatment. The bags need to have seams that are stitched together with the right materials and stitched in a style that holds the pressure created by the contents in the bag and the pressure of regular punches and kicks. If the stitching is not up to a very high durable standard, the seams will fail quickly and the training bag becomes useless and a wasted investment.
Repairing the seams on a boxing or martial arts bag is very expensive. The skin of a bag must be able to retain a smooth surface and not start to ripple or lose shape because loss of shape will mean that the internal foam or other types of filler will shift and move down to the base of the bag.
We looked at the durability level of fillers for boxing bags, we wanted to see how dense they were and how well they absorbed constant impact; generally, all fillers met good standards because gyms and other users are generally knowledgable about what level of quality they expect from a bag filler.
Water-filled bags are interesting; they are an alternative as a filler and they do seem effective so long as the skin of the bag is of the highest durability level.

Ease of Use
Ease of use is not too difficult to get from a training bag
For this criteria, we did not look at ease for actually working out on martial arts and boxing bags, we were more focused on how easy it is to set up the bag.
Hanging bags
For hanging bags there is some work required; heavy-duty bags need a very strong steel chain and good quality and safe ceiling brackets. This means that when hanging a bag, it is important to ensure that a part of the ceiling, preferably a joist, is located and a drill used to create secure bolt holes for taking the weight of the bag.
Heavy-duty bags weigh a lot and they are also constantly being hammered with kicks and punches; therefore, it is seriously important that the bag is fitted safely and securely to a ceiling.
Free Standing Bags
Free standing heavy bags are obviously popular because setting them up ready for use is usually very easy. Free standing work-out bags come with a stable base which is designed to evenly and effectively distribute the bag weight to ensure it stays stable. The base has an easily accessible entry hole through which sand or water can be put inside. The whole set up process is relatively easy providing you have access to sand or water.

Materials
Materials for training bags are the key to a good product
Materials are seriously important because without the use of high-quality materials, a heavy-duty bag will not perform or survive the regular treatment which it will receive.
We compared bags and we did see that low budget bags are made from materials that offer low durability. We concluded it is very difficult if not impossible to build a heavy-duty boxing bag from cheap materials.
The most popular durable material appears to be good quality leather; buyers like the feel when hitting a leather bag and leather aids in absorbing impacts.
Synthetic leather may feel a bit different when it is punched but the durability level is highly impressive; for those that find the cost of a leather bag too high, the second option of synthetic leather is a very good option.
Canvas bags are available; they feel different when they are hit, and unfortunately over time canvas can wear, seams might become stretched as the canvas loses its integrity.
Plastic or rubbery plastic bags work well for holding water for those that like to work out on a water-filled bag. Some people state that rubber-style plastic is durable and can take a regular pounding from boxers. To date, this material seems to be accepted but has yet to prove itself long term.

Value
We were very focused when we used value as an assessment criterion.
We looked for the use of good quality materials, secure designed seams and the provision of quality steel chain. For bags that are sold pre-filled, we wanted to see that high-quality filling materials were inside and that these materials had properties for absorbing impacts, aiding the bag to hold shape.
Our conclusion is that when it comes down to heavy-duty training bags, value is achieved when top-quality materials are used.
Expert Interviews & Opinions
Most Important Criteria
(According to our experts opinion)
Experts Opinion
Editors Opinion
Users Opinion
By Default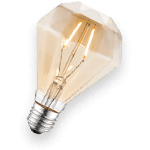 Pre-Filled or Not?
There is a debate about if we should buy a bag pre-filled or fill it ourselves. Generally, many people suggest that it is best to fill the bag yourself because this way you can choose the density and quality of the materials and you can also decide on the final weight of the bag. For those that might feel cautious about correctly filling a bag with the right materials, the solution is easy. You can research online via authority sites or even get advice from a local boxing club for which materials are best for your training aims.
Real Leather
Think about which material the skin for the bag will be. When you shop around you will be presented with a lot of synthetic materials, and if you are not a heavy duty trainer, these might be ok.
The best material is good quality leather; the leather feels right and reacts right when punched and it is very durable. If you feel the cost of leather is too high then you do have a second good option and that is synthetic leather.
Other Factors to Consider

Weight
Weight matters because the weight will impact your training
We did some in-depth research into weight. When buying a pre-filled bag we noted that the makers will declare the weight and this is an easy way for a user to select or perhaps find a bag at a preferred weight for training.
We were impressed by the option to buy a bag that has not been filled because this means the user can choose materials that will offer a weight that matches their training needs.
Bags are offered at different weights because there are different levels of training and different styles of training. Heavy-duty bags do weigh a lot because these bags are designed for those people that intend to do intense boxing or martial arts training.
Frequently Asked Questions
q:

Why are some punching bag pear shaped or angled?

a:

These punching bags are shaped differently because they offer training for boxers who want to practice uppercuts. The angle on the bag means a boxer can practice uppercuts which can be delivered to people who are different heights. The higher the angle, the taller the person.
q:

Are plastic-rubber water bags safe?

a:

The increase in the use of a water-filled bag that has a thick-rubber style skin suggests that so far, there is not a safety factor concern. The materials used for water bags do appear to be durable enough for these training bags but the bags come in a smaller size.
q:

Does a punching bag size affect training?

a:

Yes, it does. The bigger the punching bag, the heavier it will be. Big heavy bags are great for intense training. For speed training, you will be better off using a smaller bag, for intense training, go for the large bags.
q:

Can you suggest a good overall sized punching bag?

a:

Yes, a good punching bag needs to be around four or five feet long, it must not be too wide or too narrow. This size is often described as a fit all types of training bag.
Subscribe to our newsletter