Best Everlast Punching Bags and Kits
last updated:
Dec 20, 2019
When it comes down to quality and not numbers, Everlast produces a focused number of punch bags that sit comfortably in the group for top best products globally. The focus is on quality, not quantity. Walk into any established boxing club, the chances of seeing a heavy-duty Everlast punching bag are very good. The Everlast punching bag has historically proven themselves to be durable, high quality and good value. Everlast is the most recognized name in boxing and is heading that way in MMA as well. But does that reputation mean that they also provide the best punching bags on the market? That's the question that this guide will answer. We'll review the five best and let you choose the best Everlast punching bag.
This is the best product on our list that is currently in stock:

Everlast Heavy Bag
Why is it better?
The synthetic and natural filling
Great shock absorbency
Heavy chain
25
Researched Sources
3k
Reviews Considered
11
Hours Researching
5
Products Evaluated
Compatibility
Capacity
Durability
Effectiveness
Value
By Default
Top 10 Picks
1

. Everlast 70 Pound MMA Heavy Bag Kit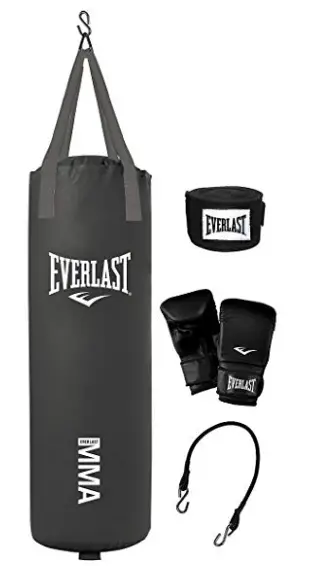 The composite filling provides great shock absorbency
Many extras
Strong synthetic leather exterior
If you are a serious boxer or mixed martial artist, then the Everlast 70 Pound MMA Heavy Bag Kit is the bag for you.
It provides you with everything you need to get started on your boxing journey, including a pair of quality gloves, hand wraps, a stretchable cord that allows you to adjust the height of the bag and a bungee cord to assist the adjustment.
This is a serious work-out Everlast punching bag, whatever you throw at it, this can take it and that means you can go for maximum power.
Read more
The bag's interior padding is made up of a very tough poly canvas material that delivers a high level of shock absorbency.
This composite filling prevents the contents from settling to the bottom of the bag over time so that you won't have an uneven bag with hardly any padding up top.
A synthetic leather outer covering provides you with a tough skin that will not tear and also provides a comfortable feel against the skin (though you are still advised to wear gloves and footwear when striking this Everlast punching bag).
This Everlast punching bag and accessories represent very good value. Everlast products are of very high quality and the company provides excellent follow-up and after-sales service.



The synthetic and natural filling
Great shock absorbency
Heavy chain
Not heavy enough for experienced fighters
The Everlast Canvas Heavy Bag is a lighter bag than many on the market. The interior filling of this bag is a composite of synthetic and natural fibers.
This blend is great for enhanced shock absorbency and will not sink to the bottom of the bag so that you will maintain a good level padding throughout the entire bag for the life of the bag, avoiding soft and hard spots.
Read more
The enhanced padding also provides a decent level of giving when you strike the Everlast punching bag, which helps to avoid injury. This makes it a great option for MMA trainers who are working on their heavy kicking technique.
The Everlast 70 Pound MMA Poly Canvas Heavy Bag comes with a heavy chain which is adjustable so that you can customize your Everlast punching bag height. You also get heavy nylon straps to assist in hanging the bag. This bag can be used for children's training as well as people who are new to the world of heavy bag training. You can even use this bag for wrestling practice.
This Everlast punching bag is not designed for heavy users or advanced boxers and martial artists. It will probably be too light for them and will swing around too much under the force of heavy striking. These people will probably want to step it up to 100 pounds. The canvas exterior of the Everlast punching bag is not very comfortable on hour skin, so make sure that you are wearing gloves or footwear while training.
3

. Everlast CardioBlast Heavy Punching Bag



Ideal for women
Great shock absorbency
Ideal for cardio training
Zipper at top of the bag
Not heavy enough for hard hitting and kicking
The Everlast CardioBlast Heavy Punching Bag is a lightweight bag mainly designed for women. This is indeed a lightweight bag, at just 40 pounds. The surface of this bag is also softer and it has a hot pink exterior, just to reinforce just who its target demographic is.
This bag is intended for women who want a great cardiovascular workout while also working every muscle group in your entire body.
Read more
This Everlast punching bag is also ideal for women, children, and lightermen who are new to boxing and MMA training to practice their punches and kicks. It is not, however, suitable for more advanced trainers. Your purchase includes the filled bag and straps to hang it. The Everlast punching bag hanger is not included so you will have to buy this separately, though it is not very expensive.
The shell of this bag is constructed from synthetic leather with reinforced webbing. This provides you with a very durable and comfortable exterior, so you will don't have to put up with hand pain. Of course, you should wear gloves and footwear when training in this bag. The interior padding of the Cardioblast Heavy Bag is a high-density foam material that provides you with a good level of shock absorbency and that is softer on your hands than many other heavy bags.
At just 40 pounds, this is an ideal bag for cardio as the bag will return to you more quickly than heavier bags. The top of the bag features a zipper which allows you to either add or subtract padding to customize the thickness of the Everlast punching bag.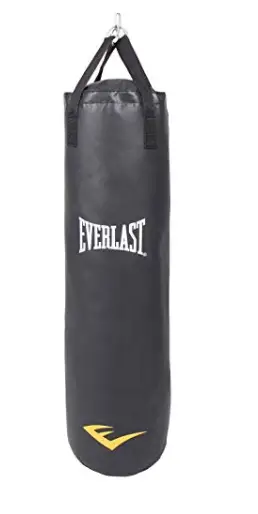 Durable materials
Absorbs punches
Good for cardio
Good for men/women
Think if using as a kick bag
This bag though heavy it is lighter than some of its counter models in the heavy bag list, it still works for serious heavy routines.
With a heavy foam filling the bag can absorb heavy punches while giving enough swing to make you move and work on your punch and your balance. Perfect for moving around the bag, fast combinations and strong power punching. The bag has a slight give when it is struck and this is the punch being absorbed without too much give.
Highly durable materials with a very dense foam filling, this will serve very well for intensive workouts on boxing routines.
Read more
Another great bag from Everlast and a newcomer compared to some of the established bags.
This bag is packed with heavy dense foam, all punches are absorbed though there is a little give on impact, the bag will move and this keeps you either on your toes or standing your ground throwing combinations or straight punches.
There is no limit on the punishment this Everlast punching bag can take when used for purpose of design, the weight of the bag prepares you for solid hard punches, the durability comes through the extensive use of very tough durable materials.
There are heavier bags around and this bag comes up to standard to be classed as a heavy punching bag, given time it is going to be seen in many boxing clubs as a decent part of boxing training kit.
The Everlast punching bag fills a training niche which will make it very useful for professional and aspiring boxers for regular training.
5

. Everlast Nevatear Heavy Punch Bag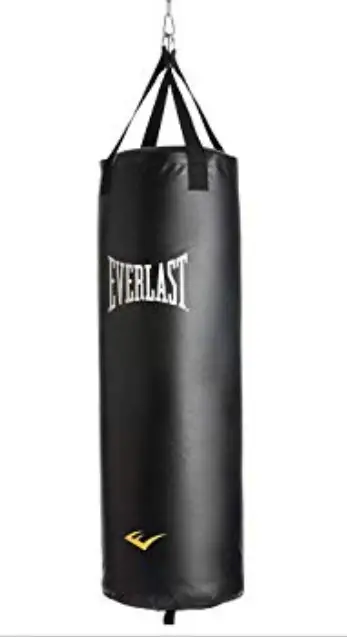 Good shock absorber
Very durable
Heavy duty
Tried and tested
The ever-popular Nevatear which is a standard feature in boxing clubs around the world because this is a product with a tried and tested and proven history, it is a good heavy work-out Everlast boxing bag.
Made from a seriously durable vinyl skin and weaved synthetic leather which can take the hardest punching combinations, year after year and still retain its durability.
Fitted to hang on a solid heavy chain with a swivel system, whatever your boxing style, whatever your level, this is built for serious punchers looking to develop punching power, endurance, and speed.
A very good heavy duty work-out will always be had on this bag.
Read more
This has a synthetic shell which means high durability and the durability is reinforced via designed in webbing. The Everlast punching bag features a top class design for heavy bags, high-grade nylon straps for support and attached to a chain and swivel system. For added security, a double loop system keeps the attachment secure.
The Everlast punching bag is finished with high-grade stitching which is reinforced to ensure it does not break,
Arrives pre-filled and just needs to be hung on a secure overhead and it is ready for use. The weight sits at a heavy 25kg which means serious punching power can be unleashed on it and the durability and quality stay consistent.
A very resilient Everlast punching bag, for use by any level of a boxer, this has a high-level of resilient shock absorbing capability. This Everlast punching bag has proven itself to be very popular.
Criteria Used for Evaluation

Compatibility
What makes this Everlast punching bag compatible? the brand, experience, and history of Everlast.
Everlast is arguably the most well known and iconic name in the boxing and martial arts worlds. The company has been around since 1910 when it was started in New York's Bronx as a manufacturer of swimwear. The 17-year-old who started the company, Jacob Golomb, guaranteed that the swimsuits would last for more than a year and so named them Everlast. The first range of boxing gear was produced in 1917 after Jack Dempsey asked them to make headgear that would last for longer than 15 rounds. Since that time, Everlast has sponsored many of the heavyweight stars of the boxing worlds, most notable among them of whom was Muhammad Ali.
In 2007, after 90 years of operation, the company was acquired by British Retail Group Sports Direct, who remain their parent company. They have since then expanded in the MMA market. They have been awarded the World MMA Award for Best Technical Equipment Brand five times, most recently in 2016.
Everlast boxing equipment is manufactured out of Moberly, Missouri. Other equipment is manufactured outside of the United States under license. Everlast products are sold all over the world. It has been the brand of choice for many of the world's best athletes. Over the past century, Everlast has established a reputation of excellence that sets them apart from many of their competitors. They are also known for the excellent level of their customer service.

Capacity
Capacity covers weight, performance, durability while matching the training needs of the boxer.
We looked closely at the overall capacity of this line of heavy duty punching bags and the capacity is really very impressive.
In terms of weight, these bags are the heavyweights for those either training to box or already very experienced. Set at weights which require you to hit hard to get any noticeable effect, the bags invite you to seriously throw and land hard combinations, all punches are comfortably absorbed yet the bags have enough responsive movement to encourage the boxer to move and work at their routine while they improve boxing skills.
The design and the method for training on these bags do encourage a boxer to increase performance skills in conjunction with hitting power.
These bags are very durable and last for a long time even with daily use, the materials used are all of the highest grade synthetics and are specifically able to take regular punishment while easily retaining design, structure and required performance,
Durability is clearly a key part of these products, the makers understand the amount of attention and use the bags will get, there is no room for a low standard for durability, only the best materials and design work for this type of heavy duty Everlast punching bag.

Durability
With this type of product, durability has to be beyond questioning.
Heavy duty boxing bags have to be durable, they face years of daily pounding by many hard-hitting boxers, this is one of those products which obviously need to be as close to 100% durable as is possible.
This is not the sort of product which can fail on durability and simply be repaired with some heavy duty durable tape, many try this when the bag ages after years of use, it is only a quick fix and it never lasts as a permanent repair. When a heavy-duty boxing bags finally succumb to years of punishment, it is time to change it, because it will have given long effective service, value for money will have been achieved.
We noted during our research that only the toughest synthetic materials are used, synthetic leather at the highest possible grade and other synthetic skins which are so durable that they can take a daily punishing hammering and not split and even retain form, shape, and shock absorbing capability.
The filling in the bags hold the key, the materials are again synthetic, dense and capable of absorbing repeated powerful impacts over the years.
Reviewing these Everlast heavy duty bags showed that brand makers can establish a product and maintain a very high level of quality, year after year.

Effectiveness
Boxers need effective training bags, there is no room for error.
These bags are effective for the purpose for which they are designed.
Effectiveness goes beyond the standard in these products, a boxer is training in art where she/he needs to practice and learn to hit very hard, repeatedly and effectively.
Through training on these heavy duty-bags, a power will effectively develop a level of punching power which when received by an opponent will certainly have a noticed effect.
These bags are not only effective, but they also excel for effective because they allow a person to train to maximum ability, they are perfect for developing punching power, endurance, style, and ability.

Value
When value covers effectiveness, durability, performance, and value in the sense of money, the product will be good.
The value of heavy duty boxing bags first emerges when you consider how much you paid and what you received in return.
When buying this product, durability is very much factored into the design, the materials, and the anticipated performance.
This is a long term investment and given the life span of this product, it does represent a good investment, in terms of what you paid.
But there is more interpretation for value because these bags while being durable, they perform, they get results, they are reliable. Designed for purpose and these easily reach that purpose of design.
Our criteria standards are easily met by this brand and we do feel that the broad context of value is met at very high standards.
Expert Interviews & Opinions
Most Important Criteria
(According to our experts opinion)
Experts Opinion
Editors Opinion
Users Opinion
By Default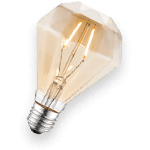 Durability
When you decide to buy a heavy duty bag, you must focus on durability, especially if it will receive daily use.
There are so many options available on the market and some of those options look good at a first glance but if you look closer, durability may well fail.
For this type of product, look for a very well established brand with popular long history, this will be your first correct choice. Look at the materials used to make the bag, read/research on the durability level of those materials. Look closely at the stitching, is it durable, is it double stitched and stitched with which type of material?
A smart move would be to drop into a local established boxing club, look at the heavy bags, see which brand they are, talk to people in the club and get advice. When you make the right choice you will gain so many benefits and also get serious value.
Why choose a brand name?
Because this area of sport has a long history and a global following of fans.
Brand makers in boxing terms "are in a corner" they cannot bypass durability by using cheap materials, they cannot ignore performance and value for money, they must retain a reputation for high-quality products or they will very quickly get pushed out of the market.
There are products on the market, the cost to buy is enticing but you will be incredibly lucky if you get a durable high performing outcome from those products.
Think carefully, choosing an established brand is the best option.
Other Factors to Consider

Versatility
Nowadays with boxing and many other martial arts, think about versatility from an Everlast punching bag.
Heavy duty bags are not only perfect for boxers looking to up their power and punching ability.
In recent years many forms of martial arts of combat have emerged and all of these require heavy duty training to increase power and ability, not only via punches but also elbows, knees and kicks.
Therefore heavy duty bags need to be versatile, they need a durability level which means they can withstand whatever is thrown at them, often these bags will see many years of use.
The weight must be in a range that is acceptable, the shock absorbing factor must be balanced and appropriate, the durability of the materials for making the bag needs to be of the very best.
We looked at the selection of bags and we found that a broad versatile use is present in each and every bag. Though some bags were not specifically designed for other sports, it was clear that they would be versatile enough to be used for martial arts.
Frequently Asked Questions
q:

Which is the best filler for bags?

a:

There is a choice of options, all of them good. Sand is traditional and very solid, seriously good at absorbing shock.

Even water is used, though this is not so popular. Imagine what happens if the bag punctures.

Nowadays there are ranges of synthetic dense materials which can be used to fill a punching bag and they offer similar qualities as sand.
q:

Which is the most popular filler

a:

For smaller bags, medium range and some heavy duty bags, people like sand but it's not about quality, it is about side effects. There are those that believe and gives off less microscopic materials which float in the air and can be breathed in. No substantial research currently exists to prove this either way.
q:

I like Everlast, do they have a budget bag for sale?

a:

Not sure if I can say it is a budget price but the Everlast Omni is the most affordable from the range, with a weight at eighty pounds, a synthetic leather skin, and C3 foam padding wrapped around the lower part of the Everlast punching bag for absorbing kicking, it is an affordable choice. It is not just a punch bag, it can be used for other martial arts training.
q:

With the punishment bags get, do they come with a warrenty?

a:

Surprisingly the answer is YES.

For brand makers, they have put in so much research on materials, durability and how much punishment bags will get. They are able to confidently produce products with a warranty.
q:

Is cloth a good skin for a heavy duty bag

a:

There are punch bags on the market with a cloth skin, in general, the reviews are good. Be aware cloth is not like leather or synthetics, repeated punching on it looks like it has little effect due to the surface materials of cloth retaining its appearance. So far there is not a strong argument for or against cloth, providing the cloth is of the highest possible durable grade.
q:

Free standing or hanging, which is best?

a:

Sometimes it is down to preference. Freestanding offer advantages and disadvantages, free-standing can be moved to another part of the boxing club easily. Most boxers appear to prefer a hanging Everlast punching bag many say it offers a better more realistic work-out session.
Subscribe to our newsletter