Benefits of Flex Belt Fully Reviewed
Benefits of Flex Belt Fully Reviewed Review Facts
Everybody's looking for a quick and easy way to get a flat stomach. They've tried the fat diets – and failed. They've spent a fortune on the late-night infomercial gadgets – and failed. And now they're turning to science to achieve what diet and exercise, apparently, can't . . .
The market leader in this rapidly growing sector of the home fitness industry is the Flex Belt. You've probably heard of it – and wondered whether it really does anything for your mid-section. Well, this is the place where you'll find the answers. We're going to delve into the world of electrical muscle stimulation to discover what it is, whether it works and how to get the most out of it. We'll also shine the spotlight on the Flex Belt with an in-depth review of it and its leading competitors. So, let's get down to it . . .
Editor's Pros & Cons
More than 15 years of experience
2 Million Users worldwide
Endorsed by Fitness Experts
2-year Warranty
Best quality material
Difficult to operate in dark
No USB Charging facility
Bit expensive, but worth it
How It Works
The Flex Belt makes use of three, pre-positioned medical-grade gel pads that cover the central abdominal area as well as the external obliques. The Flex Belt send out signals to the nerves in the abdominal area. As a result the nerves cause the muscles to contract and relax naturally.

The gel pads on the Flex Belt contain a unique coating that adheres to the skin and helps to conduct the impulses safely to the muscles. The gels are large and re-usable, being able to be used for about 30 sessions before requiring replacement. The gel pads are an important part of the whole operation and so it is important that you are using top quality pads. That is something that sets the Flex belt apart - the pads are of the best quality.

The Flex Belt has been clinically shown to bring improvements in a 6-week study in which 100% of users felt more toned and form and 92.3% of users felt the firmness of their ab muscles increase. It uses the identical technology is utilized by physiotherapists, medical professionals and chiropractors around the world.

The US Food and Drug Administration has cleared the Flex Belt for toning, strengthening and firming abdominal muscles'. This is a big deal and leads much credence to the brand. A company needs to prove clearly to the FDA that their product claims can be backed up.


A Brief History of Muscle Stimulation Belts
Electrical Muscle stimulation ab toning belts work through electronic stimulation of the target muscle group. A machine is used to control the muscle by way an electrical current that is passed through the muscle. Electrical muscle stimulation is believed to be able to strengthen the muscle. When you physically contract a muscle normally, only a maximum of 30 percent of the muscle fibers actually contract. The other 70% are held in back-up until the others fatigue. EMS allows you to kick the dormant muscle fibers into action.

Ab toning belts make use of electrical muscle stimulation to produce muscle fiber 'work' within the abdominal muscles. In doing so, they do not burn off calories in the stomach region, as it is not possible to 'spot reduce' fat from a particular area. Rather, they will strengthen and tone the abs. In effect, they allow you to perform thousands of mini 'repetitions' of a movement within a few minutes.

Electrical muscle stimulation began as a technology for sports training and rehabilitation of muscles following an injury or stroke. In the 1960's, Soviet sports scientists applied EMS to elite sports training. They recorded strength force gains of as much as 40 percent.

An EMS device send a nerve impulse to the motor point of the target muscle group. These impulses create strong contractions of the muscle.The stimulation pulses on and off in imitation of conventional exercise. This results in strengthening of the muscle fiber, while also increasing muscle tone.
Features
The people at Flex Belt have recently introduced a new model of the machine. It features 10 different toning programs and 150 intensity levels. It also comes with a rechargeable controller and carries a 2-year warranty.

One of the most popular aspects of the Flex Belt is that it allows you get a very effective ab 'workout without having to dedicate time in your day to 'working out'. Once you have out the Flex Belt on you can out it to work while you do other things, such as working at your office desk or preparing the dinner!

It is recommended that the Flex belt be used five times per week. Once you have reached your goals, you are then advised to cut back to three sessions per week.
Benefits
The Flex Belt is the market leader in EMS ab machines. It has been on the market for more than 15 years and has more than two million users worldwide. It is also used and endorsed by fitness and television celebrities. This, combined with the two year warranty, give you confidence that you can trust this brand. That's important because there are a number of cheap rip-offs in this market sector (4 of who have been fined by the FDA for making misleading claims).

It utilizes the highest quality gel pads on the market. This ensures that the maximum level of pulse is transmitted to the muscle group with out any wastage of energy. The pads are also more durable than many on the market.
Programs & Intensity Levels
The controller of the Flex Belt has no less than 10 toning programs. They start with the most basic level at P1 and go all the way up to P10. Beginners should start at p1 and progressively build up as they go. This is more programs than you will find on any other Ab Belt on the market. This is important because the body very quickly adapts to a certain level of training. The more advances you can make, the more the body will be forced to keep adapting and improving.

The 10 programs are differentiated by duration (between 20 and 40 minutes), intensity level, length of contraction and length of rest period between contractions.

Here is a rundown of all 10 Flex Belt programs . . .
P1: Beginner - 20 minutes
P2: Intermediate - 25 minutes
P3: Advanced - 30 minutes
P4: Expert - 30 minutes
P5: Pro (i) - 30 minutes
P6: Pro (ii) - 30 minutes
P7: Ab-Power - 30 minutes
P8: Endurance - 40 minutes
P9: Crunch (i) - 3 x 10 crunches
P10: Crunch (ii) - 3 x 10 crunches

There are 150 intensity levels on the Flex Belt. This is impressive and more than you get on other competing models. It is also 50 percent more than was available on the previous version of the Flex Belt. This gives you an unparalleled level of control over the intensity of contractions that you will receive when using the Flex Belt. this allows you to fine tune your stimulation level until it is just right for you.
Adjustability
The adjustability of the intensity settings is a major plus on this device. Some cheaper EMS ab machines may only give you 10 intensity levels to choose from. If you find that Level 5 is too weak you have to go up to Level 6, which may be too strong. Having 150 levels means that you will never encounter this problem.
Sizing
The actual Flex Belt belt is designed to fit around any waist between the measurements of 24 and 52 inches. That should give the vast majority of people plenty of scope to work with. The controller unit is a handheld device that is ergonomically designed, lightweight and small enough to easily fit into one hand.

The company even provide you with a very handy carry bag to keep all the bits and pieces together. With the belt, controller and charger inside, the bag weighs just 12.6 oz. That makes for an impressively lightweight device that you can easily take with you on your travels. And that means that you can work your abs on the go!
Battery Life
The Flex Belt has a rechargeable battery. That means that you do not have to worry about going out and buying batteries.This is another feature that puts it head and shoulders above many of its competitors. Your purchase comes with a mains charger which the controller plugs into. The frequency of charging the unit will depend upon your frequency of use, the intensity that you select, and the program that you are using.

The recommendations that come with the device suggest that it be recharged after every three uses. The manual also states that it will take 2-3 hours to fully charge the Flex Belt.
Warranty
The Flex Belt comes with a 2 year warranty. Igf you have any problems with the natural operation of this device, you will get a no questions asked money-back guarantee. That gives you a very good level of protection and should instill confidence in your decision to purchase. Most other EMS devices on the market give you just a single year's warranty.

Money Back Guarantee
In addition you get a 60-day no questions asked guaranteed. During that first two months, you can get a refund on your money for any reason whatsoever.

What Comes In The Box
- The Flex Belt
- Belt extender
- The controller
- Medical grade gel pads
- Carrying case
- Instruction manual
- Quick start guide
- Flex meal planner
- Power Supply Unit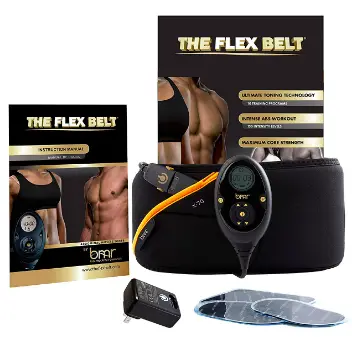 The Bottom Line
Do not expect the Flex Belt to miraculously reduce the size of your waist. It does not claim to be able to do that and that is not its intended purpose. They only way to reduce body fat from your stomach is to control your nutrition and to engage in calorie burning exercise. What the Flex belt will do is to strengthen, firm and tighten your front core area, including the abdominal wall and the external obliques.

Your first experience with the Flex Belt will feel a little strange. However there is no pain associated with the electrical stimulation. It shouldn't take long for you to get used to the electrical stimulation to your mid section and, in time, you should find it quite a pleasant sensation.

From the first session, you core should feel tight after a session. You will experience a mild pulsing sensation, followed by some tightening of the ab wall. The muscles will contract smoothly, hold themselves in a tensed position for a few seconds and gently relax again. If you've ever had a gruelling ab workout before, then you know how great that feeling is. That is what you will experience after every session with the Flex Belt.

The Flex belt will begin strengthening, tightening and toning your abs and external obliques from the very first session. Within a month, most people will be able to increase the strength and conditioning of the abdominal wall by 30-40 percent.

The Flex Belt is the Rolls Royce of electrical muscle stimulators for the abdominals and external obliques. It provides you with a massive 150 intensity levels, 10 graduated programs and the highest quality gel pads that we have come across. You also get rechargeable batteries. The Flex belt has been approved by the US FDA. It is the original EMS ab belt. You will pay a little bit extra for this one, bit the extra cost is well worth it in terms of performance, durability and extra features. For us, the Flex Belt is a definite winner!
General FAQ
Q. How often should the Flex Belt be used?

A. You should use the Flex Belt five days per week for the first 6-8 weeks. On the Flex Belt console you have control over a range of programs. You should select a program that works your abs for 20-30 minutes for the first few weeks and then take it up to 40 minutes after that. After a couple of months of consistent use, you should see significant results. At that stage you can cut back to 2-3 days of use per week.

Q. Can my Flex Belt be used by more than one person?

A. Yes, but it may prove a little tricky. That is because the gel pads are placed onto the belt in accordance with a person's waist size. If you have to constantly reposition the gel pads for another person, this will cause the gel pads to wear out faster than they normally would. For this reason it is advisable to get a second belt for another user.

Another benefit of having two belts, especially for couples, is so that two people can use them at the same time. Many people love to wear their Flex Belt as they tale a walk in the evening with their partner. By the way, The guys at Flex Belt will provide with a 25% discount on your second belt if you by two units together.

Q. Can you tell me about the gel pads?

A. The Flex belt gel pads are medical grade devices that contain a unique coating that adheres to the skin and helps to conduct the impulses to the muscles safely and without loss of energy. The gel pads are large to provide maximum comfort. Each pad should last you for about 30 sessions. Replacement pads can be ordered from Flex Belt. It is a good idea to order an extra set or two when you place your order so that you are never caught short.

There are three gel pads in a set. The largest one goes in the middle of the belt, with the other two fitting over the external obliques at your sides.

Q. What free bonus material comes with the Flex Belt?

A. You order will arrive complete with the following items . . .

– The Flex Belt– Gel Pads (Replacement Gel Pads can be purchased here)– Power Supply Unit– Belt extension for large waist size– Instruction Manual– Flex Meal Planner

The Flex Meal Planner will also allow you to receive 30 days free access to the Only Meal Planning technology. The combination of these two nutritional tools will help you to take your results to the next level and lose the excess weight that may be preventing the world from seeing the results of your hard work to strengthen and tone your abs.
Subscribe to our newsletter