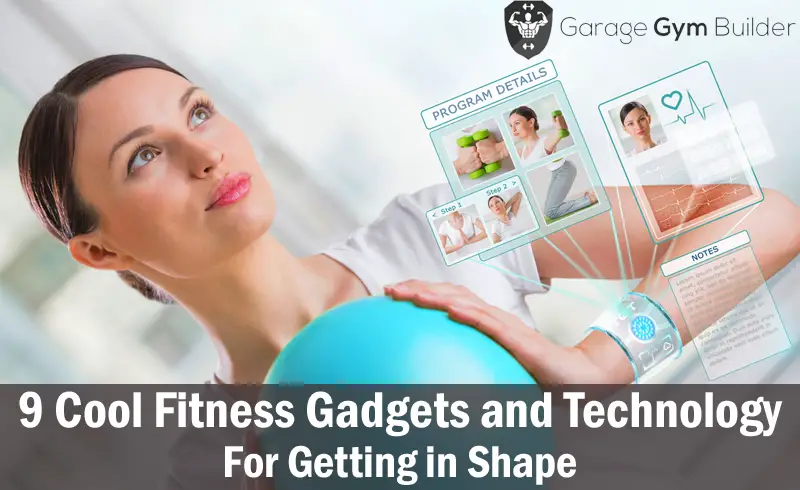 9 Cool Fitness Gadgets and Technology for Getting in Shape
The fitness technology industry is booming with new types of wearable technology coming onto the market regularly and consumer sales going through the roof. In 2015, there were worldwide sales of more than $200 billion. FitBit alone, had annual sales that broke the $2 billion barrier. More and more companies are entering the wearable technology fitness market, which has become more and more competitive.
All of this makes it a great time to be a fitness buff. Your fitness gadget choices are greater than ever. Competition is driving prices down and quality up. For many people, however, the sheer volume of fitness gadgets on offer can be overwhelming.
In this article, you'll discover the best and latest in fitness technology. For in depth reviews by brand, check out our range of articles on each of the major players in the wearable tech industry.
Body Fat Scales
Scales have come a long way over the years. The high tech version is now available at an affordable price point for in home use. It allows you to go beyond a basic measure of your weight to give you the break-downs that matter. It will tell you how much lean muscle tissue as opposed to adipose tissue (fat) you are carrying, along with calculating your body fat percentage. You need to input your height, age and activity level. It will then use sensors that are on the scale to read the density of muscle and fat in your body.
A really exciting adaptation in the scale sector is the pairing of body fat scales with a fitness app to provide you with a really detailed breakdown of your data. Leading the pack is FitBit.
The FitBit Aria will sync all of your information to the Cloud. The surface of the Aria is made of glass. It looks very elegant and is topped off with a silver ring around the circular LCD screen. On the screen you can get information like your weight, body fat percentage, BMI, WiFi connectivity and battery status. It features rubber feet on all four corners to ensure that the four corners are very stable and sturdy when you stand on the scale. The weight is evenly distributed as its is being measured.
In order to measure your body fat percentage and BMI, the Aria will send a tiny electrical signal through your feet. For that reason, it is best to stand on the scale in bare feet.​
Chest Heart Rate Sensor
Most fitness wrist based wearables will have an inbuilt heart rate sensor function. It will take your heart rate every minute, or maybe every five minutes. That will give you an interesting overview of your heart rate over the course of the entire day. When you're working out, however, you need a continuous heart rate monitor. The best ones will sample your heart rate several times every second. To get that sort of coverage you need a chest based heart rate sensor.
The best chest based heart rate monitor that we have found is the Polar H7. This device works a lot like an EKG. It will sense the electrical activity of the heart through sensors in the chest strap. To get a really accurate reading the sensors require a little bit of moisture. The module on the front of the device snaps into the strap. This means that the strap can easily be replaced if it gets damaged. The monitor contains the battery, Bluetooth LE transceiver as well as the original Polar type transmitter. The unit is very durable, being both water proof and shock proof.
The Polar H7 has an impressive 360 hour battery life.
Polar Fitness are a company at the cutting edge of fitness technology, especially when it comes GPS and GLONASS capability and heart rate monitoring. Click here for an in depth review of the Polar Fitness range.​
Under Armour Health Box
The Under Armour Health Box is a connected fitness platform that tracks activity, fitness, nutrition and sleep. It does this by bundling together three products; a fitness tracker, a smart scale and a chest based heart rate monitor. The Fitness Tracker UA band tracks your daily activity, sleep and workouts, such as cycling and running, fairly well. It is also comfortable and thin. However the display, by way of a monochrome touch screen, is tough on the eye. The proprietary charger is also small and flimsy.
For accurate heart rate tracking the band needs to be paired with the provided chest heart rate monitor. This will send very accurate readings to the band, which will then send it to the app for detailed analysis.
The UA scale is great. It has a circular design, a smooth glass finish and an easy to read, large and bright display.
The Under Armour Health Box comes with a free app. You can pair the app with many other fitness trackers that are on the market, including those from FitBit, Garmin and JawBone.
GymWatch Sensor
The GymWatch is a fitness wearable designed specifically for those who are interested in increasing muscle mass in the gym. Most fitness trackers are notoriously bad at providing accurate data for weight lifters, and so the need arose for a specific weight training watch that would do a better job. This is something that iron pumpers have been waiting for a long time.
The GymWatch is able to measure power, force and velocity for free weights, machines and bodyweight exercises. It also includes real time coaching, and rep counting.
The device is compact and light. It includes two different straps for different sized arms or legs. It is very comfortable and versatile, so that you can have it on your bicep or your forearm. Depending on the exercise you are doing, you will have to place the tracker in different locations.
The GymWatch needs to be used in conjunction with your Smartphone. Pushing a button on the tracker gives you a 3 second countdown before entering the live workout mode. Here it will count reps and give you real time coaching. Voice coaching can be enabled or disabled.
The GymWatch is designed to be able to track lots of different exercises. However, there are some moves that it will not track such as box jumps, jump rope and various Crossfit exercises. Another issue is that you have to stop between each exercise and find the exercise on your Smartphone, then enter the weight that you are using.
Overall, the GymWatch is a great addition to the tracker market, finally providing a tool that is able to accurately track the workout of the weight training athlete.​
Hexoskin Shirt
Hexoskin was one of the first companies to come out with a line of smart shirts for women and men to track their fitness activity. They have a long sleeved men's shirt and a tank top along with a women's tank top.
The Hexoskin Shirts fit tight to the body but they are also very comfortable. The shirts can be washed just like any other garment (just make sure you take the monitor out first).
The shirt has sensors built into it. On the side it also has a small pouch which houses the monitor. It will track your heart rate, your steps, your calories, your breathing, breathing volume and VO2 max.
There are a number of sensors located where a chest strap monitor would normally be located. Another row of sensors are located around the belly button area. You can feel these two seams but they are not uncomfortable when you wear the shirt.
The monitor sits in it's pocket while you are working out. It is attached to a node stick. This stick is removable for charging. The monitor stores all of your data. It pairs with your Smartphone, which can give you a detailed breakdown of your analytics.
Having to run around and do your training with a pack attached is not ideal. Before long we will see smart shirts that don't rely on an unpluggable monitor but that have everything inbuilt. Until then, the Hexoskin smart shirt does the job nicely.
Coaching Headphones
The KUAI Coaching headphones are the world's first biometric feedback sports ear plug-in that also acts as your training coach. It features biometric sensors that track your heart rate, VO2 max and calorie burn. It also features an accelerometer to monitor your speed, pace, cadence and distance. But that's just the start of what these amazing headphones will do. You'll also get live feedback of your training performance. It will give you voice alerts and training plans.
The KUAI will track all sorts of workouts with precision accuracy, including swimming, running, cycling and gym workouts. It comes with an MP3 player, 8 GB of memory, is water proof to 3 meters and has a battery life of 7 hours.
EmFit Sleep Monitor
EmFit QS is a sleep and wellness tracker that provides you with a real and accurate three stage sleep classification. As a stand alone sleep tracker, it is far more accurate than fitness trackers that have built-in sleep monitoring. In addition to total amount of sleep, you will also get detailed feedback on light, deep and REM sleep.
EmFit QS also tracks and records heart rate, respiration rate and tossing and turning during the night. It will even score the quality of your sleep. Tracking your sleep results will motivate you to focus more on the lifestyle choices that affect your sleep.
The EmFit Qs is not a wearable device. It can be placed under your mattress.​
Let's face it. The refrigerator is probably going to be the place where we end up undoing all of our hard work in the gym or on the track. Well, Samsung have addressed that problem with the smartest, most ambitious fridge they have released yet. This hefty unit (it costs up to $6000) is a four door design Samsung Family Hub Fridge. In black stainless steel with a large touch screen, it looks great. The app which shows up in large size on the door has a ton of cool features to help you to use this fridge in health inspiring ways that you will blow your mind.
By tapping a screen you get a view inside the fridge of everything that's in there. You can then drag count-down timer icons on top of each food item that you want to keep track of. The fridge is paired to your Smartphone using Samsung's app. This allows you to check if you need anything for the fridge while you're at the store.
The Family Hub fridge will make recommendations for smart food choices based on what is available in the fridge. If paired with your fitness tracker, it will even tell when you've had a workout and make suggestions accordingly so you get in the ideal post workout snack.
​The fridge provides a total capacity of 28 cubic feet. The temperatures in the body of the fridge and the bins are consistent. In both freezer and fridge mode, the settings are consistent and accurate.
Lumo Run Smart Running Shorts
Lumo Run is a motion sensor that fits into the waistband of your running shorts. It collects data about your running biomechanics from your core. It then suggests adjustments to your core that help to maximize your true potential while avoiding injury. It will provide you with a full post-run analysis on your Smartphone.
The Lumo Run provides you with all of the monitoring and feedback you'll ever need without the need to use a wristband, wires or onboard monitors.
CONCLUSION
There are more and more cool fitness gadgets coming onto the marketplace every month. We are living in a time when the internet of things is about to transform the way we live our lives, including how we exercise. For fitness buffs, that is a great thing. Fitness technology is growing in leaps and bounds.
​To discover the very latest and best wearable tech and exercise gadgets, keep checking back here regularly. To find the latest and best pedometer and step counters of 2018 click here. You may also like to read our review of Polar fitness trackers and the complete guide about best fitness trackers in the market today.