Top 10 Wrist Wraps for Powerlifting
last updated:
Feb 12, 2020
Your wrists come in for some rough treatment when you start resistance training. The strain of heavy poundage can force you to quit your lift long before your muscles tire out. It can also lead to permanent damage to your wrists and forearms. Wrist wraps provide a secure grip that won't break, while also taking the strain off your wrists. In this article, we go in-depth for the products - we consider the best wrist wraps on the market.
In a Hurry? The test winner after 24 hrs of research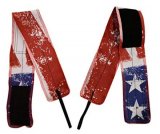 RockTape American RockWrists
Why is it better?
Lightweight
Enhanced range of motion
22 inches long
Very comfortable to wear
41
Researched Sources
11k
Reviews Considered
24
Hours Researching
14
Products Evaluated
Features
Ease of Use
Materials
Durability
Effectiveness
By Default
10 Best Wrist Wraps for Powerlifting and Weight Lifting
1

. RockTape American RockWrists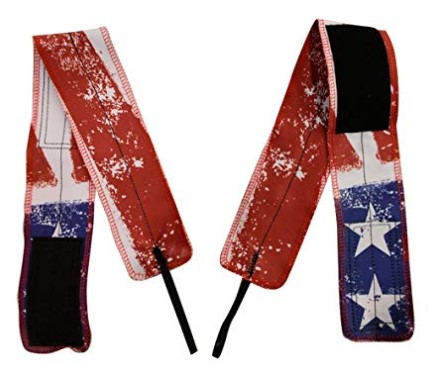 Lightweight
Enhanced range of motion
22 inches long
Very comfortable to wear
Not as rigid as other wraps
The RockTape American RockWrists give you extra strong wrist support in the heat of competition. There are no strings to break or elastic which would become brittle. These wraps are incredibly strong and tight support. Top athletes helped to design these wrist wraps to be a smart combination of lightweight fabric wraps and elastic powerlifting wraps. They are the best of both. They are made of nylon and cotton to give you good breathable comfort.
Read more
​RockTape American RockWrists were made in association with top Rogue athlete Jason Khalipa to perfectly meet the needs of general athletes and CrossFitters. These wrist wraps are more lightweight than most straps out there. They are not as thick, allowing for more versatile use. Your range of motion is greatly enhanced when using RockTape wraps.
RockTape velcro wrist straps are 22 inches long and 2.5 inches wide. They are made from a nylon/cotton stretch material that is very comfortable to wear. They make use of a secure hook and loop system that keeps the strap securely in place. They will fit any size and come in a cool American flag design. It is incredibly easy to fit these straps on.
2

. Schiek Black Line Wrist Wraps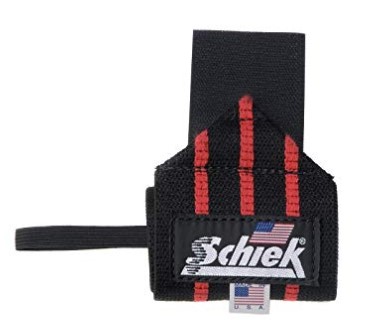 Canvas and velcro construction
Thumbless design
High-quality stitching
Overly stiff until 'broken' in
The Schiek Black Line Wrist Wraps give you plenty of coverage with material 24-inches long and 3-inches wide. It features heavyweight construction with cotton and elastic. These wraps close with a wide hook-and-loop closure and look pretty sharp in red and black.
Read more
Schiek Blackline heavy-duty lifting wrist wraps are made of canvas and Velcro. They are a thumbless wrist wrap that is very well built, making it extremely firm around your wrist.
Schiek Black Line Heavy Duty Wraps provides a neoprene wrap to support your wrist, giving you an extra layer of padding. The material will wrap twice around an average-sized wrist. The stitching on these wraps is very high quality.
Schiek weightlifting wrist wraps will give you a very tight fit and very easy to put in place. They will not fray over time or give you an elastic looseness. They use bigger Velcro and firmer canvas than many other brands. For these reasons, we rate Schiek as our second favorite lifting straps.
3

. Rogue Wrist Wraps (White Series)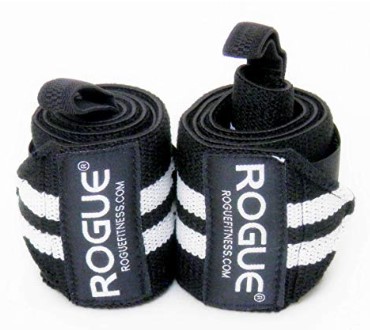 3 length options
Very comfortable to wear
Secure thumb hook
Great for powerlifting
Not ideal for fixed wrist exercises
The Rogue Wrist Wraps are available in three different lengths so you can get the right one for you. They will give you wrist support whenever you need it. These wraps are durable, made from a combination of cotton, elastic, and polyester. This material absorbs excess moisture from sweat so it will not irritate your skin. They will give you good stability for pressing or going overhead.
Read more
Rogue lifting Wrist Wraps come in 12, 18 and 24-inch lengths. They are 30% stiffer than most brands on the market.; this means that you get more support for less wrap, so an 18-inch product gives you the same support as a 24-inch version from competitors.
​Constructed from a cotton/polyester/elastic blend, the Rogue strength wraps are extremely comfortable on the skin and can also wick away moisture to prevent sweat slippage. These bands are very tight fitting to provide the support your wrists need.
​Sold in pairs, Rogue straps have a secure thumb hook to increase the stability of your hold. They are three inches in width and have a hook and loop enclosure system. These are the best wrist wraps for powerlifting.
4

. Evolutionize Wrist Wraps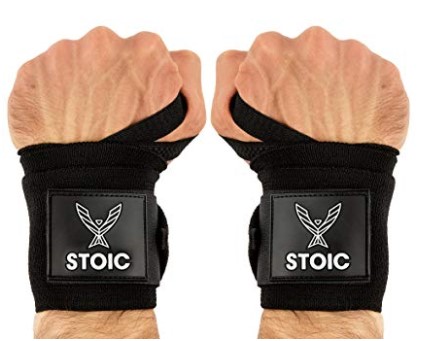 Quality neoprene and velcro construction
Great tightness and adjustability
High-grade thumb lock
The Evolutionize Wraps are designed to outlast any other wrap on the market. They use high-grade nylon instead of using cotton or other cheap materials. These wraps are also tested to work well in the most extreme conditions. This wrap will give you a superior level of support and immobilize your wrist when you need it. You can also wrap it more lightly to give a range of motion. They have a sturdy half-inch thumb loop which will last longer and not fray.
Read more
Evolutionize workout wraps are very heavy duty high-grade straps that are built to last. They are made from the best neoprene and velcro materials and feature very durable double-cross stitching. These straps have been tested to perform under the most extreme powerlifting conditions. These bands are 18 inches length, providing excellent tightness and adjustability.
Evolutionize wraps are made from proprietary heavy-duty elastic. This allows you to get a very secure fit without having to wrap too tightly. You will get the firm grip you need without cutting into your wrists or restricting your blood flow. The half-inch thumb loop is made from high-grade top inch velcro and uses double zig-zag stitching. This makes the thumb lock a lot securer.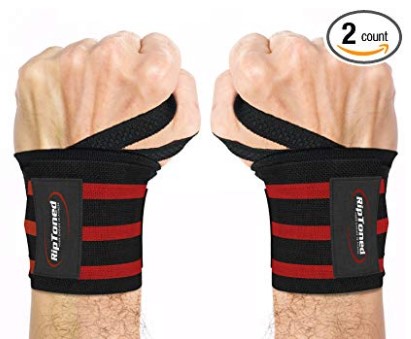 Extra-wide velcro
Double cross-stitching
Lifetime money-back guarantee
A bit too stiff until they are 'broken' in
The Rip Toned Wraps comes in a variety of colors and degrees of stiffness. They are designed to provide high-performance wrist support during CrossFit, weightlifting, MMA, or any workout when your wrists need stability. These are the best heavy-duty elastic wraps. Protect your wrists from injury during heavy or max lifts. They have premium stitching and durable extra wide velcro. It is adjustable and machine washable.
Read more
Rip Toned Wrist Wraps are the only lifting wrist wraps on the market that is endorsed by the 2014 world powerlifting champion Kevin Weiss. They feature extra wide Velcro to give you a very secure fit. It has premium double-cross stitching to ensure that these straps will last and last. These wraps are three inches thick and 18 inches long, allowing for two wraps of your wrist.
Rip Toned weight lifting wrist wraps secure the wrist in a neutral position that will eliminate pain and discomfort. These thick, firm wraps are excellent for reducing wrist pain from lifting weights. They feature a thumb hook and loop system to add extra rigidity to your hold. This product is backed by a lifetime money-back guarantee.
6

. Strong CrossFit Wrist Wraps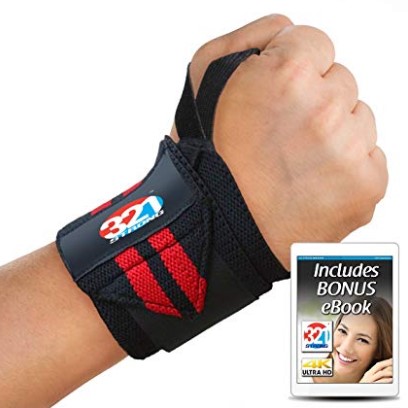 3.25 inches wide
Solid thumb loop
High-quality velcro
Heat build up under wraps
The 321 Strong CrossFit Wrist Wraps are 14 inches long and 3 1/8 inches wide which does not include the Velcro strap. These straps will support your wrists while you are weightlifting and keep you from getting wrist fatigue. They are machine washable and include a thumb loop so the wraps are easier to put on. They are attractive and come with a vinyl pouch for easy storage in your gym bag.
Read more
321 Strong CrossFit wraps offer a very stylish, sleek look coupled with very thick support. At three and a quarter inches, they are wider than any other straps we came across. This means that the wraps are more secure and have a more solid thumb loop than competitors. You can be assured that the thumb loop, which is often the weakest link, will not break or tear.
The velcro used for 321 Strong CrossFit wraps is extremely high quality. You will have no concerns with the velcro coming off the main part. The strap provides you with a very comfortable fit while giving you the firmness and rigidity that you need to perform when doing your heavy lifts. They are the best wrist wraps for CrossFit.
7

. BraceUP Adjustable Wrist Supports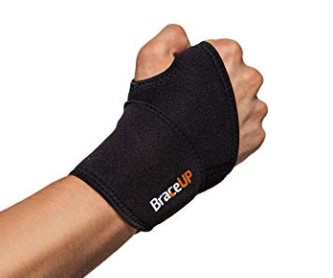 Premium neoprene construction
Double cross stitching
Anti-microbial fabric
Not enough cushioning on the inner thumb hole
The BraceUP Wrist Supports are made of a strong neoprene-blend of materials to give your wrist support, warmth to soothe and comfort. It will help relieve a sore wrist. The thumb loop makes wrap easy to put on and take off your wrist. This is one is a single wrap that will fit either hand.
Read more
BraceUP Adjustable workout wrist straps are made from extremely durable neoprene blend materials that provide very firm support. It is sewn together with high-quality double-cross stitching to ensure that it won't come apart. The thumb loop is thick and secure, assisting the firmness of the grip.
​The antimicrobial fabric makes sure that BraceUP Adjustable workout wrist straps will not develop bacterial build-up. The fabric also does a very good job of reducing moisture and heat build-up to keep the wrists from overheating. These lifting wrist straps will fit either wrist. They offer a very good blend of tight fit and freedom of movement. That makes them the ideal fit for cross-training. They come with a 100% money-back guarantee.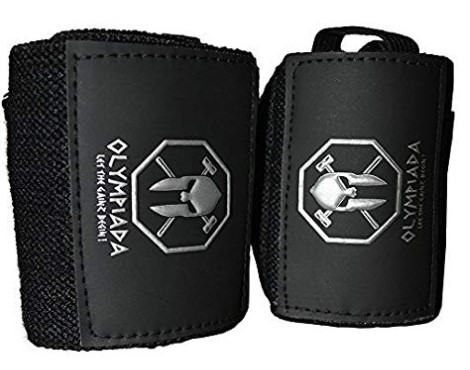 Premium grade neoprene construction
Thick thumb loop
Sweat-resistant
Lifetime warranty
The Olympiada lifting wrist wraps are ready to help if you are experiencing wrist pain from lifting heavyweights. They will stabilize your wrists and protect them from injuries. You will improve your gains. They will protect your wrists without cutting off circulation. They are very adjustable.
Read more
Olympiada wraps come in a standard 18-inch length, allowing you to get at least two wraps for extra secure hold. They are made from premium grade neoprene material and feature a thick thumb loop to keep them securely in place. One size fits all and these straps are suitable for both men and women.
​Olympiada Wraps are very comfortable wearing, providing a balance between rigidity and freedom of movement. That means that you can move directly from your fundamental power moves to CrossFit exercises with no hassle. They do a good job of keeping the wrists heat-free and sweat resistant. These straps come with a manufacturer's lifetime warranty.
9

. Ipow Adjustable Wrist Straps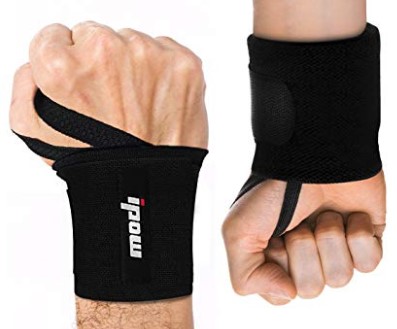 Very elastic
Tight-fitting
18.5 inches long
Velcro may detach after a few months use
The Ipow Adjustable Wrist Straps have a universal size and can work for a wide variety of activities. These weight lifting wrist wraps offer great assistance with your exercises. These straps are made of lightweight, breathable polyester with quality stitching. They are machine washable. The thumb loops help to keep the wrap in place. It has just the right stiffness to give you good wrist support, stability and still give you a decent range of motion. The flexible material shapes your wrists well.
Read more
Ipow adjustable CrossFit strength straps are made from a high elasticity polyester material. That makes them an ideal cross purpose strap that can be used for both heavy lifting and cross-training. They are a favorite of many CrossFit enthusiasts. The straps are 18.5 inches long and three inches wide, making them extra form-fitting and offering a generous amount of wrist support in both a pronated and a neutral grip position.
The Ipow wraps are a good, sturdy solution to your wrist training issues. However, the velcro has been seen to start detaching after a couple of months of use, so they are not as durable as some of the other brands. They are, however, one of the most comfortable fits that we found.
10

. Bear Grips II-Band Wrist Wraps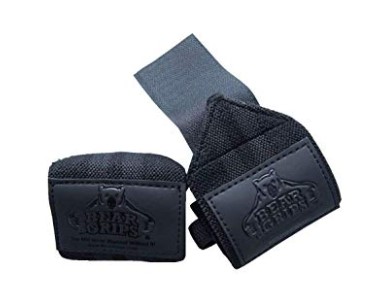 Come in a variety of colors
Premium thumb loop and velcro closure
Useful for many activities
The Bear Grips II-Band Wrist Wraps come in fun colors and are available in three sizes. They are sold in pairs and give your wrists the support they need when you are performing lifts. They will keep your wrists tight and secure. They will also help prevent injuries, keeping your wrists in perfect form while you are lifting.
Read more
The Bear Grips II-Band Wrist Wraps are versatile to be used for weightlifting, bodybuilding, Cross Fitness, and much more. It features a premium loop for your thumb and strong Velcro closure. It also has dual elastic bands for a flexible hold.
You can use it as wrist support, a wrist brace or straps for workouts. These are great to use for weightlifting, cross fitness or powerlifting.
Criteria Used for Evaluation

Features
These lifting wrist wraps are of course very similar to each other, but they still have basic features that you will want to keep an eye out for to make sure you get the wrap that is going to best suit your needs. Whether you play a sport or are a weightlifter, you will want to focus on different aspects of a good wrap.
The first thing to take a look at is the size. They come in a variety of different lengths and depending on what you are using it will determine how much padding you need. If you are using the wrap to add some strength to a weak wrist, you probably will not need as long as if you were using it for powerlifting. This list gives you a variety to choose from.
You can also decide if you want a design that has a thumb loop. The loop is designed to keep the wrap from sliding around on your wrist. It also helps to give the wrap more tension, so it is not needed if you are just doing a light wrap to give your wrist some extra strength but it is very handy if you are weightlifting and need a good tight wrap.
You also want to check the stiffness and make sure it fits what you are looking for. It is handy as well if you can find a wrap that comes with a pouch to keep them in when you are not using them so they are easy to toss in your gym bag. One of the choices on our list even comes with a bonus free ebook.

Ease of Use
You definitely need a wrap that is easy to use. The thumb is one option if that is the type of use you are going for. It will help you to get a nice tight fit so your hands will be well protected during your lift.
The wrap should be comfortable and lightweight. The material should feel good on your wrist and not irritating to your skin. It should be flexible enough so when you wrap it around, it form fits your wrist.
You also need a closure which you can apply with one hand and it stays in place. The perfect choice is the hook and loop, or velcro closures. You can get the exact tension you need for your wrist and simply fold it together where it stays in place. This makes it very adjustable and easy to work with.
Another benefit to making your wrist wrap easier to use is if it is made of a moisture-wicking material which absorbs moisture and keeps it away from your skin. Keeping your skin dry means avoiding irritation or bacteria build up.
Your wrist wraps should be easy to carry with you when you are not using them. They should wrap up easily and stay folded, even go in a pouch. It is also nice if you have wraps which are machine washing. They will be exposed to lots of sweat so you will want something which you can wash and know that it will still hold its shape and elasticity.

Materials
Be sure to take a look at the materials these wraps are made of. You want something which is durable like canvas or a strong neoprene blend. You want a wrap that will stand up to your intense workout and also will stand up to being washed.
Most of these wraps are made out of cotton, elastic, and polyester. Cotton is a good material because it is natural and so soft against your skin. It also holds color well over time. Cotton is also very breathable material. If you have sensitive skin, a good amount of cotton would definitely be a good idea.
Elastic is good for obvious reasons. Wrists bands need to wrap around your wrists with a good amount of tension to keep it in place and protect your wrist. Check out the amount of elastic each wrap has in it, how many rows, and pair that with the amount you need for the activity you do.
Polyester is a good material because it is durable. It will last a while if you take care of it. It also retains color, even better than cotton. Polyester also dries quickly which if you get it wet with sweat, it will dry quickly.
The other material to take a good look at is the hook and loop (commonly known as velcro) which closes your wrap and keeps it snug. Make sure it is a good quality and a nice size that is going to really hold well easily with room to adjust the tension.

Durability
Durability is so important when it comes to wrist wraps because you will be putting them through your intense workout with you. They need to stand up to the sweat and the strain.
You want a wrap with heavyweight construction made of a nice, sturdy material like canvas or a strong neoprene blend. You want it to be double stitched so there is no chance of fraying. It needs to be thick and sturdy so it can stand up to your exercise. It should have good enough elastic that you will be able to put the tension on your wrist over and over. Even if you wash your wrap every few days, it should still hold the elasticity.
The velcro also needs to be durable. It should be nice and wide to hold everything in place. The hook and loop design needs to be large enough that it will hold the wrap in place during your most intense workout without slipping or falling open.
If you are doing weightlifting or powerlifting, you may be looking for a wrist wrap that has a thumb loop. The loop helps to keep the wrap in place especially during really intense exercises. Make sure that it is sturdy as well. It needs to be thick enough that it is not going to snap and also have good stitching to be sure it will not fray or become detached from the wrap.

Effectiveness
Effectiveness is also an important criterion for wrist wraps. Different things will make them effective depending on what you will be using it for. If you are using the wrap to help strengthen a weak wrist, you need it to have a tight firm fit. It should be wide enough to be snug on your wrist while still giving you an enhanced range of motion. It is nice to have a set of two so that you can wear one while the other one is being washed and dried.
When you are using the wraps for bench pressing, weightlifting, or powerlifting you need a few different things to be effective. You still need it to be snug around your wrist and be form-fitting, but for these activities, it is going to need to be thicker. The wrap will probably be longer so it will go around your wrist more times. It will need to be much stiffer with no range of motion. The wraps need to be able to hold your wrist firmly in place to avoid injury. These are definitely going to come in pairs.
These wraps will also be stiffer to provide good support. They will probably have a thumb loop which helps you be able to pull them good and tight around your wrist.
Whichever kind you use, they need to able to be pulled tight but also have the closure size needed to be adjustable so you can fit them perfectly to the size of your hand. Another note, they need to be able to keep their elasticity even after being stretched around your wrist over and over and being washed plenty.
Expert Interviews & Opinions
Most Important Criteria
(According to our experts opinion)
Experts Opinion
Editors Opinion
Users Opinion
By Default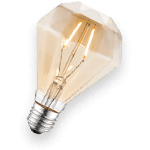 Warm Up Your Wrists Without Wraps
You should not have to wrap up your wrists in order to lift up to 60 percent of your normal 1-RM press amount. You should only need to use your wrist wraps on the days that you are training when you are planning to work at or close to max loads. If you use your wrist wraps all the time, you may limit your strength in the extensors and flexors in your wrist.
Try Not to Tie Your Wrist Wraps Too Low
The purpose behind the use of a wrap is to support your wrist bone, so you want to position it to do the best job. If you have it below the joint, it basically just becomes a beefy bracelet with no support. It should cover the joint enough that it will support and keep your wrist from an excessive extension.
Other Factors to Consider

Adjustability
It is good to have a wrist wrap that is easily adjustable. Having the thumb loop helps that, especially when you are weightlifting. They are also much easier to adjust if you have a nice wide and long band of the hook and loop velcro. You can pull the wrap as tight as you need it to be and fold it down at the perfect spot to get the job done.
Frequently Asked Questions
q:

Is there more than one kind of wrap?

a:

Yes, there are basically two different types of wraps. One is the cotton wrap which is thin and flexible. The other is the thicker powerlifting wraps which give you a little more support in the wrist.

If you are looking to try and max out something like a bench press, you might want to use a wrap that is thicker. If you are looking to max the clean and the jerk, using a thinner wrap are a good idea since they will help you get a better range of motion.
q:

Should I be wearing wraps when I do gymnastics?

a:

You should not need wraps for any type of bodyweight exercises like pull-ups or ring-dips. If you are competing or training with any type of wrist injury, that would be an exception. Most of the time, you probably do not need wrist wraps unless there are special circumstances.
q:

What is a thumb loop for?

a:

The thumb loop can be used to help adjust the tension of your wrist wrap. It is not crucial to have a wrist wrap. Most athletes you talk to will remove the loop from over the thumb once it is tight. That can be a little tricky.
q:

What is the difference between a sprain and a strain?
q:

What is the easiest way to position a wrist wrap?

a:

It is extremely important to put the wraps on correctly or you will not get the support you need for your wrists. Use your wrist crease as a guide. You should be able to see that crease at the bottom of your palm when your wrap is on.
Subscribe to our newsletter