Top 10 Gym Bags for Women Reviewed and Rated
last updated:
Feb 12, 2020
Ladies! We have plenty of things and we need something to carry them in. At least, it gives us an excuse to buy one, right? Jokes aside, having a gym bag can drastically reduce the amount of stress we can encounter when hitting the gym. Whether you're taking a yoga class or just bringing your own weights, a gym bag can carry all of your workout essentials.
From swag to durability, we've done a fair amount of research to find out which totes are top of the line for any and all your gym needs. Check out our list of the best gym bags for women. There's something for everyone, including those who like to work out on their lunch break, in between classes, or before work. We've got it all so you can bring it all! Scroll down to see which gym bags we thought were the best.
In a Hurry? The test winner after 4 hrs of research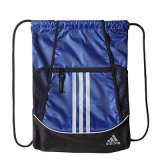 Adidas Alliance II Sackpack
Why is it better?
It has three exterior pockets total
Enough room for the basics
Durable and easy to carry
Durability
Features
Portability
Style
Versatility
By Default
10 Best Gym Bags for Women
1

. Adidas Alliance II Sackpack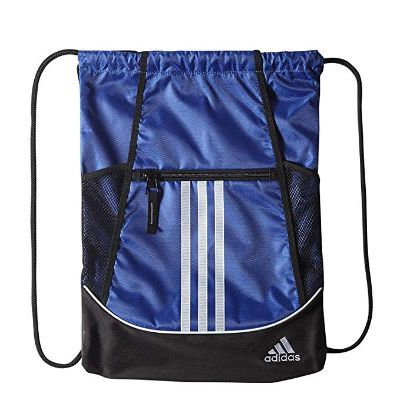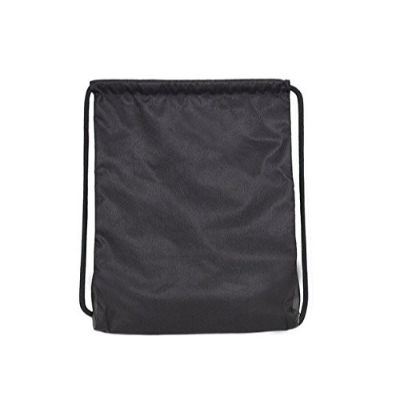 It has three exterior pockets total
Enough room for the basics
Durable and easy to carry
Not as much structure as a normal duffel
Many of us might associate drawstring bags with memories of middle and high school and shoving all of our things into these packs while waiting for the bell to ring. However, Adidas is changing the way we envision our drawstring sacks and creating products like the Sackpack, effectively changing our gym game forever.
Read more
While we might be acting a bit dramatic when it comes to these sacks, there's no denying that they're an excellent choice for those who are constantly on the go. Drawstring packs make it so easy to add things, pull things out, and pack 'em up, just in time to make it to work or class without sparing a second. This pack has a polyester lining which also makes it ridiculously easy to clean, something many of us might not consider when it comes to a gym tote.
The addition of a front zipper pocket reassures us that all of our valuables will be well-taken care of, including any extra small things we need to toss in there last minute. With not one, but two mesh water pockets, we can totally be extra and bring both a bottle of water and a protein smoothie to the gym with us. This pack was designed for efficiency and while it's simple, it definitely does the job at an affordable price.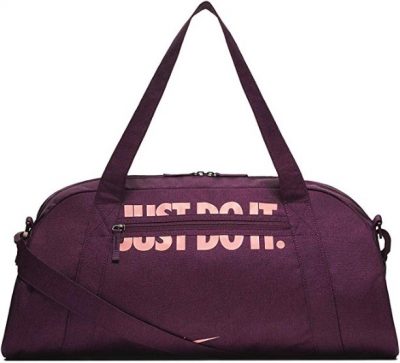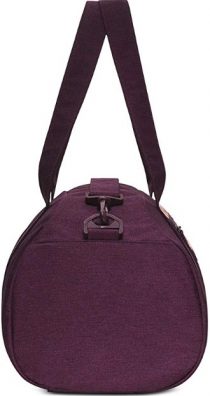 Highly durable
Plenty of space
Cute design makes it more than a gym duffel
The exterior is a bit stiff
Nike is usually our go-to when it comes to athletic gear and it's no surprise that they've created a super durable duffel for on the go gym training. The original Nike gym duffel comes in three colors for a bit of fun when hitting the gym, but it's really what's inside that counts. When it comes to a duffel, we want something that's strong and will hold up to plenty of travel back and forth to the gym.
Read more
This duffel definitely holds up to that while also providing a sleek design that allows for plenty of storage. Since that's the main concern when it comes to gym duffels, you can surely pack an extra pair of shoes, a spare outfit, and even some small gym essentials into the duffel without overcrowding. In the event that does happen, however, Nike has incorporated a heavy-duty zipper closure to prevent breaking or stretching. So pack away, my friends, because this duffel is prepared to take it all from point A to point B.
In addition to plenty of space, this duffel features one exterior pocket that can fit small items. There are also several interior pockets which are more useful for valuable things such as phone, jewelry, etc. They can also be used to hold any type of liquids to prevent contact with main compartment items in the event of a spill or break. This duffel is definitely what you want for the perfect balance of durability as well as storage. It also doubles as a great travel duffel if you're looking for something that will hold up on flights and long car rides!
3

. LeSportsac Classic Hobo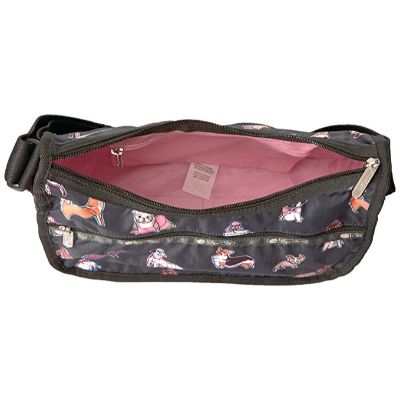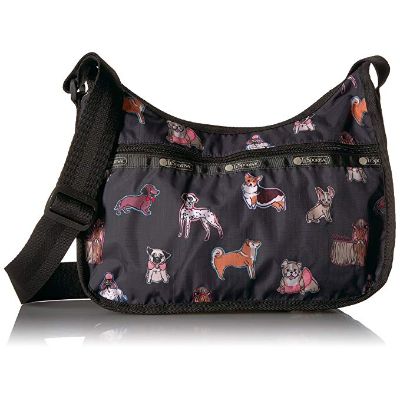 Great design
Versatile for use outside of the gym
Durable and easy to clean
The interesting thing about this LeSportsac is that it includes an additional built-in pack, something that's very useful when it comes to any type of liquids. For those who like to bring extra makeup, wet wipes, or even shower essentials to the gym, this tote is something that you should consider. It'll keep all of your products in one place while also ensuring they don't rocket around or roll about during travel.
Read more
This hobo tote is described as a totally casual, all-American that's great for gym use as well as everyday use. It has a variety of uses, in fact, since it doesn't look anything like your typical gym backpack or duffel. The addition of a cosmetics area is what really caught our attention, but we wanted to include this for those who need a gym pack that can be used for more than just gym visits.
It's also highly durable, made entirely with polyester, so it's not prone to taking damage or becoming dirty very quickly. In the event that it does, however, it's super easy to clean! That also goes for the interior and exterior pockets, of which there's a total of two in addition to the extra cosmetics mini-bag. Wear and durability aside, there's no denying that the adorable dog pattern on the outside is one of the cutest on our list. There's no law stating that gym totes need to be ugly and boring!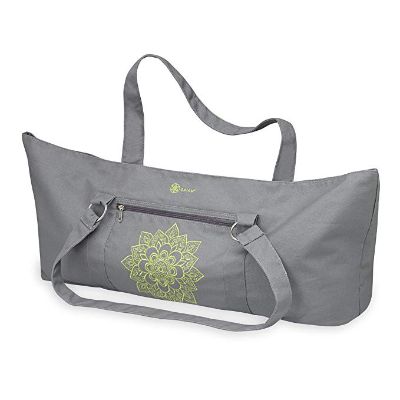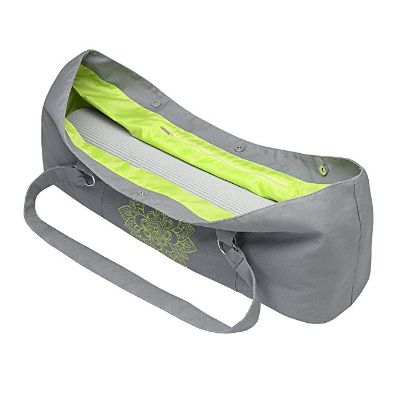 Unexpected space both inside and out
Double use as yoga mat storage
Easy to clean
Has a button closure rather than a zipper
Since yoga is such a popular gym activity and a popular lifestyle in general, we wanted to include something that was pretty yoga-specific. Gaiam is known for being one of the leaders in yoga apparel and equipment, and their mat tote is no exception to the rule. It's sophisticated yet casual, offering plenty of space for an average-sized yoga mat in addition to any other gym essentials you may need.
Read more
This tote is slightly longer than your typical duffel or tote to allow for plenty of mat space, but it also includes an interior pocket that's quite roomy for any other essentials you need to bring with you. In addition, the interior space of the bag is quite large, so you can also fit a few small items or small pieces of clothing in there, too. This tote also features one more exterior pocket for even more storage, making this entire thing much larger than it initially appears.
This is a must-have for those who bring their yoga mat to the gym, as we often forget that yoga mats aren't just used for yoga. It can easily hold a water bottle, some clothing, and small deodorant or wet wipes, perfect for hardcore workouts or quick ones. The interior lining of this bag is also very easy to clean; all you need to do is wipe it down with a wet cloth and you're set to go. Any tote that's low-maintenance, versatile, and cute is a tote that we love.
5

. Fjallraven - Totepack No. 1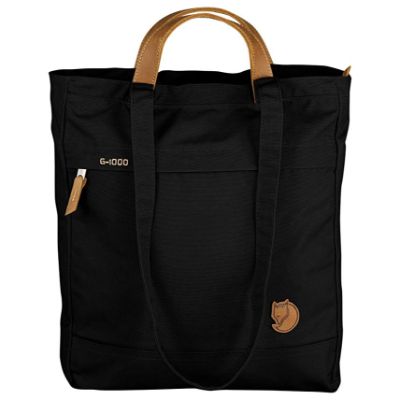 Plenty of storage
Hidden compartments
Customizable straps
Pricier than many other gym totes
This totepack by Fjallraven is vastly different from the previous totes we've showcased on this list, and there are plenty of great reasons for why it makes our top ten list. Fjallraven is well-known for its athletic gear, mainly for cold-weather apparel, but their tote pack is truly one of a kind in style and in features. It's a great gym tote or everyday tote, which is why its versatility makes it one of the best.
Read more
This tote pack is a bit heftier in price but it's worth it to have all the features that it comes with. Let's start with the composition of the tote. It happens to be eco-friendly, made with both polyester and cotton, keeping in theme with many of Fjallraven's products. It's also lightweight which is something you wouldn't expect based on the pictures, and it can go from the gym to work without losing any sophistication or style.
This totepack also features several different pockets, including one privacy pocket that's specifically designed for valuables that you might be traveling with. The sleek design of this tote helps to hide pockets a bit better, making it a great option for the gym in the event that you don't have a locker to store things in. You'll also have the option for customization as far as straps go on this tote. With longer straps as well as shorter, purse-like straps, you can seamlessly transition from place to place without sacrificing space or functionality.
6

. Osprey Packs Trillium 45 Duffel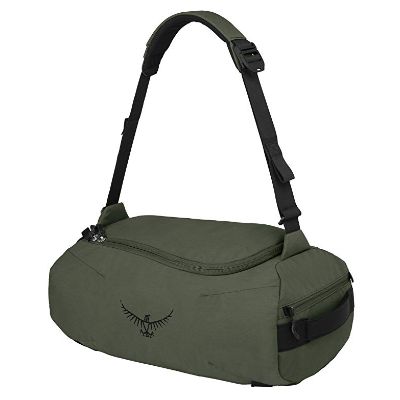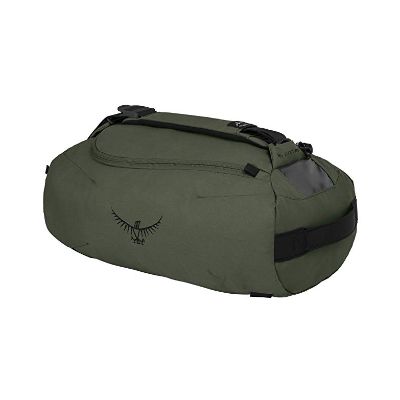 Highly durable and heavy-duty
Option to lock away valuable
Designed for long-term use
Not very attractive from the outside
The Osprey Trillium 45 Duffel combines comfortable travel with space in this highly durable gym option. While it's not the most fashion-forward, that doesn't matter one bit when it comes to something that will hold all of your things, keep them safe, and last for quite some time. You can tell that this duffel is absolutely built to last, and that's thanks to a canvas exterior with thick, durable straps.
Read more
This duffel can be worn in three different ways, which actually makes it one of the most versatile on the list. With a shorter grab handle and a longer strap that can be worn over the shoulder or across the body, the choice is yours! Simply grab it and hit the gym. This is one of the larger duffels on our list and it's so roomy that it could even be used for overnight stays, making it highly versatile.
While it's not a flashy duffel, it does come in five different colors, including one bright orange that's fun and festive. The zipper across the top of the duffel is the same on all five models and features a lockable option, perfect for those who tend to carry a lot with them. There are several other smaller compartments in this duffel as well, allowing for plenty of options when it comes to what can be packed and where. With padded handles and extra support in the areas of the duffel that take the most wear, this is a solid all-around duffel.
7

. Herschel Supply Co. Duffel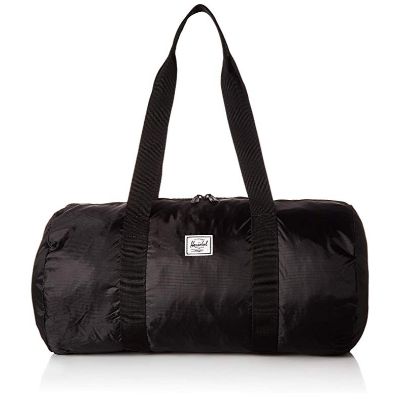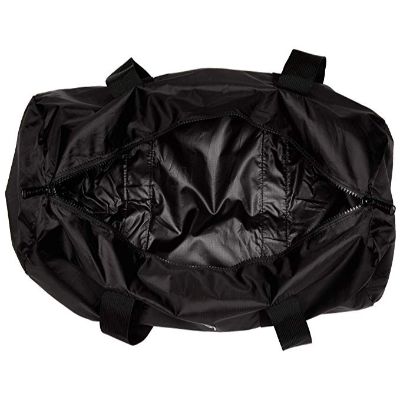 Easy to clean
Good for those who overpack
Large zipper for strong closure
This duffel is multipurpose which means it can be used for anything: Gym needs, overnight visits, and even when traveling. It's a great basic duffel that comes in more colors and designs than anyone needs (but that we really want, let's be honest). It's lightweight and spacious enough to pack essentials without feeling too compact.
Read more
The drawback of this duffel is that there are no exterior pockets, but that does mean there's more room on the inside. When packed fully, it's the perfect size for a gym locker while also being roomy enough to several different uses as we said before. It's 100% polyester so it's highly durable while also being easy to take care of and clean. It will likely last for quite some time, especially with nylon handles and an oversized zipper.
The inside of this duffel is very easy to clean and makes packing a breeze; it's completely open leaving tons of space for those who tend to be over packers. This is probably the best option, in that case, being as there won't be any room taken up by larger pockets that could potentially take from the spaciousness of the duffel itself.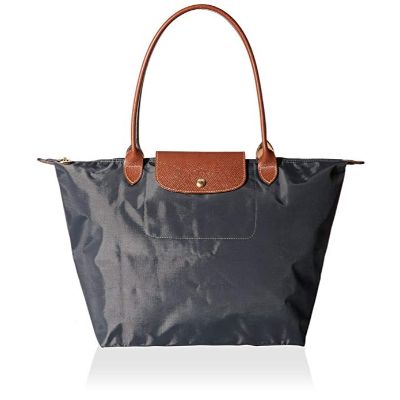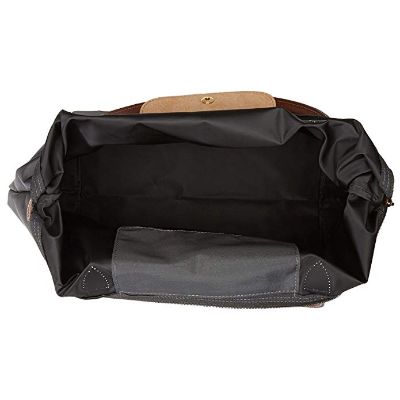 Highly durable
Comes in several different colors
Leather detail is a nice touch
This tote won't be everyone's style but it's a good choice for those who don't like the look of a typical gym pack or duffel. The Longchamp Le Pilage is a bit of a sophisticated take on a regular tote, made with textile fabric and featuring one large zip closure over the top. It's simplistic in nature but durable and built to last, for those who don't want anything flashy or over the top.
Read more
This tote can be comfortably worn over the shoulder with a leather strap that's strong and will hold up plenty of weight. A secondary closure will go over the main zipper closure to dress up the tote a bit and ensure that everything remains in place. While the nylon fabric isn't always attractive, it's the leather strap that truly brings the design of this bag together and makes it unique in its own category.
The Longchamp Le Pilage also comes in four different colors, from neutrals to bright, bright red. This allows for a bit of style and flair in a bag that would otherwise be understated and somewhat plain. Its durability, however, is something that we really love -- it's an easy tote to clean and keep clean, as nylon is a material known for being heavy-duty and strong.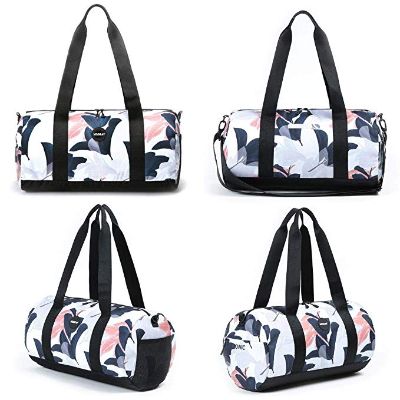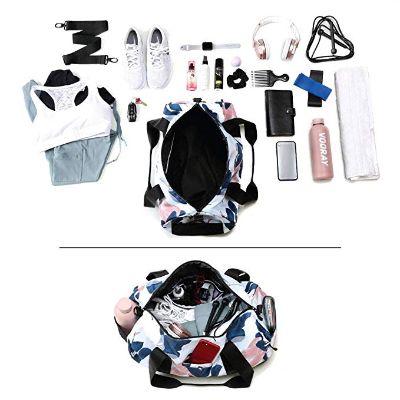 Two materials for added durability
Plenty of pockets and storage space
Four different, fun designs
The Vooray Duffel is one which is built a bit more for style but when it comes to holding the most, this is the one you want to walk into the gym with. Ample space makes this one of the topmost spacious duffels on our list, and it's made even better by mesh water bottle holders and four designs to appease the true shopper in you.
Read more
You can literally fit everything you could possibly need for the gym inside this duffel. In fact, Vooray made sure of that. With so much space comes the need for separation, so they've added four pockets in total: Two interior pockets, one exterior zipper pocket, and one mesh for water bottles. One of the interior pockets is actually a hidden phone slip, adding an extra feature that's unique to this duffel.
The combination of two materials in this duffel is what makes it so durable. The interior is nylon while the exterior is made from polyester, blending two highly durable fabrics to create one highly durable duffel. The strap features a permanent foldover design that makes it comfortable to throw over your shoulder, adding balance to stability when carrying a lot at once. It's one of the easiest duffels to carry as well, making its travel efficiency rating one of the highest on our list.
10

. Cotopaxi Taal Convertible Tote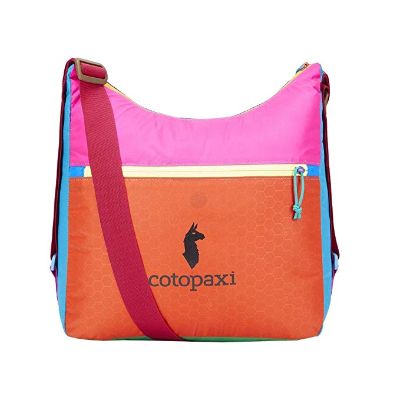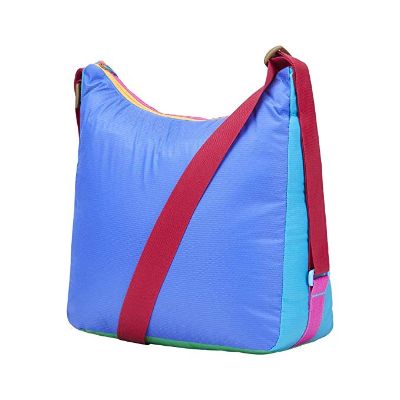 Each tote is unique
Features an interior water holder
Heavy-duty materials that last
Not as much space as the other totes
The Cotopaxi Taal Convertible Tote is quite an eye-catcher for many, especially those who adore bold, vibrant colors. This tote does come in several different designs, each more vivid than the next. It's great for those who want to have fun with their gym apparel, but it also holds a respectable amount for those who travel fairly light. While it won't hold as much as a duffel, it's a secure and durable option for light gym weight.
Read more
A cool feature of this tote is that the materials used have been repurposed, meaning that it's eco-friendly as well as fun. The repurposed nylon makes for a tough tote which will stand up to most travel. It features an exterior pocket with a heavy-duty zipper that isn't prone to breaking, serving as the perfect phone holder or accessory spot. Another interesting aspect of this tote is its interior water bottle holder, making it a great space-saver since everything is tucked neatly inside.
Cotopaxi is based in the Philippines and the owner claims that no two totes are the same… and we believe it! With so many color options to choose from, space for drinks as well as essentials, a comfortable strap, and ample space, this surely a top ten tote. Even the straps have been customized so you can be sure to have a unique product every time.
Criteria Used for Evaluation

Durability
When it comes to trying to fit too many things into one tote, many of us are far beyond experienced. As satisfying as it can be to fit so much into one portable item, it can also be detrimental to the product (which we'll get into later). Because so many of us are famous for doing this, we had to be sure of a tote's durability. When it comes down to it, a bag is only as good as its closure and material. Closures were ranked based on how strong they were in addition to how easily they would close, given the fact that totes can sometimes be overstuffed.
The material was also ranked in accordance with how stretchy and strong it could be. If a bag doesn't allow for a lot of growing space, then it's not good for packing extra clothing or even a spare pair of shoes. When it comes to the gym, we had to make sure that totes would be able to handle the amount that's packed into them, including the type of products packed. Clothes and shoes need stretch, while things such as makeup, lotions, and soaps need a durable lining in the event of an accident. Both of these factors went into the overall durability of a gym tote.

Features
It's no secret that we love extra features. While not every tote or pack on this list includes a laundry list of extras, there are some that caught our attention. An interior pocket for things such as valuables, liquids, or small cosmetics was obviously a huge plus. Since many of us have a habit of losing things in the bottomless pit of a tote, this became a great selling point for our ranking system.
Another solid feature was the addition of an easy to clean lining, something that, in our opinion, every gym tote should have. You never know what will leak, from protein shakes to liquid makeup foundation, so it's always great to have a lining that can be cleaned easily.
One more feature that we were happy to see in some of our totes was reinforced straps. These gym bags can get heavy and after a while, it shows. Being able to carry a tote or backpack without fear of something ripping or tearing eventually is worth its weight in… well, gym essentials. This includes minor issues such as loose threads and lower-quality materials.

Portability
Obviously, a tote should be easily transported. If it's uncomfortable to carry in any way at all or didn't fit nearly enough, it simply didn't make the list. Additionally, the ability to fold up and store or hang the tote when not in use was something we put under this criteria as well. Basically, any essential functions that revolved around carrying the tote from one place to another or storing it were considered under portability.
The straps, in particular, are the main factor when it comes to anything being portable. A good set of straps can make all the difference… Especially after arm day! In all seriousness, they should be comfortable and sturdy without being too loose or weak-feeling. Straps that are adjustable are a huge bonus in our book because they can be customized for the user rather than a one size fits all product.

Style
With most totes doing the job of carrying a reasonable amount of essentials, that allowed us to focus a bit more on the styles of the totes and packs. As time goes on, gym designs change, and we live in a day and age where sleek and modern are still trending. Many of the totes on this list reflect that with a variety of options to choose from. We've chosen a list of standard backpacks, tote-style bags, and traditional duffles. Depending on the usage, how often you visit the gym, and what you need to carry, these can all be a great option.
Furthermore, each one of these totes comes in a variety of colors, excluding only a couple. That way, you can customize even more the style of your gym gear, whether you like vibrant patterns or a neutral, understated appearance. We've listed plenty of options to suit all needs, from the wildly vibrant to the understated and simple!

Versatility
Being able to transition from a gym tote to a travel bag is something that was important to us. While these are advertised as being specifically for the gym, we'd like to think that you could pack them with just about anything and be good to go on your way. The versatility of these products played a large role in why we chose them, as well as why we think that you'll love them. Each one is quite different from the next which only increases the variety and diversity of our list, allowing you to pick something truly unique to your lifestyle. You should have a tote that speaks to who you are and what you use it for. You should also have a sophisticated tote that can go from your home to the gym, and then to work and back without looking like something you dragged out of a middle school locker room.
Expert Interviews & Opinions
Most Important Criteria
(According to our experts opinion)
Experts Opinion
Editors Opinion
Users Opinion
By Default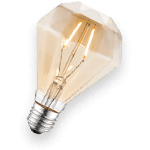 Carry Wet Wipes for Your Bag
You might not think of it, but your tote does need to be given a good cleaning every once in a while! Before you know it, smells and gunk is likely to build-up on the inside and suddenly, you're left with a tote that looks like it went through a warzone. Keeping antibacterial wipes on hand can help tremendously with keeping everything in top-notch condition. It can also help to prevent bacteria and germs from spreading, especially when you're sweating in the same place with roughly 50 other people!
Don't Overpack
The key to extending the life of your gym pack or tote is, believe it or not, avoiding overpacking. Overpacking can unnecessarily stretch out the material of the bag and cause it to rip or tear eventually. Additionally, stretching something like this can warp the tote over time, make it misshapen and odd-looking. Overpacking can also lead to broken zippers and closures that don't remain shut, which can destroy the overall integrity of the tote, rendering it partially useless after a while.
Other Factors to Consider

Water Resistance
While being water-resistant was not a necessary criterion, it is something we were happy to see when we found it. Not every tote will have the same water-repelling ability as the next, but it was nice to know that many of these could go through a torrential downpour and still remain high-quality. Additionally, there is the issue of sweat. Many of us do hit the gym on our way elsewhere and need gym totes to store our less-than-savory gym clothes, meaning these bags needed to be somewhat water-resistant in order to hold up. Having the ability to contain the gym stench as well as hold all of our sweaty workout clothes? Now that makes one winner of a bag.

Ease of Use
You don't want to purchase something that's intended to make your life easier and have it make your life harder. While choosing a gym tote, duffel or backpack might seem like an easy task, it can prove to be a challenge sometimes. There are many things to consider but one extra point to talk about is how easy it is to use. This depends largely on the types of things you'll be carrying in your bag. For example, if you're planning to always carry a water bottle with you, it definitely helps to invest in something that has space for that. If you always stick your phone in your duffel, it helps to look for something with extra pockets. Likewise, don't buy too small! Be honest with yourself -- if you carry a lot of things, you need a tote or duffel to reflect that. Things can be made ten times harder by purchasing something that either has too much space or not enough, and if it's full of pockets and not simplistic, you might lose things rather than knowing exactly where they are. It all comes down to knowing yourself and your gym routine.
Frequently Asked Questions
q:

Could these be used for travel as well as the gym?

a:

Of course! When it comes down to it, they're just a means to transport items, just like any other tote. The neat thing about the totes on this list is that they aren't designed like an average gym bag, so you can remain stylish no matter where you go. If nothing else, everyone who sees your brand new bag will know that you live a fit lifestyle and hit the gym often.
q:

How big are these?

a:

That depends on the tote you're talking about! Sizing has been specified in each description, but most of them are average duffle size, aside from the backpacks, which are slightly smaller than a school backpack. Each one varies in style, therefore each one is a different size and holds a different amount.
q:

Are they gym locker-friendly?

a:

That depends on the size of your locker but yes, most of them should fit nicely into a locker. Unless the locker itself is extremely narrow, there's no reason why most of them can't be fit in sideways in order to be safely stored while at the gym.
q:

Do they all have an interior pocket?

a:

Not all of them. Our product descriptions list which interior pockets and features each tote has, in addition to whether or not the product features any exterior pockets. Normally, most totes do come with at least on interior pocket -- unless it's a truly minimalistic pack, such as the drawstring backpack.
q:

Could you fit sporting gear into these, i.e. kickboxing or crossfit gear?

a:

Sure! It depends on what you're packing with it, of course. We would recommend going with one of the larger bags just to be safe, but most of these packs are designed to fit both gym equipment as well as clothing, refresh essentials, and so on. The larger bags are designed specifically for those who have the larger gear they want to carry around, and of course, for those who have a lot of gear to carry around. If nothing else, some of these totes do offer a bit of a stretch in their material to allow for extra space.
q:

How hard are these to clean?

a:

As mentioned earlier, these bags can be relatively easy to clean. Simply wiping the bag down with a wet wipe can help keep it looking like new. There may be times when a simple wipe down might not be enough, but this is an easy fix as well. You can use warm water with mild soap and a washcloth and wipe it down that way. This will also help with any of those lingering odors from your sweaty gym clothes too!
Subscribe to our newsletter