10 Best Treadmills for Walking Reviewed & Rated
last updated:
Nov 22, 2021
Being stuck at home doesn't mean that you need to wear down the couch cushions! If the weather (or the world) tells you to stay indoors, treadmills for walking can help you add steps to your day without leaving your house.
Many of the designs out there on the market are small enough to place in the living room so you don't have to pause your Netflix binge as you rack up your steps for the day. Many of the machines out there on the market are small, simple, and incredibly affordable.
In this guide, we have compiled a list of some of the best treadmills for walking so you can dust off your walking shoes to walk for miles and miles without even stepping foot outside your front door.
In a Hurry? The test winner after 7 hrs of research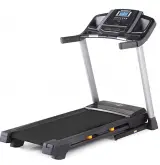 NordicTrack T Series
Why is it better?
Trusted brand
10-inch incline
Color screen
Cushioned belt
2
Researched Sources
910
Reviews Considered
7
Hours Researching
10
Products Evaluated
Style
Speed
Power Source
Weight
Advanced Features
By Default
10 Best Treadmills for Walking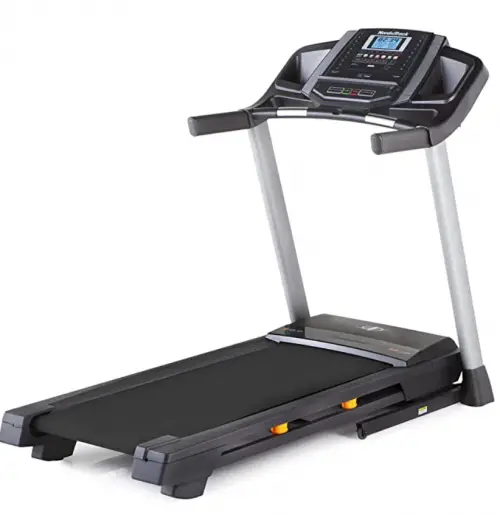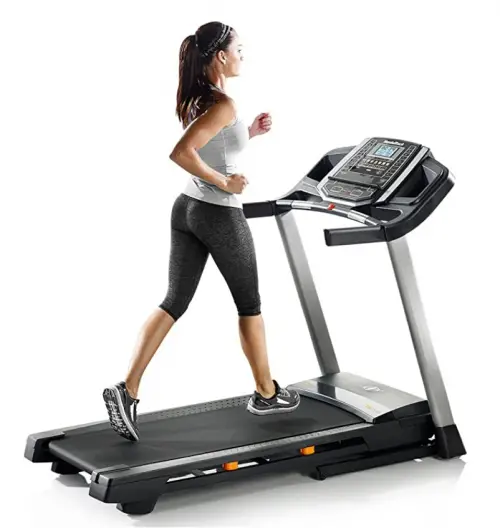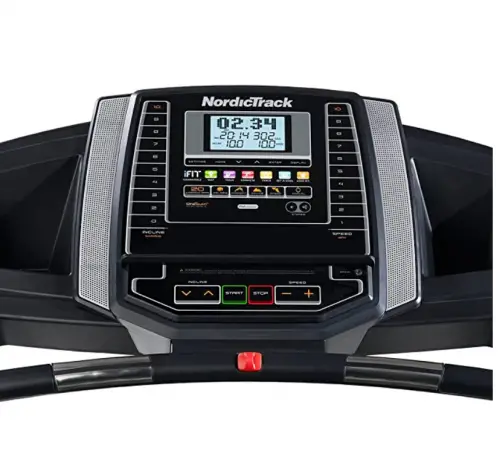 Trusted brand
10-inch incline
Color screen
Cushioned belt
Very expensive
Large footprint
This design from NordicTrack tops our list for a good reason. Small design features inherent in this model make you feel like you are walking on a more forgiving surface rather than just a stiff belt mounted on a metal frame. Plus, it has a modern dashboard that allows you to make adjustments and set detailed workouts with just the press of a few buttons.
Read more
Many home treadmills have a fairly narrow belt that measures around 17 inches. While this is ample for most, it can sometimes feel a little constricting for long, happy stride. The belt on this design measures slightly wider at 20 inches. Users can also adjust the pitch of the belt up to 10 inches for a killer uphill climb.
The NordicTrack T Series offers the Cadillac of dashboards. Equipped with a full-color screen, you can subscribe to iFit to have live personal trainers not only motivate you but also control the speed and incline for customized workouts!
If you want the best of the best and are willing to spare no expense, this model is one of your best options. It's small enough to fit into tight spaces in your home but is still packed with a myriad of interactive features to keep your workouts engaging and exciting, even if you're stuck at home.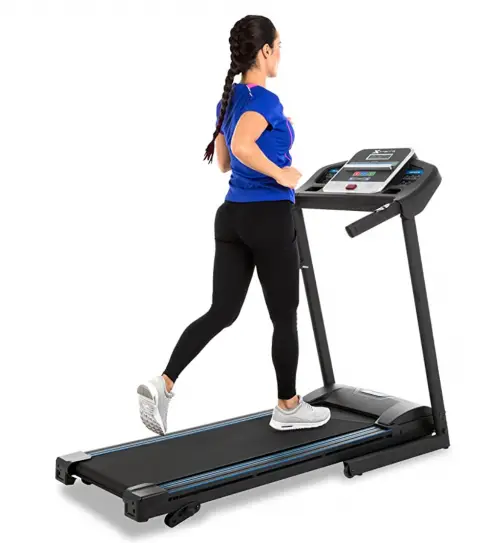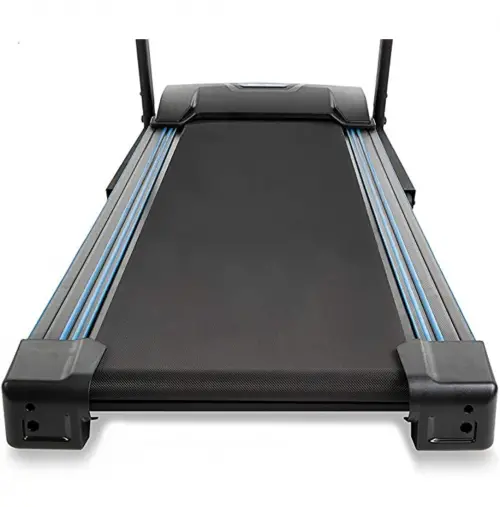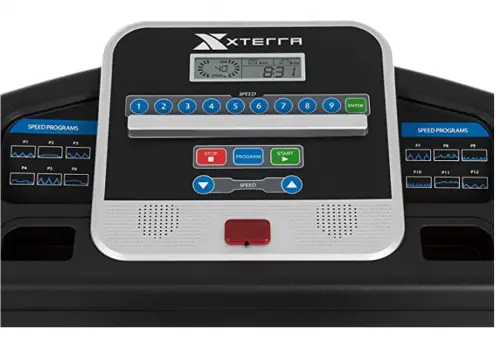 Trusted brand
Foldable
Incline settings
Narrow belt
Manual incline
Have a small space and worried about bringing big and bulky workout equipment into your home? Not only is this design from XTERRA Fitness small and compact, but it also folds up when not in use to clear up even more floor space! We also love that this design also comes with a wide variety of programmable settings and speeds to amp up the intensity of your home workouts.
Read more
The side of this belt measures to be 15 inches wide, which is just a little narrow than most. When walking, the narrow belt won't be a problem for most users. However, if you decide to pick up the pace you may notice your feet start to clip the sides of the belt.
Even though it is foldable, users still have the option to adjust the incline up to three different manual incline settings to really activate those glutes. When you want to change things up and get in a varied workout, there are multiple workout settings that automatically change the speed of the belt and shut off once your workout is complete.
For those in the market for a smaller and more compact design that comes from a trusted brand, this option from XTERRA Fitness is a great option. It has various settings to really help burn calories and get moving, and it is small and compact so it won't take up a lot of space in your home.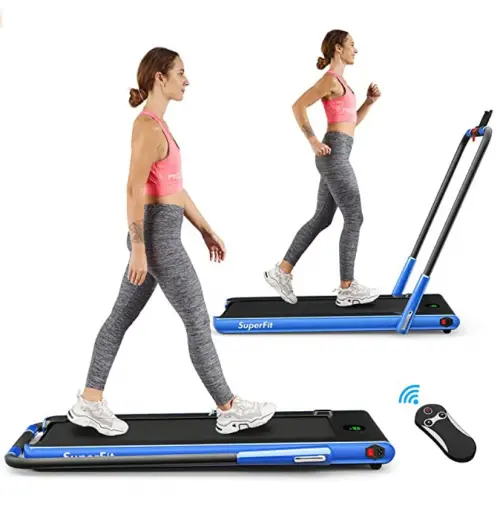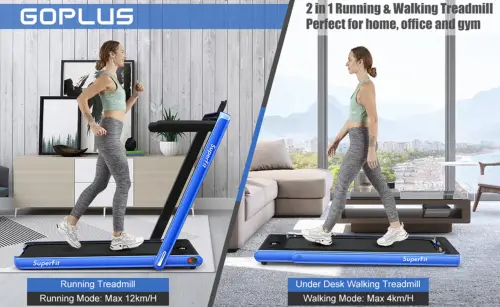 Trusted brand
Detachable handles
Remote control
Difficult assembly
Sensitive remote
Hate the idea of big and bulky workout equipment taking up a lot of floor space? What we loved most about this 2 in 1 model from Goplus is that it has detachable handles with remote control settings to make walking feel more natural. Plus, it boasts a simple LCD display on the base of the belt to display all of the important information that you need for your daily stationary walkabouts.
Read more
Removing the handles on the front of the unit is a really unique design because it allows the user to walk freely without the need to lean on handlebars. This design feature allows you to swing your arms naturally like you would when walking on the trails at the park. The inclusion of the remote control also allows you to adjust the speed quickly and easily without skipping a step.
The light-up LCD screen display on the base of the unit details times used, speed, and calories burned in big numbers that are super easy to read. It boasts a 16 inches belt, which is slightly wider than many at-home units, which means it can also be used for running as well (just be sure that you affix the handlebars!).
If you are in the market for something that is small, compact, and affordable, this design from Goplus is a great choice. The belt is composed of grippy materials to ensure a stable footing even when the handles are not attached to the front of the units. Plus, the remote control makes it easy to make speed adjustments quickly and easily.
4

. Sunny Health & Fitness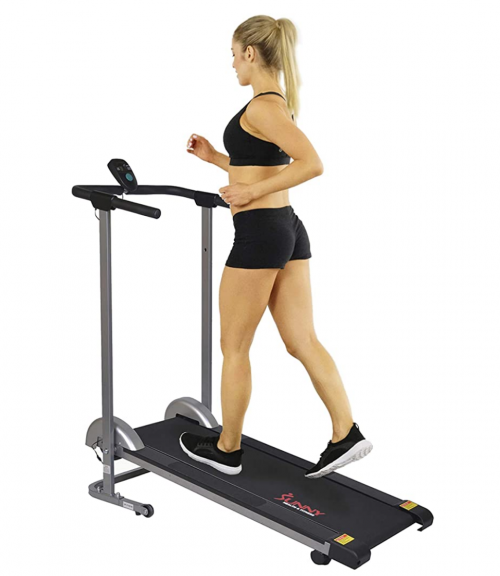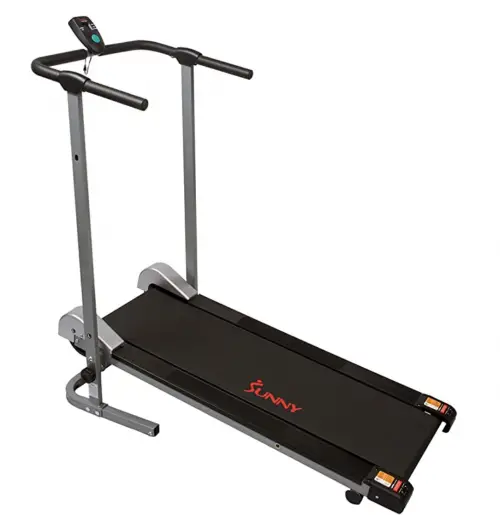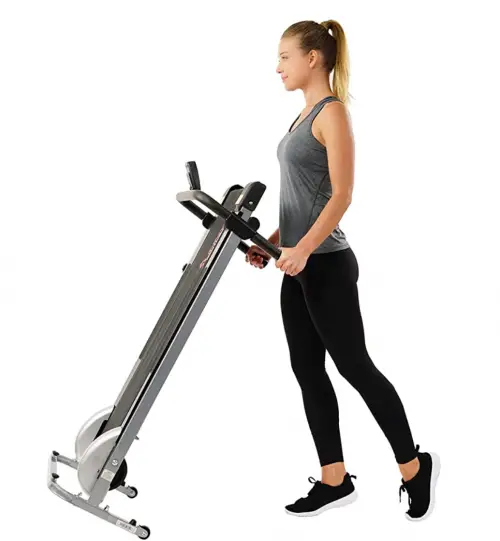 Super affordable
Non-electric
Foldable
Easy to move
No speed settings
Fixed incline
220-pound capacity
Simplicity is the name of the game when it comes to this design from Sunny Health & Fitness. The most notable feature of this slim and simple treadmill for walking is that it is 100 percent manual, which means there is no need for an electrical outlet. If you want to plop it down right in front of your television, or even set it up in a balcony, you won't have electrical cords holding you back!
Read more
So, how does it work without a power source? This design has a fixed incline that uses inertia and the speed of your strides to propel the belt. It has a super slim frame that won't take up that much room in your home, and wheels along the base that makes it easy to move from room to room.
Even though it doesn't have a power source, users can still expect a detailed LCD monitor to deliver all of the information that you need. It shows you how many calories you burned, time on the belt, and even steps taken at the simple press of a large central button.
The super slim design folds up compactly and allows the user to roll it around from room to room. It is cold and rainy outside? Roll it right up to the television. Bright and sunny day? Roll it out to the balcony or even into the driveway!
Plus, it comes in at one of the most affordable price-points out there on the market that will set you back around the same amount you would spend on a great pair of running shoes!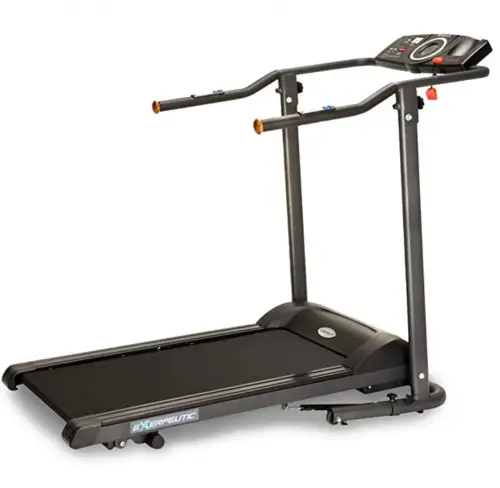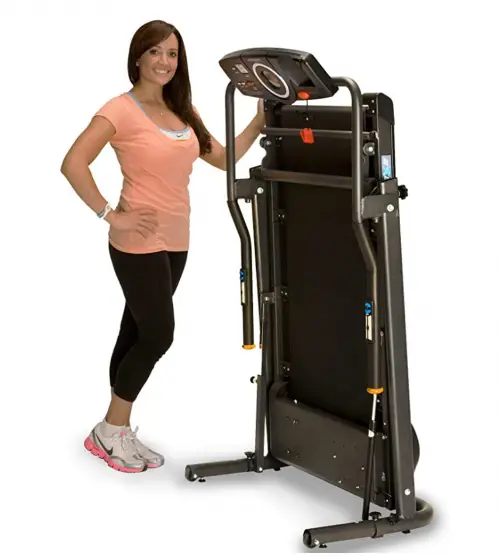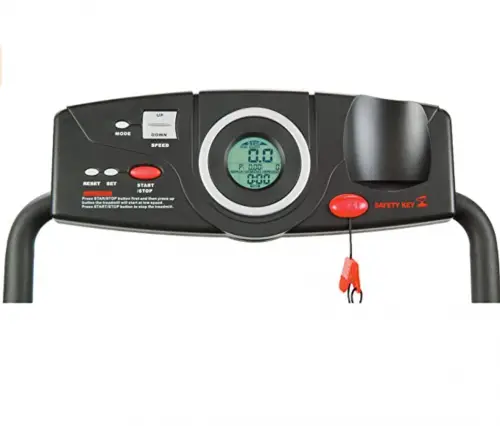 Foldable
20-inch belt
Heart rate monitor
Affordable
Low speed
Hard to assemble
What we loved most about this treadmill for walking from Exerpeutic is that it has all of the popular features from some of the more expensive models at a fraction of the price. It has a wider belt that allows users to pick up the pace without worrying about clipping the side of the belt, and it has a small, foldable frame that is a cinch to move from room to room. You may not be able to adjust the speed as fast as some of the higher-end models, but the design ensures a comfortable and enjoyable workout!
Read more
The very first thing that we noticed about this design is that it has a 20-inch belt. Many home models boast a belt that measures between 15-17 inches, so the extra 3 inches really allows for easier and more natural movement. Plus, when you are done working out this design folds in half and has wheels on the base for easy transfer and storage!
The dashboard of this design is very simple to read and provides you with all of the information you need at a glance. The LCD screen displays distance traveled, calories burned, time in use, and even your heart rate. It also comes with an emergency stop device that shuts the belt down if you lose your footing.
If you are in the market for something that has all of the advanced features of some of the commercial models at a fraction of the price, this model from Exerpeutic is a great choice. Users love that the wide 20-inch belt is able to be folded in half to free up floor space, or to tuck it away when not in use.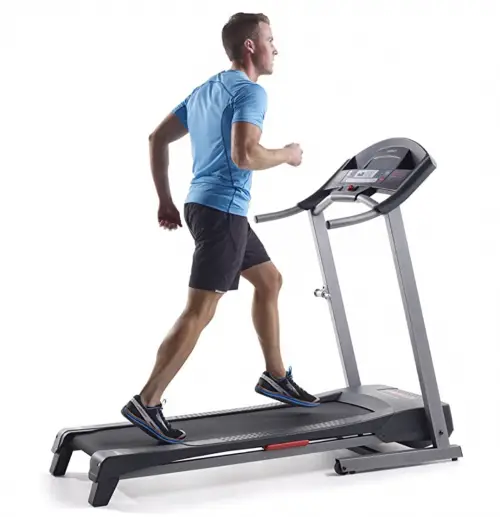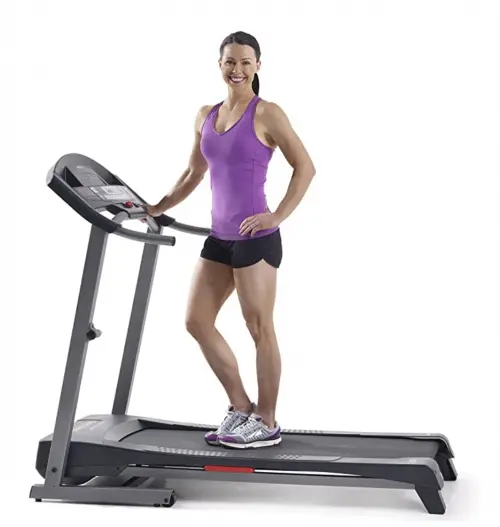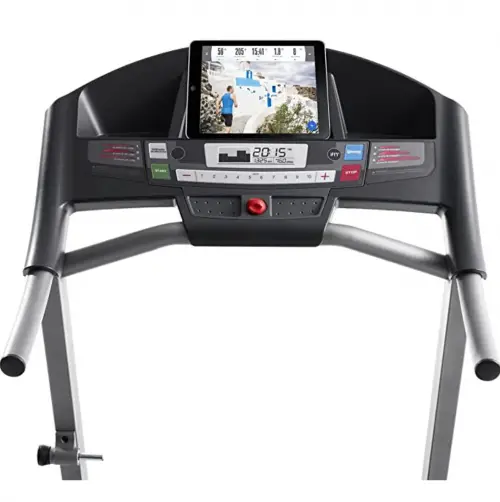 Heart rate monitor
Foldable
10 speeds
Manual incline
Narrow belt
Unreliable speeds
What we loved most about this model from Weslo is it comes with all of the features you need to fit in a great hike at home without the heavy price tag. It has a small frame that won't take up that much room in your home, and has an electric motor that really lets you pick up the pace to shed calories and build muscle right at home!
Read more
One of the most notable features is that it is Bluetooth compatible with iFit, which syncs to your device to craft workouts catered to your needs. It has speed settings that reach an impressive 10 miles per hour so you can opt to go for a nice walk or a high impact run at just the press of a button.
Users also appreciate that this machine is small and compact, and you can fold it in half for easy storage. It has a set of wheels on the base that makes it a cinch to move from room to room as needed. It belt measures to be 16 inches wide, which may prove to be a little too narrow if you decide to take it for a run.
For those in the market for something that comes in at a super affordable price point that is easy to use and versatile, this is a great option. The dashboard displays all of the information that you need at a glance, such as speed, calories burned, time traveled, and even your heart rate.
7

. Fitness Reality TR1000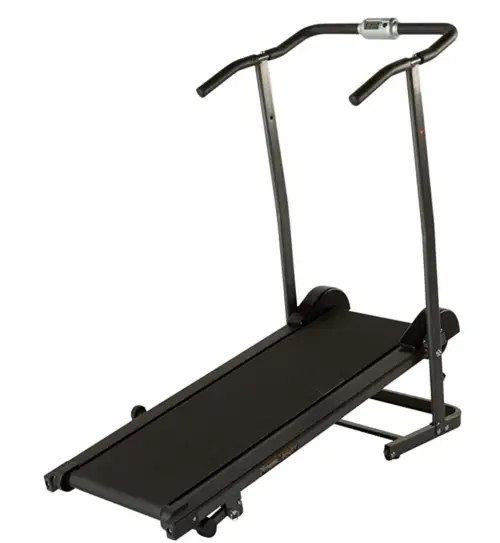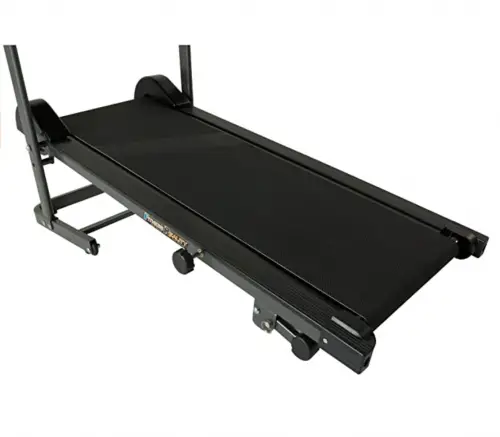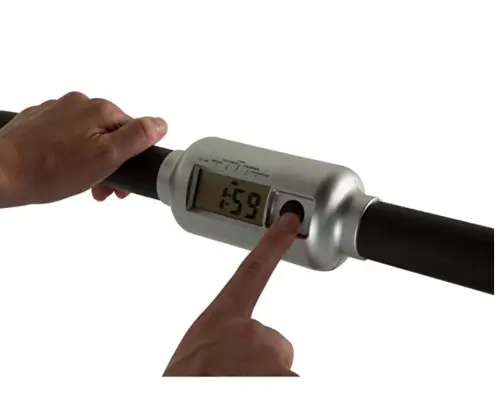 Very affordable
Slim design
Foldable
Fixed incline
No dashboard
Unwilling to send a lot of money on a cardio machine? This manual option from Fitness Reality will likely set you back about the same amount of money that you spent on your running shoes! It is as basic as you can get without sacrificing the quality of your workout. Plus, it still has a few key features to help you get the most out of your workouts.
Read more
This manual design uses a fixed incline to generate movement as well as dual flywheels for a smooth ride. The incline of this option is only 6 inches up off of the floor, which means it won't be so steep that it makes it impossible to fit in a nice and easy walk. The basic handlebars offer a secure grip without hindering your full range of motion.
The downside to this design is that there is no interface that tracks your steps or distance traveled. However, investing in wearing fitness gear such as a FitBit or other trackable devices allows you to keep count of your steps even when you aren't on the treadmill!
If you are in the market for something that is small, compact and comes in at a price point that won't break the bank, this option from Fitness Reality is worth checking out! While it may not have some of the advanced features of the other models out there on the market, it is super simple to use for those times you just want to get moving when you can't leave the house.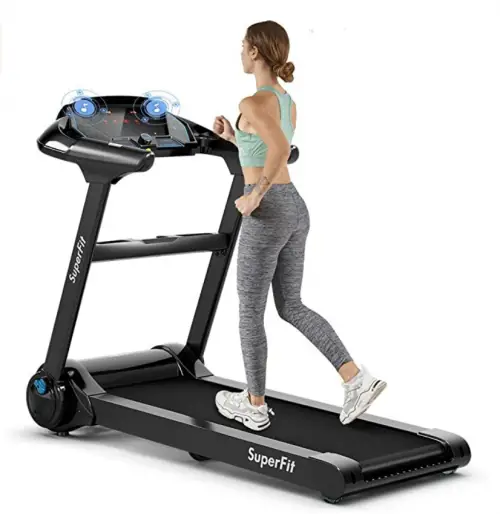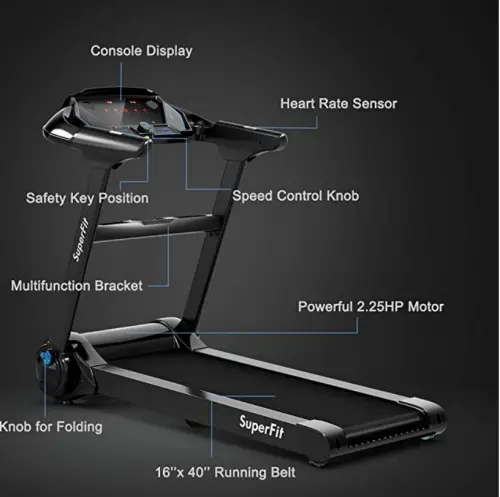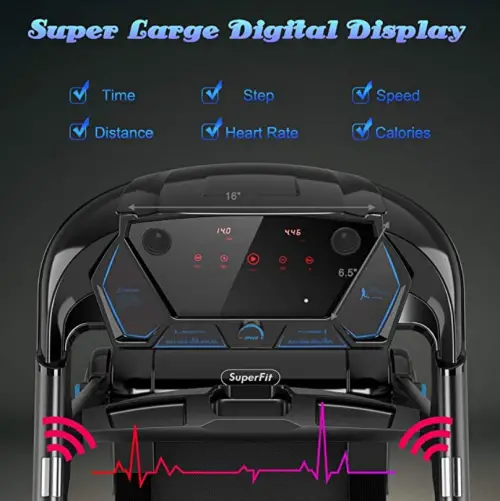 Large display
Foldable
Bluetooth speakers
Quiet ride
Goplus makes our list yet again with this feature dense SuperFit model. If you are willing to pay a little bit more for a machine packed with features to motivate you to get moving, this is a really great model. It comes with all of the features of a NordicTrack design with a price point that is a little more approachable.
Read more
The very first thing that we noticed is that it has a detailed dashboard with a myriad of user-friendly settings. It has a very large LCD display with red lights that detail calories burned, heart rate, speed, distance traveled, as well as the number of steps taken.
It also has an 8 stage dampening system which ensures that your morning walk or run will not wake up the entire household! The frame of this model is just a little bigger and bulkier than most, which means it takes up more room in your home gym. However, the good news is that the belt folds up quickly and easily for simple storage.
If you are in the market for something that is packed with features but doesn't come with the commercial price tag, this is a great option. Users love it because it's super quiet, easy to store, and comes with a lot of settings to change up your workouts as you see fit.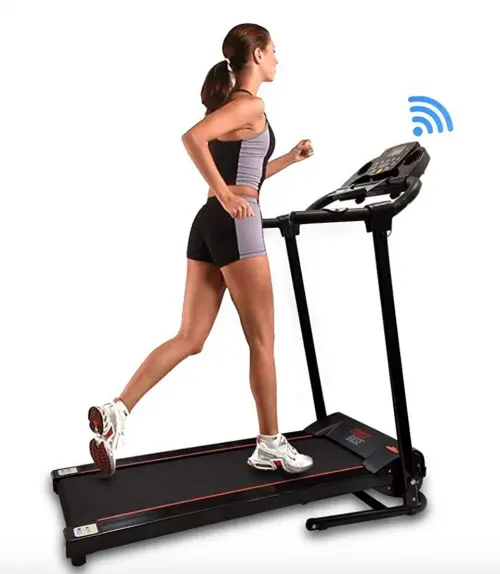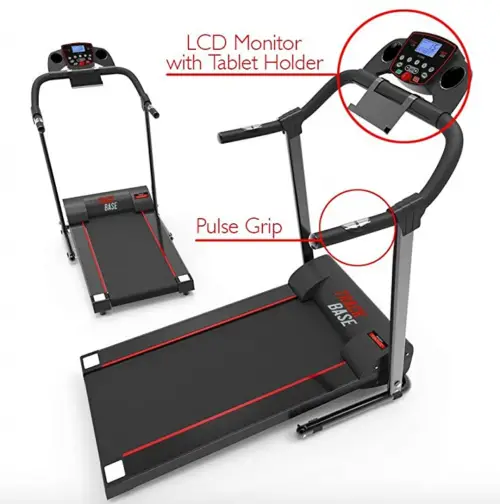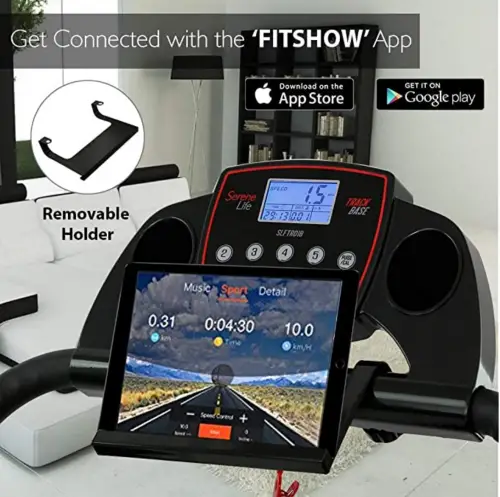 Foldable
Bluetooth compatible
Easy storage
Narrow belt
A little wobbly
What we liked most about this design from SereneLife is that it has a myriad of features that are beneficial to walkers as well as runners. It boasts an approachable price tag and comes with features that are typically only found on the higher end and commercial models. If you want something with a ton of smart features without breaking the bank, this design is worth checking out.
Read more
The dashboard of this model offers Bluetooth connectivity and pairs with an app called FitShow. Connect your device to the app and place it in the tablet holder for interactive and challenging workouts to use on your machine! The interface also details distance traveled, steps, calories burned, your heart rate, and time traveled.
One of the best features of this design is that the belt is able to be folded for quick and easy storage. The size of the belts measures to be just shy of 16 inches, which is a little narrow when compared to other designs out there on the market. This means that when running, your feet may clip the sides of the belt. Ideally, this machine is best used for walking.
If you are in the market for something that has features typically found on expensive commercial models. You may want to check out this option. The narrow belt may not be ideal for running or jogging, but it is perfect for walking when you are stuck inside. Plus, it folds up for easy storage once you can finally walk outside again!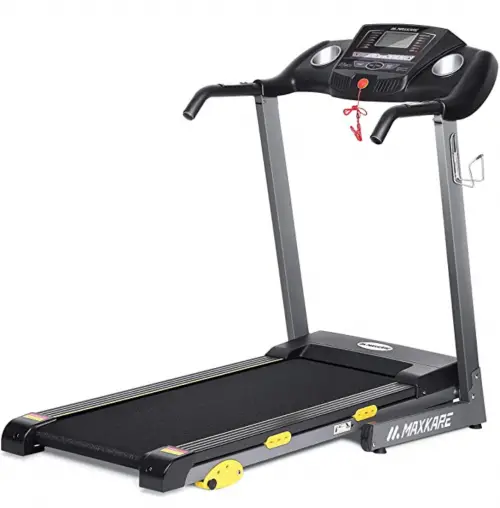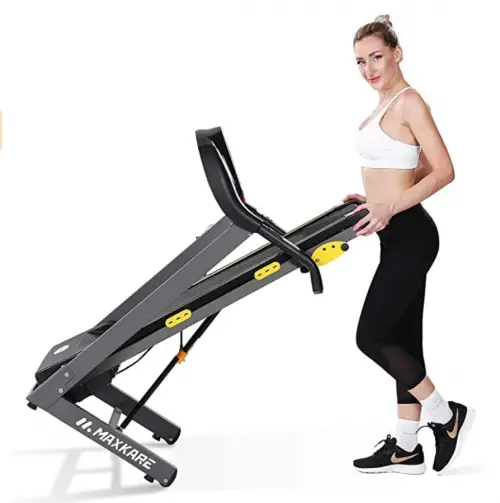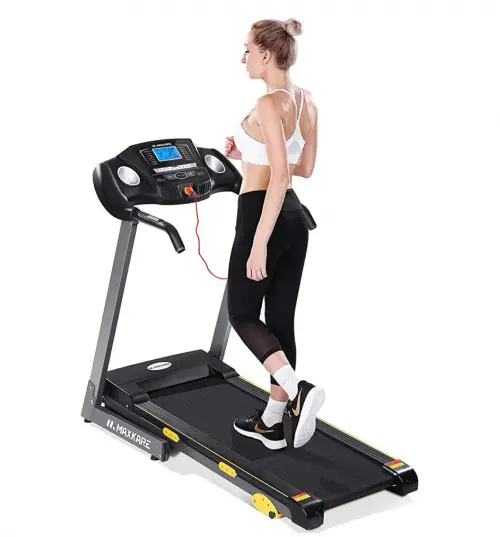 Foldable
Slightly wider belt
Affordable
Short belt
Difficult to assemble
If you want something that is simple yet packed with features, this design from MaxKare is a great choice. We loved that it has a belt that is slightly wider than most foldable models out there on the market and comes in at an affordable price point for an electric model. Plus, smart design features in the belt make fur a super smooth and easy ride.
Read more
What we liked most is found in the belt. Various layers of material keep things quiet and really help you maintain a safe and secure footing as you travel on the 17-inch belt. It even boasts a layer of EVA foam that helps absorb the impact of each step to be kind to your knees, back and joints.
This design is super compact, and it can fold completely in half for easy storage. It comes with a pair of transportation wheels that make it a cinch to roll it from room to room as you see fit. The detailed LCD screen shows important information such as times traveled, distance traveled, steps taken, and calories burned.
If you are in the market for something that is small and compact, comes with a myriad of useful features, and is offered at an affordable price point, this is a great choice that is worth a look.
Criteria Used for Evaluation

Style
You take great care in selecting furniture for your home, and the same goes for your workout machines as well!
Whether you are placing these machines in the garage, your home gym in the basement, or plopping it down in the middle of your living room - style is important. We wanted to make sure that we selected machines that were sleek and compact, and didn't take up a lot of space. Below, we wanted to get into a little bit of detail about the styles that we selected.
Treadmills have a long history of starting out as useful fitness tools, and then being retired to glorified clothes hanger in your bedroom. The truth is, you probably won't use a treadmill on days where the weather is warm, or days when the gym is open. That's why we loved designs that were foldable.
Many of the modern home-grade designs are able to be folded in half. Simply lift the belt to meet the dashboard, and lock it in place. Most machines have a set of wheels on the base that allows you to easily move your device from room to room.
While mobility is important on days where you can get outside and move, it is also beneficial to take your workouts on a tour around the house. It can often be a little demoralizing staring at the same bookshelf in your home office as you walk. When you select a design that is mobile, you can simply move your machine into another room for a fresh change of scenery.

Speed
Walking doesn't just have to be a leisurely stroll. While 30 minutes of walking every day- no matter what the speed - hosts a myriad of health benefits, upping the intensity gets your heart pumping even more!
That's why we wanted to also select designs that offer users various speeds to up the intensity on those days where energy levels are running high. Most designs out there on the market offer speeds that range from .5 miles per hour to an impressive 10 miles per hour.
You may have noticed that some designs have tops speeds of only 4 miles per hour, which may seem a little on the low side. However, if you have absolutely no intention of picking up the pace to a light jog, 4 miles per hour is all you will ever need.
On average, the standard leisurely pace of a human walking down the sidewalk or shopping is about 1-1.5 miles per hour. At a crosswalk, the pace picks up a little to about 2.5 miles per hour. If you want a heart-pumping powerwalk, 3-4 miles per hour is about as fast as you can walk without breaking out into a light jog.
With that said, for a walking treadmill that won't be used at all for running or jogging, top speeds aren't as important. Even machines on the slow end of the spectrum reach top speeds of about 4 miles per hour.
If you want to have the option to go on a little jog for days where you have more energy, be sure to select a machine that offers higher speeds that top out at around 10 miles her hour.

Power Source
There are more options out there than standard electric-powered machines. For those that want something a little more simple (and affordable), inertia powered designs are an option as well.
Before you take the plunge into the world of powerless machines, we wanted to get into a little bit of detail of the pros and cons of electric powered and powerless options.
Electric: These designs, as you can assume, plugs right into an electrical outlet. The benefit of electrical powered designs gives you more power than those that aren't. It means that you have the ability to adjust the speed as needed. It also means that they can lie perfectly flat or raised to an incline to change up your workouts.
The downside to electric options is that if you aren't careful, you can fry the electric motor. If the motor is fried, you have a large paperweight on your hands. Be sure you take care of the motor! We suggest plugging your unit into a surge protector instead of directly into the wall. Also, it's best to unplug your device completely after each and every workout.
Inertia: What's great about inertia is there are no wires tripping you up. These designs are insanely mobile, so feel free to move them all over the house! If it's a nice and breezy day, wheel it out onto the balcony for a little fresh air, or set it up in the garage. It also means that they have a longer lifespan with minimal risk of frying electric motors or moisture damaging the motor.
The downside to these models is that you need to power them, which means that speeds are a little limited. Plus, these designs are cocked at a bit of an angle - about 6 inches - so they force you to walk on a slight incline without the ability to adjust the pitch.

Weight
When we talk about weight, as are talking about how much weight the machine is able to support.
Various styles and designs are able to support a little bit extra weight than some of the other options out there on the market. If you are carrying a little bit of extra weight, there are a few things that you want to keep in mind.
First of all, many of the powerless designs don't support higher weights. From our research, many of these simple frames are only able to support weights that range from around 200-220 pounds. If it weighs anything over the limit, it doesn't mean the device will buckle under you like a wethered aluminum lawn chair. However, it means that higher wear and tear will reduce the life of your device.
Foldable devices are more resilient and support higher weights, but they live in the middle ground between powerless and standard designs. Most foldable options support weights between 220-250 pounds.
If you need something to withstand a lot of weight or something that is super stable with excellent durability, standard models are the way to go. These designs plug into a power source and take up a lot of room on your floor, but they are better equipped to take a beating and support weights up to 400 pounds!

Advanced Features
Everyone loves a few extra features to keep you on your toes at all times. Working out from home can be tough, both physically and mentally. Any tools you can use to help you push past any roadblocks are wonderful.
That's why we kept an eye on some advanced features to keep you active. Below, we wanted to go into a little bit of detail about the features we loved.
Apps: Some machines offer Bluetooth connectivity to allow for the use of apps while walk, such as iFit. iFit is a super helpful app that uses personal trainers to craft workouts that are suited for your physical capabilities and your lifestyle. This app can even make adjustments to the machine itself to push you even further!
It's important to note, however, that many of the more popular apps are only available via a monthly subscription. If your gym is closed, or you just can't get out to go to the gym as much as you like, iFit may be just what you need to motivate yourself to stay active!
Incline: Machines that offer even a slight incline are ideal. Walking on flat surfaces is great for engaging basic muscle groups, elevating your heart rate, and boosting your mood. However, if you raise the incline even just 6 inches, you can activate different muscle groups in your legs to get an even better workout!
Expert Interviews & Opinions
Most Important Criteria
(According to our experts opinion)
Experts Opinion
Editors Opinion
Users Opinion
By Default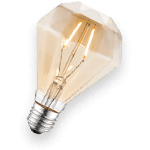 Tame That Sweet Tooth
While stuck at home, it's as if our minds are constantly taking a mental inventory of all of the chocolate stashes in your cupboards. While a treadmill can't slap a chocolate bar out of your hand, it can help curb cravings. Harvard Medical School published a study that found that even a brief 15-minute walk can help curb your cravings for sweets, and even reduce the number of sweets that you eat when stress levels start to rise.
Bolster Your Immune System
Fighting off viruses is important now more than ever. A study found that people that walked for just 20 minutes at least 5 days a week called in sick an impressive 43 percent less than channel surfers. Plus, if you do end up catching a bug, your heightened immune system is able to fight off the bug much quicker so you can get back on your feet quicker!
Lubricated Joints
Did you know that walking can actually help ease joint pain? When you walk regularly, the movement promotes the lubrication of your joints. Plus, it helps to strengthen the muscles that surround your joints to give them even more support.
Other Factors to Consider

Use
At the end of the day, you need this device to be simple to set up and simple to use. No one wants to spend a day that should be spent walking on the floor of their living room with a thousand pieces and a dense instruction booklet. That's why we made sure to select designs that were fairly simple to set up.
For a quick set up, you want a product that comes in two pieces: the bottom belt and the handlebars. We made sure to scour hundreds of user reviews to ensure that set up was a snap and did not require the need of a professional to set it up for you.
Once set up, we also wanted to select devices that were a cinch to use at the mere press of a button. While many machines offer various programmed workout settings, it's also important that they also come with a quick-start button. The quickstart button simple turns on the belt to a low setting as the dashboard monitors the time in use and steps taken.

Safety Hazards
Small features built into the device ensure that even if you take a tumble, the belt won't fling you clear across the room! It was important for us to select designs that offer safety features that automatically shut off the belt if you happen to stray too far from the dashboard.
In most cases, machines are built with a magnetized red clip that you affix to your shirt or your shorts. If you happen to slip, the magnet comes loose from the dock and automatically shuts off the entire belt.
Using the provided handlebars on the side and front of the unit is also important to maintain your balance if you are a little unsteady on your feet. Swinging your arms is great if you want a full-body workout, but sometimes you just need to steady yourself with the provided handlebars to prevent you from face-planting on the belt!
Frequently Asked Questions
q:

What are the features to look for in a treadmill for walking?

a:

All treadmills are not created equal. While some are built for heavy and powerful strides, others are designed for nice and easy strolls. So, what are some of the features to look for when you want to take it easy and just get moving?

The width of the belt is the biggest difference between the two. For walking, you can get away with a much thinner belt, which in turn saves you money and precious space. Many of the designs that we selected for our list have widths between 15-17 inches.

When you are walking, your strides are more narrow and controlled. When you start to pick up the pace, your strides are a little wider and less measured. If you want something that works for both easy strides and running, be sure to select a belt that measures between 17-20 inches wide.
q:

Can I still walk if I'm recovering from an injury?

a:

Of course! As always, be sure to consult with your doctor before taking on any activity level to not make your injury worse. Once you have the all-clear, walking is one of the best ways to keep active and keep your VO2 max high when you are limited on movements.

To ensure that you don't anger your injury, it's important that you select a machine that offers even a small level of cushioning. Some designs out there on the market provide a layer of EVA foam cushioning right in the belt, while others provide a suspension system that slightly absorbs the impact of each and every stride.

It's important to note that various impact absorption methods come at varying price points. If funds are limited, the EVA foam belts are a far more affordable choice than those that offer suspension systems.
q:

Do I still need to wear shoes?

a:

We know it may be tempting to go for a walk in your socks or slippers while at home. However, walking shoes provide more benefits than keeping your footing and protecting your feet when out on the trails.

A good walking shoe offers stability and support when walking on hard surfaces, whether it be a sidewalk, trailhead, or treadmill. Wearing shoes while walking helps to support high arches, correct overpronation, and protect your knees, lower back, and joints.

Besides, there is something that just washes over us whenever we lace up our old reliable walking shoes. It's as if your mind shifts from lounge mode to workout mode in a matter of moment without even leaving the house!
q:

How do I clean my belt?

a:

To ensure your machine lives a long life, annual cleaning is super important! We already touched upon the need to wear your trainers while workout out, and that means that all of that dirt and mud on the soles of your shoes will eventually wear off onto your belt.

When dirt and debris get caught on the belt, it slowly makes its way to the underside of the machine. Constant exposure to dirt causes the belt to get dinged and dented over time, which causes a bumpy and even noisy ride.

To keep things running smoothly, be sure to fully clean your belt at least twice a year no matter how much you use it. For some models, it is recommended that you clean it at least once a month.

Always consult the instruction booklet before you dig out your toolbox to take off the belt. Not all belts can be removed in the same way. Once the belt is removed, we recommend wiping it down with a belt lubricant.

If you don't have any lubricant on hand, don't worry! For quick and easy cleaning, simply use a slightly damp (not dripping wet!) cotton cloth and remove any dirt and debris before placing the belt back on the track.
q:

How can I get motivated to workout from home?

a:

The struggle is real. When you are at the gym, there are tons of prying eyes observing your workouts. If you walk on the machine for 3 minutes and then sit down and have a sandwich, people will judge. If you do this at home, there is no one there to judge!

So, how can you stay motivated when working out alone? There are tons of workout apps (for free) and subscription apps out there on the market that craft workout routines designed for your specific needs.

We love the fitness app iFit because it is compatible with most treadmills out there on the market. This app requires a monthly subscription, but it puts you in contact with a personal trainer that keeps you accountable and motivated!

Plus, iFit is able to control the settings of your machine, so it can actually adjust the speed and pitch of your belt as you workout.

Another great way to stay accountable is to recruit a fellow workout buddy. Even if you are stuck at home, video call them at the same time every day and go for walks together while staying at home!
Subscribe to our newsletter