Best Recumbent Bikes for Seniors Reviewed
last updated:
Apr 14, 2020
As we age, fitting in a great cardio workout can often be a painful endeavor. Your heart and mind may be willing, but your lower back and joints are not having any of it. This doesn't mean that cardio is off the table, it just means you have to invest in the right equipment.
Recumbent bikes for seniors get the heart pumping and blood flowing through the body without the strain and stress on your lower back. These bikes offer super comfortable seats that help support your lower back and easy pedals for natural movement. You can even adjust the resistance to help build muscles in your legs.
In this guide, we have compiled a list of 10 of the best recumbent bikes for seniors to keep your cardio game in full swing while still protecting your back and joints!
In a Hurry? The test winner after 7 hrs of research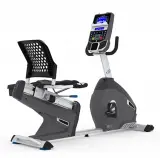 Nautilus
Why is it better?
Trusted brand
Easy to use
Comfortable seat
In a
Hurry? Editors choice: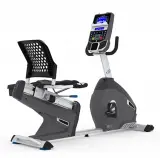 Test Winner: Nautilus

2
Researched Sources
840
Reviews Considered
7
Hours Researching
Effectiveness
Features
Comfort
Size
Adjustability
By Default
10 Best Recumbent Bikes for Seniors
Criteria Used for Evaluation

Effectiveness
At the end of the day, you want to know that your machine is helping you stay healthy. The main goal here is to elevate your heart rate to send blood pumping to your muscles and to take the pressure off of your joints and lower back.
There were a few things that we took into consideration to ensure that each recumbent bike for seniors that we selected gets the job done.
Resistance is super important! While using your machine on the lowest setting will elevate your heart rate, it won't build as much muscle as those on a higher setting. That's why we wanted to make sure that we selected machines that offer a wide variety of tension settings to make the most out of your workouts.
Many of the designs out there on the market typically have resistance settings that start out at 1 one and work up to an 8 by turning a knob at the base of the unit. The higher the resistance, the harder your legs need to work to crank the pedals. The harder your legs work, the harder your heart pumps to deliver much-needed blood to your legs.
When you set the resistance to a higher level, your heart rate elevates quicker. If you have a limited amount of time to squeeze in a workout, setting the resistance to a higher level will allow for the same heart workout as you would get during a longer workout on a lower setting.
Resistance levels not only help to build muscle, but they also allow you to adjust the type of workout you get every time you lace up your sneakers to go for a ride.

Features
Some of the features found on many models allow you to easily track all of the progress that you make. We wanted to make sure that we only selected machines that come with the most important features, and we did not select designs with complicated features that you may never use.
Below, we will talk about some of the features that we feel are most important.
Heart rate monitor: The aim of the game is to get that heart pumping! To burn the most calories and get your heart strong, you need to get your pulse to your ideal heart rate. That number varies from person to person, so it's important to find out what that number is for you.
In most machines, the pulse is detected by a metal plate on the handlebars of your device. When you want to check in on your heart, simply place your hands on the metal plate and wait for your number to appear on the screen. Ideally, you want to be withing 55-85 percent of your max heart rate for 20 minutes per day for ultimate heart health.
Bluetooth compatibility: Workout our from home can be rough. There are no fellow gym-goes to impress or talk to, and very limited accountability if you live alone. However, connecting your device to your machine gives you far more options and workout programs to help you stay motivated.
Apps such as iFit connect you with personal trainers to make workout programs designed specifically for your needs. Some apps, such as Explore the World, make you feel as if you are cycling along scenic countryside instead of next to a shelf of paint cans in your basement!

Comfort
If it's not comfortable, you are less likely to climb aboard for your daily workout.
That's why wae wanted to make sure that we selected machines that provided users with a comfortable ride that cradles the body, but is also breathable. You want these seats to support your body so that it takes the strain off of your back.
Many of the higher-end models out there on the market utilize a curved high back that feels like it almost hugs your body. These designs often have a mesh back that isn't as stiff and harsh. It also allows for your body heat to escape through the back to keep you from overheating as you turn up the intensity.
A comfortable seat is just as important as the back. The seats on these designs are not like your typical upright bicycle. Recumbent seats are designed to be more like an actual chair that is very cushioned and contoured to the shape of your body. We wanted to make sure that we selected wide chairs to accommodate a variety of body types.
To ensure a comfortable ride, we combed through hundreds of users' reviews and weeded out machines that were just downright painful. There were quite a few designs that had seats with uncomfortable bars that dug into their backs, and we made sure to leave those designs off of our list!

Size
We realize that not everyone has a lot of space for big and bulky machines in their homes. Space is a valuable commodity, which is why we made sure to stick to designs that had a smaller footprint.
Unlike foldable upright bicycles, these machines have a long history of taking up a lot of room in your home.
However, there are some designs out there that utilize small changes in the design to save you on space. One of the biggest improvements in these designs is the size of the flywheel. Traditional models often use a large fan flywheel to generate power.
These fans are often big and bulky, and make a lot of noise on higher settings! To save on space, we selected models that use magnetic resistance or a friction belt system that is smaller and more compact.
To make it easier to climb aboard without tripping you need to leave at least 18 inches between your machine and other pieces of furniture or equipment. Many of the designs that we selected are generally lightweight and easy to move. This means that you can move it in front of the television to fit in a workout while you watch TV, or you can move it back into a bedroom for a little peace and quiet.

Adjustability
Not everyone is built the same, so making adjustments needs to be quick and easy. We wanted to make sure that we selected designs that were easy to change and didn't always require the use of a complicated digital screen.
Generally, there are two areas on the machine that is able to be adjusted to fit the needs of the rider. The first thing that needs adjustment is the seat, and the second thing that needs adjusting is the resistance on the line of the flywheel.
For adjustments on the seat, we preferred designs that placed the seat on a track and had the users move the seat up and down on the track and tightened it into place. This method allows users to make smaller adjustments to find just the right spot that works for them.
Some of the more affordable models allow users to make adjustments to the seat by moving the entire back of the unit back or forward and screwing it into place. While this technically works, it demands that the users lift up the back of the device, which is a little less than ideal.
Expert Interviews & Opinions
Most Important Criteria
(According to our experts opinion)
Experts Opinion
Editors Opinion
Users Opinion
By Default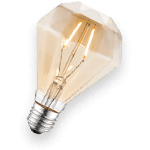 Be Kind To Your Joints
If you find that you suffer from back, hip, and knee pain on a daily basis, it is important that you listen to your body. A recumbent bike is an excellent tool because it allows you to get your heart pumping without the strain and stress on your tired joints. If you feel that your back is still aching after using your machine, it may simply mean that you need to make adjustments to the seat to find the right spot for you.
Slow and Steady
When starting a new workout regimen, it's important to take it nice and easy. New workout equipment is super exciting, but be sure that you don't overdo it on the very first day! As always, if you are unsure about taking on a new workout be sure that you talk to your doctor to get the all-clear before lacing up those sneakers.
Fuel your Recovery
To fight off sore muscles that often follow a great cardio workout, be sure to indulge in a post workout smoothie after you are finished! A good recovery drink is packed with electrolytes to help replenish wrung out muscles, and carbohydrates and protein replenish depleted energy sources. With a good recovery drink, you can actually help mitigate some of the soreness that may follow you into the next day.
Other Factors to Consider

Style
Of course, style is always important. Whether you are placing this machine in the middle of your living room or adding it to your collection of fitness gear in your basement or garage, you want it to look good!
That's why we made sure to include designs that had a sleek and modern appearance that really makes them stand out from the rest. It was also important to select styles that had a smaller and more compact frame that wouldn't dominate all of your floor space in your home.
A powder-coated finish to any steel or metal gives the frame a great shine and really makes bright colors pop. Not only does powder-coated medals add a pop of color, but that is also a lot easier to wide down and clean. Due to the fact that the surface is slick, dusk and debris slide right off with a wet cloth.
While a powder-coat finish may look sharp, it's important to note that they are prone to chipping. To keep your machine looking like new, we recommend keeping it free and clear of any other equipment that may rub against it and cause the paint to chip.
Frequently Asked Questions
q:

What makes recumbent bikes different?

a:

The main difference between these machines when compared to upright units lies in the seat. These machines boast a comfortable seat that has a high back to give your upper body more support so you can focus on elevating your heart rate and building muscle in your legs.

The angle of the pedals is also a little different from traditional bicycles. Your body is cocked at a slight angle, which takes the pressure off of your legs. This angle helps promote the circulation of blood throughout your legs, which is super important for seniors!
q:

What features are ideal for seniors?

a:

As you age, your joints become worn down with use, which means that you feel the impact of each and every step more than when you were younger. This can make it difficult to really get in a workout that elevates your heart rate without your joints becoming upset.

Cardio machines such as treadmills and upright bikes elevate your heart rate but can be damaging and painful for tired joints. By cradling your body and joints in a high-back seat, you have the ability to elevate your heart rate while supporting your lower back.
q:

Do they require much maintenance?

a:

To ensure that your machine has a long and effective lifespan, annual maintenance is important. Many devices fail when dust and debris clog up the internal components or the flywheel, which can cause damage to the belt.

When the belt becomes damaged, weak points start to grow which can actually cause the belt to snap over time. Furthermore, debris that collects on the belt can cause annoying squeaking, or even affect the level of resistance on the belt.

We recommend that you clean your unit at least twice per year. Many user manuals even suggest cleaning your device at least once a month! To clean the internal components, simply remove the casing and use a damp cloth to wipe away any dust and debris from the belt as well as the flywheel.
q:

Where is the best place to set up my machine?

a:

The answer to this question boils down to a matter of personal preference, but there are a few things to keep in mind before you set up your unit.

First of all, be sure that you give yourself at least 18 inches of space between your device and any other piece of equipment or furniture. This allows you to easily slip on and off of your unit without tripping.

The second thing you need to consider is what do you want out of your workouts? If you want peace and quiet and solitude, we suggest placing it in an idea of your home that isn't very frequent, such as the basement or the garage.

If you want to stay updated on all of your television shows while keeping active, there is nothing wrong with placing it in the living room! There are tons of designs out there on the market that are fairly small and compact, and offer a style that looks great in any living room!
q:

Do I have to use the pedal straps?

a:

Yes! No one ever seems to want to actually use the pedal straps, but it is super important that you take the time to strap yourself in! Given the angle that you pedal on these machines, it's even easier to have your foot slip off of the pedals as you start to pick up speed.

While a slipped foot won't cause an injury to send you to the emergency room, it could cause you to scrape up your shin, which is super painful and unpleasant! Save your shin, and make sure you strap in every single time.
q:

What muscle groups do these machines work?

a:

The most important muscle that these machines work is your heart. Elevating your heart rate sends blood pumping through your body, which feeds your muscles and actually makes your heart stronger. Many of these devices come with a heart rate monitor on the handlebars, so be sure to check in on your heart from time to time to ensure you are in the zone.

Aside from your heart, pumping the pedals helps to strengthen muscles in your legs. The primary muscles at work are those big muscle groups such as your quads, hamstring, and glutes. It also helps strengthen your ankles as well, which is super beneficial for seniors!
q:

Do I need to wipe down my device even if I'm the only one using it?

a:

Protocol at your local gym tells you that you need to wipe your device down after you are finished using it. The reason behind this rule exists for a few reasons. The most important reason is that you are clearing off any sweat and germs for the next person that climbs onto the machine.

If you are the only one that uses the machine, do you really need to wipe it down? The answer to that question is yes. The other reason gyms require you to wide down your machine is to prolong the life of the machine. Sweat and body oils actually break down many of the fabrics on these machines if they are not removed after use.

We suggest that you take a damp cloth after your workout is complete and wide down the seat as well as the handlebars to ensure that they hold up well over the years of continued use.
Subscribe to our newsletter