10 Best Shoes for CrossFit Reviewed and Rated
last updated:
Apr 26, 2021
What are the best shoes for CrossFit? It's a tough question to answer because today most of the major athletic shoe manufacturers have entered the CrossFit market and the result is some of the most breathtaking, high-tech footwear known to man.
Lightweight, versatile and durable as all get-out today's top-rated CrossFit shoes are light years ahead of athletic footwear or even a decade ago and picking a CrossFit shoe like the 'best' is no easy task. Pick a shoe, put on a weightlifting belt and get going with your next workout.
This is the best product on our list that is currently in stock: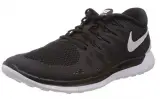 Nike Free 5.0
Why is it better?
Supportive
Stability
Good comfort
Nice Breathability
Solid grip
Stylish
44
Researched Sources
9k
Reviews Considered
18
Hours Researching
14
Products Evaluated
Breathability
Comfort
Stability
Support
Style
By Default
10 Best CrossFit Shoes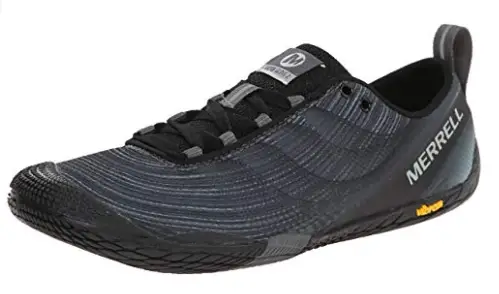 Good support
Flexible
Nice structure
Breathable
Impressive traction
Protective
Light
Good Stability
So let's kick-off with a shoe for the lady trainers.
The Merrell Women's Vapor 2 is a very solid barefoot shoe. It provides you with a very durable and dependable Vibram outsole. Great flex so when you bend so do the CrossFit sneakers. Structurally these give a near-perfect amount of cushioned and shoe structure support.
Read more
The footbed has been integrated as one with the outsole, enhancing the minimalist experience. This version 2 of the Merrell is even lighter than the original so that your workout will feel as if there is nothing on your feet.
The upper of this shoe is constructed from mesh and TPU materials, giving both security and breathability. A FRESH odor wicking coating over the mesh lining adds to the comfort level of these shoes for CrossFit.
2

. Nike Metcon Trainer 3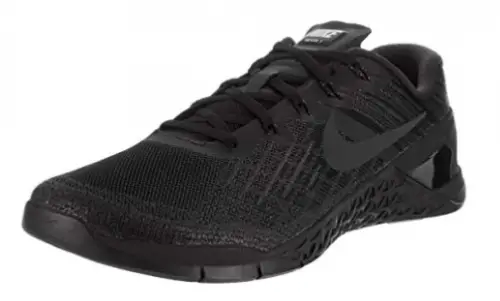 Good grip
Breathability
Supportive
Nice Flex
Durable
Stylish
Metcon is short for Metabolic Conditioning and these shoes are certainly one of the best sneakers for CrossFit you can buy. Definitely a shoe you want on your feet when facing a daunting WOD.
Nike doesn't offer quite as many models of shoes for CrossFit as Reebok but the ones it makes are serious footwear. Nike seems to always find a way to reduce bulk while retaining both comfort and performance. A nice trick that allows the shoes' good looks to shine through.
I particularly like the comfort and FIT, lot's of flex when it is needed, breathability is sound and the shoe structure gives good stability. These shoes are certainly durable and up to the task, lot of comfort, nice style and a good shoe for working out.
Read more
With their outstanding Romaleos weightlifting shoe Nike took on segment leader Adidas and their Adipower. They seem to have taken the same approach to CrossFit with the Metcon taking aim squarely at the shoes for CrossFit by the leader of this segment, Reebok.
Learn more about the CrossFit sneakers by following the details.
4mm drop
Stable and flexible throughout
The lightweight, breathable upper mesh
Flywire filaments buttress structural integrity
3

. Reebok CrossFit Sprint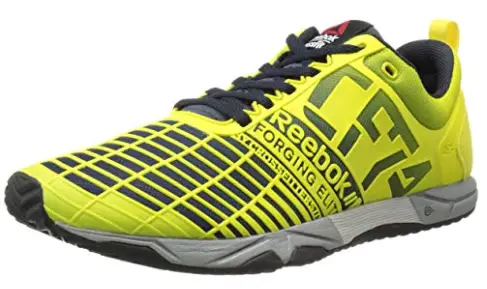 Style is nice
Support
Breathability
Quick light shoe
Grip-traction
Comfort
The CrossFit Sprint is one of the best sneakers for CrossFit and effortlessly combines high-grade materials, quality construction, and high-performance.
Wearing these give bags of support, ongoing comfort, nice reliable breath-factor and they look great. This is a very light and fast shoe especially popular with ladies.
Read more
It features the cushioning of a running shoe along with the lateral support and lockdown stability of the better Oly weightlifting shoes. Reebok's heat resistant lining keeps your feet cool when things heat up and the styling is second to none.
Features include:
Reinforced toe wrap for forefoot protection
Excellent shock absorption qualities
Flexible and breathable
Durable PU upper
Read the full review on Reebok Sprint TR shoes, and learn what they have to offer.
4

. Inov-8 Men's F-Lite 235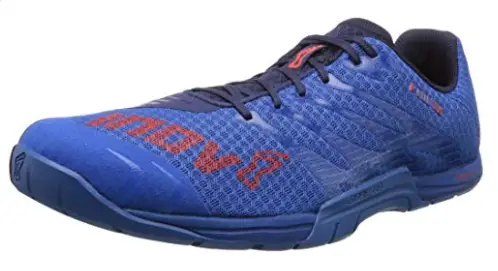 Comfort
Support
Stability
Traction
Breathability
Durable
Some say the shoe looks long
The Zero Drop midsole has Power Heel material, which is 40% denser. This delivers maximum stability. The forefoot of the CrossFit shoe provides more shock absorption for box jumps and other plyometric moves.
The Toe Bumper on the show has been completely reconstructed to provide maximum protection against burpee fatigue, while pressure venting keeps your feet cool and dry.
Read more
The Inov-8 Men's F-Lite 235 is lighter and has increased durability over the original 235. It also provides a more snug, secure fit.
The sticky rubber outsole gives unbeatable grip. The 360-degree Rope Tech design makes it easier and safer for you to perform rope climbs.
Next-generation Meta-Flex technology allows for optimum forefoot integrity. This is a high performing best CrossFit sneakers for men with many good built-in features all of which give top performance.
5

. Reebok CrossFit Sprint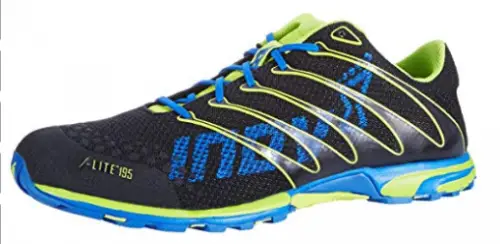 Comfort
stability
Support
Breathability
Minimalist
Inov-8 shoes have made their reputation by transcending expectations and the F-Lite 195 is yet another example of that.
The CrossFit shoe has a stable upper for great foot support and good breathability, for great flexion, a meta-flex groove system has been designed into the shoe, this shoe sports a really nice minimalist design.
Read more
The F-Lite 195 is not only an excellent shoe for running and roping but another of the top weightlifting shoes for CrossFit.
Stable, lightweight and long-lasting the F-Lite 195 keeps pace with the ever-evolving world of CrossFit.
Features include:
3mm drop
Firm yet breathable upper
Contemporary minimalist look
Meta-Flex groove system promotes natural foot flexion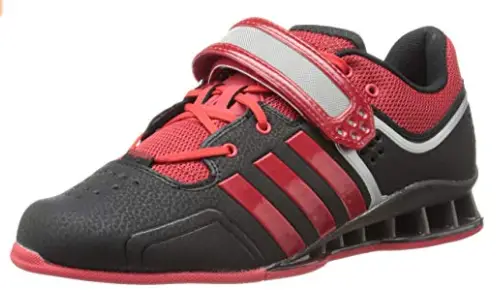 Very good stability
Nice support
Good cushion
Great build
Breathability
Adidas is known more for their weightlifting shoes than their shoes for CrossFit yet their Power Lift Trainer are excellent shoes for CrossFit and, perhaps surprisingly, there are those who believe the legendary Adipower to be top-notch weightlifting shoes for CrossFit as well.
A good reliable shoe offering nice grip, lots of support and reliability, typically stylish along with Adidas designs.
Read more
When it comes to the Adipower for CrossFit the thinking is that you gain so much in terms of your performance with the weights that any edge you may lose during an outdoor run is inconsequential, which makes them a great pair of the top CrossFit sneakers.
Key features of the Adipower include:
Incredible stability
Top of the line build quality
Distinctive, cutting edge style
Improved ventilation and breathability
As stated, as long as you're not taking this CrossFit shoe outside for a 10k on a wet track you should find it excels within the confines of the box, especially during Olympic lifts.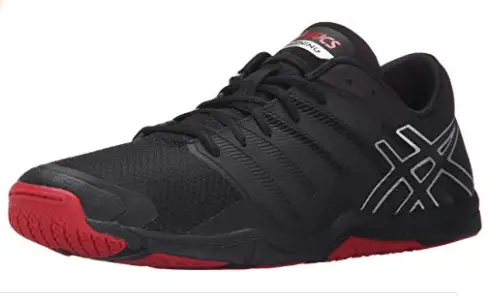 Protective toe cap
Support is good
Reliable grip
Breathability
Flexible
The Asics Men's-metconviction features a breathable mesh and synthetic upper with a non-scuffing rubberized toe cap which will keep the shoe looking nice and new for a long time. It has a lace-up closure with a breathable mesh interior, along with a cushioned comfort dry sock liner.
Read more
Asics are so well known for great shoes and they have a huge following in the running game.
Though they make good running shoes, they also dabble in shoes for other athletes and the quality and performance is attracting a lot of positive and supportive attention, the name brand is good and so is the shoe.
The EVA midsole provides excellent bounce-back and durability, making this pair one of the best CrossFit shoes for running. Asics high abrasion rubber on the sole provides a good level of durability while keeping your nice stable yet still providing the flexibility you need.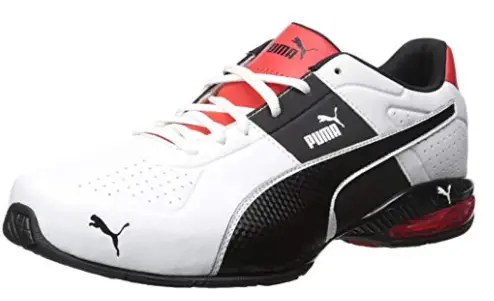 Comfortable
Mid-range stability
Supportive
Breathability
Some say, more flex, please
From the 10 cell models and giving a new fresh appeal, a really light CrossFit shoe, comfortable on the feet and with a good amount of breath-factor, the CrossFit shoe looks casual but it is up to give a performance for cross-training.
Very comfortable for regular workouts and gives a good feeling for support and needed flexibility.
Read more
The CrossFit shoe has an appealing style and above mid-range performance.
Lots of underfoot cushions and the heal are offers a lot of support during workouts, the breathability feels good even though the shoe is fully synthetic, the ventilation system works well.
The uppers are strong and give a good amount of stability through the shoe will give flex as and when it is needed.
The shoe weighs in at a medium weight of 12 ounces and works nicely in the gym and equally well for running. The amount of cushion in the shoe feels mid-range and comfortable. The grip is impressive and reliable.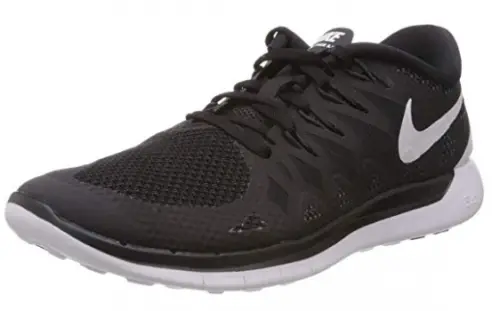 Supportive
Stability
Good comfort
Nice Breathability
Solid grip
Stylish
The Free 5.0 is notable for its array of styles, impressive build quality, and grip that really needs to be experienced firsthand. Said grip comes courtesy of the hexagonal rubber sole construction and is simply the best available on any CrossFit sneakers.
Read more
For CrossFit sneakers, this hits the mark in nice performance and nice price, for a specialist CrossFit shoe it comes close to budget price while giving as brand name and performance which has been tried, tested and accepted.
The CrossFit shoes give reliable comfort, a good amount of stabilizing support, the breathability keeps the feet comfy during a workout and the shoe grips nicely.
The zero-drop will do you well when powerlifting and the ultra-lightweight construction and aforementioned crazy grip will have you ascending the rope like Tarzan. Hard to believe but these discount CrossFit shoes retail at an easy price, which makes them a clear choice for most affordable CrossFit shoes.
10

. Reebok Crossfit Nano 8.0 Flexweave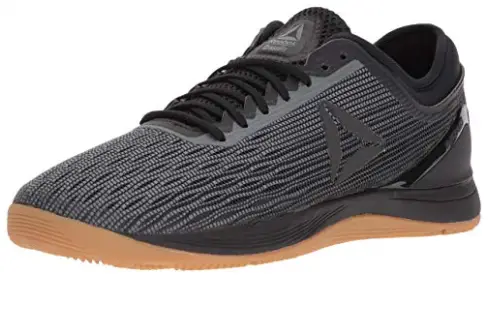 Comfort
Reasonable support
Good grip
Breathability
Some have questioned the overall level of support
In February 2019 Reebok introduced the Nano 7 to a lukewarm reception. It had a stiff sole, was narrow and had an uncomfortable cage. The stiff midsole did make for a great weightlifting shoe but it wasn't ideal for CrossFit. Six months later Reebok updated the shoe and released the Nano 7 Weave, has it done better, read on and find out.
Read more
This is a flat out a replacement for the Nano 7. The weave features two uppers. There is the original mesh upper which provides breathability and the new Nano weave upper which holds your foot in place and makes the shoe fairly durable. The Nano weave is made from thin plastic fibers. This updated version features a seamless weave, giving the shoe a much more elegant and simple look.
There is also more padding in the tongue and heel counter areas of the shoe. The toe box and midfoot on the Nano 7 Weave are also slightly wider than previous versions.
These CrossFit shoes feature a 4mm heel to toe drop. Forefoot flex grooves and a high abrasion rubber outsole provide maximum grip and performance when you're pushing through your WOD.
Criteria Used for Evaluation

Comfort
Comfort means no distractions
There is not much more distracting than a CrossFit shoe which offers all the best performance features but fails badly in terms of the comfort factor.
We look, we cross-referenced comparatively to find shoes that will put up to a good standard when it comes down to comfort. The factors we looked at were important, FIT was a must and we looked for shoes from brand makers which showed a good consistent history for producing well-fitting sports shoes for running or in the gym.
Another factor and very important is the materials which are used in constructing a pair of good CrossFit shoes, where the majority of materials are synthetic, we wanted to see the use of innovatively designed in features which allow very good ventilation so that sweating feet are able to dispell moisture effectively.
We looked at how well the CrossFit shoes are secured to the foot, in particular, the lace-up system, how effective it is while ensuring features such as padded tongues to maintain comfort.
We take comfort very seriously and when choosing this selection of shoes we have worked positively to produce what we believe to be the best current offerings for mid to high-level comfort.

Breathability
Without breathability, a CrossFit shoe will never feel right
Our research took us hot on the trail to hunt down and asses the level of breathability given out in different shoes.
We looked for features that proved that the shoemaker had carried out pre-research before making the shoe, the features needed to show innovative reliable design to ensure that the breathability designed into the shoe, really does work and that it stays consistent in terms of performance.
Ventilation and breathability work hand in hand to keep the feet dry, wet feet do mean wet socks, lots of friction and resulting in painful blisters. So, we have selected a good choice of shoes which we believe score highly for breathability and comfort.

Stability
Stability is a must have for athletes
We looked seriously closely at stability because, without stability, runners, cross-trainers, and athletes will not only be held back for performance, they also risk injury.
We looked for built-in features which have a specific purpose for enhancing and maintaining the CrossFit shoes stability while not detracting from the other performances required from a sports shoe.
Research also covered the design of the shoe in an overall sense to ascertain that the shoe gives overall stability and not just stability for certain areas.
We were very impressed with this selection because the makers have clearly understood the importance of stability and they have been very innovative in their various designs to ensure that stability sits at the top of the list for being built into this nice selection of the best CrossFit shoes.

Support
Support most be overall or it won't work
We factored in that the need for support must not only be for the overall shoes, but it requires specific features that target the feet and ankles.
Starting at the bottom we looked at the sole of the shoes to ensure that flexibility worked in combination with grip and support. The heal areas were of high interest because heels take a lot of impacts and we wanted evidence of support that this was designed positively into the shoes CrossFit as a support need. Cushion and foot arches were features we considered for particular CrossFit sneakers which claimed to offer foot arch support or advantages.
Ankle support where needed for certain types of shoes is highly important and we found good evidence that when a shoe claims to offer specific ankle support, designers had been creative and ensured the support is there in place.
We were able to conclude and see in our choices that shoemakers view the entire shoe and it's parts for construction as contributors towards support together.

Style
Style can give a sense of pride
It was very interesting to look at the different styles of CrossFit sneakers offered by different brands.
We noted that serious competition is constant between brands to produce shoes that offer a sense of sporting style along with any current hot fashion trends.
Another factor that influences style is the purpose of the CrossFit shoes, for example, a sprint shoe, a trail shoe, a cross-trainer shoe will all have similar profiles as a shoe but the design and styles will clearly be different.
We choose a good selection of shoes for CrossFit all offering their own unique styles so that you have a nice range of choices.
Expert Interviews & Opinions
Most Important Criteria
(According to our experts opinion)
Experts Opinion
Editors Opinion
Users Opinion
By Default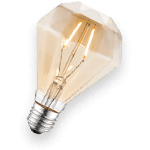 Durability
Cross-training shoes must be seriously durable.
When you are looking to get a pair, take a close look at the materials used for building the shoe, do they look and feel durable? carry out some helpful research on the best, materials, you can pick up info on this via articles and buying guides online.
Put some time into learning about materials so that you are equipped to make the best decision for which shoes you choose to get.
Style and Fashion
Think about style when you shop for those new cross-fit training shoes because the style does have an impact on how you feel.
Brand makers are very aware of this and they put a lot of research, man-hours and money into producing styles that appeal to people because by doing this they up their own sales, become popular and stay ahead in the shoe market.
Look around at all the styles on offer, you will be surprised by what's out there, take your time, be selective and choose a shoe with a style that matches your preferences.
Frequently Asked Questions
q:

Are running shoes and Cross-trainers very different?

a:

Yes, there are many differences, running shoes are designed differently for cushion, grip, weight, and overall function. You can run in CrossFit shoes but if you do it's best to just do moderate running.
q:

If I pay more will I get a better cross-trainer shoe?

a:

Though the question seems ambiguous, it's a good point. The truth is that when you choose a brand CrossFit shoes, the more you pay, the better the features, quality, and performance. Brand shoemakers will put out expensive shoes which are a result of serious research and built with the highest possible quality materials.
q:

Do cross-trainer shoes last long?

a:

This will depend on a variety of factors.

How often you use the shoes and to what level of intensity? If you buy a higher-priced pair of the best CrossFit shoes they will have a higher durability value and they will last longer, mid-range shoes will be pretty much the same. It is all about how much you are willing to invest in a shoe to get a longer-lasting product.
q:

Are cross-training shoes, sports specific?

a:

Generally in the eyes of the shoemakers, yes they are. This does not mean that they cannot be used for activities though there will be question marks for how well the shoes perform for a sport for which they were not designed for.
q:

Are budget cross-trainer shoes worth the money and time?

a:

If you do a minimal amount of training, budget shoes may well work well enough. If you are a serious regular trainer, budget shoes are not designed for that level of use and it won't be long before you need to replace the CrossFit shoe.
Subscribe to our newsletter