Top 10 Ankle Support Braces Reviewed and Rated
last updated:
Dec 10, 2020
Your ankles take a lot of pounding in the gym. Whether you're on the treadmill, in the squat rack, or doing box jumps, they endure a whole lot of pressure and lateral force. It's no surprise, then, that ankle injuries in the gym are very commonplace. The best ankle support brace can give you the extra strength and protection needed to avoid becoming another statistic.
In this article, we review the Top 10 options on the 2019 market.
In a Hurry? The test winner after 17 hrs of research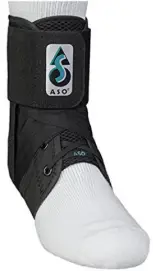 ASO Stabilizer
Why is it better?
Elastic Cuff Closure
Stabilizing Straps
Ballistic Nylon
Bilateral Design
In a
Hurry? Editors choice: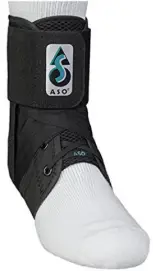 Test Winner: ASO Stabilizer

42
Researched Sources
8.5k
Reviews Considered
17
Hours Researching
14
Products Evaluated
Use
Effectiveness
Materials
Support
Style
By Default
10 Best Ankle Braces for Ultimate Support
Criteria Used for Evaluation

Use
If you ever suffered from any type of ankle injury, you are probably well familiar with ankle braces. They keep the poor injured ankle in place, and surround the weakened surrounding tissues and help them heal faster. But what if you don't have an existing injury and still want to wear a brace?
Ankle braces first gained traction back in the 1990s. This is because of the new design, and this design made them a much cheaper option compared to kinesiology tape, which needed to be used again and again. Today, we can see many different styles of ankle braces, all supporting our ankles, more or less, well adjusted to the sport we are into. They usually sit around our ankles to help us heal faster from an existing injury, as we mentioned, or to help us heal faster from one.
Although an ankle brace makes ankle injuries less probable when an injury does happen it will not be less severe than it would be usually. The internal support that makes up your ankles is made out of the tiny bones, ligaments, tendons, and muscles, that work like a well-oiled machine. These parts also connect your ankles with the rest of your legs, namely your knees and hips, which all work together to help you perform. The best ankle braces are just extra help for your body, and they stabilize your ankles to work even better. Inversion and eversion are terms that involve the movements that tilt the sole of the foot away from or towards the midline of your body. Away is eversion, and towards is an inversion. An ankle inversion is a type of strain in which the lateral ligaments end up getting too stretched and the anterior talofibular ligament is most commonly involved in this particular type of ankle sprain. The majority of all ankle sprains typically occur due to inversion injuries. An ankle version is the opposite of inversion and involves the peroneus longus, brevis, and Tertius which are the three muscles that are involved in an everted ankle injury. The braces keep the ankles from doing just this, making them a very useful tool.

Effectiveness
Ankle braces can help an individual avoid an injury and when there is a sudden movement in which the foot is perpendicular to the actual direction of the movement, a ligament injury can occur. An ankle brace would have kept the ankle in a more stable position and could have helped prevent such an injury.
If you are wearing an ankle brace due to an injury, then you will likely be wearing it anywhere from ten days and possibly even up to a total of six weeks depending on the severity of your injury. It should at least be worn until the signs of swelling, pain, and instability have diminished.
Ankle braces are very useful to athletes because they give very strong ankle protection when they need their ankles to be stable. The ankle support braces also help with swelling and pain. The most common way to injure your ankle is the ankle sprain - this is where your rolls on the side, resulting in severe pain, and after that, swelling and tenderness. If you hurt yourself this way, you will need a brace with a sturdy, either plastic or metal construction but only on one side, to help your ankles stay in place. By doing this, your injured tendons and ligaments have time to heal, while the pain and swelling go away. If your ankle also rolled outwards, then your brace has to have support on both sides.
But what if you just want to use the brace as support, not to heal your injury? Well, when you wear a brace like that you lower the risk of having an injury, you can avoid possible future injuries, especially if you are prone to them. Ankle braces are also affordable, and much more effective than the taping method which has been around way before the brace was. They are superbly designed - athletes can wear it no matter when, as long as the brace doesn't hinder his or her performance. But some athletes fear that the brace will weaken their muscles and make their ankles more unstable. This is true if you don't wear the right brace style for your sport. So make sure you have the right type of brace and it will definitely be effective.

Materials
The material your ankle brace is also a major role. Before everything else, it might change the breathability a brace has. The last thing you want is to restrict your feet from breathing while you work out! This will also make sweating more profuse, and they will then be susceptible to bad odors, which are prone to happen anyways simply because feet tend to sweat a lot. The support and fit will also be different because of the material, so you need to make sure that you've got the right brace before actually using it!
Most of the braces found on the market are made out of neoprene, which is what we will focus on. If you love going for a swim, and if deep-diving excites you, then you probably already know what Neoprene is, or at least you've encountered it without knowing it. It's the rubbery thing that makes up your diving suit! It was created from the very same thing, at almost the same time as nylon, and that thing is plastic! Some very sciencey people at DuPont were working with plastic polymers around the 1920s, and it was then that they had a breakthrough and spotted one that acts the way natural rubber does, and then gave it the name DuPrene.
It was renamed to neoprene in the 1930s, and then the production exploded because of World War II. Once people realized how convenient and great it actually is, demand for it started to rise, and we simply have it around every corner today, and many of it is in our ankle braces. Neoprene is resistant to wear and tear and stays firm for as long as it can. It can also withstand a very big temperature range, meaning it won't fall apart if you leave it in the car or if it gets too cold. It's squishy and soft like foam, so it also acts like additional padding. But, neoprene has its drawbacks, and that's breathability. It is not so breathable, so it will never cover your body completely, it will usually be with nylon, lycra or velcro.

Support
The amount of support is arguably one of the most important factors for ankle braces, which is why you shouldn't overlook it. An ankle brace can either super supportive, almost to the level of immobilizing you, or they can just be a tighter hug. How much support you need will be determined by what sport you are into, and by how healthy you are.
The support a brace offers is affected by a lot of things. First things first, the support ankle brace provides will be affected by material. Nylon is the most pliable one, especially paired up with elastane. This is the right brace for you if you do not have an injury and are into running, for example. Sometimes, the brace has a plastic or metal skeleton, which makes the braces rigid and slightly heavier. This is what you need if you are injured because the cage will give you all the support you need. The amount of support can also be determined by the closure.
A simple, elastic brace that looks like a sock will give you a little bit of support. On the other end of the spectrum, we have lace-up braces and braces that wrap around your ankles tightly. The best ankle brace will keep your foot super still and are just what injured folks need. Hinged braces are a special kind because they keep your ankles still in place, but still, have elements that make them very flexible!

Style
There are several different models of ankle support braces available that cover a variety of injuries and concerns. Each ankle brace boasts of its own effectiveness, comfort, and stability. When it comes to an ankle brace, the size you pick up really does matter. It won't be as effective if it does not properly fit your foot. You should always follow all instructions on how to use it as well.
Ankle tape, on the other hand, is used most often by athletes and actually costs more to tape then it does to purchase an ankle brace. The tape cannot be reused so you will constantly have to be buying tape rather than just keep using the best ankle support.
Now let's mention ankle braces made for specific sports. Running and ankle pain seem to go hand in hand. The constant pounding on the joints can have a cumulative effect that may cause Achilles tendon damage, shin splints, or worse. There are a number of things that runners can do to minimize their risk of an ankle injury. These include running on softer surfaces such as grass and dirt, wearing shoes that have been orthopedically designed for their gait type, replacing their shoes regularly, and doing proper warm-up exercises. However, the most effective way to prevent sprains and strains, as well as providing relief for existing injuries, is to wear adequate support. Ankle braces provide the best protection for runners from sprains and strains to the Achilles area. Finding the most effective ankle brace for your running needs, however, is no easy task. The market is literally swamped with all manner of ankle braces, each claiming to be the ideal product for your running needs.
Did you know that 40% of all basketball-related injuries are ankle sprains? While, you can and should strengthen your ankles with specialized training devices such as wobble boards, the best way to prevent an injury is to wear a support brace. It will absorb the impact of landing and prevent ankle roll. You will also gain confidence when you enter the court with a sore ankle.
When you are shopping for basketball support for your ankles, you need to consider the fit, comfort, and durability. There are a vast number of options on the market, making it difficult to know which ones to choose. That's why I've gone to the effort to review in-depth the premium ankle brace and supports for basketball players in my Best Ankle Braces for Basketball Reviews 2019. If you're serious about staying in the game, you have got to check it out.
Volleyball places a lot of demands on the ankles. More than any other sport, you are jumping, pivoting and landing constantly. If you're playing without an ankle brace then you are courting injury. When it comes to ankle support for volleyball, your options are varied. Sock model braces are very popular, giving you the ability to slide them on and off easily. Mechanical model bracing is a wraparound model that is secured to the base of the foot with a mechanical stirrup. Some braces are also filled with air-cells to enhance healing and decrease swelling post-injury.
Expert Interviews & Opinions
Most Important Criteria
(According to our experts opinion)
Experts Opinion
Editors Opinion
Users Opinion
By Default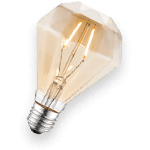 How To Wear Your Brace
Well, you think to yourself, how hard can that be? You just pop your foot in, right? Most of the times, ankle braces will have a handy manual that will tell you how to do this, but here are some general guidelines. You simply have to wear a sock under your brace. The ankle sock will make the ride more comfortable, and won't let the brace rub your skin draw. When the brace rests on your foot, make sure that it is tight around, but not too tight. You can test this by pressing your big toenail, and if the color returns to it fast, you are good to go! If perhaps the brace is too loose, and you feel the seams overlapping, it might be too big. Your best bet is to try walking when you have it on, and then put your shoes on - if nothing feels off, they are a good brace.
Other Factors to Consider

Fit
The way your brace fits you is important, but it is affected by the criteria we already covered, so it's not high on our list. What we didn't cover is how the fit should feel, and you can compare it with your shoe size. A brace that is too small for you will feel uncomfortable and could possibly make your foot cramp up and will hinder your performance and progress. A brace that is too big will wiggle everywhere and rub your skin, possibly causing blisters and irritation. You can compare the size of the brace you need to the size of your shoes. The width of the best ankle support brace will also be the same width of shoe you need, and you can simply follow along with the guidelines the manufacturer gave you and you will be fine.

Comfort
The comfort of the best ankle brace depends mostly on the material it is made out of, and the fit. We talked about neoprene, and how soft and squishy it is. It's pliable and molds to the shape of your feet, making it comfortable, to begin with. When it's blended with nylon or spandex, you get a super comfy best ankle support brace that cushions your feet completely. The way your brace is seamed and the type of hinges it has will also play a role in the comfort of your brace. The seams of the braces and the hinges will also affect the comfort, simply because they will rub your feet and annoy, and might even hurt you. Make sure that the best ankle brace you've chosen for yourself does not squeeze or poke you in any way, and you will have a very comfortable ride.

Flexibility
Your brace shouldn't be super bendy, but it also should allow you to go about your day as you usually would. If you have an injury right now, you need the opposite from a flexible brace, because your joints and tissues need to stay in place firmly. When you participate in any kind of sport, your feet will be doing most of the work, propelling your body with a few simple moves. An ankle brace should not hinder these movements, it should only help your feet move more efficiently. This is exactly why you, an athlete, need a stretchy flexible brace - you don't want it to hurt your performance!

Weight
Ankle braces aren't usually that heavy, but they are at their lightest when made out of neoprene. Braces will also be light when they are combined with Nylon or other materials because all of the materials used to create the base of the best ankle support brace are lightweight. But a brace gains some potentially harmful weight when the plastic or metal structure is added. Braces used to help your body heal faster usually have these materials because they are used as support for your feet. But these materials make the braces heavy, and will only bring you down if you use them for sports. This is the reason why you need a very light brace, or at least a not so heavy best ankle support brace when you exercise. You will get tired faster, and your bones and muscles may ache, not helping you in any way!

Bottom Line
Ankle braces have been in the spotlight for the past few years, but sadly not in a good light. This is explained due to the fact that many people believe that the ankle braces weaken your ankles and knees, potentially hurting them in the long run, which is completely undeserved. Some models really do make this happen, but the ones created for various sports activities will definitely not do that, instead of keeping you safe at all times. If you already have an injury or some kind of joint disease, the best ankle support brace will make the healing process easier, and might even allow you to play just like you did before! We hope that our guide has helped you understand the magic behind the best ankle support braces and that you will enjoy using it!
Frequently Asked Questions
q:

How do I wash my ankle braces?

a:

If you keep hygiene in high regard, or if you just want to avoid bad odors and the possibility of fungus and bacteria, then you must absolutely wash your braces. Feet are some of the sweatiest areas on our body, and they will almost definitely soak up your braces, no matter how hard they try to wick the moisture away or absorb it. All you have to do, to wash your braces properly, is to follow what the manufacturer said. If it says that you can wash your braces safely in a machine, then do so without worry. But if your braces are more on the delicate side, and have properties that might be lost in a machine, then wash them by hand. You can do so by using a mild soap and lukewarm water. Once you are satisfied with the result, leave the braces to dry completely, but not out in the sun. And keep them away from the dryer as well.
q:

Will a brace affect my performance?

a:

The best ankle support both can and can't affect the way you perform. This will depend if you choose the right style of the brace for your specific sport activity. If you bought lace-up braces and headed straight for your morning run, you won't have such a good time. These braces almost immobilize your feet and will keep them from moving properly when you run. Also, a simple tight brace won't be good enough for volleyball, because they need more protection. Choose the style of your brace wisely, and your performance won't be affected!
q:

Why do my braces hurt my feet?

a:

Having that excitement about your first brace dissipate because the brace hurts you more than your injury is something many of us are familiar with. If your braces hurt your delicate feet and ankles, it just might be that you bought the wrong size for your feet, or that the fit as a whole is off. You also have to make sure that you are wearing socks underneath your braces. This is because, with the sock on, the brace won't dig so deep into your skin, and it will not rub you raw, so as a result, you won't feel any pain!
q:

Can I wear a brace on just one ankle?

a:

If you feel the need to do so, no one is stopping you. This is especially common with people who have had recent injuries, and want to keep being mobile, so they need support on only one ankle. This is why some braces are not sold as pairs, and you should make sure that you read what you are getting with your purchase. But if you bought two braces, you could wear both of them, no harm done!
q:

Do I need an ankle brace?

a:

This all depends on how much you work out, and the type of sport you are into. If you like to play basketball or volleyball on the regular, you will benefit from wearing a proper brace made for the sport. If you only go to the gym and do the lifting, an ankle brace might not be needed so much. You can always give the best ankle support braces a try, and you should also make sure to wear them anyway if you have an injury that has not healed completely, or if you have any kind of joint disease.
Subscribe to our newsletter