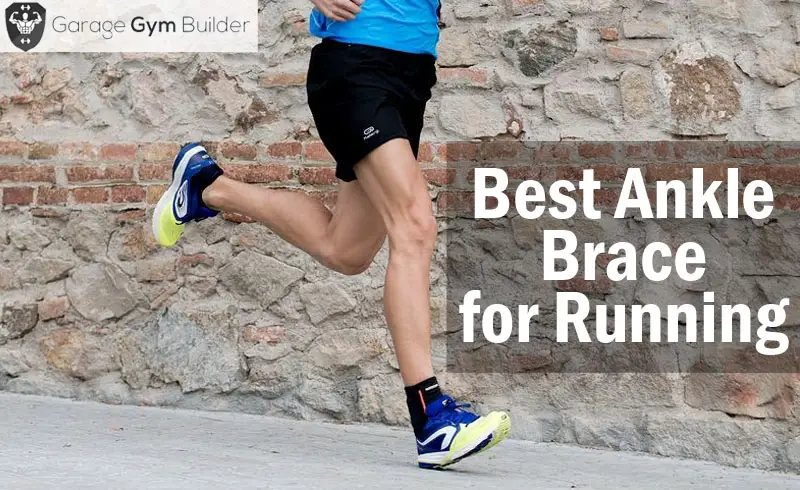 Best Ankle Brace for Running Reviews 2019
Updated January 11, 2019
Running is hard on the ankles. The constant pounding can wear the joint down, and something as small as a pebble can cause you to twist, strain or sprain the ankle, with painful results. That's why it's important to wear the best ankle protection when you hit the road. In this article we go deep into the sports protection market to reveal the 9 best ankle braces for runners on the 2019 market.
The Top 9 at a Glance

The best ankle brace for running on the 2019 market is the ASO ankle stabilizer, which features rigid Figure 8 strapping, and elastic cuff closures. Another premium offering is the McDavid 195, which is made from a single layer of polyester, and has a Figure 6 Strapping system, along with an extra compression strap.
Our third favorite running ankle brace is the Mueller Adjustable Ankle Stabilizer, which is made from a soft neoprene blend material and has a Figure 8 strapping design.
In order for you to more easily compare and contrast the top performers, we've given each of the Top 9 a rating on the basis of price and effectiveness, along with an overall rating out of 5. In the following section, we review each product individually.
The ASO Ankle Stabilizer is an extremely popular support amongst runners. The reason is that it has the best combination of comfort, support and durability. It is manufactured in the United States under stringent compliance conditions, which shows through in the durability and overall quality of this brace. It features Figure 8 stabilizing straps to provide you with a very secure enclosure.
The nylon boot shell is ballistic grade, giving you that unique blend of strength and flexibility. The cuff enclosures are elastic which allows you to get a firm, tight closure on the laces and straps. The ASO stabilizer is bidirectional so you can use it on either foot. The low profile and form fitting material allows it to work seamlessly with your running shoe.
Figure 8 strapping system
Elastic cuff enclosures
Low profile
Sizing chart is confusing
The McDavid 195 is a very secure brace that provides a lot of protection for the runner. A study conducted by a well known university showed that runners who used the McDavid 195 had three times fewer ankle related injuries than those who used a competing brand. It makes use of a single layer of polyester fabric, which makes this is a very lightweight product. That means that it won't bunch up or slip down.
The 195 from McDavid has a Figure 6 strapping design which simulates wrapping tape, so you get the support of tape without the hassle of wrapping it. A compression comfort top strap boosts the rigidity and adds to the compression factor. A ventilated tongue adds breathability and moisture wicking ability.
Figure 6 Strapping system
Compression comfort strap
Single layer polyester
The Mueller Adjustable stabilizer is a standard ankle brace that is fitted with removable side stays that provide lateral support to the ankle when moving forward. This brace is manufactured from a soft neoprene blend of material that does a great job of retaining body heat, while feeling ultra comfy against the skin. The design is very minimalistic and lightweight so you will have no problem getting your shoe on over the brace.
The Mueller Adjustable stabilizer has a Figure 8 strapping system, delivering a very secure support to your ankle. This brace is fully adjustable and is bidirectional, so it can be used on both feet. The controlled compression that it offers will make your run more comfortably as it helps to heal your injured ankle.
Figure 8 strapping system
Soft neoprene blend material
Very comfortable
The Senteq Ankle sleeve is a very sleek, pared down support that provides an excellent level of compression. It features a breathable mesh throughout, which allows the sleeve to breathe, wicks away moisture and provides an ultra comfortable feel. You will have no problems with bunch up or slipping when you wear the Senteq sleeve. There is no bulk to this product, so it will fit easily under your running sock.
The open toe and heel design on the Senteq sleeve enhance its breathability and avoids overheating of the ankle joint. The snug fit around the heel of the foot helps to improve alignment while running. The elastic neoprene fabric allows you to custom fit this support to your needs.
Very streamlined and lightweight
Open toe and heel
Extremely breathable
Not as much support as a structural brace
The Aircast A60 is a universal design strap that has an easy on / off application. It is ideal for mid level support when running and can be used by those who have an existing chronic injury as well as runners looking to ward off future injury. It has a stabilizer and molded guard to keep your ankle fully aligned. It will not impede your range of motion, but will actually extend your plantar flexion and dorsiflexion.
The Aircast A60 utilizes a single strap system, making it very easy to secure. There are no laces so you don't have to spend time on this task. The low profile structure allows you to easily fit this into your running shoe. It is suitable for both men and women.
Universal strap design
Stabilizer
No laces
Does not provide a high level of immobilizing support
The SBSox compression foot sleeve is made from a lightweight premium nylon and spandex material. This makes it very breathable, moisture wicking and heat removing. It provides extra support to both the arch and the heel. The lightweight spandex also provides for a full range of motion, and joint flexibility. It also delivers a good deal of compression, which enhances your blood flow and circulation. This will reduce lactic acid build up and assist recovery.
The SBSox sleeve is medical grade, FDA registered. It features a targeted ribbing arch support to increase comfort and provide relief from pain. This sleeve also has anti odor and anti static properties. It is available in four different sizes to ensure that you get the perfect fit.
Nylon and spandex material
Very breathable
Medical grade, FDA registered
A little tight at the toes
The Protec Athletics Gel Force Ankle sleeve features a thick gel insert which provides stabilization to the ankle. It will absorb the constant dynamic impact of running, while providing a comfortable, sleek fit. The four way stretch material provides a tight custom fit that produces a good level of compression. This increases blood circulation and oxygenation, delivering faster nutrient healing power.
The Protec Athletics Gel Force Ankle sleeve is both lightweight and breathable, so you'll have no problems with sweat build up. This support provides a moderate amount of stability to the ankle joint, making it ideal for mild to moderate ankle sprains and inversions. It is machine washable and can be used on either foot.
The DonJoy range of ankle supports are great for those engaged in heavy sporting activities. Check out the best of their range with our DonJoy Ankle Brace Review 2019 feature article.
Thick gel insert
Lightweight and breathable
Machine washable
The Bracoo Breathable Ankle Support is a low profile ankle brace with an open heel. This enhances breathability, so that the ankle area is aerated and does not become sweat soaked. The open heel also allows for a full range of motion when running. This support has a contoured design to allow for custom adjustment to fit the feet arch and the shape of the ankle.
The Bracoo Breathable Ankle Support is constructed from a lightweight, breathable neoprene material that feels very comfortable against the skin. It's unobtrusive design allows it to easily slip under your running sock. This is a bidirectional designed support, so it will work equally well on the left or right foot.
Futuro are a brand that are making waves in the sports support industry. Find out why with our Futuro Ankle Brace Review 2019 feature, in which we put their top performers up against competing market leaders.
Open heel
Full range of motion
Lightweight and breathable
Too tight for larger feet
The Sleeve Stars Plantar Fasciitis is a simple slip on sleeve design that offers a high level of compression. This will increase circulation and oxygenation, helping to get rid of built up lactic acid and increase blood flow to the affected area. A strap provides extra compression and support to keep the brace stable no matter what you are doing. You can be assured that this sleeve won't bunch up or slip down.
The Sleeve Stars Plantar Fasciitis is made from a high quality fabric that is lightweight and flexible. It has moisture wicking properties that remove sweat and keep the ankle area light and airy. The inner texture gives a smooth, comfortable touch to the skin. This product is machine washable.
Find out which companies produce the best ankle protection with our Right Ankle Braces Review 2019 super feature - we rank and review the market leaders.
Extra compressions strap
Stable brace
Lightweight and flexible
Not suitable for wide feet
Conclusion
Our favorite runners ankle brace is the ASO ankle stabilizer, which is a US made support with a ballistic grade boot shell and Figure 8 strapping system. Our silver medal ankle brace for runners is the McDavid 195, which is a high compression strap with a Figure 6 strapping pattern that simulates wrapping tape.
Completing our Top 3 running ankle supports is the Mueller Adjustable Ankle Stabilizer, which features removable side stays and is made from an ultra comfy soft neoprene material.
My name is Jim Roose. I'm a former competitive power lifter and gym owner. I've bought millions of dollars of fitness equipment over the last 20 years. This site is my way of giving back to the fitness community that's done so much for me. Every article on here is carefully researched and written by me. Leave a comment if you have any questions.
---