Top 10 Running Ankle Braces Reviewed and Rated
last updated:
Feb 11, 2020
Running is a great choice for people who do not have the budget for a gym, and it's a super simple way to burn fat. It also builds our leg strength and endurance. Many people practice running, especially nature lovers, since you can easily run in lovely green parks, or even on mountain trails, provided you've got the right equipment. The ankle braces for running is one of them.
But, running is hard on the ankles. The constant pounding can wear the joint down, and something as small as a pebble can cause you to twist, strain or sprain the ankle, with painful results. That's why it's essential to wear the best ankle protection when you hit the road. In this article, we go deep into the sports protection market to reveal the best ankle braces for runners on the 2019 market.
In a Hurry? The test winner after 5 hrs of research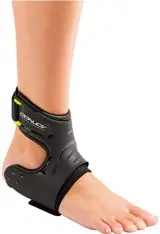 DonJoy Performance
Why is it better?
Protection On-Demand Technology
Semi-rigid TPU Shell
Soft EVA Lining
Adjustable Underfoot Closure
5
Researched Sources
13k
Reviews Considered
5
Hours Researching
10
Products Evaluated
Use
Effectiveness
Materials
Support
Style
By Default
10 Best Ankle Braces for Running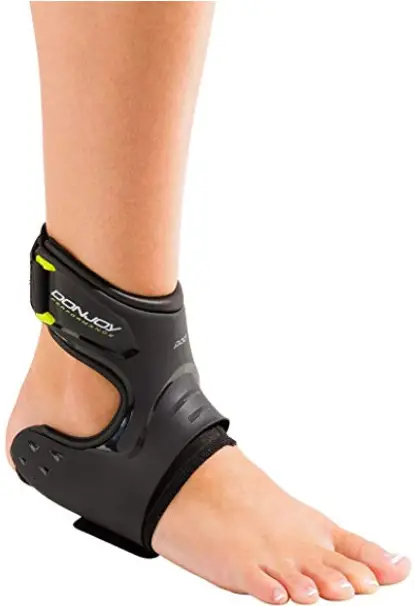 Protection On-Demand Technology
Semi-rigid TPU Shell
Soft EVA Lining
Adjustable Underfoot Closure
Not Enough Sideways Resistance
DonJoy is a company that creates aids for athletes based on science and proven by practice. Their products are used by elite athletes all around the world both as exercise enhancer and as injury prevention. This brace offers you the max level of support, and it fits easily in any cleat or shoe so you can be protected all the time.
Read more
This brace is 30% lighter than most braces found on the market, saving your feet from the unnecessary weight that could only make you tired faster. The low-profile cuff and adjustable underfoot closure blend seamlessly with your shoes for a perfect fit — a super soft EVA lining hugs the feet and ankles and does not cause any irritation or blisters. The anatomically molded TPU shell is sturdy yet pliable enough to give you a full range of motion.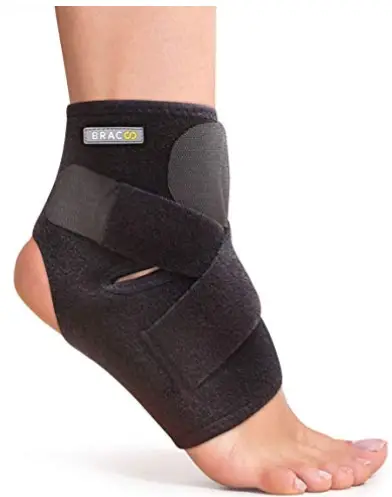 Open Heel
Full Range Of Motion
High-grip Criss-Cross Straps
Versatile Design
Too Tight For Larger Feet
The Bracoo Breathable Ankle Support is a low profile ankle brace with an open heel. It enhances breathability so that the ankle area is aerated and does not become sweat-soaked. The open heel also allows for a full range of motion when running.
Read more
This support has a contoured design to allow for custom adjustment to fit the feet arch and the shape of the ankle. The Bracoo Breathable Ankle Support is constructed from a lightweight, breathable neoprene material that feels very comfortable against the skin. Its unobtrusive design allows it to slip under your running sock easily. It is bidirectional designed support so that it will work equally well on the left or right foot.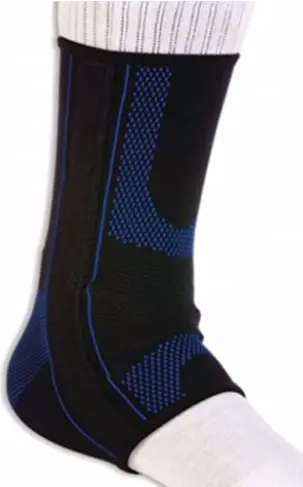 Thick Oval Gel Insert
Lightweight And Breathable
Machine Washable
Four-Way Stretch
The Pro-Tec Athletics Gel Force Ankle sleeve features a thick gel insert which provides stabilization to the ankle. It will absorb the constant dynamic impact of running while providing a comfortable, sleek fit. The four-way stretch material offers a tight custom fit that produces the right level of compression.
Read more
It increases blood circulation and oxygenation, delivering faster nutrient healing power. The Pro-Tec Athletics Gel Force ankle sleeve is both lightweight and breathable, so you'll have no problems with sweat build up. This support provides a moderate amount of stability to the ankle joint, making it ideal for mild to moderate ankle sprains and inversions. It is machine washable and can be used on either foot.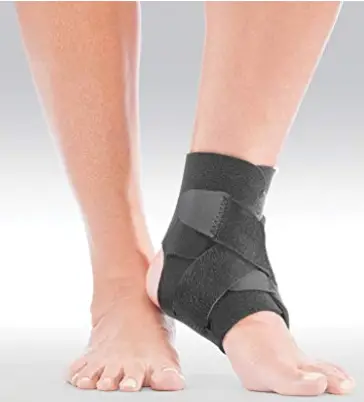 Soft Neoprene Blend Material
Very Comfortable
Minimizes Slippage
Fits Either Foot
The Mueller Adjustable stabilizer is a standard ankle brace that is fitted with removable side stays that provide lateral support to the ankle when moving forward. This brace is manufactured from a soft neoprene blend of material that does a great job of retaining body heat while feeling ultra-comfy against the skin.
Read more
The design is very minimalistic and lightweight so you will have no problem getting your shoe on over the brace. The Mueller Adjustable stabilizer has a Figure 8 strapping system, delivering very secure support to your ankle. This brace is fully adjustable and is bidirectional so that it can be used on both feet. The controlled compression that it offers will make your run more comfortably as it helps to heal your injured ankle.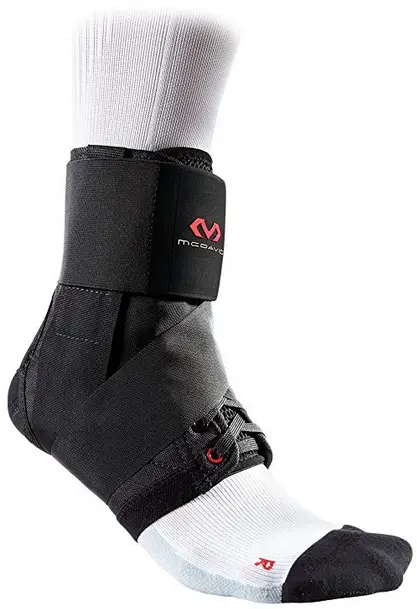 Figure 6 Strapping System
Compression Comfort Strap
Single Layer Polyester
Ventilated Tongue
Padded Lining
Lacing Slightly Bulky
Sizing Chart Is Off
The McDavid 195 is a very secure brace that provides a lot of protection for the runner. A study conducted by a well-known university showed that runners who used the McDavid ankle brace had three times fewer ankle related injuries than those who used a competing brand.
Read more
It makes use of a single layer of polyester fabric, which makes this is a very lightweight product. That means that it won't bunch up or slip down. The 195 from McDavid has a Figure 6 strapping design that simulates wrapping tape, so you get the support of tape without the hassle of wrapping it. A compression comfort top strap boosts the rigidity and adds to the compression factor. A ventilated tongue adds breathability and moisture-wicking ability.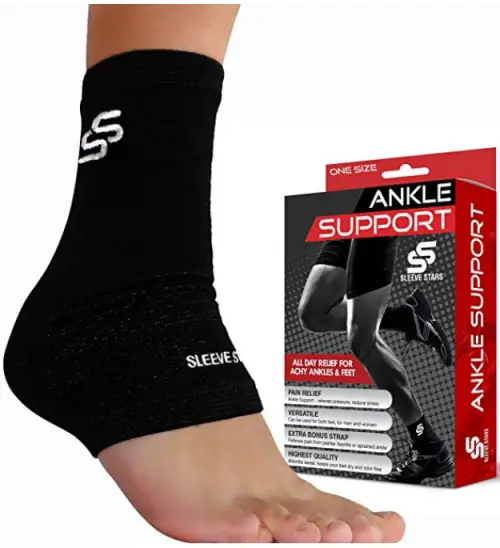 Extra Compressions Strap
Stable Brace
Absorbs Sweat
One Size Fits All
The Sleeve Stars Plantar Fasciitis is a simple slip-on sleeve design that offers a high level of compression. It will increase circulation and oxygenation, helping to get rid of built-up lactic acid and increase blood flow to the affected area. A strap provides extra compression and supports to keep the brace stable no matter what you are doing.
Read more
You can be assured that this sleeve won't bunch up or slip down. The Sleeve Stars Plantar Fasciitis is made from a high-quality fabric that is lightweight and flexible. It has moisture-wicking properties that remove sweat and keep the ankle area light and airy. The inner texture gives a smooth, comfortable touch to the skin. This product is machine washable.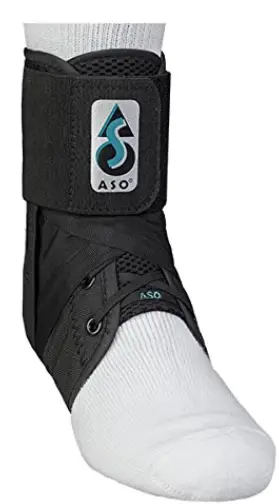 Figure 8 Strapping System
Elastic Cuff Enclosures
Low Profile
Ballistic Nylon
Bilateral Design
Confusing Sizing Chart
Too Constricting For Running
The ASO Ankle Stabilizer is a prevalent support aid amongst runners. The reason is that it has the best combination of comfort, support, and durability. It is manufactured in the United States under stringent compliance conditions, which shows through in the durability and overall quality of this brace.
Read more
It features Figure 8 stabilizing straps to provide you with a very secure enclosure. The nylon boot shell is a ballistic grade, giving you that unique blend of strength and flexibility. The cuff enclosures are elastic, which allows you to get a firm, tight closure on the laces and straps. The ASO stabilizer is bidirectional so you can use it on either foot. The low profile and form-fitting material allow it to work seamlessly with your running shoes.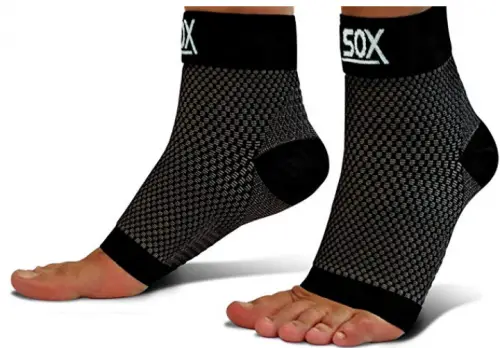 Nylon And Spandex Material
Very Breathable
Medical Grade
FDA registered
The SBSox compression foot sleeve is made from lightweight premium nylon and spandex material. It makes it very breathable, moisture-wicking and heat removing. It provides extra support to both the arch and the heel. The lightweight spandex also provides for a full range of motion and joint flexibility.
Read more
It also delivers a good deal of compression, which enhances your blood flow and circulation. It will reduce lactic acid build-up and assist recovery. The SBSox sleeve is medical grade, FDA registered. It features a targeted ribbing arch support to increase comfort and provide relief from pain. This sleeve also has an anti-odor and antistatic properties. It is available in four different sizes to ensure that you get the perfect fit.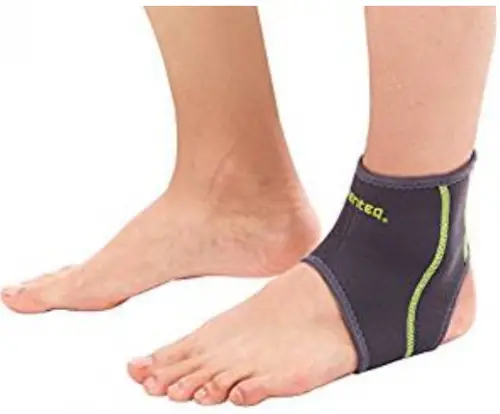 Very Streamlined
Lightweight Construction
Open Toe And Heel
Extremely Breathable
The Senteq Ankle sleeve is a very sleek, pared-down support that provides an excellent level of compression. It features a breathable mesh throughout, which allows the sleeve to breathe, wicks away moisture and provides an ultra-comfortable feel.
Read more
You will have no problems with bunch up or slipping when you wear the Senteq sleeve. There is no bulk to this product so that it will fit comfortably under your running socks. The open toe and heel design on the Senteq sleeve enhance its breathability and negates overheating of the ankle joint. The snug fit around the heel of the foot helps to improve alignment while running. The elastic neoprene fabric allows you to custom fit this support to your needs.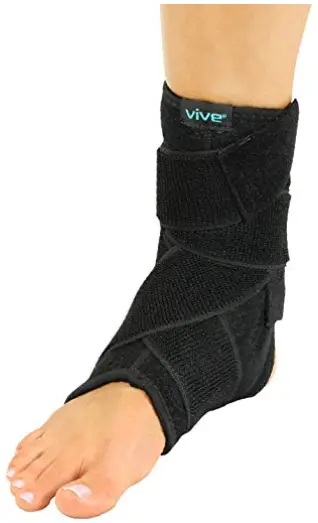 Dual Lateral And Medial Straps
Breathable Neoprene
Customizable Compression
Contoured Design
The Vive Immobilizer supports your ankles with dual lateral and medial straps, keeping your ankle in place no matter how hard you exert yourself. This brace is made out of lightweight and breathable neoprene that keeps you sweat and odor-free without tiring your feet down. This brace is ideal for people who have suffered from injuries before and want to keep their ankles healthy.
Read more
This fully adjustable brace reduces pain caused by an existing injury or the pain caused by common conditions. It can be safely worn every day while you exercise, keeping you stable and safe throughout your whole run. The criss-cross straps give you just enough compression and stability to help your session, without hindering your performance and progress. The hook and loop closure is strong and will keep the fit optimal for your needs. The open heel helps with the healing process, if need be, by keeping your ankle and the surrounding tissues in place.
Criteria Used for Evaluation

Use
People who suffered from ankle injuries are very familiar with ankle sleeve for running. They help align the weakened tissue around our ankles and make walking possible again. But when should you wear a brace if you're not injured?
Ankle support for running started to appear around the 1990s. It is all thanks to the new design which made them a much cheaper option than taping up the ankles and joints of athletes. Today, there are many types and styles of an ankle sleeve for running; all meant to give us different types of support specific to the sport we are into. They are used to either prevent an injury or to help one heal better.
One thing that you should know is that an ankle brace will not make your injury less severe. It will only make it less probable for the injury to happen in the first place. Your ligaments, muscles and tendons, and of course the bones of your ankle make up the internal support that keeps your ankles safe and working correctly. Of course, these parts are also a vital connection to your knees and hips, which all affect your performance. Ankle braces for running support your ankles from the outside and limit your movements to a degree. They also make you more aware of where your ankles are in space, and you are less likely to hurt yourself this way. If you want maximum benefits from your brace, it should fit comfortably in the shoes you wear during running. Keep in mind, if you are using an ankle brace to recover from an injury, it is not an all miracle cure. You will still need to allow your ankle to heal properly before going back to running. Otherwise, you will drag on the injury and prolong the healing process.

Effectiveness
Usually, people who are prone to ankle sprains and injuries will get the most out of ankle support for running. It is not to say that you will not experience any benefits while wearing an ankle brace! Also, if you suffer from any joint conditions and still want to give running a try, an ankle brace could very well be your trump card. If you want an ankle brace that is best suited for you, your best bet is t talk to your doctor, since they will give you the best info.
As we said, ankle braces for running support weak and injured joints. There are two types of ankle support for running, and they will give you varying degrees of support. A stretchy cloth ankle brace will keep your ankles in place, but if you need hardcore support, it's best to opt out for one that has metallic or plastic elements. For the best possible support, each side of the brace will have parts that support your ankles, giving you plenty of stability and confidence.
Ankle braces for running also calm swelling and pain. The most common ankle injury is the ankle sprain, where your foot rolls on the side, resulting in blinding pain, and subsequent swelling and tenderness. If your injury is like this, you should wear a brace that has metallic parts on the outer side. This way, your injured tendons, and ligaments can take a break and heal, while the pain and swelling calm down. If your ankle rolled outwards, then you need a brace that offers support all around.
But what about runners who do not have any injuries yet still use ankle support for running? Well, by wearing braces when your ankles are healthy, you can avoid possible future injuries, especially if you are prone to ankle rolling. Ankle braces for running are cheap, and much more reliable than the taping method, which has been around for quite some time. They are effectively designed so that an athlete can wear it whenever he or she needs to without the brace being a bother. Many athletes wonder whether wearing a brace during their every run will weaken their ankles. It is true for some styles of ankle braces for running, like the lace-up brace. These ankle support for running will almost completely restrict the movement of your ankles, and in time, they will be weaker, to some degree. But, hinged ankle braces are the ones that will allow you to run with braces and keep that ankle strength. We will discuss this in greater detail in our style section, so stay tuned!

Materials
The material your ankle brace is made out will affect many things. First things first, it will affect the breathability. You don't want your feet to suffocate while you have your brace on! It will also promote sweating and bad odors, which are prone to happen anyways simply because feet tend to sweat a lot. The support and fit will also vary because of the material, so buying braces made out of the right kind of material will help keep you on track.
Many ankle support for running today are made out of neoprene. If you like water sports and participated in such events, or even went diving, the chances are that you've run across neoprene. Nylon and neoprene were made around the same time, and they are derived from the very same thing - plastic. Scientists at DuPont were working with polymers around the 1920s, and it was then that they discovered one that acted just like natural rubber does, and aptly named it DuPrene. It was renamed to neoprene in the 1930s and was broadly used during World War II. Then it started to gain commercial popularity and value, and we cannot avoid it. Today, since it found many great uses, and ankle support for running is one of them. Neoprene is super resistant to all kinds of wear and tear, and it handles a great range of temperatures, meaning it will keep you super safe. It's squishy like foam, so it even acts as a pad, giving you additional comfort. But neoprene is not so breathable, which is why it's usually combined with vents and nylon to make it even better. Also, it's easy to embroider neoprene, which is where you will usually see the company logo!

Support
The amount of support your braces offer you is also something you should consider before buying one. The support braces give you can range from almost non-existent to completely immobilizing your joints. The amount of support you need will be determined by your previous conditions and by how strong your ankles are. If you are recovering from an injury, you will need all the support you can get! But if you are going to use the brace as extra support and security while you run, you don't need to be supported all that much. A simple brace will do the job just fine!
A few things determine the support a brace offers. First things first, it's determined by the material your braces are made out of. Nylon is the stretchiest one, especially in combination with elastane. It is what you need if your ankles are strong, to begin with, and are not prone to twisting. Sometimes, plastic or metal elements are added to the construction, which makes the braces sturdy and not so flexible. It is ideal when you have an existing injury and need something to keep your ankles from moving around too much. But when you run, this won't do you any good, since the rigid frame and details could only hinder your performance and keep you from running to your full potential. Then, the support can be determined by the type of closure the brace has. If it's a simple sleeve, again it won't offer that much support. Lace-up sleeves are just what the name suggests - they lace up like regular shoes do, and usually have some wrap-around that keep your ankle sturdy and secure even more. These types of ankle support for running will not let your ankles wiggle all that much, and are ideal if you are already hurt. Hinged braces allow your ankles to roll smoothly, and are what you ideally need when you run injury free!

Style
We mentioned the many different styles ankle braces could be, but it's time we addressed this criterion fully and in detail since it is one of the most critical factors. You must consider the restriction the ankle brace style provides before anything else. As we mentioned before, lace-up or corset braces restrict all joint range of motion, even the up and down moves you need to do while you run, by binding your ankles with Velcro straps or laces. It means that the lace-up brace will affect your mobility and your ankle strength, and should generally not be used when you are running unless you have a pre-existing injury.
It brings us to the hinge ankle braces. These braces allow you to move your feet up and down, and they do not weaken your ankles at all. These braces have a hinge on each side of the ankle bone, which makes the brace move together with your ankles, not against it. There are two styles of hinged braces available today, and those are hinged and hinged-cuff. Hinged braces were designed to prevent ankle turning or inversion. Hinged-cuff braces also prevent rotational twisting, making ankle rolling a thing of the past!
Expert Interviews & Opinions
Most Important Criteria
(According to our experts opinion)
Experts Opinion
Editors Opinion
Users Opinion
By Default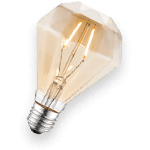 Brace Yourselves!
Technically speaking, putting on your brace is an easy task. Usually, the specific brand you bought will have instructions that are easy to follow, but just in case, here are some general guidelines. It is vital that you wear your athletic socks underneath your brace. It gives you more comfort and prevents the brace from rubbing your skin raw. When you put on the brace, make sure that it sits on your feet tightly, but not too tightly. Press the nail on your big toe and see how fast the color returns - if everything seems normal, the fit is good! If the seams of your ankle brace for running overlap, or if there is a lot of room between them, your brace might be the wrong size for you, and you should consider changing it. Walk around once they are resting around your ankles - if anything feels off, recheck the fit until you are satisfied with it.
Other Factors to Consider

Fit
The fit of your brace is essential as well, but it is usually dictated by the criteria we already covered, such as the materials and the style. One thing is sure, though - you must be certain that your ankle braces for running are the right size and thickness for your feet. A brace that is too thick will feel uncomfortable and may make your feet cramp up, meaning they won't get you anywhere you need to be! A loose brace will move around your feet, rub your skin thanks to the increased friction, and cause blisters that could potentially rupture. The size of your feet dictates the size of the brace, or to put it, by your shoe size. The width should also follow your shoe size, and if you follow the charts the manufacturers provided you with, you should have no trouble selecting the proper brace.

Comfort
The comfort of the brace will mostly be determined by the material the brace is made out of. As we mentioned before, neoprene is super soft and acts sort of like foam. It's squishy and adapts well to the shape of your body, which makes it super comfy, to begin with. When combined with nylon or spandex, you get an ideal brace that is super gentle towards your feet. The seams of the ankle brace for running and the hinges will also affect comfort. If the braces have poorly made seams, you will notice it since they will rub you and annoy you, distracting you from the task at hand, which is running. If the hinges sit where they press on your joints, you will experience pain, and you will not be able to run anymore. Sometimes, pads and cushions are added to make the braces comfier, and even gel pads can be found, which can cool you down as a bonus.

Flexibility
A brace shouldn't be super flexible, but it should allow you to move your foot as you would normally, without constricting the movement. If you are recovering from an injury though, you will not benefit from adjustable ankle braces for running, because you need something that will keep your joints and the surrounding tissues locked into place. When you run, your feet do most of the work, supporting your whole body through the few simple movements. An ankle brace should only support these movements the right way, not make it hard or even impossible to do. It is why your brace does need to be flexible and stretchy, without your feet, knees, and even hips could suffer!

Weight
Ankle braces for running made out of neoprene will not be heavy since neoprene is a lightweight material. Braces remain lightweight even when combined with Nylon and other materials since their added weight is still not enough to cause you any issues. But problems arise when we add plastic or metal to the equation. Braces with plastic on the sides support your ankles and allow them to heal, but they also add on some weight which may tire you down fast when you run. Metal frames are even worse - yes, they make the braces rigid, but they also constrict the movement of your feet too much and tire you down too fast. It is why you need a very light, or at least a moderately light brace that does not pack on additional weight to your feet that you should worry about. Tired feet are always angry, and they can even ache and burn, so make sure your ankle braces for running don't weigh too much!

Bottom Line
Ankle braces for running have been a source of controversy in the last few years. It is because many people believe that they weaken your muscles and cause more bad than good, abolishing the poor braces altogether. While this is true for some models, most ankle braces for running made for running will make you even better at the sport, and also keep you safe from injuries. If you suffer from any pre-existing conditions, braces will make it better, and they will allow you to get back into the game like nothing ever happened at all. We hope our guide has made selecting a new brace an easy task, and that you will enjoy using it!
Frequently Asked Questions
q:

How do I wash my ankle braces for running?

a:

Washing your ankle support for running is an important step you must perform if you keep hygiene in high regard. Feet are the sweatiest areas of our body, and as such, they will certainly soak up your ankle braces for running, no matter how much moisture they can wick away. Sweat allows bacteria or fungus to grow, and they make bad odors, which can linger on for ages. The fungus can also invade your feet, causing additional issues you could have avoided by washing your ankle support for running on time. All you have to is follow the instructions on the box - if the braces can be washed safely in a machine, then do so every time you take them off. If you must wash them by hand, then that means that they are more delicate, and require some extra TLC. Wash them in the sink, with lukewarm water and mild soap. Rub the material gently, and then rinse the soap out, making sure you got rid of it all. Leave the braces to air-dry indoors, since the Sun or the dryer could potentially damage the construction!
q:

Will a brace affect my performance?

a:

Well, yes and no. It all depends on what style of brace you currently have. Lace-up braces will hurt your performance. It is because they do not allow your joints to move all the way, and they also weaken surrounding muscles. If you wish to do your best, hinged braces are what you are looking for. As we explained in our guide, they allow your feet to move the way nature intended them too, while giving you that support you crave so much, preventing ankle rolling. Do not fear the brace; instead, embrace it and allow it to help you shine!
q:

My ankle braces for running hurt my feet. What am I doing wrong?

a:

Being giddy and excited about wearing your brace and feeling all of that support it has to offer, only to be let down by the aching of your feet and the cramps is a feeling no one wants to experience. If your feet hurt when you use your ankle braces for running, you might be put off from them completely, but believe us when we say that you shouldn't dismiss them so soon. The chances are that your brace is just the wrong fit. If the fit is too tight or too small, the brace will squeeze your feet and cut off circulation, making them painful and numb. Also, if you are wearing your ankle braces for running on your bare feet, this could be the source of your problems. Neoprene might seem soft, but it can still rub and pinch your skin, so you should always make sure to wear socks underneath your brace.
q:

Can I wear a brace on just one ankle?

a:

Sure, why not! You can do this if only one of your ankles has been previously injured, and you want to make sure that it has been appropriately protected. It will keep your weak ankle stable, and at the same level of fitness as your healthy ankle. But if you are already protecting one of your ankles, and have a pair of ankle braces for running that do not impair athletic performance, why not wear it on both of your feet? This way, your injured ankle is stable and protected, while your healthy ankle has no chance of being hurt!
q:

Do ankle braces for running cause knee injuries?

a:

You probably have that friend who has a friend that blew out his knee while wearing an ankle brace, making you fear them completely. It is unjust, as there are no studies that show this to be true. No one thought about what would have happened to that person had he not been wearing brace - it's quite likely that the outcome would have been the same, making the brace a non-important factor here. When you wearing ankle braces for running you shouldn't worry about injuring your knees at all, unless you do something else that could potentially harm them - but don't go blaming the braces for that!
Subscribe to our newsletter