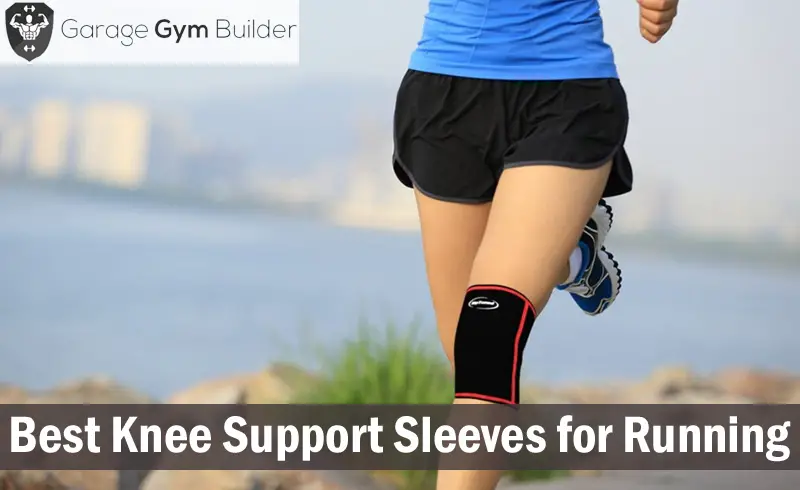 Best Knee Support Sleeves for Running 2018
When you're running your knees take a pounding. Unless you take care of them, you are likely to end up with chronic ongoing knee pain while running. The right knee support for running will provide warmth, support and stability to your knee; the wrong one will enforce too much rigidity, and trap moisture. In this article, we'll break down the top 10 knee compression sleeves for runners on the market today.
A Quick Look at our
Favorite Knee Sleeves for Runners
When it comes to knee sleeves for runners, we found some clear standouts. Our favorite was the Emerge 7mm sleeve. Emerge offer all the features of the top players, but at almost half the price. We were really impressed with the Rehband 7mm sleeve, which is anatomically molded to the shape of your leg, incredibly durable and distinctive looking.
We also loved the McDavid Hex Leg Sleeve. This sleeves features an extended length for a better fit and incorporates a moisture management technology that removes sweat and increases compression.​
Top 10 Knee Sleeves For Runners
We reviewed the top 10 knee sleeves for runners on the market right now. For your convenience, we've rated them on price, and durability and then provided an overall rating out of 5. Here's a quick overview of how they stacked up.
Top Ten Knee Sleeves In Depth Reviews
We reviewed the top ten knee sleeves for runners on today's market. Our full in-depth reviews provide you with everything you need to know to make the right buying decision. Check them out below.​
The Emerge Knee Sleeve narrowly beat out the Rehband 7051 as our pick for the best overall knee strap for running of 2018. The Emerge is a high density sleeve that has been specifically designed by physiotherapists to enhance blood flow and circulation before during and after exercise.
The Emerge knee sleeve features breathable, ultra high density (7mm) neoprene to minimize patellar movement and maximize blood flow. The sleeves are very easy to slip on and fit snugly to your leg. Unlike lesser brands, they will not slide down or bunch up, even when you have been running for long distances.
The Emerge sleeve provides all of the features that you would expect from a high end sleeve. Yet, it does so at a mid range price. It is this price factor that allowed the Emerge to edge ahead of Rehband as our top recommended sleeve for runners.​
Extremely durable with reinforced cross stitching

Breathable ultra high density neoprene construction

Cost effective
The interior lining may cause slight rubbing to the back of the knee in extreme heat.
Find out to how to size your legs for the perfect knee sleeve fit . . .
The hugely popular Rehband 7mm knee sleeve is our runner up as the best knee protector for running. The original knee sleeve from Rehband is made from 100% neoprene that is thick and comfortable. These Swedish designed and manufactured sleeves are amazingly durable, lasting for years, rather than the months that you get with lesser brands. The stitching is especially high quality.
The 7mm is extremely form fitting, thanks to its anatomical shape and snug fit. The unique 3-d contoured design of this sleeve gives it a superior level of body wrap. This provides better compression and warmth to the knee, which improves the fluidity of the synovial joint. It also reduces recovery time and allows for freer movement through the entire knee joint.
The Rehband 7mm sleeve is an expensive sleeve. Whereas most sleeves are sold in pairs, you have the buy these ones individually. You'll end up paying nearly twice as much as you can get for some other brands. However, the durability alone makes the investment worth it in the long run.
Very durable construction

Anatomical form fitting design

Comfortable, tight fit
Sweat build up within the sleeve

Expensive

Rapidly absorbs odor
The McDavid Hex Leg Sleeve provides a longer sleeve to provide more leg coverage. Not only is it longer in the bottom area toward your shin, they are also longer above the knee. This provides you with a superior level of tightness, ensuring that the sleeve will neither slip down or bunch up.
The McDavid Hex sleeve gives you a generous gap between the top of the sleeve and the extra knee padding. This adds to the firmness of the fit, ensuring that there is no bunching up as you run. The pad itself is 9mm hex technology. It is very lightweight and give your knees a good level of protection.
A key feature of the McDavid is the moisture management technology which does a very good job of wicking away sweat and moisture build up in the knee area. This adds to the compression, preventing slippage and enhancing durability.
Full length 16 inch sleeve

Superior sweat and moisture removal

Compact fit

Extra hex knee padding
A little too tight in the thigh area

Fabric covering the padded area of the knee is very thin
Rip Toned's compression knee sleeves provide compression, support and warmth while you run. These sleeves provide a tight fit to limit patellar movement and protect the joint. They provide 7mm of neoprene support, are breathable and odor resistant.
The ergonomic design of the Ripped Tone Knee support allows it fit tightly around your knee joint. This reduces swelling and discomfort, especially if you have a pre-existing condition. Ripped Tone's knee sleeves offer a very good level of compression to reduce stiffness and post run muscle soreness.
The Rip Toned's snug fit means that you don't have to worry about it sliding down your leg after an hour's worth of running. This running sleeve will also retain it's elasticity and durability, even after years of use. It is odor resistant so that it won't stink out your gym bag when you take it off after a run.
Very effective compression, support and warmth

Snug fit keeps the sleeve in place all the time

Very durable, retaining elasticity and form
Sweat build up inside the sleeve

Itchiness
Nordic Lifting Knee sleeves slip very easily onto your knees. While that makes them a cinch to get on and off, it's also a sure sign that they don't have a lot of knee padding and support.
The Nordic sleeve will provide you with a good level of compression and stability around the knee joint. This will help to keep the patellar in place and the keep the area warm. However, they are not as long or as wide as such competitors brands as Rehband. This inhibits their ability to provide total functional support as you as are running.
The Nordic sleeve will get the job done in terms of protecting your knees while running and reducing post workout muscle soreness. It won't provide you with any moisture eliminating effect. This can lead to sweat build-up inside the sleeve, with resultant discomfort and itching.
Cost effective

Don't slip or bunch up

Effective level of compression
Not a lot of padding and protection to the knee

No moisture eliminating effect
By combining the stabilizing benefits of compression with the power of the ice bath in one very unique product. It features 360 degree pockets and re-useable ice inserts. This allows the sleeve to transition from high performance compression gear to active recovery system in a single step. The combination of compression and ice, applied immediately after a tough run helps prevent swelling and reduces inflammation.
The Blitz knee support is made from 75% polypropylene and 25% spandex. This allows for a tight, snug fit that provides maximum support to the patellar without compromising the free movement of the knee joint while running. The fabric is anti-microbial and it features superior wicking ability to add maximum comfort and moisture.
Combines compression and ice for enhanced recovery

Moisture wicking ability

Tight fitting anti-microbial fabric
Expensive

May shrink after repeated washes
The Rehband 7751 is a 5mm knee support made of 100% neoprene. It's not quite as thick as the 7051, which is both a good and a bad thing. It will allow for a freer range of running movement. However, you don't get quite as much protection and compression. This is a great sleeve for people who have a mild amount of knee pain.
The Rehband 7751 does a very good job of providing compression and support to your knee area. It is a very snug fitting brace that will bring warmth to the area. This will, in turn, allow for a free flow of the synovial liquid around the joint.
Rehband are well respected for the quality of their manufacture and the 7751 knee sleeve maintains that high standard. The double stitching around all the seams will ensure that these sleeves will last you well into the future.​
Provides for free running movement

Very good compression and support

Durable, sturdy construction
At 5mm, lacks thickness for maximum protection

Expensive
Check out our mega article reviewing the best knee sleeves of 2018. We put all the top sellers to the test to find out which ones deserve your hard earned cash.
The ExoSleeve knee wrap follows a very minimalistic design. However, they do offer the largest color range of any sleeve on the market. The seams at the front of the sleeve are covered, while the back seams are open.
ExoSleeve Knee Wraps sleeve is a little bit longer than the standard knee sleeve, providing extra warmth and protection. It does a very effective job of keeping the warmth in and around your knee joint and providing support and protection to your patellar. And, unlike many sleeves that come in at this price point, there is no unpleasant odor after you've completed your run.
The ExoSleeve doesn't do a lot in terms of off-setting sweat build- up and moisture within the sleeve. This can lead to a bit of running discomfort once you've been running in the heat for a period of time.
Longer than standard sleeve for enhanced support

Odor free

Effectively retains the warmth in and around the knee joint
No moisture or sweat control
Inner sleeve may get itchy after time running in the heat
Sleeve may begin to slide or bunch up after a long period of running
Slingshot sleeves are made from 100% neoprene and feature a soft interior lining. They come in five different sizes. They feature a narrow top opening to provide for a more secure fit and to prevent the sleeves from sliding down or bunching up.
The soft inner lining of the Slingshot sleeve ensure that they cling comfortably to your leg without causing any annoyance or distraction. It will also soak up your sweat that is in the knee area. Whereas many other brands of knee sleeve have a tendency to bunch up at the back, the Slingshot will retain it's fit do matter how far you run.
The seams on the Slingshot are not double stitched. That presents a potential problem in terms of durability. The experience of many users is that the stitching will start to give anywhere between 6 and 9 months in the life of the sleeve.
Soft inner lining for enhanced comfort

Sweat soak up ability

Good level of compression
No double stitching
Dubious durability
The Workt sleeve makes use of patented Ecoprene technology to provide for better insulation, and increased stretch ability and 98% water proof ability. The Ecoprene system undergoes an intensive heating and mixing process to produce a unique uniform cell structure. This is in contrast to the cell structure of neoprene, which is loose and haphazard. The unique cell make-up of the Workt sleeve allows it to retain its structure and shape in a light-weight package.
Other benefits of the Ecoprene system are that they provide 4 times the stretch of neoprene, they insulate twice as much heat and they are stronger and more lightweight than neoprene.
Workt sleeves are coated with a hyper composite coating. This makes them 98% bacteria and moisture resistant. That means you don't have to worry about moisture or bacteria related odor when you use this product.
Excellent insulation

Water proof

Eco friendly

Strong yet lightweight
Conclusion
The best runner's knee sleeve that we found was the Emerge. The is product is extremely durable with quality double stitching on all seams. It is made from lightweight high density neoprene to provide the ideal mix between compression and freedom of movement. To top it off, the Emerge knee sleeve is up to 50% cheaper than space's brand leaders.
We've also identified some other great knee sleeves. The original and very popular Rehband offer both 7mm and the 5mm, both constructed from lightweight neoprene and made to last. Though more expensive than most, the Rehband is a brand that you can place absolute trust in. The 110 Percent Play Harder Blitz Knee Single Compression Sleeve is a unique product that combines compression and ice to double the training and recovery effect.