Top 10 Quarter Socks Reviewed and Rated
last updated:
Mar 25, 2021
The quarter socks are probably the most convenient sock-style out there. They are relatively short and invisible, but they have plenty of properties that longer socks do, like a better fit that is slip-proof. Quarter socks work well both for sports enthusiasts and for social butterflies, as they can easily complement both clothing styles and offer some very helpful features along the way. Since this is a website about sports, we will talk about sporty quarter socks, and which features make them useful for working out. Stick around and scroll down to find your best match!
This is the best product on our list that is currently in stock: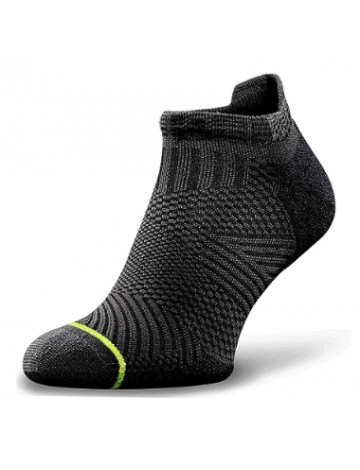 Rockay Accelerate
Why is it better?
100% recycled material
Performance cushioning
Mesh zones for breathability
Seamless toe
Lifetime guarantee
13
Researched Sources
16k
Reviews Considered
10
Hours Researching
12
Products Evaluated
Fit
Comfort
Materials
Features
Effectiveness
By Default
10 Best Quarter Socks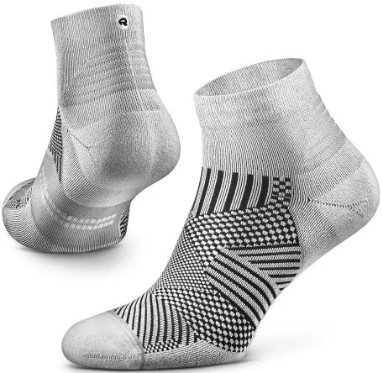 Snug, Supportive Fit
Extra Arch Support
Moisture-wicking And Anti-bacterial
Lifetime Guarantee
Eco-Friendly
The Flare Quarter Running Sock was designed with effectiveness, comfort, and durability in mind. If you are looking for a workout sock that offers the maximum level of comfort as well as effectiveness, then this is the perfect sock for you! With the perfect amount of detail on the adding cushioning, the overall breathability, and the arch support, your feet will be thanking you for making this choice!
Read more
Made from a combination of econyl regenerated nylon, recycled nylon, and recycled polyamide, these socks are not only amazingly comfortable on your feet, but they are great for the environment as well. Equipped with arch support and added performance cushioning, these socks are a perfect fit for runners and Crossfit enthusiasts. The extra padding will have your feet feeling like you have been walking on cloud 9 and with the keen attention to the arch support, your feet will thank you day after day!
These quarter socks also come equipped with a seamless toe, which means that you won't have to deal with these socks pinching your feet or bunching up on you, so you can spend more of your time focusing on your workout and less time worrying about your socks. The breathable mesh zones allow your feet to breathe, keeping them cool, dry, and comfortable during even the most intense workouts. Backed by a lifetime guarantee, you really can't go wrong with this choice!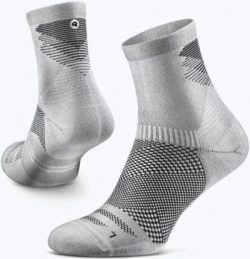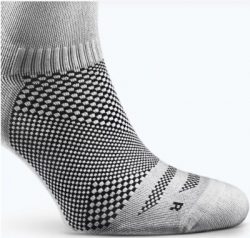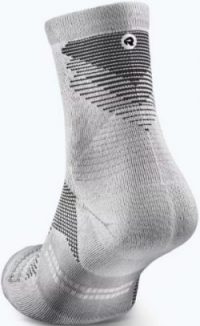 Added mesh zones
Seamless toe
Moisture-wicking
Arch support
100% recycled material
If you are looking for a lightweight sock that offers compression, comfort, breathability, and effectiveness, Then the Razer Trail sock is a perfect fit for you. Made from a combination of regenerated nylon, recycled Elastane, and recycled polyamide, this product is also great for the environment. This sock also comes with added cushioning, which only adds to the level of comfort. Read below to learn more about the amazing qualities of this quarter sock.
Read more
These quarter socks were designed with comfort and performance in mind. Equipped with unique mesh zones, your feet will remain cool, dry, and comfortable. This sock is also amazing at wicking away moisture, so you won't have to worry about your feet getting sweaty or producing odors.
With a seamless toe, you won't have to worry about any unnecessary pinching or irritation along with your toes and you can also focus more on your workout since you won't have to deal with readjusting this sock. These quarter socks were designed to fit just about anyone and can be used for just about any activity. Whether you are a runner, a hiker, participate in Crossfit, or are an avid gym-goer, you will definitely find a use for this sock.
The Razer Trail is also made from 100% recycled materials. This means that you are not only getting amazing benefits from this sock, but you are also helping the environment as well. Slip into a pair of these socks today and you won't be disappointed
100% recycled material
Performance cushioning
Mesh zones for breathability
Seamless toe
Lifetime guarantee
Only one color to choose from
If you're really enthusiastic about running, you probably heard about Rockay. They make some highly-specialized gear made just for running, and they make it out of eco-friendly materials that last a lifetime. Socks and calf sleeves are what they are known for, and the Accelerate is their most popular model. If you're looking for a sock that will improve your life and help you run better, then you've come to the right place!
Read more
The Accelerate is made out of an excellent blend of materials. Most of the sock is made out of the finest, organic Merino wool. The wool absorbs a lot of moisture, and it keeps you insulated. The polyamide part of the socks wicks away that built-up moisture and keeps you dry no matter how much you sweat, or how hard it's raining if you're stuck outside. And a small percentage of elastane makes these socks stick to your feet and give you the supportive fit you need to push through.
A good running sock has to have a tight top band. If not, the socks slip down into your shoes and bunch up, causing discomfort and friction, which in turn causes blisters. A tight top band also protects you from dirt and rubble.
The Accelerate has a great non-slip top band that is stretchy enough to keep you comfy without compromising your safety. Speaking of safety, the back portion of the top band has a small reflective logo that shines in the light and informs bikes and cars of your location in the dark. The top of the socks is moderately padded.
These cushions protect your fragile feet while evenly distributing the weight around them when you run or exercise. Extra mesh ventilation zones improve the airflow and they keep you cool and dry.
The Accelerate has a seamless construction. No seams mean no chafing or friction, so you're essentially safe from blisters and irritation. The toes are extra padded, and the heels have these cushions too, so you really are well protected against pain and blisters when you choose the Accelerate.
Both the heels and the toes are reinforced to survive that extra mile. The heels extended to the top of the foot, and that long pad prevents the socks from slipping in your sneakers while guarding your heels against blisters. The socks have an anatomical fit, so there's a left and a right one, plus the arches have some extra compression that keeps pain and aches away.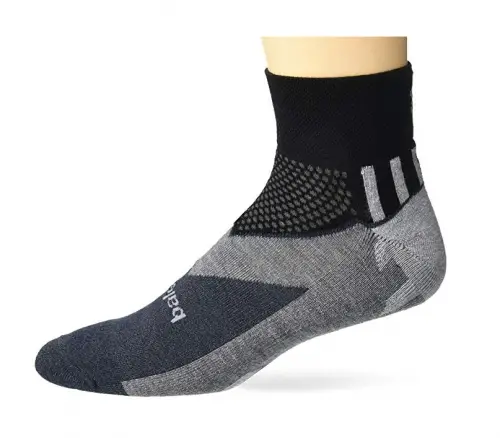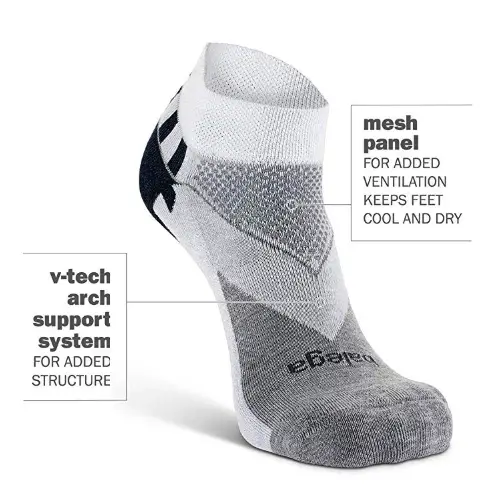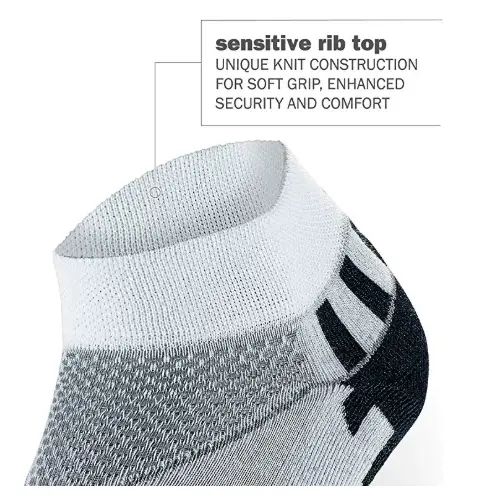 V-tech Arch Support System
Mesh Panel
Compression Bands
Sensitive Rib Top
Mid-weight Cushioning
Balega is also a brand that is very well known for creating excellent socks in all kinds of lengths and styles. The Enduro looks like a hybrid of a dozen different socks, but it's these different patterns and fabrics that make it so good. These patterns can also be quite colorful and eye-catching, or they blend with each other and create a calmer tone.
Read more
The very first thing you're bound to notice in these quarter socks is the bandage-like top band. This rib top band is very soft and sensitive, and you won't experience itchy ridges on your skin after you take the socks off, nor will they constrict your movement or circulation. The top band is elastic but grippy, so they will support you just enough.
The top band is also very comfortable, sitting gently against your skin. You can find a mesh panel sitting underneath the elastic top band. This triangular mesh panel keeps your feet dry and cool. Following the triangular pattern is arch support. The arrow-like shape gives your arches just the type of support they need when you stay on your feet the whole day.
When you turn the socks the other way around, you will notice stripes. These stripes are the compression bands. They are non-constricting, but their pattern improves blood flow and keeps swelling and fatigue and bay, The compression bands are surrounded by mid-weight cushioning that makes running an easier task for your feet. The toes are hand-linked and seamless, and they won't run you or bother you when you need to concentrate the most!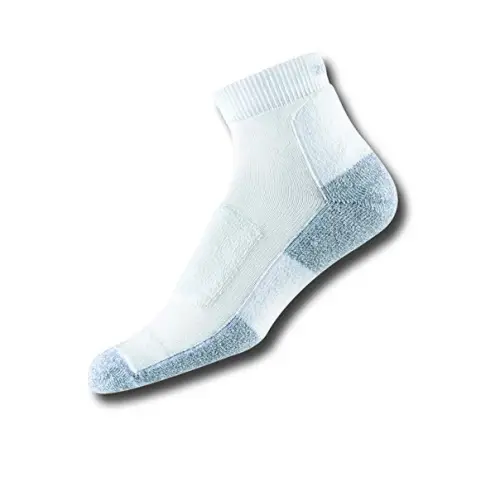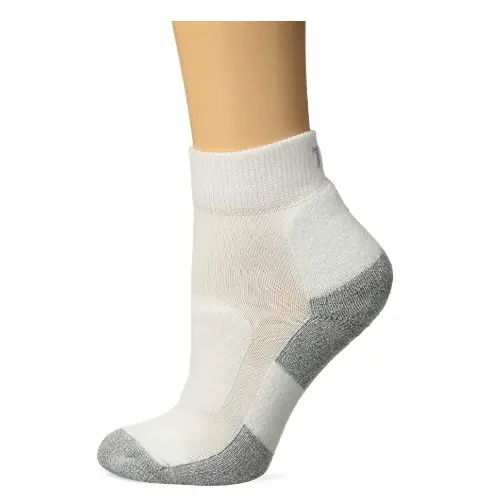 THOR-WICK Acrylic
Designed Specifically For Women
Superior Moisture-Wicking
Low Profile Toe Seam
Lightweight Padding
These pastel quarter socks are just what you need to push you through that final mile. Thorlos creates truly awesome socks and the LWMXW can help women feel their best when they exercise. Proudly made in the USA, the Thorlos LWMXW comes in a baby blue color or a combo of white and gray, which accentuates the heels and toes. The material blend of these socks is consisted out of 74% Thor-wick acrylic, 25% nylon, and 1% elastane.
Read more
The Thor-Wick acrylic which makes up most of the socks is what makes them so amazing in the first place. As the name suggests, this proprietary material keeps your feet super-dry and cool, so you never have to worry about sweating too much again. It's also lightweight and breathable, improving comfort.
The padding level is low, but it's still sufficient enough to protect you. This way, you get to enjoy the extra protection without feeling cramped up. The Thorlos protection offers maximum comfort, and you won't even realize you've got a pair of socks on.
The socks were specifically designed for women, and that can be seen around the sock if you look carefully. The ankles and arches include stretch yarn, a smaller heel box is present, and the toe box is also smaller, offering a better fit. The arches are cushioned for extra support. The toe seam is present, but it's low profile, so it won't bother you.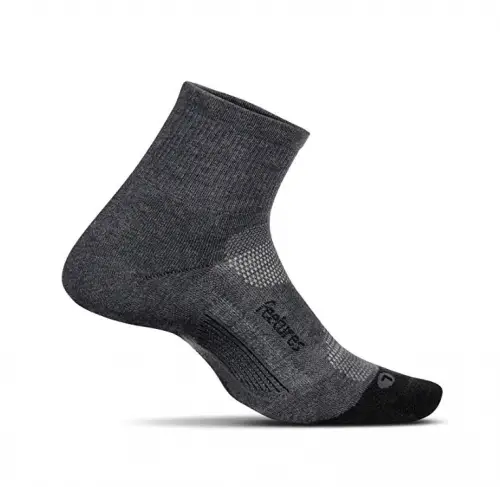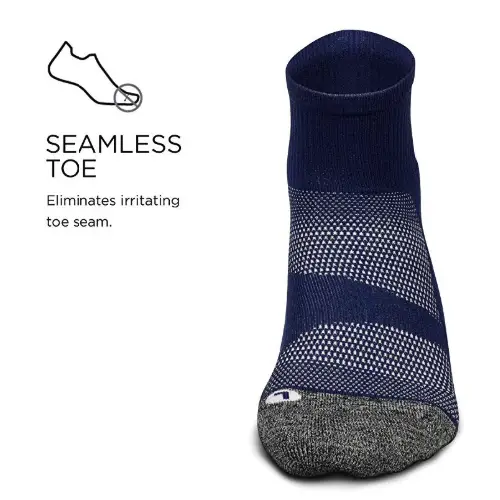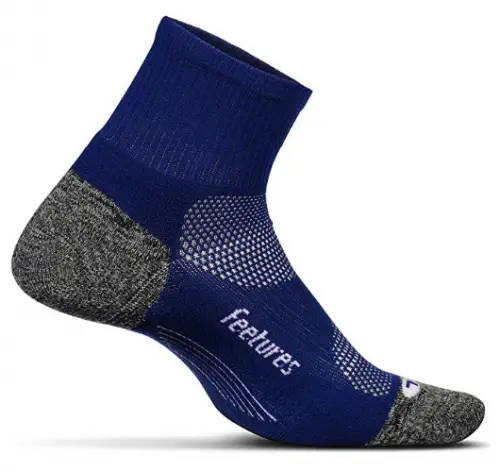 iWick Fibers
Anatomical Design
Seamless Toe
Targeted Compression
Max Cushions
The Feetures Elite was made with performance in mind. This means that the creators of these socks carefully considered what the body does when it's in motion, not what happens when you're standing still. That is exactly what you need when you're exercising! Their experience and awareness of how the body works have brought to you this marvel of a sock.
Read more
The Elite is best used for running or hiking, but you can also use it like you would use an everyday sock, and enjoy maximum comfort and protection no matter what you're up to. The reason why these socks are so comfy is the targeted compression. Compression socks work by squeezing your body and forcing the blood to flow better, essentially helping you rest faster, swell less, and experience almost no pain at all.
Their patented compression does just that but only on specific areas, allowing you to move without restrictions. Their elite max cushions are thick enough to protect you from pain without the extra bulk to bother you when you put your shoes on. The socks have an anatomical design.
There are a specified left and right sock, so make sure you've put them on the right foot! The specialized iWick polyester fibers manage moisture and keep you odor-free. The socks have no seams, and as a result, no blisters will form!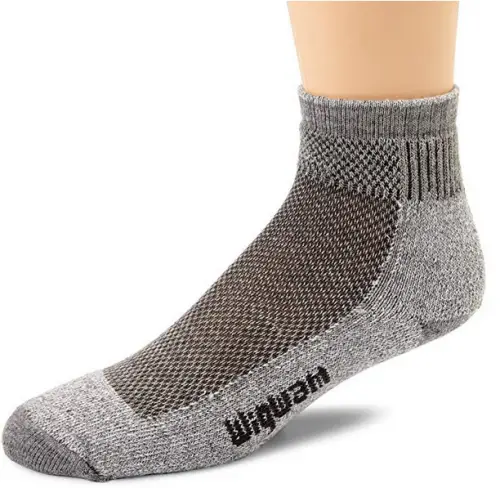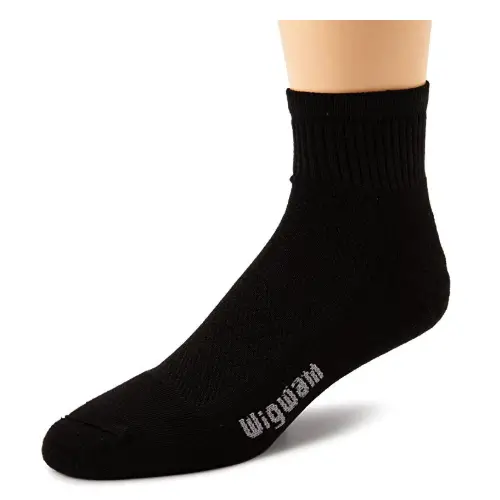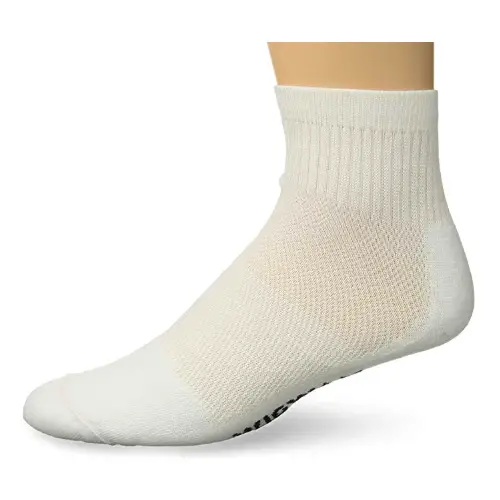 Coolmax Polyester
Dries Very Fast
Anti-blister
Lightweight Mesh Instep
Seamless Toe Closure
Wigwam is a US-based company that specializes in creating socks for athletes, so you know you're going to be well taken care of if you choose a pair made by this company! If you're looking for color though, you won't find it here, as the Cool-Lite comes only in gray, white, and black. This makes them easy to combine with everything, but you can't expect the socks to liven up your style!
Read more
The socks were made specifically for hiking, but you can use them for just about anything that requires standing or walking. The socks are 100% acrylic, but there are different kinds of acrylic that make up this pair. More than half of the sock is made out of Coolmax Acrlyc, Wigwam's answer to moisture management.
The Ultimax moisture control system effectively removes every last drop of sweat from the socks and keeps you dry and smelling like a field of roses. No moisture means no blisters! Stretch nylon is also present in the sock, and so is spandex, so don't worry about feeling cramped up and trapped when wearing the Cool-Lite.
They will stretch and twist with your feet, allowing them to move naturally. The arch panel is elasticized, offering support and room for stretching. The toes have a seamless closure for a bulk-free ride. A Y heel pocket strengthens the construction of the socks and adds a little bit of extra comfort.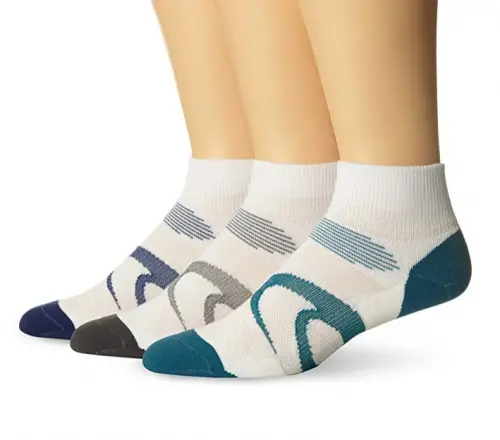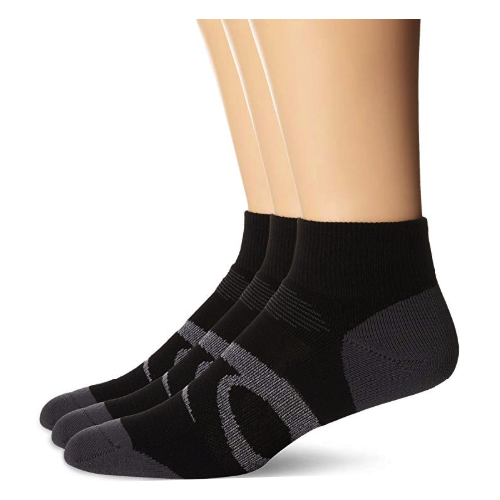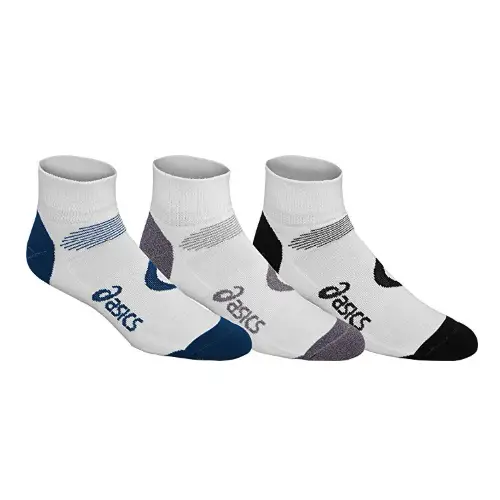 Good Material Blend
Arch Support
Soft Soles
Extra Padding
Y"Heel Gore Fit
We've all heard of ASICS before. They are a very popular sports brand, making all kinds of apparel and shoes for specific sports, but did you know that they also create socks? You might be a bit shocked by the price, but you should know that this is actually a three-pack, so when you consider everything, they are one of the cheaper sports socks out there!
Read more
The socks are made out of nylon, polyester, and elastane blend. Polyester makes up most of the sock, wicking away moisture and keeping you cool. The nylon and elastane give the socks the stretch you need, and they also give the socks a little bit of life with colors and patterns.
These materials are washing machine friendly, and you can safely throw them in the cycle with the rest of your clothes. Avoid the dryer though! The soles are soft, and the lace pad cushioning adds some extra comfort and protection against pain and fatigue.
There are knit-in mesh areas that allow the air to circulate in and out of the sock freely, An arch band is present that gives your feet the support they need when you overwork them. A Y heel gore fit strengthens the construction of the sock and improves the fit. The seamless toes remove the bulk some socks have as they protect you from blisters and all kinds of trouble.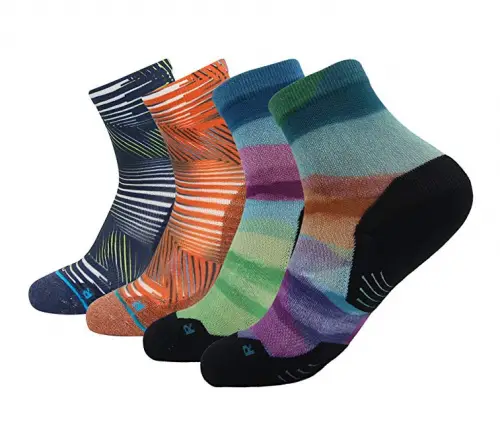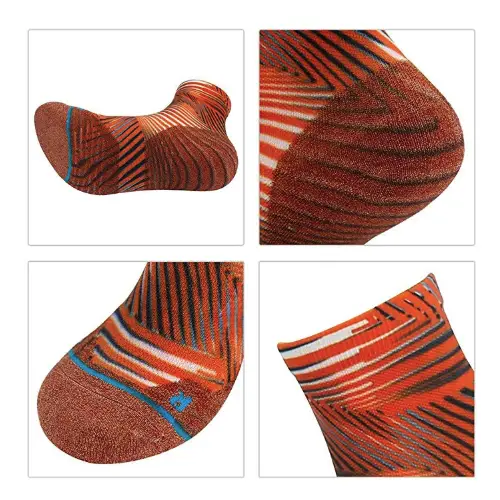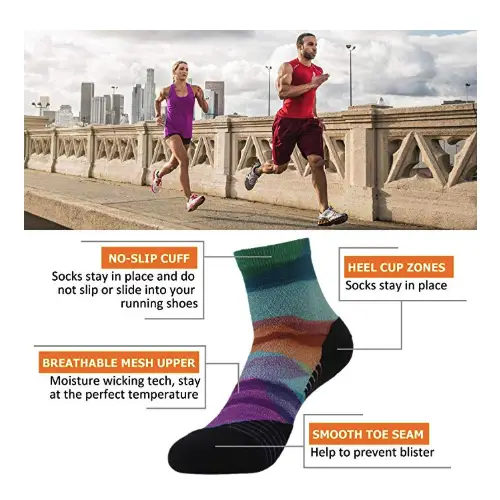 Ankle Support
Elastic Top
Moisture-wicking
Lightly Padded
Dynamic Arch Protection
HUSo is not a brand that is so well-known or popular, but they sure create some mean socks! There's one thing that HUSo does right, and that is bringing life to otherwise plain socks. Every pair of HUSO socks is very bright and colorful - some would say too colorful. The clashing patterns are not kitschy, and the colorways are filled with colors that complement each other and definitely grab the attention of curious onlookers. If you were looking for a happy, bright athletic sock, you've found your pair!
Read more
Besides being colorful, the HUSO socks have much more to offer. First, they come in a pack of three, so you get to enjoy more than one exciting colorway. The top band is elastic and supportive, preventing the socks from slipping down and keeping dirt and rubble outside of the sock construction.
The ankles are protected this way too, as the snug hug gives them a little bit of stability. The toes have a seamless design, so there will be nothing left to cause friction and blisters. You will notice that the colors don't stop completely on the soles of the socks - instead, one part wraps around the arches, acting as support.
This dynamic arch protection relieves fatigue and keeps your feet happy. The socks have light padding that absorbs shock and keeps the pain away. The material blend helps the socks wick away moisture and sweat, promoting airflow and keeping your feet dry!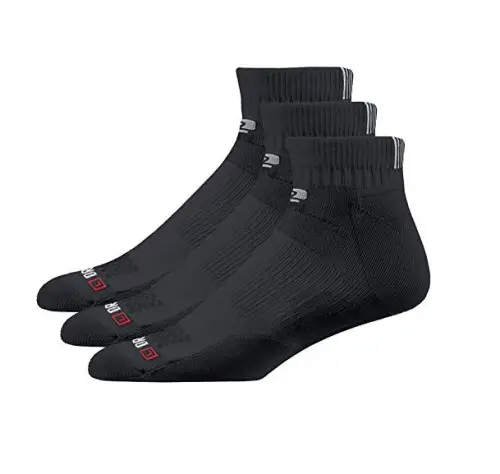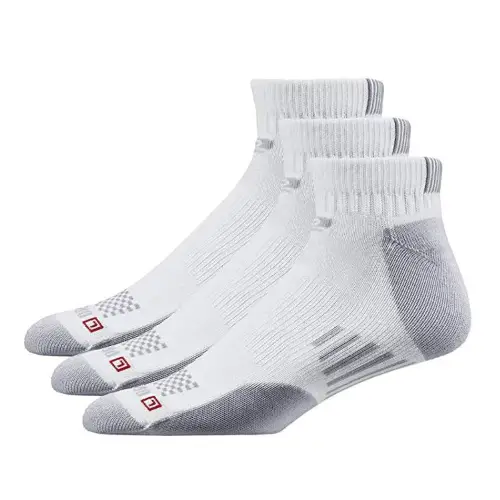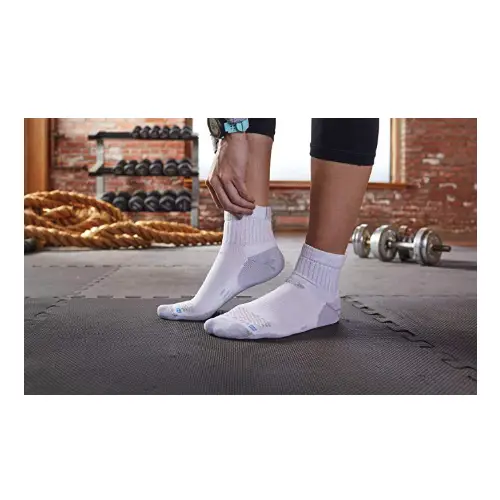 DRYMAX Technology
Dual-Layer Moisture Wicking
Anti-blister
Y-heel
Flat Seams
Not Very Blister-proof
Pricey
Just as the name suggests, the hallmark of this amazing pair is the technology that keeps your feet dry. The DRYMAX Technology has two layers of moisture-wicking knit fabric that was designed in a way that keeps the moisture moving from the layer closest to your feet, to the outer layer, where the moisture can escape and evaporate, leaving you dry and fresh. This technology is designed to keep you as much as 25x drier than any sock would.
Read more
There is no cotton present in these socks. The lack of cotton means that you won't feel any friction when you run, nor will you feel soaked. The lack of friction minimizes the chances of blisters forming.
These socks are proudly made in the USA out of dry max-olefin, polyester, nylon, and elastane. The seams are flat, so you can say goodbye to chafing and irritation. The heels have a y-shape, giving your feet room and comfort while keeping the socks in place.
Double cushioning under the feet absorbs shock and distributes weight evenly around the length of your feet. The compression arch band is breathable and supportive, while the elastic top band keeps the socks where they are meant to be. The socks are treated with MicroZap antimicrobial technology that kills odor-causing bacteria. Drymax offers a thousand-mile blister-free promise, and if you're not satisfied, you can return them!
Criteria Used for Evaluation

Fit
The way our socks fit us will determine a lot of things, but it will primarily determine how comfortable and effective the pair is. If the fit is off, chances are that you will get blisters, irritation, hot spots, and you won't feel any of the benefits the socks can provide you with. This is why you need to choose the right size!
Socks are either a one size fits all, or they come in multiple sizes that are usually parallel with shoe sizes. One size fits all socks are convenient, but they only cover average feet sizes. If you've got smaller or bigger feet, you won't find your luck there.
When choosing the correct sock size, you need to know your exact shoe size. If you're not sure what your shoe size is, and you shop by relying on luck, it's time to get down to business. Grab a piece of paper, a pencil, and a ruler, and then take off your socks.
Begin by standing on the piece of paper, and carefully trace the shape of your feet. Once you do that, measure the widest and the longest points of your feet, and compare those numbers to online sizing charts. If you're between numbers, always go for the larger size! Some socks can run small or large, so make sure you carefully read the reviews from other users to see what you need to do.
The fit is determined by what the sock is made out of, how compressive the socks are, plus some extra features that are unique to the socks. You need to consider everything in great detail before you make your choice!

Comfort
We spend most of our lives on our feet. Even when you're sitting down, if your feet are on the floor, you are working them up. This is why people spend so much time thinking about the comfort and the fit of their shoes but does anyone stop to think about the one thing between your shoes and your feet?
The comfort of the socks is as important as the comfort of shoes is, and a measly pair of socks will cause discomfort no matter how expertly made the shoes are. The comfort of the sock is affected by many things, like the fit, the materials, the padding, and a lot of features unique to the socks. We will break down some of the most important aspects so you always know what to look out for.
You need to look at the way your socks are constructed, before everything else. You probably had a poor pair of socks before, and you probably remember the thick, uncomfortable seams and the crooked stitches. These aspects are the hallmark of uncomfortable socks, and they are the main cause of pain and blisters.
The last thing you need when exercising is painful and sore feet! There's also one more thing to look out for when it comes to the way your socks are made. Ankle socks and quarter socks are notorious for slipping into shoes and causing all kinds of trouble.
This is solved with elastic, tight top bands. If the top band is elastic enough to allow you to move freely, yet firm enough to keep the socks in place, then you've found yourself a quality pair of socks. There are socks that have a silicone band that grips your skin, but this is risky too, and the only true way to avoid slipping is to get socks with a proper top band.
The top band has one more purpose besides securing your ankles and keeping the socks where they are meant to be - they also keep dirt away from the socks. If dirt manages to find its way into your socks, it will create friction, cause pain and potentially blisters, and blisters combined with dirt spells disaster!
Every sock we described here has some amount of padding. Socks made for exercising will usually have various degrees of padding because the pads protect your feet and absorb shock. If you're weight lifting though, try to avoid socks such as these because you don't need padding when lifting - it can disrupt your form and actually cause some pain! When you're running or hiking, too much padding can be problematic too. Sneakers made for these kinds of activities are usually already generously padded, and cushions on top of cushions leave no room for your feet to move or breathe, and you'll end up in pain, again. Finding the right balance of padding is what you need to do, and you must consider what you're going to use the socks for before you make the choice.
And finally, the level of compression can affect the comfort of the socks as well. We've all heard of compression socks and how magical they are. They help prevent fatigue, swelling, muscle soreness and much more simply by promoting blood flow. This happens because they squeeze your feet and pushing the blood against the pull of gravity. The level of compression can vary, but if you're completely healthy, it shouldn't go above 20 mmHg. Most socks have graduated compression, or they have a compressive band around the arches. Your arches are the part of your feet that need the most support, and by helping them out you prevent pain and aching.

Materials
Socks can be made out of just about anything. The most common material of choice for regular socks is cotton, but wool, polyester, nylon, elastane, and a whole bunch of proprietary materials can be found as well. The material blend says a lot about the sock, defining the fit, the comfort, the features and much more.
As we said, cotton seems to be the favorite. It's cheap, readily available, and it's natural. Socks made out of cotton are lightweight and breezy, making them ideal for hot weather.
They also color very easily, so you can find socks in every shade possible if they are cotton. However, cotton is simply not a good material choice for athletic socks. For starters, it can absorb a good amount of moisture and water, but it doesn't dry fast - instead it holds onto that water and as a result, causes friction inside the shoes.
It's also very flimsy, and it tears very fast leaving you without the socks you need. Wool is the second natural material of choice. It usually comes from Merino sheep.
Their wool is very thick and insulating, working both in hot and cold climates. The trapped air bubbles in the wool can simultaneously cool and warm you up. This kind of wool can also absorb 2/3 of its own weight in water, but as opposed to cotton, it wicks it away, letting the moisture escape through the surface. The only drawback of wool is the price - it's the priciest material out there, especially if it comes from Merino sheep!
Now let's describe the manmade materials usually chosen for socks. Nylon, polyester, spandex, and mesh all have the same source - plastic. The plastic is worked on in different ways, giving different kinds of materials with various properties unique only to them. Polyester seems to be the favorite here, as it is relatively lightweight and it takes on colors well.
Polyester can wick away moisture very good, but it doesn't let air circulate, making you feel stuffy and warm. This is where the mesh comes in. Mesh is super lightweight and breezy, letting air come in and out freely. Nylon is resistant to abrasions, and it's stretchy, but it doesn't resist tearing or puncture damage well.
Finally, spandex or elastane is extremely stretchy, expanding up to 500 times its original length! And it has the ability to bounce back to its original shape no matter how much you stretch it, creating the very same tight fit every time you put your socks on.

Features
Socks made just for working out come with a lot of specialized features. These features make exercising a much more enjoyable experience, and we highly recommend you give working out with special socks a try. The most important feature of athletic socks is moisture-wicking. Moisture-wicking is the ability of the sock to rid itself of built-up sweat and moisture.
Polyester and some other highly specialized materials have this feature. Moisture-wicking happens thanks to very small capillaries, similar to the ones we have. These capillaries attract water and help it escape to the outer layers of the sock, where it can evaporate and leave your sock dry. Breathability is also important, and you can't have a breathable sock if it's not moisture-wicking!
Anti-blister and non-slip features are also important. Anti-blister socks protect you from blisters with their specialized construction. They do not move around or slip around your feet, and they don't cause any extra friction which can possibly invite blisters.
The seams of these socks are flat or non-existent. The top band also helps keep the sock in place, and if everything works the way it's supposed to, the socks will stay anchored in place, and there will be no friction that creates hot spots.

Effectiveness
Quarter socks have just the right length to protect your feet while keeping you cool and dry. They slightly peek above the shoes, grabbing onto the ankles and stabilizing them. The length of the sock does not affect the quality of the sock though.
You need to consider what you're going to use the socks for, and then realize which length you need. The features the socks have will also determine how effective they are. If you want effective socks, you need to know what you're looking for and then choose accordingly, because if you're not sure, you might judge the sock as bad without actually using it for what it was made for!
Expert Interviews & Opinions
Most Important Criteria
(According to our experts opinion)
Experts Opinion
Editors Opinion
Users Opinion
By Default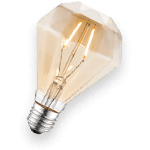 Durability
You probably use socks every day of the year, besides some summer days when it's too hot. This is why socks need to be exceptionally sturdy to survive that kind of abuse! Socks also need to be washed every day, and even if you have 20 different pairs, you will still cycle through them fast, and constant washing ruins the fibers, making the socks susceptible to wear and tear damage. This is the reason why some socks are equipped to survive all of that and much more. They have reinforced heels and toes, the two areas most likely to tear, some socks have special sturdy materials, while others have a y-heel construction that keeps them whole!
Value
Socks are probably the cheapest part of our outfits. They are small and simple to make, so their price is not that high. But specialized socks are a different story. This is where manufacturers pull all of their weight, using proprietary materials, innovative technologies while thinking of ways to constantly improve the socks. Athletic socks are much pricier than regular socks, and although their price might scare you at first, you need to remember that everything that was used to create the sock is much pricier than just a blend of cotton and polyester is!
Other Factors to Consider

Bottom Line
Quarter length socks are perfect for all kinds of activities. They are just long enough to offer you protection without bothering you too much. You can find plenty of different kinds of quarter socks out there, made both for working out and going out! We hope our guide has helped you understand quarter socks more, and that you've found what you were looking for!
Frequently Asked Questions
q:

How do I care for my socks?

a:

Washing and drying your socks is usually pretty straightforward. All you have to do is just throw them in the washing machine, dry them off and then wear them again whenever you please. Some socks are much more delicate than others, and they require special care.

They should usually be washed on a lower temperature, or they should be hand washed delicately, and then left outside, out of the way of the Sun, to dry. If you're not sure what you need to do, look up the instructions provided by the manufacturers, as they usually tell you what you need to do to remain clean!
q:

Are quarter socks uncomfortable?

a:

Every style of sock can be uncomfortable if it's not constructed well. A quarter sock is no different than a knee-high sock, and their odd length just stabilizes the ankles - it doesn't pinch them or cause circulation issues. Quarter socks can become uncomfortable if they do not have seamless toes, or if they tend to slide into your shoes and bunch up, causing friction and blisters!
q:

Can't I just wear regular socks when working out?

a:

Of course, you can, and you should have no problems doing that. However, if you give athletic socks a try, you will see why they exist in the first place! They have just the right features to make working out so much better and pain-free, and once you try them you will probably never look back!
q:

Are these socks pricier than regular socks?

a:

You can expect to see higher price tags on socks with a lot of fancy features. A lot of time and money was spent to create such socks, and because of that their price is higher. But their value is greater too, and they will certainly enrich your life and make it more enjoyable than it was before!
Subscribe to our newsletter