Top 10 Athletic Socks in 2021 Reviewed & Compared
last updated:
Mar 25, 2021
If you're a rookie athlete, be it going to the gym or just running, chances are that you don't have the right pair of socks. Maybe you even tried working out in them, only to discover foot pain and blister. Maybe you even blamed your poor old shoes for your troubles! Instead of throwing out your sneakers, you could give the proper pair of socks a try, and see how much they improve your fitness life. Read on to discover our list of the best athletic socks and what makes them so special!
In a hurry? The test winner after 12 hours of research: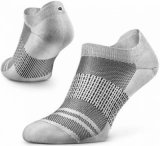 Agile
Why is it better?
Made from 100% recycled material
Arch support
Ultra-thin design
Breathable mesh zones
In a
Hurry? Editors choice: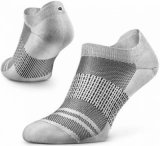 Test Winner: Agile

15
Researched Sources
14.5k
Reviews Considered
10
Hours Researching
13
Products Evaluated
Comfort
Fit
Materials
Features
Effectiveness
By Default
Criteria Used for Evaluation

Comfort
Humans spend most of their lives on their feet. Whether we're running, walking, or standing still, our feet are the ones that have to carry our weight and help us reach our goals. This is why it's very important we provide them with as much comfort as we can, and the way most people do that is by buying super comfy shoes.
Our shoes are not the only ones that affect how good our feet feel! A poorly chosen pair of socks can undermine all of the work shoes do, and sooner than later your feet will feel angry and sore. If you want to avoid that, make sure you know what to look for when buying a proper pair of socks!
The very first thing you need to look out for is how the socks were made. Chances are that you had a pair of low-quality socks. It's possible that you're wearing one now, while you're sitting comfortably and reading our guide.
Although the quality of the sock does not matter as much when we are sitting down and relaxing, it does matter a lot when we're walking about, working, or exercising. If you want to know whether you've got a good pair of socks, divert your attention to the seams and stitches that hold the socks together.
Crooked seams and super thick stitches are a hallmark of bad socks, and wearing them with sneakers spells trouble. The seams are the main cause of irritation of blisters, and they can even pinch your skin and toes and cause all kinds of pain. This is the very last thing you need when exercising, which is why athletic socks usually have seamless toes and heels.
With no seams to irritate you and cause friction, there will be nothing left to cause blisters. The next thing you need to observe is the top band. Knee-high socks and crew socks don't usually have a tight top band, because they have a lot of skin to grab hold of and they can stay up all by themselves.
However, low-cut socks and no-show socks, and fitness socks are usually like this, are pulled down when you move and they slither into your shoes. Once they do, you need to stop and adjust them, or you need to suffer the consequences of a bunched up sock. A tight top band will prevent all of this, keeping the socks where they are meant to be.
The top band has to be elastic too, because your feet need the precious oxygen-rich blood, and a band can prevent that from happening if it squeezes you too tight. This can lead to pain in the feet and toes.
Compression bands around the arches are something to look out for as well. These bands apply a certain degree of pressure around the arches, giving them support and keeping the sock in place. All of this can affect the comfort level of the sock, and if anything is lacking, you won't feel comfy.
One more thing that really affects how comfortable the sock is, is the padding. Fitness socks usually have cushions, but the cushions shouldn't be too thick. The pads should be dense and thin because this way they offer the most protection without affecting the fit of the shoes and your comfort.
Pads are usually present around the toes and heels, but some socks are padded throughout the soles, and some are even padded at the top. How much padding you need is determined by what you're going to use the socks for. Walking and hiking need the most protection while running socks do not need as much because the sneakers are already generously padded.
If you're going to use the socks in a gym setting, remember to avoid padded socks if you plan to lift. Shoes made for lifting have zero cushions and a super firm midsole because you need a stable surface to lean into when you lift, and a padded sock can ruin that and throw you off balance, which is the last thing you need when you lift heavy!
The compression can also affect the level of comfort. Although athletic socks are not compression socks, there can still be areas that have compression, most notably around the arches. You might think that squeezing itself is not comfy, it can actually increase the comfort level a lot.
Compression on the feet helps with stabilizing them, particularly the ankles, and it also prevents swelling and fatigue. Graduated compression is the best for this, but again, athletic socks do not have this. Even the smallest level of compression can greatly increase comfort, and it's always better to have that tight hug stabilize your arches and help you achieve more than what you hoped for!

Fit
If you want a comfortable, effective sock, it has to fit you right. If the sock slides around your feet or squeezes you too tightly, you won't be able to concentrate on working out. Socks that are too big slide around our feet and leave extra bits of material that bunches up and creates friction, while small socks cramp your feet up and cause pain. This is why it's really important you find the right sock size.
Some socks are one size fits all, while other socks have five or more different sizes to accommodate different foot shapes. One size fits all socks are convenient, but they usually don't work well for people who have feet that are too small or too big. The width can also be compromised, so it's always better to look for socks that offer more sizes.
Fitness socks are usually never one size fits all, because all the extra features they have to affect the fit, and you can't be sure the same size can fit different feet the same way. Most fitness socks follow the size of your shoes, so your shoe size is your sock size.
Some people don't know precisely what their shoe size and rely on going to the store and trying out what they believe their size is, and then adjusting the size to what they feel is good. Well, you can't do that with socks, because no one will allow you to actually try them on before you buy them, so you must be absolutely certain about your shoe size.
If you're not, there's a quick way to check. Just grab a piece of paper, take off your socks, and place your feet on the paper. Measure both feet, because their size can vary sometimes.
Trace the outline of your foot with a pen, and then measure the widest and longest points. Write down these numbers, and then compare them to the charts the manufacturers offer, and there you go - you've found your sock size!
The fit can be affected by other aspects besides the size. The length of the sock matters here too. Longer socks tend to fit better, but you have to take your calf circumference into account as well if you want the best fit.
Short socks hug the foot and a little bit of the ankle, but if the top band is too tight, you might feel uncomfortable. Also, shorter socks tend to slither into shoes, affect the fit greatly. Make sure the socks have a good top band, as we described in the comfort section. The padding, compression, and stitches can change the fit as well, and you must remember to consider every factor before opting out for the right socks for you.

Materials
What your socks are made out of says a lot about them. Regular everyday socks are usually made out of cotton, with a little bit of polyester to keep your feet dry. Cotton is a natural material that comes from the plant bearing the same name.
It's cheap, easy to harvest, and it creates beautiful socks because it takes on colors very well. There is a reason why these kinds of socks have little to no cotton in them. Cotton is not very durable, and it won't survive being trodden on repeatedly for long periods of time.
It's also thin, and it absorbs water well but it doesn't let it dry off, so if you get socks that are mostly made out of cotton, you can expect to feel damp and stuffy as soon as you start to sweat. Wool is one more natural material that is much better for socks for working out. It's usually Merino wool or Mohair that makes up athletic socks.
Although you may think that wool will make you feel way too warm, or that it may scratch you and pinch you, the wool used for these types of socks is different from that. It has different fibers compared to regular wool, with a hollow center that holds on both warm and cool air, and it adjusts to the conditions outside to make you feel comfortable.
Wool absorbs water the same way cotton does, maybe even more, but thanks to the thick fibers and the different construction, the water escapes to the outer surface very fast, leaving you dry and cool. Wool is also very durable, but the biggest drawback is the price, as wool socks are some of the priciest socks out there!
Polyester is the most common synthetic fiber found in athletic socks. It's derived from plastic, and depending on the company, it's treated in ways that make it unique to the brand. These unique strands of polyester have unique features that improve your athletic life.
They wick away moisture and keep you dry, they are easy to wash and dry, or they are super hardy and very unlikely to tear. Nylon and spandex can be found in fitness socks as well, and they serve to improve the fit.
These materials give the socks their stretch and allow your feet to move naturally. The best athletic socks are a blend of most of the materials we mentioned here, and it's always better to have different fibers making up the sock instead of just going for a simple blend of two!

Features
Athletic socks have a lot of features that make them what they are. The first thing that separates these socks from regular socks is their ability to wick away moisture. Regular socks can do this too, but the moisture-wicking of athletic socks is much more powerful.
This aspect is of great importance, simply because you won't feel good running around in damp socks. A damp sock can also cause bad odors because bacteria love to thrive in such conditions. Lastly, a wet sock increases friction and creates blisters.
Some socks are treated with anti-microbial technologies, like silver or special proprietary material blends, that do not let bacteria develop no matter what. Tightly related to moisture-wicking is breathability. Breathability is achieved with mesh panels and ventilation zones.
These usually sit on top of the sock, but they can be found elsewhere too. Although wicking away water is most of the job, the hot, humid air still has to escape somewhere to let the cool air in. Finally, look out for socks that have anti-blister properties, and socks that support your feet!

Effectiveness
Why do we need special socks for running or working out in the first place? Can't we just go run in our regular, day-to-day socks? The answer is yes, you could, but you will greatly benefit if you wear the right kind of socks. Regular socks cannot protect you from blisters, they do not give you the support you need, nor do they fit you so well as a sock that is made specifically for working out.
By wearing regular socks when you exercise, you open up ways to feel discomfort, pain, and fatigue, which fitness socks would definitely protect you from. If you don't believe this to be true, you can test it out. Get yourself a pair of athletic socks, and then wear them one day, and compare them to regular socks. You will find that you feel much better and that maybe you even did better simply by wearing the proper socks!
Expert Interviews & Opinions
Most Important Criteria
(According to our experts opinion)
Experts Opinion
Editors Opinion
Users Opinion
By Default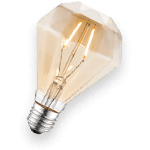 Durability
The socks that you choose will have to be durable. After all, you are going to push yourself to the limits, and the pair you're wearing has to be able to survive that, more than once! Look for socks that have reinforced heels and toes.
There are usually the areas to give in first, as they survive the most friction and abuse. Also, make sure you know how to care for your socks properly, because putting them through the wrong cycle can shrink them or tear them to pieces, and you can't wear socks like those! You also must know when it's time to retire your favorite pair. Once you see holes sprouting everywhere, or once the sock loses its effectiveness, it's time to say goodbye!
Portability
The best part about socks is that they are small. You can fit them just about anywhere, and carry them with you no matter where you go. This means that you can go to the gym in your regular socks, and then switch to your fitness socks once you put your gym shoes on.
This way, you ensure the socks last a longer time, and you also have a clean pair waiting for you once you're done exercising. You can always carry an extra pair of socks in case something goes wrong with the first pair!
Other Factors to Consider

Bottom Line
We can't imagine our lives without socks. Wearing shoes barefoot is never a good idea, but wearing the wrong kind of sock is also problematic. Once the fitness socks appeared, our lives were greatly improved and we started to really feel the benefits of working out without our feet feeling angry and sore afterward. We hope our guide has helped you find what you were looking for, and that you understand the importance of these types of socks better!
Frequently Asked Questions
q:

Does the length of the socks matter?

a:

The length of your sock matters if you're exercising outdoors. If you're just going to the gym, no-show socks or quarter socks are a perfect fit, as you don't need the extra coverage knee-highs to provide. If you're going hiking or trekking, longer socks can protect you from the elements and from nature, so it's better to go for longer pairs.
q:

How often should I wash my socks?

a:

It's always best to let your socks air dry after you're done working out and then throw them in the washing machine as soon as they are dry. Some sock manufacturers, like Rockay, have treated their socks with special chemicals that do not require you to wash the socks as often as you normally would. Make sure to read the instruction of the sock producer, and wash them according to that, and you should have no problems!
q:

Are these special socks pricey?

a:

You can expect to see a bigger price tag on athletic socks. This is simply because a lot more thought has been put into creating these socks, as opposed to normal socks. They also have plenty of features and amazing materials that make them worth the while, so you will pay more, but their value is much bigger too!
q:

Can I wear them when I'm not working out?

a:

Sure you can, but it's probably better to save them for when you're exercising. When you wear them all the time, you damage them and shorten their lifespan. And it's always better to have your athletic socks last as long as possible instead of enjoying wearing them when you sit around doing nothing!
Subscribe to our newsletter