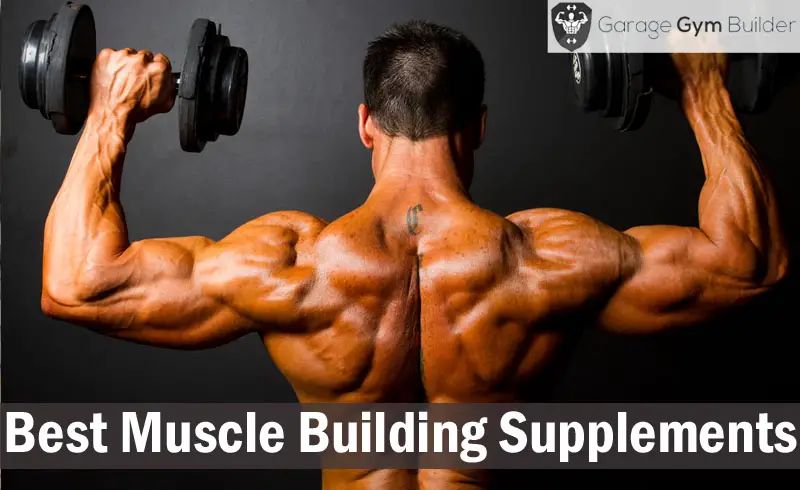 Best Muscle Building Supplements Review 2018
If you think building muscle happens in the gym you couldn't be further from the truth. That's when you break your muscles down, causing micro-tears in their fibers. Getting the right nutrients into your body before and after your workout is the key to making your muscles bigger. That means you need to be taking the most effective muscle building supplements. In this article, we identify the best mass building supplements on the 2018 market.
A Quick Glimpse at the Top 10

The best muscle building supplement on the 2018 market is Mutant Mass, which delivers 1060 calories per serve, with 52 grams of protein and has a great taste. Our second best muscle growth supplement is Optimum Nutrition's 100% Whey Gold Standard, delivering 24 grams of protein per serve, with 4 grams of glutamine and 5 grams of BCAAs.
The third best muscle building supplement for men is MusclePharm Black Label Assault, which contains creatine, arginine and BCAAs and is fortified with beta-alanine.
To make it easy for you to compare and contrast the Top 10, we rated each product on the basis of price and effectiveness and then provided an overall rating out of 5. In the next section, we go in-depth on each product.
Mutant Mass is a weight gain product that you take in addition to your normal meals. It will provide you with an extra 1060 calories in order to build lean mass. It has just the right protein to carbohydrate ratio to fuel a muscle building anabolic surge. Every serving of Mutant Mass gives you 52 grams of proteins and 182 grams of carbs. What's more it mixes very easily, with no residue or grittiness.
Mutant Mass includes 32 grams of branch chain amino acids to repair and replenish your muscle cells. It is also fortified with glutamine to further provide the muscle building environment that you need to benefit fully from your gym workouts. Unlike most mass gainers, Mutant Mass has a great taste.
1060 calories per serve
52 grams of protein
Great taste
38 grams of sugar per serve
Optimum Nutrition are known for keeping their products simple. Gold Standard is a blend of whey protein isolates, whey protein concentrates and whey protein peptides. It also includes artificial colors, flavours, lecithin, and the digestive enzymes, Amino Gen and Lactase, to help you to absorb the product more efficiently. The digestive enzymes give your body a boost in breaking down the protein in its free form so it can get into your blood stream faster.
Quite simple, Optimum Nutrition tastes amazing. It comes in an impressive 21 flavours, each one more exotic than the last. With offerings such as Rocky Road and Cookies and Crème, each mouthful feels like you're cheating on your diet, when in fact you're getting the cleanest, purest protein source available.
24 grams of protein per scoop
Contains Whey Protein Isolate
4 Grams of Glutamine per serve
5 Grams of BCAA's per serve
Assault contains more active ingredients than any other pre-workout supplement product on the market today. Each serving contains 2g of beta-alanine to boost endurance and promote the buffering of lactic acid. Hawthorne Berry and Berry Root have been added to promote the body's production of nitric oxide to induce that wicked pump.
A unique aspect of Assault is it's combination of Creatine, Arginine and Branch Chain Amino Acids into a special nitrate that acts as a super vasodilator to open up the blood pathways. Assault has a superior ability to promote insulin with it's inclusion of the muscle building nutrients glycine, d-ribose, cinnulin pf and dextrose. The taste of Assault definitely hits the spot. The only flavour is Fruit Punch.
Creatine, Arginine and BCAA's
Fortified with beta-alanine
Great taste
MHP Dark Matter are known for their detailed, quality products and Dark Matter certainly lives up to the rep. The first thing this product tries to do is to spike insulin to quickly delivery nutrients into the muscle cells. This product also contains 3 different types of creatine in order to build cell volumization. It's also got tons of amino acids.
MHP Dark Matter contains 48 grams of carbs and 12 grams of protein per serve, which is a four to one ratio in favour of carbs. A very effective post workout carbohydrate source, Dark Matter includes a mix of creatine and some other anabolic enablers to replenish and grow your muscles after your workout. This is a very solid post workout supplement.
3 types of creatine
Packed with amino acids
48 grams of carbs
Legion Recharge is a creatine based product. As such its main benefit is as a performance enhancer, prepping you for the coming workout. It does act, however, as a cell volumizer. Carnitine is added to act as the major recovery and catabolism agent in this product. The creatine monohydrate base provides a solid base from which to build muscle, reduce cell damage and soreness and increase the glycogen levels in your muscle cells.
Legion Recharge product tastes great and mixes well. Each container provides a generous 60 servings. Recharge will allow you to push more weight in the gym, and then recover and build muscle faster when your workout is over. It includes corosolic acid to enhance post workout carb consumption.
Cell volumizer
Increases glycogen levels
60 servings per container
BSM Cell Mass 2.0 features a heavy creatine content in a blend of 3 varieties. It is also heavy on glutamine. This stops muscle fatigue and quickly replenishes the cells. The creatine content will add volume, while priming your ATP reserves for the next workout. The product comes in four flavors, which each taste great.
BSN CellMass 2.0 is a very effective workout recovery formula. BSN CellMass 2.0 has a 50:50 ratio of carbs to protein. The ingredients of CellMass 2.0 are a proprietary blend of Protein Hydrolysate, L-Glutamine, Glutamine Peptides, Taurine and Banaba extract, Myogenix matrix of Creatine, monohydrate, Creatine HCL, and Creatine Anhydrous. BSN Cellmass 2.0 is not a high dosage carb and protein supplement. It is also missing dextrose.
3 types of creatine
50:50 carb to protein ratio
Great tasting
Optimum Nutrition have done a great job in creating a recovery formula for right after your workout. It's called 2:1:1 Recovery because they use a unique blend and specific ratios to optimize your growth. The product uses double the amount of hydrolized protein compared to casein and egg based protein to provide immediately accessible protein to the muscle cell. 2:1:1 Recovery mixes well in a shaker bottle. It is good value for money.
Optimum Nutrition is extremely effective as a post workout recovery formula. The taste isn't great, being rather bland but tolerable. Also, there is no creatine. It features a blend of fast, slow and medium digesting proteins to provide a sustained amino acid release throughout the day.
Fast, medium and slow release proteins
Mixes well
5 grams of BCAAs
Myogenix After Shock contains a complete nutritional profile to fast track protein and carbs to your muscle cells immediately after the workout. It includes creatine and glutamine for cell volumization and enhanced ATP production. After Shock has a great taste. It doesn't have a bulky taste to it. In fact, this post workout shake actually acts as an appetite stimulant, meaning that you'll be primed for a whole feed meal an hour after your workout.
The addition of creatine and a glutamine blend make this a complete post workout formula. After Shock contains roughly a 50:50 ratio of carbs to protein. Every serve contains 30 grams of carbs and 32 grams of protein. It contains Kre alkalyn, L- Norvaline Magnesium Glycyl Glutamine and BCAA's.
Creatine and glutamine
50:50 carb to protein ratio
32 grams of protein per serve
Scivation Xtend is the most popular BCAA supplement on the market. It provides you with 7 grams of branch chain amino acids. It will immediately prevent the catabolic effect of your workout, transforming it into an anabolic state. The emphasis on BCAA's will increase the rate of protein synthesis, decrease protein degradation. This product is especially beneficial if you are on a low calorie diet. Scivation Xtend is a carb free product.
Because the BCAA's in Scivation Extend are free form, they must be taken on an empty stomach to achieve proper absorption. The ingredients are Leucine, Iso-leucine, Valine, Glutamine and Citrulline Malate. It comes in a range of great tasting flavors including watermelon. This product is zero calories, sugar free and carbohydrate free.
To find out how effective your supplementation routine is, you need to know how to accurately take your body composition. Discover how with our in depth How to Accurately Calculate Your Body Fat Percentage 2018 - it will show how to do it not only accurately but cost effectively.
7 grams of BCAAs
Carb free
Great taste
Glutamine level a little low
BPI Sports 1.M.R Vortex is a powdered pre workout supplement. By combining six key clinically proven ingredients, it will provide you with more workout power and energy, allowing you to train with more intensity. It contains caffeine to provide your training with a powerful boost. It will also keep you mentally dialed in for the workout of your life. Glycerol is added to improve hydration to the muscle cell, resulting in full, pumped muscles.
BPI Sports 1.M.R Vortex contains yohimbine which has been shown to enhance blood flow. It also helps to promote thermogenesis by lifting the body's core temperature. Niacin is also included to improve blood flow to the working muscle cell. The result will be more oxygen to the muscles.
Now that you know which supplements are the best for building mass, discover the most effective formulations to cover every training need with our Best Workout Supplements Review 2018 - it's all there.
Clinical dosage of caffeine
Glycerol for efficient cell transportation
Yohimbine for blood flow
Conclusion
The essential bodybuilding supplements for muscle building boil down to the 10 key formulations reviewed above. Our favorite muscle building pill is Mutant Mass, which provides 1060 calories in every serve, 52 grams of protein and has a very pleasant taste. Our second top product is Optimum Nutrition's 100% Whey Gold Standard, which provides 24 grams of protein, 5 grams of BCAAs and 4 grams of glutamine.
Rounding out our top 3 best supplements for bulking is MusclePharm Black Label Assault, which delivers a powerful blend of creatine, arginine, BCAAs and beta-alanine.
---