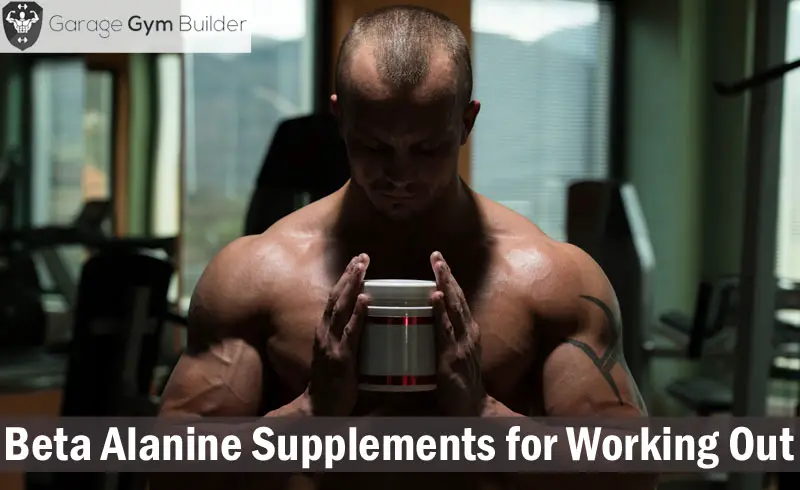 Best Beta Alanine Supplements for Working Out Review 2017
Beta Alanine stands second only to creatine as a powerful muscle building stimulant. Beta alanine benefits include upping the levels of carnosine in the body. Carnosine acts as a buffer of hydrogen ions, which lifts pH levels and boosts energy. The bottom line is that beta alanine staves off fatigue and increases muscle strength and power. In this article, we review the top 10 beta alanine products on the 2018 market.
A Snapshot of the Top 10

The best beta alanine supplement on the 2018 market is NOW Foods Beta Alanine, which delivers 100% pure b.a at a great value. We also loved Optimum Nutrition's version, which provides histidine and electrolytes to boost performance. Our third favorite is ProLab Beta Alanine Extreme, which is fortified with histidine, mixes well and is great for stacking.
To make it easy for you to compare the best products out there, we've rated the top 10 on the basis of price and effectiveness. Then we've provided each with an overall rating. In the following section, we go in depth on each product.
| Product | Product Name | Price | Effectiveness | Overall | Product Link |
| --- | --- | --- | --- | --- | --- |
| | | 5/5 | 4.75/5 | 4.75/5 | |
| | | 4.5/5 | 4.75/5 | 4.5/5 | |
| | | 4.5/5 | 4.5/5 | 4.5/5 | |
| | | 4.5/5 | 4.5/5 | 4.5/5 | |
| | | 4.75/5 | 4.5/5 | 4.5/5 | |
| | | 4.5/5 | 4.25/5 | 4.25/5 | |
| | | 4.25/5 | 4.5/5 | 4.25/5 | |
| | | 4.25/5 | 4.25/5 | 4.25/5 | |
| | | 4.75/5 | 4.25/5 | 4.5/5 | |
| | | 4.25/5 | 4.25/5 | 4.25/5 | |
The Top 10 Up Close

NOW Foods Beta Alanine is a 100% pure powder. There are no other ingredients apart from beta alanine powder, meaning that it contains no sugar, starch, yeast, wheat, gluten, corn, soy, milk, egg, shellfish or preservatives. That makes this a vegetarian friendly product. It is a non-flavored powder that produces a neutral taste. This makes it ideal for stacking with other products, especially your pre-workout protein powder.
NOW Foods B.A is a great value product, providing a 500 gram container, which provides one hundred 5 gram servings. The powder mixes well with a spoon in water, providing no grittiness or after taste. As with any b.a. product, you will get a slight tingling sensation with this product.
PROS
100% pure b.a.
Ideal for stacking
Great value
Optimum Nutrition Beta Alanine provides you with pure fortified powder with four different electrolytes and histidine. This enhances the carnosine synthesizing effects of the product, providing greater training energy and overall endurance. This will allow you to push harder for longer in the gym. Each serving delivers 1.6 grams of beta alanine, and 550 milligrams of histidine. You get 75 servings from every container of ON's B.A powder.
Each container of Optimum Nutrition powder contains unflavored powder. It mixes very well with just a spoon, delivering a smooth taste without any grittiness. You can mix this product with other training aids. Optimum Nutrition products are manufactured under the most stringent guidelines in the United States.
PROS
4 electrolytes
Histidine
Good value
Pro Lab B.A Extreme is a high quality blend that includes both Carnosyn Beta-Alanine and Histidine for an advanced energy producing effect. This product is specifically dose calibrated for improved tolerance with maximum retention. The carnosine in your body is made of both b.a. and histidine, so taking them together as one product makes a whole lot of sense. The combination will help you to squeeze out those final vital reps.
Pro Lab Extreme comes as a microfine powder. This allows it to mix very well with water. Because it is a tasteless and odorless product, you are able to stack this product with your other pre or post workout products. You will get a tingling effect, but this is normal.
PROS
Great mixing
Fortified with histidine
Ideal for stacking
PrimaForce B.A. Powder is a pure powder that delivers an energy boost to your workout without the addition of any fillers or additives. This product has been lab tested for potency and purity. It will promote lean mass gains while also allowing you to train harder with reduced fatigue. It does this by increasing intracellular carnosine levels, thereby delaying fatigue and metabolic acidosis.
You get 200 grams of powder in every container of PrimaForce B.A powder. At 5 grams per dose, this gives you 40 servings per container. It comes at a good price, mixes well and has a flavorless taste, so that it can be added to other formulations. It is made in the USA under strict factory conditions.
PROS
Pure powder
Well priced
Mixes well
CONS
Not as potent as it could be
Well BodyNaturals 100% Pure Beta Alanine Powder is a 100% pure B.A. product which comes in the form of a powder. It is made in China under strict lab conditions. This product will allow you to increase your muscular endurance for more productive workouts. It will also lessen your post workout soreness.
The crystals that make up Pure Beta Alanine Powder are a little large, making it a little difficult to mix the product well. You will need to stir well in order to avoid any gritty residue. There is no information on recommended doses on the packaging of this product, but we suggest going with 5 grams per serving. If you take any more than that you may feel nauseous.
PROS
100% pure beta alanine
Reduces post workout sorenessc
Produced under strict lab conditions
Hard Rhino Beta Alanine Powder is a 100% pure powder that is intended to boost carnosine levels in the body. This will increase energy levels while working out so that you can train harder for longer. You'll also recover faster from your training with this product. Each packet contains 500 grams of pure powder. At 5 grams per serving, you get 100 servings per packet. It is packaged in the USA under stringent lab conditions.
Hard Rhino Beta Alanine Powder consists of fine particles that mix easily in water. That means that you can mix it in a shaker bottle or even with just a glass and spoon. The flavorless and odorless nature of this product makes it ideal for stacking with other products.
If you are working to get big and strong in 2017, you must check out our Best Muscle Building Supplements Review 2017. It's got all the products you need in one place.
PROS
100% pure powder
Made in USA
100 serves per packet
Novacore Beta Alanine Amino capsules provide you with 120 capsules of pure b.a. in each bottle. This makes it easy to take, without having to mix up any powder. The gel capsules are vegan friendly and contain a very fine powder. This is a completely natural product that contains no additives or flavoring. It will increase muscular carnosine levels to improve physical performance during high intensity exercise.
Novacore Beta Alanine Amino capsules come with a complete 60 day money back guarantee. If you prefer not to take this product as a capsule, you can take it in powder form, which you will find to be tasteless and odorless. The dosage is 3 capsules per day.
Creatine is the ideal complement to Beta Alanine. Check out our Best Creatine Supplements Review 2017 to find the best on the market.​
PROS
Capsule form
100% pure
60 day money back guarantee
GNC Pro Performance 3200 is a capsule based form of beta alanine. It provides with 3200 grams of Carnosyn branded b.a. per capsule. 120 capsules are provided with every bottle, proving you with 6 weeks worth of product. This is a pure beta alanine product, which is completely natural and free or flavoring and other filler ingredients. The gel capsule is vegan friendly.
Some people have complained about stomach cramps when taking this supplement, but you get none of that with this product. The capsules are very easy to take and can be broken down to powder form if you prefer to take then that way. You will get a slight tingling effect with this product.
PROS
Capsule based
No additives
120 capsules per bottle
CONS
May cause a nauseous reaction
The powdered form of beta alanine from Wholesale Health Connection (WHC) provides you with a pure blend of the product. It is mixed with citrulline malate, taurine, creatine, BCAA, and glutamine. These additives boost the effects of the beta alanine, through enhancing the body's release of carnosine. This, in turn, allows you to train with more energy through every set so that you can work harder in the gym, while boosting post workout recovery time.
Wholesale Health Connection beta alanine is great value. You get 134 servings from the 100 gram bag, and 1334 servings from the 1kg bag. This product comes with a 100% money back guarantee, so there is no risk whatsoever.
PROS
Pure powder
Added BCAA
Great value
CONS
No instructions on how to use it
Not sure if beta alanine will work for you? Check out this informative video to get the lowdown on this amazing supplement . . .
Micro Ingredients Pure Beta Alanine is 100% clean beta alanine powder. It contains no additives, flavorings, preservatives or coloring. It is lab tested for purity to give you absolute peace of mind that this is a top quality product. It is packaged in an FDA approved facility in the United States. It should be noted that no anti-caking agent has been added to preserve purity. You should keep the bag zipped up to prevent clumping.
Micro Ingredients Pure B.A. is comprised of a very fine micro-powder. This makes it very easy to mix with water, even with just a spoon and a glass. The powder is odorless and tasteless so you can easily stack this product with other formulations, including your protein shake.
Wanna' know the top supplements to cover all of your workout, fat loss and muscle building needs? Check out our latest review in the above link to get the full picture.​
PROS
100% clean beta alanine
Mixes well
Great for stacking
CONS
No tingling effect so low potency
Conclusion
The best beta alanine supplement on the 2018 market is NOW Foods Beta Alanine, which delivers 100% pure powder and comes in at a very good price point. Optimum Nutrition Beta Alanine is our second favorite product, being fortified with histidine and electrolytes to enhance its effect. Rounding out our top 3 is ProLab B.A. Extreme, with its extra histidine. It mixes well and stacks well with other products.
---