Top 10 Beta-Alanine Supplements for Men and Women
last updated:
Feb 12, 2020
Beta-Alanine stands second only to creatine as a powerful muscle building stimulant. Beta-alanine benefits include upping the levels of carnosine in the body.
To make it easy for you to compare the best products out there, we've rated the top 10 based on price and effectiveness. Then we've provided each with an overall rating.
Carnosine acts as a buffer of hydrogen ions, which lifts pH levels and boosts energy. The bottom line is that beta-alanine staves off fatigue and increases muscle strength and power. In this article, we review the top 10 beta-alanine supplements in the 2019 market.
In a Hurry? The test winner after 16 hrs of research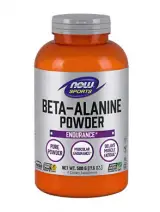 NOW Foods Beta Alanine
Why is it better?
100% pure b.a.
Ideal for stacking
Great value
In a
Hurry? Editors choice: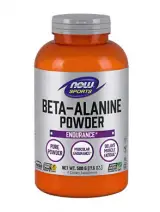 Test Winner: NOW Foods Beta Alanine

44
Researched Sources
9k
Reviews Considered
16
Hours Researching
14
Products Evaluated
Ease of Use
Effectiveness
Potency
Value
By Default
10 Best Beta-Alanine Supplements
Criteria Used for Evaluation

Ease of Use
Ease of use gives convenience
Ease of use for alanine is straightforward when purchased as a powder. We looked at the powder forms and noted they are all very similar in terms of the core ingredient being beta-alanine; there are a good number of products which do add new compounds and the target market for these are those that are in intensive training and looking for other benefits.
The taste can be bland, (tasteless) or at times slightly sour, depending on which brand and there are products available where the makers have added a blend of natural ingredients to give a better taste. Some users suggest that mixing the powder into a shake can balance the taste.
To increase athletic-performance, you can easily supplement with alanine powders. The daily dose can start around 3.2 grams or a little higher, the amount you consume will relate to your body size, the intensity of your workouts, and your targets.
If you have any doubts, then starting at 4 grams is comfortable each day to start seeing results, thoughtfully increase the dose to keep pace with your aims. Most users eventually end up on about six grams though this can also vary due to physical size and aims.

Effectiveness
Effectiveness depends on your aims.
You will notice how effective if you start on around 4 or up to 6 grams a day, give it the time when researching through the best choices; we noted that a constant factor was that results start to appear at three or four weeks of regular use. Beta-alanine is different from creatine because your muscles are not saturated, which causes fast muscle growth.
People like Alanine because it will continue to work positively the longer you use it, and users can experiment with dose amounts to find out what works for them.
The valuable benefits are known to be very good:
This supplement provides the right mix of health benefits. The most noted being the following:
The promotion and benefits work for cellular-longevity.
Physical capability and performance are boosted.
Neuroprotective qualities
Excellent anti-inflammatory benefits.

Potency
A good potency produces results
The potency level for beta-alanine is very balanced and positive. the results are gradual and consistent, when first starting to use on a daily intake pre-workout, you will start noticing results around the 4th week.
Creatine saturates muscle tissue and the results are faster but Alanine is a gradual process and works in combination with your work-out cycle, Our bodies naturally produce Alanine so when you take it as a supplement you are only topping up your body so that you can build up muscle through training while also enjoying the other additional benefits.
In terms of potency, it is suggested that a person starts on a small amount from around 3 grams and keep training until results are noticed, at that time the potency level or dose amount can be gradually increased till such time the dose is at about 6 grams a day.
The potency factor does not work the same way as creatine, the results are gradual, and by the time you hit your potency level or daily dose, you will also have been training for probably around six months or more.

Value
Value can be measured in money, quality, performance, and ease of use.
While researching across the many brand names who do produce Beta-Alanine, we looked at the value from a broad perspective.
All the products can promise results were providing that the product is used correctly; the results take time, so patience and persistence is a must. Some brands offer versions which they claim provide more performance and better results, and this claim is based on any enhancing ingredients which have been blended in. Generally, Alanine seems to be favored in as a powder, and the value here is that it is easy to take, mix a measured amount of the powder into water, very quick, very easy and convenient just before starting a training session. In terms of cost, the prices do vary, and makers point out that the variation on value is a result of the purity and preparation process used for creating the product. Satchet holders are popular because they are easy to carry and often contain an exact pre-measured dose.
Containers holding alanine are also a good way forward, for the right amount, a spoon can be used, packets are also popular because they contain more powder and are a safe, secure method for storage. For extra convenience, capsules are available, but the debate around the quality of the alanine is evident. The conclusion we came to is that in whatever form you use alanine, you will be on track for the results you want.
Expert Interviews & Opinions
Most Important Criteria
(According to our experts opinion)
Experts Opinion
Editors Opinion
Users Opinion
By Default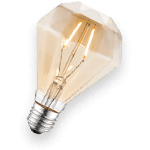 Storage
When choosing a Beta-Alanine powder, it is very likely that you have long term training aims and that you want to see benefits which are visible and also can be felt.
Buying in bulk is the way forward and will also save money; the general rule is that when you buy in bulk, you pay less. Look for containers which offer the chance to buy the right amount of the product, ensure that the containers are sturdy and durable, airtight and can be easily stored away safely.
When choosing to buy this way, you should look for a brand which provides a measurement spoon so that you can easily dip into the powder and take out the exact measurement. Another option is capsules; these come in packaging which is generally robust, useful for storing and easy to carry.
Understand side effects.
A side effect which you will notice, depending on your dosage amount is a tingling sensation, this is called paresthesia, tingling can be evident in the lips, the ears and/or the fingers, it is not harmful and tends to occur if you start on this supplement and you are taking over two grams. Eventually, this side effect will reduce as your body gradually becomes saturated. Pacing or increasing your dose will work towards not over saturating receptor in your body, which create the tingling feeling; it should also be noted that a lot of people do not experience this side effect. It is probably due to a gradual thought through increasing the dosage amounts.
Frequently Asked Questions
q:

I was told our bodies produce Beta-Alanine, true or False?

a:

It is true; it is produced via the liver. As a supplement, this means you are topping up your body with something that is known to be good because your body already creates it. This does not mean you can take huge doses to get maximum benefits. The benefits from this as a supplement are that you start on a low dosage level 2-3 grams, and over the months you can increase the dosage, usually up to about six grams.
q:

Two weeks on and I notice no change, why?

a:

Using this supplement is very different to creatine, the effects and results tend to be evident around the 4th week, new users need to be patient, stay on the start dose amount, continue training, around the 4th week they will feel and see results, at that time you can increase the dose, again continue training, be patient and wait for results.
q:

What exactly is Beta-alanine?

a:

It is an amino acid which is produced for the body via the liver. The effects are known to be beneficial, especially for people who are doing regular or intense exercise. From Alanine, the body gets carnosine. You cannot take carnosine as a supplement because the body does not absorb it well as a supplement.

Carnosine can block the acids produced by exercise, which make the muscles uncomfortable and sore. Through blocking this acid, you get a better level of endurance and ability, which means you can exercise more and gain more tangible results and benefits.
q:

Why do our muscles lose power and strenght during exercising?

a:

When you go for intensive exercise, our bodies produce and increase hydrogen ions which drops the Ph level in our muscles, in short, an acidic build-up occurs which can cause fatigue and lots of muscle discomfort.
q:

Is Beta Alanine safe to use

a:

So far, many researchers say yes, though they do put an advisory cap on continued use up to around 12 weeks.
Subscribe to our newsletter