Top 10 All-Natural Supplements to Support Your Training
last updated:
Feb 12, 2020
You work hard to create the best physique possible. You take supplements to provide top quality ergogenic aids to optimize your body. The last thing you want is to be ingesting unnatural products into your system that contain artificial additives and flavorings. In this article, we showcase the 10 best natural workout supplements.
In a Hurry? The test winner after 18 hrs of research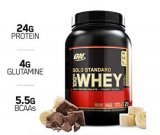 Optimum Nutrition 100% Whey Gold Standard
Why is it better?
3 types of whey protein
Fast-acting digestive enzymes
Great taste
In a
Hurry? Editors choice: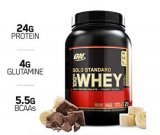 Test Winner: Optimum Nutrition 100% Whey Gold Standard

41
Researched Sources
11k
Total Readers
18
Hours Researching
14
Products Evaluated
Materials
Product Purity
Ease of Use
Features
Side Effects
By Default
10 Best Natural Supplements
Criteria Used for Evaluation

Materials
Materials here mean natural ingredients.
Materials are important when you are researching these natural workout supplements because we are focused on products that have completely natural ingredients. If you are focused on improving your health and fitness you want to consider what fuel you are putting into your body as well.
There are different kinds of protein you will see. The most common is probably whey protein. There have been a lot of studies that show that whey protein helps in increasing strength, gaining muscle, and losing body fat.
For plant-based supplements, you may find organic proteins in the form of peas, rice, and sacha inchi. Any type of protein is good for helping with your fitness.
Green tea will help with weight loss. Beta-alanine is a helpful ingredient that helps produce carnosine which helps with muscle endurance during your workout.
Solathin is another ingredient you will see listed. Solathin is a protein isolate made from potatoes which helps you to feel full faster and therefore not have the desire to eat as much.
Branched-chain amino acids, commonly called BCAAs, are important ingredients in the best all-natural supplements for working out. These amino acids will help with muscle growth and help with your exercise performance. They can also help with weight loss and reduce fatigue.
Glutamine is another amino acid that can be a helpful ingredient. It is a protein building block and helps boost your immune system. It also plays a part in your intestinal health. It can help to reduce fatigue and muscle soreness as well.

Product Purity
Purity avoids additives such as chemicals and preservatives.
If you seriously want an all-natural workout supplement to add to your healthy routine, you will want to do your research to be sure the supplements are pure. We have done some of that research for you with this list but want to give you an idea of what to look for as well.
Sometimes companies will try to slip harmful ingredients into 'natural' supplements. Just because something is natural may not mean it is healthy. You should be cautious and do your research. Some weight-loss supplements sibutramine which is an appetite suppressant that is actually potentially dangerous.
Some muscle-building supplements can contain steroids or steroid-like compounds, Beware of amphetamine-like stimulants like ephedra which has been banned.
Beware of ingredients like Picamilon or Pikatropin. Picamilon is derived from niacin and other things but it is actually classified as a drug so it is not natural. Pikatropin helps to boost brain power but again it is not a natural substance.
Watch out for proprietary blends as well which tell you what ingredients are included but not the amounts of each, so you have no way of knowing if you are being underdosed.
Of course, you should also make note of gluten, non-GMO, artificial colors, flavors or preservatives. It is important to know exactly what you are putting in your body.

Ease of Use
Ease of use works for consumption.
Most athletes have a busy lifestyle so they need natural workout supplements that are easy to use as well. Most of these come in powder form so hopefully, they come with a scoop which is the size of a serving.
The container should be easy to open and also close securely to prevent spills and also to keep the product fresh. The scoop should be easy to hold and use, and maybe even fit in the container. It is helpful if it can be scooped into a variety of drinks so you can use whatever is available.
A lot of them can be used with milk, but if you are working out at a gym it is convenient if they mix with water or juice. Hopefully, when you mix the powder up, it does not clump and stays mixed well with your favorite drink.
It is much easier to make it part of your routine if the supplement has a good taste to it and is not bitter or cause your stomach to be upset. A lot of the supplements on our list come in a variety of flavors which are extremely tasty.
There are a couple of the natural workout supplements listed which come in ready to go pouches. This is definitely the ultimate in easy to use convenience. You just grab a pouch and toss it in your gym bag and you are ready to go. An added benefit of this is that your dose, in this case, is always the same and you do not have to worry about measuring or getting it incorrect.

Features
Features must give benefits.
To learn about the features of your workout supplements you have to do your research.
The first thing to consider is the packaging. Is the container easy to store and use your product out of? The label should be clear about what is included in your supplement so you know exactly what you are putting in your body. It should also have clear instructions about how to use the supplement correctly and any warnings you should consider.
Your supplement should be easy to measure by the serving whether it is in a pill, with a specific size of scoop or with individual packs.
Other features are the ingredients included in your supplement. It probably has either whey protein or a more vegetable-based protein. It may have other helpful ingredients as we discussed above.
Check to see if it contains digestive enzymes to help with digestion or how about caffeine to help with energy. Some supplements contain BCAAs, glutamines, or things like green tea.
Look for something that is low in carbs or sugar and does not have any artificial ingredients. Look for non-GMO and gluten-free. Watch out for proprietary blends.
You will want to check the flavor of your supplement. There are many different ones out there to choose from, but there are also some which are very bitter. All these are features to consider before choosing the supplement which will perfectly match your needs.

Side Effects
Do keep an eye on any side effects.
Side effects are important criteria to consider when choosing the best supplements for working out because they affect your physical comfort at the least and at the most they could affect your safety.
While protein powder is great for your workout taking high doses of it can cause an increase in bowel movements, as well as cramps or stomach bloating, fatigue or lack of appetite or headaches.
If you have medical conditions like cirrhosis, seizures, mania, you will probably want to avoid supplements that contain glutamine which could worsen these conditions. It could also potentially cause a cough, hoarseness or digestive issues.
If the supplement contains caffeine it may have a few minor side effects including insomnia, nervousness, stomach irritation, nausea, an increase in your heart rate, or breathing.
Another consideration of side effects is watching out if you have food allergies. You want to watch out for gluten, lactose, whey or soy. Always reading the label carefully and consulting with your medical professional is the best idea before you start taking a supplement.
Expert Interviews & Opinions
Most Important Criteria
(According to our experts opinion)
Experts Opinion
Editors Opinion
Users Opinion
By Default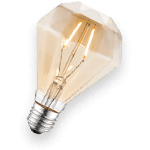 Focus On Protein And Creatine
There is a long list of supplement ingredients which are good to take when your goal is building up muscle mass, but most experts agree that the most important supplements are protein powder and creatine.
Working out stresses your muscles to the max, which is exactly what tells them to get bigger. Protein is what fuels them to keep up that muscle growth.
Creatine basically helps your muscles work a little bit harder for a little bit longer. It helps your muscles recover faster after your workout.
BCAAs Help Muscles
Branched-chain amino acids (BCAAs) are made up of leucine, isoleucine, and valine. Your body does not make these so you have to get them from food or supplements.
BCAAs make up a big part of the amino acids in muscle protein so they are good for people who are doing resistance training. They help with muscle growth and repair and have been repeatedly shown to be extremely helpful for muscles. They stimulate muscle development and help reduce breakdown as well as helping with recovery after an intense workout. BCAAs are definitely athletic gems.
Among their benefits, BCAAs can stimulate muscle synthesis and reduce exercise-related muscle breakdown.
One meta-analysis found that BCAAs help improves recovery after various forms of exhaustive and damaging exercise due by reducing muscle soreness while also improving muscle strength.
Other Factors to Consider

Bottom Line
Only take natural ingredients into your body.
The bottom line is when we set out to improve our health, get our physical condition to a higher level and maintain a higher health level, we will need to fuel our bodies with natural ingredients.
The way to do this is to source supplements that feature natural ingredients and are free from harmful preservatives and other unwanted chemicals. Our bodies are a result of meaningful evolution in which our bodies react to and work well with ingredients created within nature naturally. For example, pure creatine will fuel muscle growth gradually in exactly the way intended by nature, it is natural and will work in harmony with the body.
We applied our comparative research to look very closely at many supplements that are available on the open market. Many of them though reasonably good, they simply were not good enough for our criteria standards, we wanted to find and we did locate only what we consider are the best products which meet our set of research criteria.
Therefore, do enjoy our broad selection of supplements and we feel sure that when used in the correct context and dose amounts that should be used, you will get those healthy physic results which you want.
Frequently Asked Questions
q:

What are the best natural workout supplements?

a:

There are a few ingredients that are considered the best so you should keep an eye out for them when making your selection of natural workout supplements. The two most important ones, as we have mentioned before, are Creatine and protein powder.

Weight Gainers are helpful for men who are bodybuilding and trying to put on muscle. They help you get more calories and protein.

Other helpful ingredients include beta-alanine, BCAAs, and HMB.
q:

What are good strength exercises?

a:

You should try to do at least two sessions of strength exercises every week. That includes things like lifting weights, resistance bands, digging or shoveling in the garden, climbing stairs or hills, cycling, dancing, pushups, situps or squats.
q:

How do I tell if I am exercising enough?

a:

There is an easy way to tell if you are doing enough to strengthen your muscles. If your muscles get to the point where you have to rest before you continue they are working on getting stronger or get one of the best natural workout supplements mentioned in our list.
q:

Does caffeine really help?

a:

Caffeine is an extremely common stimulant of the natural workout supplements which has been repeatedly shown to help with endurance or high-intensity exercise. Caffeine has also been shown to decrease fatigue. At the very least, it is a nice little pick up before you start working the weights.
q:

What is ergogenic?

a:

An ergogenic aid is a substance or a technique that is used to enhance performance. Natural workout supplements can be nutritional, physiologic, or psychologic.
Subscribe to our newsletter