Best Amino Acids Supplements for Working Out
last updated:
Feb 12, 2020
After a good workout, your body craves amino acids to repair and rebuild your hard trained muscles to keep you going. Getting the right amino acid into your system as quickly as possible is paramount for effective fitness and body health. That means that you need a quality source of amino acid and a potent dosage delivered with efficiency to get the best results. So look no further! In this article, we bring you the 10 best amino acid supplements on the 2019 market to incorporate into your workout nutrition regime.
In a Hurry? The test winner after 17 hrs of research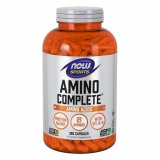 Now Foods Amino Complete
Why is it better?
Complete Amino Acid Profile
Fast Delivery System
Clinically Dosed
44
Researched Sources
9k
Reviews Considered
17
Hours Researching
14
Products Evaluated
Value
Side Effects
Product Purity
Potency
Effectiveness
By Default
10 Best Amino Acid Supplements
1

. Now Foods Amino Complete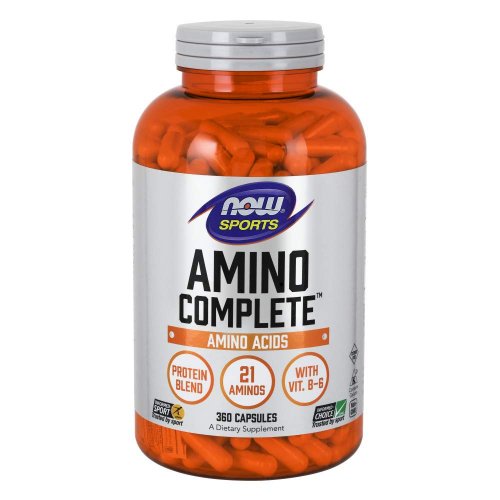 Complete Amino Acid Profile
Fast Delivery System
Clinically Dosed
NOW Foods Amino Complete delivers a balanced blend of protein and amino acid. It is provided in capsule form to provide a faster delivery into the bloodstream.
Read more
Potency
The proprietary blend of an essential amino acid supplement is sourced from whey protein isolate, soy protein isolate, L-Glutamine, L-Arginine, Sodium Caseinate, L-Ornithine, and Gelatin. All of the essential amino acids are in the correct and most efficient dosages of your supplements to infuse muscle growth and rapid recovery. Also, the non-essential amino acids are clinically dosed, making this supplement well balanced.
Product Purity
NOW Foods Amino Complete is a clean product. It is free of problematic ingredients like sugar, salt, starch, yeast, wheat gluten, and corn and contains absolutely no preservatives. It is manufactured in the United States in a GMP compliant facility.
Value
This product offers a beneficial combination of the Amino acids in the right proportions to give excellent value.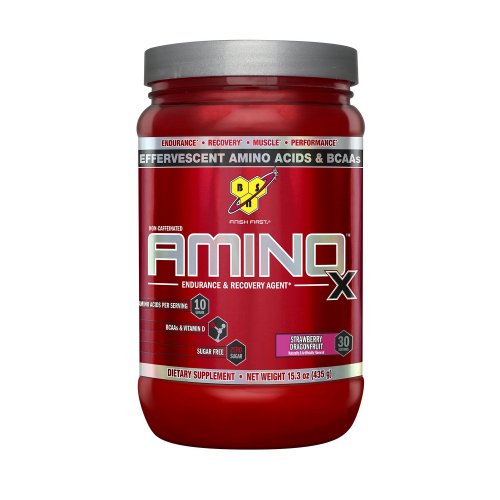 10 grams of BCAAs
Caffeine free
5 great flavors
BSN Amino X is a caffeine-free product that mixes well in water, providing a smooth, refreshing tasting drink pre or post-workout.
Read more
BSN Amino X is a stimulant free amino acid complex designed to fast track premium-quality amino acid to your muscle cells post workout. It provides 10 grams of branch chain amino acid in the 2:1:1 ratio of leucine to isoleucine and valine. It also includes clinical dosages of such key amino acids as L-Alanine, L-Citrulline, and Taurine. This product, which is provided in powder form, comes in 5 refreshing and great tasting flavors.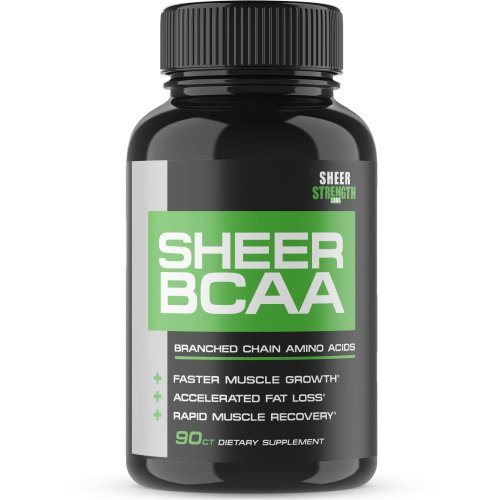 2:1:1 ratio
100% guarantee
No preservatives
May cause slight stomach upset
Sheer BCAA Capsules do not contain any additives or preservatives. And your purchase is protected by a 100% no questions asked guarantee.
Read more
These BCAA capsules deliver a potent blend of the three branch chain amino acid, leucine, valine, and isoleucine. Research has shown that the ideal ratio for muscle growth is to double the amount of leucine compared to the other two BCAAs. That is why Sheer BCAA capsules are dosed at a 2:1:1 ratio. These amino acids are delivered in easy to digest capsule form, allowing them to get into your bloodstream faster.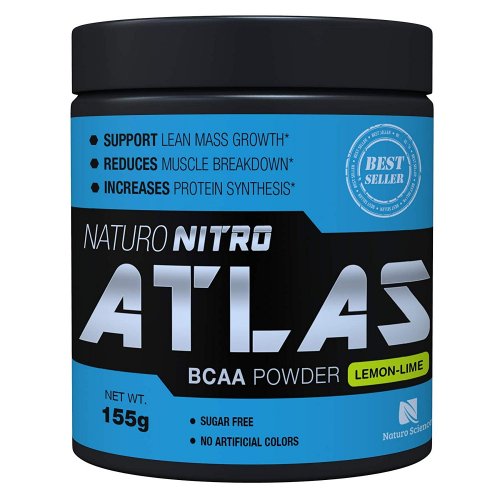 2:1:1 BCAA ratio
Sugar free
Great flavor
Naturo Nitro Atlas is completely sugar-free and comes in a great lemon-lime flavor. This eliminates the slightly harsh after-taste that comes with unflavored BCAA powder or a sugar spike that results in an energy crash later.
Read more
Naturo Nitro Atlas delivers the branch chain amino acids in a great tasting powder that enhances protein synthesis. It features a 2:1:1 ratio of leucine, isoleucine and valine for maximum muscle build and repair. This product is ideal for pre, intra, or post workout use. It mixes instantly with water, so you don't have to contend with clumpiness or a powdery residue, and can be mixed into smoothies or juices too for creative ways to consume your amino acids.
5

. Optimum Nutrition BCAAs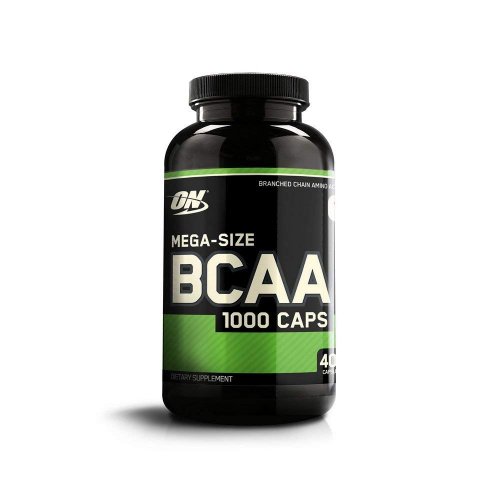 Easy to digest capsule form
2:1:1 ratio
No preservatives
CONS
Have to take too many capsules to get 5 gram dosage
Optimum Nutrition BCAA capsules are an ideal, easy to swallow muscle building booster that can be used before, during your after your workout in order to fast track the muscle building process.
Read more
Optimum Nutrition BCAA capsules come in easy to digest capsule form to allow the ingredients to get into your bloodstream as quickly as possible. It is dosed in the scientifically recommended dosage of 2:1:1 about leucine, valine, and isoleucine. You get a full 1000 mg of BCAAs per serving. There are no preservatives or artificial flavorings in this product. They are also lactose-free.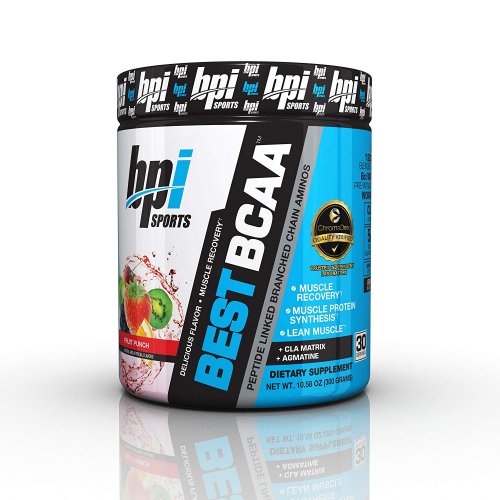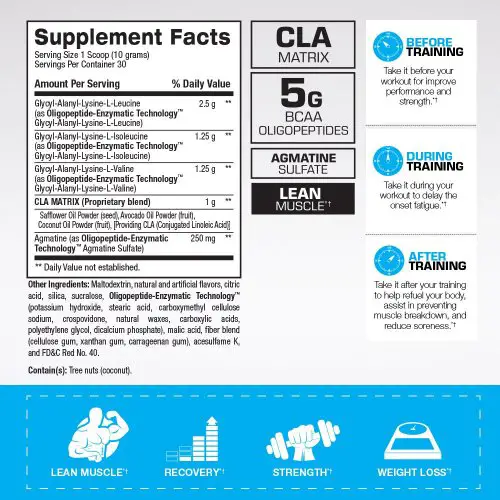 2:1:1 BCAA ratio
CLA matrix
Faster absorption
BPI Sports Best BCAA Powder makes use of cutting edge flavor technology to deliver some great flavors. It provides a blast of tasty powerhouse amino acids without the addition of sugar or artificial fillers.
Read more
BPI Sports Best BCAA Powder makes use of an innovative delivery system to get into the muscle cell faster than ever. The three branch chain amino acids, leucine, valine, and isoleucine are bonded together to allow for a faster absorption rate. It helps to reduce protein catabolism, reducing post-workout soreness, and speeding up the anabolic process. This product also includes a CLA matrix blend, which boosts fat burning while preserving muscle mass.
7

. Country Life Max Amino with Vitamin B6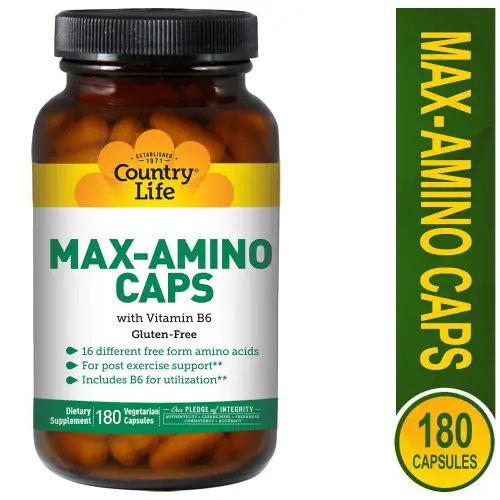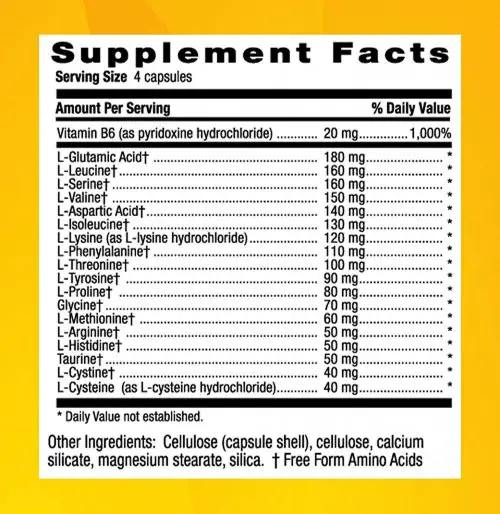 18 different amino acids
Contains no GMO's
Certified gluten free
Country Life Amino comes in the form of vegetarian capsules. You get 180 capsules in each container. There is no wheat, no milk, no gluten and no artificial colors in this product.
Read more
Country Life Max-Amino with added Vitamin B6 is a complex that contains 18 different free form amino acids designed to deliver the building blocks of protein synthesis and resultant muscle growth. The blend contains leucine, which is by far the essential amino acid for muscle growth. The other amino acids also influence mood, reduce stress, and promote immune system health.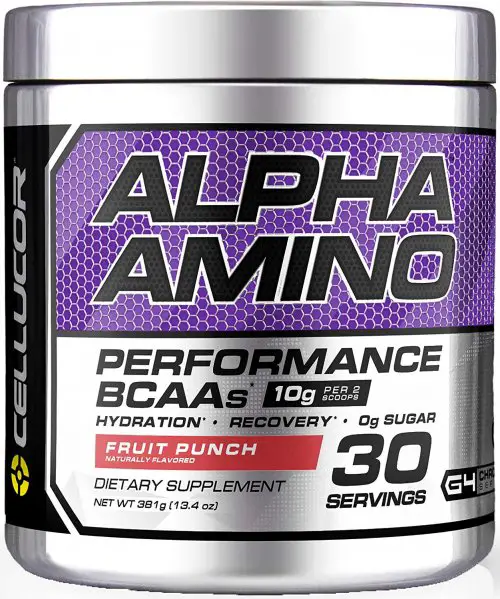 14 amino acids
2:1:1 BCAA ratio
3 types of leucine
Cellucor Alpha Aminos is a powder supplement for an energy boost and effective delivery of amino acids and electrolytes.
Read more
Cellucor Alpha Amino is a performance, hydration, and energy enhancement powder. It is designed to power you through your workouts while infusing muscle building amino acids into your cells. It includes 14 amino acids, including the branch chain amino acids in a 2:1:1 ratio of leucine to valine and isoleucine. There are three types of leucine to super-charge the effect of this crucial amino for muscle building.
9

. CytoSport Monster Amino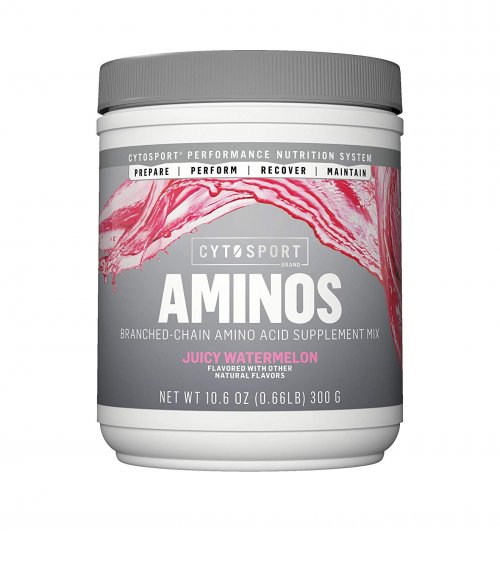 Contains caffeine
6:1:1 BCAA ratio
Mixes easily
CytoSports Monster Amino is a powder that mixes easily with water to provide a smooth, tasty drink and comes in a variety of great tastes. It is NSF certified for sport and is manufactured in the United States under a GMP authorized facility.
Read more
CytoSports Monster Amino Acids is a caffeinated amino acid supplement that is delivered in powder form. It includes caffeine to provide you with a powerful pre-workout energy boost. The branch chain amino acids are included at the ratio of 6:1:1 relating to leucine, valine, and isoleucine. This dosage supercharges your body's muscle building ability and repair effectiveness post workout too.
10

. Scivation Xtend BCAAs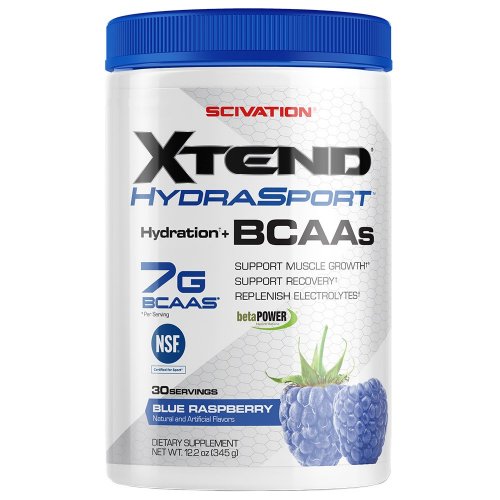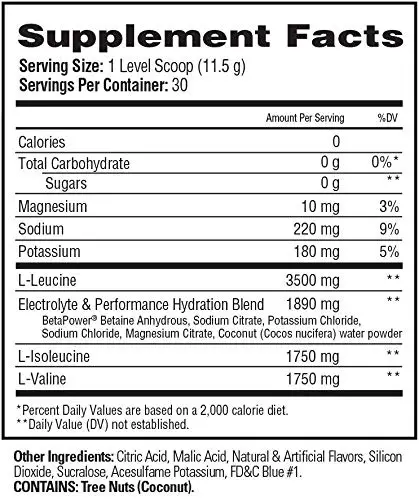 7 grams of BCAAs
6:1:1 BCAA ratio
Calorie free
May clump in the container
Not a plesant taste
Scivation Xtend BCAAs is a calorie-free way to infuse your muscle cells with anabolic amino acids. It does so by way of a delicious water based drink that mixes reliably and goes down easily without unnecessary additives.
Read more
Scivation Xtend BCAAs is an advanced branch chain amino acid powdered drink that delivers a full 7 grams of BCAAs per serving. The three BCAAs are provided at the clinically proven ratio of 2:1:1 in favor of leucine. You also get 2.5 grams of glutamine and 1 gram of citrulline malate. Also, essential hydration inducing electrolytes to ensure that you are consistently hydrated so you can work out to your heart's content without draining your body.
Criteria Used for Evaluation

Value
The value of the best essential supplement is determined by the affordability of the product per serving. If a product is low cost but yields significant serving amounts, it means you get more bang for your buck. If a product is high cost and yields small servings, it means the cost per serving is higher. So value scoring directly reflects the products cost effectiveness, helping you choose a product that will be the best for any budget.

Side Effects
When rating a products score in side effects, we took into consideration ingredients, known side effects, and common undesirable symptoms caused by consumption of the supplement. Generally, products with cleaner ingredients produce fewer if any side effects, and products with chemicals or unnatural ingredients will result in issues.

Product Purity
Product purity is essential when choosing supplements. We rated these amino acid products based on the purity of the products ingredients, additives, flavoring, and sugar content. The best essential amino acid supplements with few added or synthetic ingredients are considered to be purer, while supplements that contain a bunch of other ingredients are considered to be less pure. The closer a product is to being made up just the main ingredient, the higher the score.

Potency
The potency of a supplement is determined by the number of amino acid in each serving and the ease of use for getting one serving. If a product has a high dosage of amino acids in a single serving size, such as one scoop or one capsule, it is considered to be a more potent product. Controversially, if a product has a low potency, it might not have a high dosage of amino acids or its serving size is not easy to take to get the dosage. If a product requires users to take several capsules, or consume a large quantity of powder, for example, it is considered to have a lower potency.

Effectiveness
The effectiveness of a supplement is crucial to consider when buying products. That's why we took careful consideration when scoring products in this category. We looked at the dosage potency of a supplement and combined that with the bio-availability of the amino acids and other beneficial vitamins in that dosage, and the efficiency of the bio-availability. A product is considered to be more effective if the product is easily and quickly absorbed by the body, giving you access to fast results.
Expert Interviews & Opinions
Most Important Criteria
(According to our experts opinion)
Experts Opinion
Editors Opinion
Users Opinion
By Default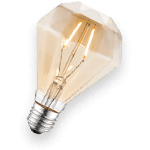 Quality
Taking supplements or choosing the best for you will present you with a mind-blowing array of choices, all marketed right at you very persuasively.
Think before you buy, do some real research on the ingredients and levels of potency, research for potential side effects because this product will be consumed by you, and you want the right results.
Go on the net, research the best options available, you will find a good selection of very informative buying guides. Read reviews by customers who have already tried the product and take note of what they say. The rule of quality costs more does apply here, go with it.
Ease of Use
When taking supplements consider ease.
Having researched your choice of product for safety, quality, possible side effects, you next need to consider in what form to consume it.
Follow a safe, convenient form of use, for example, capsules are very easy, though powder can be equally easy if you have access to fresh water, consider where, when and how you will need to consume your supplements and then select your choice.
Frequently Asked Questions
q:

Should amino acid supplements be taken with food?

a:

For most amino supplements, it is recommended to take them on an empty stomach. But it is always best to carefully read the directions on the label of your product.
q:

Is it better to get supplements in capsule or powder form?

a:

Buying supplements in capsule or powder form just depends on personal preference. Capsules are quick and easy to take, and powders get mixed into liquids to drink. So it just depends on which is more appropriate for the buyer's needs and preferences.
q:

What exactly are BCAAs?

a:

There are nine essential amino acids, three of which are BCAAs. BCAA stands for Branch Chained Amino Acids, and they are leucine, isoleucine, and valine. They are responsible for building protein and muscle, repairing damage to the muscles, help regulate immunity and other things.
q:

Should BCAA supplements be taken before or after working out?

a:

There is no conclusive evidence to determine if consuming BCAAs pre or post workout is better. It is again up to personal preference.
q:

Are there common side effects of taking BCAAs

a:

As with introducing your body to any new supplement, like amino acids, it is essential to follow directions and avoid overconsumption. Generally speaking, BCAAs are safe to take and do not produce side effects for most people, although some people have reported issues with stomach aches or unease.
Subscribe to our newsletter