Best Squat Racks and Power Racks
last updated:
Oct 22, 2020
No matter how advanced, how expensive, or how big your home gym has become, it will never be complete without a weightlifting rack. This is a piece of equipment you are going to need if you are serious about building muscle and taking your workout to the next level. There are a lot of power racks and squat racks on the market to choose from so we have done some of the research for you.
Take a look at our list and find the best power and squat rack for sale on the market.
This is the best product on our list that is currently in stock: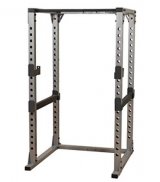 Body-Solid GPR378
Why is it better?
High tensile 11 gauge steel frame
20 levels of adjustment
Max weight 800 pounds
25
Researched Sources
11k
Reviews Considered
24
Hours Researching
14
Products Evaluated
Features
Ease of Use
Durability
Effectiveness
Portability
By Default
10 Best Power Racks and Squat Racks
1

. PRx Performance Profile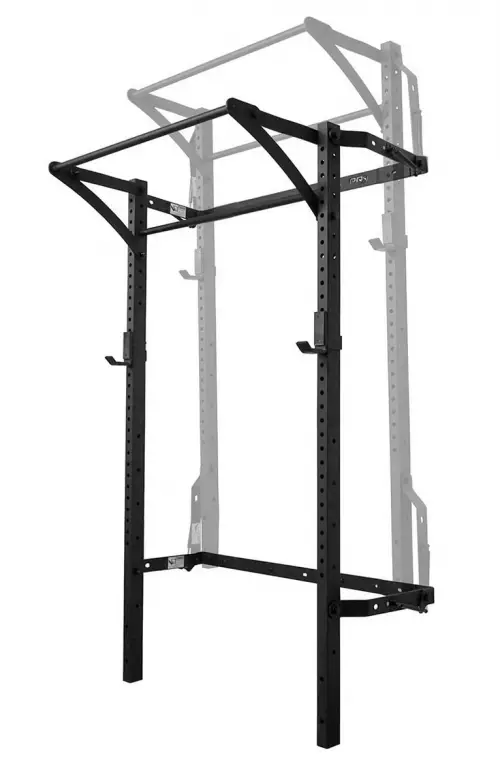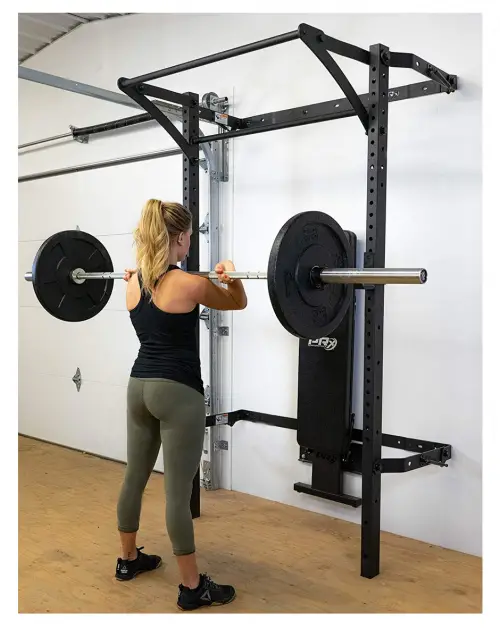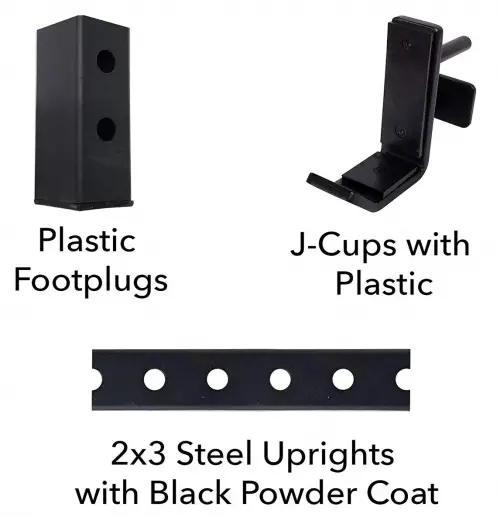 Wall-mounted
Saves on floor space
Foldable
1000 pound weight capacity
Expensive
Difficult to mount
Is your home gym at capacity when it comes to equipment, or are you working with a very small space? This design from PRx Performance not only mounts on the wall to save valuable floor real estate, but it also has a smart design to keep your reps as clean as possible. Plus, due to its wall-mounting capabilities, it is also much sturdier than other designs out there.
Read more
The most notable feature of this design is that it is able to be mounted to a wall. This means that setup will require you to bust out your toolbox, but by mounting it to the wall you make it much safer to use. It is composed of 2x3 14 gauge steel that hosts a glossy black powder-coated finish.
The frame of this design is able to help spot your squats using strong and deep J-hooks that are able to be easily adjusted to accommodate your height. It also has a wide chin-up bar at the top of the unit, and it is made even more secure by being mounted to the wall.
If you are in the market for a space-saver that is strong and secure, you can't go wrong with this design. We love that it is made from quality materials that hold up well over time, and boasts a smart design to help you get the most out of each and every rep. It may boast a slightly steep price tag, but we feel that it is well worth it.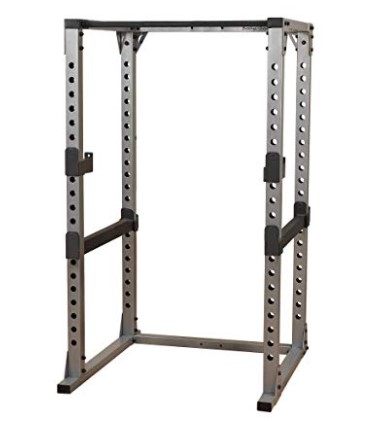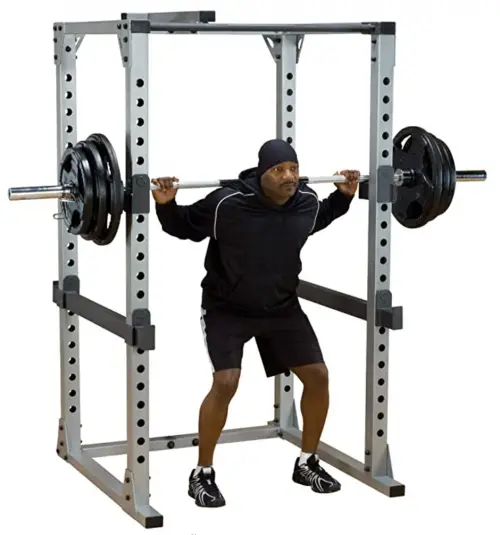 High tensile 11 gauge steel frame
20 levels of adjustment
Max weight 800 pounds
Bottom crossbar may interfere when unracking for squats
The Body-Solid GPR378 has a conveniently wide walk-in design so you have plenty of room for your workout. It also has 20 different adjustment levels. The rack includes vertical support columns which are 3-inch square and a 41 inch wide chinning bar.
Read more
The Body-Solid GPR378 squat rack set is made from heavy-duty high tensile 11 gauge high strength steel, making it incredibly rugged. It features all four sides welded construction and oversized industrial hardware.
This Body-Solid unit is finished in a powder coat finish which is chip and rust-resistant. The unit has a wide walk-in design to give you more freedom of movement inside the cage. The lift-offs are heat tempered lift-offs to provide maximum strength for the squat bar.
Saber style safety rods act as a reliable spotter when you're on your own. There are twenty levels of adjustment to allow you to squat, bench and deadlift at every level. You can lift a maximum weight of 800 pounds with this unit.
3

. Fitness Reality 810XLT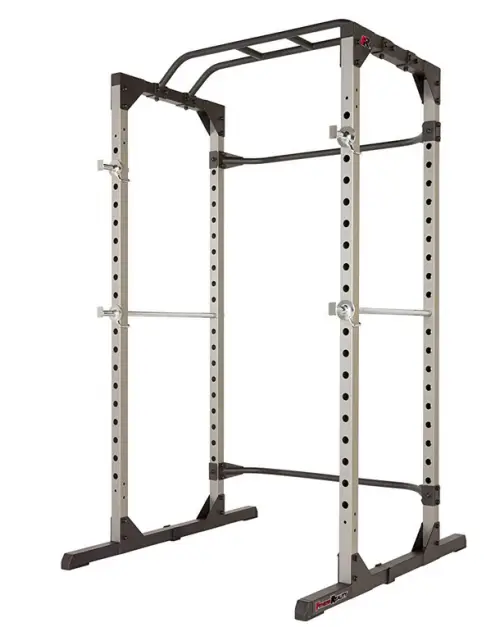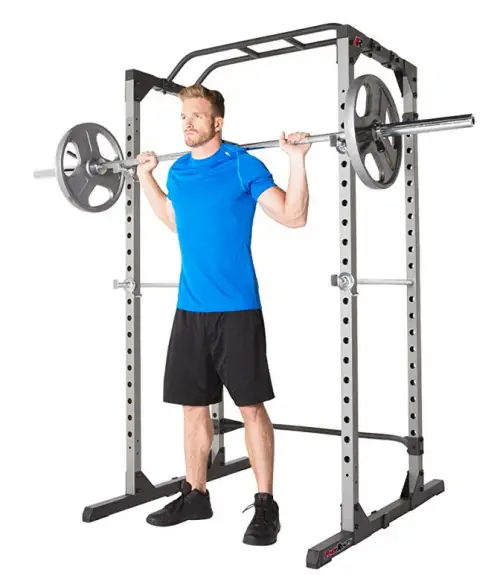 800-pound max weight capacity
Solid safety catch bars
Skid-resistant rubber feet
The Fitness Reality 810XLT Rack has an 800-pound weight capacity. The walk-in space is wide enough for easy side to side movement. It has a steel frame construction. There are dual mounted chrome safety bars as well with 19 adjustable height levels. There is a multi-position overhead pull up bar. It can be folded up and stored.
Read more
It's made from oversized heavy-duty steel tubing. It has a generous walk-in space providing easy side to side movement. The unit has an 800-pound maximum weight capacity. The two solid safety catch bars are fully adjustable.
The rack is made from 2 x 2-inch square steel tubing. It is equipped with two chrome safety bars that are dual mounted and measure 3 1/4" and 2 23". The safety bars are suitable for 7-foot Olympic bars.
Rubber feet on the base of this unit are anti-skid and scratch-free, giving you the peace of mind that the unit won't move when you're under the heavy iron.
The uprights are adjustable enough to allow you to perform decline bench presses, though the safety catches need to be a little longer to provide true support.
4

. Ollieroo Multi-Function Rack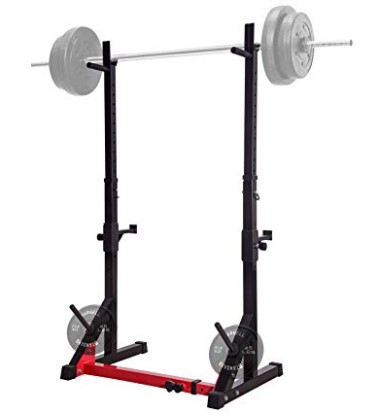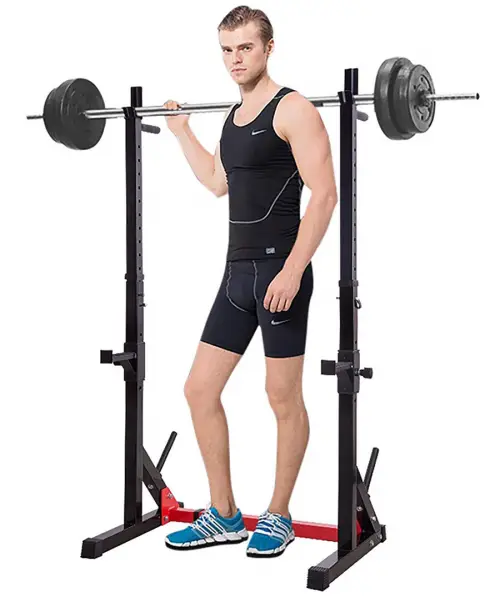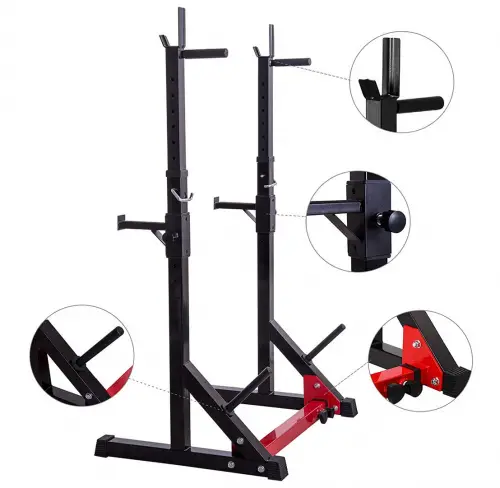 Sturdy and durable
Double height adjustable
Non-slip rubber end caps
Some users have noted wobbling of uprights with heavyweight
Ollieroo Multi-Function Rack is durable, made of high-quality steel to give you maximum safety. The maximum load capacity is 480 pounds. This rack is adjustable for a variety of height requirements. This rack has an innovative design that is multi-functional. It is ideal for incline, flat, and shoulder bench presses.
Read more
The Ollieroo Multi-Function Rack is a free-standing squat rack that is height and width adjustable. This is a sturdy and durable rack that is made of high-quality steel. It has a max load capacity of 480 pounds.
The adjustable barbell rack accommodates a variety of heights. the bracket height range is between 46.8 and 68 Inches. Non-slip and abrasion-resistant rubber end caps prevent damage to your floor area.
The innovative and multi-function design features a Bell Bar and unique base design. This rack is ideal for flat, incline and decline presses, squats, curls, and rows.
There are two plates holding pegs on the base of each upright to keep your area tidy while also providing extra stability.
5

. HulkFit Multi-Function Adjustable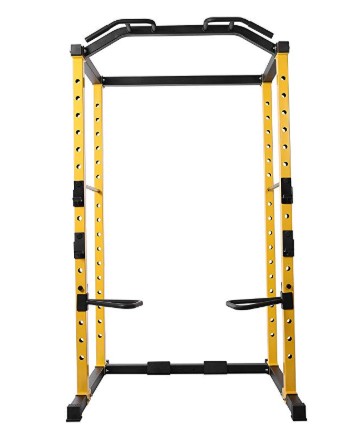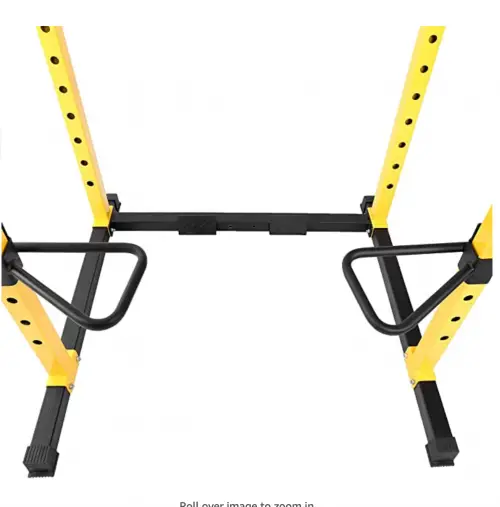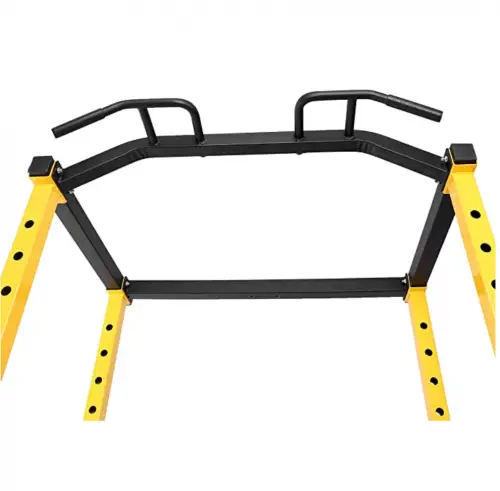 Rubber feet for added stability
1000 pound weight capacity
Multi-grip pull up bars
HulkFit Adjustable Power Cage has j-hooks and dip bars. It has a 1000 pound weight capacity. This cage features a heavy-duty steel frame with an h-shape base for maximum safety and stability. The multi-grip pull-up bars are on top of the cage for plenty of exercise style options.
Read more
The HulkFit has 1000-Pound weight capacity so it is ready for an intense workout. It has heavy-duty steel construction and an H-shaped base which improves safety and stability.
This power cage is adjustable and has dip bars to give you more exercise versatility. It has J-hooks you can use immediately as well as two steel safety bars with J-hook ends.
This cage has pull-up bars that are multi-grip with foam handles to help keep your hands comfortable.
The rubber feet help to make the cage more stable. There are two steps which are a diamond step for easy step on. It is also easy to assemble and has multiple holes for any height adjustment.
6

. Fuel Pureformance Deluxe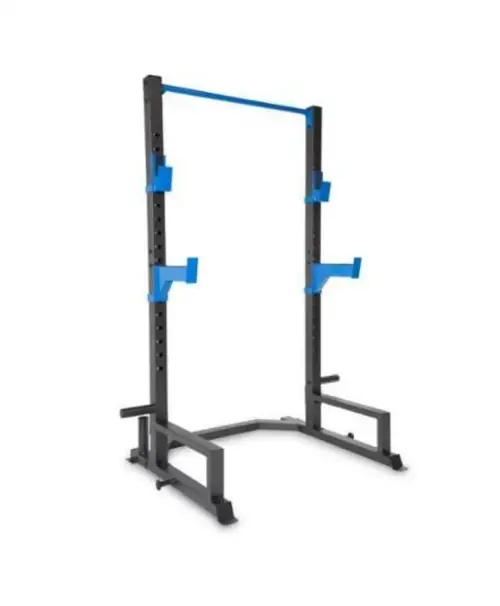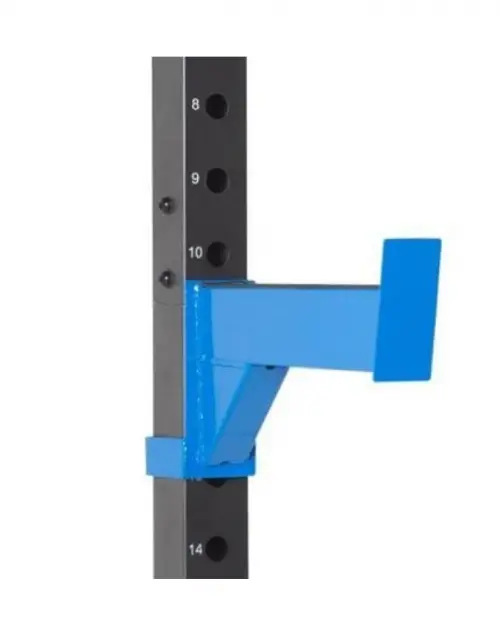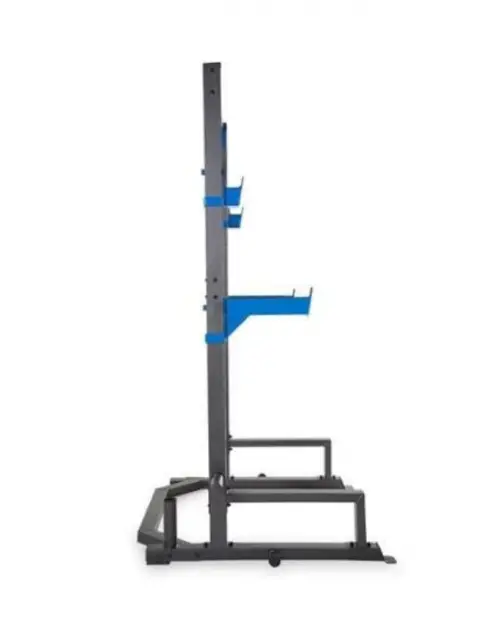 Affordable
500-pound capacity
Small footprint
Working with a tight budget, and even a tighter space? What we love most about this simple design from Fuel Pureformance is that it boasts a small design that won't take up that much room, and it comes in at a price point that won't break the bank. Composed of tough materials, it is able to securely spot up to 500 pounds.
Read more
This design is composed of a steel frame with a matte powder-coated finish. Users love that the hook and accents boast a bright blue finish. The frame is able to hold an Olympic sized bar and can hold up to 500 pounds on the rack. We love that it uses incredibly deep hooks so racking after a brutal set is a lot safer and easier.
The slim frame makes this a perfect option for those working with a limited amount of space. What users love most about this design is that even though it is small, it still provides lifters with a chin-up bar along the top of the unit that can comfortably hold up to 500 pounds of weight without shifting as you struggle with a set.
The best part about this design from Fuel Pureformance is that it clocks in at one of the most affordable options currently out there on the market. This lower price point isn't due to cheap materials, but rather a simple design that is made to get the job done without extra bells and whistles.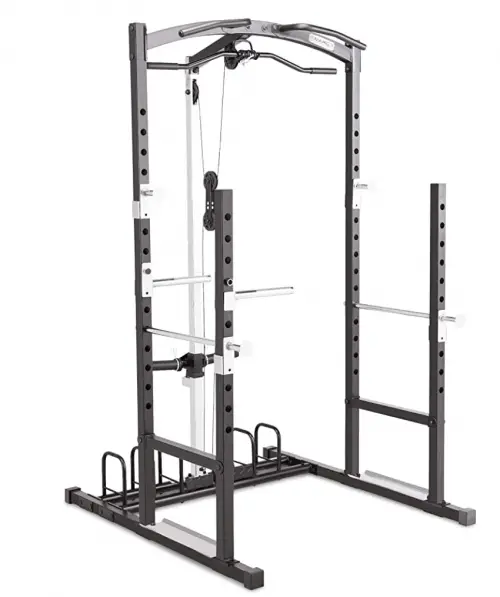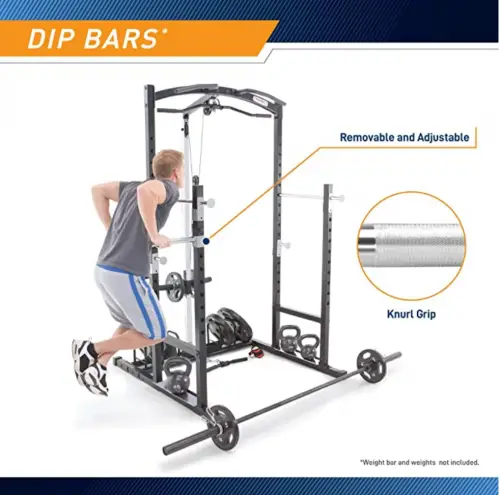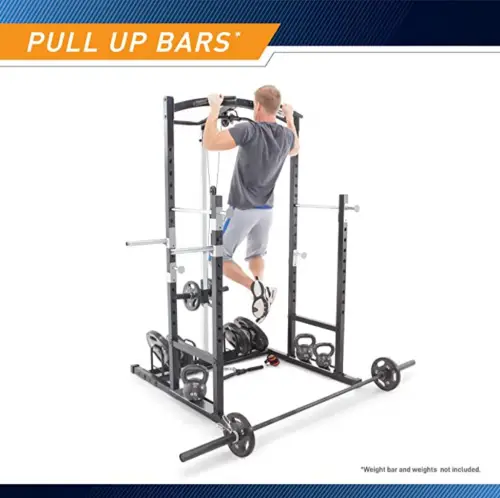 Has a high and low pulley
Open cage design
Solid steel construction
Takes a little while to put together
The Marcy MVM 7041 Home Gym Cage will help you build strength and bulk. It is made of heavy-duty steel and finished off with powder coating. It will resist damage even after intensive use. It has a spacious open area so you can easily perform swift or large movements. It has a high pulley for doing upper body exercises. The lateral bar is perfect for pulldown exercises.
Read more
This cage has a low and high pulley as well as a triceps bar and a lat bar. This will allow you to do a high variety of exercises from two different levels.
This is a spacious workout station with a dumbbell and kettlebell rack plus storage for your weight plates so you can organize your weights on the machine and reach them easily.
This is a complete exercise system with a nice structure that combines the arm and leg station. It is perfect for working your whole body.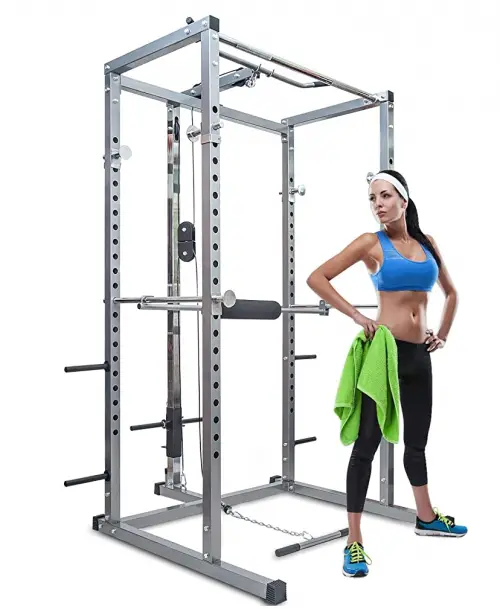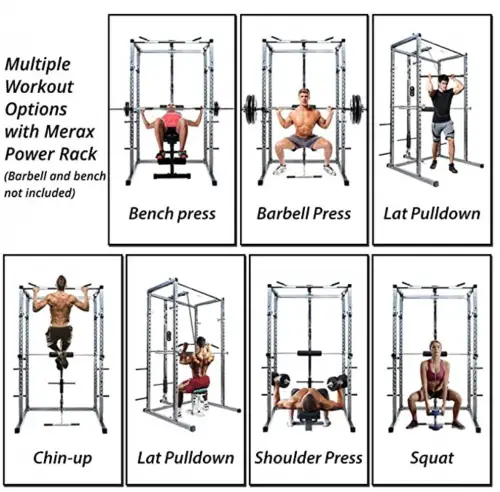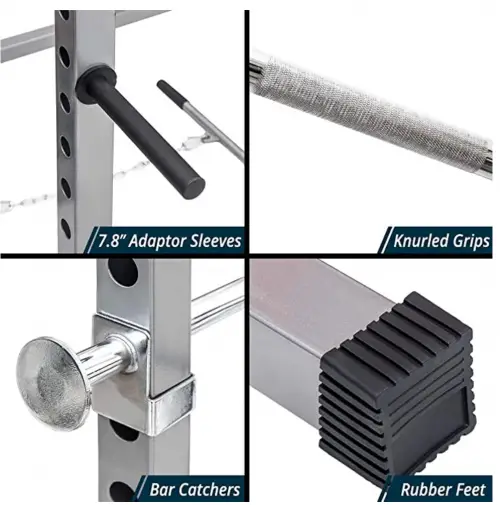 Easy to adjust
Versatile
Durable safety hooks
Limited weight capacity
Expensive
If you want something that boasts all of the extra bells and whistles and you have the room for it, this design from Merax Athletics is an excellent option. We love that it boasts a strong and sturdy cage that is ideal for a wide variety of workouts and lifts, and is a cinch to adjust, this design is a great choice.
Read more
What we loved most about this design is that it utilizes strong and sturdy steel parts to keep you safe. Users can easily pop out the steel safety bars and hooks to accommodate a wide variety of lifts, such as squats and bench pressed. This frame is also able to support 650 pounds on the hooks, and 800 pounds on the safety bars.
Previous users find that this design is incredibly easy to set up, and it is also easy to make quick adjustments as needed. It's great for workouts such as squats, bench presses, chin-ups, and lat pulldowns as well. For great full-body workouts, this design is an excellent choice.
If you are on the market for something strong and sturdy that comes from a trusted brand, this option from Merax Athletics is an excellent choice. While it may cost a little bit more than some of the other designs that we have seen, the added versatility of this design makes it worth every penny.
9

. GRIND Fitness Alpha2000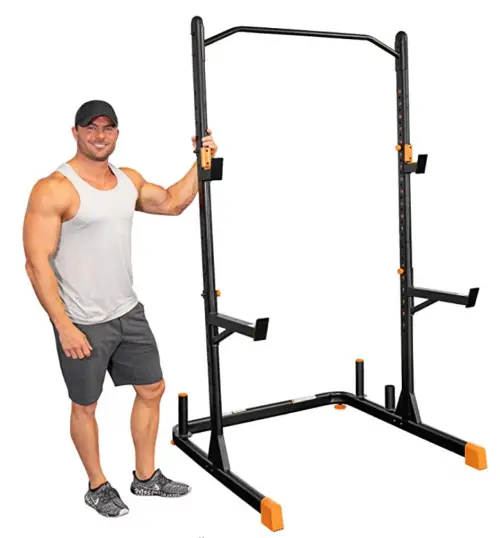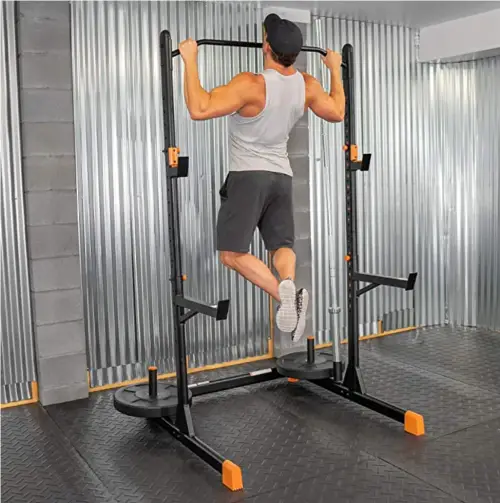 Small footprint
Deep fail posts
Easy setup
Slightly expensive
Wobbles
If you want something strong and durable that doesn't take up that much room, this design from GRIND Fitness is an excellent choice. It is made from strong and sturdy materials that can handle impressive weights, and it is designed to string strong for a wide variety of workouts. It's super easy to assemble and adjust as needed.
Read more
Typically, only large cages are able to comfortably hold up to 1000 pounds. However, this design from GRIND Fitness boasts a smaller frame than your standard cage while still being able to hold 1000 pounds on the bar. Users love that it is super easy to assemble and adjust the placement of the hooks to accommodate your lifts.
This design boasts strong J-hooks to rack your bar after a squat, These hooks are able to be moved to accommodate other lifts as well, such as bench presses. What we love most about this option is that it also has a fail bar in case you fail out on a squat. This bar is super deep, and it low enough that you can fail out safely.
Squatting alone can be pretty scary because a failed squat without a safety bar is a recipe for disaster. This design is able to safely catch failed squats and boasts adjustable hooks to easily rack completed lifts. It has a chin-up bar along the top, and will not take up that much room in your home gym.
10

. Sunny Health and Fitness Power Zone Squat Stand Rack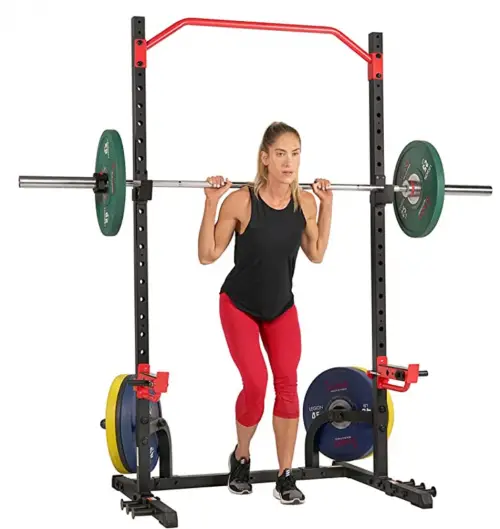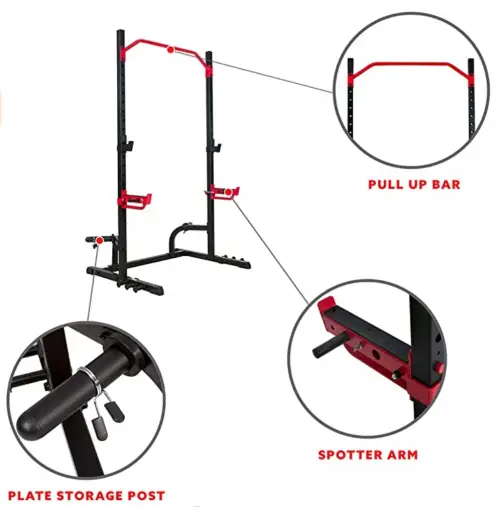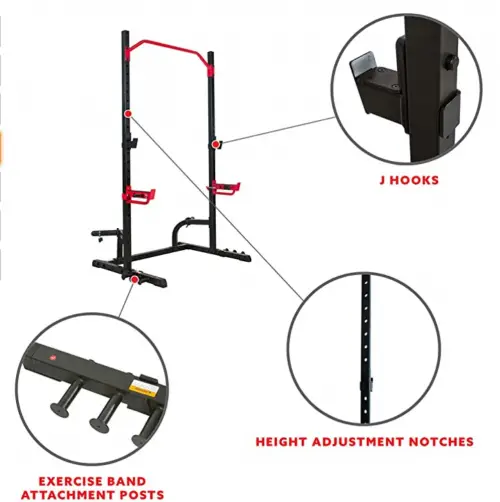 Affordable
805 pounds capacity
Small footprint
If you have ever been shopping for home fitness equipment before, you are no stranger to the brand Sunny Health and Fitness. What users love most about this brand is that they bring innovative and functional equipment to your home without draining your bank account. We love this design because it is built tough, and won't take up that much valuable floor space in your home gym.
Read more
One of the most notable features of this design is that it is able to comfortably hold 805 pounds of weight on its slim frame. It boasts a simple chin-up bar at the top, adjustable j-hooks, and a pair of fail out bars on the base. Plus, it doesn't take up that much room in your home gym.
We also like that it is composed of sturdy and strong materials that hold up quite well over the years. The frame is composed of powder-coated steel that is accented with bright red and blue accents that add a pop of color to your room. Users love that it is a cinch to set up, and also adjust as needed.
The best part about this design from Sunny Health and Fitness is that it is one of the most affordable options out there on the market. It is composed of strong and sturdy materials that can hold up to 805 pounds and boasts simple features to help you keep your workouts fresh and exciting.
Criteria Used for Evaluation

Features
Your power rack is going to be an important investment because it will probably be a centerpiece for your home gym.
The first thing you need to research is the weight capacity of the equipment you are considering. The frame should be constructed of sturdy steel with a weight capacity which will easily hold your body weight and maybe some extra for the weights you work with.
The base should be sturdy enough to stay in place while you are exercising. Having something like rubber base caps are handy to help keep the rack stable and avoid scratching your floor. A layer of powder coating will give it a durable, professional-looking finish. The handgrip areas should be padded or textured to keep your hands from slipping. Look for a wide grip and angled pull up bar.
You want a squat and bench rack you can use to do a wide variety of workout exercises. It should have a pull-up station and a lat pulldown station. Having supported angle support at the base helps keep it sturdy when you are doing full weight workouts. It is also handy to have one which has storage pegs for your free weights.
You will also want a rack that is sturdy and rigid, one you can do exercises like dips on with total confidence that it is going to stay in place during your workout.

Ease of Use
It is important that your rack be easy to use.
You will use it for a wide variety of exercises so you want a piece of equipment which is going to make your workout a pleasure. You need to have a rack with a strong frame and base so you can be comfortable and confident when doing exercises that require you to lift your full weight off the ground.
Your tower needs to have grips that are comfortable for your hands. They should be padded with high-density foam. It should have a variety of positions so you can get the perfect angle for your exercise regardless of how tall or short you are. It is handy if the adjustments are numbered vibrantly so they are easy to read. It should be easy to use for multiple exercises with a chin-up bar, pull up station, and lat pulldown station.
It is handy to have a nice, wide work area so you are comfortable with any exercise without being cramped. Some of them also have extra features like pegs to store your free weights on or extra safety bars or j-cups. Find one which has everything you need for your personal workout.

Durability
Your home gym equipment also needs to be durable.
This is equipment that will securely hold you completely off the floor with your full weight in movement. You want it to last through years of intense workouts. It also needs a healthy weight capacity which is going to easily hold you up while you are exercising as well as any free weights you are using.
The frame needs to be constructed of solid steel, high-grade square tubing. It needs to be tough so you can be confident it will hold you. It is nice to have a powder coating on it as well to help it stand up to scratches and make it look pretty sharp as well. The base needs to be wide and sturdy as well. It should be angled to be able to easily hold your weight.
There is padding on parts of the machine designed to keep you comfortable during your exercising. This padding should be made of high-density foam and covered in durable vinyl. It should also be double-stitched for good durability. Be sure you check the stitching, check the foam for good quality which is precisely put together. Take a look at the welds and make sure they are strong and secure. If you know it is going to hold you up and last, then you know you can exercise with confidence.

Effectiveness
Since your power rack is an investment it needs to be effective, especially designed so that you can do the exercises you need for the body toning you want to accomplish.
This type of gym equipment uses your bodyweight to challenge different muscle groups.
With all of its handles and padding, you should be able to perform a nice array of exercises for the upper, lower and full-body workout. It is easy to learn and once you learn how to use it right, you will find it to be very effective.
Having a bench and squat rack with weights and a pull-up bar is a major benefit, so you can work on your back and arms, lats and biceps. You should be able to do dips that work your shoulders, chest, back, and arms. These work the lats, pecs, deltoids, rhomboids, and triceps. You should also be able to do squats so you can work the major muscles in your legs. It is nice to have a pulldown as well.
Many of these frames have drilled holes to hold a bench or safety bars or j-cups. Having a wide variety of these makes the rack very effective because it is highly adjustable to match your specific height and for whatever exercise you want to do.
The biggest aspect to make your power rack effective is that it be stable and safe. If you are going to be pulling your body weight off the floor you need to be confident that your rack will hold you easily and securely without wobbling or throwing off your balance.

Portability
By nature, power racks are not really portable.
Other gym equipment may have transport wheels and handles so they are easy to move out of the way when you are not using them. For a power rack though, but having that in the design would make it less effective. Your rack needs to be solid on the floor so it is sturdy enough to let you lift yourself off the ground.
If you do have limited area for your gym equipment, there are several options on our list which have a more compact footprint so they will fit in a smaller space. There are a limited amount of models that are foldable to help with a little extra room and you may be able to find ones that are more lightweight and have protective feet so you can move them out of the way without damaging the floor.
Expert Interviews & Opinions
Most Important Criteria
(According to our experts opinion)
Experts Opinion
Editors Opinion
Users Opinion
By Default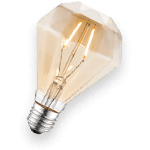 Do Not Skip The Warm Up
No matter what kind of shape you are in, it is important to warm up before you work out. Your muscles need to be warm and primed before you start adding weight or really getting into lifting intensity. If they are not ready, you will be more likely to damage your muscles than you are to define them. This could cause you complications over time. You should warm-up for 10 minutes or so before you start your regular workout.
Doing Dead Lifts Correctly
If you do your deadlifts incorrectly, you may be preventing yourself from seeing the results you are looking for as well as being dangerous.
Keep the bar level with the center of your foot. Next, bend down with your knees so that the bar is level with your shins. Your shoulders should be in a vertical line right above the bars. Now hold the bar down low and keep your hips up high. Then lift up your chest but do not contract your shoulders.
When you are pulling the bar up you want to keep it as close as you can to your body, trying to pull it back instead of pulling it straight up. Be sure to plant your heels firmly. That will help you to keep your center of gravity while you are lifting and lowering at a fast pace.
Other Factors to Consider

Adjustability
It is very important that your unit is adjustable. You want to be able to use it easily no matter what your body type is, short or tall. These machines have good adjustability with the drilled holes on the frame. you can set your safety bars and j-cups where they will be the most comfortable for your workout. This versatility is really important especially if you have more than one athlete in the family who wants to use the rack.
Frequently Asked Questions
q:

What other equipment will I need to buy?

a:

Having a power rack is going to enhance your home gym, but you also need to think about the other equipment that goes along with it. You are going to need to make space for weights and other sorts of equipment. Consider getting equipment like an adjustable bench, an Olympic barbell and plates, and collars to keep those plates in place.
q:

What kind of space do I need?

a:

To determine whether or not you have enough space you need to measure the power rack you have your eye on. Then carefully measure your floor space to see if the power rack will fit there.

Do not forget to measure the height of your room up to the ceiling, as a power rack home gym is no small piece of equipment. They tend to be pretty tall.

If your ceiling is not high enough it just is not going to work, especially since you need to have room enough for your head to fit above the power rack when you do chin-ups and pull-ups.
q:

How do I know what size will be best for me?

a:

The correct size power rack will be different for a man over 6' 3" than for a woman under 5' 5". Again do your homework ahead of time to make sure you do not choose one that is either too small or too large.

Look at all the dimensions and make sure that the squat cage is large enough for you. The shorter and narrower it is, the lower the price usually. But don't let price be a consideration when determining the correct size for you.
q:

What should I look for in the upright settings?

a:

Getting the right height setting for the bar is critical to working out with the proper form. This is a lot easier if your power rack has numbers alongside the holes on the uprights. If it doesn't you may want to use a marker to put numbers in yourself.

Take note of the hole settings for key exercises on the bench press and squat rack.

Ensure that the j-hook is locked into the holes securely. You want the j-hooks to be sitting slightly lower than the top of your full range of motion. This will ensure you are not completely locked out when you start the first rep.

You want the safety bars to sit a little lower than the bottom of the range of motion.

The saddles should rest just a bit lower than the top of the range of motion so that the knees and elbows do not quite lockout when you start the exercise. This will give you the protection you need without compromising the full range of motion.
q:

How do I make sure it is stable?

a:

If the power rack for sale is fitted with plate holders, load them up before you start training. This will provide you with a lot of added stability.

Ensure that the rack is sitting on a flat, level floor. Rubber stops for the corners of the uprights will help to keep the sides level.

Tighten all of the bolts securely before you start using your new power rack. The lower the gauge of metal used for the beams and uprights, the stronger that metal is.
Subscribe to our newsletter