10 Best Dip Bars for Home Use
last updated:
Feb 11, 2020
There are so many good muscle strengthening exercises and dips are up there among the best, you won't need lots of expensive equipment, just a bar, after working out for even a few weeks you will see why dips are a tried and appreciated exercise. The Dip bars are here to help you.
Dips will work for your triceps and other chest muscles, you will also get benefits from building up your muscles so that you are stronger doing bench presses.
The final bonus is that setting up for doing dips at home is easy, the benefits are excellent, and you save a lot of money which might otherwise be spent on going to the nearest membership gym. Dips are a good exercise and can be used well within a home training schedule.
In a Hurry? The test winner after 17 hrs of research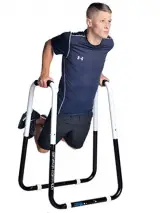 Ultimate Body Press Dip Stand
Why is it better?
Very sturdy design
Angled handles and asymmetrical frame for better body positioning
Straps and weighted dip belt available
45
Researched Sources
8k
Reviews Considered
17
Hours Researching
15
Products Evaluated
Ease of Use
Effectiveness
Value
By Default
10 Best Dip Bars
1

. Ultimate Body Press Dip Stand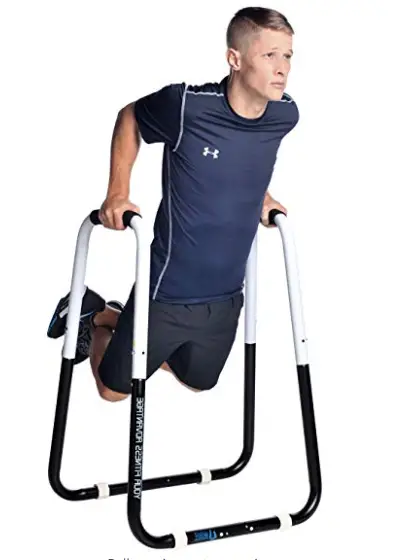 Very sturdy design
Angled handles and asymmetrical frame for better body positioning
Straps and weighted dip belt available
Bar does not have enough height to perform weighted dips
The Ultimate Body Press is a single piece station which has a 'U' shape that provides rigidity and stability. It is made from thick tubular 1.5-inch mandrel heavy gauge bent steel tubing and is color-coded in black and white for easy assembly.
Read more
The asymmetric frame and angled handles put your torso in the ideal position for working the chest and triceps.
The Body Press is designed to allow you to perform a range of movements including inverted pull-ups, knee raises, and 'L' sits. The unit is very compact and lightweight, making it an ideal travel companion.
Optional straps and a weighted dip belt allow you to perform even more exercises. The max user weight is an impressive 350 pounds.
For a comfortable reliable workout and a very durable product, this is certainly up there as one of the top options for use at home.
"Ultimate Body Press Dip Stand" is one of the best dip bars on our list!
2

. COREX Functional Fitness Parallette Dip Station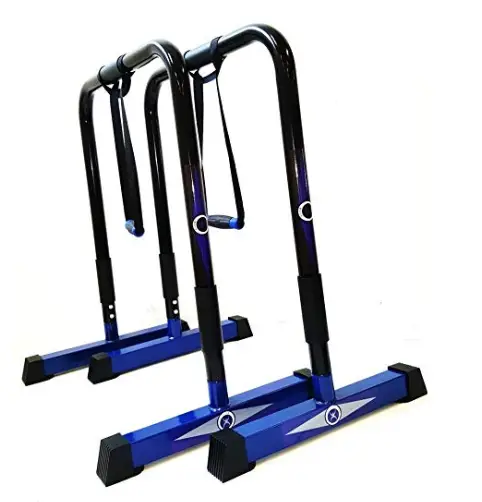 Two separate stands for customized placement
Foam grips
Very secure base
Bottom stabilizing pads come off easily
The Corex dip station consists of two free-standing dip bars that allow you to customize your dip station placement. The boots of the stands have been contoured for sidewards ground placement.
Read more
Enhances stability when doing push up type movements. There are three padded handles on the bars to provide comfort when you are doing both dips and push-ups.
Both the bar and base of this unit have been finished in a tough, durable coating. Thanks to the larger footprint of the base of the Corex dip station it can handle user weights of up to 450 pounds. The unit stands at 32 inches in height.
3

. Trademark Innovations Fitness Training Dip Station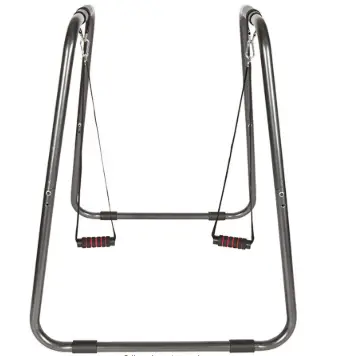 Built-in exercise bands
Lightweight and portable
Tapered dip handles
Dip height not enough for weighted dips
The Fitness Training Dip Station from Trademark Innovations is a single-piece 'U' shaped station that offers a very rigid dipping movement. It is a lightweight and portable dip bar that has rubber stops on the base to provide rigidity and to protect your floor surface.
Read more
Fitness Training Dip Station provides exercise bands attached to the mainframe with carabiners. It allows you to work your chest with flys and a range of other cable exercises.
The handles are covered with foam hand grips to provide comfort and grip strength. The dip handles are 17 inches apart on one side which tapers to 21 inches on the other side. This allows you to maximally activate both the triceps and the chest muscles.
4

. Waccess Heavy Duty Dip Station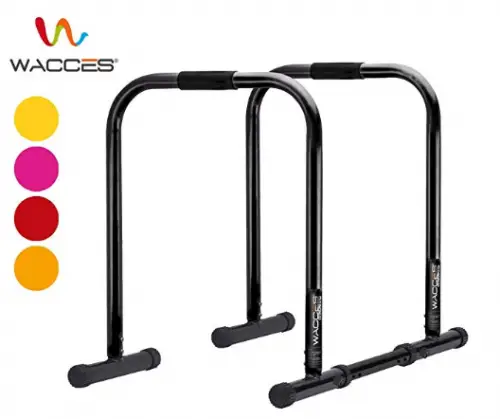 Quick adjustment
Separate bars
Foam grip handles
Heavy-duty tubing
A little wobbly for users over 250 pounds.
The Waccess Heavy Duty dip station allows you to adjust the height of your handles to customize the unit to your height requirements fully.
You can quickly set the height to either 30, 33 or 35 inches. The station consists of two parallel positions. They have full foam grip handles.
Read more
Knobs at the base of the stands allow you to align the positions for stability perfectly.
The Waccess Heavy Duty Dip Station can quickly be adjusted to emphasize either the chest or triceps. The bars are made of heavy-duty tubular steel, providing a lightweight but strong unit that is exceptionally sturdy.
This unit is easy to assemble and pull apart, so you can easily take it on the road with you. The Waccess is higher than most competitors making it ideal for taller users.
5

. Titan Fitness HD Dip Station Stand Body Press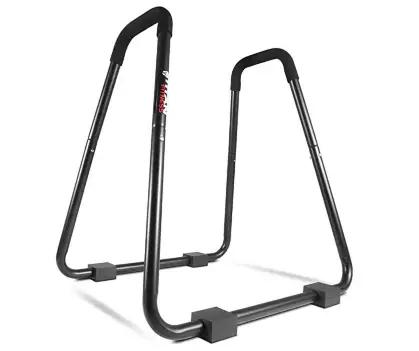 Very stable 'U' shape design
Rubber blocks for stability
Ergonomic foam handles
750 pound max user weight
Dip handle width of 24 inches is a little wide
The Titan Fitness HD Dip Station is a 'U" shaped one-piece dip unit that tapers to a narrower handle grip.
It aids support and allows for better body alignment when dipping for chest and triceps. The heavy-duty steel frame provides rigidity and strength.
Read more
Four rubber blocks on the base allow for alignment on all floor surfaces. The ergonomic foam handles cover the entire handle area.
The Titan Fitness HD Dip Station is a powder coat finished in jet black which looks very stylish. This unit is lightweight and portable dip bar. Despite that, it is strong enough to handle a maximum user weight of 750 pounds. The handle height is 38 inches, which gives you ample room to move up and down.
6

. Lebert Fitness Equalizer Total Body Strengthener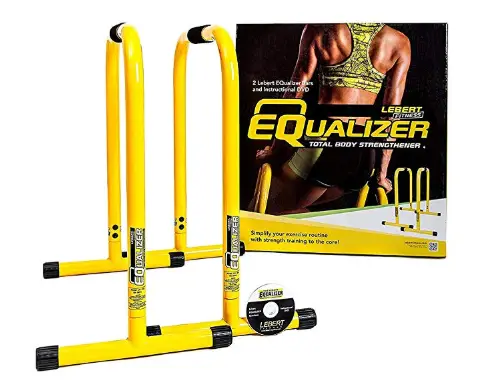 Very solid, durable construction
Supports up to 400 pounds
Suitable for a huge range of exercises
Comes with workout DVD
The Lebert Equalizer Bar is a simple, portable and lightweight dip stand at 28.5 inches in height.
That is the ideal height to perform a large range of exercises, including those under the bar.
They can support a total user weight of up to 400 pounds.
Read more
You can put the unit together in just a few minutes. It is an excellent, durable steel construction unit.
The foam grips are very high quality, which will last for a long time.
The parallel bars are easily stackable, making them very easy to transport or store. The Lebert Bar comes with a free workout DVD and a wall chart exercise poster.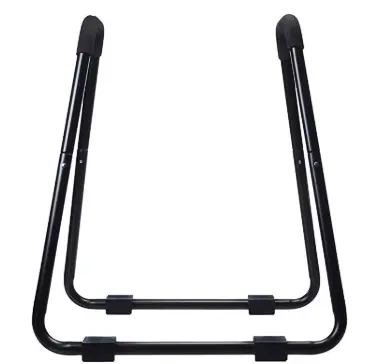 Very compact dip alternative
One-piece unit
Great price point
Cannot adjust dip bar width or height
Basics Dip Station is a one-piece dip bar that is made from extremely durable steel. Its unique design makes it amazingly strong and durable.
The unit is simple to set up, allowing you to get dipping straight away.
Read more
Foam free slip grips ensure that you always have a firm, comfortable, sweat-free grip.
Floor pads provide an extra level of rigidity and balance, while the wide base design makes it almost impossible for this unit to tip over.
It is a very simple yet effective dip station that stands at a proper height and comes in at an excellent price point.
8

. Yaheetech Heavy Duty Dip Station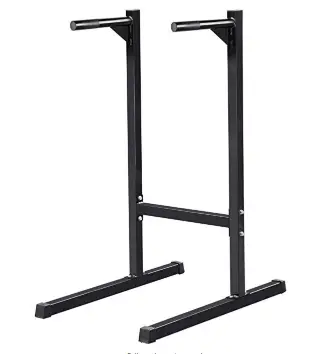 Free standing unit
2 inch square frame construction
Foam grip handles
Bar distance not adjustable
The Yaheetech Heavy Duty Dip Station is a free-standing unit made of solid steel that fits together as a one-piece unit.
It provides you with a very rigid dip unit that requires not attached to your wall.
Read more
The ergonomically angled design allows you to perform dips to the best effect for targeting your pecs and triceps. The handles are knurled to reduce hand slippage. Rubber feet firmly position the rack in place, ensuring that it won't budge as you are training. The space-saving design is easy to assemble.
As a free-standing unit, this can easily be moved for use in different rooms. Though it is portable, it is a very well balanced design, stable and comfortable for training on.
The frame is light but very strong due to its design and this durable frame will hold up heavyweights for training sessions.
9

. CoreX Functional Fitness Parallette Dip Station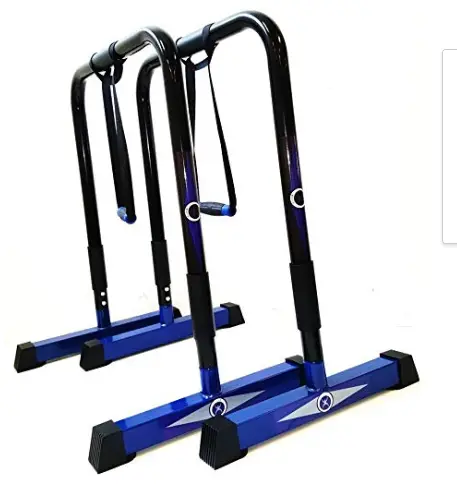 Extremely sturdy
Spin handles
Loop straps
Strong rubber smell from the feet
The CoreX Functional Fitness Parallette Dip Station is designed to be extra sturdy. It features large square tubing 'boots' that give rigidity and stability when doing bodyweight exercises. The rubber foot boots add to the strength.
Read more
The angled placement of the boots allows for even more rigidity, allowing for a total user weight of 400 pounds. The 'U' shaped handles are constructed from sturdy tubular steel.
A pair of spin handles are fitted with loop straps to allow you to do more advanced exercises. The bars are 34 inches from the floor and twenty-one inches apart.
Padded handle grips allow for dips and push-ups to be done in comfort.
10

. Goplus Dip Bars Fitness Dip Station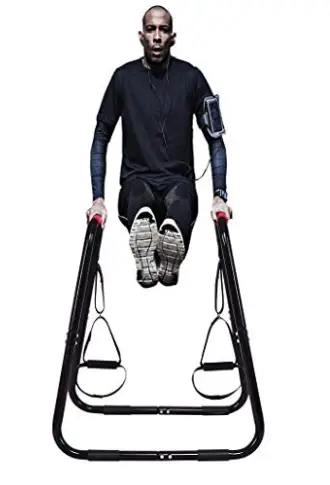 Freestanding
Easy to move
Sturdy frame
Well padded foam grips
Not as many features as more costly models
This dip-station gives a heavy-duty performance, great for using at home and equally good in the gym. Nice for strength training for legs, arms, chest, shoulders and the back.
The sturdy-tough steel frame easily handles up to 264 pounds in weight. The frame is fitted with anti-skid feet to keep it stable, and the design means this can stand in small areas and not take up a lot of space.
Read more
It has pull belts so you can work on your chest dips, leg swings, back rows, and knee raise.
The steel frame is more tubal in design for more strength and carries up to 264 pounds, so this is a sturdy model that covers very heavy rigorous work-outs.
It takes up very little space, easy to move so that after a work-out you can move it into a corner or other small area out of the way. It has padded foam for hand-grips so that you can have a secure safe grip during training. The base of the frame is coated with non-slip rubber to give a stable foothold.
Assembling this when you first bring it home is very easy and takes a few minutes.
Criteria Used for Evaluation

Ease of Use
Ease of Use results from good design
We looked very closely at the dip bar's ease of use level because when setting up these and regularly using them, ease of use is really needed.
Brand makers carry out a lot of research before launching these types of dip bars for home, and they have factored the ease of use into the design. None of the products we reviewed offered any low level of ease while using. The dip bars have been designed to be very user-friendly, all working parts are sturdy, safe and reliable.
All of our reviewed dip trainers have been designed with stability in the form of strong, sturdy frames which fit together securely and skid features on the base of the models to stop them sliding during a workout. If there were only minor anti-skid features, it is because the model can be fitted to a wall which is another option for ensuring stability.
All of our reviewed models comfortably qualified for ease of use.

Effectiveness
Effectiveness results from innovative design
For effectiveness, our review looked at the various design which has been engineered into these portable dip bars to ensure effective performance.
All of the products presented design, which ensured the best work-out positions for dip exercises, angled fitted handles are present to ensure a good grip and body positioning while exercising. Some offered dip belts with weights to allow a trainer to push themselves further for strength building and endurance.
The base of dip bars must offer solid stability so that the frame does not move during exercise; this means effective and safe training. Some models feature designed in exercise-bands which are very fitted and offer very effective work-outs.
We liked features such as quick adjustment; a popular frame style is the U-shape which offers lots of free space and a solid frame, further strength is found through the use of more tubal steel frames.
During our dip bars view, we looked at and chose models that are capable of supporting a different range of weights; the heavy-duty versions offer weight support for up to 700 pounds.
We concluded that the dip bars now in this guide are excellent as free-standing units, capable of offering a nice range of work-outs.

Durability
Durability contributes to safety.
Durability is essential; we looked at the frames. First, the essential materials used for the frames are steel because steel has a very high level of durability and retains its shape, even under a lot of pressure/weight.
Different makes while staying with steel, have chosen different designs, round tubular steel frames are strong due to the curved shape, though square steel support frames are also popular and secure work for adding adjustment features for height and width.
When the use of straps are included, we note that strong synthetic materials are used to ensure that the straps have high durability and stretch resistance.
The fitting of rubber boots and other rubber anti-skid features is done with highly durable rubber while stopping the frame from sliding; this rubber stability features also ensure that floors are not damaged.

Value
Value is gained through investing in quality.
Value is always on our minds when we purchase home training equipment. Safety and durability are a must-have when it comes to the best dip bars for home. With this thought in mind, our comparative research steered away from super low budget products because the models we did look at were constructed with cheap materials and would not offer durability, longevity, and active safety.
We looked for and found the use of high-quality materials which do offer safety for performance and real durability, in terms of value when right quality materials are used to make these products it will push the price beyond budget option through the user will get the ease of use, effectiveness, performance and real value.
The value was also comparatively assessed in terms of extra features offering more options for different exercises as we felt that this also represents real value.
We are delighted to have come up with a list-guide of Dip Bars, which we feel will give excellent value combined with user-friendly performance.
Expert Interviews & Opinions
Most Important Criteria
(According to our experts opinion)
Experts Opinion
Editors Opinion
Users Opinion
By Default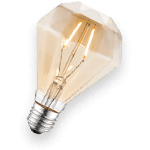 Durability
These dip bars model are perfect for home training; however, when you are looking to purchase one, you must shop around, there are so many good options on the market.
It is worthwhile going online and carrying out your research; you should look at articles and guides which cover the durability and performance of these models. Research and compare products and look at the materials used for construction, steel is the most popular because it is powerful.
There are grades and qualities for steel, and you want to see the use of high-quality steel. Read customer reviews, take note of what they say about the durability of any model which you are thinking of buying.
Features
If you want to stay with standard DIP training then you don't need to look for much in the way of extra features, though you do want to see, sturdy steel frames, right grip materials such as durable padded foam and rubber anti-slip tech designed onto the base of the structure.
If you are looking to include leg raises and other useful exercises, you will need to start looking at higher cost brands which have designed extra features for training into the dip-station. You can surf the web and read reviews about the many models on offer till such time you find what you need.
Other Factors to Consider

Adjustability
Adjustability can increase the range of available exercise options.
We looked at these fitness units and noted that most but not all offer the option to adjust the height etc. so that the model will be exactly right for the equal height of the user.
Adjustability is a very good designed in feature and can also cover adjusting the unit to offer other exercise choices. These products have come very far over the years, and many models include many extra features which will allow the user to increase the range of exercise options significantly to cover most of the muscles in the body.
Frequently Asked Questions
q:

Which muscles benefit?

a:

The most popular workout on dip stations and pull up stations is to strengthen and build up your tricep muscles. Though with added features and some planning, you can create an exercise schedule that will benefit all the main muscles for all of the upper body, even the abs.

The bar-style frames are sturdy and can carry a lot of weight, which means you are ok to go for some heavy-duty workouts every day.

The bars provide a sturdy base to work from, allowing you to do variations of exercises.
q:

Whats the best body position for dips?

a:

Regular dip training will benefit the tricep muscles. Always standing facing the base area for the training bars, one hand on each of the bars, and keep your hand-palms facing inwards.

To hit the position, raise your body at a comfortable speed, keep your knees bent, you must keep your arms straight to ensure your back will be flat. Now bend the arms while keeping them close to the body, stop when your elbows have created an angle of 90 degrees.

You can slightly lean forward through your upper body but remember to keep the spin nice and straight.
q:

Can I do leg raises on a dip-station?

a:

Yes, you can, standing your body with your back to the base dip station, you can go through the right amount of heavy-duty leg raises, and the bars and frames are very stable. Some dip bars even come with adjustment features to allow you to try variations on different types of leg raises training.
q:

Can I do push-ups on a dip station?

a:

Yes, and very effectively. You will place less weight on the upper part of the body, and this makes the leg raises a lot more achievable.

The frame of a dip-station gives a great stable structure through which you can perform regular leg raising training.
q:

Which is more stable, free stading or fitted to the wall?

a:

Initially, it would be easy to say that a dip-station fitted to a wall will give very high and dependable stability.

However, free-standing units have advanced a long way; they are constructed from exceptionally sturdy frames and always fitted with reliable anti-slip or skid features.

Freestanding units offer a great option, many of them are designed to be moved and stored out of the way after they have been used for exercise. Some models are so well designed they easily fit into the corner of a room or an out of the way small area.
q:

Which is best for dip training, a gym or at home?

a:

A gym is always an excellent professional option; the most gym will have a trainer on duty so that you can get help, guidance, and advice on which training routine of dips will be best for you.

In terms of quality training dip bars, you will find that if you are willing to pay a decent amount of money, you will get the same quality and high performance from units used at home.
Subscribe to our newsletter