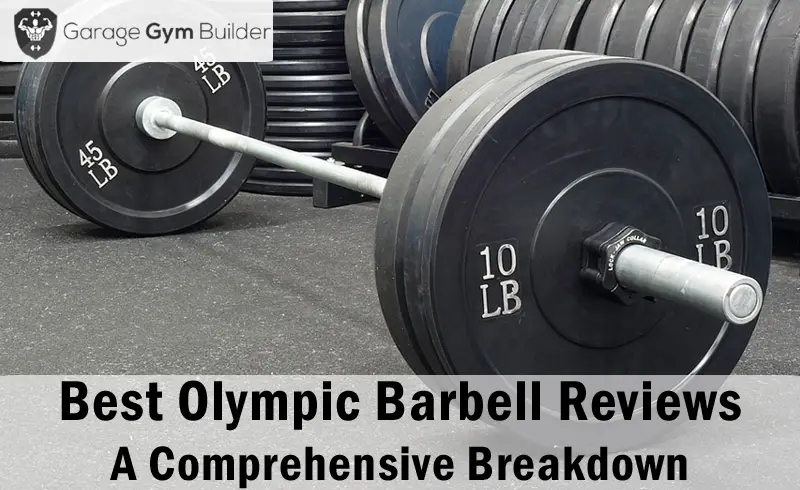 Best Olympic Barbell Reviews 2018
Olympic lifting and powerlifting are two different activities but weightlifters should learn and understand the proper form for each exercise. One brand of barbell that assists in this respect is the Rogue barbell, specifically the Rogue Bar 2.0 – a next generation Olympic barbell that is made in Columbus Ohio at the Rogue manufacturing plant.
Dual Knurl Marks for Powerlifting and Olympic Weightlifting
Most fitness enthusiasts will agree that this particular barbell is representative of the highest type of precision engineering. The barbell is made of 190 ksi steel, sturdy composite bushings and grooved sleeves that have been CNC machined. Color bands on the barbell are featured in black. Like its flagship ancestor, the Rogue Barbell, the Rogue Bar 2.0 still highlights dual knurl marks for both powerlifting and Olympic weightlifting activities.
A Zinc Shaft Design
The bar showcases a zinc-coated shaft in black as well as bright zinc sleeves. An additional groove in the sleeve allows both coach and athlete to adjust the bar by switching out the bands. The bar, which is a standard feature of Rogue-branded equipment, can use any personalized color bands that match its dimensions. Like the Rogue Ohio Bar.
CrossFit Friendly
The Rogue bar cemented its Cross Fit endorsement, thus paving the way (no pun intended) for its offspring, the Rogue 2.0, to be used in regular training sessions. The Rogue Bar 2.0 is an innovative piece of fitness equipment as it utilizes composite bushings – material that is self-lubricating and found frequently in military vehicles and equipment that is regularly used in the aerospace industry. If you are involved in a training program of high intensity, the bushings notably reduce the resulting friction, thereby supplying a dependable spin and a longer shelf life.
When you look at the specs of this Rogue Beater Bar, you will find a number of desirable features - features you cannot replicate on many Olympic-styled and power lift bars. It is no wonder why the Rogue Bar 2.0 receives plenty of accolades from the weight-lifting community. The bar's diameter is 28.5 mm and it weighs in at 20 kg. Again, duo knurl marks are featured for both Olympic and power lifts. No center knurl is stamped on this premium piece of weight-lifting equipment, whose tensile strength is a commendable 190,000 PSI.
A Premium Olympic Weightlifting Product
When you consider the composite bushings that are incorporated on the bar and the machined grooves with replacement bands, you cannot help but like this bar whose well thought-out design makes this barbell a premium product.
This dual-purpose and Olympic barbell does come with a warranty against bending. However, that warranty does not cover any bending activity that comes from abusively dropping the bar or from damage due to neglect, storage, maintenance, alterations or mishandling. Most of the bars that have been replaced, the company has found, had to do with abusive use rather than material or manufacturing issues.
Some Additional Facts
Olympic barbells are specifically designed to accommodate two dynamic if not explosive lifts – the snatch and clean and jerk. The bars are usually smaller in measure and more adaptable than their counterparts known as power bars. Olympic barbells can hold more whip or elastic energy as well – a benefit that is advantageous to the lifter, especially when he is performing the clean and jerk. Olympic bar markings are about two inchers further from the center than that markings featured on power bars.
The best Olympic barbell today is usually one which is considered a hybrid bar or dual-marked barbell. The general purpose barbell is not only suitable for Olympic weightlifting but can be used to manage the heavier and slower power weightlifting routines. This kind of bar is the best pick for beginners and intermediate CrossFit enthusiasts and weightlifters. Most people are not professional Olympic weightlifters. Therefore, the Rouge 2.0 barbell is an ideal hybrid "Olympic" bar to choose for any weightlifter who wants to improve his form in the sport.
A High Quality Olympic ("Hybrid") Bar for Women
Olympic barbells are also featured for women although the Olympic barbells that are featured online and by fitness equipment retailers are primarily made for men. Typically, Olympic barbells for men weigh around 20 kg or 44 lbs. Bar length is typically 2.2 meters or 7.2 feet. Women's Olympic barbells, by contrast, weigh in at about 15 kg or 33 pounds. The bar on the equipment runs about 79 inches or 2 meters. The length is shortened for the sleeves on women's barbell models. To learn more about olympic barbells for women please visit this page.
A Woman's Hybrid Bar that is an Exceptional Bar for Olympic Weightlifting Workouts
Besides the Olympic barbells featured by Rogue, Olympic picks are showcased in the Vulcan brand line. Women who want the best barbell should look at the Vulcan 15 kg women's Olympic styled barbell. The affordable barbell, which costs just above $300, highlights a 25 mm shaft of 191,000 PSI and an oxide coating. Four needle bearings are featured on each of the sleeves.
A Vulcan bar, like all Olympic Vulcan bars, supplies a good amount of whip or elastic energy. This bar, like the Rogue 2.0 barbell, is a dual-marked, hybrid bar that is designed for both Olympic and Power lifting activities.