Top 10 Olympic Barbells for Men and Women
last updated:
Mar 31, 2020
Olympic lifting and powerlifting are two different activities but weightlifters should learn and understand the proper form for each exercise. On the other hand, if you are seeking a commendable Olympic barbell for women, then you first need a grasp of the varying lifting requirements for women, men and junior weightlifters. All the barbells featured for these categories differ in weight and the diameter of the shaft. In some instances, that bar length varies as well. Most of the bars showcased on the market are made for men. However, major barbell producers do offer product variations of their line of popular men's bars for women. They also feature variations for youths who have taken up the activity.
Read on to discover everything you need to know about the best Olympic barbells, and to find out just which one to choose for your own home gym!
This is the best product on our list that is currently in stock: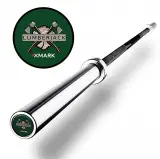 XMark Lumberjack
Why is it better?
Budger-friendly
Durable Coating
Dual Knurling Pattern
Seven Feet
16
Researched Sources
15k
Reviews Considered
20
Hours Researching
13
Products Evaluated
Features
Durability
Weight
Size
Comfort
By Default
10 Best Olympic Barbells
1

. Rep Fitness Gladiator Bar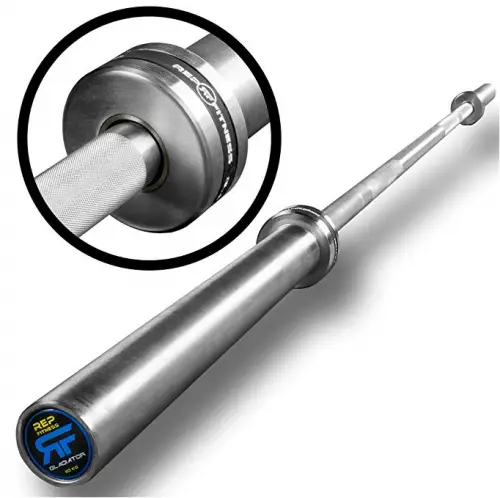 Two Weight Options
1500 Pound Static rating
Needle Bearings
Hard Chrome Coating
Medium Depth Knurling
Rep Fitness may not have many barbells to offer us, but the ones they do are truly sublime, just like the Gladiator bar is. This barbell has a durable chrome coating that protects it from rusting and your sweat. The knurling depth is medium, giving you plenty of grip to lift as much as your heart desires without pinching your skin uncomfortably.
Read more
The bearings are needle bearings, making the spin super-smooth, with just enough turnover when doing Olympic lifts. The bar comes in two weight options, 15 and 20 kgs, so you have a choice according to your own strength. The static rating of this bar is 1500 pounds, more than enough to keep most of us going! There is no center knurl, so consider your neck safe from tears and abrasion.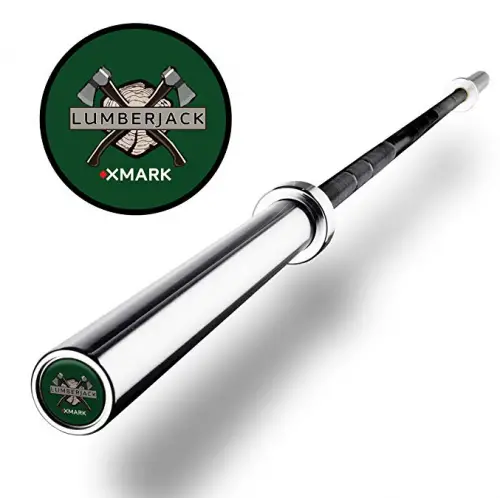 Budger-friendly
Durable Coating
Dual Knurling Pattern
Seven Feet
The Lumberjack maintains its shape well compared to other inexpensive bars and you can drop it without worrying about the bearings too much, although you still shouldn't throw it on the ground. This bar is super cheap, so it's excellent for beginners who are just diving into the lifting world.
Read more
The dual knurling markings are semi-aggressive, enough to make lifting safe while saving your skin from nicks and cuts. The bushings are brass, just strong enough to support all the weight you desire to put on the bar. The chrome sleeves are smooth making loading the plates easy and fast. The shaft is coated with manganese phosphate, protecting it whole giving it a smooth feel.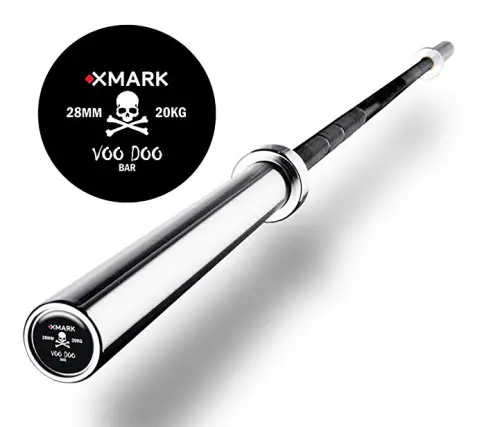 185000 PSI
1500 Pound Capacity
Snap Rings Included
28 mm Shaft
Micro Grooves On Collars
You can get the Voodoo bar from Olympic Fitness for not much more than the Lumberjack bar. It's still very inexpensive for an Olympic bar, but it's greater quality is noticeable and it's going to resist wear and tear damage quite well.
Read more
This Olympic bar is super strong with tensile strength reaching 185000 PSI! It flexes moderately as well, and it can withstand up to 1500 pounds, making this bar an extremely hardy piece of equipment, The alloy steel is heat-treated to protect it from damage, while snap rings hold the weight plates in place. The shaft is 28 mm, wide enough for every hand. The micro-grooves on the sleeves ensure the plates stay in place at all times.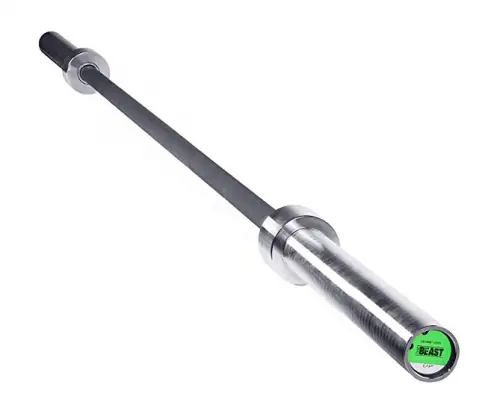 Precision Engineered
Japanese Cold-rolled Steel
Diamond Knurls
Sleeves With Bushings
We're all familiar with CAP fitness, so it's not surprising to find one of their bars on our list. The 110,000 PSI tensile strength is enough to withstand all kinds of damage. The bar itself is made out of Japanese cold-rolled steel, and it has a five-year warranty guaranteeing your satisfaction.
Read more
The bar has a black phosphate finish, protecting it from corrosion. It weighs 20 kg or 45 pounds, and it can be challenging for beginners, so be careful if you're not used to bars this heavy. The sleeves have snap clips that keep the plates in place. The diamond knurling pattern is mid-depth. The sleeves have bushing, and they swivel to reduce the pressure on your wrists.
5

. Body-Solid Tools Straight Bar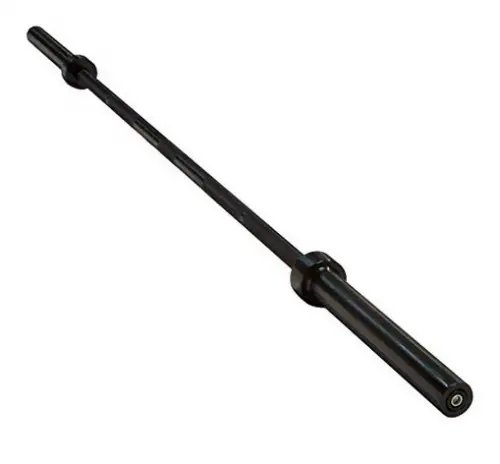 Jet Black
600 Pound Weight Capacity
Knurled Grips
44 Pounds
This jet-black Olympic bar is precision-engineered and straight, designed to withstand the most demanding workout regimes. The knurled grips along the length of the bar offer a safe place to grip while still being gentle towards your skin.
Read more
If you do not fancy the jet-black color, you can always go for the chrome-finish. Both of these options have the same level of protection from damage so there's no need to worry about that. The bar has a 600-pound capacity, not as much as the rest of the bars here but still good enough to support most workout programs. The collars are not included though, so you will need to find these on your own!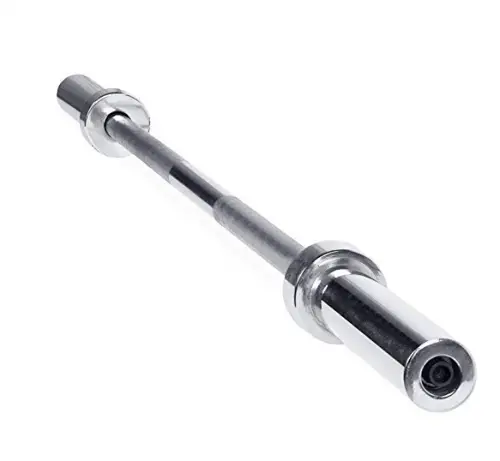 Chrome Finish
Two Convenient Sizes
Great For Beginners
Rotating Sleeves
Most people who want to buy a barbell just don't have the space to accommodate the normal 7-foot bar, which will be consistent with most Olympic size weights. CAP has developed a barbell that is shorter in length in order to fit into most gyms without sacrificing the advantages of Olympic weights.
Read more
You can still choose a 6-foot barbell, and it's still going to be in chrome. The bar is rated at 300 pounds, which is not good enough for most seasoned lifters., but it's just enough for the average lifter and beginners as well. The knurling is medium-depth, and the sleeves rotate to keep your wrists pain-free.
7

. Body-Solid EZ Curl Bar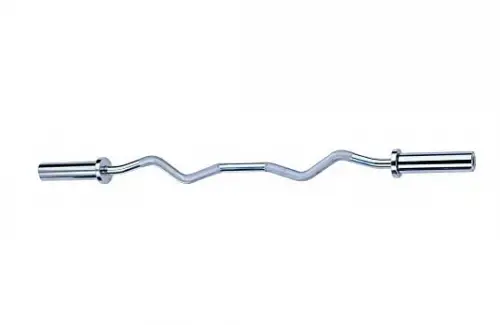 Safety Clips Included
Curl Bar
Portable
Good Angles
An EZ Curl bar is still an Olympic bar, so we felt it was needed to include it into our guide. Body-Solid gives you three choices - chrome, silver, and black. You cannot perform as many exercises with the curl bar when compared with the standard Olympic bar, but the ones you can do can be performed with flying colors.
Read more
These bars are great space-savers since their curly design makes them shorter than their straight cousins. You obviously cannot do standard lifts with this bar, but if you have enough room and a good budget, why don't you indulge and get one? The angles of this bar are nicely made, with good places to put your hands on without pain. Safety clips are included with this order, so you can get to working out almost immediately!
8

. Serious Steel Fitness Set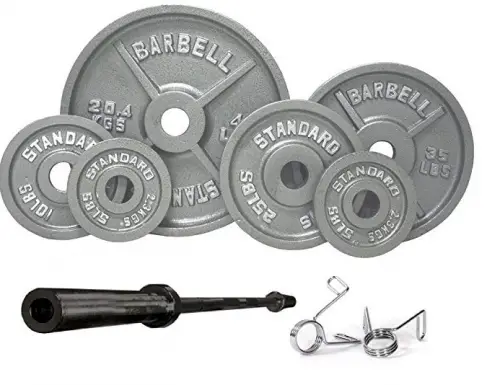 Plates And Clips Included
Plates Perfectly Round
600 Pound capacity
Standard Length And Weight
Getting a good enough Olympic barbell already feels like a steal, while getting a great set all at once is both money-saving and time-effective! This set includes the bar, of course, and 14 individual plates with different weights, of course. A pair of collars are included as well to keep the plates secure.
Read more
The plates have been precision-milled to have a truly round shape and no rough edges. The satin enamel finish is gentle to the touch and resistant to different kinds of damage. The barbell weighs 44 pounds, and it's seven feet long, just like every other standard Olympic barbell out there. The bar can withstand 600 pounds, which is more than double the weight of plates included in this set!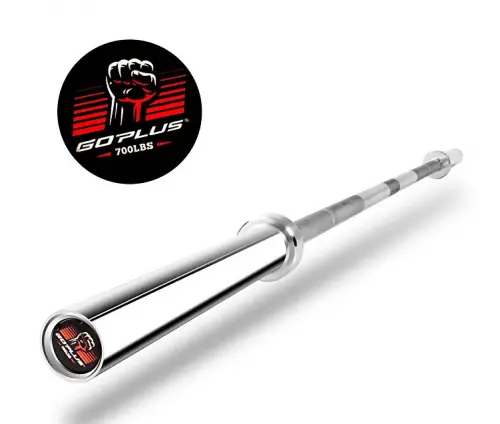 Rugged & Durable
Chrome-plated
Knurled Handles
Copper Sleeves And Bearings
Knurling Slightly Too Aggressive
This bar from GOPLUS is made out of high-quality steel, cold-forged and quenched to withstand everything you throw at it. The surface is chrome-plated, so expect to have this bar in your gym for a long time! The coating combined with the construction allows this bar to withstand up to 700 pounds.
Read more
You can choose the 1000 pound setting as well if 700 pounds is not strong enough for you. The handles are knurled, making the bar anti-slip. The bar weighs 44 pounds, and has a length of 86". The sleeves are copper, increasing the lubrication between the bearings.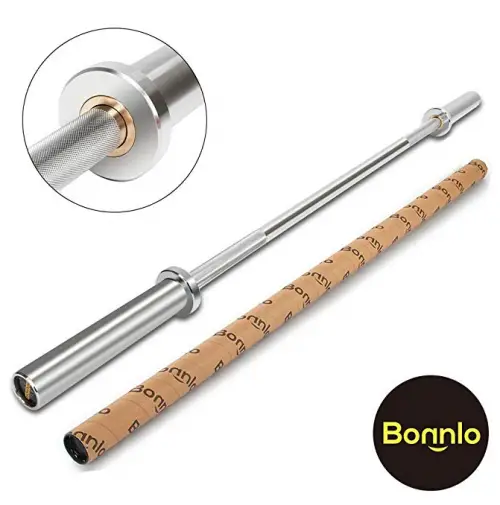 Solid Chrome Steel
5 Foot Long
Medium-Depth Knurling
600 Pound Capacity
Knurling Bit Too Far Apart
This solid chrome steel bar is only five feet long, making it compatible with even the smallest home gyms. You can use weight plates with a 2-inch hole diameter with this bar. The bar weighs 25 pounds, but don't let its low weight put you off!
Read more
The bar has brass bearings that give it plenty of spins to protect your wrists. The medium-depth knurling is gentle towards the palms and creates an anti-slip surface. The center knurling is absent, saving your shirts and neck. The weight capacity of this bar is 600 pounds.
Criteria Used for Evaluation

Features
There are many features you need to look out for when buying your Olympic barbell, as they set apart the top-quality bars from the cheaply-constructed ones. The very first thing you need to consider is the price. Do not pay a lot of attention to it, but what is true when purchasing any other items is the same here - you will get just what you pay for, so don't be afraid of investing into your bar if you want it to last long and remain safe to use! A good bar is made out of the highest-grade steel and various treatments reinforce the bar and make it long-living, which is what you need to look out for! The bearings can be cheap as well, and broken bearings create useless bars, but more about this in the durability section.
One more thing you need to look out for is the knurling. Knurling is the crisscrossing pattern seen on most bars that create a grippy surface, allowing you to safely grasp the bar. Two sets of lines that are diagonal are imprinted into the bar, going in opposite directions. These lines then form small diamond patterns, which effectively imprint onto your skin and hold onto it with mighty strength. The width and the depth of these diamond shapes changes, and the deeper and smaller they are the grippier the surface will be. You need aggressive knurling to assist you when you attempt to lift really heavy loads, where you can most likely lose your grip. The deeper this pattern dives on the surface of the bar, the narrower your grip needs to be. Bars designed for powerlifting usually have knurling more towards the center of the bar, to help sumo lifters with their attempts. Bars usually have a little portion of knurling in the dead center of the bar, known as center knurling. The pattern present here keeps the bar on your back when you squat. Some very specialized bars have much wider central patterns to assist men with wider backs. Olympic bars do not have aggressive knurling. If you have small hands, you may want to look for bars that have more grippy surfaces to help with your lifting.
The whip is also something to think about. Olympic bars should have little to no whip at all. The whip describes how much the bar bends and flexes when you use it. If the whip is high, the bar will be bendy, while a low whip keeps the bar straight and firm. When you're lifting heavy, a bar with a lot of whip will wiggle and hit you repeatedly as it comes down, so do not choose bars with a high whip! The spin is how much the bar rotates, at least the part you hold onto. The spin of the bar can be prevented by installing either bearings or bushings. If you want the bar to rotate when you work with it, like when you're doing presses, then go for high spin, if not, your safety can be compromised so choose bars that have little spin.
This is just about it when it comes to features, so think them all through before you ultimately decide on a bar!

Durability
This is a very important factor that affects not only your satisfaction with the bar but your safety as well. The durability of the bar will be affected by a lot of things, but the very first thing you need to consider is the strength of the bar itself. You have two kinds of strength to think about - tensile and yield strength. Tensile strength refers to how much force is needed to pull the bar apart, not break it. Most Olympic bars have a pretty good tensile strength rating, ranging from 130k to 220k PSI (pounds per square inch). The yield strength describes how much weight a bar can withstand before it starts to permanently bend, or even worse, break. Of these two measurements, the tensile strength of a bar is the more reliable one. The manufacturers always have to test their bars for their tensile strength and they get a very accurate number, although a lot of manufacturers fail to mention the tensile strength of their bars in the first place. But the more tensile strength a bar has, the less whip it will have! This makes high tensile bars excellent for powerlifting, while weightlifters need a bar with lower tensile strength.
The coating on the bar also affects its life. Some bars have no coating at all and are just bare. These bars are the cheapest, and they will not last the distance, as they will chip and rust like crazy thanks to your sweat and other factors. Some bars have a black oxide coating. The knurling on these bars is gentle and feels great, and they stand up quite well against corrosion. These bars are also one of the cheaper ones. Some bars have manganese phosphate acting as their protection. This is a newer technology, and you might not see it so often. There's still not much info about how it holds up over time, but the knurling here also feels great and it's better protected against corrosion when compared to black oxide. Zinc is also better against corrosion than black oxide, but the knurling patterns vary here and may not feel so comfy to grasp. They are also slightly pricier than black oxide coated bars. Chrome is the priciest coating, but it sure does look awesome! It also provides excellent protection from rusting, but this finish chips off and flakes, leaving the bar exposed.
The bearings can affect the durability of the bar as well, besides affecting its spin. Even if the spin is something that you do not consider important, cheap bearings can fall apart fast and cause the sleeves of the bars to fall off! You can avoid this by not overloading the bar or dropping it down to the floor once you're done. Bearings are little round balls or needles that go between the bar and its sleeves. But not every bearing was made the same way. Ball bearings deform fast and cannot withstand a lot of weight as they will bend and break. Needle bearings are a better choice. Bearings cost more than bushings do, and they are the best for quick lifts. Bearings do require maintenance, as you will need to oil them and keep them clean to allow them to do their job well. Bushings are rings that sit between the inner and outer sleeves of the bar. Bushings are cheaper than spins, and they do not give a lot of spins. Bushings are very hardy and require no maintenance at all. Bushings are great for Crossfit, for slow lifts, or if you're on a budget.
And the last thing to look out for is the warranty of the bar. If your bar costs you less than 300 dollars, you don't need to worry about the warranty all that much. This is because the bar will inevitably bend, and it will cost more to ship it back than to buy a new one altogether. If the bar has a lifetime warranty it promises durability and excellent quality. Mid-range barbells have warranties that cover 2-5 years. And remember that rarely any warranty will cover the bearings, so you will need to look out for those yourself!

Weight
The weight of the bar, plus how much weight it can withstand plays a major role in the quality of the bar. We already talked about the strength of the bar in the Features section, and that strength will determine how much weight a bar can withstand. But you need to think about the different ways you can add more weight to the bar as well. Unless you wish to compete professionally, you don't need to think too much about their quality as opposed to the quality of your barbell. The price of weight plates varies a lot, they can come super-cheap or cost as much as a weight bench, or even more. You can choose between two types of plates: bumper or iron. If powerlifting is your jam, you can choose iron plates. If you enjoy Crossfit and thrown the bar to the floor often enough, or if you practice the snatch and jerk movements in Olympic weightlifting, and you do, you need bumper plates. What you're paying for when it comes to bumper plates is the plate thickness and how much they bounce if you drop them. The bumpers come in different colors which all have their meaning. Black bumpers are cheap, thick, and very bouncy. Colored bumpers are a bit pricier, still thick but with not a lot of bounce. Olympic bumpers are mid-range and they are thin with almost no bounce, which is what you need. If you want to be professional, you need competition bumpers which are quite pricey, but they are thin, have no bounce, and their weight is certified so you know their exact number on the scale.
The weight of the bar itself is also something to think about, especially if you just started lifting weights. The bar itself weighs about 45 pounds, which is much more than the standard bar weighs. You might be even challenged by the weight of the bar alone! If you struggle with lifting the Olympic bar by itself, you might need to downgrade to a standard barbell until you're ready for the challenge of the Olympic barbell!

Size
You need to look at how big your barbell is to figure out whether it falls into the Olympic barbell category or not. Usually, a man's barbell weighs around 44 pounds or 20 kg. The length of the bar is generally around 7.2 feet or 2.2 meters. By comparison, a woman's barbell weighs in at around 33 pounds (15 kg) and features a bar that runs a length of just over 2 meters or 79 inches. This is not such a big difference, but it matters because of the natural differences between our genders.
If you have a barbell that does not measure up to these dimensions, you probably do not have an Olympic bar. Standard bars are the lightest and shortest of them all, while barbells made for youth and women may be even smaller than that. This doesn't make them less worth than the Olympic bar, it's just that they may not be enough to satisfy your needs, so you might need to choose an Olympic bar in the first place.

Comfort
Olympic barbells are usually comfortable enough to grip, thanks to the knurling pattern. This matters because if you do not feel comfortable while holding the barbell you might want to drop it. This is a bad idea because it can damage the bar, the plates, and even your body! Uncomfortable grip surfaces also create blisters and calluses. These can be very painful, can pop and become infected, which can set back your progress, and that's something none of us want. Although calluses can be helpful sometimes since their toughness and hard surface make gripping the bar easier and less painful but they are quite unsightly and leave your hands looking all bumpy and rugged.
You can avoid this by lifting with grips. Weightlifting gloves are usually frowned upon, and they might restrict your range of motion and affect your perception of the weight you're lifting, and both of these can be problematic. By choosing grips, you just protect the surface of your palms from blisters and pain, without affecting your performance. You can also use chalk powder, but you spend it up quite fast and it does tend to leave a mess. The bar shouldn't be too uncomfortable to grip in the first place, as long as you get the right product with good quality!
Expert Interviews & Opinions
Most Important Criteria
(According to our experts opinion)
Experts Opinion
Editors Opinion
Users Opinion
By Default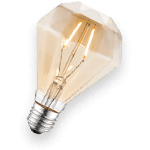 Maintenance
You need to take good care of your Olympic barbell if you want it to last. If you use chalk, be diligent about cleaning it out of the knurling pattern. You should do this after every use, or on a daily basis. A stiff nylon brush is all you need, and you just have to follow the ridges of the knurling pattern until the chalk is completely gone. You must get rid of all the chalk powder because if you don't, it will attract moisture and that moisture will cause rusting and corrosion! Remember to wipe down your bar as well. If you use it very often, wipe it down every week or so, but if you use it every two days or so, wiping the bar 2-3 times a month is good enough. You can wipe the bar down with a light coat of WD-40, or 3-in-1 oil. Spray these onto a rag, wipe down the bar, and leave it to dry overnight. Once it's dry, wipe it down again. And of course, remember to check the bearings and bushings, and oil and replace them when the time comes!
Model
It's important to know what kind of bar you need to look for when you want to begin lifting. Olympic lifting bars are what this article is about, and these barbells are definitely one of the largest and heaviest barbells of them all. Powerlifting bars have aggressive knurling patterns that help with gripping the bars tightly. The patterns are also slightly wider than those of Olympic barbells. Powerlifting bars also tend to be much stiffer than Olympic barbells, although specialized bendy powerlifting barbells do exist. Hybrid bars combine the best of both worlds. They have two sets of knurling patterns that work well with both the needs of Olympic lifters and powerlifters. These bars are economical and super versatile, and they are great for people who want to add variety to their fitness regime!
Other Factors to Consider

Bottom Line
Olympic barbells are specifically designed to accommodate two dynamics, if not explosive lifts – the snatch and clean and jerk. The bars are usually smaller in measure and more adaptable than their counterparts known as power bars. Olympic barbells can hold more whip or elastic energy as well – a benefit that is advantageous to the lifter, especially when he or she is performing the clean and jerk. Olympic bar markings are about two inches further from the center than the markings featured on power bars. The best Olympic barbell today is usually one which is considered a hybrid bar or dual-marked barbell. The general purpose barbell is not only suitable for Olympic weightlifting but can be used to manage the heavier and slower power weightlifting routines. This kind of bar is the best pick for beginners and intermediate CrossFit enthusiasts and weightlifters. Most people are not professional Olympic weightlifters. We hope our guide has helped you understand these essential tools better, and that you will enjoy using them!
Frequently Asked Questions
q:

What are olympic barbells made of?

a:

Every barbell is made out of metal, and Olympic barbells are usually made out of high-quality steel, coated to prevent it from rusting and damage. This is because steel adds the weight, stability, and strength an Olympic barbell needs to have. Some bars may be made out of cheaper materials, but they cannot be classified as Olympic barbells, so you're going to look for metal and metal Olympic bars only!
q:

How much does an Olympic barbell weigh?

a:

The standard barbell weighs 45 pounds, or 20 kgs, which is enough to challenge beginners without any added plates at all! This rings true for barbells made for men though, as Olympic barbells made for teens and women weightless, and they are slightly shorter as well. These bars weigh 15 kgs, and they are slightly over 2 meters long. This is because it's believed that younger people and women have smaller hands and cannot lift as much, although these are very dated opinions because we all know that simply not to be true!
q:

How do I care for my Olympic barbell?

a:

You have to remove every speck of chalk on the bar if you use it. This is a very important step and you have to do it every time you're done using the bar to prevent moisture from damaging your bar. You also need to wipe the bar down every few weeks, and you must replace the bearings when the time comes, and oil them when you notice it's harder to use the bars!
q:

How much weight can an Olympic barbell withstand?

a:

This depends from manufacturer to manufacturer, but there is a pretty common number they all trie to adhere to, and that is 500 pounds. This is more than enough to challenge even the most seasoned users, and it's just what you need when you get into Olympic lifting!
q:

Can a beginner use Olympic barbells?

a:

If you can handle the weight, then sure, why not! Most of us can lift 45 pounds with both of our hands or legs easily, but the situation changes when you add weights. If you struggle to lift the bare bar, you might need to go for a standard, lighter barbell, and add the weights there until you're ready to tackle the Olympic barbell!
Subscribe to our newsletter