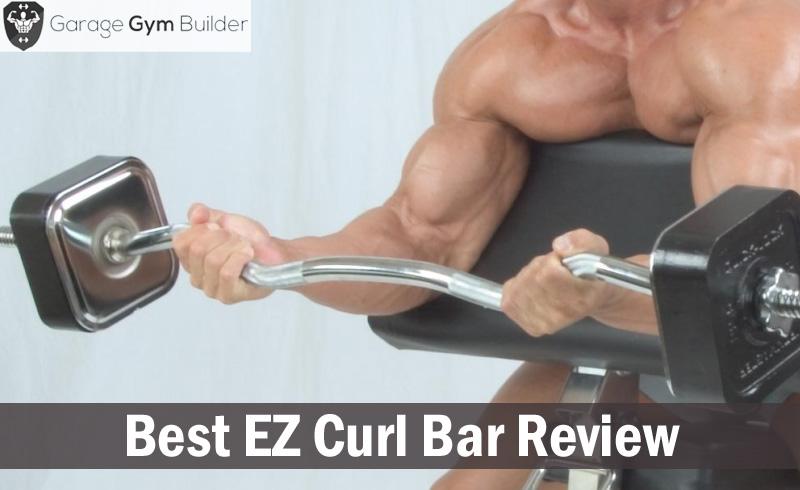 Best EZ Curl Bar Review 2018
The barbell curl is the most commonly performed exercise in gyms. That's because everyone wants bigger biceps. Using an ez curl bar makes the curl more effective, allowing you to target the biceps more directly. It also takes pressure off your wrists and forearms. In this article, we discover the best EZ curl bars on the market in both standard and olympic bar formats, allowing you to make the smartest choice for your home gym.
A Quick Overview of the Top EZ Curl Bars
The best curl bar that we have found is the CAP standard barbell EZ curl, which features less pronounced angles than normal to more effectively target the biceps. It comes with quality collars and is offered at a good price. We also really liked the Ivanko olympic bar, with its 60 inch length, black oxide coating and double knurling.
Our third favorite is the Body Solid 47 inch bar, which has dual grips which are biomechanically designed to reduce forearm and wrist pain.
To allow you to easily make comparisons between the Top 10 bars, we have rated each of them on the basis of price and durability. Then we've given each one an overall rating out of 5. In the following section, we will provide a full review of each product.
The Top 10 In Depth
The CAP Barbell standard ez curl bar is framed from solid chrome steel. It has threaded chrome ends with EZ spin collars which come with the bar. It fits a one inch standard barbell plate and is able to hold up to 200 pounds of plate weight. The weight of this ez hammer curl bar is 13 pounds.
The curve on this CAP Barbell EZ curl bar is less pronounced than on most bar, allowing for reduced forearm and wrist strain and greater bicep involvement on each repetition. The CAP ez curl bar on this french curl bar is comfortable to hold with knurling on curved handle portions for added comfort. This is a solid, functional arm curl bar that comes in at a very good price point.
Collars included
Less pronounced angling
Good price
Collars take time to put on and off
The Ivanko OBZ-30B Olympic ez curl bar is a commercial grade Olympic bar that is ideal for home use. It has 60 inch length with 38.5 inches between the olympic collar sleeves. The bolt fastened sleeves are 9.5 inches long, providing plenty of room to load plates. Sleeves are easily spun to allow for hassle free plate loading. Ivanko collars are sold separately.
The Ivanko OBZ-30B curl bar has knurling on both the close grip and the wide grand hand positions to ensure a secure grip. The black oxide finish gives this unit a stylish look. If you're after a quality, stripped down bar from a top name at a bargain basement price, this olympic super curl bar is the one for you.
Commercial standard
Double knurling
Black oxide finish
A little long in terms of standard ez curl bars
The Body Solid 47 inch EZ curl bar is 47 inches long and finished in chrome. This Olympic style unit weighs 18 pounds, with 31.75 inches of length between the sleeves. Sleeves rotate to allow for easy placement of the weight plates. Collars are not included in your purchase. The dual grips on this Body Solid EZ curl bar are biomechanically designed to reduce wrist and forearm pain when perform bicep and forearm exercises.
The inner angled grips on this adjustable curl bar are designed to target the inner head of the biceps, while the outer grip hits the outer head. As a result, this EZ curl has sharper angles than you will find on many other products on the market.
Effective groove angling
Easy rotating sleeves
Chrome finished
The CAP Barbell Olympic EZ Curl Bar is a solid chrome steel unit that features Olympic style ends to accommodate 2 inch center hole Olympic plates. This model features smooth ends that easily revolve to allow for quick on and off movement of plates. Screw type collars are included with your purchase of the CAP Olympic curl bar.
Knurling on both angled portions of CAP Barbell allow for secure hand grip, though you may wish to wear gloves when curling. The maximum plate loading capability on this unit is 200 pounds. Though not having as many on the rollers and being as robust as top commercial models, this is a great priced Olympic model that will give you an effective home based bicep workout.
Olympic Weight Bar Collars provided
Ends revolve easily
Max weight 200 pounds
Collars provided are not high quality
The Champion barbell EZ curl bar is a solid bar made from a single piece of chrome plated steel. The unit is one inch in diameter all the way along, including the sleeves. It will, therefore, accommodate a traditional one inch diameter plate. This EZ curl model will take a maximum weight of 220 pounds. If you will be handling more weight than that, you will be better off using an Olympic style unit.
​
The Champion barbell super EZ curl bar has a standard level of bar angle, with a generous amount of knurling. Spring collars are provided with this unit, giving you a quick and easy way to secure the weight. This model represents very good value for money.
Collars provided
Good value for money
Generous amount of knurling
The York Olympic EZ Curl bar is a high grade model from one of the most respected names in the industry. A thing that makes this unit stand out is that the ends do not use bolted ends, meaning that there will never be any danger of the ends coming loose. Constructed to York's exacting standards, this unit has a great balanced feel to it and is extremely durable.
York Olympic EZ Curl bar is chrome plated, and is corrosion resistant. It features revolving end sleeves that fit 2 inch diameter olympic weight plates. The sleeves revolve easily so that you can quickly slide on the plates that you need. The unit weighs approximately 19 pounds and is made in Canada.
Respected company
No bolted ends
Made in Canada
A little noisy when curling
If you're wondering how much does a curl bar or an olympic bar weigh and why you should be using a curl bar vs straight bar, check out this clip below:
The X Mark Chrome Olympic EZ curl bar comes in you choice of chrome or black finish. The gripping portion of this model is 28 mm long and features medium knurling to allow for a secure, comfortable hold on the bar. The coating on this unit is black manganese phosphate. In addition to looking very smart, black manganese are the hardest available and they are the most abrasion and corrosion resistant.
​This X Mark Chrome Olympic bar weighs in at 22 pounds and has a maximum plate loading weight of 400 pounds. Quality bushing are used in the internal workings of the sleeves to ensure easy revolving. This makes it a piece of cake to slip the plates on and off.
Black manganese phosphate coating
400 pounds max weight capacity
Easy revolve sleeves
Knurling is a little aggressive
The Impex Apex Olympic solid EZ curl bar is a chrome plated bar of solid steel construction. The angling on this model is not as aggressive as you find on most bars. This places less stress on the wrists and allows you to more naturally target the mid portion of the bicep. Solid black plastic collars are included with your purchase of this unit.
This is a gym grade model that will allow you to target your biceps, triceps and forearms without causing undue strain to your wrists. The sleeves revolve easily, allowing you to quickly replace the plates. Impex Apex Olympic ez curl model is offered at a good price and comes with a manufacturer's 2 year limited warranty.
Less aggressive angling
Collar included
Good price
Olympic plates fit slightly loosely
The Troy Barbell Olympic curl bar is made of solid steel and is presented in a stylish black finish. The angles on this EZ curl model are quite pronounced, allowing you to target the inner biceps head more effectively. Deep diamond knurling provides for a secure, comfortable grip.
Troy Barbell is available in a choice of lengths, from 47 inches to 60 inches. If you go for the shorter option, you get roll pinned sleeves, whereas the 60-inch model comes with bolted sleeves. Both models fit will fit all Olympic plates. The sleeves spin perfectly and are completely noise free. This is a very high quality bar that is reasonably price. It comes with a 5 year limited manufacturer's warranty.
Deep diamond knurling
Choice of lengths
Noise free
Knurling is a little aggressive
The Marcy Hollow standard curling bar weight set is a beginners weight bar set that features an EZ curl bar, two dumbbell handles and six spring type collars. The 47 inch hollow chrome steel bar is ergonomically designed to allow you to place maximum tension on your biceps when curling. This standard bar is compatible with all one inch hole diameter plates. The provided collars will securely keep the plates in position.
The Marcy Hollow ez curl bar weight set is a great option for beginners who are after a low cost way to build up their home gym equipment. Both the EZ curl and two dumbbell handles are solid enough to hold the needed weight. However, you wouldn't want to be curling more than 120 pounds with this model.
Well priced
Included 6 x collars and dumbbell handles
Ergonomically designed to target the biceps
Only suitable up to 120 pounds of resistance
Now that you know where to find your next EZ curl bar, learn how to get the most out it with our 9 Workouts and Exercises You Can Do With a Curl Bar - it's the path to huge biceps.
Conclusion
The best EZ curl bar is the CAP standard barbell EZ curl, which is a budget unit that delivers all the quality you need for great curls at a very good price. Our second favorite is the Ivanko 60 inch black oxide coated olympic bar. Our bronze medal winning EZ curl is the Body Solid 47, featuring a biomechanical design to make it more wrist friendly.