Top 13 EZ Curl Bars Reviewed and Rated
last updated:
Nov 13, 2020
Using a good EZ curl bar is a great way to build killer biceps safely and effectively. These bars have specific bends in the bar that creates a natural and safe grip for a wide variety of lifts. A simple change-up of your grip can trigger a myriad of muscle groups in your arms in a way that dumbbells just can't touch. Plus, the angled grip takes the pressure off of your wrists and forearms when compared to straight bars.
We made sure to select designs that were made to hold quite a bit of weight, and provided excellent knurling for a comfortable grip. In this guide, we have found some of our favorite EZ curls bars out there on the market that will make those biceps sing!
This is the best product on our list that is currently in stock: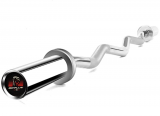 GoPlus
Why is it better?
Trusted brand
Wear-resistant
Excellent knurling
42
Researched Sources
8k
Reviews Considered
18
Hours Researching
14
Products Evaluated
Capacity
Comfort
Fit
Motion Control
Ease of Use
By Default
13 Best EZ Curl Bars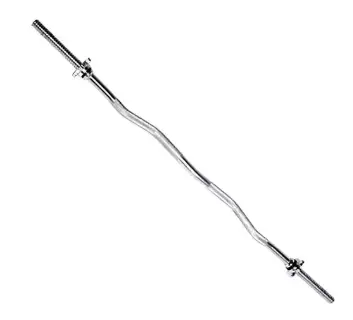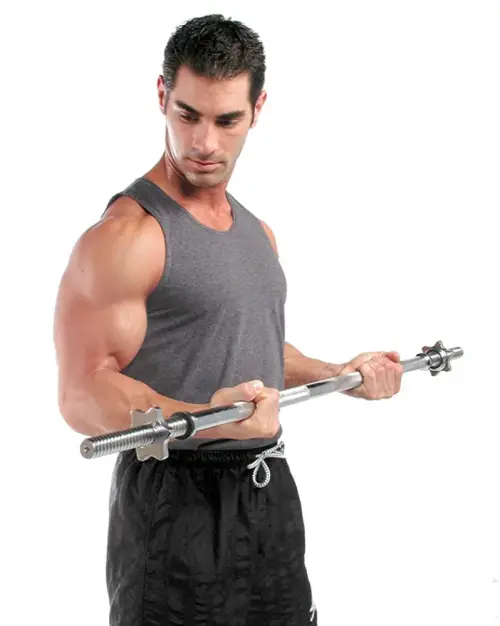 Collars included
Less pronounced angling
Good price
The brand has an excellent reputation
Collars take time to put on and off
The CAP Barbell standard EZ curl bar is framed from solid chrome steel and can hold up to 200 pounds.
Read more
Threaded chrome ends attach to the supplied EZ spin collars to attach the weights to the bar. The bar fits a one-inch standard barbell plate. The bar weighs 13 pounds. A less pronounced curve allows for reduced wrist strain and greater bicep involvement on each repetition.
The bar is comfortable to hold, with knurling on curved handle portions. This is a solid, functional arm curl bar that comes in at a very good price point.
The Cap Standard boasts an attractive polished steel finish. It is popular with many gyms and hobbyist weightlifters, because of how dependable it is. The bar is easy to use and also comes in at a price point that is budget-friendly.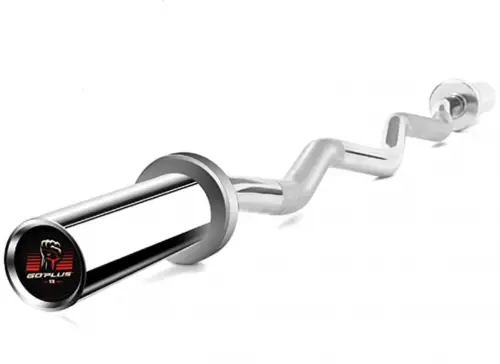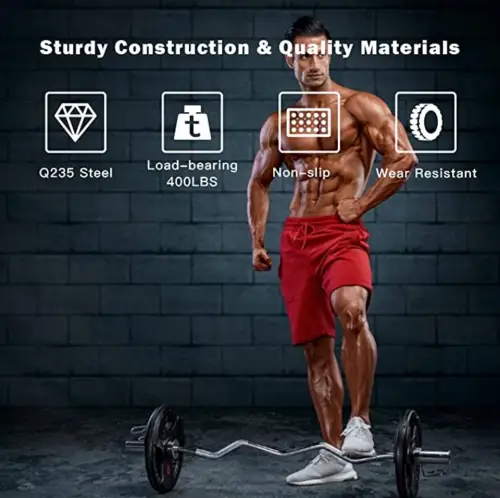 Trusted brand
Wear-resistant
Excellent knurling
What we like most about this design is that it made for heavier weights to really get the most out of your workouts. It boasts modest bends which are great for newbies and doesn't feel too awkward when just starting out. Users feel it has excellent knurling for a confident grip and holds up quite well over the years.
Read more
This design is made from quality Q235 steel that is able to hold up to 400 pounds worth of plates. The ends rotate that allows users to easily load plates on without putting undue pressure on the bar. It is also considered to be wear-resistant, which means it is the last design you will ever need to purchase.
We also like that the knurling of this design is deep enough to confidently grip the bar, but not too grooved that it will dig into your hands. One important thing to note is that the heavy-duty materials are much heavier than some of the standard options out there on the market. This bar weighs in at 44 pounds, which is double the weight of standard options.
If you are in the market for something that is composed of heavy-duty materials that hold up quite well over the years, this design is a great choice. While it costs a little bit more than some of the other designs that we have seen, we feel that it is well worth the higher price point in the long run!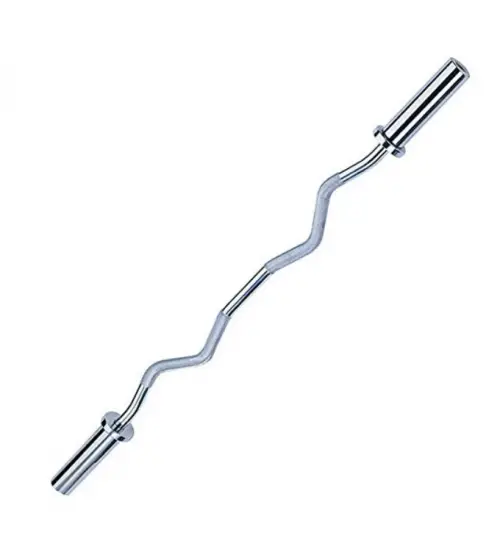 Effective groove angling
Easy rotating sleeves
Chrome finished
Company has a good name
This chrome finished bar is biomechanically designed to reduce wrist and forearm pain during use. The bar weighs 18 pounds. It is 47 inches long and has a chrome finish.
Read more
There are 31.75 inches between the sleeves, leaving plenty of room for even the biggest arms and hands. Rotating sleeves make it easy to put the weights on the bar.
The inner angled grips on this adjustable curl bar are designed to target the inner head of the biceps, while the outer grip hits the outer head. As a result, this EZ curl has sharper angles than you will find on many other products on the market.
Collars are not included with purchase. The bar does have a generous 300-pound capacity. If you visit the Body Solid website, you will find a list of accessories for the bar as well as high-resolution images and a product data-sheet.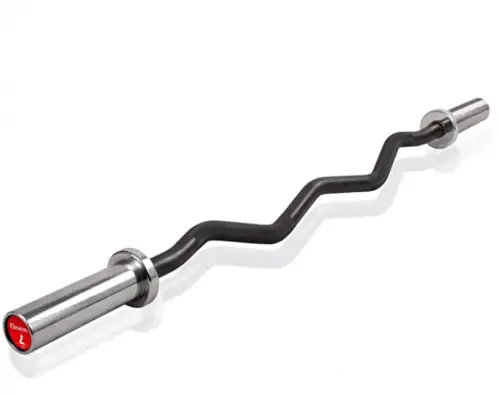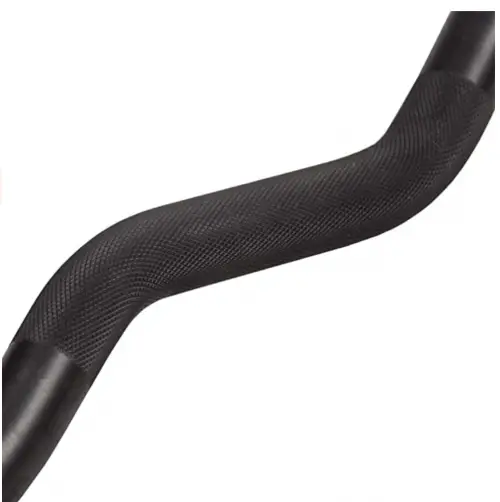 Very affordable
Manganese phosphate construction
High weight capacity
If you are in the market for an affordable option that is able to handle a good deal of weight for heavy lifts, this option from Elevens is a great choice. Users love that it boasts a matte black grip that is very unique and boasts stainless steel ends that are a cinch to load. Plus, it comes in at one of the most affordable price points out there on the market which makes it worth checking out.
Read more
The very first thing that we noticed about this design is that it is made from a matte black manganese phosphate bar with modest knurling. The knurling isn't as deep as some of the other high-end options, but it is perfect for those that need something with a good grip that won't dig into your hands.
It measures to be 47 inches long and weighs in at just 18 pounds. Despite its lower weight, it is able to accommodate up to 300 pounds of Olympic style plates. The ends of this bar are made from solid steel which is incredibly durable and resistant to rusting and wear over the years of continued use.
If you are in the market for something that is incredibly affordable and boasts unique features not found in most brands, this is a great choice. We love the manganese phosphate construction with a matte black finish and modest knurling which is ideal for a wide variety of lifts.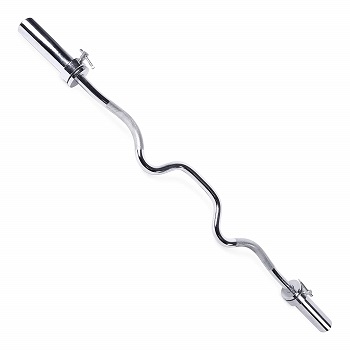 Olympic Weight Bar Collars provided
Ends revolve easily
Max weight 200 pounds
Diamond pattern for better grip
Collars provided are not high quality
The CAP Barbell Olympic EZ Curl Bar is a solid chrome steel unit that features Olympic style ends to accommodate 2-inch center hole Olympic plates.
Read more
This model features smooth ends that easily revolve to allow for quick on and off movement of plates. Screw type collars are included with your purchase of the CAP Olympic curl bar. The sleeves rotate to lessen hand and wrist pressure for a more stable lift. The knurled grips have a diamond pattern, helping you hold the bar more tightly.
The maximum plate loading capability on this unit is 200 pounds. Though not having as many on the rollers and being as robust as top commercial models, this is a great priced Olympic model that will give you an effective home-based bicep workout.
It holds two-inch weight plates. The bar is 32" long, shorter than some of the others we reviewed. The bar weighs 15 pounds and comes with a 30-day warranty.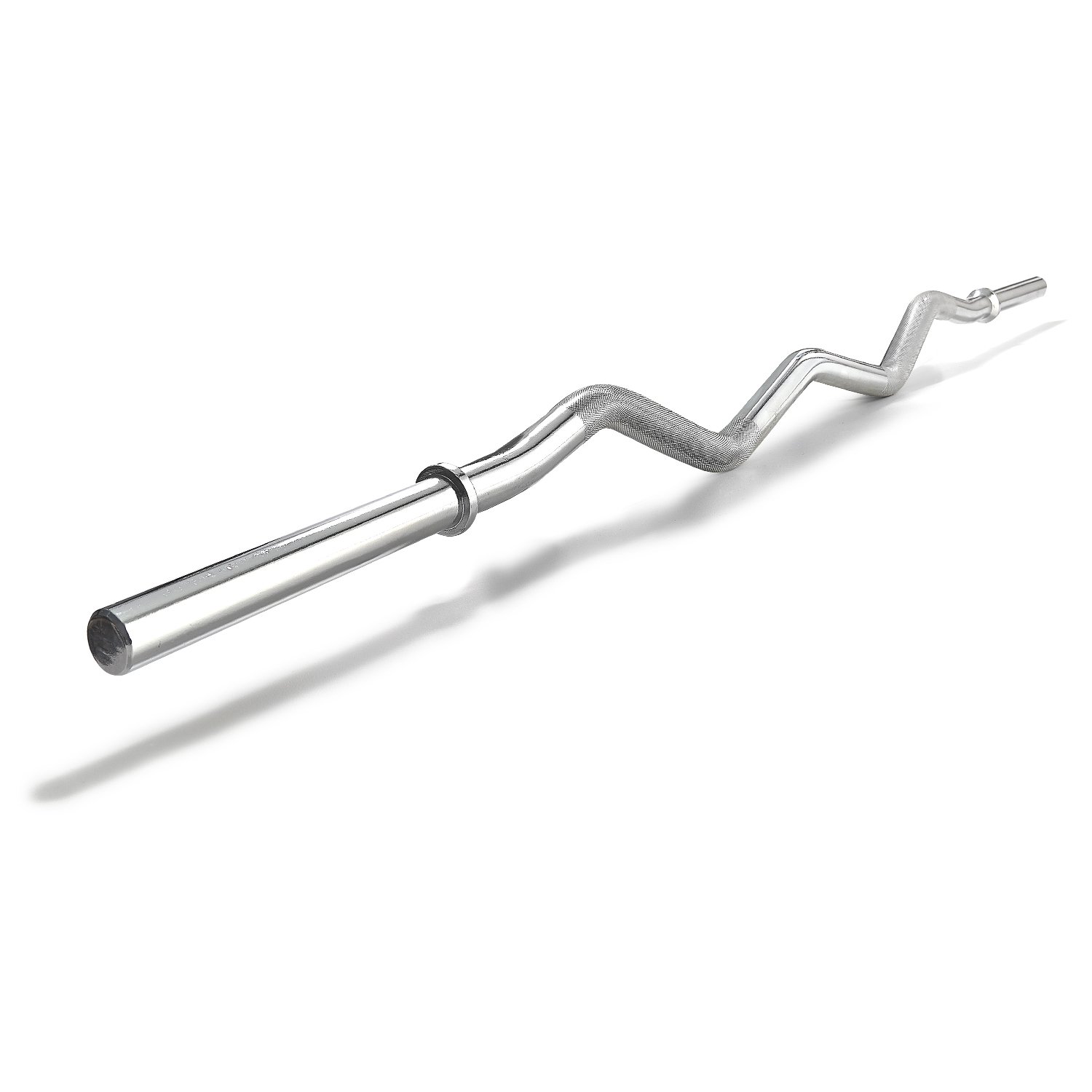 Collars provided
Good value for money
Generous amount of knurling
Extra-long bar
This EZ curl bar is made from a single piece of chrome-plated steel. The bar is an inch in diameter, both for the bar and the sleeves. It can take a weight plate with a one-inch opening.
Read more
The maximum weight is 220 pounds, higher than the usual 200 but still lower than 300 pounds, which some bars we reviewed can handle. If you need to lift more weight, you may want to think about buying an Olympic EZ bar.
Knurling helps with grip and with taking sleeves off to put on weights. Champion does supply collars with this bar. They are the spring clip kind.
The Champion bar is an amazing 47 inches, making it suitable for tall lifters. You can also cross-train with it, doing close grip bench presses and standing row exercises. The bar is unusually light, at 10.7 pounds. Reviews we read indicated this bar has a solid feel and heft to it.
7

. XMark Convict Warden's Package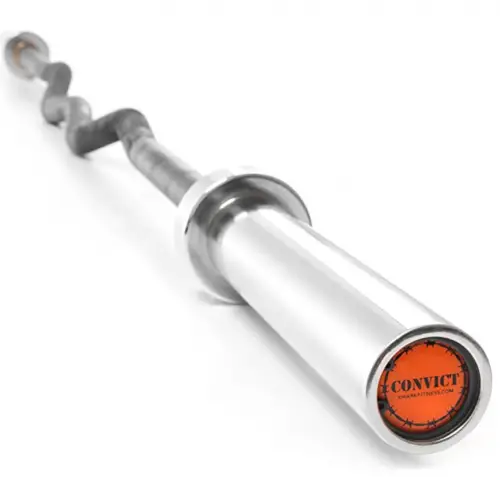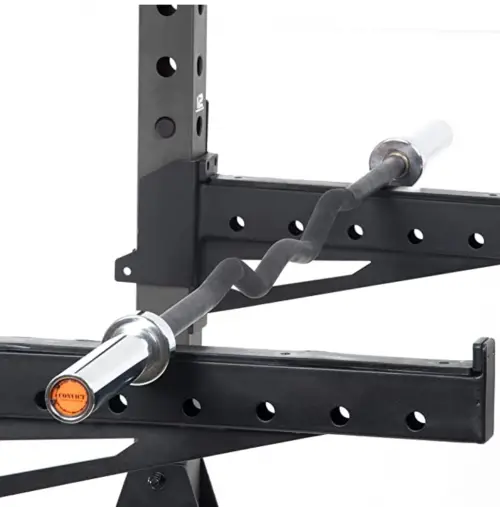 Respected company
Great package deal
400 on weight capacity
Weights come in a package
The XMark Convict Warden's Package is a high-end model from one of the most respected names in the industry. The package includes 65 pounds of Texas Star rubber coated Olympic weight plates, representing great value for money.
Read more
Constructed to XMark's exacting standards, this unit has a great balanced feel to it and is extremely durable. The bar has an impressive weight limit of 400 pounds.
The XMark bar that comes with the weights is chrome plated and corrosion-resistant. It features revolving end sleeves that fit 2-inch diameter Olympic weight plates. The sleeves turn easily so that you can quickly slide on the plates that you need and are extra long at 10 inches.
The Texas Star Olympic rubber weight plates feature five indented grips in the handles with good openings that blend comfortably with the hands, and the stainless-steel hub allows a perfectly comfortable fit and good ease for loading.
You can purchase the full set, or just the bar at a lower price if you already have 2-inch plates. XMark recommends wiping the bar down with WD-40 or 3 in 1 oil to keep the finish intact.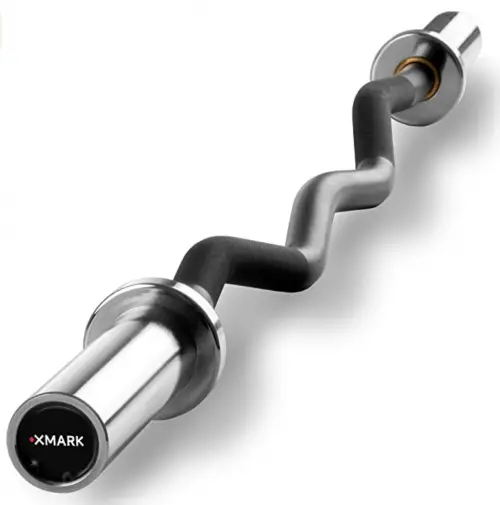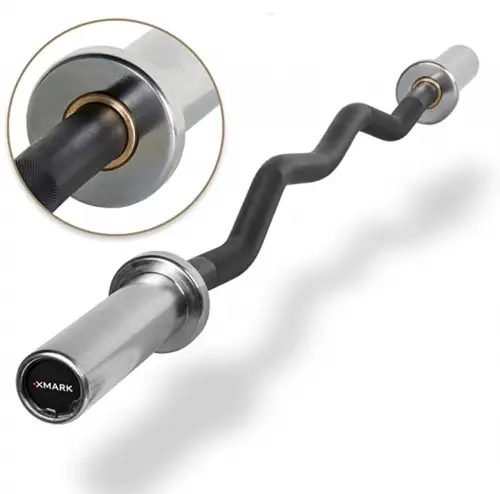 Black manganese phosphate coating
400 pounds max weight capacity
Easily revolved sleeves
Internal bushings make curling smooth and fast
Knurling is a little aggressive
This steel bar is coated in manganese phosphate for extra toughness. The X Mark Chrome Olympic EZ curl bar comes in your choice of chrome or black finish. The gripping portion of this model is 28 mm long and features medium knurling to allow for a secure, comfortable hold on the bar.
Read more
The coating on this unit is black manganese phosphate. In addition to looking very smart, black manganese is the hardest coating available and the most abrasion and corrosion-resistant. It is a step above black oxide, which is the industry standard for bar coatings.
​This X Mark Chrome Olympic bar weighs in at 22 pounds and has a maximum plate loading weight of 400 pounds.
Quality bushing is used in the internal workings of the sleeves to ensure easy revolving. This makes it simple to slip the plates on and off.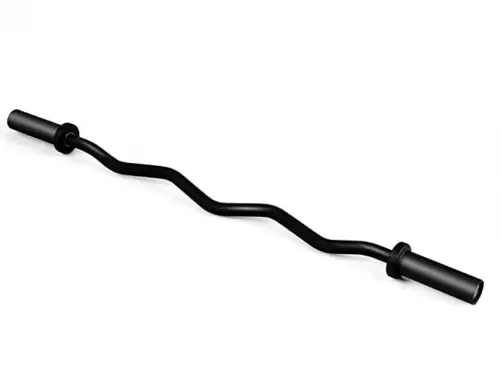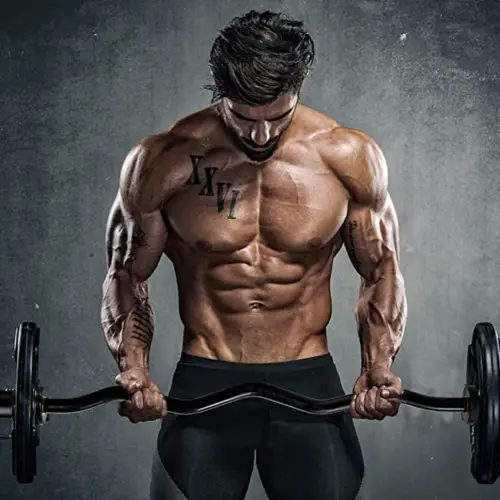 Trusted brand
Cold-forge solid steel
300-pound capacity
Slightly expensive
Shallow knurling
Simplicity is the name of the game when it comes to this option from GYMAX. It is composed of quality materials that hold up quite well over the years, and it is also able to accommodate higher weights. While it may cost a little bit more than some of the other designs we have seen we feel that the solid construction makes it worth every penny!
Read more
The very first thing that we noticed about this option is that it is composed of cold-forged Q235 steel that is rust-resistant and impervious to bending under heavy weights. It also boasts very modest knurling that won't dig into your hands during long sets, but you may find it to be a little lacking under heavy weights.
It measures to be 47 inches long and weighs in at 19 pounds. Despite its lighter weight, it is able to accommodate up to 300 pounds of laded plates. The solid steel construction won't bend under the pressure, making this an excellent option for both bodybuilding as well as powerlifters.
For those in the market for a quality design that comes from a trusted brand, this is an excellent choice. It is composed of tough materials that won't bend and break under the pressure. It may cost a little bit more than most, but we feel that it is well worth it.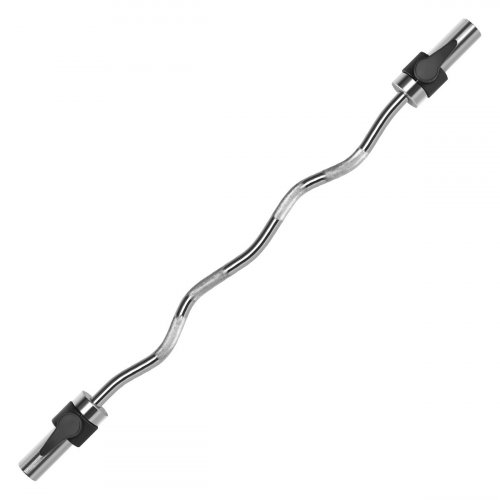 Less aggressive angling
Collar included
Good price
Corrosion-resistant
Only holds up to 100 pounds
The Marcy Solid Steel Olympic EZ curl bar is a chrome-plated bar of solid steel construction. The angling on this model is not as aggressive as you find on most bars. This places less stress on the wrists and allows you to more naturally target the mid-portion of the bicep.
Read more
Solid black plastic collars are included with your purchase of this unit. The corrosion-resistant body is non-toxic and ergonomic. Several reviewers said the bar is easy to keep clean.
This is a gym grade model that will allow you to target your biceps, triceps, and forearms without causing undue strain to your wrists. The sleeves revolve easily, allowing you to quickly replace the plates. The Marcy Solid Steel EZ curl bar is offered at a good price and comes with a manufacturer's 2-year limited warranty.
This model only holds up to 100 pounds of weight, which may be a deal-breaker for some. Marcy does make bars with higher weight capacities.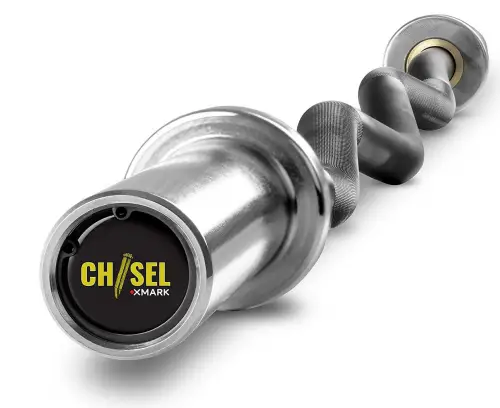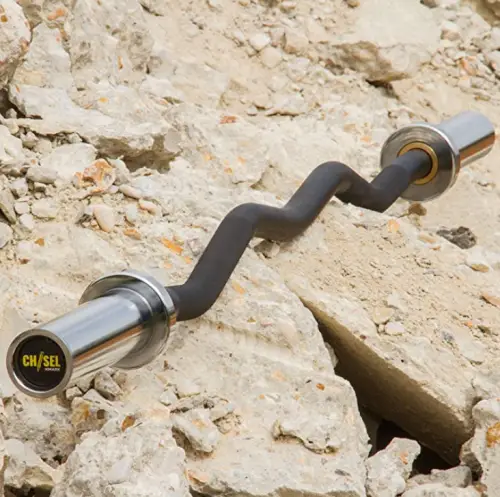 Manganese phosphate coating
Olympic bar
Exceptionally smooth spin
Snap lock system
Sleeves are a bit slippery
This third offering from XMark features solid steel construction and a black finish. The XMark Chisel Prop Barbell Olympic curl bar is made of solid steel and is presented in a stylish black finish.
Read more
It provides you with 4 needle bearings to ensure a smooth and quiet spin. Deep diamond knurling provides for a secure, comfortable grip.
The Chisel Pro is the top of the line curl bar in the XMARK line up. The black manganese phosphate bar is 28 mm in diameter.
The sleeves spin perfectly and are completely noise-free and feature a zero maintenance snap lock system. This is a very high-quality bar that is reasonably priced.
12

. Sunny Health and Fitness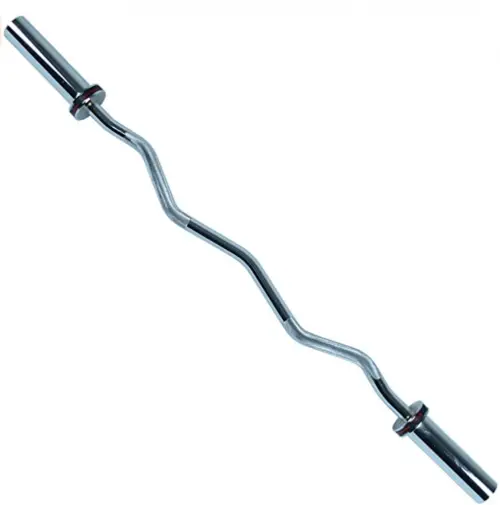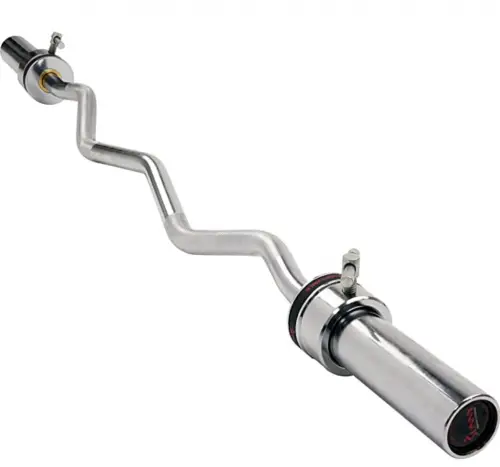 Incredibly affordable
Diamond knurling
Looking for a more budget-friendly option? This design from Sunny Health and Fitness is one of the most affordable designs out there on the market. While it isn't as heavy-duty as some of the more expensive options, it's a perfect option for those that will never need to load up the bar with very heavy weights. For bodybuilders, this is a great choice!
Read more
While it boasts an affordable price point, it is still composed of quality materials that hold up quite well over the years. It boasts rotating ends that allow the plates to move freely as you train. Deep diamond knurling allows for a solid and secure grip as you train.
This design measures to be 47 inches long, and weighs in at just 16 pounds. The lighter weight means that it isn't able to accommodate heavy plate loads like more expensive designs out there. It is able to comfortably hold up to 200 pounds of plates without the risk of bending or cracking.
If you are in the market for something that clocks in at a super affordable price point, this design from Sunny Health and Fitness is a great choice. While it may not be able to hold as much weight as some of the other options that we have seen, it is the perfect fit for those that don't necessarily need a bar that is able to hold powerlifting weights.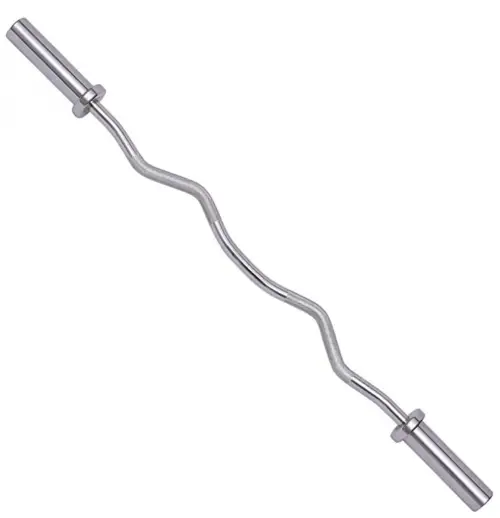 This design may not have the name recognition as some of the other options we have seen so far, but the affordable price point and quality materials make it worth checking out. It boasts a quality construction that is able to accommodate high weights and has an excellent bend that works to keep your wrists and forearms protected.
Read more
When compared to other designs we have seen so far, this design is a little bit lighter. It weighs in at just 18 pounds, but it is able to comfortably hold up to 350 pounds worth of plates. We also like that the bends in the bar are just a little deeper, which allows for a more versatile grip that takes the pressure off of your wrists.
The best feature of this budget-friendly choice is that while it is able to accommodate high weights, it comes in at a price point that won't break the bank. It boasts deep knurling on the bends which helps to secure a confident grip when pushing heavy weights.
If you are in the market for something simple and affordable, this design is a great choice. Some users found that this option starts to bend slightly over time, which means that it isn't as durable as some of the more expensive designs. However, if you intend on using it for lighter weights, this design will save you quite a bit of money.
Criteria Used for Evaluation

Capacity
It is important to know how much weight the bar can take.
From what we saw in our research, 200 pounds seems to be the standard weight capacity for EZ curl bars designed for home use. However, we reviewed several that can hold 300 pounds, as well as a 400-pound bar and a 100-pound bar.
Which bar you need depends on your goals, current situation, and what you mean to use the bar for. If you are lifting in the high one hundred, but plan on becoming stronger, you may want to get a 300-pound bar so you can grow. If you never curl that much weight, you are still better off than if you had bought a lower capacity bar and had to upgrade.

Comfort
Lifting weights will make you sore, but it shouldn't hurt.
EZ curl bars are pretty simple in design. They are bars, with sleeves for installing weight plates, and they have angles where your hands go to help you get a full range of motion.
It may seem like there is nothing a manufacturer can do to increase comfort. But we found that the bars do have subtle differences. One with a lot of diamond decking, for example, may press into your skin. Or the angles may not accommodate your hands and wrists, so you do not get a full extension. These and other subtle differences do matter.

Fit
You can't wear a curl bar, but it should fit your body for the best results.
Here, fit mainly refers to how well the bar fits into your hand and allows you to get a pain free full extension on each exercise.
Fit is important because you don't want your hands or wrists to be impinged. This will keep you from meeting your goals because the exercise will not be effective. It may also lead to injury. Some styles of the EZ curl bar will be a good fit for you, and others will not. In your comparison shopping, look for a bar that seems to fit naturally in your hands and that you can be comfortable with.

Motion Control
Make sure you get a full range of motion for each repetition.
A lot of motion control is up to you. But an EZ curl bar can help, too. Some are designed with more generous handholds, to make sure your hand will not be prevented from movement.
EZ curl bars themselves are a motion control invention. If you have ever tried to do curls with a regular barbel, you know how difficult it is. The barbell does not roll in your hand the way an EZ curl bar does. It is designed for bench presses, squats, and other large muscle group exercises. The EZ curl bar is dedicated to doing curls and working out your upper arms. So you can get a much better range of motion, and you are able to control the motion better.

Ease of Use
Something you want to use often should not be difficult to use.
It is already clear that an EZ curl bar is easier to use, for curls, than a regular barbell.
Within the EZ curl world, some bars are easier to use than others. One thing to look for is spin. The bar should naturally and effortlessly spin, on the upward motion of the curl, to allow you to complete the repetition.
Another thing you may want to consider is the length of the curl bar. A 47" curl bar will be better for a tall person to handle. How the weights attach is included, too. You may find a spring collar preferable to a threaded collar. Take your time and figure out what works for you, because you will have your EZ curl bar for a long time and you want to make sure it is easy for you to use.
Expert Interviews & Opinions
Most Important Criteria
(According to our experts opinion)
Experts Opinion
Editors Opinion
Users Opinion
By Default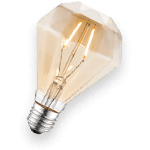 EZ Curl Bar Safety
Proper use and care of your EZ curl bar will help it give you years of use and consistent results.
You should never use your bar for anything other than standing or seated curls, upright rows, and perhaps close grip bench presses. If you are lifting more weight than you are used to, have someone spot you. Use the weight plates and collars that are provided or sold specifically for EZ curl bars.
You can also clean or polish your bar periodically. This will help stop rust or corrosion. Be sure to follow the manufacturer's directions for cleaning the bar.
Benefits of Curling
Curling is one of those exercises that everyone just does. If you walk into any gym, you will probably see people doing preacher curls, dumbbell curls, and EZ bar curls.
But why are curls so popular? One reason is that they are so simple. A fitness novice can grab a dumbbell, start pushing out curls and get benefits right away. Of course, all novices should be trained to lift safely and with proper form. Doing bicep curls with a lightweight is one way to practice that form.
Benefits of Curling
Bicep curls send blood to the upper arm right away, too, which can give you a feeling of strength and a temporary look of being pumped. If the feelings and look of your arm motivate you to work out more, that's perfect.
The other benefit is that the curl isolates your bicep. It is one of the easiest ways to do this. Many women and men want toned arms, and doing bicep curls along with an upper-body program is a great way to work towards this.
Other Factors to Consider

Color
Color should not be the only factor, but it is an important consideration. A black finish will help your EZ bar stand out, so you can pick it out of a group easily. A black finish also usually means the bar has a protective coating.
You may prefer a more old fashioned silver chrome or metal bar. They should be cleaned and possibly oiled periodically, according to manufacturer instructions.

Value
We have tried to give you the information you need to avoid overpaying for a curl bar that has the features you want.
As a reminder, the best value is not always the lowest price. A bargain basement curl bar may fail you over time, and may not have a good spin or comfortable grips. Those things are worth paying more for because they can prevent fatigue and strain.
Frequently Asked Questions
q:

What are some benefits of using an EZ curl bar?

a:

Any time you load up a bar with weights to lift, you will build muscle. However, not all lifts are created equal. When you use a straight bar, it positions your wrists and forearms in a position that is not natural. This means that you may be leaving reps on the table because your wrists or forearms gave out.

The trademark bends in these bars work to position your wrist in a more natural position. It allows you to really dig deep into your biceps for every last rep without the extra strain on your wrists. Plus, it is always beneficial to vary your workouts between dumbbells and bar lifting.
q:

What types of lifts can I do with an EZ curl bar?

a:

The most common lift performed with these bars is the basic bicep curl, and for good reason. Using these bars for curls is one of the best ways to isolate your biceps and build impressive muscles! Pair it with a preacher pad, and you have a recipe for killer biceps! However, there are few other lifts you can toss into your next routine that will benefit other muscle groups.

You can use this bar for lifts such as skull crushers, clean and presses, shoulder presses, modest deadlifts, and squats. We like that this bar is small and compact, so it is super easy to load up the bar and add a little weight to your basic bodyweight exercises (such as squats).
q:

Which is better: dumbbells or barbells?

a:

Both lifts benefit your muscles in different ways. In short, you should be sure to work both styles of lifts into your routine to fully engage all parts of your arms. Dumbbells are a great way to not only build biceps but also train all of those little stabilizing muscles.

The biggest advantage with bar curls is that you know both arms are working at the same speed. The bar forces you to recruit both arms. With dumbbell curls, your arms move independently of each other and this can result in an imbalance over time if your form is not perfect.
q:

What is an Olympic curl bar?

a:

Olympic curl bars are bigger than standard curl bars. Unlike Olympic barbells, Olympic EZ curl bars do not have standard weights. They are heavier, though. Olympic curl bars are longer, too, sometimes as long as 52 inches. Only Olympic weight plates will work on an Olympic bar. They will also have sleeves that rotate, which standard bars do not have.

You can learn more about the Olympic records for lifting in our previous article.
q:

Should I stretch before doing curls?

a:

No. You should actually never stretch before you are warmed up feeling flexible because this can cause you to pull a muscle. Instead, try doing some dumbbell curls with very light weights. This mimics the motion you will be doing with the curl bar, so it loosens everything up and gets you ready.
q:

What are preacher pads used for?

a:

The main purpose of preacher pads is to isolate your biceps and ensure the perfect farm. It makes it does you cannot cheat on a lift by using muscles in your back or shoulders. The chair has a foam wedge that you sit behind, and you lift by holding the bar at the bottom of the wedge and pulling it up.

Many lifters say they can lift more weight using the preacher curl chair because the muscle isolation leads to much greater efficiency.
q:

Besides my biceps, what do curls work out?

a:

Curls will strengthen your elbow flexors, your deltoids (top of your shoulders), wrist extensors, and the flexor connecting your elbow to your hand.
q:

How long have EZ curl bars been around?

a:

They have probably been around longer, but they were invented and patented in 1950. The inventor was Lewis G. Dymeck, a weightlifter who injured his wrist and found the straight bar too uncomfortable to use. The invention was initially called the Dymek curling bar, but over time the EZ curl name caught on.
q:

How much does it weigh?

a:

Most bars vary from 18 to 22 pounds. If you want to be exact, be sure to check the weight of the design that you purchase. If you are at the gym, however, we suggest that you should always round to 20 pounds when calculating how much weight you need to put on the bar.
q:

Can you bench press with an EZ curl bar?

a:

Absolutely! In fact, many lifters that are recovering from an injury opt for an EZ curl bar for lighter loads as they work through their recovery. It is important to note that switching to an EZ curl bar permanently may not be the best idea in the long run. These bars are too short to rack on a traditional bench rack, so pushing heavier weights with these bars is less than ideal.

While they offer a great supplemental workout, it's important to vary up your bar and grip choices for safe and effective strength building.
Subscribe to our newsletter