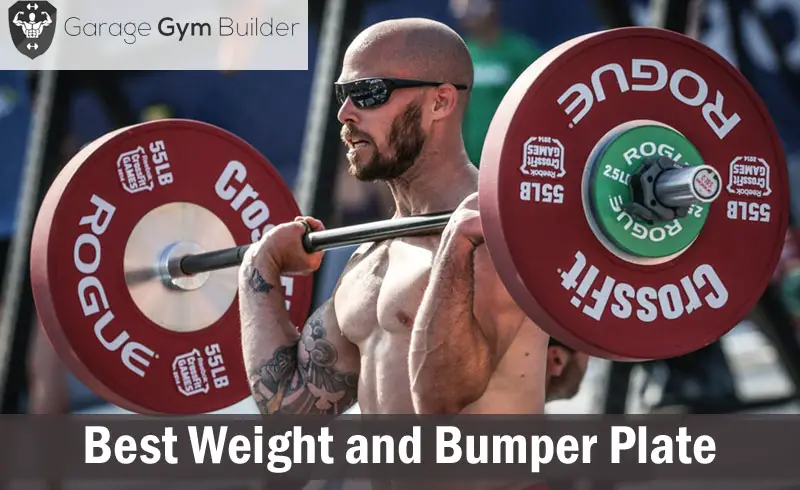 Best Weight and Bumper Plate Reviews 2018
A quality home gym deserves the best weight and bumper plates. If you thought that a weight was just a weight, then it's time to get educated. Bumper plates will protect your gym floor if you drop them. Bumpers are also the way to go if you're heading for competition. In this article, we have located and reviewed the 10 best weight and bumper plates in the 2018 market.
A Quick Glimpse at the Best Weight and Bumper Plates
Our favorite plate is the CFF Rubber Bumper Plate, which gives you a very durable resistance without the odor and oiliness that comes with most bumper plates. It also comes in at a great price point. The CAP Barbell Premium bumper weight also impressed us, with their quality virgin rubber construction and snug, secure fit on the bar.
Our third favorite plate is the X Training Premium plate, which is color coded and extremely rugged and solid fitting on the bar.
Top Ten Weights and Bumpers
We've rated the top 10 plates on a simple scale for your convenience. We've marked them out of 5 for price and durability and then given an overall rating. Below these ratings you'll find in-depth reviews of all ten of our top weights and bumpers.​
The 10 Best Weight and Bumper Plates In-Depth
CFF Rubber Bumper plates are made from 100% virgin rubber. This eliminates the oily feel and strong smell that is associated with most bumpers. This top quality rubber also adds to the denseness of these plates, making them extremely durable. The enhanced density also enables CFF to make the plates thinner than standard plates, allowing you to pack more weight onto the bar.
CFF Plates have a 2 inch forged stainless steel insert to provide a snug fit to the bar. They are rated to a low bounce for user safety. As a measure of how durable these plates are, they have been drop tested 30,000 times from 9 feet without any deformation to either the rubber insert or the rubber outer.
100% virgin rubber
Thinner designLow bounce rating
X Training Premium bumper plates are color coded so you can choose your weight at a glance. They are designed for low bounce and high density. They follow the specifications of standard Olympic weights, and have been tested thoroughly by certified Olympic lifters and CrossFit coaches. They feature quality steel inserts on the inner bar hole that fit snugly on any Olympic bar.
X Training Premium weights are more rugged than the soft bumper plates that are readily available online. They are made to survive and thrive through the hardest of workouts and will handle being dropped from height without damaging themselves or the floor. The X Training bumper weights are set at a very competitive price point.
Color coded
Low bounce
Very durable
Great price
These weights gives off an odor for the first week or two
CAP Barbell Premium bumper plates are made from virgin and recycled rubber over a cast iron core. This makes them extremely resilient while also have a low bounce factor that will benefit your gym floor. Steel inserts in the plate holes provide a very secure fit on the bar. These plates will not roll along the bar sleeve even in the absence of collars.
Unlike the X Training bumper plates, CAP weights are odorless, so you don't have to put up with an industrial smell whenever you enter your home gym. All of the CAP plates are the same diameter as a 45 pound steel plate. The thickness of the different weights vary. CAP bumper plates are not color coded, coming in a standard black.
Rubber outer / cast iron core
Fit securely on an Olympic bar
odorless
The X Mark Premium Tri-gap plates have a triple grip design to allow easy handling. The casing of these weights is made from heavy duty, crack and peel resistant rubber. This protects your floors and adds to the durability and life of the plate. The ergonomically designed recessed center minimizes the risk of pinching your finger when you are loading the plate into an Olympic bar.
X Mark Premium have developed a reputation as among the most accurate producers of weights. That means that you can be assured the actual weight that you're lifting is what it says on the side of the weight. X Mark means quality, but you will have to put up with a strong chemical odor.
Tri Grip handles
Crack and peel resistant rubber casings
Recessed center
Very accurate weight measure
Very strong chemical odor
One Fit Wonder Bumper Plates bill themselves as the most durable bumper plates you can get anywhere. That might be overkill, but they are extremely durable. These weights are guaranteed not to crack, bend or break for either 1 year (10 pound ) or 3 years (25 and 45 pound). The plates feature precision crafted steel inserts that will provide for a very snug bar fit.
One Fit Wonder Bumper Plates are extremely accurate. They guarantee that the actual weight will be within 10 grams of the weight on the plate - most weights are only within a 3% margin. These bumper weights are set at a very good price. They are also thinner than most weights, so you can get more poundage on the bar.
Extremely hard wearing
Thin width design
Very accurate weighting
TDS Rubber Bumper Plates are made from durable virgin rubber and rubber additives to provide a rugged covering that will take a lot of punishment while being kind to your floor. The Olympic sized center hole has a high quality steel insert which provides for a snug fit on the bar. TDS bumper weights all have an outside diameter of 17.15 inches, but vary in width according to the weight of the plate.
TDS plates come it an excellent price point and will do an excellent job, especially if you are into CrossFit. However, you will have to put up with a strong odor for the first couple of weeks.
Strong virgin rubber outer

Excellent price

Precision steel inserts for snug bar fit
The Body Solid range of bumper plates come in black rubber and have large white numbering on them. The weights are fitted with a 3 inch metal sleeve which for enhanced fit and easy sliding onto the bar. Body Solid use only the most high quality, resilient rubber, rather than the crumb rubber which is used by many competitors.
The molds used by Body Solid are chrome plated. This ensures a consistent quality finish and helps to keep the plates within a very close margin of weight. All Body Solid weights are 17.7 inches in diameter, with small variation in the thickness according to the weight of the plate. These weights don't smell and comes in at an impressive price point.
High quality 3 inch metal sleeve

Best quality rubber used for casing

Chrome plated molds for consistent finish
Plates have an oily feel to them
The Ader Sports Olympic plates are finished in a stylish black satin metal and feature contrasting white numbers and lettering. Their centers are precision drilled to two inches and fitted with a metal sleeve to enhance the fit on the bar. The flat side of the hole has been machine milled. The ridges on the outside of the plate makes it easy to grip and carry.
The Ader plates are accurate to within 1% of the weight stated on the plate. These are among the few weights that go as low as 1.25 pounds. This allows for micro-loading when you are trying to get your poundage up. This is a huge advantage.
Stylish black satin finish

Plates go down to 1.25 pounds for micro-loading

Outside ridges make it easy to carry
The Rogue range of Hi Temp bumper plates are among the few that are actually made in the USA. That means that Rogue have total control over the quality. They use only the highest grade recycled vulcanized crumb rubber. A two inch stainless steel insert makes sure that the weight slides on easily and sits securely on the bar.
A small but important detail is that the collars on these bumper weights are inset from the plane of the plate. This makes for enhanced safety when you have a number of weights loaded onto the bar. Rogue bumper plates have an impressive tolerance of +/- 0.5 pounds. They are among the most popular bumper weights on the planet.
Made in USA

Highest quality vulcanized rubber construction

Collars inset for safety
York Legacy Iron plates are a throwback to the classic York barbell weight of the '60's. It is a replica of the original York Olympic standard weight. These weights are precision milled to be within 2% of the indicated weight. They feature an indent on the lip to make it easy to carry the weight. The fit on an Olympic bar is snug and true due to the precision drilled center hole.
The York Legacy Olympic Bar features the distinctive white YORK Olympic Standard Barbell lettering molded on it's face. Buy them for the nostalgic value alone!
The original York Barbell design

Easy to carry

Precision milled
Should you buy metal weights or bumper plates for your home gym? Get the facts from this informative video and decide for yourself . . .
Conclusion
The best weight and bumper plate for the home gym market that we found was the CFF Rubber Bumper Plate, with it's great combination of strength, resilience, lack of odor and great price point. We also loved the CAP Barbell Premium bumper weight which is also a very strong, durable plate with no odor and has a very snug fit on the bar.
Our bronze medal winning plate is the X Training Premium plate, which is color coded and has low bounce and high density.