10 Best Bumper and Weight Plate Sets
last updated:
Feb 11, 2020
Bumper plates may be one of the basic staples items for any gym, but that doesn't mean you shouldn't put much thought into getting them. Different plates, from different manufacturers, will all have pros and cons you will want to take into account.
We can say that, if you are anything more than the most casual hobbyist lifter, you should get Olympic weight plates and bars. The standard or less than 2-inch bars and plates are just not of the right quality. They may be fine if they are all you have when you are starting out, but you will quickly reach a point where you need the superior performance and reliability of an Olympic weight set.
Whether you need a few odd plates to round out your weight pile, or a complete set with plates and bars, we can help with our rundown of the ten best weight plates.
In a Hurry? The test winner after 20 hours of research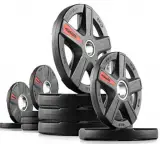 XMark Texas Star Bumper Plate Set
Why is it better?
Comes with a year warranty
Easy to grip
Steel center insert
Rubberized plates
30
Researched Sources
12937
Reviews Considered
20
Hours Researching
10
Products Evaluated
Durability
Ease of Use
Materials
Style
Value
By Default
10 Best Bumper Plates
1

. XMark Texas Star Bumper Plate Set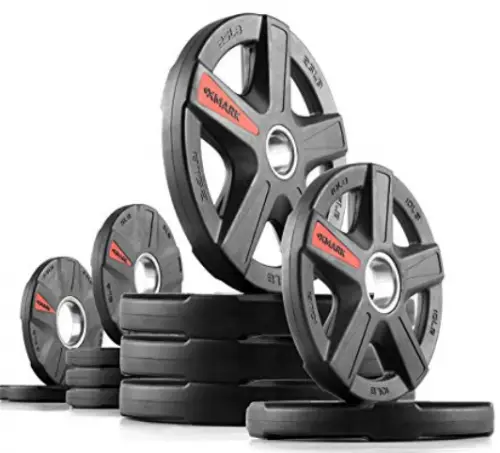 Comes with a year warranty
Easy to grip
Steel center insert
Rubberized plates
Natural rubber odor strong (it will dissipate)
These durable hard rubber Olympic plates can hold up to your toughest workouts, but won't damage your floor the way steel or iron plates can.
Read more
The center hole has a steel insert to give it a better hold once you put it on the bar. Recessed grips give the weights the look of old school film reels while making it easier for you to hold onto and handle the plates. The plates are a great value, too, especially since XMark makes such consistent quality products.
XMark typically offers a bundle deal so you can get these plates with their 7-foot Olympic bar, called the Lumberjack. The company's reputation is such that many gyms, schools, and other facilities use their products. These plates have a durable finish, with a solid black color that won't fade or grow dull over time. Rubber is all-natural, which means you get an odor when you open the box. It fades quickly, though, the more you use the plates.
XMark stands by its products, having total confidence in them so that you can, too. The Texas Star plates come with a full one year warranty when you buy them for home use. You can depend on these weights, and the bar, to reward you with strength gains if you use them consistently.
2

. X Training Bumper Plate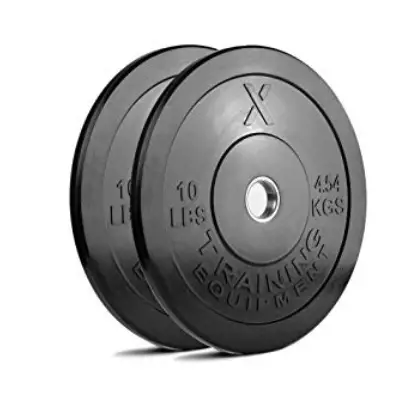 Simple and safe design
Will last forever
Low bounce rate
Minimal rubber smell
These plates are also made of virgin rubber and can slide on and off your bar quickly to facilitate an active workout.
Read more
X Training offers one of the best values, moneywise, that we found. The plates are dense and have a solid feel. They are durable and long-lasting, with a center steel insert for Olympic bars.
These are low bounce plates, meaning they will not bounce a long way if you drop them, This cuts down on furniture/gym floor damage as well as keeping you safe. The plates are not color-coded, which is a bit inconvenient, but the numbers are large and easy to read and will become second nature in a short amount of time.
X Training gives you a six-month warranty on these plates. They are well suited to CrossFit WOD lifts but are versatile enough for anything. X Training plates come in pink or black, and they all have the same simple rounded design.
3

. Wright USA Crumb Bumper Set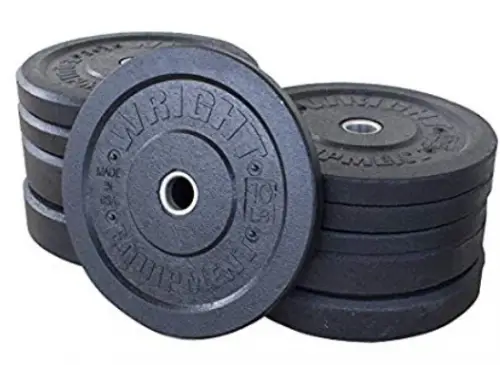 Supreme durability
Lab-tested for safety
Wright's entire focus is lifting equipment
Have the look and feel of traditional iron
One of our most expensive finds
This set is made from recycled rubber. Wright's 260 pounds round, flat disc weight set represents the ultimate in safety and leaves a small carbon footprint.
Read more
The complete set does not come cheap, of course, but we think they are worth it for their durability. These weights will last forever and will cause minimal damage or injury if you happen to drop them. This is one of the qualities that makes Wright's products so common in gyms, schools, and CrossFit facilities.
Wright's weights are even rated on something called a durometer. The durometer is a lab instrument that measures how hard plastic and rubber products are. Wright's durometer rating of about 80 means the plates are quiet during use, easy to handle, and forgiving in case you drop them during a lift.
To use the weights, you will have to purchase an Olympic bar and collar set. You can get these from Wright directly, or save a few bucks and go with something from CAP or another trusted manufacturer.
4

. CAP Barbell Rubber Bumper Plates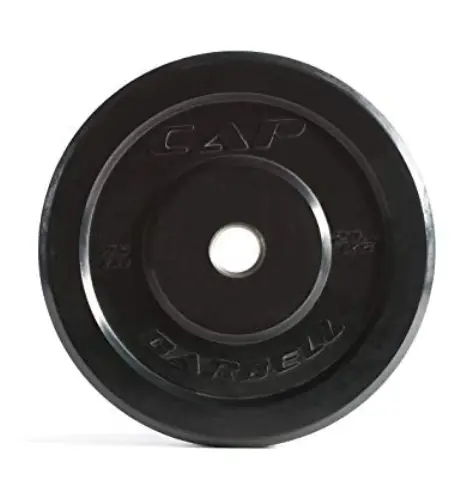 Good value
Highly durable
Low bounce for safety
Will fit Olympic bars
Center steel ring quite thin
Like with most of CAP's great products, you don't get a lot of frills or extras here. Also like CAP, though, you do get a reliable and simple product that can help you achieve your lifting goals.
Read more
When dropped, reviewers agree these plates will not bounce. They are heavy duty enough, though, to cause some problems on a wood floor. Best to keep these in the garage or a carpeted area, or just install some shock-absorbent flooring in your home gym.
Because of its single focus and reliability, CAP products typically get good reviews and high rankings. These particular plates, at the time of this writing, are in the top 200 for Amazon's weight plates category. The plates are about two inches thick, stouter than some of the others on this list but still easy to handle. You don't get any indents or grips, and the weights are not color-coded which could slow you down if you have a whole stack of CAP plates.
Reviewers also said the plates vary in thickness by weight, which makes sense and may help you organize everything. The plates will fit your two-inch Olympic bar right out of the carton.
5

. One Fit Wonder Bumper Plates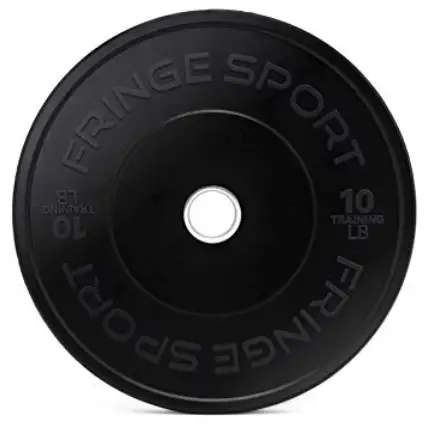 Low odor virgin rubber
Extra rigorous lab testing
Full one-year satisfaction guaranteed
High density, thin grip
Cannot buy a complete (370 pound) set right now
One Fit Wonder makes plain and reliable pairs of weight plates in increments of up to 55 pounds, with plain steel inserts and low odor even with the virgin rubber construction.
Read more
The plates fit your two-inch Olympic bars by default. They are ideal for small spaces, with lots of equipment or furnishings crammed together. That's because they will not bounce, even dropped from a position above your head. In fact, One Fit prides itself on drop testing every single plate 30,000 times--twice as many as the industry standard.
These plates are built for Olympic lifts, squats, deadlifts, and of course CrossFit WODs. Fringe Sport, the parent company of One Fit, offers a one-year money-back guarantee, and returns are free should you be less than completely satisfied.
Finally, because the rubber is so dense, these bumpers are thin, which lets you pile the weights onto your dumbbell or barbell. The beveled edges, too, make for an easy grip when you go to load up.
6

. Rep Fitness Bumper Plates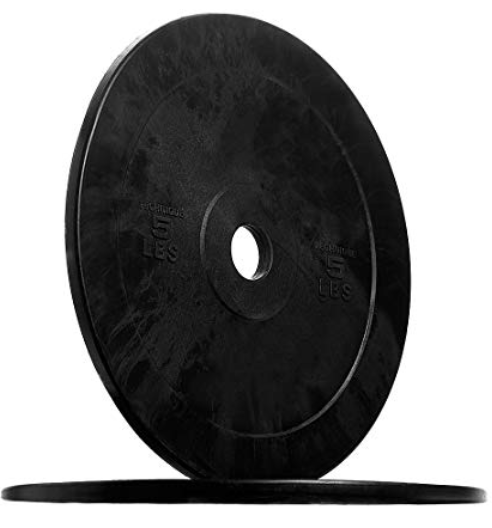 Plates get thinner as weight goes up
Safe, rated for a dead bounce
Easy to use for HIIT workouts
Goes down to five pounds
Expensive for a whole set, but could be worth it
This is another decent quality Olympic sized weight plate, sold in pairs, and available in as low as five pounds up to 45 pounds.
Read more
Rep says their thick rubber plates are ideal for HIIT training, where you are going back and forth between a preset barbell and some sort of rest or low-intensity activity. We tend to agree since the low bounce weights will not cause damage or injury. You can also do cross fit with these and, of course, plain old strength workouts including your squats and deadlifts.
The plates get thinner the higher the weight goes, so the 45 pound plates are exceptionally easy to handle. You can max out to your desire, and these plates will not smell when you unbox them.
Rep is a smaller company, but they offer outstanding warranties and guarantees. However, voiding the warranty is quite easy so you should avoid mixing these plates with other brands on the same bar. You can use these in conjunction with metal plates, but only if those metal plates are five pounds or less. The plates are commercial gym quality and will not let you down.
7

. Ader Sports Olympic Plate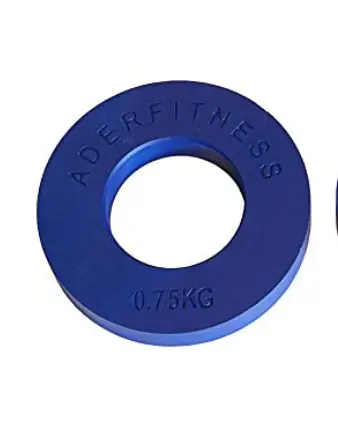 Helps you make steady progress
Simple construction
Color-coded (as part of a set)
Great for injury rehab
Not everyone will find such a low weight useful
We decided our list needed a fractional weight plate for making incremental progress in your weight training program.
Read more
The idea is that you can own a variety of plates, including ones like these that weigh about a pound, so you can make progress and get a tiny bit stronger every single time you lift. It is a great mental motivator to keep pushing and doing your workouts, like a small reward that doesn't add much to your post-workout soreness. Fractional or very light weights can also help when rehabbing a muscle or recovering from a persistent injury.
There really aren't any special features with this weight plate. It doesn't quite look like a heavier traditional plate. These ones are blue, with no steel centerpiece because there is not a need for one. The Ader is made of solid steel with a powder coating. They are stamped with the weight.
Typically fractional weights are sold in sets, with the following weights (they come in pairs to go on each end of a bar):
.25 pounds
.50 pounds
.75 pounds
1 pound
You may buy into the idea of fractional weights, or you may not. If you do, we think they will make a fun addition to your home gym, one that will not take up much space and can bridge the gap between your more weight intense lifting sessions.
8

. Rage Rubber Bumper Set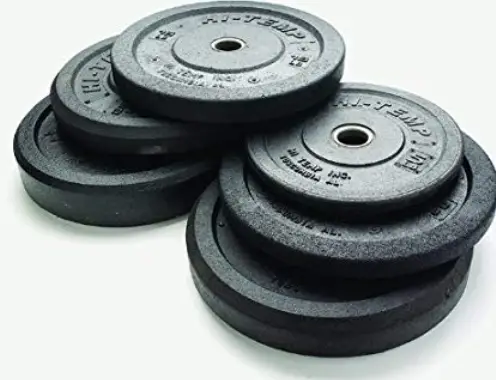 Simple one-piece design
All diameter indentation for easy handling
Recycled low bounce rubber
Center steel collar
Out of budget for many casual lifters
These resilient weight plates are sold individually in increments from five to 45 pounds, with the price getting fairly high at the top end.
Read more
The additional price is due to the plates being Olympic competition quality. Rage makes them to those exacting fabrication and lab testing standards. The center, of course, holds you two-inch Olympic barbell with a strong steel inner collar.
The plates are rubber, with no odor and close to a dead bounce. The rubber is made from recycled material. The plates will not scrape or irritate your hands and will spare your floors if you should drop them. The inner center, where the name and weight information are stamped, is indented for an enhanced grip; a more separated grip would have been a nice touch, but you aren't likely to drop or fumble these during barbell transitions.
All the available plates, except for the five-pounder, are 17.5 inches around. The five-pound plate is 14.5 inches. They are sold individually so you do not need to invest in a whole set if you do not need one.
9

. York Legacy Iron Plates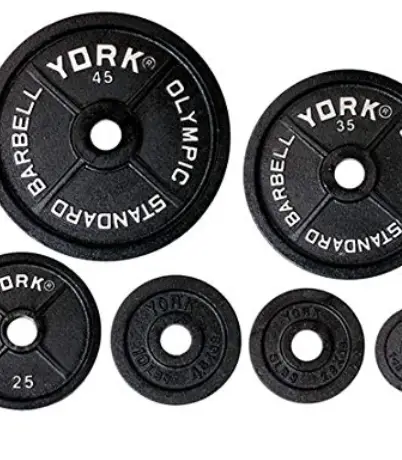 Exceptional durability and longevity
Olympic quality backed by an industry legend
The complete set is 300 pounds
Plates have an appealing historical look
Iron plates can cause damage/injury
We're sure many of our readers still dream about the early days of lifting when it was okay to do deadlifts in flip flops, so just for you, we have included these milled cast iron plates with "legacy" right in the name.
Read more
You can find these at many online retailers either in plate pairs or as a complete set with a bar and collars. That complete set goes for around $800 in new condition, but with it, you'd be able to lift up to 300 pounds with a seven-foot Olympic barbell.
York, as many longtime lifters will know, has been in business since 1932. The company sponsored the York Barbell Club (take a look at our York Barbell 45071 Bench review), and Olympic weight team, for many years as the team members won competitions and set new records.
York's founder, Bob Hoffman, was a lifelong weightlifter who worked at educating and mentoring aspiring competitors. With all that history, it almost seems better to put this iron set up on display instead of using it for your gym.
But, of course, Bob Hoffman would have wanted you to lift and get stronger. Heat-treated steel is tough and will last for decades without corrosion or rust. The plates, while tougher to handle than today's rubberized versions, have circular indentions and divisions to help you get a grip.
One word of caution--these weight plates are solid pieces of iron that can injure you or damage the floor if you drop them. Exercise caution, loading up your bar and doing your reps with the respect this product commands, and you will be rewarded with a lifetime of progressive strength and fitness growth.
10

. Day 1 Fitness Cast Iron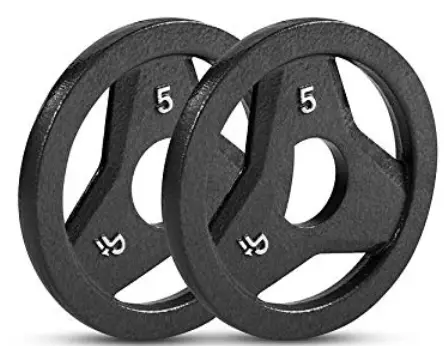 Steering wheel design makes for easy grip
Reasonable priced
Made from a solid piece of iron
Weights go down to 2.5 pounds
To cap off our guide, here is one more cast iron weight plate at an affordable price, with single or paired plates available in increments of up to 35 pounds.
Read more
The thick, retro-looking plates have a design similar to a steering wheel. They will fit a two-inch Olympic bar. The Day One is a solid piece of iron, with no center collar. The iron will hold up to your toughest workouts, rewarding your efforts while requiring little to no maintenance due to the attractive protective coating.
The steering wheel pattern creates plenty of natural indentations, so you can grip the weights easily as you load them on your bar. The shape and design also make storage easy. Weight sizes are relief stamped, along with the Day One logo, in a silver color that stands out against the iron.
You can get these plates individually or in matching pairs. While Day One is not a huge company, they do have a professional web presence, easy to find customer service info and a decent reputation with positive reviews.
Criteria Used for Evaluation

Durability
The best weight plates from fifty years ago are still around.
That's because iron has such a great shelf life. However, the steel used in iron weight plates, though of good quality, will rust and corrode eventually.
One way to overcome that problem is with a powder coating. But a more modern and permanent solution is to use rubber instead of iron. Today's rubber weight plates are hard, heavy, and long-lasting. Many are made of recycled rubber, making them more environmentally friendly. This also means that, when rubber weight plates have finally outlived their usefulness, they, too, can be recycled.

Ease of Use
It's plain to see that plates have no moving parts.
That's because they are usually made from solid steel, hard rubber, or perhaps concrete with a vinyl or plastic covering. That's pretty much it. If you want to use a 2-inch plate on a non-Olympic bar, you can use a sleeve adapter. But the adapter mounts on the bar, not in the plate center, so the plate still does not move.
So how, exactly, can a simple weight plate be hard or easy to use? Well, some have grips and some do not. Some are color-coded, to make weight transitions quick, while others all look the same. Some weight plates will have weight numbers that blend in with the surface, and others will stand out with different color paint. All these factors, while they may not seem like much, can definitely add to or take away from your enjoyment of the plates.

Materials
In the old days, all weights were iron.
Nowadays you have more options. If you go to most gyms, the weight plates are rubberized. This is to protect the gym's floors and also for the safety of gym users. Rubber plates may hurt if they land on your foot, but they don't hurt like iron can.
Rubber, of course, is a bouncy material--it is what basketballs are made of, after all. So each high-quality weight plate comes with a bounce rating. These are verified through testing. Many of the plates on this list are zero or dead bounce, meaning they will sit still on the floor, like a lead plate, saving nearby walls from possible damage.

Style
Sometimes, looks can make a difference.
What are the aesthetics of your dream gym?
Some of us want a den, almost like an underground cavern, with imposing stacks of iron. Others will prefer a more modern, efficient look. Style does not affect use or experience, but we still think it is important. That is because everyone deserves to build a gym that feels like a second home. Paying attention to every detail, including the look and feel of the humble weight plate, will increase your comfort and satisfaction so you are excited to do your workouts each day.

Value
The value of a weight plate is reflected in more than just the price.
For example, so you want a product that you know will last forever, that will look great doing it, and that will help you feel like you are part of a long line of world-class lifters? Consider the York Legacy set. Though not for everyone, the stylish retro all in one set is worth every penny if it appeals to your personal style.
Then again, you may want something simpler and less upscale. As long as the quality and durability are there, we say go for it. You can always upgrade later, and maybe a nice starter weight set can be a hand me down to inspire a younger lifter and get them started.
Expert Interviews & Opinions
Most Important Criteria
(According to our experts opinion)
Experts Opinion
Editors Opinion
Users Opinion
By Default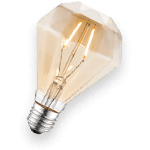 More About Fractional Weights
If you are a serious lifter, you may wonder why anyone would bother with fractional weights. How can anything weighing a pound, or less than a pound, help you achieve a new personal best or even maintain muscle and strength gains?
The answer is that, maybe by themselves, fractional plates can't make you much stronger. Maybe if you had a whole set of them, two of each increment, you could put them on opposite ends of an Olympic bar and lift a little over fifty pounds. Not much of an increase over a 45-pound bar.
But the additional weight isn't really the point. The point is that, by adding even two pounds to a bar that you're comfortable lifting, you made a tiny bit of progress. The boost may be purely psychological, but that doesn't mean it doesn't count.
So, fractional weight plates are good for those days when you know you need to lift but may not feel up to it. Or, those times when you just feel you are stuck, that you have hit a plateau and will never get stronger. You can get stronger and, perhaps more important, you can feel stronger right away using just a small amount of weight.
But....When?
Do you want to know when to use fractional weight plates? We know they aren't likely to become a regular part of your routine unless you are just starting out, recovering from an injury, or getting active again after a period of being sedentary.
If the fractional weights aren't for rehab, then, that means they are usually for plateaus. A plateau, something any athlete experiences at times, is a point where you feel you cannot get any faster, stronger, or more agile. You feel stuck.
Signs of plateauing can include having to take excessive rest breaks, not reaching your rep goals for several workouts in a row, the feeling of actually losing ground, and, perhaps, the feeling of being overwhelmed to think about doing another set. When you face any of these symptoms, taking your working weight down and then slowly increasing it with the fractional weights will make a difference. When we say slowly, we mean a period of perhaps a week or two. You can overcome a plateau, but you may not be able to all at once.
Other Factors to Consider

Shock Absorption
Shock absorption simply means the weight plate's ability to stabilize, without causing damage, if dropped on the floor. Iron plates have poor shock-absorbing qualities. They will break anything they land on and, if allowed to roll, may even put holes in drywall. Rubber, on the other hand, is good at absorbing the shock of hitting a floor (or your foot). This is where bounce ratings come in-- how far or high will the plate bounce? The goal is usually dead or zero bounce, ensuring the plate will do minimal damage even if, for some reason, you drop the weight from a height higher than the average person.

Capacity
Capacity is how far you can get with a complete set of weights, for those sold in sets priced (sometimes) in the hundreds of dollars. If you plan on doing heavy lifting, and you are not interested in stopping to buy another set or in buying add on plates, considers something like the York Legacy set which goes to 300 pounds right out of the box.
Frequently Asked Questions
q:

What are the best weight plates for CrossFit?

a:

The best weight plates for Crossfit are brightly colored so that CrossFitters can quickly grab what they need, transition, and go on to the next move or station. The colors will correspond to weight values. They are also usually slimline, meaning they will be rubberized, with grips for easier handling. Many CrossFitters use iron plates, and they get the results they want, but newer style plates are the standard now at many CrossFit boxes.
q:

Are Olympic weight plates better?

a:

Yes, the Olympic plates with the two-inch center openings offer many advantages over less expensive weight plates.

For one thing, Olympic bars are thicker and made of stronger materials, meaning you can load them down with a lot of weight before they start to bend (see the Olympic records here). With a nonstandard or off-brand bar, you never know quite what you are getting. Lower quality bars will warp, too, because they do not have ends that move on their own apart from the bar. The stationary ends mean that any weight spin will cause warping.

Non-Olympic plates may not have grippy surfaces or handles for easy moving and storage.

Finally, if you want to do any competitive lifting at all, you will need to use Olympic plates. They are the only ones any competition will use.
q:

Why don't you ever see concrete filled weight plates?

a:

Concrete filled weights are prone to crumbling over time as the concrete deteriorates. This can lead to lumpy weights or even plates that weigh less than you think they do. Also, concrete-filled weights were made more cheaply and were sealed in flimsy plastic that could also break down over time. Most gyms have gotten away from concrete-filled weights for these reasons.
q:

What is zero bounce?

a:

A zero bounce rubberized plate would be one that does not move or bounce at all when it hits the ground, staying perfectly still instead.
q:

How is bounce factor measured?

a:

The tool for measuring a material's hardness is a Shore durometer, named after its inventor Albert Ferdinand Shore. Durometer readings go from 0 to 100. A bicycle gel seat would be around 20 on the durometer dial. For rubber weights, the higher ratings are better. If it were possible to make a weight plate with a perfect 100, it would not move at all when dropped on a floor.
Subscribe to our newsletter