9 Best Cable Machine & Pulley Machine Reviews 2023
last updated:
Mar 12, 2021
By adding a cable machine to your gym, there is almost no limit to the muscle groups that you can target.
Free weights are great, but cable machines provide more controlled movements which light up more muscle groups than standard dumbbells. We love these machines because they promote proper form, and simple adjustments in your grip work to target very specific muscle groups.
For powerlifters, they are an essential tool to train stabilizing muscles that are often the culprit for sticking points on your bench press. Stack weight machines may cost a little bit more than plate-loaded options, but they are a great way to engage in quick and snappy drop sets.
In this guide, we have gathered some of our favorite cable machines and pulley machines to help you effectively get your pump on!
This is the best product on our list that is currently in stock: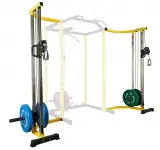 HulkFit
Why is it better?
Aircraft quality cables
Easy to adjust
1,000-pound capacity storage
44
Researched Sources
9k
Reviews Considered
17
Hours Researching
15
Products Evaluated
Ease of Use
Effectiveness
Value
Durability
Features
By Default
9 Best Cable and Pulley Machines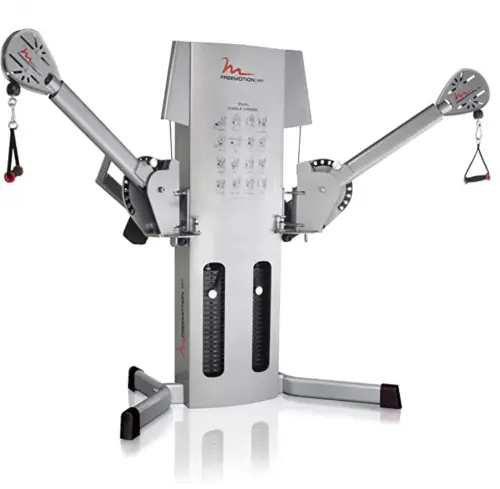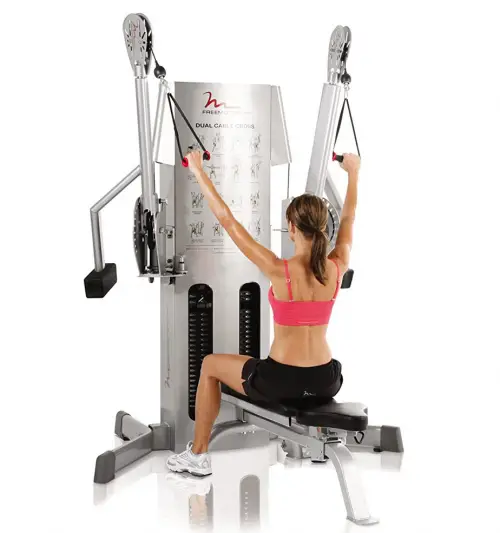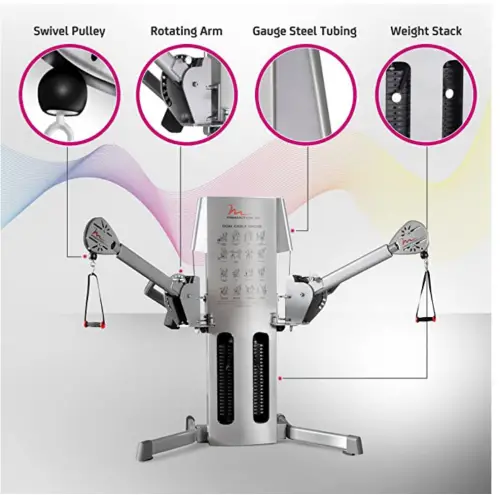 Dual stacks included
Easy to adjust
350- pound weight capacity per cable
Large footprint
Very expensive
Are you willing to spare no expense for the best of the best? This option from FreeMotion looks like it comes straight out of an invitation-only gym! This beefcake of a design has a centralized stack and arms that are able to move freely to find the perfect position to get the biggest burn.
Read more
The best part about this design is that it boasts a dual weight stack. That allows you to workout with a friend, or use it alone and adjust the weights individually. By utilizing a dual-stack, you know exactly how much weight is on each arm, unlike designs that use a singular stack or plate set.
We also like that this design has two rotating arms that move on a swivel. Simply position the arms where you want them for your workout, and then lock them into place. The ability to move the cables wherever you want really helps to engage new muscle groups so that you never become bored with your workouts.
If you are in the market for something that will really take your home gym to a whole new level, this option from FreeMotion is a great choice. While it comes in at a pretty steep price point, we feel that it is worth every penny for the weights included and the versatility of the innovative design.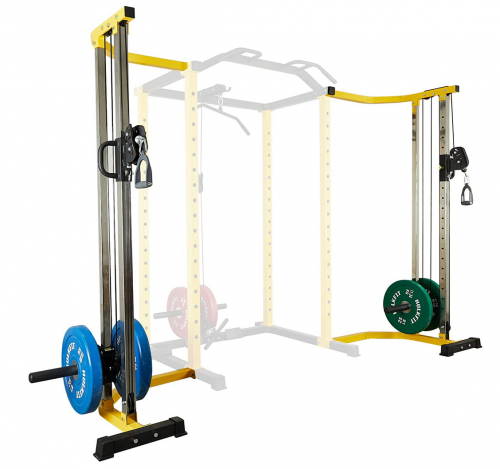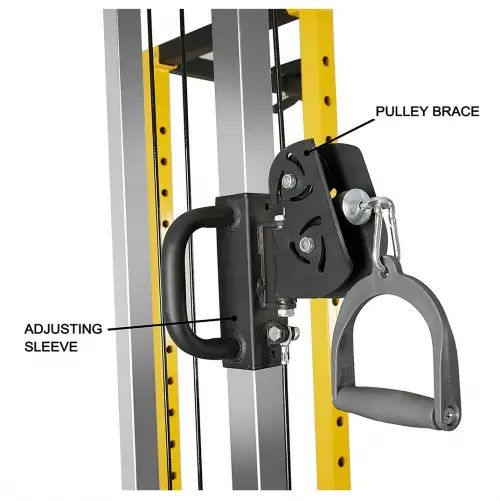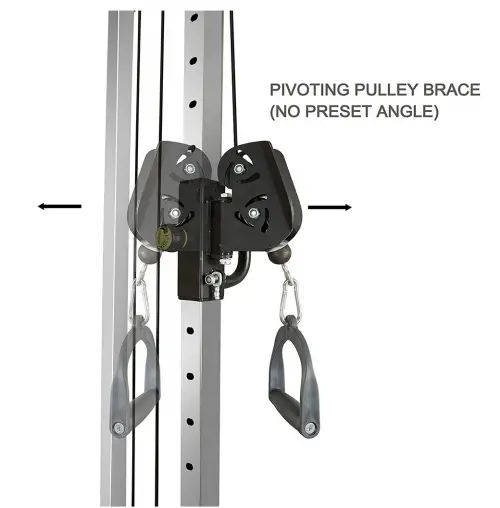 Aircraft quality cables
Easy to adjust
1,000-pound capacity storage
If you need something that has commercial gym functionality at a more approachable price point, this design from HulkFit is a great choice. It boasts a strong and sturdy frame that is able to accommodate a wide variety of workouts. Users also love that this design is compatible with other HulkFit machines for a complex gym experience right at home.
Read more
The very first thing that we noticed about this machine is that it uses plates instead of a weight stack. That allows you to make smaller adjustments as you see fit and makes this machine just a little more affordable than options that include weight stacks with purchase.
The best part about this design is that it has a strong and sturdy frame that is able to comfortably hold up to 1,000 pounds. As with all HulkFit products, the steel frame has a striking yellow powder-coated finish with black accents. The cables used on this design are nylon coated and aircraft quality, so you can feel confident that they won't snap under the pressure!
If you are in the market for something that is strong and sturdy, this option from HulkFit is a great choice. We love that it is compatible with other machines in the HulkFit lineup, and it is incredibly easy to set up right out of the box.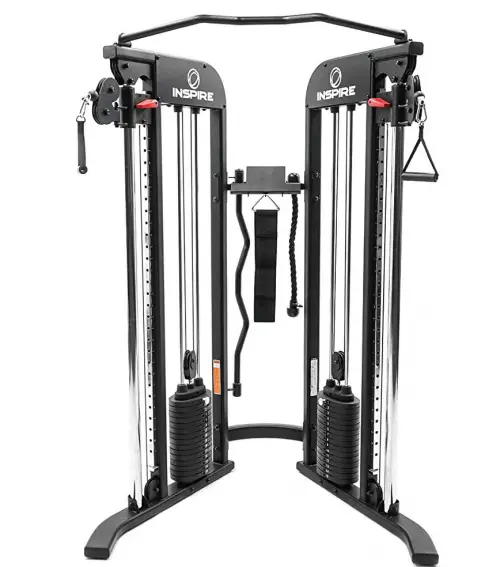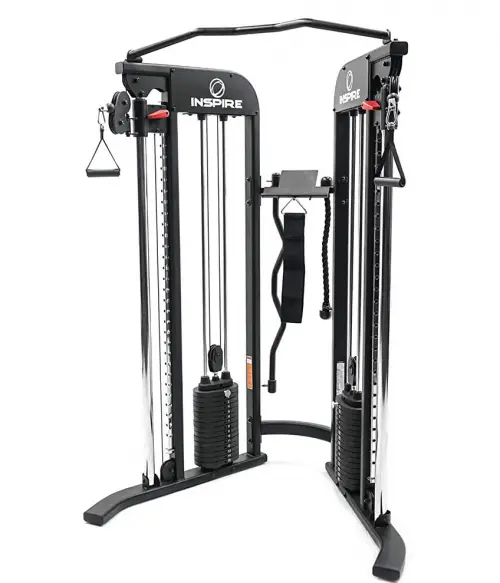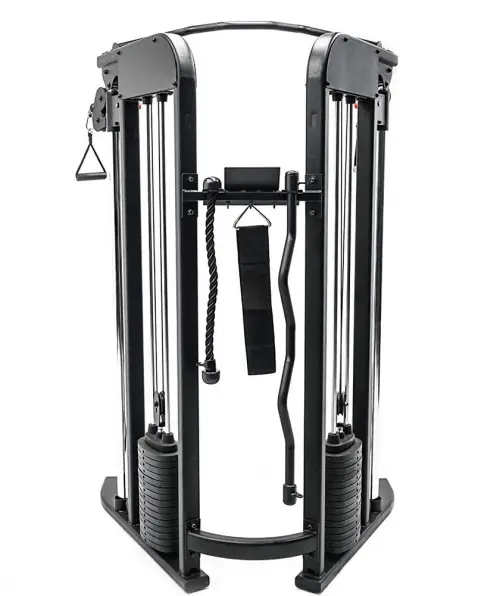 Rope and lat attachment
Dual weight stacks
330 pounds combined stack
This commercial-grade machine comes in at a commercial-grade price tag, but it is well worth the extra cost for those serious about building out their home gym. This comprehensive machine provides a heavy weight stack for quick drop sets, and all of the pulleys and attachments needed to light up every muscle group in your body.
Read more
The most notable feature of this design is that it doesn't just come with one central weight stack, it comes with two! Each weight stack weighs in at 165 pounds, for a total of 330 pounds combined. Users can use just one stack for isolated movements or combine the two stacks for a heavier weight which is ideal for powerlifters.
We also love that this machine offers thirty swivel pulley positions that allow you to engage in unique lifts to activate more muscle groups. It offers a pull-up bar along the top and comes with a lat pulldown bar and rope attachment for more varied lifts that will never become stale.
If you are willing to spend a bit more on a machine that you will likely find at your local gym, this machine is a great choice. The dual-stacks provide more targeted lifts for various muscle groups, and it makes drop-sets a snap. We also love that it comes with unique attachments for versatile lifts.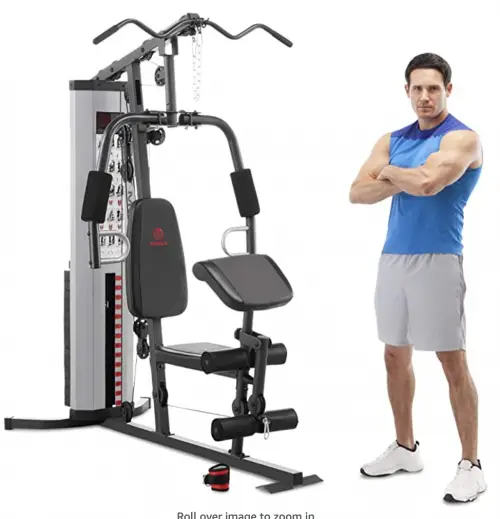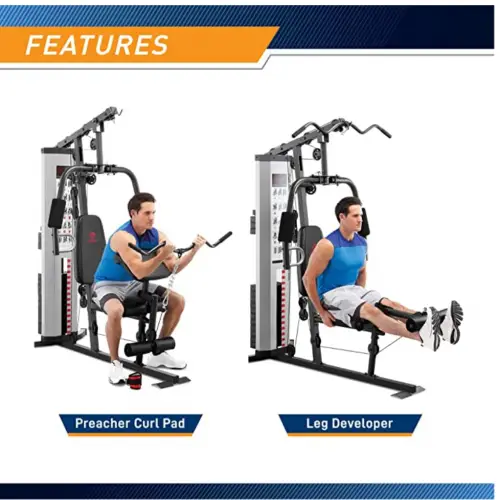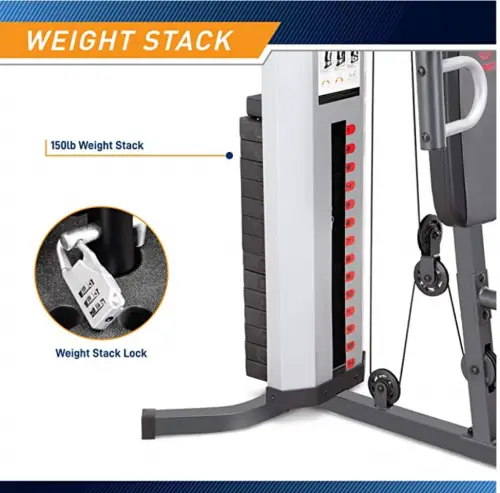 Weight stack included
Upper and lower pulleys
Detachable preacher pad
Smaller footprint
Expensive
Difficult to assemble
This is another commercial-grade option that is designed for most home gyms. We love that it has a slightly smaller footprint than some of the other designs that we have seen (which makes it great for those working with limited space), yet it offers all of the power and versatility of gym-grade machines. If you have the extra cash to spend, this design is worth checking out.
Read more
The very first thing that we noticed about this machine is that it boasts an upper and lower pulley system for a full-body experience. It comes with an included weight stack that maxes out at 150 pounds and makes adjustments for drop sets as easy as pulling out a pin. It also includes a pair of fly bars to sculpt a killer chest, a lat pulldown bar, and a detachable preacher pad for isolated curls.
What really makes this design stand out from the pack is the pair of upper and lower body pulleys. The upper body pulley works in tandem with the fly bars and lat pulldown bar. The lower pulley system works with the legs developer pads that work quads and hamstring, and also works with the preacher pad for controlled curls as well.
While it costs a little bit more than some of the other designs that we have seen so far, we feel that the versatile design and quality of materials used make it well worth the extra cost. We love that it comes with an included weight stack, and also provides upper and lower pulleys for a full-body experience in one compact machine.
5

. Fitness Reality X-Class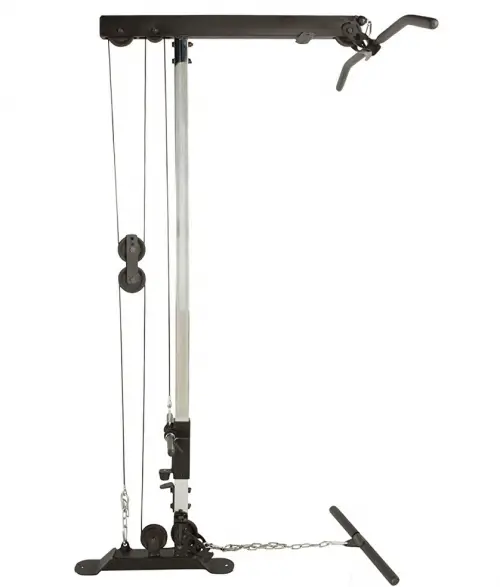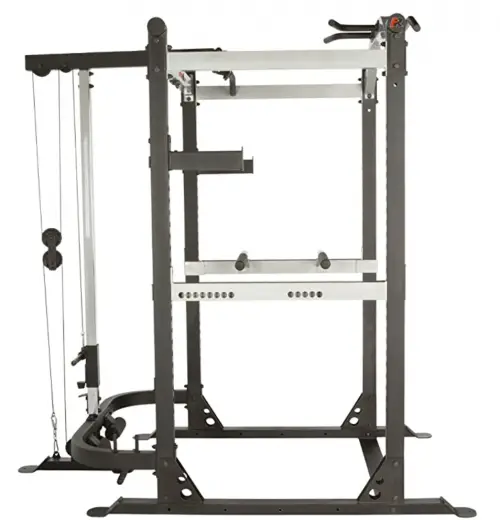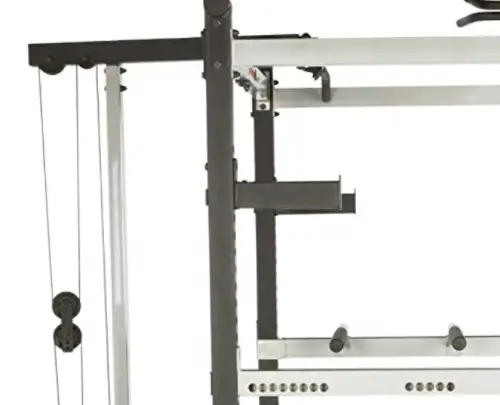 Affordable
Small footprint
Easy setup
Not freestanding
Limited weight capacity
If you are shopping on a budget and find many of these designs are a little too expensive, you will want to check out this design from Fitness Reality. What we liked most about this design is that it clocks in at a super affordable price point without skimpy on the quality of materials used. Plus, it has a much smaller footprint when compared to similar designs, which makes it worth checking out.
Read more
The very first thing that we notice about this design is that it boasts a very small footprint. It's important to note that this design isn't freestanding, it must be mounted to an existing power rack or some type of sturdy base. It boasts dual posts that accommodate Olympic size plates that are not included with purchase.
To use, simply sit on a padded seat and grab the lat pulldown bar to work your shoulder and upper back. By varying your grip on the bar, you can change up the muscle groups that are engaged to always challenge your body in new ways. It also has a floor row cable that allows you to engage in seated rows, which is great for your upper back as well as core stabilization.
While this design from Fitness Reality has a few shortcomings, users are often able to make adjustments for these shortcomings given the incredibly affordable price point. We like this design because it boasts a simple yet effective frame, and is incredibly easy to use and adjust.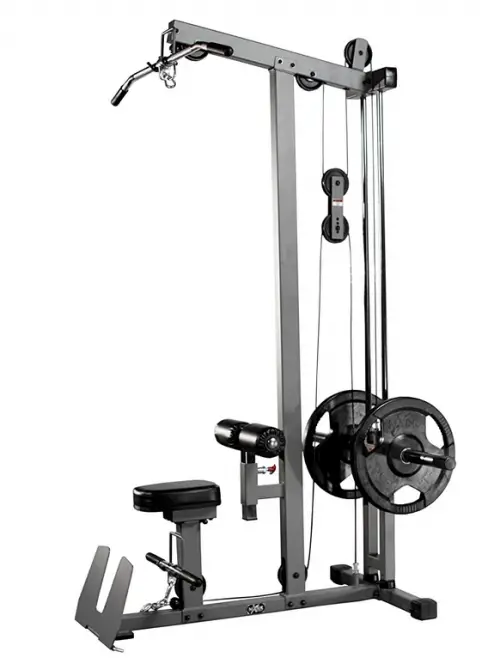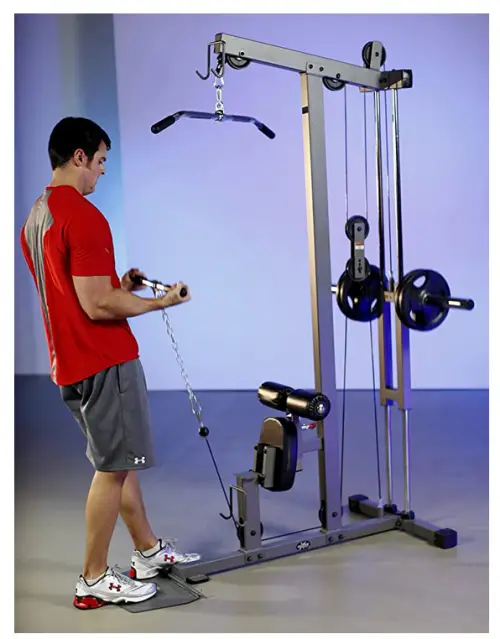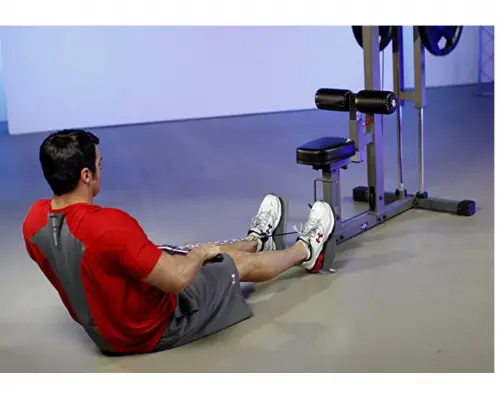 11-gauge steel frame
Low row cable
Trusted brand
Weights not included
Difficult to assemble
XMark makes our list yet again with this highly effective and sturdy LAT Pulldown design. This simple frame is able to hit all of the muscle groups in your upper body and back without taking up all that much floor space. It has a simple design that is easy to set up, and also super easy to adjust.
Read more
There are two ways to work out the muscles in your upper body with this design. By sitting in the set and using the lat pulldown bar, you will engage muscles in your traps, biceps, shoulders, and upper back. We love that it also has a low row machine that requires the users to sit on the ground and use the base cable to engage back and core muscles.
The frame is made from 11-gauge steel which will not bend or wobble when engaging in lifts. Unlike similar lat pulldown designs out there on the market, this design is plate loaded instead of using a central weight stack. This allows users to utilize their own supply of plates and makes smaller adjustments as needed.
This option from XMark is made from strong materials and boasts a design to hit a wide variety of muscle groups. Keep in mind, however, that it doesn't include the weights in the final price tag, making this design rather expensive. If you have the weights at home and want something that is built to take over the years, this option is worth every penny.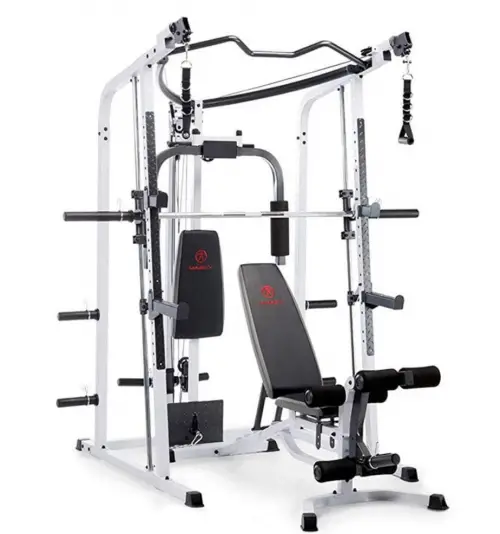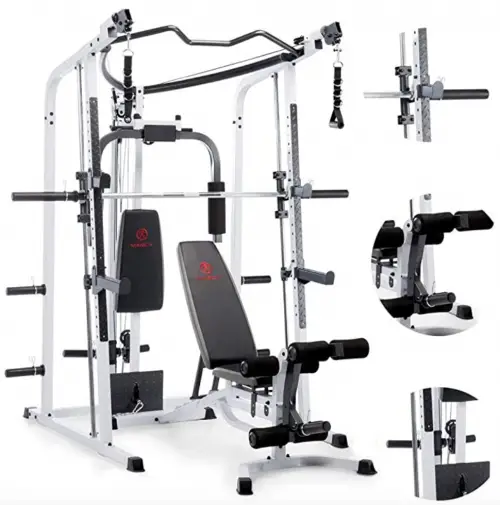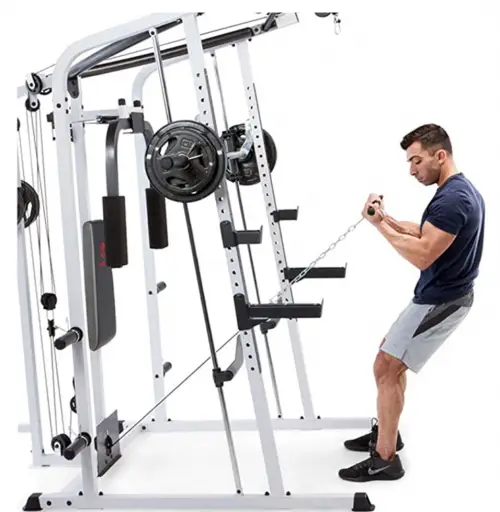 Dual-function leg developer
Made of all-steel construction
Weight pegs to keep weights organized
Pulleys could be improved upon
Marcy Smith Cage is made to be used at home. It has a Smith machine, bearings, free weights, and a cable home gym pulley system.
Read more
Marcy Smith made this workout system of heavy-duty steel. It also has a powder coat finish. The cables are sturdy aircraft type, and it is designed to stand up to intense use. It includes arms with a dual-action press which lets you perform a huge variety of exercises.
It also includes a dual-function leg developer with lots of padding. It helps you use a good body form during your workouts and allows you to target muscles.
You have 6 weight pegs that are built right into the frame which lets you keep your weights organized. This design will enable you to do a complete workout.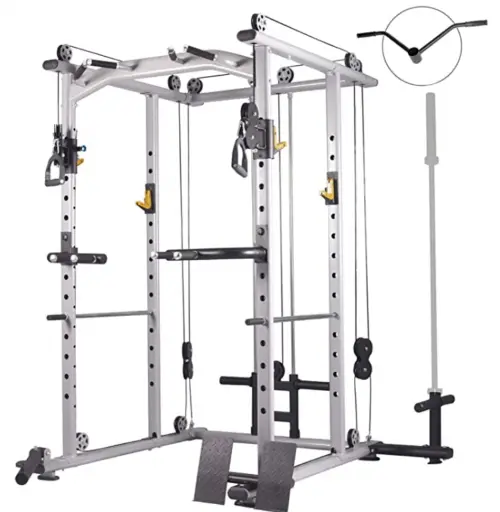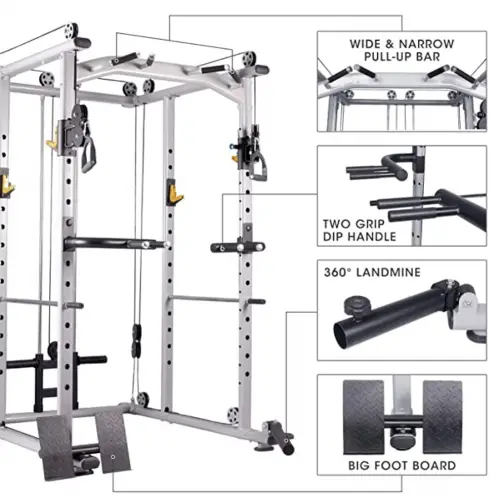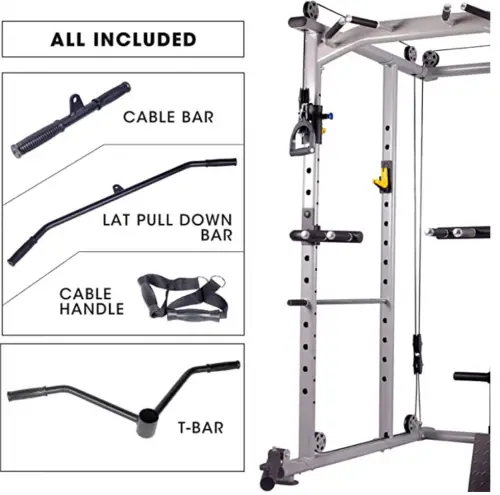 Adjustable hooks
Targets lower body
1,200-pound weight capacity
This design may cost a little bit more than standard plate-loaded options out there on the market, but it is a great choice for those looking for a machine that provides a full-body experience. It is made from strong and sturdy materials that hold up well under high weights, offers adjustable features to accommodate your frame and features that ensure that you never skip leg day!
Read more
One of the very first things that we noticed about this comprehensive cage and pulley system is that it boasts smart features that ensure that no muscle group is left behind. It has a lower pulley system and a set of row plates to stabilize your feet for seated rows, a pull-up bar along the top, dip bars, and double pulleys for cable crossovers.
While this design is plate-loaded (which means you need to bring your own plates to the party), it is able to accommodate an impressive 1,200 pounds, which makes this one of the most durable designs out there on the market. We also like that it includes adjustable hooks and catch bars for barbell lifts as well.
If you are in the market for something that offers users a little bit of everything, this machine from Mikolo is a great choice. It includes features that allow you to target your upper and lower body, and we love the adjustable features that accommodate a wide variety of users.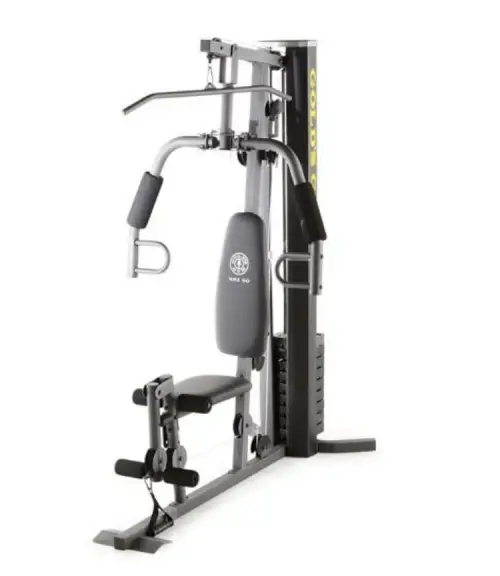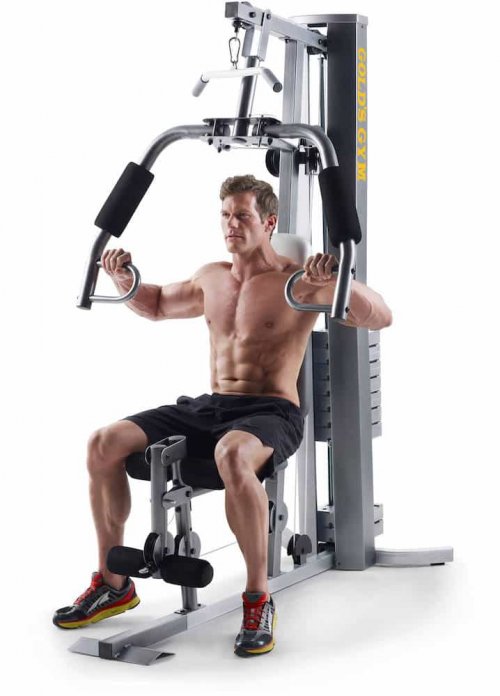 Affordable
Weight stack included
Lower pulley system for rows
Fly bars
Difficult to assemble
A little wobbly
This seated machine is just a little bit different when compared to some of the free-standing models that we have seen. It provides users with a pair of fly bars that feel off of the rear pulley system and a versatile lat pulldown bar. The best part is that it even includes a lower pulley system that is ideal for standing curls or even seat rows.
Read more
One of the first things that we noticed about this more affordable design is that it includes a weight stack along the back of the unit. This weight stack weighs in at just 112 pounds and maxes out at 280 pounds when you include the resistance from the pulleys. This design makes it super easy to adjust your weight with the pull of a pin for quick and effective drop sets.
We also love that this design includes an upright seat and a pair of fly bars. These fly bars feed off of the weight stack and resistance from the pulleys to help you push the heavier weight and sculpt a killer chest. It also has a base pulley that is ideal for seated rows or standing curls as well.
The best part about this design is that it is one of the most affordable weight-stack options out there on the market. If you don't have any plates to load up onto a machine and you need something that is slightly more affordable, this option is an excellent choice that won't break the bank.
Criteria Used for Evaluation

Ease of Use
If it's not easy to use, you have just purchased a very expensive coat rack!
One reason that machines often get pushed to the bottom of the list is that they are too tedious to use for an effective workout. When the music is pumping and energy is high, the last thing you want to do is tinker with finicky adjustments. There were a few things that we considered to ensure that these machines were easy to use.
Weight stacks are one of the more popular features of cable machines. While they come in at a much higher price point and limit the ability to adjust weights down to 2.5-pound increments, they are perfect for drop sets. To change up the weight on stacks, all users need to do is pull out a pin and place it on the desired weight.
Seat adjustments are another important feature to keep in mind. We made sure that we selected a design that not only allowed the users to adjust the height of the seat but that it was incredibly easy. When working out with a partner, it can become incredibly time-consuming to adjust a difficult seat every time it is your turn to complete your set.

Effectiveness
At the end of the day, the only thing that matters is if you can effectively gain more muscle while using your machine.
While there isn't any type of barometer that measures how quickly a machine can build muscle, there are a few things to take into consideration. We wanted to dive into all of the features that make a machine effective.
One of the most important features is the ability to make adjustments as needed. Features such as seat adjustments or cable adjustments allow you to personalize your workout. If you cannot make the machine bend to your size, you run the risk of injuring yourself by engaging in a motion that does not feel natural to your body.
Another thing that is important to consider is weight capacity. Depending on your ultimate results, this is something important to keep in mind. If you want to really increase your strength, opt for designs that have a max capacity of at least 350 pounds. While it may not seem like a lot, keep in mind that these weights are suspended by cables and not steel bars.

Value
Home gym equipment can get quite expensive, but we wanted to make sure that we selected products that are built for all types of budgets.
The machines making our list are all composed of strong and durable materials that hold well over time, The most expensive models boast a higher price point due to the availability of advanced features and a higher weight capacity.
If you want to save a little bit of money, a simple design such as the HulkFit is a great option. This machine is fairly simple in its design but is made to hold quite a bit of weight. Designs that omit weight stacks in favor of plates (not included) is another great way to save money.
Higher-end machines, such as the FreeMotion, boast a steep price point that rivals a used car. While this price tag may seem intimidating, its commercial-grade components and dual weight stacks make it a great value. By pairing this option with a bench, you may find that additional free weights, plates, and other expensive equipment are not needed, which makes it an excellent value.

Durability
Durability is incredibly important because you need something that will hold up over the years.
Cable machines are great because you can use them for high-intensity workouts, or as a machine to use on off days to increase flexibility. Due to its versatile design, you need something that will be able to hold up to daily use. There are a few things we looked at to ensure these machines are built to last.
Steel frames are the toughest material out there on the market. We make sure to select designs that use high-grade steel with expertly welded pieces that can hold up over daily use. A powder-coated finish not only gives the frame a sleek and glossy finish, but also makes it rust-resistant and a cinch to wipe down as needed.
It's important to also investigate the quality of the cables. The last thing that you want is a cable to snap in the middle of a set! We made sure to select machines that utilized at least one pulley that works to limit the intense tension on the line so you are able to use your machine long before you need to shop around for replacement cables. Even on the toughest machines, these cables cannot last forever!

Features
We love extra features because they help to keep your workouts new and exciting.
If you only engage in bench presses and nothing else, your muscles will adapt to the same motion and that's where frustrating plateaus occur. By selecting a cable machine with advanced features, you can work in new and unique motions to keep your muscles engaged over the years.
It may seem simple, but one of our favorite features of these machines is varied grips. By positioning your hands at different angles either far apart or close together, you can trigger different muscle groups. We love lat pulldown machines that offer grips that are angled at the ends (which is great for chest engagement) and close grips (perfect for bi and triceps).
Weight stacks are another great feature worth checking out. While they may come in at a higher price point, they are well worth it for those that love their drop sets. These stacks provide a pull pin that allows users to drop or increase the weight in mere seconds. Adjustable seats are another great feature that ensures that your range of motion is catered to your height to really engage your muscles and reduce the risk of injury.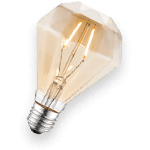 Get a Grip
The best part about these workout systems is that a simple switch-up in grip activates completely different muscle groups. When using a lat pulldown, an overhand grip activates your chest, upper back, lats, and even a little triceps.
By simply swapping your grip to underhanded, you are suddenly working your biceps and shoulders. Experiment with different grips to find one that really gets your muscles humming!
Play it Safe
Generally, cable work is a lot safer than free weights. For instance, there is zero chance of failing out on a set and knocking out your teeth like you could with heavy dumbbells!
Also, due to the fact that the weights slide along a track, it also forces you into a better overall form when compared to free weights.
As with any workout routine, it is always best to play it safe. While it may be tempting to jerk the line in an attempt at super heavyweight, this jerking motion can do some serious damage. Make sure that you are always in control of your motion. If it is too heavy, know when to drop weight.
Frequently Asked Questions
q:

Is using cables the same as lifting free weights?

a:

Cable pull machines and dumbbells are different, but one is not better than the other. In many training programs, building muscle happens by utilizing push and pull weighted exercises. A bench press, for instance, is a push exercise. Anything using cables is considered to be a pull exercise.

To ensure that you get the most out of your workouts, we recommend focusing 50 percent of your equipment on pulling, and 50 percent on pushing. If you can't quite afford an expensive cable machine, simple band sets are a great way to engage those pulling muscles without draining your bank account or taking up too much room in your home gym.
q:

What muscle groups do cable machines work?

a:

These machines target the muscles in your upper body, which include your shoulders, chest, upper back, biceps, and triceps. Engaging in exercises such as flys, and standing chest press actually engages more muscle groups than standard dumbbells weights.

Cable machines keep muscles under constant tension, which helps to generate that classic muscle burn that you are after!
q:

How do you use the pull machine?

a:

The lat pulldown bar can be used in a number of ways to light up your upper body like a Christmas tree! Simply place your hands wide on the bar, sit upright, and slowly pull the bar down to your chin (or behind your neck).

The beauty of the lat pulldown bar is that by simply narrowing your grip, you can activate more muscle groups in your shoulders, pecks, and even triceps. By leaning backward, you can even work in some bench presses as well!
q:

What are some benefits of using a cable machine?

a:

Unlike free weights or barbell lifts, cable machines work on a fixed pathway. How does a fixed pathway help benefit you? The biggest benefit is to eliminate the chance of hurting yourself. Many injuries in the gym occur when you aren't engaging in proper form. For free weights, proper form is sometimes a real challenge.

Lifting along a fixed pathway forces your muscles to contract in a safe motion, and limits the change of potential injuries.

If you have already hurt yourself and need to take some time off, cable machines are also a great tool for rest days and physical therapy to allow your joints to move and stretch.
q:

Are stack weights or plate weights better?

a:

The answer to this question all depends upon what you are working with at home If you already have an established home gym with plenty of plate weights, the pated option will save you a little bit of money.

The downside to plated options is that to adjust the weight, you need to manually take off the plates (which can really slow down your drop sets).
q:

Are cable machines better than free weights?

a:

Cables are not better or worse at building muscle than free weights, but they do host a few advantages. Unlike free weights, these machines put your muscles under constant tension from the beginning of the movement all the way to the end of the movements.

This increase in tension helps to activate all muscle groups in a particular area and fatigues your muscles more quickly. If you are seeking the much-coveted pump-cables are a great choice.
q:

Are cable machines good for powerlifting?

a:

These machines are a bit limited in their weight capacity, with some of the higher-end designs only able to accommodate about 350 pounds. So, is it worth the investment for powerlifting? The short answer is yes.

Powerlifters train in three main lifts: deadlifts, squats, and bench presses. However, to ensure that you don't hit a plateau, it's important to vary your workouts. Cable training is insanely helpful for powerlifting because it engages pulling muscles that are often neglected in the standard pushing exercises (such as the bench press).

While the siren call of the squat rack or bench press may be calling out to you, be sure to also give the cable machine some love as well!
q:

Can I use a cable machine for my lower body?

a:

While these machines are designed to target arms, upper body, and upper back, it doesn't mean that you can't get creative. Many users like to fashion the standard standing cable machines and hook the handles to their legs to engage hamstrings, glutes, and those hard-to-engage calves!

It's also worth noting that many of the standing machines are also a great way to engage core muscles as well.
q:

How do I care for my cable machine?

a:

Unlike free weights or benches, cable machines require a bit of annual maintenance. To ensure that your machines work smoothly over the years, it is important that you take proper care of your cables. Friction is what breaks down the cable over time, so it is important that you wipe down your cables a few times a year.

If you find that your machine is a tad noisy, any type of lubricant will help keep things running smoothly. WD-40 is fine and will work in a pinch, but there are other brands that are catered specifically for cable machines that will be gentle on your gear.
Subscribe to our newsletter