1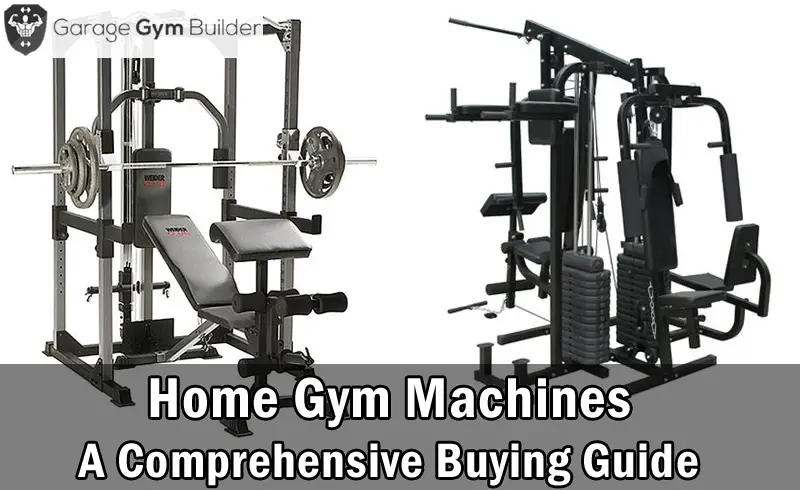 What's The Best Home Gym? Home Exercise Equipment Reviews
updated October 3, 2017
​Several different home gym systems and home exercise equipment are available for consumers so they can experience a fulfilling workout from the comfort of their own home. However, sifting through them and finding the best home gym equipment between all the pros and cons may seem like a daunting and time-consuming task.
Below, we have listed some of the top home exercise equipment that is available, and this guide will help guide you in making your final decision on which equipment is right for you and your household for your workout.
Home Gym Buying Guide - Table of Contents
If you are in a hurry and looking to purchase something quickly take a look below. These are the best (and most affordable) home gym systems on the market at the moment.
(You can scroll right if you're on mobile)
Image

​Model

Features

Consumer magazine's best buy home gym: Pec Station, Press Arm, Leg Developer, High, Mid, and Low Pulleys.

210 lbs of resistance

BEST VALUE: Combo chest press/butterfly arms, High and low pulleys 4-roll leg developer. 330 lbs maximum resistance 125 lb vinyl weight stack

Over 30 strength exercises, Includes horizontal bench press and lat pull down

210-Pounds of resistance

AMAZING FOR TONING: Adjustable incline bench on wheels with a pulley on each side. Space saving design. This is hands down the best home gym system for getting tone and losing weight, and at an amazing price
Finding the Top Home Gym for You
​When searching for a home gym or other home exercise equipment, there are a few questions you should stop and ask yourself:
What are my goals for the workout?
How much weight lifting experience do I have?
How much available room in my home do I have?
What is my budget?
What exercises am I going to focus on more?
These are all huge factors that come into play when you are deciding which home exercise equipment would be best for you.
What Are My Goals?
​Is your goal to lose weight and tone your muscles or do you want to bulk up and increase your strength and endurance? Most of the time, people would rather purchase one piece of fitness equipment that fulfils all of their needs, rather than buying several and having to find the room to accommodate them all.
Home exercise equipment can be a costly endeavor, so it is important to purchase exactly what you want. Here are a few examples of total gym fitness equipment pieces that don't require you to purchase several smaller items.
The Mophorn weight bench features a dual function leg developer that targets the glutes, hamstring, and quadricep muscles and provides a stable and safe training environment. This fitness equipment also features thick foam padding that provides you with maximum comfort and is easier on your knees.
It can provide you with a full workout and gym experience while helping you tone your pectorals and leg muscles and it is ideal for power training exercises.
Looking to Bulk Up and Gain Strength?
​If you are trying to add a few pounds of muscle or a lot of muscle, you are going to want to choose fitness equipment that has a high amount of resistance with it, and this will basically remove the Weider Total Bodyworks as that machine works mostly on your body weight.
​The Gold's Gym XR55 is fantastic for this. It has a maximum resistance level of 330 lbs. Unless you're a seriously experienced body builder, this weight level will be out of your reach for a very long time.
Honestly, the Gold's Gym XR55 is a fantastic workout machine. It doesn't take up a huge amount of room, the resistance is massive, especially for that price, and it has a ton of different exercises that are guaranteed to keep your body guessing for years to come. I highly recommend it.
Key Features
Has a 330-pound maximum resistance
Includes a 125-pound vinyl weight stack
Has a combo chest press and butterfly arms
High and low pulleys
Four-roll leg developer
PROS
Very affordable price
Looks good and is made of high-quality construction
Allows you to participate in several different exercises
CONS
Difficult to assemble
Can damage components of the machine if you are not careful with its positioning
Suspension Trainers are a great and more affordable option for a complete home gym that is portable and versatile. You can perform more than 300 exercises on a good suspension trainer, and each one of them will be core-centric, turning every move into an ab toner during your workout.
We recommend the TRX Suspension Trainer, which is the most versatile, durable and cost-effective suspension trainer on the market for those who wish to workout at home. The TRX Suspension Trainer includes the trainer, a door anchor, a suspension anchor extender, a mesh carry bag, and a full color 35 page workout guide to getting started. The TRX sets up in seconds and can anchor onto everything from a tree to a ceiling beam.
If you couldn't care less about getting stronger or gaining a few extra lbs of muscle than perhaps you will be more interested in one of these complete home gyms.
The Bowflex PR1000 home gym is a great starting point for anyone looking to build some muscle and tone up during their home workout. Bowflex receives a lot of criticism as it's resistance is not controlled by weights. However, the fact of the matter is that the resistance is still there and it's actually quite impressive.
The Bowflex PR1000 has a whopping 210 lbs. of resistance available with over 30 exercises and provides you with a great opportunity to strengthen your muscles and add cardio into your routine. This home exercise equipment can help work out your abs, chest, back, shoulders, and your lower body. It also includes triple-function hand grips, a horizontal bench press, and a Four-inch upholstered roller cushion with extensions.
Option number 3 for toning up is without a doubt the Weider Ultimate Body Works. This machine was built for toning up. The weight resistance is low and can only go 50 lbs. above what your weight is but this is perfect for a high intensity and high-volume workout.
This home exercise equipment features an adjustable incline bench that is on wheels, and the bench can be adjusted to a steeper incline to help increase the amount of the weight resistance. The cable and pulley system allow for increased versatility, and it has a space saver design which is optimal if you don't have much space to work with in your home for exercise equipment.
Total Body Gym will cost you a decent amount and is essentially the same machine like this. Just look at the reviews on Amazon for this piece of equipment. Tons of reviews and still more than four stars.
Workout equipment typically hangs on the low end of review scores on Amazon because people who do not follow the instructions for certain types of equipment leave a critical review.
The Total Body Gym is suitable for the entire family and can work with all different fitness levels from beginners and up to advanced. It does not require any assembly, and this workout equipment can fold up to provide you with easy and convenient storage. It includes a wing attachment, leg pull accessory, ribbed squat stand, five different workout DVD's, an exercise chart, a training deck, and a nutritional meal planning guide to help incorporate a healthy and balanced diet into your new workout routine.
How Much Experience Do You Have?
​What is your level of experience? Are you a powerlifter that is tired of waiting in line for the squat machine at the gym or are you just now getting into fitness?
For Experienced Weightlifters
​You have quite a few options. However, I would again, suggest the Gold's Gym XR55 as it has 330 lbs. of resistance and a ton of lifting options; this is one of the few machines out there that have that type of resistance and that many different exercises.
​Unfortunately, there aren't too many complete home machines out there that will cover all the lifts an experienced lifter would need. I personally recommend that if you are looking to build a truly awesome home gym, you need to invest in a power rack with some bumper plates.
We've got a great guide on purchasing a power rack here. RogueFitness also offers a few different garage gym bundles that might interest you as well.
The W4 package comes with a wall mounted power rack, barbell, adjustable bench (as add-on), weights, and a few other goodies.
If you don't think you need or have room for the power rack, the Charlie package comes with all that minus the rack. You can also pick and choose what you want from each package, making the price range from very affordable to extravagant.
For Beginners
​If you are just getting into fitness and lifting, I personally recommend the Body-Solid StrengthTech system. For a beginner, this weight system has everything, and it makes it extremely easy to transition into an at home fitness lifestyle.
​With the Body-Solid StrengthTech system you will have access to an enormous amount of different types of resistance training. This home exercise equipment is great for a beginner, and it will help you learn about each of the different exercises and how they affect your body very quickly.
It features a 210-pound selectorized iron weight stack in ten-pound plates and has heavy duty steel, DuraFirm padding, and no cable changes. It also has a pec station, press arm, leg developer, high, mid, and low pulleys.
If the price is a bit high, the Bowflex PR1000 is a fantastic substitute. It's extremely easy to use, and there are tons of workouts online that go along with it.
How Much Room Do You Have?
​Most of the machines I have recommended here will have no problem fitting into an average size gym. However, make sure to check the dimensions that you have available with the dimensions of the machine.
You do not want to get half way through setting up your home exercise equipment and realize that it's too high or your elbows hit the wall during your workout.
What Is Your Budget?
Obviously, the biggest number that will be entering the equation here is the price. While it would be nice to afford some of the more expensive home exercise equipment easily, sometimes it's just not an option.

Click here to find out how to build your own home gym with just around $650.
Strength Training
The Gold's Gym XR55 is going to be the cheapest option for workout equipment for those that want some serious resistance. If you are looking to bulk and gain as much strength as possible, this is hands down the best option for strength training.
If you are looking to simply get into shape, grow your strength, and get to an impressive state of fitness than the Bowflex PR1000 is the choice for you. The Bowflex PR1000 is fantastic for high-intensity strength training.

For Toning Up and Losing Weight
​A suspension trainer is a fantastic tool for toning, burning calories and getting a terrific weight loss workout. Weighing in at just two pounds, a suspension trainer will provide you with the means to do more than 300 toning and shaping exercises anywhere, anytime.
​We recommend the TRX Suspension Trainer, which is the most versatile, rugged and functional suspension trainer out there. TRX are the original and the best suspension trainers
​
Without question, the best option here is the Weider Ultimate Body Works. This is an extremely affordable, and very versatile weight lifting machine. It's fantastic for burning calories with high-intensity workouts.
This article has helped with finding the best weight lifting machine for you. We also have an article detailing how to purchase an aerobic exercise machine if that is something that you are interested in.

Key Points to Remember
With the variety of home exercise equipment that is available today, it is important to remember why it is you want a machine and what you plan on accomplishing. The best bet would be to get a total gym system that covers every area possible.
While they may take up a bit more room, they are a sound investment and will be worth the money spent. There are also more compact options available, and some options that can even fold up for easy and convenient storage.
Finally, keep your budget in mind. Again, it can be a hefty investment up front, but you are making the investment in yourself and ensuring a healthy future for both yourself and your family.