6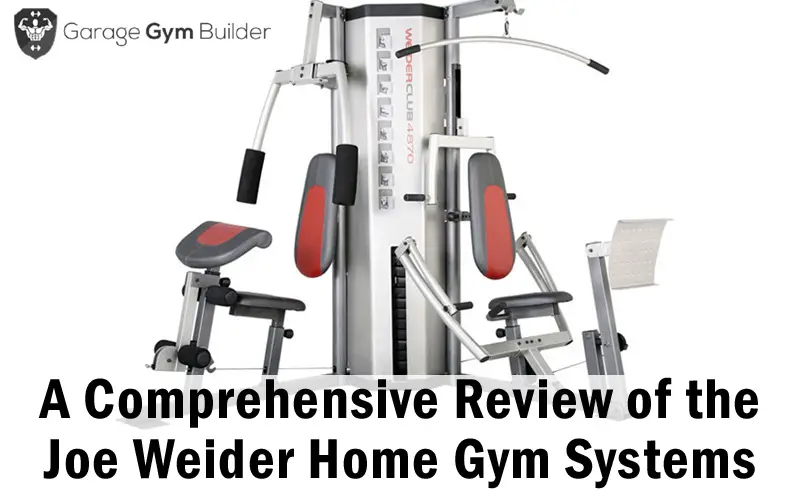 Joe Weider Home Gyms – A 2018 Review of the Weider Pro Home Gym
Joe Weider has been in the body building world for a long time and has left an undeniable mark in the history books with his achievements and additions to the sport. His home gym system is doing the same for the home gym industry. The Joe Weider home gyms have revolutionized working out at home. Typically, home gym systems will be extremely costly with limited versatility in the exercises that can be performed. Their current home gym system, the Weider 2980x home gym can isolate every single muscle group. Fitness at home can be complicated , the Weider home gym does a great job at simplifying things. Lets take a closer look at the Weider 2980 214 lb stack home gym:
Looking For a Manual/Parts?
(If you've run into issues with your current model and are looking for spare parts, it may be a good idea to just purchase one of the newer models. Very few websites will carry the part that you need and the time involved and cost of the hard to find parts can easily be voided by just purchasing one of the newer models)
Features:
80 lb. Weight Stack
Up to 80 lbs. of weight that you can lift with the cord. Great for any beginner
Up to 214 lbs. of Resistance
214 lbs. of resistance may seem like a lot now but it's a goal to chase after. For any beginner this is a great goal to aim towards
High Pulley with Lat Bar
Isolate your back/lats with the high pulley. This exercise is great for getting "wings" on your back.
Low Pulley
The low pulley is a great exercise for toning multiple muscles. Deltoids, biceps, triceps, and forearms all included. With the 80 lb weight plates you will get a good work out in.
Chest Fly
Isolate your chest with the chest fly. This exercise is a great addition to any fitness routine and will stimulate quick muscle growth
4-Roll Leg Developer
Don't forget about leg day! The leg developer included is a comfortable exercise that will help you gain size OR tone in your legs.
Preacher Pad
An assisted exercise that aids with form. Great for your forearms and biceps
Ankle Strap with Handle
The ankle strap adds a ton of versatility to this already versatile exercise machine. With the ankle strap that is included your exercising options are multiplied ten fold.
Exercise Chart
While not completely necessary, the cherry on top that comes with this home gym is the included exercise chart. This is a highly overlooked addition to most workout routines and really seals the deal for the quality of product you are receiving
The Weider 2980x is the latest in a series of weider home gym equipment. Below we will talk briefly about the different models and where you can purchase them if they are still available.
Weider Total Body Works 5000 Review​
This is a great home gym at a great price. It's absolutely perfect for beginners that are just getting into fitness as it uses body weight as it's main form of resistance. You can also opt to increase the weight beyond that of your body by up to 50 lbs when using all four resistance bands. You can currently purchase the Weider total body works 5000 online at Walmart and Amazon.
Weider 8530 Home Gym
You will be hard pressed to find the Weider 8530 home gym available through a traditional outlet store but may get lucky with a garage sale. The Weider 8530 makes use of weight instead of resistance and goes all the way up to 275 lbs! The Weider 8530 includes exercises for legs, chest, lats, and shoulders. This piece of equipment will be hard to find and to be honest, probably not worth the price. It's a bit outdated and can't hold flame to the current models.
Weider 8510 Home Gym
Another exercise machine that has been discontinued by the manufacturer. Very similar to the 8530. Again I would not recommend searching for this as the newer models are more well kept, and are easier to set up​.
Weider 1200 Home Gym
Many of the old Weider models have been discontinued. Again this is one of the discontinued models. Buy the updated model, it's a great product.​
Weider 8630 Home Gym
The Weider 8630 is a fantastic piece of home workout equipment, with a level of quality that other manufacturers should reach for. This gym has a leg press! This is one of the few home fitness equipments that actually come with a leg press. It's a shame that the manufacturer no longer makes this. If you can get your hands on one that's not in terrible shape get it!
Weider Pro 9635 home gym
There's really nothing too special about this model. It's an older version that has many of the same aspects as the 2980. Again, I would recommend purchasing the 2980 over this, even if you can get it at a good price. The maintenance involved would not be worth the hassle.
Weider Pro 9940 Home Gym
The different models of the Weider home gym don't change too drastically and this is another case of a lazy sense of innovation coming out of the Weider manufacturer. Essentially the same machine with the same workouts as previous models. The Weider 9940 is nothing to write home about.​
Weider Pro 4300 Home Gym
The Weider 4300 is interesting in that it has a pretty high resistance setting. With weight plates that go up 120 lbs and a resistance level of 330 lbs you are sure to be using this thing for a very long time before you out grow it. The build of the machine is very similar to the other models and the exercises included are the same. You may be able to find this at some outlet stores like Sears. I would recommend purchasing this over the 2980x if you can find one and you can afford the extra cost.​
Weider Pro 4850 Home Gym
Another instance of a lack of innovation. The Weider 4850 has seven different stations, just like many of their other models. This is another discontinued model. Again I can not recommend purchasing this product even if you find it a great price. The newer models do more, have more, and cost less.
Weider Pro 4100 Home Gym
Nothing too impressive here. An old model with no new tricks.
Weider Pro 4250 home gym
Another old model. You will be much better off purchasing one of the newer models. Trying to find these particular models will be a huge drag for you.​