Best Winter Running Gear Reviewed
last updated:
Mar 25, 2021
Exercising outdoors doesn't have to stop just because the days are getting shorter and the weather is becoming colder. Although not a lot of people enjoy running outdoors when you can barely breathe properly, there are winter enthusiasts out there who love to sweat it out to fight the chill. If you're one of those people, or if you just want to get started, you must be properly prepared. Getting the flu can be the least of your problems if you're not warm enough! Avoiding frostbites and viruses can be easy though, if you're warm enough and if you have the right apparel to help you along the way. Read our list of the best cold weather running gear and discover what gear for running in cold weather is worth investing in.
This is the best product on our list that is currently in stock: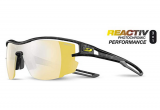 Julbo Aero Sunglasses
Why is it better?
Photochromic Lenses
Cool Design
Nose And Temple Pads
Wide Lenses
13
Researched Sources
15k
Reviews Considered
10
Hours Researching
12
Products Evaluated
Use
Comfort
Features
Durability
Materials
By Default
Top 10 Picks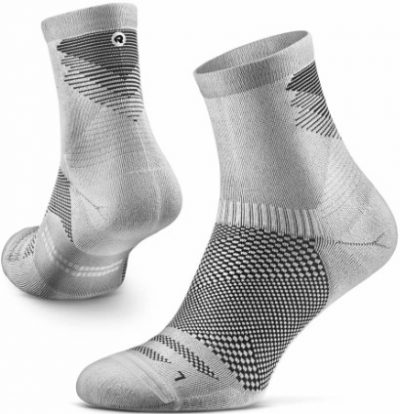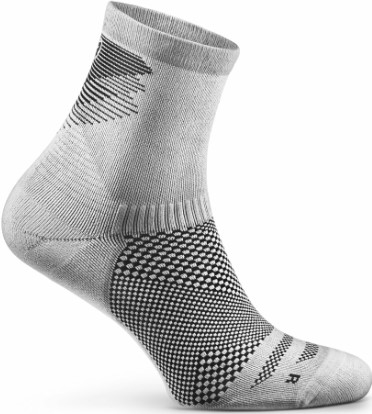 Recycled Materials
Great Arch Support
Breathable Mesh Zones
Lifetime Guarantee
Seamless Construction
When you run, you rely on your feet to help you reach your goals. This is why it's very important to protect them, and the very first thing you're going to need is a good pair of warm, durable socks. You need the right footwear too, but it's best to start with socks so you're shielded from the cold on all levels.
The Razer Trail comes from a company called Rockay. They have dedicated their time and assets to bring you the best apparel and gear for running, made by runners for runners. They are well aware of what the average runner goes through if their gear is not adequate! All of their products come with a lifetime guarantee, so even if your socks disappoint you or fail you, Rockay is ready to send a brand new pair your way!
Read more
The Razer Trail is made out of a combo of Econyl Regenerated Nylon, Recycled Polyamide, and a small percentage of recycled elastane. You can probably see that there's one more thing this company cares about, besides their gear, and that's keeping the Earth green. All of their socks and other items are made out of recycled materials, but that doesn't make the socks low-quality!
The materials used are second-hand, but they have been reinforced to last you a lifetime, working better than most regular materials. Every material kind was carefully selected for their unique features that make running a more enjoyable sport. Plus, their products are treated with Polygiene, which is a specific technology that makes washing socks after each use obsolete. Polygiene kills every last trace of bacteria and fungus, removing odors and dirt without the help of a washing machine. You just need to air dry your socks after you're done using them, and they will be as good as new - good for your wallet and the environment!
The excellent material blend is not the only amazing feature these socks have. For starters, they are truly seamless. This removes every irritation point a sock could have, lowering the chances of blisters developing.
When you're out running in the cold, the last thing you need is stopping to see where the blister is and how much damage it did to your feet! The socks are strategically cushioned to improve your performance and to shield your sensitive feet from the rough terrain. The socks have a reflective logo on the back of the top band, alarming people of your presence if night falls while you're running.
There are breathable mesh zones placed around the socks. You might think that staying cool is the last thing you need when you're freezing, but it's very possible to become sweaty while you're running. If the temperatures drop significantly while you're still damp, you could develop frostbites, and you really don't want that to happen! The Razer Trail also has arch support that secures your feet and helps them survive strenuous exercises without any pain or stress.
2

. Flare Quarter Running Socks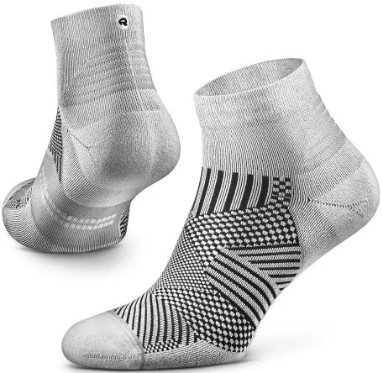 Seamless Toes
Arch Support
Breathable Mesh Zones
Padded For Performance
Lifetime Guarantee
One more addition from Rockay is the Flare Quarter Running Sock. These socks have all the lovely features most Rockay products have, like the lifetime guarantee, or the excellent recycled material blend. But unlike the trail, these socks are slightly shorter. This might seem like a bad idea when it's cold, but if you're already properly dressed, and if your shoes are thick enough, you don't need any extra material suffocating your feet.
Read more
The Flare is made out of recycled nylon, recycled polyamide, and recycled elastane. The nylon and polyamide serve to cushion you, to breathe, and to give you support, while the elastane gives the socks the stretch they need to accommodate your ever-moving feet. The intricate patterns you see, clashing with the white background, are not there just to make the socks interesting.
They mark the spot where breathable mesh intertwines with the arch support. These strategically engineered zones will give your feet all the support they need without suffocating them in the process! You can also see where the padding is, guarding you against blisters and pain as long as they live.
There is a little logo on the top band, shining like fireflies in the summer night to give other people an idea of your whereabouts when the Sun goes down. The toes of these socks are seamless, removing the blister and pain threat!
Graduated Compression
Anti-odor
Moisture-wicking
Super Durable
Reduces Vibrations
Now that we have your feet covered, it's time to move up to your calves. It's not uncommon to experience calf fatigue and an uncomfortable level of vibrations when you run for a long time, essentially rendering you unable to continue. Plus, the extra layer around the calves will keep you warmer, and the compression will keep your blood moving towards your feet, and from them, keeping you warm all the time. It's important to remember to choose a lower level of compression because too much compression when you run can immobilize you or slow the flow of blood down, so you'll start feeling cold and numb!
Read more
The Rockay Blaze is a sublime calf sleeve that was masterfully engineered to help you better than ever. The Blaze, just like every sock from Rockay, is made out of the best possible materials that cater to your needs. The sleeve is streamlined and fun, so you will look stylish while feeling great!
There are plenty of color choices that suit your preferences. The Blaze has true documented graduated compression, in the 16-23 mmHg range. This is just strong enough to help you fight fatigue and swelling without hindering your range of movement.
This compression can also wick away sweat, keeping you cool and dry. You can also experience lowered muscle vibrations, and you won't feel too weak to continue if you have the Blaze wrapped around your legs! Just like the socks we described above, the Blaze has been treated with Polygiene, so you won't need to wash them so often, nor will they smell or become dirty as fast as other sleeves would.
4

. Smartwool Merino Sport 250 Beanie
Double Knitting
Merino Wool
Reversible
Cuffed, Comfortable Fit
Plenty of Color Choices
A Bit On The Thinner Side
Now that your feet and legs are protected, it's time we move up to the next item on the agenda - your head. You lose most heat through your hands, feet, and through your head, so it's very important that you keep your head warm, even with some extra layers if need be. This means that you need a good hat, preferably made out of wool. A high-quality beanie will keep you toasty while protecting you from all kinds of weather at the same time.
Read more
Smartwool is a company that creates products for people who really value their time in the great outdoors. Although they started with socks back in 1994, they have since expanded their product list. Now they have almost everything you need to stay warm and dry in the cold, harsh winter.
Most of their items are made out of Merino wool, and so the 250 Beanie is also made out of Merino wool. Merino wool is the best kind of wool out there. It's thick, super durable, and it retains heat like no other.
It also wicks away moisture, absorbing plenty of water before letting it escape through the dense upper layer. You'll stay both warm and dry with a merino wool hat topping off your head! This cuffed beanie is double-knitted, improving the strength of the hat while giving you a comfortable fit.
Although the beanie is cuffed, it's bulk-free, so don't expect any tension headaches while wearing it. The cuff will also absorb any sweat from your forehead, leaving your eyes unaffected. The sides of the beanie are reversible, so when you're tired of wearing the same color, or if the wool becomes damp, you can simply swap the beanie around and it's as good as new!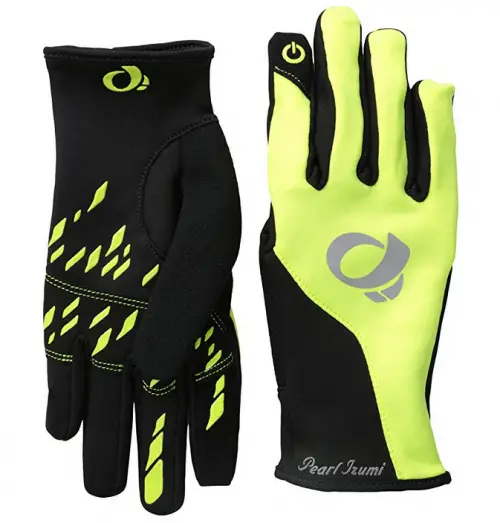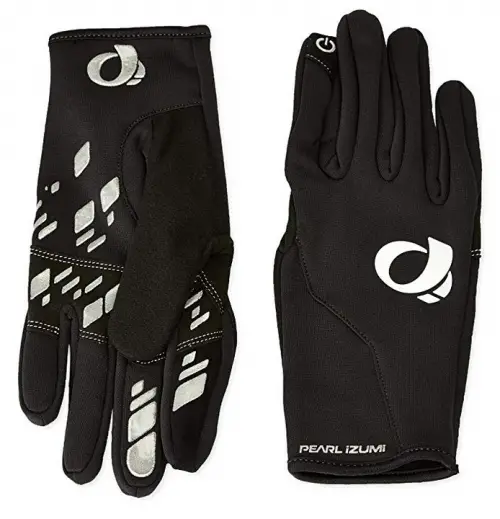 Moisture-wicking
Odor-proof
Touchscreen Compatible
Dries Fast
The final, very important part of your agenda is your hands. If you ever went outside when it was way too cold without gloves, you know why it's important to keep them warm. When you run, your hands will slightly move, and that movement can create a waft of cool air that can chill you even more, and if you want to avoid redness, pain, or even frostbites, you need a good pair of gloves that are able to shield you from winters daggers.
Read more
These gloves have a very specific construction that differs when you're looking at their back and at the palm area. The materials used to construct them are essentially the same all around, but the percentage differs, and that difference matters.
Your hands are very different. The top of your hands is rough and tougher, while the tip of your fingers and the palms are much more sensitive to any temperature fluctuation, and they do not handle cuts or abrasions well either.
The index and thumb fingers are specially made out of conductive thermal leather so you can easily access your phone or other touchscreen devices without having to take off the gloves. P.R.O. thermal fabric, powered by Minerale, is woven throughout the gloves. This fabric insulates you, removes excess moisture, helps the gloves dry as fast as possible, and keeps you odor-free.
6

. The North Face Men's Resolve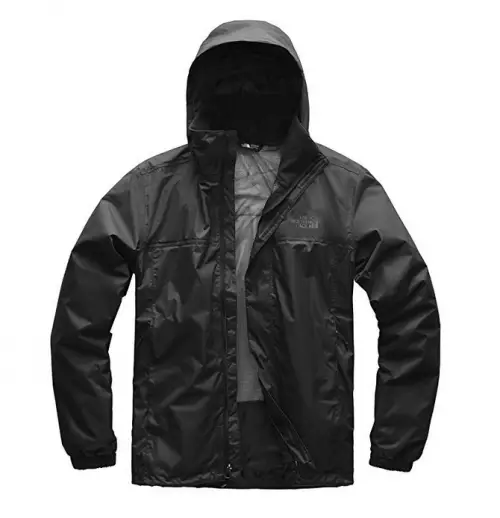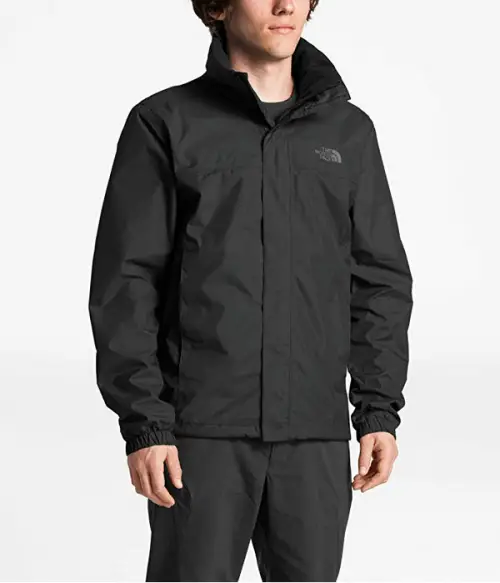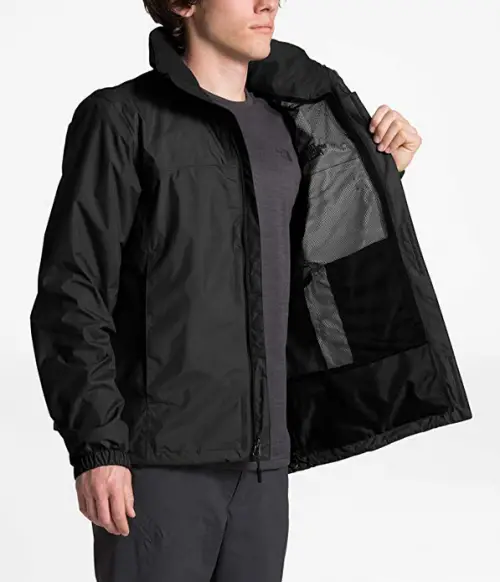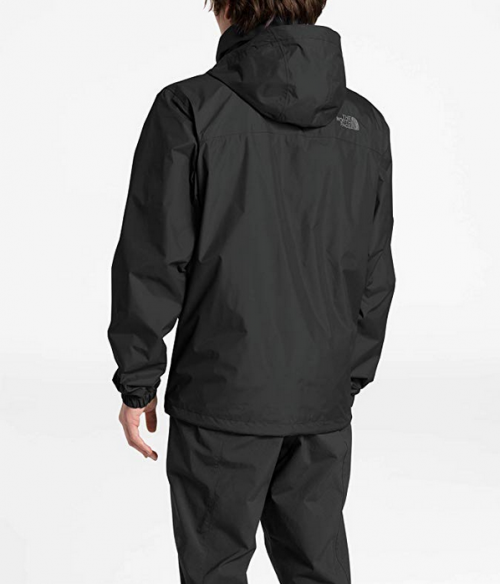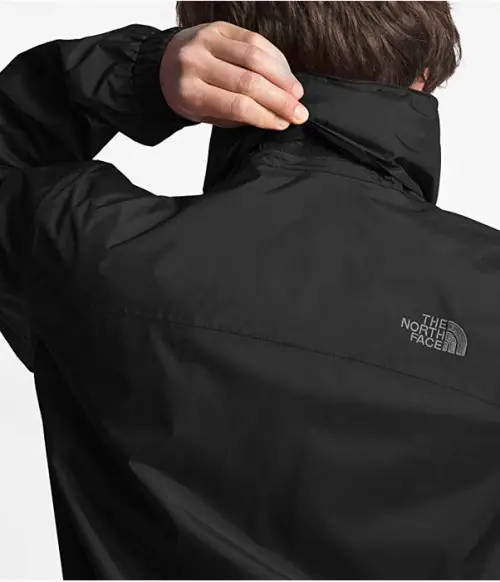 Colorful Choices
Adjustable Hood
Breathable Mesh Lining
Very Weatherproof
Built To Last
Now that we have most of you covered, it's time to start thinking about adding extra layers. It's always better to have more layers instead of going for a thick sweater and a warm jacket. Why? Because, if by any chance you start feeling warm, you can simply take off a thinner jacket, such as this one, and put it in your backpack, or wrap it around your hips, while your other warm layers remain. If you've got a thick jacket, the extra weight and bulk will slow you down, plus you might start feeling too cold!
Read more
The North Face is a very well-known company that creates outstanding gear for the great outdoors. If you buy any jacket from them, you can rest easy knowing you're taken care of. The Resolve is a jacket that appears rather thin, but believe us when we say that it will warm you up like no other.
The Resolve comes in a myriad of colors, ranging from cal, neutral hues to vibrant and wild colors that stick out like a sore thumb in the white backdrop of snow. The Resolve is completely waterproof, lined with breathable mesh that will keep you cool and dry while the rain rages on around you. The hood is adjustable, and it can be hidden in the collar if you have no use for it. The Resolve has a lifetime guarantee, so if the jacket fails you in any way you always have a back-up plan!
7

. ASICS Thermopolis Plus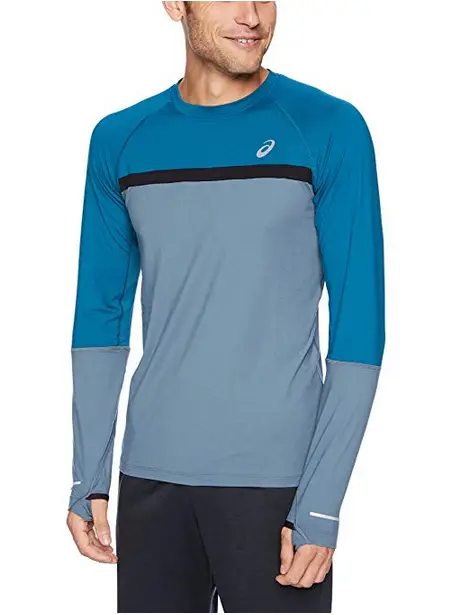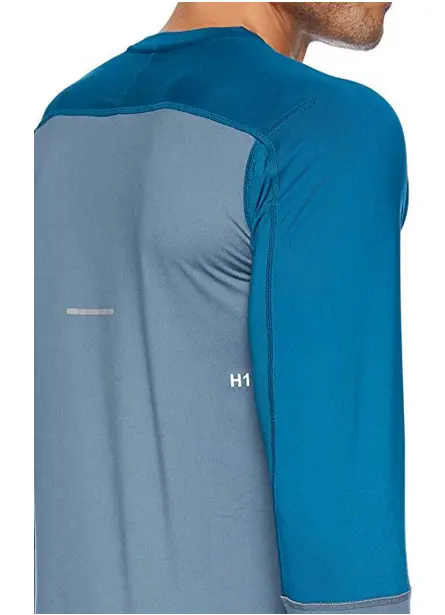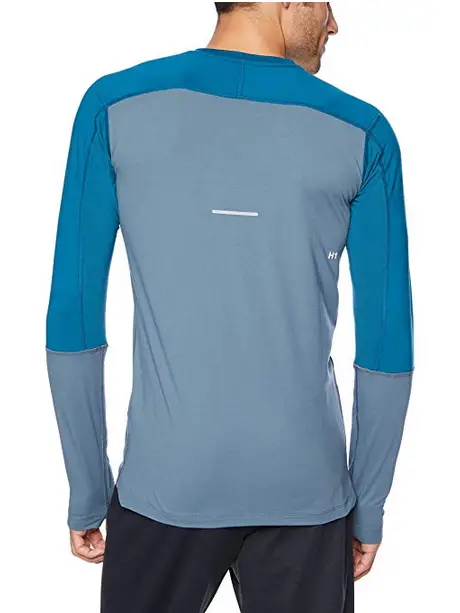 Slim Fit
Reflective Elements
Brushed, Mid-weight Fabric
Added Stretch
Thumbhole Cuffs
Now that you have a proper jacket, you should really think about investing in a proper long-sleeved shirt. The shirt should ideally cover the length of your arms, and maybe even your neck, and it should be very isolated to keep you warm at all costs. It doesn't need to look that well, but the Thermopolis does look good while keeping you warm!
Read more
The Thermopolis is 100% polyester. This might not make it as breathable as one would like, but it will keep you warm and dry. Polyester is known for its incredible moisture-wicking abilities, and if you've got this sweater hugging your body, you will be toasty and dry, no doubt about that! You just need to make sure you've got the right size.
Otherwise, the shirt may cling onto you too much and restrict your movement, chafing you raw or it could disrupt your blood flow! The slim fit of the Thermopolis wraps around your figure perfectly while still leaving room to move. The fabric of the shirt is brushed, so as to not chafe you, it's relatively lightweight. The Thermopolis is also very stretchy, making it comfy all day long. The long raglan sleeves have thumbhole cuffs for extra heat retention. The reflective elements of the Thermopolis keep you safe when the night falls.
8

. Craft Mens Active Extreme 2.0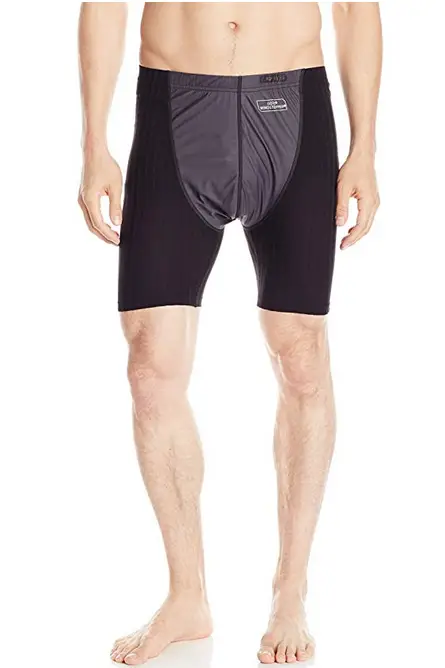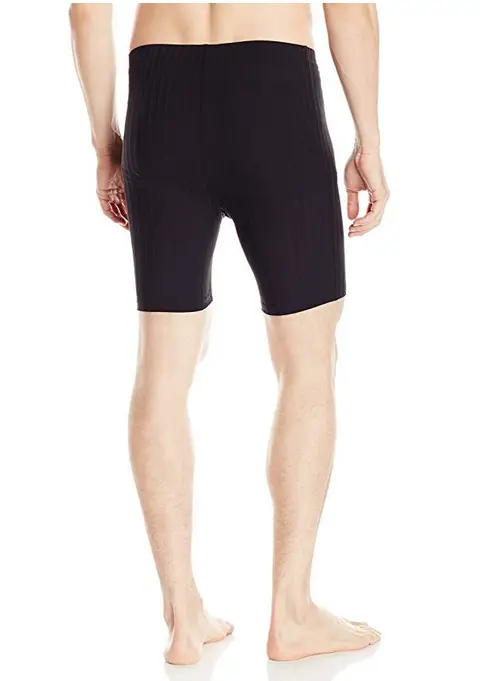 Channel-knitted To Trap Air
Lightweight And Elastic
Windstopper Fabric At Front
Coolmax-Air Fibers
Moisture-wicking
Buying boxer shorts specifically made for running might not be what you thought of when we mentioned winter running gear, but believe us when we say that you will praise the day when you bought these! The extra layer around your legs retains valuable heat and wicks away moisture, keeping you dry and very toasty. These shorts also help keep the blood moving while protecting you if you accidentally fall!
Read more
This Swedish company is very familiar with terrible winters, so you can safely rely on them to help keep you warm when you run on crisp snow. These boxer shorts are 100% polyester, but the fabric is different around the construction, with features adapted for optimal protection. The shorts are thin and lightweight, elastic to let you use your legs naturally.
The fabric is channel-knitted, trapping air between them and your body to warm you up. The Coolmax-air fibers hug your body and transport moisture away from your sensitive skin. The body-mapped Windstopper fabric in the front shields you from windchill. The shorts can be safely washed in a machine, just make sure to avoid the dryer if you don't want them to shrink!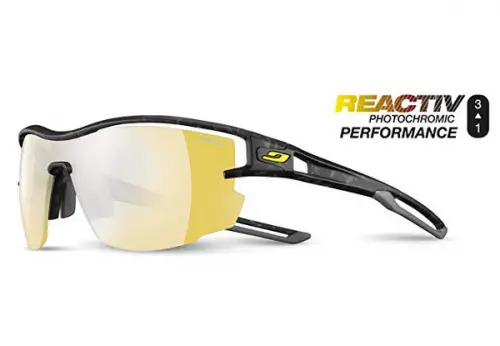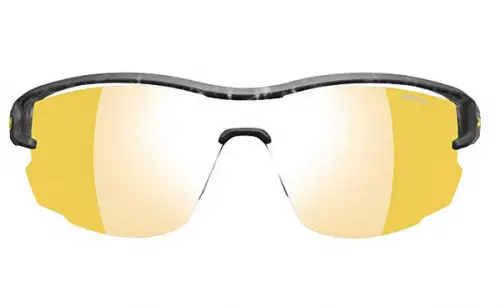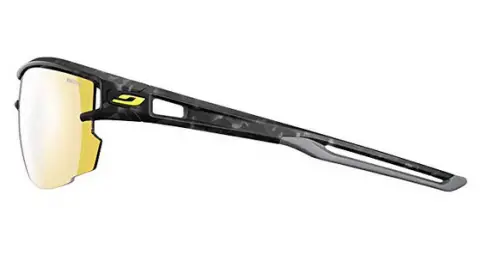 Photochromic Lenses
Cool Design
Nose And Temple Pads
Wide Lenses
When you're running during the day, chances are that the Sun will decide to shine down on you. But if it's shining down on you, its also shining down on the snow, and that creates a reflection that can be very distracting, and it can be harmful to your eyes! You've probably seen people participating in winter sports, wearing those large polarized glasses that cover half of their faces. It's time you did the same thing because the health of your eyes is extremely important!
Read more
The Julbo Aero Sunglasses are very large and curved to shield your eyes from every side. They come in three color varieties - tortoiseshell gray, neon orange, and simple, eternal black. Do not let the color of the lenses you see on the pictures confuse you.
The lenses actually change colors and adapt to the current level of sunshine, keeping your eyes adequately protected at all times without hindering your sight! There are pads present around the nose and on the temples that create an ideal fit, so do not worry about losing the glasses somewhere along the way!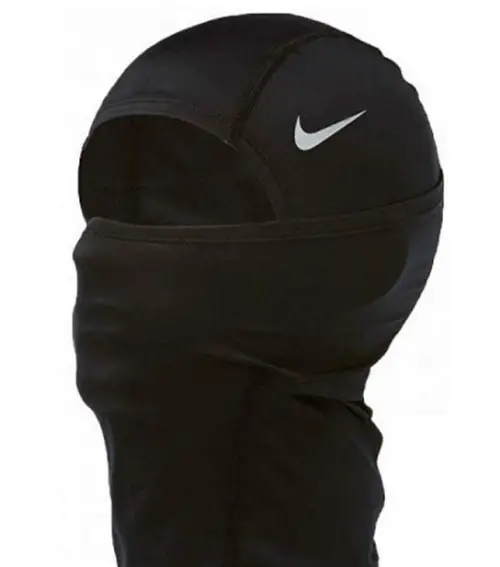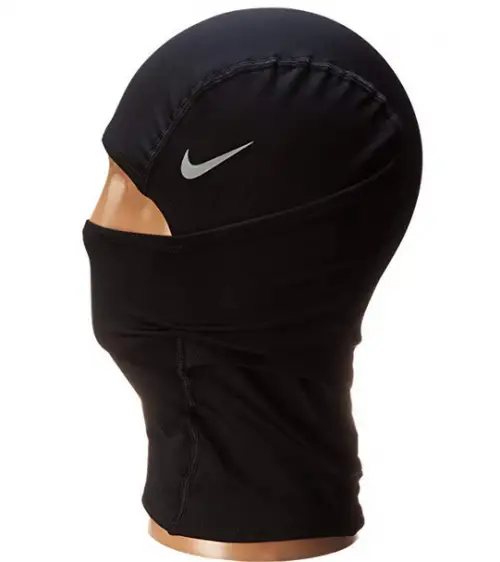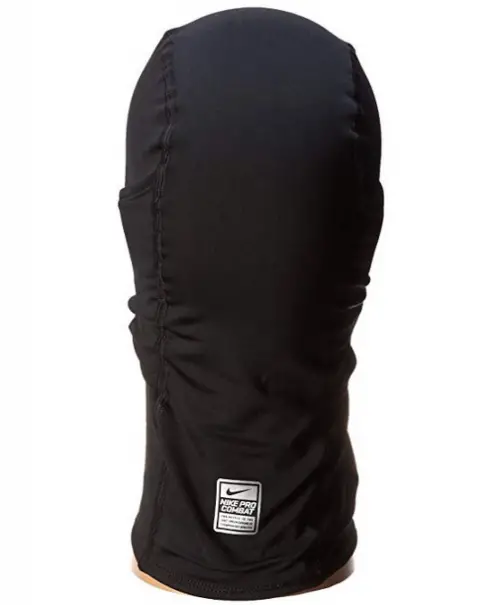 Therma-Fit
Flat Seams
Comfortable Fit
Extends Below The Neckline
Converts To Neck Gaiter
Breathing can become one of the most difficult things in the cold weather! The cool air shreds your lungs, which is very problematic when you really need that gulp of air to keep you going. This is why you need to think in advance and protect yourself with a hood that will warm up that air and protect your face and nose from winters chilling kisses. The hood should also cover your neck and head, so you'll have two or three layers keeping your blood and body optimally warm!
Read more
The NIKE Pro Combat Hood is made out of a THERMA-fit material that is perfectly insulating and moisture-wicking. The flat-seam construction keeps your face free of irritation, and it lies smooth against your face, creating a perfect fit. It can easily fit under helmets, hats, or jacket hoods to keep you even warmer.
The hood extends below the neckline, completely covering your nose, leaving only your eyes to fend off the cold. If you don't need to protect your face, or if it's becoming a bit too hot for your comfort, the hood transforms into a neck gaiter that gives your face the space to breathe.
Criteria Used for Evaluation

Use
The products you will be buying to guard you while participating in cold weather running need to be easy to use, and you have to know how to use them. Let's start from the bottom up. Using a pair of socks is not that difficult.
All you have to do is put them on the right foot and that's it! You just have to get the right size and the right features and you're all set. Then we have shoes. You probably know what kind of shoes you need for the unforgiving cold, but you should also get some spikes that you can wrap around them.
Although we didn't mention spikes here, they are as important as the gear we wrote about, as they will give your shoes the traction they need to keep you upright if the snow turns into ice! The gloves are easy to use as well. Again, you need the right size, and they need to be warm enough.
The shirt and the jacket have to be very protective, and you have to layer yourself really well to fight off the cold. Sunglasses are a must, and they just need to fit your head well if you want to avoid tension headaches. A beanie must be dry all the time, so remember to flip it over if you start to feel wet. And finally, you need a hood to guard your face. You must put it underneath all of your headgear, and if you start feeling too warm, remember to pull it down!

Comfort
Your comfort is really important, but the word comfort here goes way beyond your clothes, and other apparel fitting you right. Do you feel comfortable when you're freezing? We didn't think so! So besides looking at how your socks were made, or what the materials making up your jacket are, you really need to make sure that you are properly shielded from the cold and that you are truly choosing the best winter running gear to keep you protected.
The comfort of the socks will be decided by their fit, what they were made out of, and how they were made. When you're running, you need a pair of socks that have a seamless construction. Blisters are the least comfortable ailment in the world, and a seamless sock prevents them from rearing their ugly heads.
The calf sleeve will probably feel uncomfortable at first until you get used to the compression, but once you do you will realize that compression clothes are comfier! The hood that shields your face has to have flat seams too, while the sunglasses have to be padded at least a little bit if you want them to sit comfortably on your face. We reviewed plenty of products and meticulously searched through the reviews to find you the comfiest garments out there, and we're sure you will not feel any discomfort if you follow our guide!

Features
There are plenty of features your winter apparel has to have. For starters, it needs to be insulating. That's the whole point of buying winter-specific gear and the driving purpose of coming up with the best cold weather running gear!
Breathability is also important. If a piece of clothing is breathable, you will stay cool, and your body will be able to regulate your temperature. Moisture-wicking is closely related to breathability. There's no point in feeling cool if you're damp all the time! So make sure that your gear is moisture-wicking.
The socks have to be padded properly to guard your feet from the terrain, while the glasses should be polarized, or photochromatic, to keep your eyes functional. The gloves we wrote about are touchscreen compatible, which means that you can easily use your device without taking the gloves off, exposing your hands to the cold. Some garments have reflective logos that shine in the dark - the night falls surprisingly fast when winter comes, so visibility is important.

Durability
When choosing the best winter running gear, it should be durable. After all, this gear is highly specific, and as such, it can cost a fortune. Just a pair of sunglasses can set you back for 200 dollars, and when you add everything up you can spend as much as a thousand dollars! This is the reason why your gear needs to be durable, but it also has to survive for a long time if you want to remain warm throughout the winter.
Rockay, as an example, created socks that don't have to be washed so often, so the fibers remain strong for a long time. The stitching on most of the items we mentioned is either super strong or reinforced, so you don't need to worry about holes leaking cold air inside. Plus, we searched through the reviews to really see whether these items can stand the test of time, and we discovered that they all resist winter pretty well!

Materials
What your gear is made out of should tell you what you can expect out of it. A cotton shirt will never keep you warm, nor will a pair of lacy gloves! The best material out there for the cold weather is wool.
The wool featured in our guide comes from Merino sheep. Although very pricey, this kind of wool is extremely resistant to cold. It's super thick, and the strands trap air inside in pockets, where it heats up and creates a layer of warm air.
It has the opposite effect if the weather becomes hot, keeping you cool. Wool can also absorb plenty of water, but it pushes it to the upper layers where it can escape, leaving you dry. Polyester is also a good choice, as it wicks away moisture like a champ.
You need a little bit of elastane in your clothes if you want a comfy fit! Many producers feature proprietary materials in their cold-weather running clothes - these materials are either very insulating, very breathable, or very moisture-wicking, and these are all features that are useful to you. Some manufacturers use recycled materials that are by no means less worthy that regular materials, but by choosing these products you also choose to be environmentally friendly.
Expert Interviews & Opinions
Most Important Criteria
(According to our experts opinion)
Experts Opinion
Editors Opinion
Users Opinion
By Default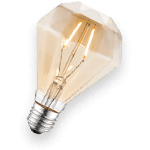 Portability
We all know how unpredictable weather can be - it can be raining cats and dogs one moment, only for the sun to take over before you even have the time to notice it. Winter is highly unpredictable, and the temperature fluctuations can really take you by surprise.
At one moment, you can feel very happy you remembered to take those sunglasses with you, when suddenly those very same glasses can have piles of snow on them, preventing you from seeing properly. And so, most of your gear has to be at least somewhat portable. Make sure that the jacket you're wearing is lightweight. If you need to strap it around your waist, it shouldn't drag you down. You can always bring an extra pair of socks, or an extra shirt just in case, while a beanie can be easily scrunched up and squished into any bag. The only thing you really can't bring you is an extra pair of shoes!
Size
The zie of your clothes can affect many things at once - it can affect your level of comfort, the way the garment works, and much more. This is why you need to inspect the sizing guides provided by the producers carefully. Do not lie to yourself and write down a smaller number than what you've seen! The clothes must fit you to the tee if you want to be a happy runner.
Other Factors to Consider

Weight
The last thing you need while you're running on rough terrain is heavy clothes to slow you down. You do need a good backpack, but it should be as lightweight as possible, and you shouldn't bring any extra items you're not really sure you will need. A good, lightweight jacket can work just as well as a heavy, feather-stuffed one, and the right footwear will be as light as a feather. Make sure to test out your gear indoors before you go outside to run!
Frequently Asked Questions
q:

Do I really need to go running when it's cold?

a:

No one is forcing you to leave the comfort of your own home, or the warm gym, to go sweat it out on the snow. But we all know how envigorating running outside can be, and many runners that prefer the outdoors run better. You can also avoid people and crowds in the gym because winter is the prime time for crowds! If you're properly geared up, running during the winter should be just as fun as running when it's warm, and you'll get to enjoy the snow at the same time!
q:

Can I hurt myself if I run when it's snowing?

a:

There are plenty of ways you can hurt yourself when you run indoors, and winter just brings new threats to scare you. Frostbites, sickness, and injuries caused by slipping are all possibilities, and you really need to be prepared for such coincidences. Also, if you're not used to running in cold weather, you might feel slightly shocked. Your lungs will reject the cold air, and your mind will keep trying to convince you to turn around and go drink a hot cup of cocoa. But if you're doing it right, and if you win the mental battle with yourself, you should stay injury-free.
q:

How can I be extra careful of when I run during winter?

a:

Your biggest enemy during winter is ice. When water starts to freeze, that's when you should be extra careful. This is when those spikes we mentioned above should be extremely useful, as they provide you with the traction you need to fight off slippery surfaces. But ice is hard to see, and it's even harder to notice when water starts freezing over if you're already outside, so make sure that your shoes can handle it before you set off.
q:

Can't I just use regular jackets and socks?

a:

No can do! Regular clothing is not even made for working out inside, let alone during the harsh winter. You won't have anything to keep you warm, nothing to prevent sweating, and nothing will be creating an enjoyable experience that you will want to repeat. Make sure you've got the clothes you need, otherwise you could hurt yourself!
q:

Is bringing a headlamp too much?

a:

A headlamp might seem like a useless item, but it can actually become extremely helpful if you stay out when the sun starts to go down! Days during winter are very short, so having a source of light to guide you through nature is a very smarty idea.
Subscribe to our newsletter