10 Best Lat Pulldown Cable Machines
last updated
Oct 22, 2019
Adding a cable lat pulldown machine to your home gym will open up a whole new world of resistance exercise.
Not only will you be able to exercise your back with lots of challenging lat pulldowns, and try out tricep-pushdowns, cable-curls, upright-row exercises and a whole host of other constant-tension moves will be within your grasp. Be sure to check out all the great information about the cable lat pulldown machine we have here for you!
The quality on offer, however, is decidedly mixed. In this article, we discover the top Lat Pulldown machines on the market.
In a Hurry? The test winner after 17 hrs of research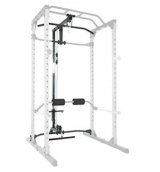 Fitness Reality 810XLT
Why is it better?
High and low pulley systems
Weight plate storage post
Two collars included
270-pound weight capacity
In a
Hurry? Editors choice: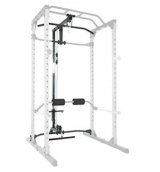 Test Winner: Fitness Reality 810XLT

42
Researched Sources
10k
Reviews Considered
17
Hours Researching
14
Products Evaluated
Ease of Use
Durability
Features
Motion Control
Materials
By Default
10 Best Cable Lat Pulldown Machines
1

. Fitness Reality 810XLT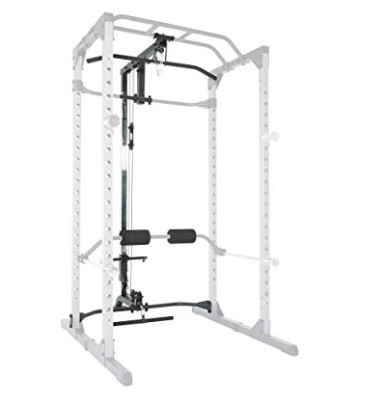 High and low pulley systems
Weight plate storage post
Two collars included
270-pound weight capacity
Fitness Reality is the ultimate tool in helping you sculpt your arms and back. It is convenient to have Olympic lat pulldown in the convenience of your own home.
This lat pulldown machine has strong nylon cables, two directions of pulleys, and a smooth glide rail. If you train hard with this machine, you will get the results you are looking for.
Read more
The Fitness Reality machine has pulley systems at both the high and low positions. It has high strength nylon coated cables, and the guide rail glides easily. It also has foam bars for an easy grip.
A lower rear bar gives you more space for bench lifting, and it includes a footrest for seated exercises. Two spring collars are included. You can use it with Olympic or standard plates.
It is a great lat pulldown machine to build up your shoulders, arms, and upper back because it operates smoothly. It has a 270-pound weight capacity.
2

. Powertec Fitness Lat Machine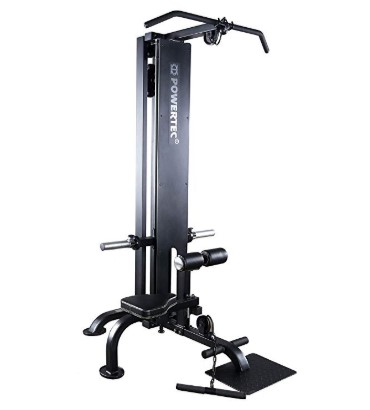 Slimline design
Load slide rods
Pivoting seat
Weight stack not provided
The Powertec is easy to use with new slide rods that are easy to load and gives you better accessibility.
The rods slide smoothly for a good quality workout. They also have ring stoppers which stop the weights from traveling too far.
Read more
The Powertec Fitness Lat Pulldown machine is a stylish, slimline cable machine that provides you with a very smooth glide motion through the cabling. It is a plate loaded lat pulldown machine. It features unique load slide rods which allow easy accessibility, precise gliding, and smooth operation. Ring stoppers on the slide rods prevent the weight from overextending.
The seat of the Powertec Fitness Lat Pulldown is built into the machine, allowing the set to be locked into position or pivoted outward to open the machine for more exercise options.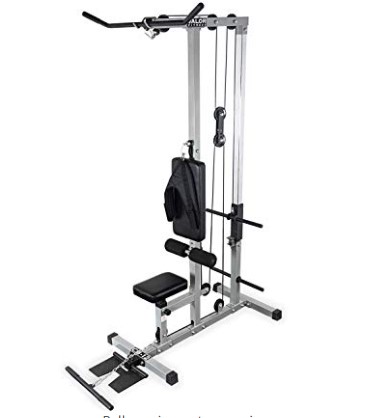 Solid square tube frame
250-pound weight capacity
High tension nylon pulleys
Valor has created this sturdy machine from heavy-duty steel to make it strong and stable.
The seat is made of high-density padding so it can stand up to intense stress. The 5-foot long cable pulley system holds up to 300 lbs.
The versatility shows with the different bars which give you a wide range of lat exercise options. You can even do ab crunches while sitting down.
Read more
The Valor Fitness CB-12 is a free weight machine that has a sturdy square tubing frame made of twelve gauge tubing. It has a low pulley, which comes with its short bar handle. You can add 250 pounds of weight plates onto this lat pulldown machine, and it even comes with plates storage pins. These also act as a counterbalance when doing low cable exercises.
The seat on the Valor Fitness CB-12 is made of high-density foam and is contoured for comfort. You can adjust the seat to four positions to provide just the right degree of extension. The high tension nylon pulleys are very durable and ensure smooth operation.
4

. Vanswe Lat Pulldown Machine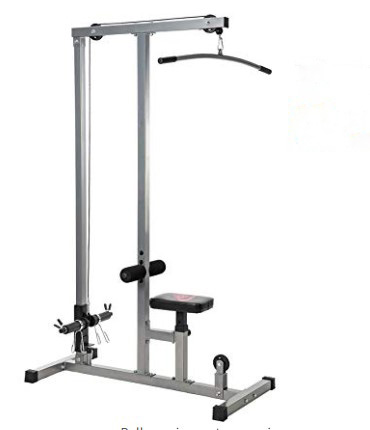 2-inch sleeve adaptors
Sturdy frame
High-quality ball bearings and bushes
High and low pulleys
The Vanswe Lat machine features great versatility.
It has pulley stations at high and low points so you can use it to strengthen your forearms, biceps, shoulders and many other muscle groups. It is specially made to be solid and durable.
Read more
The Vanswe Lat Pulldown Machine features a sturdy two by two-inch, 1/8 inch thick heavy-gauge steel frame. It features both a high and low pulley. The high-quality ball-bearing pulleys, wide grip bar and nylon bushings ensure that you get a smooth lat pulling experience.
The machine is easy to assemble and takes up very little space. This unit is exceptionally well priced, making it our best cable pulldown bar machine. Though this lat pulldown machine does not come with supplied plates, it does cater to both standard and Olympic plates thanks to the provided 2-inch adaptor sleeves.
5

. Valor Fitness BD-7 with Lat Pulldown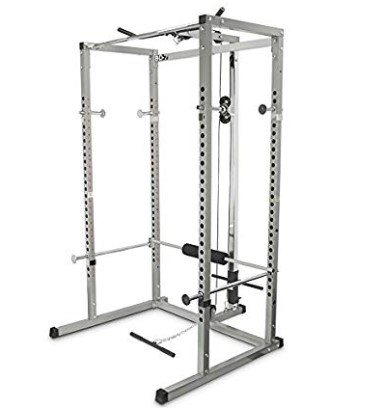 2 x 2-inch steel frame
Patented nylon bushes
Great range of motion
Valor Fitness is made of a sturdy 2" x 2" frame. The frame has 27 different positions to support your bars from a low of 18 inches or a high of 68 inches.
You can use the foam-padded utility bar for curls. It has a low pulley station for seated exercises.
Read more
The Valor Fitness BD-7 with Lat Pulldown is a full power rack that comes with a lat pulldown attachment. It is made of a 2-inch by a 2-inch steel frame. The lat pulldown station securely attaches to the frame.
The nylon bushings in the pulley system are patented to provide the smoothest operation. It means that there is no jerkiness with the risk of the cable coming off the pulley.
The design of the lat tower provides you with a more excellent range of motion than most machines offer, allowing you to work through a full contraction and extension. This lat pulldown machine has a plate loading bar.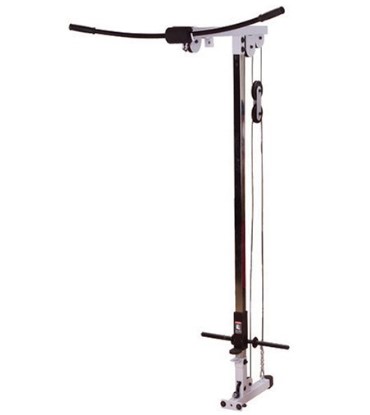 Space-saving
High spec nylon bushing
Cost-effective option
This is a quality lat attachment you can use with the PPR200X Power Rack. It comes with a high and low bar.
The weight posts work for Olympic or standard size weights. The cables included are aircraft quality.
Read more
The Powerline PLA200X is a lat attachment for the PPR200X. This excellent and secure attachment comes with both a high and low pulley station. The one-inch diameter weight post will take both standard and Olympic weights plates. This attachment features nylon coated, aircraft quality 2200-pound test cables. The unit measures 84 inches in height and comes with a lifetime warranty.
The Powerline PLA200X features quality bushings and cable to provide a very smooth motion. It is effortless to set up the attachment, which is a great space saver when you are restricted for space. Triceps pushdowns can also be done very effectively on this lat pulldown machine.
7

. Deltech Fitness Lat Attachment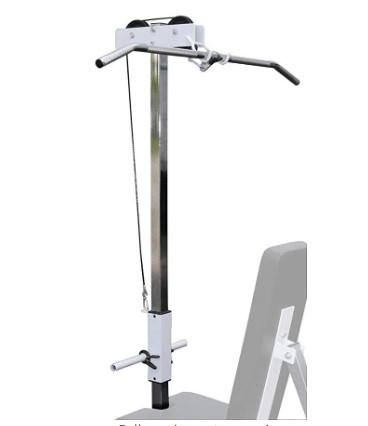 High-quality nylon cabling
Adjustable height
Jerk free action
This lat attachment is designed to fit a Deltech fitness bench. It is finished with a layer of powder coat paint and has an adjustable height.
You can use standard weights with this attachment but they are not included.
Read more
The Deltech Fitness Lat Attachment fits onto any Deltech Fitness bench. It provides you with a one and three-quarter inch square mounting post that securely attaches to the main body of the bench.
High-quality nylon cabling and bushes ensure a smooth, jerk-free pulling motion on this lat pulldown attachment. The height of the attachment is adjustable to suit different user requirements. The unit is finished in a durable powder-coat paint.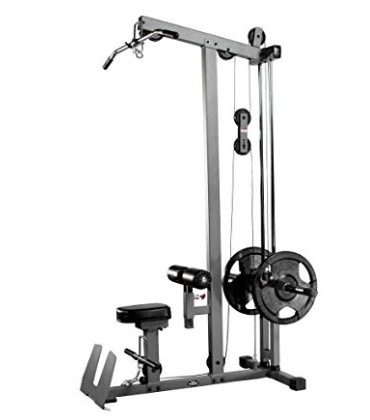 400-pound weight capacity
14-inch Olympic plate adaptors
Aircraft quality cabling
Tall people may not be able to get a full stretch
The XMark has a 400-pound load capacity with two levels of pulley stations.
It can be used with either Olympic or standard weights. The strong steel mainframe has a powder coat finish which is scratch-resistant.
Read more
The XMark plate loaded lat pulldown exercise machine comes with both a high and low pulley. It has an impressive 400-pound weight stack capacity. It can be used with both conventional and Olympic plates, thanks to the two 14 inch Olympic plate adaptors which are included. The square steel mainframe is made from 11 gauge, two by three-inch steel. A scratch-resistant powder-coated finish provides both durability and style.
XMark plate loaded lat pulldown is made of 3-inch dura craft cushioning. The vinyl covering the seat and rollers is tear-resistant. The nylon coated cables are aircraft-quality, being tested to 2,200 pounds. You also get a diamond footplate for seated rowing, that can be flipped out of the way for other exercises.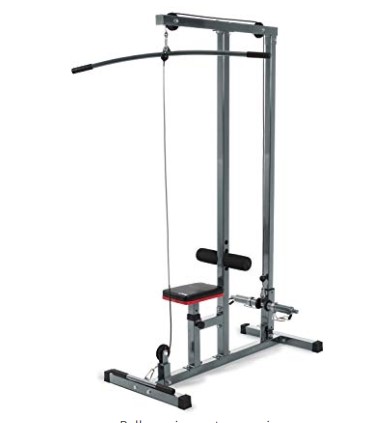 395-pound weight capacity
High and low pulley
Smooth pulley operation
The Akonza will help you increase your endurance, strength, and muscle mass. This is a free-weight machine focused on lats which are designed to target your upper body.
It lets you do cable pull downs, press downs, and seated rows, as well as a host of other exercises.
Read more
The Akonza pull down exercise machine is a free-standing unit that is solidly constructed from heavy-gauge steel tubing and has a maximum free weight load capacity of 395 pounds. It has both high and low pulley stations so you can do seated rowing and cable curls as well as pulldowns. The pulley system is smoothly sealed and features high spec ball bearings. It provides a very smooth operation.
The Akonza lat pulldown machine comes with a high and low bar. The foam rollers that lock you in position are entirely adjustable and comfortable. Textured rubber hand grips on the pulldown bar provide a secure grip. The seat height is also flexible, allowing you to get just the right range of motion.
10

. Valor Fitness BD-7 Power Rack with Lat Pulldown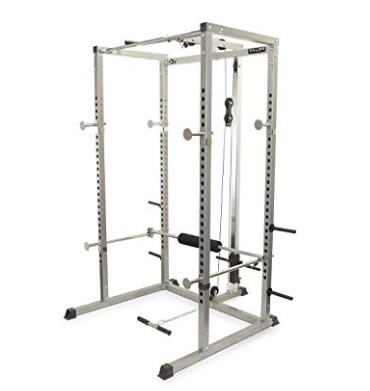 Pull Up bar
High and low pulley
Heavy-duty steel frame
Valor Fitness designed this rack with 12 gauge steel to make it heavy duty and durable. The rubber caps on the base make the rack safer, more stable, and they also will protect your floor.
This is a versatile machine you can do a lot of different exercises on and it is easily adjustable as well.
Read more
The Valor Power Rack makes our list of the best lat pulldown machines thanks to its high quality, reliable and smooth lat pulldown attachment. You get both a high and low pulley with heavy-duty pulleys and cables. The pulldown is plate loaded. However, the plates do not come with your purchase. The 2 inch by 2 inches, 12 gauge steel framing ensures that you get an excellent and secure lifting experience. The power rack also comes with a pull-up bar to extend your back workout options. The only downside is that there is no built-in seat for doing lat pulldowns.
Criteria Used for Evaluation


Ease of Use
When you are looking for ease of use, you want a lat machine that will pull down and run smoothly. Hopefully, the weights will be easy to switch for your different exercises. It helps to have excellent foam grips on the handles. It should also be easy to put together.


Durability
You will want to look for a machine which is made of strong steel. The pulley system should have smooth running pulleys with reinforced, top quality cables. Any seat should be made of quality fabric with reinforced stitching, as well as having good thick foam on the handles.


Features
Although most of these machines are very similar, some have a few different features you might be interested in. Some have rubber feet, which will keep the machine stable and protect the floor. Some may have digital readouts. Probably the most critical feature is whether or not the machine comes with a weight stack.


Motion Control
To consider motion control, you want a smooth pulley system that works without a jerking motion. The bar should come down at a right angle so you can get a good pull and the entire machine should be hopefully easy to adjust.


Materials
This lat pulldown machine is a good investment, so hopefully, it will last you a long time. It needs to be made of the highest quality of materials. The frame needs to be strong, durable steel. The pulleys need to be long-lasting and attached to aircraft quality cables. You do not want to scrimp when it comes to materials.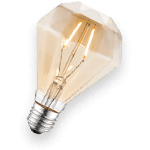 Focus on your technique
You may do lat exercises for hours on end and as fast as possible, but unless you do them the correct way you will not get your desired result. Go slowly, keep your chest high, and your elbows pointed at the ground. Focus on your technique so you can get the most out of your workout.
Use a V grip handle
Using a V grip handle helps you get the perfect angle so you will get the ultimate workout. It helps fit your natural arm movement and will keep your exercise in line to avoid injury.
Other Factors to Consider


Adjustability
It is imperative that you have a machine you can adjust to match your body stature so you can do the exercises correctly to get the best pull and be able to work out with minimal injury.
Frequently Asked Questions
q:

Should I pull the bar behind my neck?

a:

No, this is a bad idea. Pulling it behind your neck will limit your motion range so you will not get as good of a workout.
q:

Can I just use my body's momentum for my pull?

a:

That is not recommended. You want to keep your torso still. Using your body's momentum will change the angle of your exercise, and you will end up working your mid-back instead of your lat.
q:

How wide should I keep my hands?

a:

You do want to have an excellent wide grip, but you do not wish to exaggerate it. If you grip too wide, it could hinder your motion range and might even call some shoulder irritation.
q:

What kind of exercise can I do on this lat pulldown machine?

a:

As well as the basic lat pulldown machine, you'll be able to do such exercises as triceps pushdowns, cable curls, upright rowing, and seated rowing. It allows you to stretch, contract, and expand the muscles of your upper body in a way that you can't get with free weights.
q:

How many calories am I burning?

a:

If you do the regular exercise for about 15 minutes at a reasonable pace, you will burn around 112 calories.