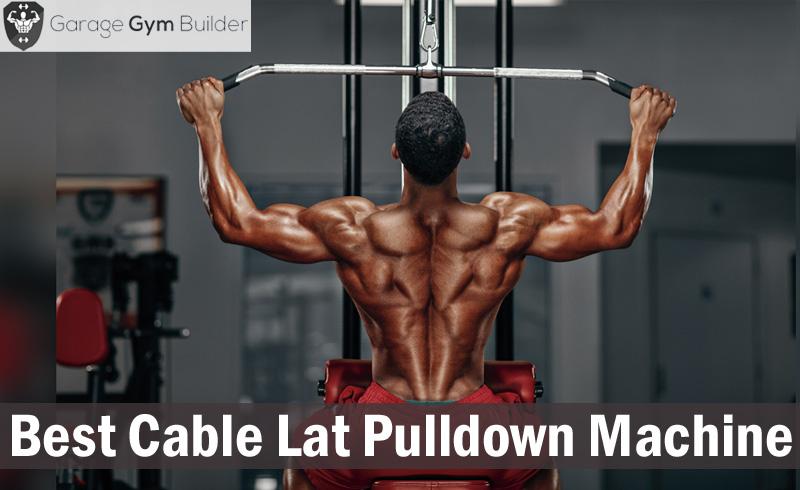 Best Cable Lat Pulldown Machines Review 2017
updated August 2, 2017
Adding a high pulley cable machine to your home gym will open up a whole new world of resistance exercise. Not only will you be able to blast your back with lat pulldowns, but tricep pushdowns, cable curls, upright rows and a whole host of other constant tension moves will be within your grasp. The quality on offer, however, is decidedly mixed. In this article we discover the top Lat Pulldown machines on the market.
Lat Pulldown Benefits
The lat pulldown machine is a multipurpose unit that will bring the benefits of cable exercise into your home gym. As well as the basic lat pulldown, you'll be able to do such exercises as triceps pushdowns, cable curls, upright rowing and seated rowing. This allows you to stretch, contract and expand the muscles of your upper body in a way that you can't get with free weights.
A major benefit of doing cable resistance exercises is that they provide you with constant resistance in both the positive (lifting) and the negative (lowering) portion of the exercise. That allows you to place a lot more tension on the muscle through the entire range of motion. Using cables also forces you to follow the proper line of motion when doing an exercise, so you can't cheat your way through a rep.
A Quick Overview of the Top 10
The best lat pulldown machine on the market today is the IronMan Triathlon X-Class light commercial, which has a heavy duty frame, takes both conventional and olympic plates and can be attached to a power cage. Our next favorite is the Valor Fitness CB-12, with its high tension nylon pulleys, solid construction and 250 pound plate capacity.
The best priced lat machine is the Family Lat/Row machine from New York Barbell, offering a low pulley cable, smooth movement and a durable frame.
To help you to make a wise buying decision, we've rated the Top 10 on the basis of price and durability. We'b then given each one an overall rating out of 5. In the following section we provide in depth reviews of each product.​
| Product | Product Name | Price | Durability | Overall | Product Link |
| --- | --- | --- | --- | --- | --- |
| | | 4/5 | 4.25/5 | 4.25/5 | |
| | | 4.5/5 | 4.5/5 | 4.5/5 | |
| | | 4.75/5 | 4.25/5 | 4.5/5 | |
| | | 4.5/5 | 4.25/5 | 4.25/5 | |
| | | 4.25/5 | 4.25/5 | 4.25/5 | |
| | | 4.5/5 | 4/5 | 4.25/5 | |
| | | 4.25/5 | 4.25/5 | 4.25/5 | |
| | | 4.25/5 | 4/5 | 4.25/5 | |
| | | 4.25/5 | 4/5 | 4.25/5 | |
| | | 3.75/5 | 4.5/5 | 4.0/5 | |
The Best Lat Pulldown Machines Up Close
The Powertec Fitness Lat Pulldown machine is a stylish, slimline cable machine that provides you with a very smooth glide motion through the cabling. This is a plate loaded lat pulldown machine. It features unique load slide rods which allow easy accessibility, precise gliding and smooth operation. Ring stoppers on the slide rods prevent the weight from over extending.
The seat of the Powertec Fitness Lat Pulldown is actually built into the machine, allowing the set to be locked into position or pivoted outward to open the machine for more exercise options.
PROS
Slimline design
Load slide rods
Pivoting seat
CONS
Weight stack not provided
The Valor Fitness CB-12 is a free weight machine that has a sturdy square tubing frame made of two inch by to inch, twelve gauge tubing. It has a low pulley, which comes with it's own short bar handle. You are able to add 250 pounds of weight plates onto this machine and it even comes with plates storage pins. These also act as a counter balance when doing low cable exercises.
The seat on the Valor Fitness CB-12 is made of high density foam and is contoured for comfort. You can adjust the seat to four positions to provide just the right degree of extension. The high tension nylon pulleys are very durable and provide a smooth operation.
PROS
Solid square tube frame
250 pound weight capacity
High tension nylon pulleys
The Family Lat /Row Machine by New York Barbell has a sturdy two by two inch, 1/8 inch thick heavy gauge steel frame. It features both a high and low pulley, along with a flip down foot plate for doing seated rowing. The double stitched seat has deluxe padding for extra comfort. 8 inch foam rollers lock your knees in position while doing lat pulldowns.
The cable on New York Barbell machine is nylon with a heavy duty coating. When teamed up with the quality bushings used, the result is a smooth, fluid cable movement on both high and low pulleys. The machine is easy to assemble and takes up very little space. This unit is exceptionally well priced, making it our best value cable pulldown bar machine.
PROS
Heavy gauge steel construction
Fluid cable motion
Well priced
CONS
Not counter balanced very well
The Powerline PLM 180X is a free weight lat pulldown machine. It also has a low pulley to allow you to do such exercises as seated rows and cable curls. The nylon bushings in the pulley system are patented to provide the smoothest operation. This means that there is no jerkiness with the risk of the cable coming off the pulley.
The PLM 180X lat machine has dual position 8 inch foam rollers to secure you in position as you perform the exercise. The wide grip curved bar allows you to get a great stretch on your lats. The design of the lat tower provides you with a greater range of motion than most machines offer, allowing you to work through a full contraction and extension.
PROS
Low pulley
Smooth nylon bushings
Extended range of motion
CONS
No counter balance when doing exercises like cable curls
The Body Solid Pro is a free weight cable machine with both high and low pulleys. It features no cable change technology, which allows you to go directly from high to low cable moves with no adjustment. The weight carriage travels fluidly thanks to high spec nylon bushings and cabling. The eight inch foam rollers that lock your legs in place are fully adjustable.
All adjustments on the Body Solid lat pulldown machine are made by way of instant change pop pins. For seated rows, there is a foot plate and plate stabilizers. You also get bar holders for both high and low pulley bars. This multi functional cable pulldown machine has a small footprint, allowing you to put it in a corner of your gym or bedroom.
PROS
High and low pulley
Instant change pop pins
Foot plate for seated rowing
The Deltech Fitness lat pulldown machine attachment is an attachment that can be added to most weight benches, transforming it into a high pulley station. It's made from heavy duty square steel tubing, and has an adjustable height to allow you to get the ideal range of motion. A one and three quarter inch mounting post makes this unit compatible with the majority of benches on the market.
The Deltech Fitness lat pulldown machine comes with a high spec nylon cabling system, that features quality bushings and cable to provide a very smooth motion. It is very easy to set up the attachment, which is a great space saver when you are restricted for space. Triceps pushdowns can also be done very effectively on this machine.
PROS
Space saving
High spec nylon bushing
Cost effective option
The Giant Econo lateral pull down machine is a free weight loading unit that comes with weight slider floats and nylon bushings. This ensures that you get an impressively free range of motion, without any stickiness or jarring. The frame is solidly constructed of chrome tubing, providing the robustness and durability you need when you're handling heavy weight. Seated rowing can be done to best effect with the diamond ribbed foot plate.
When you buy the Giant Econo plate loaded lat pulldown machine you get two bars - a wide lat pulldown and a short cable curl bar. Quick cable change technology and bar storage on the main frame add to the functionality of this unit. The leg brace on the Giant Econo lat machine has three height options to provide ideal range of motion.
PROS
Weight slider floats
Chrome tubing
Ribbed foot plate
The XMark plate loaded lat pulldown exercise machine comes with both a high and low pulley. It has an impressive 400 pound weight stack capacity. It can be used with both conventional and olympic plates, thanks to the two 14 inch olympic plate adaptors which are included. The square steel mainframe is made from 11 gauge, two by three inch steel. A scratch resistant powder coated finish provides both durability and style.
XMark plate loaded lat pulldown is made of 3 inch dura craft cushioning. The vinyl covering the seat and rollers is tear resistant. The nylon coated cables are aircraft quality, being tested to 2,200 pounds. You also get a diamond foot plate for seated rowing, that can be flipped out of the way for other exercises.
PROS
400 pound weight capacity
14 inch olympic plate adaptors
Aircraft quality cabling
CONS
Tall people may not be able to get a full stretch
The Akonza pull down exercise machine is a free standing unit that is solidly constructed from heavy gauge steel tubing and has a maximum free weight load capacity of 395 pounds. It has both high and low pulley stations so you can do seated rowing and cable curls as well as pulldowns. The pulley system is smooth sealed and features high spec ball bearings. This provides a very smooth operation.
The Akonza lat pulldown machine comes with a high and low bar. The foam rollers that lock you in position, are completely adjustable and comfortable. Textured rubber hand grips on the pulldown bar provide a secure grip. The seat height is also adjustable allowing you to get just the right range of motion.
PROS
395 pound weight capacity
high and low pulley
smooth pulley operation
The Body Solid Pro Clubline lat pulldown is a top of the range piece of gear for those who want commercial gym quality in their home gym. The high pulley is placed directly overhead to allow for maximum stimulation of the back and shoulder muscles. The frame is commercial quality, being made from heavy duty 11 gauge, two by four inch high tensile steel.
The extra long lat pulldown bar allows you to choose a wide, medium or close grip and the ni cable change technology makes it quick and easy to transition between exercises. You get a 210 plate loaded weight stack with the Body Solid Pro Clubline. This machine is rated for light commercial use. It comes with a lifetime, no hassle warranty!
PROS
High pulley directly overhead
210 pound weight stack
Heavy duty steel frame
Now that you know where to get the best lat pulldown machine, it's time to fix some common lat pulldown errors that may be robbing you of gains. This handy clip will help you get it right . . .
Conclusion
Our favorite cable lat pulldown machine is the Ironman Triathlon X-Class light commercial lat pulldown, with its heavy gauge steel frame, capacity for both conventional and Olympic plates and compact, sturdy design. We also loved the Valor Fitness CB-12, which provides high spec cabling and bushes for the smoothest operation and has a durable, rugged frame.
Our favorite budget pulldown machine is the Family Lat / Row machine from New York Barbell, which gives you a solid frame, high and low pulleys and a smooth cable motion for well under two hundred dollars!​