9 Best Leg Extension Machines – 2023 Edition
last updated:
Jan 07, 2021
One of the most effective ways to get full, defined, powerful quads is to do leg extensions. The move isolates a large muscle group, enhancing form so you can focus on effective reps with progressively heavier resistance. A dedicated leg extension machine unit will give you a full range of motion to avoid injury. Leg extensions alone are effective but can do more as part of a whole program incorporating functional fitness. It is not common in everyday life to lift with your ankles. But you can always do a set of leg extensions, then go over to the squat rack.
Even with a weight, you can comfortably squat eight or ten times, your body will register it as heavier after all those leg extensions. Read on for a breakdown of the top ten leg extension machine we found and researched for our review.
In a Hurry? The test winner after 21 hours of research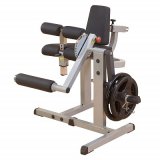 Body Solid GCEC340
Why is it better?
Leg extension plus seated leg curl
400 pounds weight capacity
Well priced
Built to last
42
Researched Sources
7k
Reviews Considered
21
Hours Researching
14
Products Evaluated
Motion Control
Adjustability
Ease of Use
Overall Fit
Comfort
By Default
9 Best Leg Extension Machines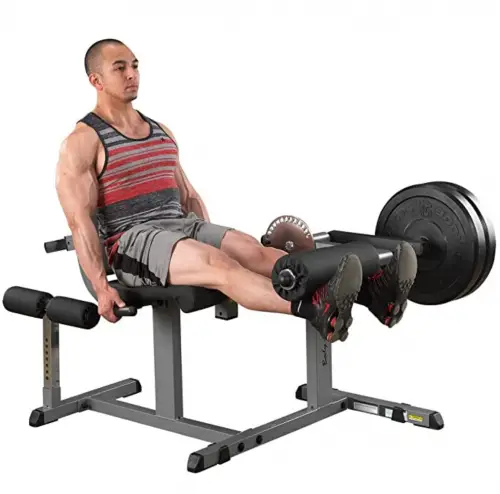 Leg extension plus seated leg curl
400 pounds weight capacity
Well priced
Built to last
This plate loader boasts solid construction, doubles as a leg curl machine, and accommodates all body types with its seven gauge steel cam.
Read more
Pads and footrest are made from heavy duty Durafirm, a product that is used in mattresses for people with spine injuries. It's a cushioned ride, but with a firm, control to ensure proper form. A jumbo pop pin, bright red for visibility, lets you adjust the sundial plate to position the top roller over your knees.
The Body Solid GCEC340 can handle a maximum plate load of 400 pounds, with an additional 200 pounds of user weight. It will take both conventional and Olympic plates. You can buy this unit with confidence because it comes with a lifetime manufacturer's warranty. This is an extremely well-priced unit that delivers the quality and performance you need.
This leg extension machine also allows you to do leg curls, in addition to the extensions. All you have to do is put your legs behind the top roller instead of over it. The lifting arm provides steady, fluid motion either way.
2

. Body-Solid Pro Clubline Series II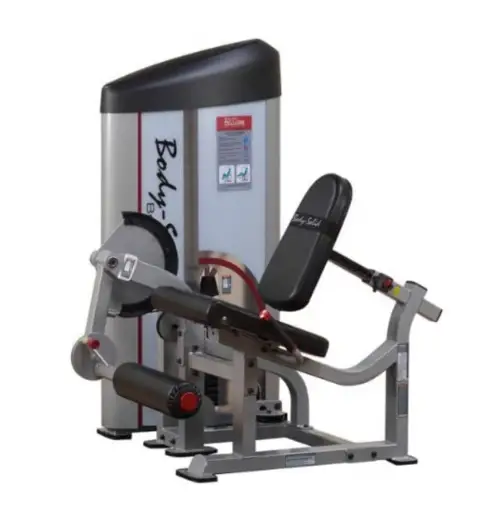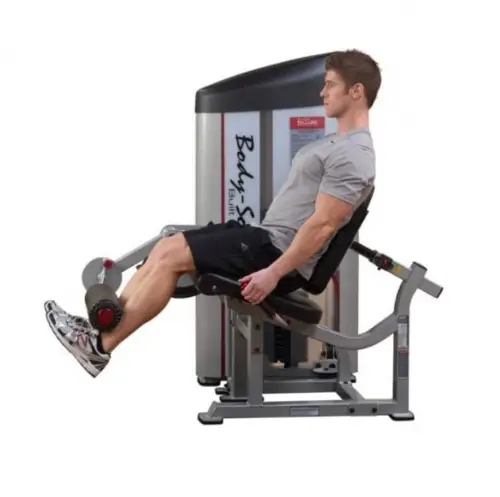 Weight stack included
Easy to adjust
Angled backrest
You won't want to skip leg day with this beast of a machine in your home gym. It comes in at a pretty steep price point, but we feel that it is worth every penny. It is composed of quality materials that hold up well over the years of daily use and boasts design features that are comfortable and supportive. We also love that it has a versatile base that is easy to adjust for a wide variety of leg movements.
Read more
The best part about this machine is that the weight stack is included with your purchase. This design offers weights that start at 10 pounds and can be adjusted all the way up to 200 pounds. To adjust the weight, simply pull out the pin and place it at your desired weight.
Another feature that makes this design unique is that the seat is able to be adjusted in a myriad of ways. The seat has up to 7 adjustment positions, and the leg pads are also able to be adjusted to different starting positions that engage muscles in new and unique ways.
If you are in the market for something that came right out of a serious commercial gym, this design from Body-Solid is one of your best options. We love that it comes with a plate stack that is easy to adjust, and it is made from quality materials that are strong and sturdy for daily use.
3

. Marcy Adjustable Weight Bench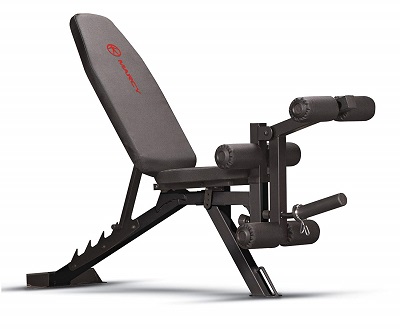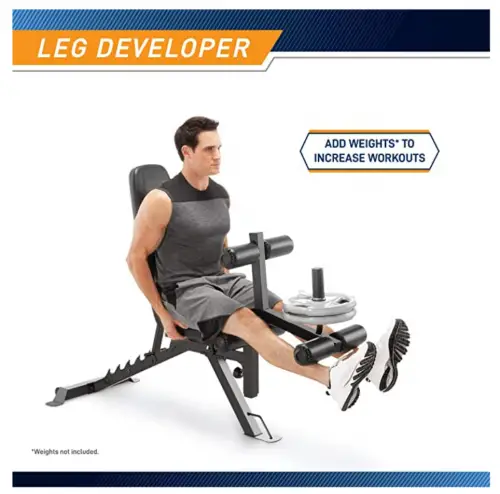 Leg extension and lying leg curl
6 position adjustable bench
Well priced
Can use a bench for upper body too
No back seat for leg extension
This option is a powerful all-purpose bench that includes a high spec leg developer. Its usefulness is not limited to leg exercises, though it certainly has you covered in that area.
Read more
The six positions adjustable bench allows you to work your upper body from a range of incline, decline, and flat bench positions. The secure sawtooth back pad adjustment on this leg extension machine provides you with secure and easy customization. The total leg developer gives you a full extension on both leg extensions and leg curls.
The leg extension machine also features high-quality comfortable padding, to protect your shins and calves as you perform your leg reps. The foam rollers have a vinyl covering and a hard wearing, powder coated finish.
The exercise movement is smooth with no jerkiness whatsoever. Assembly is easy and it comes in at a favorable price point, making this a great leg extension machine at home option. The max weight capacity is 300 pounds. A powder coated finish adds to the durability of this leg extension machine.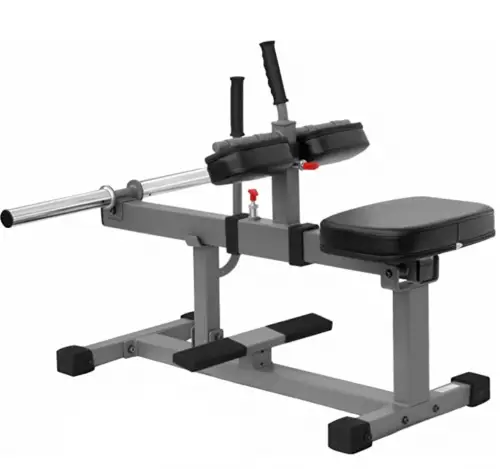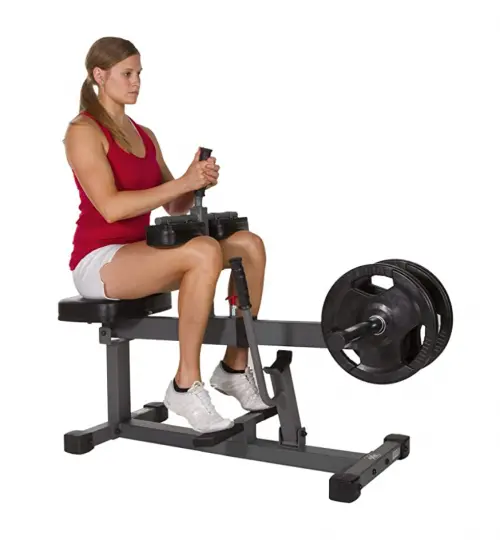 Leg extension plus seated leg curl
20 position arm adjustability
Oversized vinyl rollers
Safe, stable base
A little tricky to get in and out of the machine
The XMark XM 7613 is a results-oriented rotary leg extension machine that also lets you do leg curls. XMark takes user customization and choice seriously, and it shows. The thigh pad adjusts to 12 different positions, with 20 positions for the padded press arm.
Read more
You will achieve and maintain the perfect placement for your lower body with this machine. 12 gauge steel tubing provides a stable frame, and the grey powder coated finish protects the unit from external damage.
The XMark  features oversized vinyl-covered rollers with comfort padding. There are rubber grip handlebars and molded finger spacings. The backrest pad is fully adjustable, like the thigh pad and press arm. A large, sturdy chrome cam ensures fluid movement. This unit will take both standard and Olympic weight plates. The 2-inch Olympic plate adapter is included with your order.
The rollers are equipped with chrome end caps to prevent tearing or fraying. The skid-resistant feet are bolted on and will keep the unit solidly in place wherever you put it. Users report easy assembly, but you may need an extra crescent wrench that is not included. You can download a PDF of the leg extension machine manual on XMark's website, which is quite handy if you buy a secondhand unit.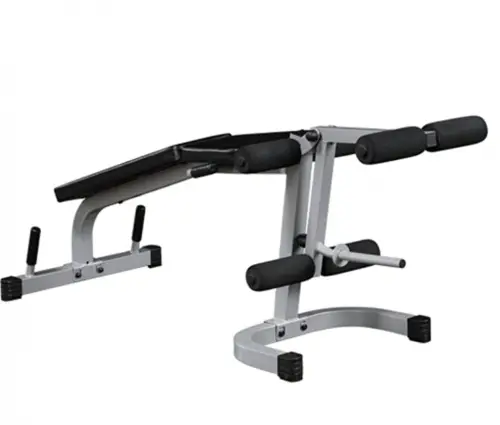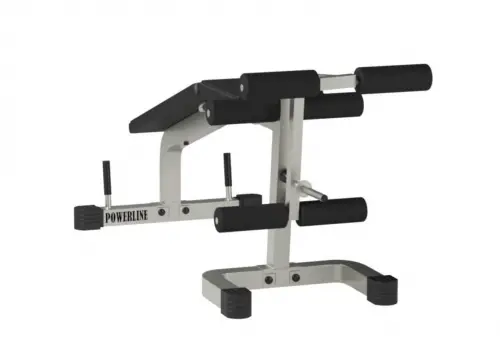 Quadriceps extension plus lying leg curl
Well priced
Solid frame
Simple to use
This option from Powerline sports a minimalist design, but is full-featured enough to let you do decline leg curls as well as extensions. The heavy gauge square steel weight post takes one-inch plates. The machine does double as a leg curl device but offers no back support. The adjustable arm allows for users all up and down the height scale.
Read more
This is a no-frills type of unit that will still get you the results you need while keeping you injury-free. It comes at an affordable price point and won't take up a lot of floor space. Powerline is the budget imprint for Body-Solid, so the leg extension machine is of good quality.
A wide base ensures stability, but there is no nonslip or non-skid protection. PLCE165X weighs just 44 pounds and is 62 inches long. An optional sleeve will let you use 2-inch Olympic plates, and you can also get spring clip collars for added weight stability. It will stand up to heavy use without needing a lot of maintenance.
6

. Gold's Gym XRS20 Bench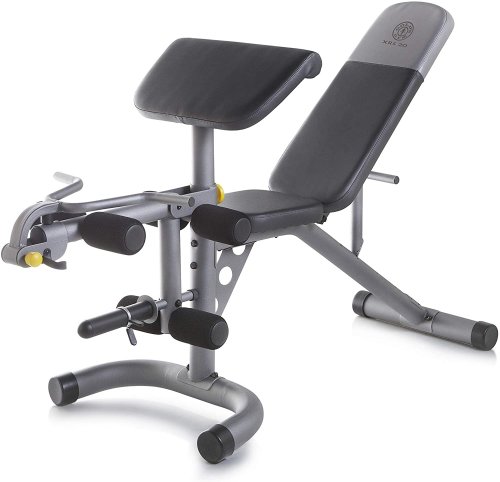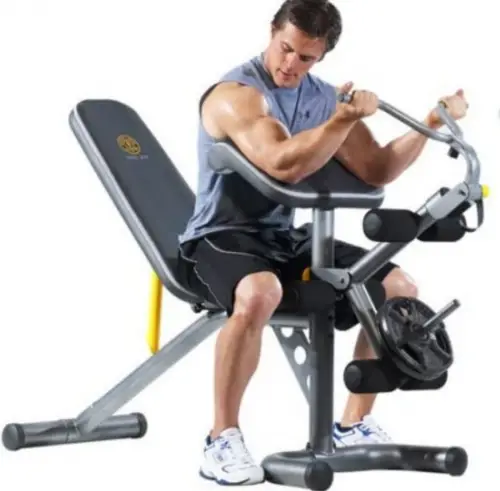 Leg extensions / leg curl
Multi-position bench
Four roller leg developer
Can use for other exercises
Familiar standby Gold's Gym produces this high-end weight bench that is loaded with useful extras. The multi-purpose bench adjusts to flat, incline and decline angles so you can press from a variety of positions and work for different muscle groups.
Read more
The bench features fixed uprights that allow you to safely bench up to 300 pounds of weight. The total max weight of the unit is 600 pounds, 300 each for user and resistance. The padded four roller leg developer lets you work both your quads and hamstrings with leg extensions and leg curls. The vinyl seats are padded for both comfort and durability.
These features alone make the XRS20 a worthwhile addition to your home gym. But Gold's also added arm support for doing preacher curls, removable safety spotters for bench presses, and a curl yoke to add intensity to your upper body workout. This bench does the work of at least two other benches, and it is well worth the price.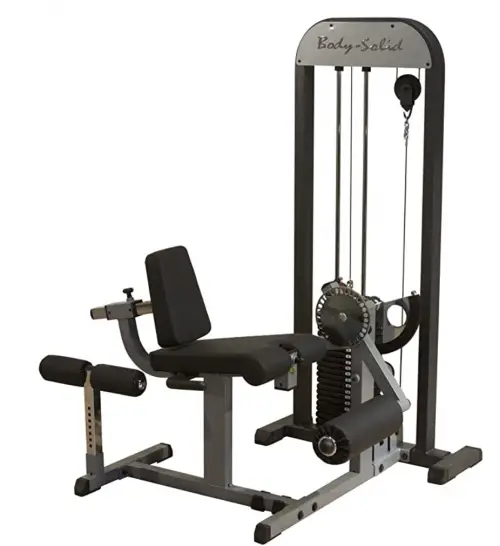 Leg extension and seated leg curl
210-pound weight stack
Smooth, fluid motion
Lifetime warranty
This commercial grade plate loader features a weight stack with a 210-pound capacity. The machine is on the pricey side, especially for use in a home gym. Features include thick, oversized, dura foam padding covered with tear-resistant nylon. The seat and leg pad is adjustable to seven positions, allowing you to fully customize your positioning.
Read more
The transition from seated leg extension to seated leg curl is by way of a quick pull pin. You also get a rotary range of motion adjustment to allow for variation in your start position. The Body-Solid GCECSTK leg extension machine is constructed of solid steel framing, providing rugged support and plenty of stability.
The elliptical cam provides for a natural fluid motion. You can also safely perform the single leg extension on this machine, which is a unique plus.
Since this is a commercial unit, Body-Solid offers a no questions asked lifetime warranty when you purchase it for home use. At 416 pounds, the unit is 53 inches long, 54 inches long, and 70 inches high. It will take up quite a bit of room, but maybe just the thing for serious, dedicated, effective leg development. You can easily upgrade the weight stack to 310 pounds.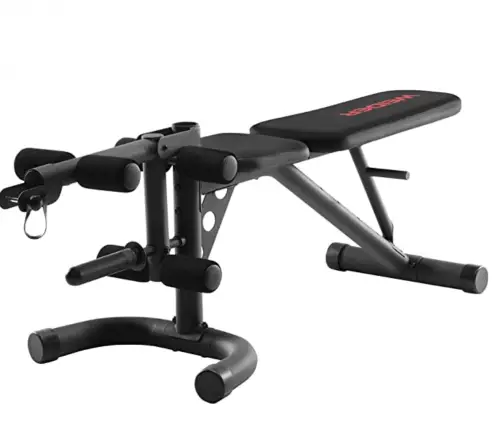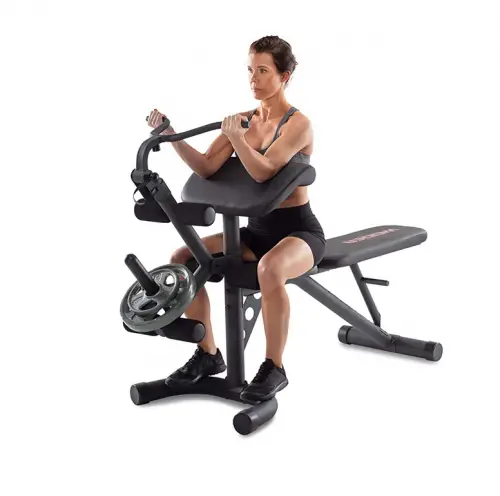 Removable preacher pad
Easy to adjust
Affordable
Sits high off of the ground
Simplicity is the name of the game when it comes to this design from Weider. It boasts a simple yet sturdy frame that doesn't take up that much room in your home gym. Simply load the press bar with your desired weight in plates, and get to work! What we love most about this option is that it comes in at a price point that won't break the bank.
Read more
What we love about this design is that it boasts a few different curls and leg pads that allow you to switch up your workout. The bottom pads are perfect for extension and work to keep your shins protected even when lifting heavy plates. It also has a top pair of pads to work hamstrings and glutes as well.
Users found that while this design is slim and affordable, it is still built very solid. It utilizes bulky steel tubing that doesn't wobble as much as other budget options out there on the market. We love that the seat is able to be adjusted quickly and easily so that you can keep your workouts fresh and engaging.
If you are in the market for a great budget leg extension machine that is still strong and sturdy, this design from Weider is a great option. It even comes with a removable preacher curl pad that is great for focusing on your biceps when you need to give your tired legs a day off!
9

. Body Solid Leg Extension with Weight Stack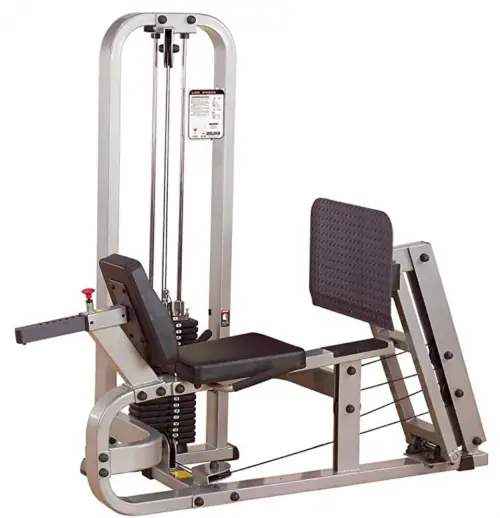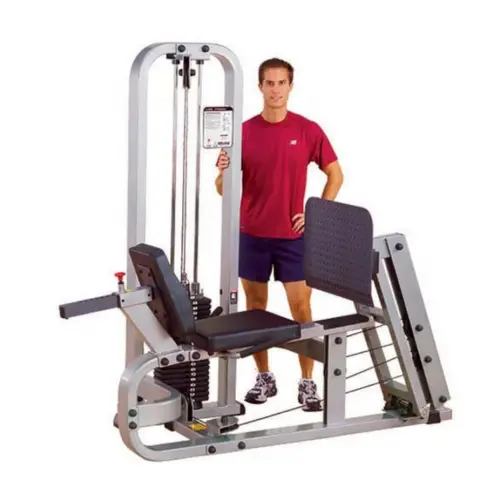 310 pounds of plate resistance
Extra thick padding
Lifetime warranty
Superior comfort
The Body Solid Leg Extension with weight stack has a 2 x 4-inch mainframe that is both compact and stylish, and the stack provides you with up to 310 pounds of resistance via weight plates. The seat and leg brace is adjustable to give you the perfect safe position for your leg workout.
Read more
The extra thick seat and roller padding are covered by tough, tear-resistant Durafirm. The Body-Solid Leg Extension is biomechanically engineered to provide you with the most precise fit so you can get the most out of every rep you perform. This also keeps you safe and injury-free, protecting your joints and muscles.
Pivot point alignment, with a center drive, meaning you will get consistent motion as you exercise. The unit weighs 437 pounds and comes with a limited lifetime warranty. Cables are lubricated and are aircraft-quality, with fiberglass enhanced nylon pulleys to handle the 210-pound weight stack.
This leg extension machine is one of the most expensive units on our list. You cannot do leg curls with this leg extension machine.
Criteria Used for Evaluation

Motion Control
Every rep should be smooth and consistent with the other ones.
Motion control is vital in any exercise. When training the legs, it is especially important because muscles that already face heavy use are called into action. Improper motion can even lead to a back injury if you recruit your lower back into the movement.
Side handles, adjustable ankle pads, and an adjustable backrest all bring extra motion control to a leg curl machine. Used properly, they all enable you to precisely isolate the leg muscles during your moves. Lining up your knees according to the manufacturer's instructions is important as well.
Always make sure you know how to properly use the leg extension machine before you start using it. If you are not using the motion control features according to how they were designed, the features will not be much use and you will be at increased risk of injury.

Adjustability
Exercise machines should adapt perfectly to the user's body type and needs.
The leg extension machine can have many adjustable features. Probably the greatest component is the backrest if one is present. These will often have a pop-pin or sundial mechanisms for you to adjust them. Occasionally, a leg extension machine will have gas assist. The more adjustment positions a backrest has, the more effective it will be. If it is a commercial leg extension machine, that you are installing in your home, a customized backrest is especially important.
The manufacturer of the leg extension machine will provide written or picture directions for how to adjust the backrest and other components. Typically, you will need to have your back at a certain angle for the best lifting safety.
Ankle rollers can also be adjustable. No matter what position the rollers are in, you must have them resting against your ankles, near the feet. You should never have the rollers on your knees. Ankle pads will be pin adjusted or automatic in some cases.

Ease of Use
The hard part of your workout is the lifting, not the equipment.
We always look for a leg extension machine that is easy to use when we review products. This is because a leg extension machine that is too difficult to use will not get used regularly, and you will not see any results.
We are focused on results here, as we know that you are. One thing that adds to ease of use is how you can shift from leg curl to leg extensions. Having to raise and lower the bench will be a bit harder and more time consuming than just using a pin. In some units, you can even change exercises just by moving the position of your ankles.
In addition, a weight stack and cable unit will be easier to use than one that takes weight plates. This is because you do not have to pick up and change plates manually. You can just pull a pin and insert it at the weight marking you need. When machines do take free weights, Olympic adapters, spring collars, and onboard storage will all make usage a little easier and more convenient.

Overall Fit
If the machine fits, use it!
Overall fit, when dealing with leg extension machines, is a function of several factors. They include ankle pads, bench surface, backrest, motion arm, and stability handles.
Ankle pads will be adjustable on the best machines. They are not one size fits all, and manufacturers know this. A properly adjusted ankle pad can mean the difference between a productive workout and one that is just painful.
Bench surfaces can be vinyl or Durafirm and will be of the same material as the ankle pads. Look for extra padding and double stitched coverings.
Backrests are not always present on a leg extension machine. If there is one, make sure it is padded, double-stitched, and easily adjustable.
Motion arms, again, are not always present. When using one, you should easily be able to place it over your legs and lock it in place without any excess pressure.
Stability handles are a nice extra that can help you isolate your leg muscles whole eliminating rocking and keeping your back still. These handles will be fixed in place and not adjustable.

Comfort
Just because it is comfortable does not mean it is easy.
Comfort is important, probably just as important as ease of use, because most of us will not regularly use something that we find painful or that causes discomfort.
In leg extension machines, comfort comes from ankle pads, seating and bench surfaces, weight type, and pivot points. Always line your knees up with the pivot points, according to the manufacturer's directions, to avoid injury. Misaligned knees may not cause discomfort right away, but the habit will cause pain over time.
We say that the weight type influences comfort because not everyone wants to get off the machine and load weight plates between progressive or regressive sets. In this case, a cable leg extension machine or one with a weight stack may be more your style. With these, you are able to reach over and make an adjustment in just a few seconds, with no lifting, carrying, or changing of position required.
Expert Interviews & Opinions
Most Important Criteria
(According to our experts opinion)
Experts Opinion
Editors Opinion
Users Opinion
By Default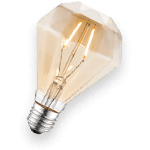 Positioning Safely
Even with all the safeguards put in place by manufacturers, you can still injure yourself if you are not properly positioned when you use a leg extension machine. No safety mechanism is perfect, so it is up to you to make sure you are setting yourself up for success and not for pain.
The first part of positioning is to start with very low weight, or even with nothing on the bar or stack. This is so you can focus on form before you focus on pushing the resistance. The same principle applies when you lie down on a bench and bench press the bar by itself. Just because we can lift a lot of weight, doesn't always mean we should.
When you sit down on a leg extension machine, your back should be flat and touching the back support. Your shins will be against the leg pads, if leg pads are provided. Knees, ankles, and hips will all line up at 90 degree angles.
When you perform the exercise, push up with your legs so that they become straight or as close to straight as you can get them. Hold the rep, then slowly lower to ensure your muscles and not momentum are doing the work. This will give you the most benefit.
Lifting Heavy
Heavy lifting can be a fun challenge. If you approach the bench press with care and safety, you can see what your max weight is on the bench.
This practice is not recommended on the leg extension. The exercise works your quadriceps, which is a large muscle group, but it also puts strain on the ligaments in your knees. Lifting heavy or max weight will put too much strain on those ligaments.
The leg extension is not a functional exercise, the way a squat is. It will make you a stronger walker or runner, and will give you more kicking power if you play soccer or a similar sport, but for the most part, you will not neew to lift weight with your feet and ankles in your daily life. For that reason, do you body a favor. Go easy on the weight as well as the reps when you do leg extensions. You will avoid a lot of down time and pain down the road.
Other Factors to Consider

Capacity
Capacity here means how much weight the leg extension machine can handle. It is the combined weight of the maximum resistance and user weight.
For most users, a resistance capacity of 200 to 300 pounds will be satisfactory. You do not need to lift a huge amount of weight with the leg extension machine exercise, and you should not because it can lead to injury.
Weight stack machines, those with cables and plates you can adjust with a pin, will usually have a lower capacity than plate loaders. Again, most users do not need a huge amount of weight and will appreciate the convenience of a weight stack. This kind of machine will have the same adjustment features, muscle isolation, and positioning aids you would expect from a leg extension machine.

Materials
Materials are important with leg press machines because they will add to the durability and life of the unit.
Look for Durafirm padding or at least extra padding. Oversized ankle pads will have this extra padding. Double stitching prevents the covering from tearing at the seams. Over time, your sweat will get on the covering; even the most thorough wipe downs cannot completely avoid this. The stitching and the quality of the cover material will protect the padding from any sweat damage.
You should also always check to see that the spray you are using is compatible with the covering material. This applies to the ankle pads, lifting arm, bench, seat, and a backrest if installed. Using the wrong spray can cause damage to the covering.
Frequently Asked Questions
q:

How will leg extensions benefit me?

a:

Leg extensions can help you be a more stable runner, walker, or hiker. In addition to stability, you can gain some speed and strength in these pursuits. Consistent leg extensions, as part of an overall fitness program, can give you an edge when walking or running up hills.

Leg extensions will also help you if you play a sport where you have to kick a ball. The machine even mimics the motion of a kick.

The other thing leg extensions can do for you is give you better performance in other weight-bearing exercises. Think of squats. If you have built up your quads through consistent leg extensions, you may be able to squat a bit more weight, hold the top motion longer, and knock out another rep or two.
q:

How many reps and sets should I do on a leg extension machine?

a:

With a leg extension machine, you should go easy on the weight. If you play a sport where you kick a ball, you want your legs to be strong but also fast and free.

Your exact weight will vary based on gender, body weight, and experience level. There are charts you can use, and you should be able to ask the manufacturer for one. As a rule of thumb, you will want to choose a weight that lets you comfortably do eight to ten reps without being exhausted. When in doubt, always go lighter rather than heavier.
q:

Won't I hurt my back if I don't have a backrest?

a:

Not necessarily. If you have back pain or a current or former back injury, you should always go for a leg extension machine with back support. Not doing so can aggravate and worsen your injury.

If you end up on a leg extension machine with no backrest, you will still be able to line your back, hips, and ankles at a 90-degree angle. If there are side handles provided, use them. If you are uneasy about using a machine with no backrest, you can start by keeping the weight low and perfecting your form.
q:

Don't all machines cause injury over time?

a:

If not used properly, with consistent attention to safety and body position, a leg extension machine can injure your joints, ligaments, and muscles.

But so can weight bearing and body weight exercises, if you are not carefully examining every rep to make sure you are following procedures. The key to lifelong fitness, always, is safety and consistency.
q:

How often should I work my legs?

a:

Working the legs is in line with working for your other large muscle groups. Listen to your body, and remember that muscles need 48 hours to rest between periods of exertion. You should definitely not use the leg extension machine every day. That will definitely cause overexertion and injury.
Subscribe to our newsletter