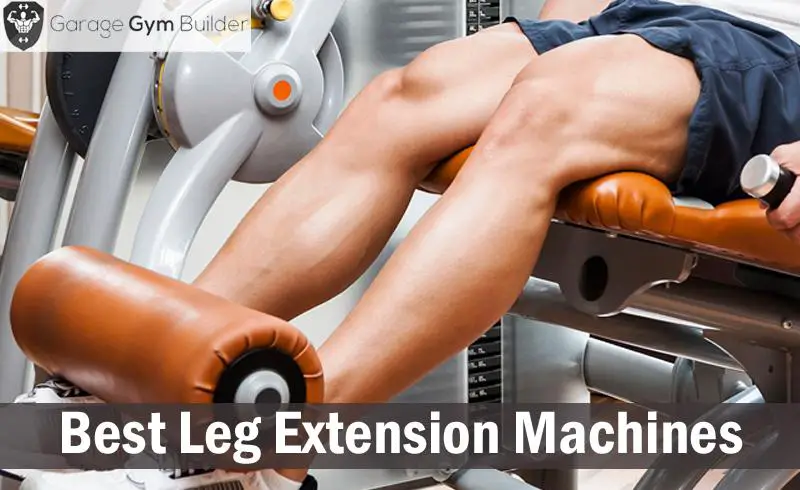 Best Leg Extension Machines Review 2018
When you're after full, defined quads, leg extensions are your go to move. Their benefits are that they will isolate your quads, allowing you to apply 100% tension to the working muscle. Only a stand alone leg extension unit can give you the range of motion and versatility that your legs deserve. In this article we review the Top 10 leg extension machines on the 2018 market.
A Snapshot of the Top 10
The best leg extension machine on the home gym market right now is the Body Solid GCEC340, which offers a massive 400 pound max weight capacity, gives a very fluid exercise motion and is very sturdily constructed. Our second favorite is the Valor Fitness CC-4, with its sun dial adjustment, smooth operation and compact design.
Our third favorite quad extension machine is the Deltech Fitness leg extension, which provides a decline leg curl option and provides thick bench padding and a solid frame.
In order for you to be able to easily compare the top leg extension machines, we've rated each of the top 10 on the basis of price and durability. We've also given each one an overall rating out of 10. In the following section, we provide an in depth review of each quadriceps machine.
The Best Leg Extension Machines Up Close
The Body Solid GCEC340 is a solidly constructed plate loading machine that also doubles as a seated leg curl. Heavy gauge steel tubing framing provides a solid base, while the fully adjustable seven gauge steel cam will accommodate every size of user. A jumbo pop pin makes it easy to adjust the pads, which are made from thick durafirm, along with the foot rollers.
The Body Solid GCEC340 can handle a maximum plate load of 400 pounds, with an additional 200 pounds of user weight. It will take both conventional and olympic plates. You can buy this unit with confidence, knowing that it comes with a lifetime manufacturer's warranty. This is an extremely well priced unit that delivers the quality and robustness that you need.
Leg extension plus seated leg curl
400 pounds weight capacity
Well priced
The Valor Fitness CC-4 is a fully adjustable leg extension unit that also doubles as a seated leg curl machine. This is a plate loaded machine with a maximum plate capacity of 150 pounds. The unit is constructed of heavy gauge square steel tubing and has a very compact footprint of just 35 x 35 inches at a height of 40 inches.
The user friendly sun dial adjuster on the Valor Fitness CC-4 allows you to adjust the range of motion to suit your individual needs. This unit also features forward and back seat adjustment. Thick foam padding ensures that you are exercising in comfort without any chafing on our lower legs. An adjustable thigh support keeps your lower body ergonomically aligned as you exercise.
Leg extension and seated leg curl
Heavy gauge frame
Sun dial adjuster
Only 150 pound plate capacity
The Deltech Fitness Leg Extension is a free weight loading machine that also acts as a lying leg extension. That means that it has no back support seat when doing leg extensions. The plates are loaded in front of the feet rather than to the side, which places more direct tension on the quads. It features a two-piece seat/bench which is angled downward to provide maximum isolation on the hamstrings.
The Deltech Fitness machine is designed to be used with conventional one inch weight plates. The exercise movement is smooth with no jerkiness whatsoever. It is height adjustable on both extensions and curls. Assembly is easy and it comes in at a favorable price point, making this a great leg extension at home option.
Leg extension and lying leg curl
Downward angle for max hamstring activation
Well priced
No back seat for leg extension
The XMark Rotary Leg Extension doubles as a seated leg curl machine. This leg exercise machine provides maximum user customization, with 12 position adjustability on the thigh pad and a 20 position press arm to allow you to get the exact lower body placement. The frame of this unit is made from 12 gauge square steel tubing, providing a very solid base. The unit is finished in a scratch resistant grey powder coating.
The XMark Rotary Leg Extension features oversized vinyl covered rollers which are well padded to provide maximum comfort. It has rubber grip handlebars with molded finger spacings.The backrest pad is fully adjustable and the oversized chrome can ensures a smooth, fluid operation. This unit will take both standard and olympic weight plates.
Leg extension plus seated leg curl
20 position arm adjustability
Oversized vinyl rollers
A little tricky to get in and out of the machine
The Powerline PLCE165X is a minimalistically designed machine that also provides a decline leg curl. The one inch diameter weight post is made from heavy gauge square steel to provide a robust support. As this quad exercise machine doubles as a lying leg curl, there is no back support while doing leg extensions. The arm can be adjusted to two lengths to accommodate different heights.
Powerline PLCE165X is a plate loaded leg extension curl machine that takes standard weight plates. It is a solid reliable unit that doesn't come with any frills but will do the job you want it to reliably, time after time. It comes it at an affordable price point and doesn't require a lot of floor space.
Quadriceps extension plus lying leg curl
Well priced
Solid frame
The Body Solid Pro Dual is a commercial gym quality exercise machine for legs that doubles as a seated leg curl. This is a top end weight machine that comes with a matching price tag. However, it will provide you with a fantastic leg workout. It comes with a 210 pound weight stack and an adjustable back pad that has 12 positions, allowing you to get the perfect ergonomic alignment.
The leg and curl pads of the Pro Dual are oversized and feature thick cushioning and tear and sweat resistant vinyl covering. This machine offers excellent exercise mobility, with the aid of an elliptical cam which maintains a perfect movement arc. You also get variable resistance throughout the entire range of motion.
210 pound weight stack
Elliptical cam
Variable resistance
The Inflight Fitness cable leg extension is a compact stylish weight stack that doubles as a lying leg extension. Unlike most combination leg extension / leg curl machines, this one has an adjustable back support that allows you to have a back seat when doing extensions. This machine features sturdy heavy gauge steel framing and is powder coated in stylish silver. The rollers pivot and will adjust automatically to provide ideal ankle support.
The Inflight machine gives you three positions on the leg extension back support to allow for proper positioning. The movement through the exercise range of motion is smooth and natural without and jerkiness of stuttering. This unit comes with a lifetime warranty on the frame and weight plates.
Leg extension and lying leg curl
Leg extension back support
Pivoting rollers
The Body Solid GCECSTK Pro Select leg extension / leg curl machine is a plate loaded device that comes with a 210 pound weight stack. It has oversized thick, durafoam padding covered with tear resistant nylon. The seat and leg pad are adjustable to seven positions, allowing you to fully customize your positioning.
The transition from leg extension to seated leg curl is by way of a quick pull pin. You also get rotary range of motion adjustment to allow for variation as to your exercise start position. Body Solid GCECSTK machine is constructed of solid steel framing, providing a rugged support to work from. The elliptical cam provides for a very smooth, fluid motion. You can also safely perform the single leg extension on this machine.
Leg extension and seated leg curl
210 pound weight stack
Smooth, fluid motion
The Body Solid LVLE seated leg extension machine is constructed from 2 x 3 inch, heavy duty square steel framing. It features a direct link movement arm that vastly improved the naturalness and effectiveness of the leg extension action. The arm also provides for an enhanced range of motion. This unit is fully adjustable to suit every body type. It has a gas assisted back seat adjustment and an adjustable foot roller.
This high spec machine is commercially rated for light industrial use. The sealed bearing pivot points provide a very smooth and fluid motion. All upholstery on this unit is double stitched for extra durability. The machine comes with a complete lifetime warranty.
2 x 3 inch steel framing
Direct link movement arm
Gas assisted back seat adjustment
The Body Solid Leg Extension with weight stack has a 2 x 4 inch main frame that is both compact and stylish. The weight stack on this machine provides you with 310 pounds of weight plates. The seat and leg brace are fully adjustable to give customized positioning. The seat and roller padding is extra thick and is covered by tough, tear resistant durafirm.
The Body Solid Leg Extension has been biomechanically engineered to provide you with the most precise points so that you can get the most out of every rep you perform. You also get hold down grips to keep your upper body in place while you are exercising. The Body Solid warranty provides you with a lifetime warranty.
310 pounds of plate resistance
Extra thick padding
Lifetime warranty
Now that you know where to go to get the best leg extension machine, check out this clip to make sure that you've got your exercise form on point . . .
Conclusion
Our favorite leg extension machine is the Body Solid GCEC340, with its 400 pound user weight capacity, heavy gauge steel construction and fluid pivot motion. We were also very impressed with the Valor Fitness CC-4, which provides a sun dial adjuster, thick foam padding and compact foot print. Our bronze medal winner is the Deltech Fitness leg extension, which also acts as a decline lying leg extension, has thick bench padding and smooth exercise movement.