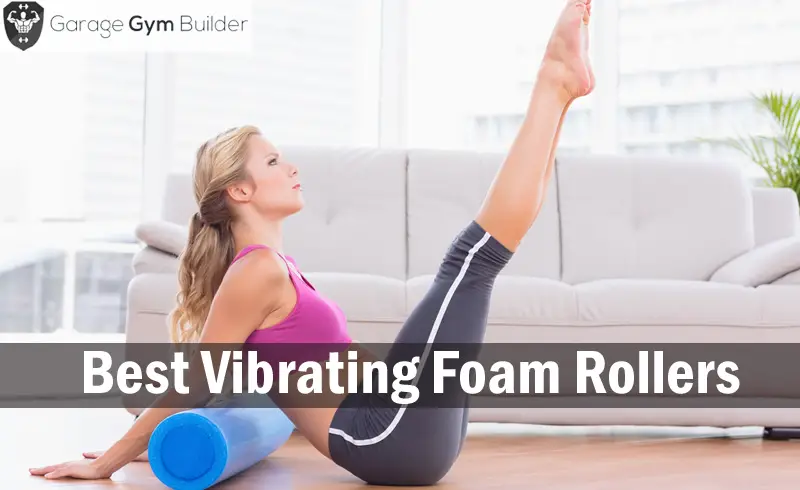 Best Vibrating Foam Rollers 2018
Foam rolling has become incredibly popular in the world of health and fitness over the last few years. Coaches, professional athletes, and regular gym junkies have embraced it is a super effective way to give themselves a sports massage. A recent innovation to the market has been the vibrating foam roller. This next generation roller is designed to provide high penetration pain relief.
Vibrating foam rolling is a smart way to end your workout as it will vastly reduce your post workout muscle soreness. In this article we identify the 9 best vibrating rollers on the 2018 market.
The Top 6 At a Glance
The Top 6 Up Close
The Vulken 4 High Speed Foam Roller is a 17-inch roller with a 4 speed motor setting. The longer but leaner design of this roller provides you with a more effective way to massage your legs and back. The speed can be set at low, medium or high settings as well as at a rhythmic pattern auto speed level.
The foam roller is made from an eco-friendly air injected plastic shell. This allows for maximum vibration transfer while also ensuring that you have a strong and sturdy roller that is built to last. The rechargeable lithium-ion batteries provide you with more than 2 hours of life from every charge. Your purchase comes with a 30-day money back guarantee.
High Intensity Vibration
4 Speed Settings
17 inch length
Eco-friendly materials
Some users report that vibration level was too low
The Next Roller makes use of a 3-speed motor level to provide you with a range of vibration levels. This allows you to provide just the right amount of pressure to your pressure points. The Next Roller is very popular among pro athletes.
The Next Roller is 6 inches in diameter and 13 inches in length. You will get three hours of use out of every charge. The three vibration speeds of the Next Roller are low intensity, which is ideal for long rolling sessions, medium intensity for targeted muscle work after your workout, and high intensity for the most extreme pressure. On the downside, there is no charger that comes with this vibrating massager.
3 speeds of vibration
13 inch length
3 hour charge


The HyperIce Viper Vibrating Foam Roller provides you with 3 high speed vibration settings. The outer or the roller features multiple small nodules to help target the pressure points that need relief. It is constructed with a polypropylene outer shell which is very durable, while also allowing for maximum vibration transfer to your body.

The HyperIce Viper roller delivers a power rating of between 28 and 39 hz (the current in your house is around 60 hz). This makes for a more powerful vibration than you get with most other vibrating foam rollers, even at the lowest setting. This may be a little too much for some people, but hardcore foam rollers will love it.

The HyperIce Viper is among the most expensive rollers on the market. But it is also one of the most powerful vibrating rollers you will find.
Power vibration settings
3 high speed settings
Polypropylene outer shell
The all-new redesigned Sharkk Electronic Massage Roller has been designed with a reformulated soft and flexible shell. The bumper grid pattern has been modeled on human hands and knuckles to provide you with the most natural massaging experience you can imagine.

The Sharkk roller is 17.5 inches long, giving it a wider application than most competitors, which are considerably shorter in length. This makes it ideal for for length lower body massage work. The massager comes with 4 settings, three that you can manually set and an automatic setting. The settings range from rather light to heavy duty. Your purchase comes with a carry bag, a charger and a manual.
4 vibration settings
Mimics hand and knuckle design
Comes with carry bag, charger and manual
May not be firm enough for some.
The Vibrating foam roller from Viber is a precision engineered massager with high density foam and contoured ridges. This roller gives you a whole assortment of nodules and ridges to allow you to get into every crevice and pressure point on your body. The flexible cushioning will mold to your body while also providing comfort and strength. The 5.5 x 13 inch compact size makes this roller ideal as a travel companion (your purchase also comes with a travel bag).

The Viber roller comes with an easy to use charger that allows you to get a full charge in less than two hours. That single charge will provide you with four hours of work. You get low, medium and high speed options allowing you to customize the vibration to your specific needs.
Long life charge
Flexible cushioning
Travel bag included
May be too firm for some users
The InViberon Vibrating Foam Roller is a uniquely designed roller that provides you with 36 inches of massage length. This allows you to get a full length massage like no other roller that is out there. The one button operation makes it a piece of cake to use this roller. You get your choice of medium or high density roller. The high quality, non toxic foam used in the construction of the InViberon foam roller makes it extremely durable as well as being completely safe.

The durable and soft fabric cover of the Inviberon can be removed so that it can be washed. However, the InViberon does not allow you to adjust the speed setting.
One button operation
Non toxic foam
39-inch length
Foam Roller Benefits
Foam Rolling works to relieve the adhesions that result when your muscles are overstressed and the layer of fascia that covers all of your skeletal muscles tear. By softly applying pressure to these adhesions we relieve ourselves of the hot spot pain that they bring. Foam rolling, also known as Self Myofascial Release (SMR), though, does more than relief instant pain. Here are 11 auxiliary benefits of using the technique:
Corrects muscular imbalance
Increases flexibility and range of motion
Improves posture
Enhances strength and athletic performance
Relieves muscle soreness
Reduces muscular tension
Promotes relaxation, causing a temporary reduction in resting heart rate and blood pressure
Increases circulation to the area
Decreases muscle spasms
Promotes lymph flow
Decreases scar tissue


Treating Trigger Points with SMR
When soft tissue gets injured, the thin layer on top of or between muscles, which is called the fascia, becomes sticky. It is no longer able to slide freely, with the results this area of the muscle becomes stiff and sore. If not addressed quickly, these tight, sore areas can develop into chronic conditions.

Locating and massaging these tight spots can release the tension in a muscle. Myofascial release techniques are similar in providing the results often gained from acupressure and trigger point treatments. While trigger point treatments, acupressure and the like need to be done by a trained professional, we can all perform self myofascial release. Maintaining a high level of soft tissue quality will help you to be flexible and pain free.

There are about 40 muscles in the body. Throughout these muscles there are round 620 potential trigger points. They tend to show up in the same places in most people. Some of the most common areas are the neck, shoulders, lower back and buttocks.

Latent trigger points can lead to poor muscle coordination and balance. Trigger points often also led to pain and weakness in the associated structures.
Self myofascial release which makes use of a trigger point foam roller is a very effective way to treat muscle trigger points. It allows you to place specific pressure in the trigger points and break up the sticky adhesions that cause them.
Conclusion
Our favorite vibrating foam roller is the Vulken 4 High Speed Foam Roller, which provides you with 4 Speed Settings, a 17 inch length and is made from Eco-friendly materials. We were also impressed with the Next roller, with its multi nodule design, compact design and 3 hour charge. Rounding out our top 3 is the HyperIce Viper Vibrating Foam Roller, which gives you some very powerful massage options, 3 high speed settings and a polypropylene outer shell.