Best Stall Bar Reviews for Home Use
last updated:
Feb 11, 2020
Do you know what a stall bar is?
Not sure?
Just think back to your school days - remember those wooden ladder rails that run up and down the walls? Those are stall bars - and they're making a comeback. They are also known as Swedish ladders or Swedish walls.
In this article, we discover why stall bars are a smart addition to your home gym. We then identify the best gymnastics stall bars on the market and provide you with the vital information you need to make the right choices.
In a Hurry? The test winner after 10 hours of research: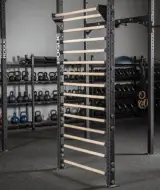 Stall Bars Swedish Style
Why is it better?
Either Wooden Or Aluminum
Can Be Paired With Rogue Rig
Super Sturdy
Wall Mount System
In a
Hurry? Editors choice: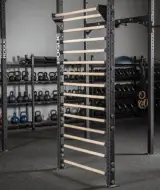 Test Winner: Stall Bars Swedish Style

42
Researched Sources
12.5k
Reviews Considered
10
Hours Researching
14
Products Evaluated
Use
Effectiveness
Durability
Comfort
Adjustability
By Default
Criteria Used for Evaluation
Expert Interviews & Opinions
Most Important Criteria
(According to our experts opinion)
Experts Opinion
Editors Opinion
Users Opinion
By Default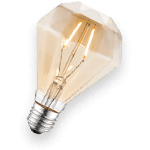 Brief History
Just like we mentioned before, and just like the name suggests, stall bars, or Swedish ladders, were invented in Sweden in the 19th century by Per Henrik Ling. They are super versatile tools, and they have been recognized as such ever since they were created, so their potential was always known. In Sweden, they carry a slightly different name - en ribbstol, which simply means frame with crossbars.
These magical frames were quickly accepted by the wider masses, and once American emigrants arrived, they too saw this potential, and the popularity of the Swedish ladder spread like wildfire. Today you will rarely see a gym without one, and many people still crave their healing powers!
Size
Let's be real here - stall bars are pretty huge. Well, they're not as big as they are tall, which can be a problem if you don't have enough room. The standard height is somewhere between 6 and 7 feet. The average ceiling is 7 to eight feet high.
You see where we are going with this, right? If you are going to be using the top bar, plus if you want to hang a pull-up bar or a dip bar, the height of the stall bars combined with the height of your ceiling can be problematic. You don't want to hit your head every time you pull yourself up! So make sure that you checked whether the stall bar can actually fit in your home or not.
Some stall bars are portable, and they don't need to be at a fixed point in your house. This is great when you need to move them around, and since they are not too wide, you can easily squeeze them into tight spaces. Make sure that you got the right size of stall bars for home, and everything will be okay!
Other Factors to Consider

Materials
What your stall bar is made out of says a lot about them. Most stall bars are made out of wood, but the type of wood chosen to create them matters as well. The rungs are the weakest or the strongest link of your stall bar, and if they are made out of a weak wood, you won't be using them for a long time!
Some producers choose to use poplar for their rungs, and poplar is a weak wood. Ash, maple, and beechwood tend to be the strongest wood types, so your best bet is to search for rungs made out of these kinds of wood. Ash is also lovely to look at, with dark patterns swirling all around the lighter background. Maple is super strong, with a gorgeous grain pattern and consistent color.
Steel is also a choice, and steel is even tougher than wood is. But steel brings its own set of problems, like rusting, discomfort, and possibly weight. Wood can also rot fast, especially if it's not laminated or coated with a protective film. Wood is prone to having splinters, so make sure that the stall bar you're getting has rungs that are sanded down and with a protective layer that will keep both you and the wood safe!

Bottom Line
The best gym bars for home use is the Rogue Stall bar 3.0, which is available as a wall mount or a rig/rack attachment. It is very solid and sturdy and available in either aluminum or wood. We were also impressed with the 3B Scientific Eucalyptus Wood Stall Bar, which has an attractive price point, attractive finish and offset pull up bar.
Rounding out our top 3 gymnastics stall bars is the Vita Vibe Stall Bar, which provides you with the ability to easily adjust the distance between rungs, comes with very comfortable wooden rungs and gives you a ten-year manufacturer's warranty. We hope our guide has helped you understand the stall bars better, and that you will love using them!
Frequently Asked Questions
q:

Do my rungs need to be coated?

a:

You've probably noticed that you have a choice between coated and uncoated wood rungs. Coated rungs are usually protected with natural mineral oil or a layer of polyurethane. This layer, before everything else, makes it easy to clean them, which might not seem like such a big deal for you, but for hospital settings, it's very important.

On the other hands, uncoated rungs will provide you with a much better grip, especially if your hands are sweaty since you won't be able to slide down so easily. But then again, the coating makes the rungs resistant to moisture and your sweat. If more people are going to be using the stall bar, coated rungs might be a better option, but if you're buying the Swedish ladders just for you and the people in your own house, you can go for uncoated rungs because of the traction they provide you with!
q:

Should I go for round or oval rungs?

a:

It's easy to be confused about the shape of your rungs, especially when the shapes are just so similar to one another. Some people prefer round rungs, while others prefer oval, and truth be told, there's no winner here. Round rungs work better for gymnastic environments since the feeling of the rungs pressing into your palms won't change as you change the position of your fingers and palms, never distracting you from the task at hand.

Yet oval rungs give you a better shape to grip. They will also have a flat surface on which you can lean on, either with your knees, your shins or even your forearms, making them much comfier. And oval rungs are denser, made out of more material, so they are more durable. As we said, there is no true winner here, so you will have to experiment to discover what works the best for you!
q:

Can I use stall bars for Schroth scoliosis therappy?

a:

This is actually what the stall bars were used forever since they were created. Well, not that soon, but this potential was recognized very fast. But if you want to use your stall bar for this purpose, there are some additional things you need to consider before making your purchase.

First, you must look at the spacing between the bars. This special kind of therapy has patients requiring a more narrow space between the bars because they can adjust their grip and position much easier this way.

The second thing you need to look at is how much space there is between the rungs and the surface of the wall. This is because some exercises require you to grip behind the bars, and if you can't squeeze your fingers there, then there's no point in attempting this kind of therapy.

And last but not least, the topmost offset rung. Schroth hanging exercises are a thing, and if you don't have enough room to hang freely, you won't be able to feel the stretch and relaxation that comes with this exercise. So make sure you've taken all of this into account before getting your stall bar if you need it for therapy purposes!
q:

Why have my rungs started to spin?

a:

There is only one possible explanation for this - you've chosen to buy a stall bar that is not constructed so well, and instead of using proper material to connect the rungs with the frames, the manufacturer decided to simply glue these two together, so the rungs became unstuck and started spinning. Spinning rungs are a safety hazard, and you shouldn't try to rely on them to provide you with a stable grip! Make sure that the stall bar you're purchasing has rungs that are screwed into the frame, securely and tightly, and you won't experience this again!
q:

Can I use the swedish ladder if I'm a beginner?

a:

Stall bars can look frightening, especially if you looked at pros performing the human flag, front arm support, and exercises such as these, that really require you to be fit before you attempt to do them. Although you can attempt these even at the beginning, you won't be able to do them right away.

For serious exercises such as these, it's better to build your strength and flexibility doing other things, and then giving the stall bar a try. But of course, there are some things you can try even if you never hung from a stall bar before. Your abs and triceps can benefit from stall bars, for example.

Simply hanging from the stall bar and lifting your knees up can challenge your abs, and you can probably do this even if you're not particularly fit. The same thing goes for tricep exercises. You can always have someone show you how to start, and we are sure that you will master the stall bars in no time!
Subscribe to our newsletter