Best Gymnastic Rings for Crossfit Reviews
last updated:
Feb 11, 2020
Gymnastic rings are probably not the first thing you think of when planning a home gym. But if you take a look at the physique of a gymnast, you'll quickly realize that they definitely should be.
Back in the forties and fifties, working on the rings was the go-to method to get fit, strong and muscular. Thankfully, thanks to Crossfit, rings are making a come-back.
This article is your complete all in one source for gymnastic rings. We'll detail just what you need to be looking out for when buying a set of workout rings, how to install them, and how to make sure that you get the optimum use from them. We'll also identify the best products out there to meet your consumer requirements.
Be sure to check out all the great information about the best gymnastic rings we have here for you!
In a Hurry? The test winner after 12 hours of research: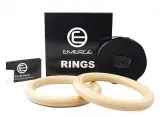 Emerge Gymnastic Rings
Why is it better?
Heavy Wooden Rings
Military Grade Straps
100% Lifetime Guarantee
Holds Up To 800 Pounds
42
Researched Sources
8k
Reviews Considered
16
Hours Researching
14
Products Evaluated
Features
Use
Effectiveness
Durability
Adjustability
By Default
10 Best Gymnastic Rings
1

. Emerge Gymnastic Rings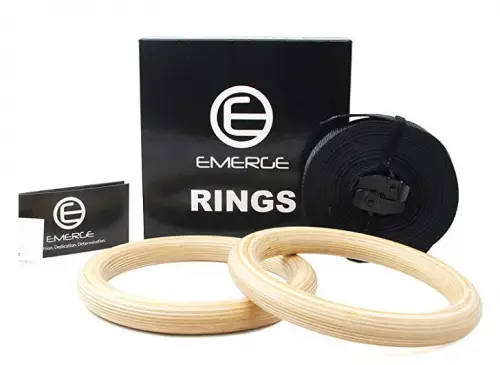 Heavy Wooden Rings
Military Grade Straps
100% Lifetime Guarantee
Holds Up To 800 Pounds
Emerge Gymnastic Rings are heavy duty wooden rings with heavy duty military grade straps. The strap webbing is 1.5 inches wide and reinforced with strengthened cross stitching to enhance strength and durability. The ring set is very user-friendly, being simple to set up, adjust and take down. To make it even easier, the package comes with a free Set Up and Getting Started Guide.
Read more
The heavy-duty wooden Emerge rings feature slight grooves to enhance your gripping ability. These gymnastic rings are versatile enough that user-friendly. They are even a great product for kids who are just starting out. Emerge Gymnastic Rings are very competitively priced. Your purchase is protected by a 100% lifetime guarantee.​ Emerge Gymnastic rings provide you with the highest quality, most durable wooden rings available, supported by rugged reinforced cross-stitched webbing. The result is a strong, sturdy and reliable piece of equipment that comes in at a competitive price point.
2

. Rogue Wooden Gymnastic Rings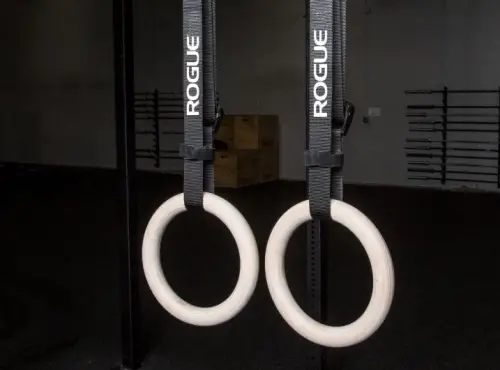 Texture Grip Rings
Heavy Duty Straps
Velcro Strap Fasteners
Sold In Sets Of 2
Can Split After Extended Use
The lovingly crafted wooden handles provide the solid feel that you can't get from either plastic or steel gymnastic rings. They allow for the securest of grips with or without the use of chalk. And, they look stylish and professional. The Rogue straps are constructed of thick black nylon that is stretch free. This means that you won't lose any of your strength and power into the unit as you perform your bodyweight exercises.
Read more
The strap features a generous extra length to allow for an extension of the workout height to suit individual requirements. It creates a lot of extra strapping which can sometimes get in the way when you're training. The Rogue Fitness gymnastic rings feature a velcro brand fastener to keep the excess strapping out of the way. For overall quality and innovation, Rogue is hard to beat. Here they offer a top class wooden gymnastic rings with a heavy duty strap and reliable cam buckle operating system.
3

. Nayoya Gymnastic Rings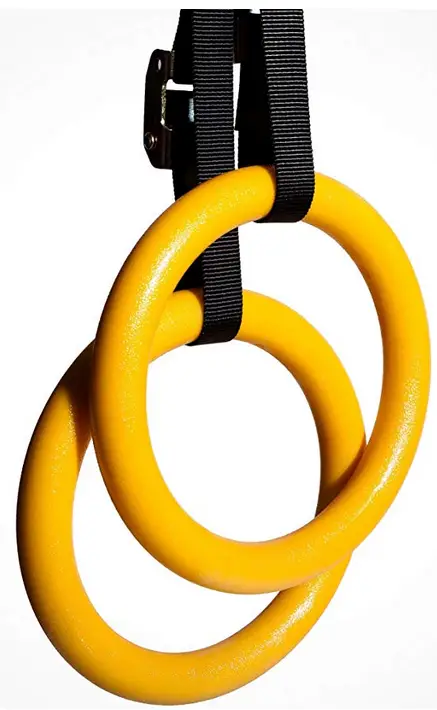 Super Strong
Textured Surface
Very Adjustable
Wide Straps
Easy To Install
Buckling System Needs Improvement
Gymnastic rings take a heavy load, having to support your whole body. The Nayoya gymnastic rings can support 2000 lbs, making them the strongest workout rings on the market that is rated for home use. Knowing that you are working with a heavy-duty, durable pair of rings instills the confidence that you need to put your body on the line. The grip is crucial when working with the gymnastic rings. The second it slips, your session is jeopardized. The textured surface of Nayoya gymnastic rings means that you'll be able to maintain a secure grip for your entire workload.
Read more
The height adjustability of the exercise rings means that anyone can work with them to get a personalized workout that is tailored to their unique body. The Nayoya gym rings come with a 38-millimeter strap. It is the ideal thickness to prevent the strap from digging into your wrists while you are doing dips and muscle ups. The straps are heavy duty and provide plenty of lengths to allow for customization. Importantly, the Nayoya straps have almost no stretch to them. It is what you want. Otherwise, the force of your exertion will be dissipated through the strap. The Nayoya gymnastic ring is one of the few to feature PVC rings. The consensus is that these rings are more durable and better to work with than the opposition. Combine that with a thick, heavy-duty strap and a reliable buckling system, and you can't go wrong.
4

. Reehut Gymnastic Rings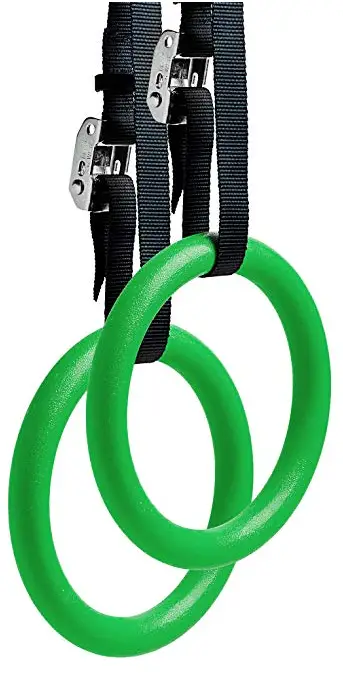 ABS Plastic Handles
Long Adjustable Straps
Easy Set Up
Colorful Options
Bracket Stitching Not Reinforced
Reehut ABS Plastic Gymnastic Rings combine high quality and great value. They feature high quality, extra-wide, reduced slippage rings, extra-long straps, and a reliable cam buckling system. Reehut rings come in at an unbeatable price range and include a 16-page instructional e-book. The ABS plastic handles won't buckle or bend. The handles have a generous 9-inch outer diameter and 7-inch inner diameter, providing ample room for hand placement and movement between exercises.
Read more
With a strap length of fifteen feet, these gymnastic rings are fully adjustable to accommodate anybody dimensions. That means that you can customize your workout to meet your requirements. All you have to do to start working out on these rings is to throw the straps over a tree, power rack or pull up bar and you're ready to go. What could be easier? Overall, the Reehut ABS Plastic Gymnastic Rings are excellent gymnastic rings that will provide a high-quality gripping surface and a very easy to install a system. At 300 pounds, it's not rated as strong as the Nayoya, but it will do the business for the vast majority of home users.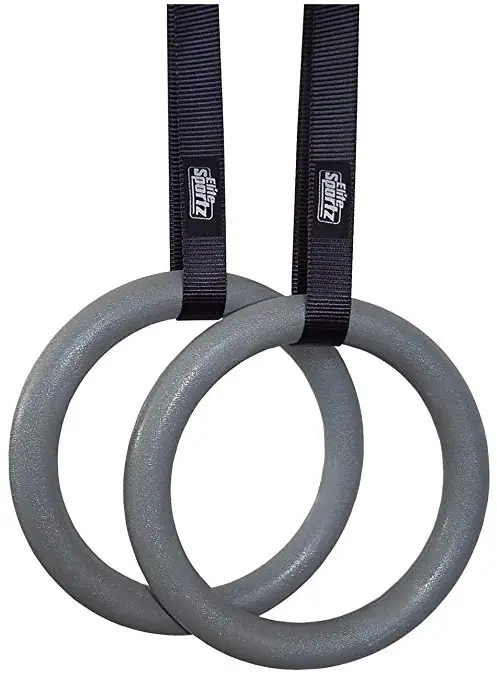 Durable Rings
Heavy Duty Webbing
Non-slip
Instructional Video Training
The Elite gymnastic rings are made from polycarbonate plastic, making it stronger than wood, and able to support up to 2000 pounds of weight. It comes with a heavy duty durable nylon webbing and features a quick-lock cam buckling system.
Read more
The PC construction of these workout rings are a virtually indestructible and gives the confidence to train to the limit. The fine, threaded webbing construction of the strap ensures total rigidity in use. There is no stretch when exercising, meaning that all of your force is applied to the exercise rather than the equipment. The Elite Gymnastic ring set is a very heavy duty model that will provide a reliable, stretch free workout. Make sure to read the instructions carefully so that you are aware of how the buckling system works before using it.
6

. Garage Fit Wooden Gymnastic Rings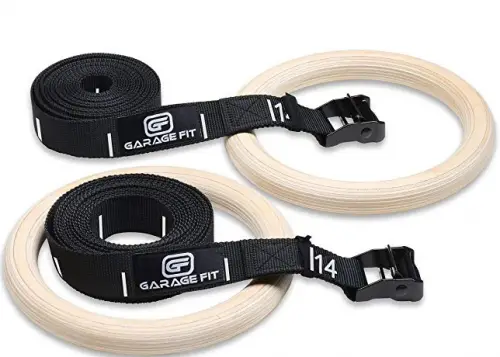 Lightweight
Thick And Long Straps
Budget Friendly
Easy Setup
Garage Fit fitness rings are a well made, stable, lightweight ring made of hardwood. They come with a 15 foot long thick, 38-millimeter strap and feature a cam buckling system. This is a solid performer that will do the job that you need.
Read more
The gymnastic rings are lightweight, making them extremely portable and easy to work with. The fifteen foot strap length gives you the flexibility to adjust the working level of the rings to suit both the exercise you are training on and your own height requirements. Garage Fit Wooden gymnastic rings are a solid set of home workout rings that will allow you to customize your training sessions to your specific requirements. You get a solid grip and plenty of strapping length and durability. Just keep in mind that it is not intended for outdoor use.
7

. URBNFit Gymnastic Rings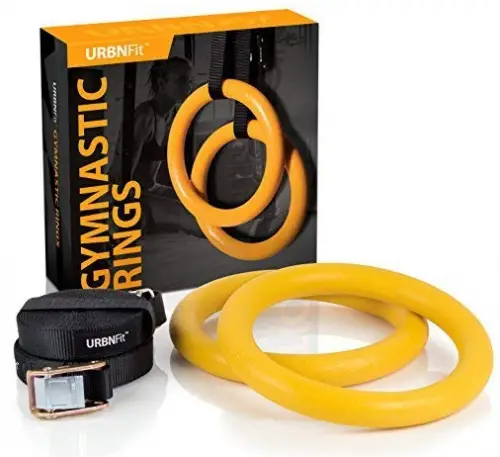 Textured Grips
APS Plastic
Non-slip
Holds Up to 1000 Pounds
We all know that gymnast rings give you a great cardio session while working on your strength, and all in the comfort of your own home, and the URBNFit rings are no stranger to that. These gymnastic rings are made out of textured APS plastic, giving you a much comfier grip while eliminating sweat and the danger of slipping down.
Read more
The straps are 17-inches long, so they're very adjustable and can be maneuvered with to fit your needs. If you install them properly, they can manage to hold up to a thousand pounds, giving you the chance to safely hang from them, even if you add free weights to your body. The buckles have a locking mechanism that gives you a safe environment and a minimum falling risk. You must remember to wrap them around a secure structure. Otherwise, nothing can stop you from falling!
8

. TITAN FITNESS Wood Rings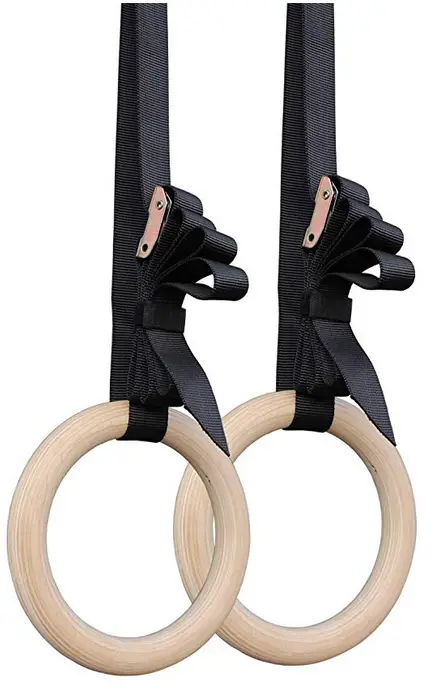 Solid Wood Rings
Extra Wide
Hooks Up In Seconds
Pretty Lightweight
Titan Fitness is well-known in the fitness world for their quality products, and the wood rings are here to prove that they are too worthy of this title. The gymnastic rings are made out of heavy duty wood. It means that they will withstand all kinds of weight and pressure applied to them, so you do not need to worry about them breaking down in the middle of your session!
Read more
The gymnastic rings are also extra wide, so you can grip the comfortably, no matter how big or small your hands are. The straps are 15' long - they're not so long, but they are long enough to be properly adjusted. The straps and rings can be hooked up to a support system in a matter of minutes, and you can start monkeying around them as soon as you want! They can hold up to 600 pounds. Not so sturdy, but still safe enough!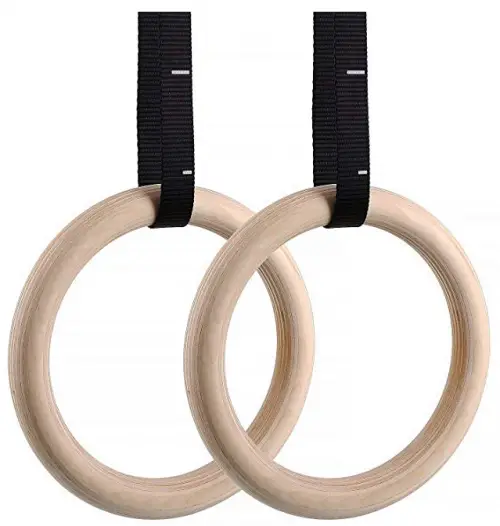 Birch Wood Rings
Iron Buckles
Nylon Straps
Withstands 1100 Pounds
Wooden rings are the most popular kind, and the Femor Gym Rings are proof of that. The birch wood rings, iron buckles and nylon straps all spell great success for you, without any risks!
Read more
These gymnastic rings are quite easy to set up, and the straps are 15 feet long, enough for every type of athlete. They are stable and sturdy, and won't give in no matter how hard you try to break them down. They can withstand up to 1100 pounds hanging from them, so you can safely test their limits.
10

. PACEARTH Wood Gymnastics Rings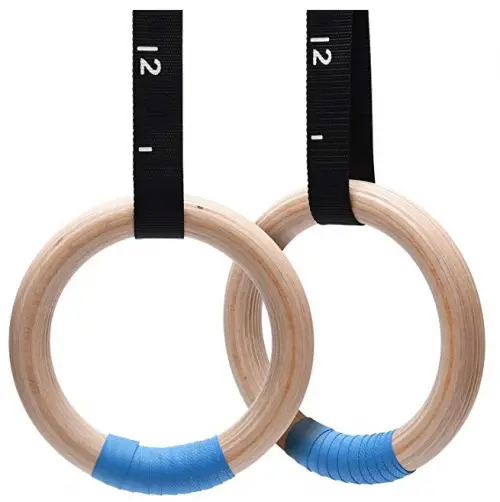 1500 Pound Capacity
Wider Straps
Magic Stick
Blue Handtape
The wooden rings of these gymnastic rings are 32 mm thick and are made out of birch. Usually, the rings are 28mm wide, so this extra length makes them comfier and easier to grip. The maximum user weight is 1200 pounds, so you have more than enough room to be creative with them.
Read more
The strap is 1.5 inches wide, making them wider than most straps, and thus more secure and more durable. The straps also have a scale printed on them, so you know that the rings are hanging at the same height. A cute little magic stick comes with the rings that allow you to wrap up and secure the straps when you're not using them, making them convenient and portable. The buckle has a serrated edge that grips the straps with plenty of power. Blue hand tapes also come with the whole package, and all you have to do is wrap them around your rings for a more secure and better grip. They are comfy, anti-sweat, and anti-dust.
Criteria Used for Evaluation

Features
There are a lot of gymnastic rings on the market, and many of them look alike. In knowing how to separate the good from the bad, you need to consider 3 key variables:
​The Webbing
The Buckle System
The Ring
Webbing - The thickness of the strap is a critical factor. It can range from 25mm to 38mm. The thicker, the better. If the strap width is too thin, you will find that it may not provide the strength you need to sustain your body weight after hundreds of hours of use. Also, thin straps tend to dig into the wrists when you are doing certain exercises, such as dips, providing discomfort which could curtail your performance.
You do not want a strap that stretches. Spring in the strap is not your friend when you're getting into position for moves like muscle ups. You need a taught strap to allow you to balance and pull yourself into position. To assess the level of stretch in the strap, take a look at the webbing. Give it a pull and see if you can stretch it out; ideally, you won't be able to.
Buckle System - A lot of ring systems use a cam buckle. These work well and are very secure. However, it can take a long time to adjust these buckles and get the straps level with each other. The ideal system will involve carabiners. The carabiners are pre-set at 100mm distances to make it simple to adjust the straps, knowing that they are correctly aligned.
If you are training in a public area, like a park, the carabiner system is the way to go. It will allow you to throw the straps over a tree, make a single clip and you're ready to go. If you are operating from a high ceiling, however, the cam buckle system may be a better option for you. It allows you to more easily adjust the straps up high to pull them out of the way when not in use.
Ring - The ring construction is vital to a quality exercise experience. You need to look for a smooth finish that allows for a non-slip grip. Wooden rings tend to be more slip resistant than plastic or steel ones. Wooden rings will often come with a little sandpaper to allow you to make them a bit rougher to accommodate your grip preference.

Use
When you buy your gymnastic rings, you'll end with a pair of rings, straps, and buckles. It's now up to you to secure the straps to a fixed overhead object, and you're all set to work out. So where do you hang them?
You'll need a space that will allow you enough clearance to perform a complete complement of suspended bodyweight movements, including those done above the level of the rings. Ideally, you should have between 9 and 13 feet of space to hang the rings from.
You'll want to hang the rings at a shoulder-width distance apart. You should also make sure that there is enough length of strap to allow you to do exercises low to the ground, such as push-ups and plank.
Common Set-up Options:​
Doorway Pull up Bar
Power rack Pull up Bar
Ceiling mounting
Hanging over ceiling rafters
Hanging over a tree branch
Hanging over an outdoor swing or play set

Effectiveness
Let's face it - performing on the gymnastic rings is difficult, and it will continue to be so until you master the moves. They are very simple yet versatile, convenient, and effective for strength training and muscle building. If you want to improve your strength and power fast and by a lot, then these rings are just what you're looking for.
First things first, these gymnastic rings are quite portable. They're quite small, they can fit in almost any gym bag, and all you need is a place to hang them from, and you're all set up! You can hang them from a tree, from a pole, or even from basketball hoops, so you can always be ready for a session on them.
Gymnastic rings are more effective than a bar, simply because they are not fixed in one place. Instead, they hang free from whatever place you've hung them on, which means that you will need to work much harder to be able to lift yourself! Multiple muscle groups will be engaged here, and you will give your whole body a full workout. These rings will also improve your upper body mobility.
Gymnastic rings allow you to be creative. You can mix and match every type of exercise on them that you want, and you will enjoy the benefits nonetheless. It's hard to be creative when you can't even do a full pull-up, but once you master that we're sure that you will find multiple ways to use these lovely gym gadgets!

Durability
Your gymnastic rings need to be durable, and the reason why is very simple - you don't want them to snap or break when you're in the air! Although you won't be that high up, you could still hurt yourself if you don't have a mat under, or if you fall the wrong way. Also, gym rings will require some investment, and it's always nice to feel like you've found something worth the money.
The durability of the gymnastic rings will be affected by many things - by the material the rings, the straps, and the buckling system is made out of, how heavy you are, and by how often you use them. Traditional gymnastic rings are made out of wood, and wood is very hardy, and it can support a lot of weight, some supporting up to 2000 pounds! Some rings are made out of PVC, and they have a very grippy surface which allows you to grab safely onto them. They won't last so long, but they will still be hardy. The hanging system and the buckling system need to be made out of high-quality materials that can withstand constant stretching, pulling, and tugging; otherwise, they might fall apart before you want them to!

Adjustability
The gymnastic rings need to be adjustable, namely their length and the straps that hold you up. It is because nobody is built the same, nor do they have the same height, so you need to be able to adjust their length to fit your personal needs.
Usually, the straps can be easily adjusted thanks to the buckling system. The buckling system is usually a hook-and-loop kind of strap. All you have to do is pull the strap to shorten it, then pull it through the loop and secure it, and you're good to go! Your weight will keep the loop in check, and you shouldn't worry about the straps failing you unless you exceed the weight limit.
Expert Interviews & Opinions
Most Important Criteria
(According to our experts opinion)
Experts Opinion
Editors Opinion
Users Opinion
By Default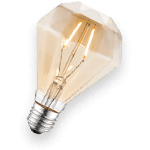 History
Gymnastic rings are a standard piece of equipment seen in almost every gym out there. But where did this piece of equipment come from? The rings were made by Friedrich Ludwig Jahn, who is regarded as the father of modern gymnastics. They were first called roman rings, since their origin is Italy, and they were known there for 200 years before Friedrich decided to modernize them. These rings were not rings at all - instead, they had a triangular shape. At some point in time, they were replaced by the round ones we all know and love/hate today, made out of a whole variety of materials, wood is the final and best one!
Quality
Look for gymnastic rings made from quality wood, this way disappointment and accidents will be avoided.
You can visit local reputable sports stores or visit specialist sports equipment sites online. The quality of the materials used to make rings is crucial. Find a good brand and double check by reading online reviews about the product.
Other Factors to Consider
Bottom Line
Having taken an in-depth consideration of what you need in a top quality set of exercise rings, we can now reveal our top-rated pair of gymnastic rings. The best gymnastic rings that we have been able to find are the Emerge wooden gymnastic rings. The strapping system is stretch resistant, extra thick and long enough to provide the range and versatility to fit all users. All these features add up to make the Emerge gymnastic rings our ring of choice for the ultimate in home gymnastic training workout.​
Our second favorite, the Rogue wooden rings, look awesome. The contrast of the laminate wood grain with the black strapping is quite striking. The Rogue system utilizes a cam locking feature which is extremely secure and easy to operate.
Frequently Asked Questions
q:

Do I need to use grips or chalk?

a:

Grips won't be of much use here, but you can still give them a try, no harm done. Chalk is a great idea! Chalk provides you with needed traction that makes gripping the rings even easier. It will also absorb all the moisture created by your hands as you sweat, so you will be able to use the rings safely.
q:

Can I try out complicated moves right away?

a:

If you want a trip to the hospital, sure, why not! You must get acquainted with the rings first. You have to master the single pull-up, as it requires both strong muscles and a balancing act, and if you don't have these two marked down, you can easily fall and injure yourself. We know that it's tempting to try out cool and complicated moves when you see other people doing them, but keep in mind that they worked hard to get there, so you should do the same thing before you attempt to spin around or do anything like that!
q:

Can I hurt myself when using these rings?

a:

If you're not careful enough, and if you rush to do big and serious movements right away, yes you can. Falling from these rings is a common occurrence, especially if you do not have enough strength to pull yourself up regularly. You grip also needs to be developed, because you can slip-up and fall! You need to remember to never, ever let go of the rings! When you know what you're going to land on, only then can you release your grip.
q:

Can I do leg exercises on gymnastic rings?

a:

Leg exercises work on all of those lovely big muscles and keep us strong and powerful, but the gymnast rings are not the place to do them. You can always use the rings like you would use TRX - to support your body while you do squats and other similar exercises. The rings are mainly for developing your upper body, so keep at them, and then after you're done with them go and work on your legs. Or find something that works on your whole body at the same time, like the rowing machine!
q:

Can I use these gymnastic rings every day?

a:

If you're feeling up to the task, then sure, why not. But you must be aware of when you're going to be able to perform well, and when you're not going to do so well because if you overestimate yourself, you can again hurt yourself by falling or pulling a muscle. Also, you need rest days in between your gym sessions to let your muscles rest and grow genuinely, and it's better to work with the rings no more than 4 times a week.
Subscribe to our newsletter