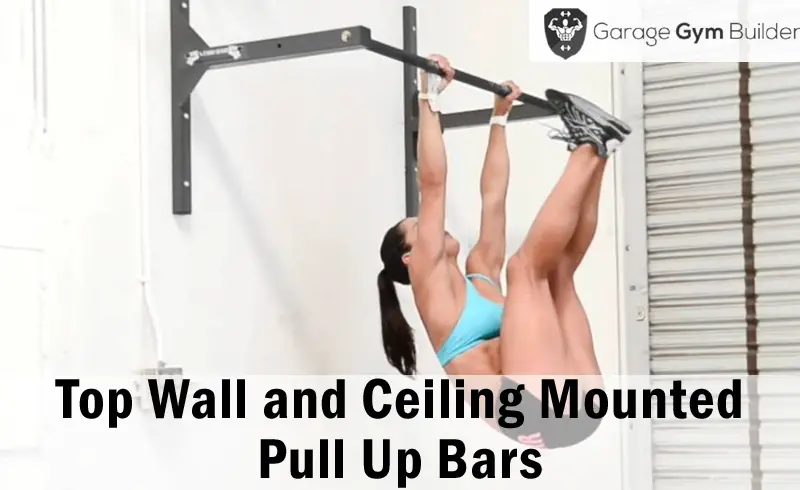 Best Wall and Ceiling Mounted Pull Up Bar Reviews 2018
If you're working out at home you simply must have a reliable pull up bar. Pull Ups are a fantastic upper back exercise. They are the best thing you can do to develop the latissimus dorsi muscles – the ones that give a "V" shape to your upper body. Yet the movement actually works your whole body. It will place direct stress upon you abs, lower back, biceps and forearms. Yet, this movement is deceptively simple – all it involves is hanging from a bar and pulling your body up so that your chin goes over the bar.
When it comes to working out at home, there are a number of pull up bar purchasing options to consider. But if you're after the sturdiest, most stable pull up bar imaginable then you need to delve into the world of wall and ceiling mounted pull up bars. These bars are guaranteed to take whatever load you can throw at them, even when you're ready to add extra resistance to your pull ups.
Overview of Best Products
We've scoured the marketplace to bring you the very best wall and ceiling mounted pull up bar options available today. We've selected the top 3 bars in accordance with the following rating system: "Best In Class", "Best Value" and "Most Affordable." Our choice of Best in Class indicates the bar that we feel is the best overall door pull up bar on the market today, regardless of cost. The Most Affordable designation goes to the bar that most closely meets the standard set by the Best in Class bar, but comes in at a more attractive price point. The Most Affordable bar is our selection of the best wall or ceiling mounted pull up bar on the market that comes in under $40.
BEST IN CLASS
Best Wall/Ceiling Mounted Pull Up Bar Regardless of Cost
This is the latest home pull up bar offering from Ultimate Body Press. It fits to 16 and 24 inch joists. The bar is ergonomically designed to reduce strain on the wrists and forearms. The bar offers four padded gripping positions to allow for a complete back workout. This includes parallel bars for a neutral pull up. The parallel bar grip spacing is 20 inches, as opposed to the more frequent 16 inches. The extra four inches will make a big difference in the effectiveness of this exercise.
The Ultimate Body Press Ceiling Mounted Bar features dual risers, allowing you to adjust the positioning of the risers to ftt the position of your ceiling joists. The 14 inch bar drop from the ceiling will provide plenty of room for head clearance.
BEST VALUE
BEST BANG FOR YOUR BUCK
The Ultimate Body Press Wall Mounted Pull Up Bar offers all of the features of the ceiling mounted unit at a more affordable price point. The pay off is that a ceiling mounting will always be little sturdier. That being said, this wall mounted pull up bar will provide you with ample strength and stability, as long as it's mounted to a residential stud based wall.
The holes on the mounting plates are distanced at 16 inches on center, the industry standard. The mounted bar comes out at an impressive 14 inches, allowing for a functional dipping as well as pulling and chinning apparatus.
MOST AFFORDABLE
GREAT CHOICE FOR THOSE ON A BUDGET
The Joist Mounted Pull Up Bar by MS Sports is a no frills piece of hardware that will provide you with solid and stable pull up options for years to come. The addition of neutral grip handles gives you more options to work the back from a range of angles. The main bar has angled ends for a more ergonomic pull up that is easier on the wrists. The knurled grip will ensure that your hands won't give out before your back does. There is just one weld here, so you won't find any compromising weak links. The pull up bar is 48 inches long to allow for extra wide grip pull ups and chin ups.
Ceiling and wall mounted pull up bars are always going to give you a more rigid, secure workout than doorway pull up bars. If you have a choice between the two, you should opt for a ceiling mounted bar. These bars screw directly into the ceiling. This arrangement allows for the most versatility when exercising as there is no wall or doorway to restrict your bodily movement.
The practicality of using a ceiling mounted pull up bar is dictated by the height of your ceiling and the spacing of your ceiling studs. By shopping around you will be able to find a range of vertical bar lengths to accommodate higher than normal ceilings. Alternatively, you can place a box or chair below the bar to allow you to reach up to it.
Wall mounted bars screw directly into wall studs (or a concrete wall). To ensure that the apparatus allows for the free flowing movement of your body, check that the bar extends at least 14 inches from the wall.
What to Look For In a Wall Mounted Pull Up Bar
Maximum load capacity -

Look for a 400 pound max load (the maximum load of a wall mounted pull up bar will be greater than that of a doorway pull up bar).

Extension from wall -

you need a minimum of 14 inches wall clearance

Installation kit -

this should be included, along with fixing bolts.
Non slip grips.
Range of gripping positions, including neutral grip.
Provision for extra exercises, including dips.

Adjustability -

an adjustable pull up bar will allow you to work with a range of stud distances.
What to Look For In a Ceiling Mounted Pull Up Bar
Maximum load capacity -

a rafter pull up bar should be stronger than either a door way or a wall mounted bar. The best ceiling mounted pull up bar will have a maximum load of 500 pounds.

Vertical Bar Length -

The bar length needs to accommodate your pull up bar ceiling height so that you can comfortably reach up to the bar while also giving you enough head clearance to perform exercises like muscle ups. An adjustable pull up bar will accommodate different ceiling heights.

Spacing into bolt holes -

the standard distance between ceiling studs is 16 inches, but some are set at 24 inches. be aware of what you require and make sure it matches before you make the purchase.

Number of bolts for mounting -

the best bars will have 6 mounting bolts.
Installing Your Joist Mounted Pull Up Bar
Unpack the bar.
Lay it out so that you know what the finished product will look like and to ensure that you don't have any missing pieces.
Get a decent power drill with a hammer function. Make sure that you are using the right drill bit for your wall structure
Use your stud pull up bar wall mount brackets to mark out the bolt holes on the wall. Use pencil or crayon to mark the holes.
Carefully drill the holes and insert the wall plugs. Drill through deep enough for the entire screw to fit. Drill the holes in the opposite ends first.
Tap in the pull up bar wall mount bracket plugs gently with a hammer to get them flush with the wall.
Attach the bracket and tighten up the screws.
Drill the remaining two holes and insert the plugs.
Tighten up all the screws. Pull on the bar to make sure that it is stable and flush with the wall.
Repeat the whole process for the other side. Make sure you measure the distance between the two brackets if you're using a cross bar.
Insert the cross-bar and tighten all the washers and bolts.
Test the bar with your bodyweight to make sure that there is no loosening or movement.
Top Brands Wall and Ceiling Mounted Pull Up Bar Reviews
Ultimate Body Press
Ultimate Body Press are a Pennsylvania based manufacturer of quality home fitness equipment and workout gear.
In addition to pull up bars they provide dip stations, sand bags, resistance bands and clothing. Their website also provides workout guides.
---
Titan Fitness are suppliers of are a huge line of commercial and home fitness equipment including cages and racks, strength equipment, fitness and conditioning. Titan offer free, same day shipping on all their products. They also provide a 100% money back guarantee on all products. Their wall mounted pull up bar is a top seller.
---
Xtreme Monkey is part of the C & G Fitness Group, full service providers of specialty home and commercial fitness equipment. Their huge product line is backed by impeccable after sales service. The Xtreme Monkey line has forged a reputation as the go to source for the hardcore home fitness enthusiast.
A wall or ceiling mounted pull up bar provides you with more functionality and sturdiness than a doorway model. The effectiveness of your unit, though, is reliant on the diligence with which it is mounted. Make sure that you get a joist mounted bar that fits your studs and that provides you with the mounting integrity that you need to train day in and day out. You can check out more on this article about doorway pull up bar review and this review about pull up bar stand.

Here's a recap of our top three models:
Best in Class: Ultimate Body Press Ceiling Mounted Pull Up Bar
Best Value: Ultimate Body Press Wall Mounted Pull Up Bar
Most Affordable: Ablefitness Wall Mounted Chin up Bar Pull up Bar