Best Home Gym Machines | 2023 Home Gym Buying Guide
last updated:
Jul 14, 2021
The home gym machine is one of the most versatile pieces of training equipment you may want to consider when building your perfect garage gym.
With hundreds of possible lifts, exercises, or stretches, it's hard to argue that you won't get the fitness outcomes you're looking for with a home gym machine. But before you dive into investing in one of these puppies, you'll want to do your research.
Not all machines are created equal, so we spent hundreds of hours testing, reviewing, and comparing the top models to give you the best research tool possible. Peruse our top picks below and you'll be set up to make the right decision for your home gym needs.
In a Hurry? The test winner after 16 hrs of research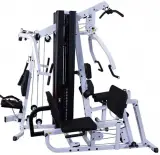 Body-Solid EXM3000LPS
Why is it better?
6 machines in 1
Weight stack included
Multidirectional resistance
23
Researched Sources
11k
Reviews Considered
16
Hours Researching
14
Products Evaluated
Features
Durability
Versatility
Adjustability
Effectiveness
By Default
10 Best Home Gyms & Workout Equipment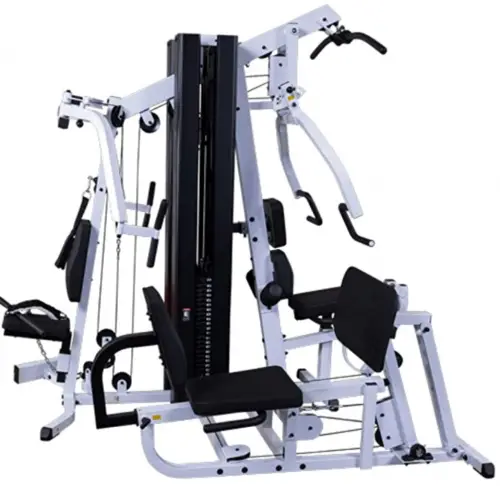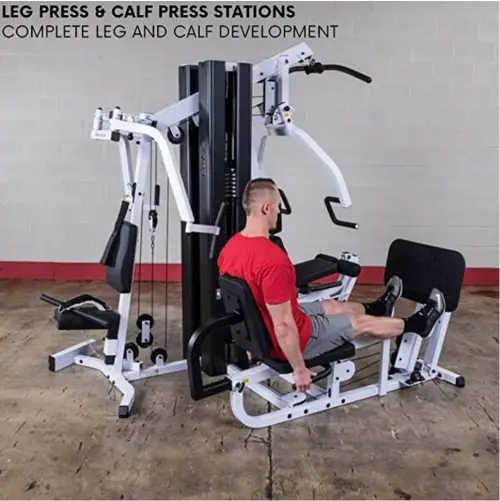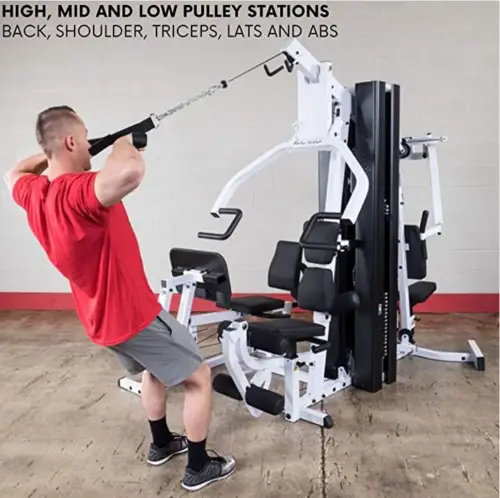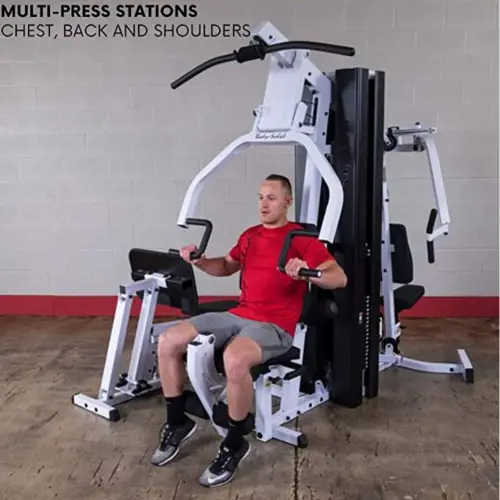 6 machines in 1
Weight stack included
Multidirectional resistance
Expensive
Difficult to assemble
Working to build a commercial-grade gym in your garage? If you want the best of the best, this pricy design from Body-Solid is an excellent choice. Not only does this design expertly target every single muscle group, but it also offers multi-directional resistance to boost muscle engagement by an impressive 25 percent. If you have the extra cash to spend, this option is worth every penny!
Read more
Everything that you need to sculpt muscles from head to toe is included with this design. The included weight stack maxes out at around 210 pounds, and the compact design fits 6 different workout stations into one unit. It also includes a separate leg station that uses tension resistance to sculpt your lower body as well.
The compact unit boasts a central seat that is composed of durable foam that is incredibly comfortable and wicks away sweat. The central unit offers flys, cable pulldowns, and presses. The pulley along the bottom is great for seated rows as well.
If you want to bring the quality and function of commercial gym equipment right into your garage, this design from Body-Solid is one of your best options, THis set expertly targets every muscle group in your body, and packs 6 different machines into one. It costs more than some of the more budget-friendly options, but we feel that it is well worth it.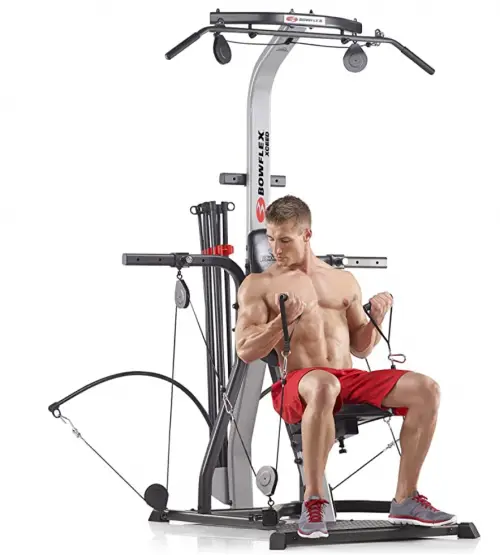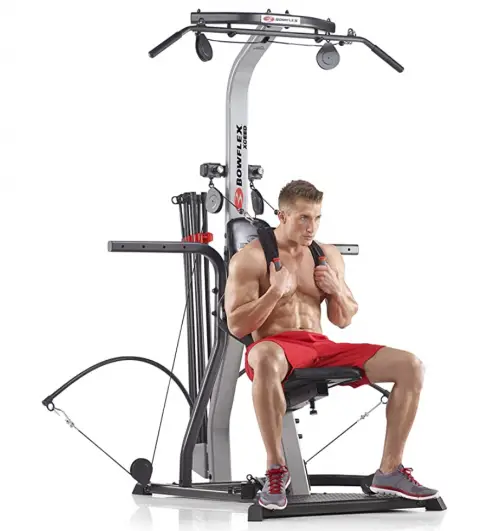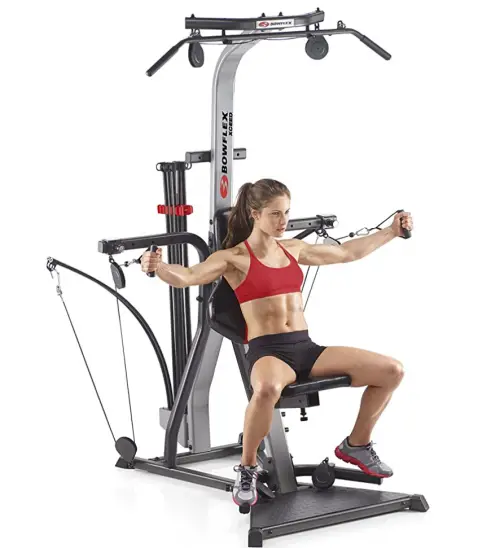 Affordable
Stack-free
Easy to adjust
Hits upper and lower body
Bowflex is one of the most trusted names in the home gym world, which is why it makes a few appearances on our list. The Xceed from Bowflex is slightly different from many of the other designs that we have seen. It completely omits the use of a weight stack and instead utilizes adjustable cable resistance for ease of use and fluid motion. It costs a little bit more than most, but we feel that it is worth every penny.
Read more
The Xceed may look very similar to the Xtreme 2SE, but there are a few key changes in designs that are worth considering. The Xceed uses a similar pulley system that creates resistance on the line without the need for stack weights, and users can adjust the resistance levels quickly and easily. Much like the Xtreme 2SE, the weights on the line maxes out at around 210 and has room to be upgraded to 310 or 410 pounds. All of these features are included in both the Xceed and Xtreme 2SE.
The big changes like in the various movements offered in the two machines. The Xceed falls a little short on available workouts. While the Xtreme 2SE offers up to 70 unique workouts, the Xceed only offers about 65. So, why opt for the Xceed if it cannot accommodate as many movements? The answer boils down to price. The Xceed cost about ⅓ of the price of the Xtreme 2SE!
If you want all of the features and compact design of a Bowflex machine but don't quite have the available funds to drop 4 digits on home workout equipment, the Xceed is an excellent alternative. It boasts a frame that hits up all muscles ground in your body on a slim and compact frame.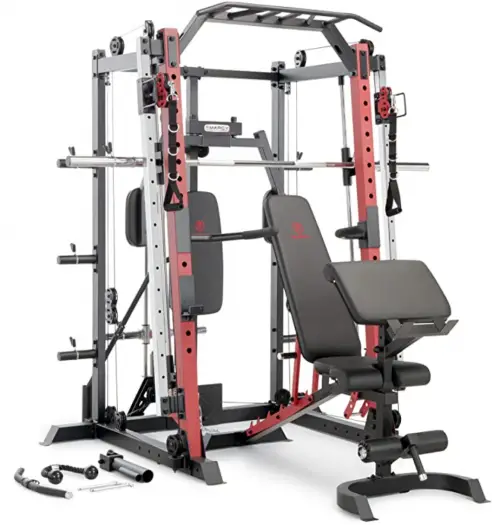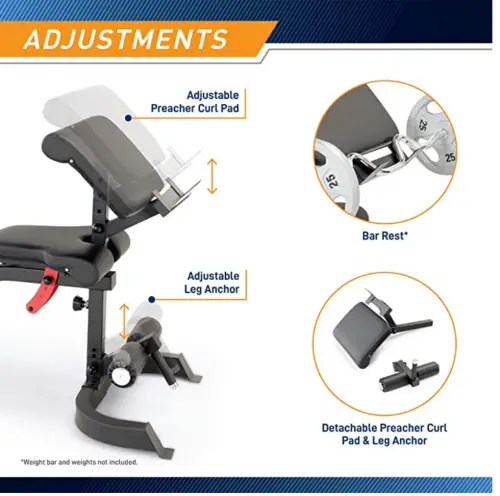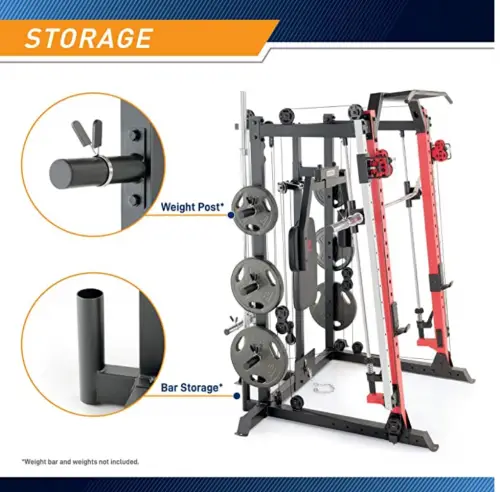 Weight bench included
A 2,000-pound capacity pulley system
Solid steel construction
Expensive
Weight stack not included
Just one look at this beast of a design and you know that it is ready for just about anything that you can throw at it. While it boasts a pretty large footprint, there is no lift or movement that this powerful cage cannot accomplish. If you want something that can conquer just about anything and you have the extra scratch to cover the steep price point, this machine is the beginning and end of your equipment-shopping journey.
Read more
Before we dive into all of the lifts offered by this machine, we wanted to talk a little bit about the construction. It is composed of all-steel construction with a sleek powder-coated finish that can hold up to even the mustiest and humid basements or garages. The durable pulley has a weight capacity of 2,000 pounds, which means it handles anything you can throw at it.
This unit includes a power cage as well as a standard weight bench to accommodate a wide variety of lifts. Along the top of the unit, it also boasts a dual pulley system that is ideal not only for upper bodywork but lower bodywork as well. The downside to this machine is that users must supply their own weight plates because it does not come with an included weight stack.
If you are in the market for something that does it all, this design is worth checking out. It includes just about everything you need to sculpt killer muscles from head to toe, and it is composed of strong and durable materials that can stand the test of time. It comes in at a higher price point, but when you take into consideration everything included with this unit, it is an excellent value.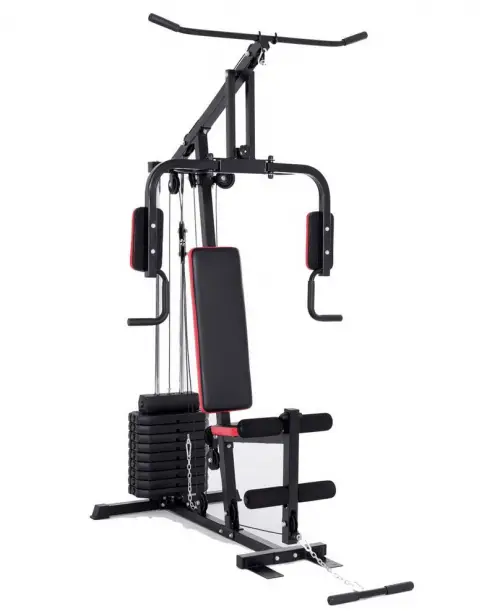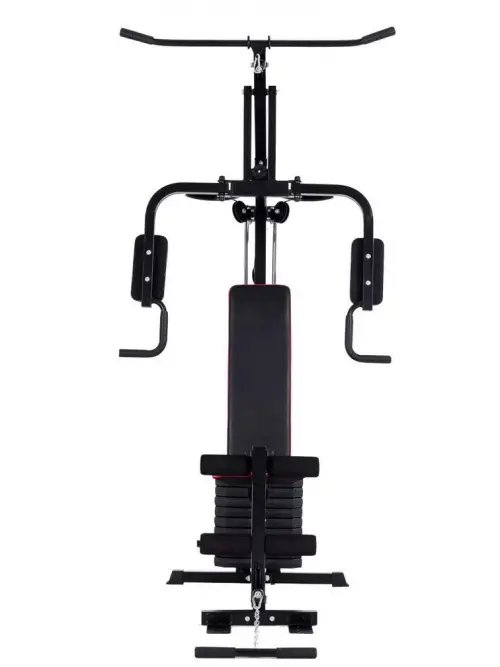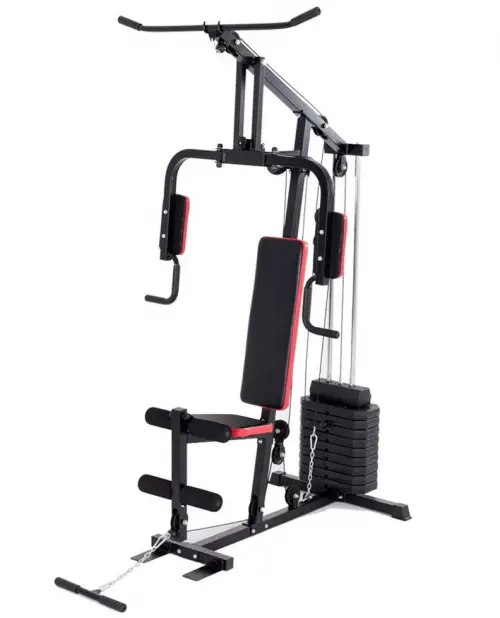 Easy to set up
Slim frame
Easy to adjust
Awkward for users over 6'
Simplicity is the name of the game when it comes to this design from GYMAX. It is composed of a super-solid construction that will stand the test of time, and users find that this frame is fairly easy to assemble on their own. It provides users with ample stations that target all muscle groups, and making adjustments is quick and easy.
Read more
We love that this design comes with its own weight stack that is super simple to adjust. Simply pull out the central pin and move it up and down to your desired weight. The stack weighs just over 100 pounds, and the pulley system provides extra resistance as needed.
This design includes a central seat with a high back that is composed of durable foam that works to wick away sweat and moisture. It includes a wide lat pulldown bar that enables you to adjust your grip to activate various muscle groups in your back, as well as a pair of fly bars. We love that it includes a pulley at the base of the unit that is great for seat rows or other lower-body workouts.
If you are in the market for something that boasts a slim frame, is easy to set up, and includes all of the tools needed to sculpt killer muscles from head to toe, this simple design from GYMAX is worth checking out. It costs a little bit more than other standard designs, but the quality of materials used makes it an excellent value.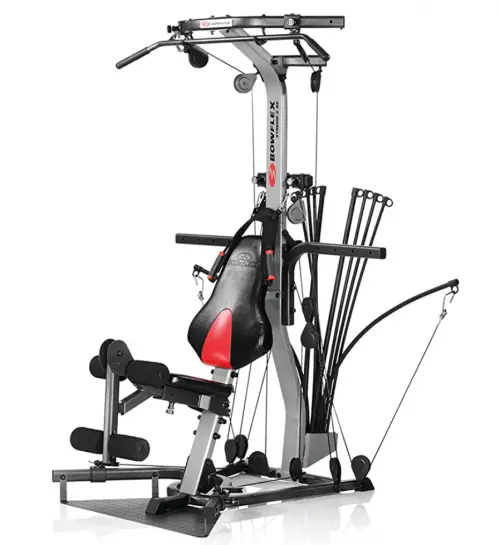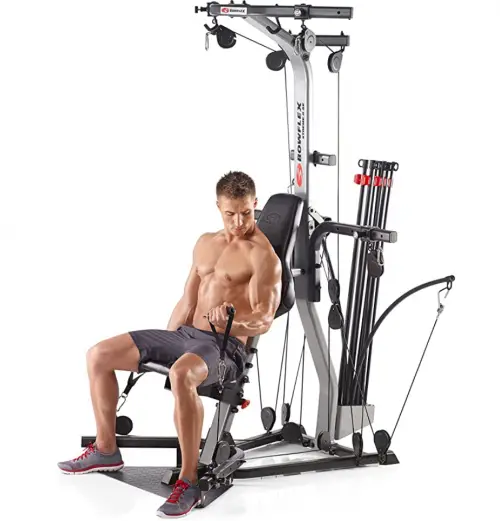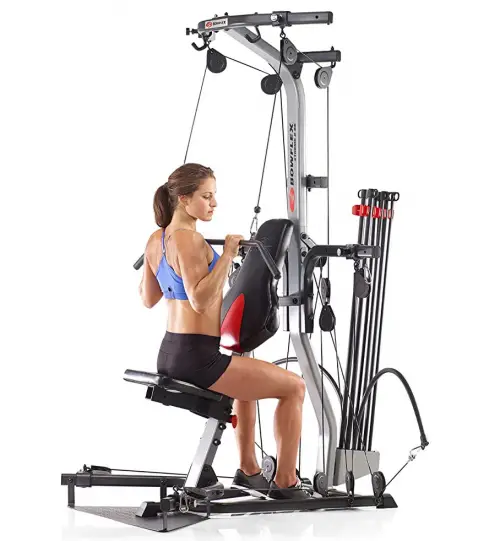 Complete resistance training
Lightweight machine
Wide variety of exercise angles
Stylish and compact
The Bowflex Xtreme 2SE is the best all in one home gym for your strength training at home. It has a squat station, lat tower, leg attachment, and bench press. You will be able to do over 65 exercises in a fairly small space.
Read more
The Bowflex Xtreme 2SE is the most popular Bowflex power rod resistance machine on the market. This gym machine for home use provides you with an infinite variety of angles.
You can do the 210 pounds of rod resistance to 310 and 410 pounds. It provides you with a smooth glide resistance through a full range of motion without the actual bulk of the resistance poundage.
This home gym equipment comes complete with a pulldown tower and an angled lat bar. The cable resistance has a smooth, natural action that lets you fully extend and contract the muscle group.
This is a stylish, compact, lightweight machine that packs everything you need, including plenty of resistance, into an affordable package.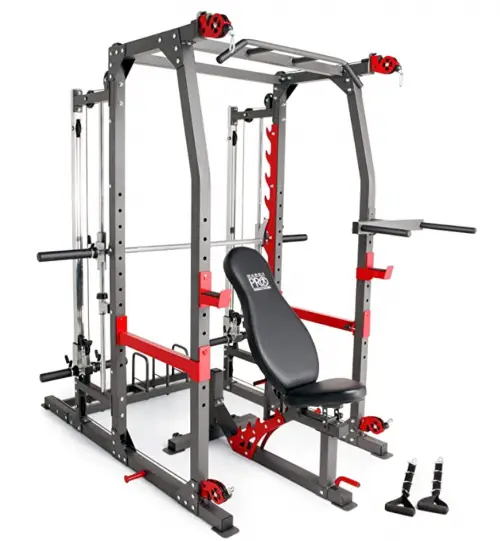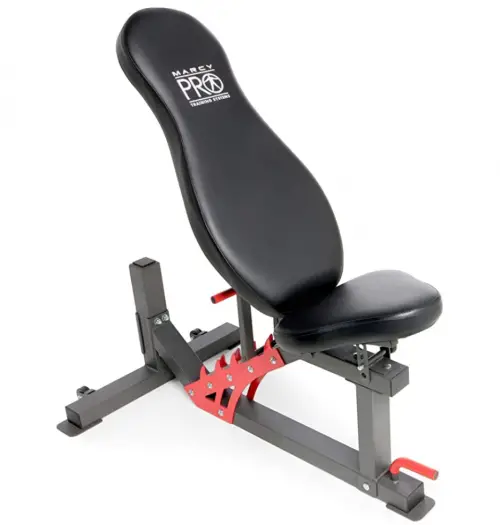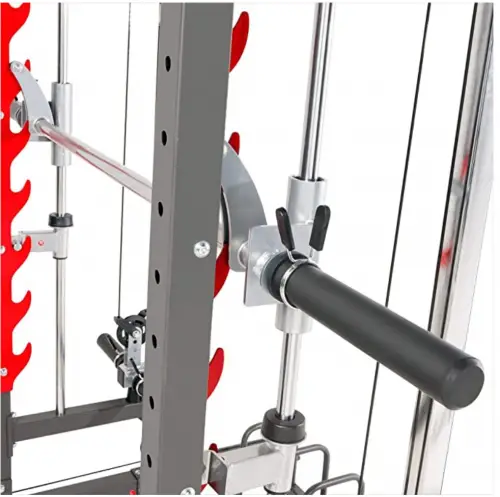 Compact design
Heavy-duty steel construction
Adjustable bar catches
Deluxe upholstery
The Marcy Pro Smith machine is a 3 in 1 body training system. The design is nice and compact with only two pieces. It is made of heavy-duty steel construction with a powder coat finish. The overhead pulley system lets you cable cross exercise.
Read more
You will get a nice complete workout with this home gym equipment. It is packed with exercise options that will help you reach your body toning goals. The all in one home gym system provides precision, linear bearings, a free weight rack, and a cable pulley system.
It looks sleek and sophisticated made of heavy-duty steel with a nice powder coating finish. It can hold up to 600 pounds.
This home gym machine is perfect for your home environment and will save you money and time when you can work out at home.
7

. Body-Solid StrengthTech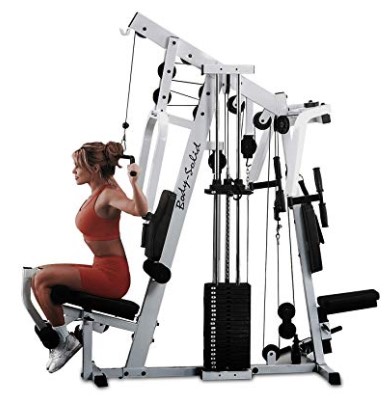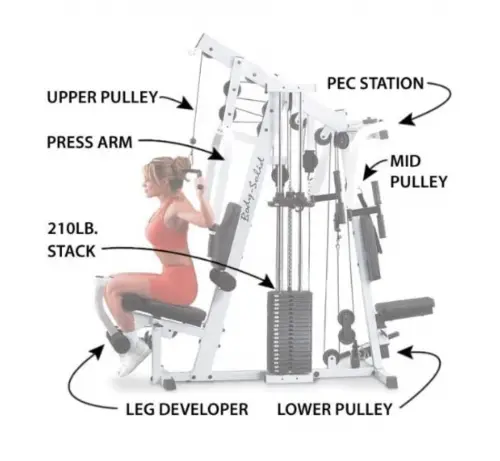 210 lb. weight stack
Separate pec station
Thick seat padding
Made of heavy-duty steel
Body-Solid is the second-best home gym machine and the best pick for beginners on our list. It features a 210-pound weight stack and dual-sided individual stations. The Body-Solid is made of quality steel, DuraFirm padding, and no cables changing. It also has a pec station, leg developer, and a variety of pulleys.
Read more
This home gym equipment has been highly recommended. It includes a 210-pound weight stack made of quality steel. The DuraFirm pads are extra thick and the entire machine has a heavy-duty construction.
The home gym also features a Pec-Fly station including its own seat.
It includes three pulleys and gives you unlimited exercises including crunches, lat pulldowns, and press downs.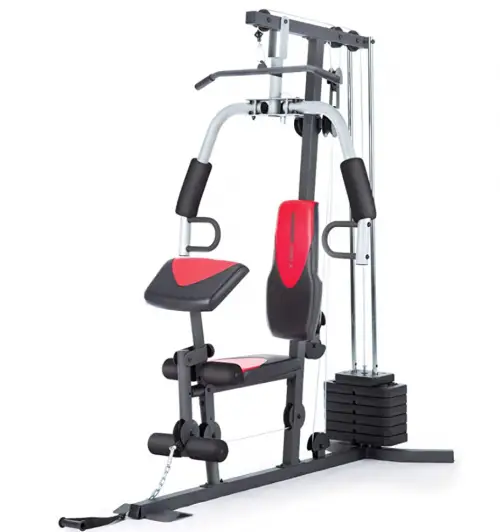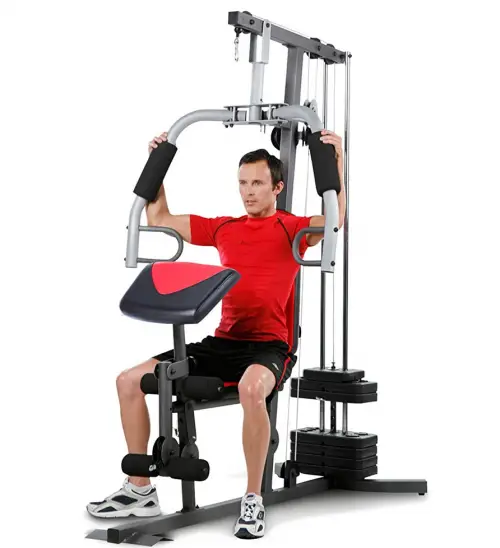 Affordable
Detachable preacher pad
Soft foam padding
Weight stack included
Focuses primarily on the upper body
The great thing about this option from Weider is that it delivers a wide variety of weighted workouts, and it comes in at an affordable price point when compared to some of the commercial-grade options out there. The best part about this design is that it also includes a weight stack that makes your workouts challenging and engaging.
Read more
The very first thing that we noticed about this design is that it includes 214-pound stack weights along the back of the unit. Users are able to adjust how much weight they need by simply pulling out a pin and placing it at the desired weight, just like at the gym.
This unit boasts a central chair with a detachable preacher pad for isolated dumbbell work. Available lifts include weighted lat pulldowns and flys. What we really love about this machine is that it also has a pulley attachment at the base that allows you to engage in seated rows or additional weighted arm and leg work.
This unit may seem fairly simple, but there are a ton of workouts available that activate all muscle groups. While it can hit your lower body, this design focuses more on building upper body strength and comes in at a super affordable price point that is worth checking out.
9

. Total Body Home Gym XLS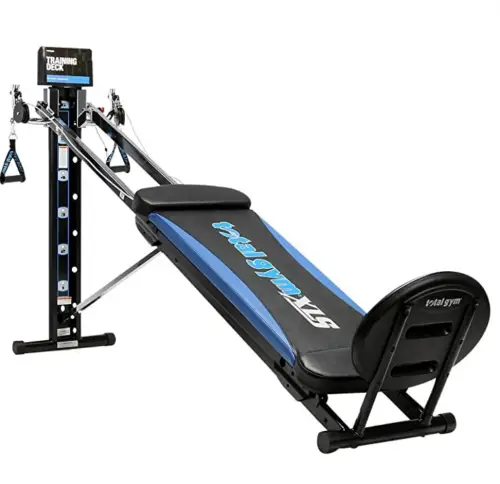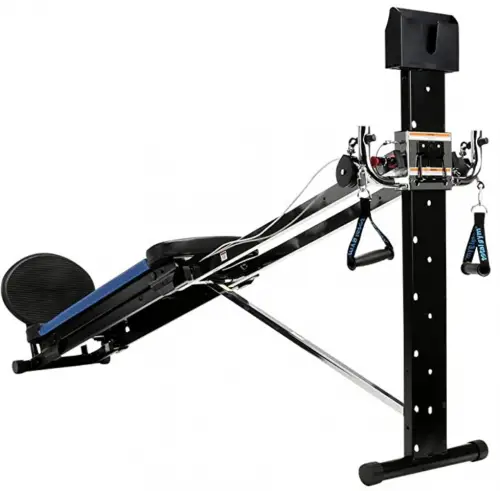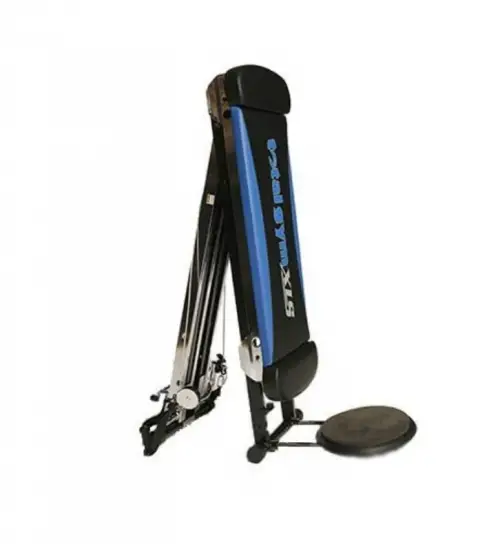 6 levels of resistance
400 lb weight capacity
Over 80 exercises
Good for the whole family
The Total Body Home Gym offers six levels of resistance training. It has a 400-pound weight capacity with head support and a padded glide board. Get on your fitness track with over 80 exercise options.
Read more
This option is suitable for the entire family and can work with all fitness levels from beginners and up to advanced. It does not require any assembly, and it can fold up to provide you with easy and convenient storage.
The Total Gym has undergone many innovations over the years with this latest version providing a challenging multi-dimensional workout for all levels of training.
It includes a wing attachment, a leg pull, ribbed squat stand, five workout DVD's, a training deck, and a nutritional meal guide to help incorporate a healthy and balanced diet into your new workout routine.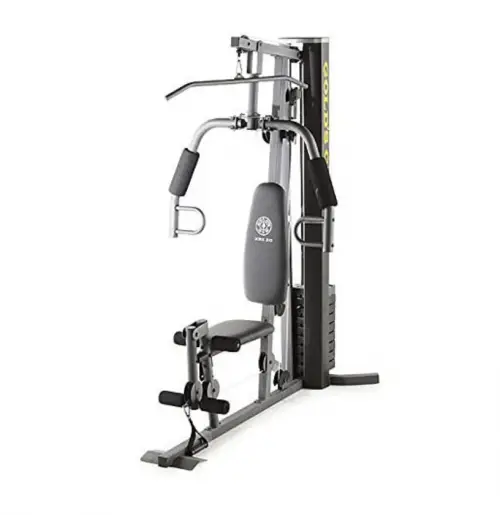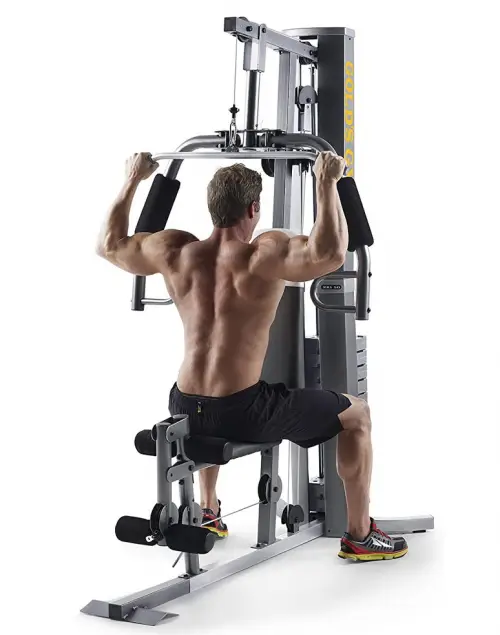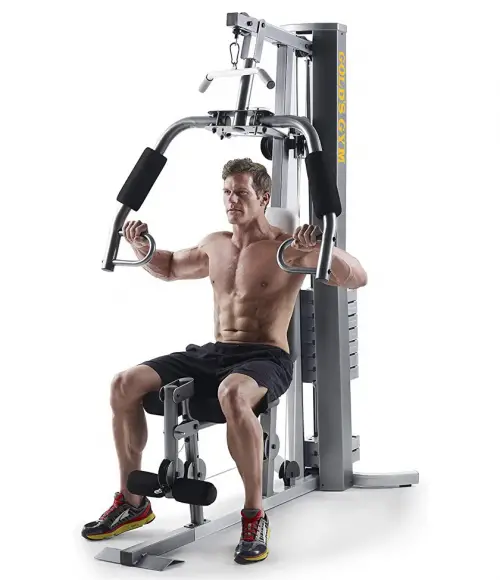 Slim profile
Works upper and lower body
Easy to assemble
Working with limited space in your home gym? What we love most about this design from Gold's Gym is that it has a slightly smaller footprint when compared to other designs out there on the market. This design utilizes an upper body and lower body pulley system to activate muscle groups in your entire body and even includes the weight stack.
Read more
This design includes a 112-pound weight stack that can offer users over 250 pounds of resistance with an included pulley system. What we loved most about this design is that it has an upper and lower pulley system so that you can fit in a killer workout your entire body in one slim and compact frame.
This unit boasts a central foam padded chair with slim foam rollers along the base for added stability and support. It provides users with a wide lat pulldown down and cable fly bars to activate all those muscles in your upper body. It also boasts a lower pulley system along the base that allows you to use the included weight stack for lower body weight training as well.
This design from Gold's Gym costs a little bit more than some of the other designs that we have seen so far, but the compact frame and sturdy design make it well worth the extra cost. Users love this design because it boasts comfortable features that allow you to really dig into your lifts, and it is fairly easy to assemble.
Criteria Used for Evaluation

Features
When you are looking at the different exercises that the best home gyms are designed to do, keep in mind your own goals. You want a system that will match whether you want to focus on strength training, building muscle, losing weight, or whatever your goals are.

Durability
If you are serious about your workout, you are going to need a gym that will stand up to some stress. Look for a gym made from premium steel and quality upholstery, something which is going to stand up to a good training session.

Versatility
Versatility is important because you want a system you can do a variety of different exercises on, even if you decide to switch up your routine. It needs to be able to do a variety of setups.

Adjustability
Adjustability means being able to work out with different weight amounts easily. It means being able to adjust the machine to match your stature whether you are short or tall. It means being able to move the home gym machines for different workouts easily and safely.

Effectiveness
If you want to find a machine that is effective, you need to keep in mind what you are hoping to accomplish with this gym. If it is effective, it will be able to provide the type of workout you need to achieve your fitness goals.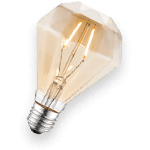 Take It Slow
Just because it comes with a 200-pound stack doesn't mean that you have to use all 200 pounds! It may feel good to struggle-bus a 200-pound press, but if your form is bad you won't engage the right muscles and risk injury.
Select a weight that allows you to fully engage in proper form from start to finish. If you engage in the right form, you are well on your way to clean 200-pound presses!
Check Reviews About Assembly
When you are deciding which home gym to buy, you might want to consider how difficult it will be to put together especially if you are not mechanically inclined. Are the instructions up to date and easy to follow? Are there videos to help? Is it easy to contact tech support?
If you are feeling uneasy about assembling it yourself, spend just a little extra cash to employ the help of a professional!
Frequently Asked Questions
q:

What are the benefits of a home gym?

a:

There are many benefits to having the best full-body workout machine for home. You can work at your own pace on your own schedule in private. You do not have to wait for your turn to use your machine. You do not have to wait for someone else's sweat off the equipment.
q:

What should I look for if I am into muscle building?

a:

If your main fitness goal is bodybuilding or building up muscle, you will want to focus on machines that highlight the weight stacks or weight plate.
q:

What if my main goal is to tone up or lose fat?

a:

If you want to burn calories, lose fat or tone up you cannot really go wrong with any of the machines. Resistance based equipment is probably the most geared to this goal.
q:

What do I need in my home gym?

a:

You want the resistance training so you can work as you are using a barbell. You need a bench that you can sit or lay on for some of the exercises. Also, a rack and some extra flooring are good. You might want to add a kettlebell as well.
q:

How much money will I need to invest?

a:

If you are a beginner, you can probably get started at around $500-$1000. For around $1000-$2000, you can get a solid and versatile gym. It should have its own weight stack. From $2000 on up you are getting into some high-end best home gym equipment.
q:

How do I set up a home gym?

a:

In a perfect world, these machines would arrive on your doorstep expertly assembled and ready to go. We, however, do not live in that perfect world. These machines ship in compact boxes, and often come in multiple shipments. They also require you to dig out your toolbox and follow the instructions very carefully.

For machines such as treadmills and stationary bikes, we fully support putting them together yourself. However, these machines are tedious and complicated, and one loose bolt is a recipe for disaster.

For these complicated machines, we recommend spending just a little bit more to employ a professional to assemble your machine for you. The good news is that most brands give you the option to tack on a little bit more to your bill to have an expert come to your house to assemble it!
Subscribe to our newsletter