10 Best Adjustable Dumbbells – 2023 Home Gym Buying Guide
last updated:
Jul 14, 2021
Adjustable dumbells are a versatile asset in any good home gym. They don't take up much space and their versatility allows you to keep your workouts interesting.
But not all adjustable dumbell sets are created equal. So we spent hundreds of hours testing and reviewing the top models to help you find the best set for your home gym.
Peruse our top picks below and you'll be one step closer to the garage gym of your dreams.
In a Hurry? The test winner after 8 hrs of research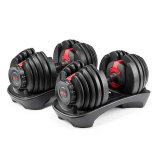 BowFlex SelectTech 552
Why is it better?
Incredible adjustability
Advanced dial system
2-year warranty
Highly trusted brand
Beautifully designed
30
Researched Sources
6.7k
Reviews Considered
8
Hours Researching
10
Products Evaluated
Adjustability
Advanced Features
Safety Hazards
Ease of Use
Portability
By Default
10 Best Adjustable Dumbbells
1

. BowFlex SelectTech 552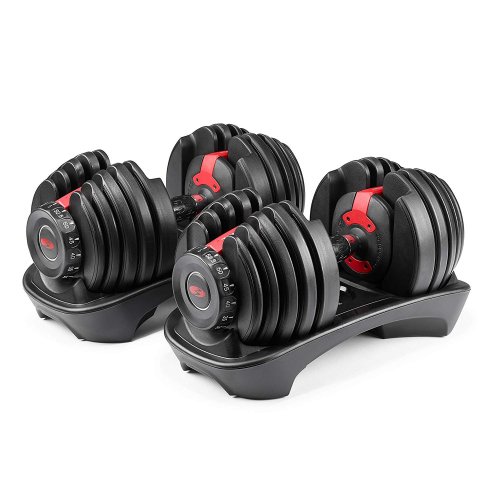 Incredible adjustability
Advanced dial system
2-year warranty
Highly trusted brand
Beautifully designed
The Bowflex name is synonymous with fitness and working out and these dumbbells are no exception to that fact. These adjustable dumbbells are relatively inexpensive and are helpful in enhancing the exerciser's range of motion or ROM. Bowflex adjustable dumbbells enable veteran lifters to maintain and add to their muscle-building routine and help new weightlifters to lose weight and stay toned. If you start out with these dumbbells, it is unlikely you will make a switch unless you want to experience more of a challenge or start working out to compete in weightlifting contests.
Read more
If that is the case, you probably would make a switch to the Powerblock adjustable dumbbells, which are often used by weightlifting aficionados. Otherwise, you will probably stay with Bowflex as long as you make weightlifting a habit.
If you do choose the Bowflex adjustable dumbbells, you will also need an adjustable flat bench. The bench should incline at 45 degrees and 90 degrees. A rubber mat should also be included as an accessory.
Among Bowflex models, you will be very pleased with the Select Tech 552, which are noted as being the most quality adjustable dumbbells online by many weightlifting experts.
The weights on this Bowflex dumbbell set range from 5 pounds all the way to 52.5 pounds, each of which can be increased in 2.5-pound increments. Since many adjustable dumbbells increase in 5-pound increments, beginners appreciate the more gradual increase in weight.
You will like the dial on the dumbbells which allows you to increase the weight in a blink of an eye. The weights come with a 2-year guarantee- a great deal if you are just beginning a weightlifting program or routine.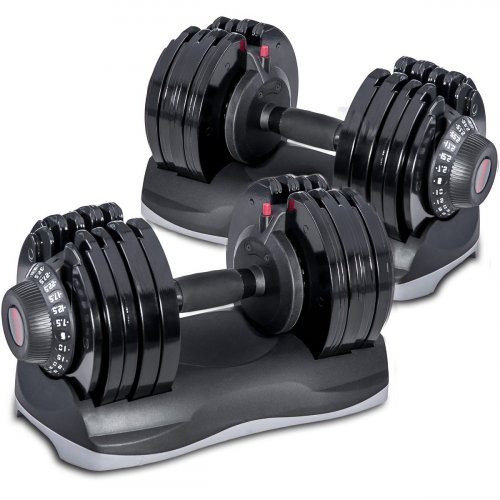 Worldwide shipping
Total of 12 weight options
2yr warranty included
Adjusts quickly and efficiently
Merax didn't name this adjustable dumbbell set the "Deluxe" for no reason - they truly are a luxurious set! Honestly, it doesn't really get better than this. They're trailblazers in the industry and it shows in their gorgeous gear and flawless implementation of features.nThese adjustable dumbbells are pretty expensive... but you know what they say! If it's cheap it ain't good, and if it's good it ain't cheap. That isn't the case across the board, but it definitely holds some weight. Investing in anything this high-quality is worth it!
Read more
We love, love, love this set! It's not often you see a "100" across the board, but here you have it! We've fallen for the beautiful aesthetic, a combination of different weights available, and the quick, easy way to adjust them.
There aren't many complaints here! But there is one glaring problem that we're gonna go over real quick.
First and foremost, again, this is a high-end set. We recommend that only serious, seasoned athletes invest here. There are quite a few sets on the list that are far more friendly to beginners. Of course, the adjustability makes it generally friendly across the board.
The real reason we're going over this isn't to do with the design itself - it's more to do with the price. They're absolutely superior to any other equipment on the market currently... but they come with that hefty price tag.
If you're a pro at pumping iron, go for it! These are the best adjustable dumbbells and absolutely welcome addition to any home gym setup.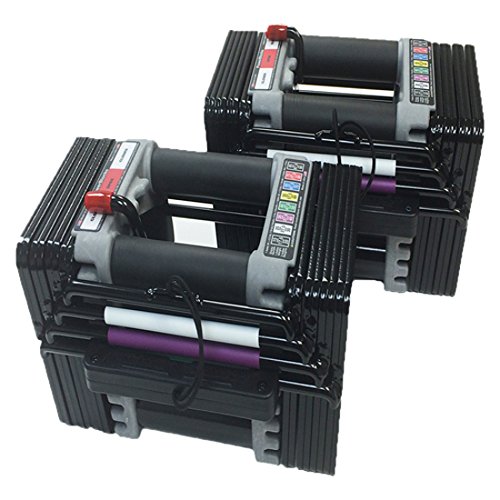 Multiple styles available
Offers different weight sets
Unique design
Made in the USA
Can replace 16 dumbbell sets
Powerblock offers some of the sturdiest adjustable dumbbell sets on the market. This one, in particular, can be made heavier or lighter, depending on your workout routine. It's just super easy to do, and we love super easy as much as you do! These dumbbells are simple to adjust and therefore make quick work out the process. The fast change tool is one of the equipment's popular features.
Read more
Powerblock adjustable dumbbells feature a selector pin that naturally fits into one of the various sockets.
The Elite 90 dumbbell set by Powerblock comes with selector weights that range from 5 to 90 pounds. The adjustable weights also come with a couple of 2.5lb removable weight bars.
According to fitness experts, the Powerblock dumbbell set is an advanced system. Once the dumbbells are set at the fixed-rate, they almost seem to lock in place.
The pin weight on the equipment is virtually unbreakable, if not indestructible. This strong set of dumbbells makes any user a stronger and more proficient weightlifter.
4

. Core Fitness Twistlock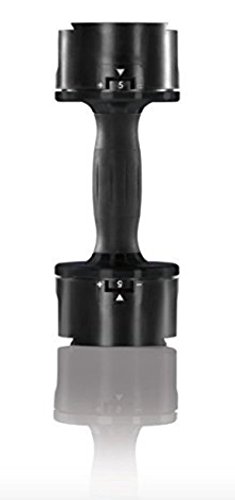 Offers a range of 5-50lbs
Includes stand system
Made with TwistLock technology
Change weight with a single hand
Must be on stand to adjust
Core Fitness has worked its way into the core of our hearts! There are few brands that we come to love, but this is certainly one of them. When it comes to your home gym, you need to make sure you're investing in high-quality products. No worries on that end, though. Core Fitness makes it easy! They make helluva adjustable dumbbells and have some other great stuff going on.
Read more
Core Fitness makes use of Twistlock technology to provide you with a selectorized dumbbell set with a weight setting of between 5 and 50 pounds on each dumbbell. In fact, the weight adjustment is so simple that you can do it with just one hand.
You simply set the dumbbell in the handle that is provided and twist the handle for a quick and secure weight change. The contoured soft grip handles are the most comfortable of any of the adjustable dumbbells we have reviewed on this page. This dumbbell set is very compact allowing you to do away with a complete rack of dumbells.
This option comes with a two-year parts warranty. With a 9 3/8 inch length these dumbbells are considerably more compact than others on the market. There is no provision to add more resistance to this set.
5

. Weider Select-A-Weight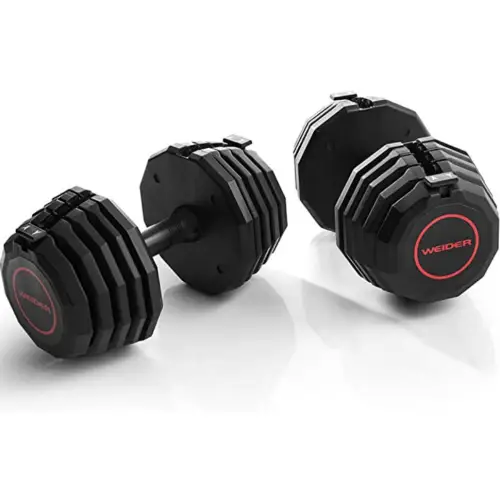 Incredibly durable
Easy to adjust
50 pounds max
Adjustable in 10-pound increments
Slightly expensive
Weider is an incredibly trusted brand in the fitness world, so it's no surprise that their adjustable design made our list. What we love most about this serious set is that it accommodates up to 50 pounds per dumbbell, and it comes in a set of two. Users find that they are incredibly easy to use, and hold up well over time.
Read more
The most notable feature of this option is that each unit is able to support 50 pounds, which makes it great for bodybuilders or powerlifters. A higher weight is perfect for effective upper body and lower body exercises. The only downside is that they can only be adjusted by 10-pound increments, which can make targeting smaller muscle groups a challenge.
As with all Weider products, it is composed of tough materials that will hold up well over time. While you can drop them on the ground like solid dumbbells, users find that the quality of materials used for quick transitions and smooth liftoffs, even after years of continued use.
While it may come in at a slightly higher price point when compared to more budget-friendly designs out there, we feel that the quality of materials used as well as ease of use makes it worth every penny. If you want to push yourself to lift heavy weights, this is a set that is able to keep up with all of your fitness goals.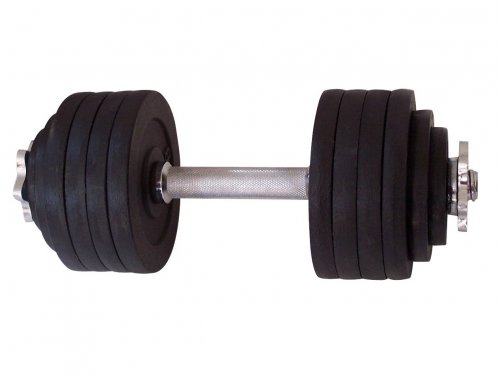 Cast iron design
Small increment changes
Threaded collars/handles
Textured handle for grip
Thin handle can be uncomfortable
There are few materials more sturdy and of higher quality. Quite frankly, we're a huge fan. Plus, cast iron just looks really cool. We all are guilty of gym selfies... especially when they're in the comfort of our own home. Be real about it. No shame in our game, or yours! So, cool design? Check. Great quality? Check. Trusted company? Check!
Read more
The Unipack is a high-quality adjustable set of cast iron dumbbells that comes in at a total weight of 52.5 pounds per one weight (the dumbbells are sold as a pair). Each dumbbell provides you with eight 5 pound plates, two 2.5 pound plates, and two 1.25 pound plates.
The 1.5-inch diameter dumbbell handles are sixteen inches in length and made of silver-plated chrome. They are also beveled to provide you with a secure, comfortable grip.
The spinlock collars and threaded bar ends provide you with an easy on/off mechanism. This is an affordable, durable and compact traditional adjustable dumbbell set.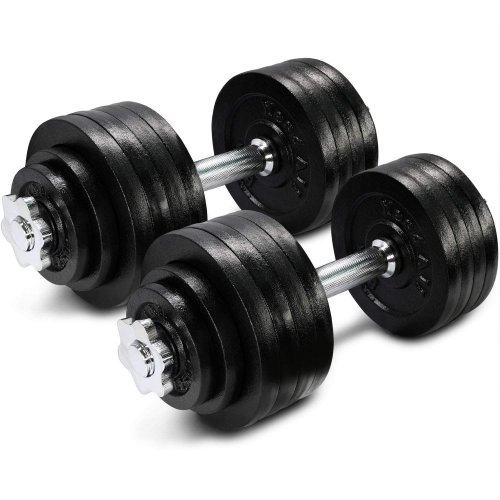 Thick handle for grip
Star-lock collars
Rubber trims
Diamond knurled handle
Are you looking for the top-rated adjustable dumbbells? Is your favorite color chrome? Yes4All has taken great care in this set to ensure a great style everybody will love. They've also included a laundry list of excellent features that we're just dying to get into. You have to love a great design from an excellent brand!
Read more
The YES4ALL Adjustable Dumbbell sets offer you a range of heavy-duty dumbbells for your heavy lifting.
The dumbbells are made of cast iron and covered in a semi-gloss finish. Spinlock collars provide you with an easy and very quick way to get the plates on and off. The cast-iron weights fit onto a 1.5 inch standard with a dumbbell bar. Each bar is sixteen inches long and knurled in chrome.
This ensures that you get a very secure and firm grip. The dumbbell weights are circular as opposed to hexagonal. This allows you to roll the weights into place, saving your back between sets.
The Yes4All adjustable dumbbell set is sold in pairs and come in at a very affordable price point.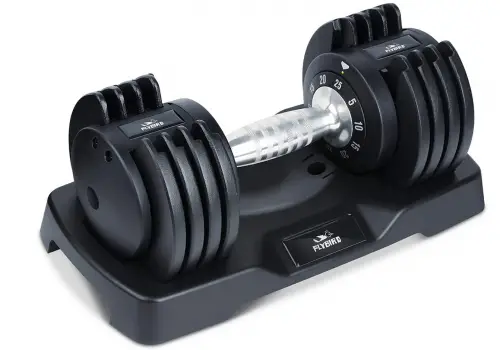 Incredibly affordable
Space-saver
Easy to adjust
Very thick handle
Slippery grip
Running short on cash? This simple design from Flybird is a great budget-friendly design that helps to build muscle without draining your pocketbook. It is important to note that this design is sold as a single unit. However, if you need a pair for your workouts, two sets of this design are still more affordable than many of the other designs that we have seen on our list!
Read more
The more affordable price point is due to the lighter weight of this design. It is able to be adjusted to up to 25 pounds. For bodybuilders and casual lifters, 25 pounds is just enough to really help build muscle. For powerlifters, you may find that you need a little bit more for those supplemental lifts. We also love that users can adjust the weight by simple 5-pound increments.
We also love that this design from Flybird is just a little bit smaller than other options out there on the market. If you need to save space and need something that you can tuck under a table or a bench to free up floor space, this is a great option. Plus, making adjustments is quick and easy, and audibly clicks in place to ensure you have the right weight selected.
What makes this design from FLybird unique is that it allows the user to select one or two dumbbells to suit their needs. If you are running short on cash and can engage in your workouts with a single dumbbell, this is one of the most affordable designs out there on the market, making it worth checking out.
9

. Cap Barbell Adjustabell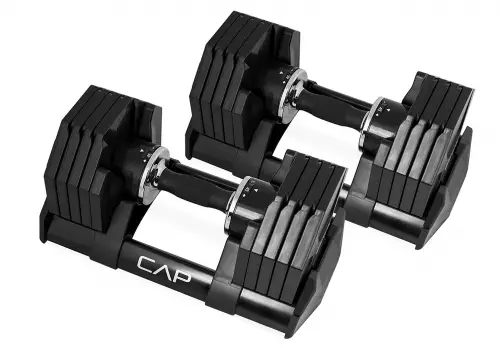 Hexagonal plates
Snappy adjustments
Adjusts by 5-pound increments
Slightly expensive
More fragile than most
Despite the name, Cap Barbell works in more than just plates and barbells! This set provides lifters with the versatility and ease of use that will keep you drop sets snappy. The base of this unit is strong and solid, and the hexagonal shape of the plates means that they won't roll away when engaging in various movements. They're slightly more expensive when compared to other 50 pounds models, but we feel that they are well worth it!
Read more
This set is able to be adjusted to accommodate up to 50 pounds per dumbbell, making them a great option for powerlifters looking for a supplemental workout. Users can adjust the weights in 5-pound increments, which makes it easier to pick the perfect weight for a wide range of muscle groups. To adjust the weight, all you need to do is twist to your desired weight and you are ready to go.
What makes this design unique is that the plates on this set boast a hexagonal frame. This allows you to place them on the floor without them rolling away when not in use. The shape also makes it a little easier to load up into the tray for quick and efficient adjustments when speed is your ultimate goal.
If you are in the market for something that comes from a trusted brand and boasts features for quick and snappy drop sets, this design is worth checking out. It is composed of strong and sturdy materials that hold up well over time, and have smart design features to keep your workouts fresh and engaging.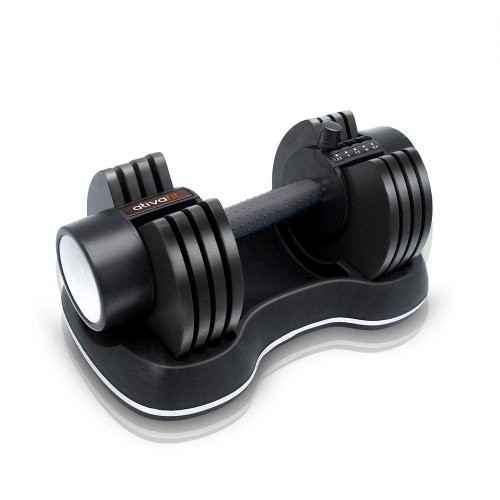 Soft handle
Great for beginners
Comes with stand
And here we are! Finally at the end with the last option on our top 10 adjustable dumbbells list. Today we're rounding it off with Ativafit. While this may not be a name you're familiar with, we assure you that they're an excellent choice for anybody who's just starting out. The only thing we really don't like is the low weight they offer. These only go up to 27.5lbs... which isn't great for range.
Read more
While the weight limit may not be great, we're drooling over the rest of the features provided. Firstly, they offer a stand with their adjustable dumbbell set. While this is fairly standard for gear of this type, it's still a nice feature since it isn't always the case!
Being a smaller set, it also takes up far less space... not that you'll mind having it on display. This is a pretty slick aesthetic as far as gym gear goes.
On the other hand, these are great adjustable dumbbells for anybody who's a beginner. You won't need something fancier or able to go up higher than 27.5lbs, after all. Probably not for a while. Muscle gain takes time so you can gladly invest in the ATIVAFIT without worry!
Criteria Used for Evaluation

Adjustability
The style and method of adjusting your weights will make drop sets and circuit training more effective.
Of course, we're kicking it off talking about adjustability. How could we not? That's the whole point of this article! The most important part about these sets is, in fact, their ability to adjust to your needs each and every time you use them.
There are several factors that come into play when you're looking at how "adjustable" these adjustable dumbbells really are. We always check to see what increments they move up in. 5lbs is the sweet spot as far as we're concerned - it's a fabulous way to slowly work your way up.
For more advanced users you may want a pair that goes up in a larger increment since you'll need more weight. It really depends on what kind of adjustable dumbbells you need and what you're looking for.

Advanced Features
Smart design features work to make your life just a little bit easier.
We love seeing adjustable dumbbells brands going the extra mile to provide excellent products. A large part of this is including extra features that can be considered "advanced".
Nowadays it's super easy to get a lot of bang for your buck. The internet has made research easy (even though we do that for you!) and keeps consumers informed and up to date on what they should be expecting out of their home gym equipment.
We mostly look for technology specific to the brand. There are quite a few who have designed their own systems for safety, ease of use, and more. We commend the brands that take extra time and care in the manufacturing and designing process.

Safety Hazards
Training hard and training safely is the key to results.
As with any equipment you use for working out, there are always things to keep an eye out for. It's important in particular with gym equipment, in fact. You can cause yourself a lot of damage and end up worse off than you were. Worst case scenario, you may end up having to do physical therapy from damage.
This isn't meant to scare you. It's just the reality of the situation! Luckily, we do that research for you so you know that the products on this list aren't going to cause you any grief.
Make sure to check over your adjustable dumbbells regularly for signs of wear, loose parts, and general damage. If it comes with a warranty, make sure you use it! Warranties are there for a reason and the company can absolutely take the blow from a return. Never feel guilty about demanding the quality you're assured when you make a purchase!

Ease of Use
No one wants to interrupt a speedy set by fiddling with complicated gear.
You shouldn't struggle to use these adjustable dumbbell sets. The entire point of them is an easy experience with multiple uses built into one fine design. This saves you space, time, and money.
Look for thicker handles which tend to be more secure. Threaded plates are great for stability, as well, which means you aren't going to struggle to get them adjusted. Make sure to look into how long it takes to adjust, and exactly what that process is. That's a big tip-off!

Portability
Sometimes, it's beneficial to take your show on the road.
What do we call home gym equipment that lacks portability? Useless!
Okay, maybe not. There are certain set-ups that really can't be moved, and those are totally worth investing in. For adjustable dumbbells, however, it's essential that they be easy to pick up and take with you wherever you go.
A lot of people like to take their stuff with them on vacation to keep up with their training routine. This lets you stay fit while you have fun (or work on the go!). Besides that, it's miserable to try and lug them around if you like to put everything away once you're done.
Carrying cases and easy-to-use stands are great for portability. If it doesn't come with a carrying case, you can generally buy one... but it's better to just buy the adjustable dumbbells, that come with a case.
Expert Interviews & Opinions
Most Important Criteria
(According to our experts opinion)
Experts Opinion
Editors Opinion
Users Opinion
By Default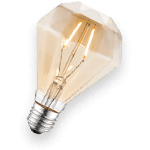 Did You Know?
Dumbbells were first created in Ancient Greece! They've been around for a while. And it's no wonder - they're a pretty obvious way to get your biceps boosted!
Math Lesson!
It's quite easy to measure just how much money you will save with a set of adjustable compared to standard solid dumbbells. Generally, the weight of a single dumbbell is about one dollar per pound. For a set of 10-50 pound dumbbells in 5-pound increments, you would need to spend about (cue furious calculator clicking) 650 dollars, which is about half as much as many of the sets on our list!
Other Factors to Consider

Brand
Alright, so the brand might not be the top priority. We fully recognize that. However, you need to keep in mind that there are some companies out there who've been killing it for years. It's essential to check out their product lines before you decide to go with a lesser-known brand.
You can rest assured that, of course, all of the brands we showcase are going to knock your socks off. We wouldn't have anything to do with them if not! Bowflex, for example, is a fantastic company with an excellent track record. Our second product on this list is by Bowflex!
Don't be afraid of lesser-known brands. That doesn't always equate to lower quality. But, if it makes you feel better, great brands are just that- great!

Materials
Most of these are made with similar materials, which is why this didn't make it onto the list of the main criterion we used in the evaluation. We want to make sure we're covering our bases for everybody's sake, however, so let's look into the details a little bit.
Iron is, of course, highly desirable. Chrome is another great material! These are highly durable, sturdy metals that stand the test of time. Something to look out for is the use of plastic. These sets tend to be a lot less resilient due to the weaker makeup of the material.
Plastic will be cheap... but cheap isn't worth it in this case.

Bottom Line
After all is said and done, you still have a (tough!) choice to make. Hopefully, after reading through this guide, you're more familiar with what you should be looking for in your equipment. We've done our best to lay it all out for you in an understandable, digestible way!
Keep in mind the criteria we've used. It's the best way to determine the success and efficacy of the equipment you buy. There's no better way to tell if a company is worth it or not than putting them to the test against some tough critics. We like to think we're tough critics, at least!
So, peruse your options and keep an eye out for problems we've pointed out. Even if you don't find something on the list, we still want you to find your perfect fit.
Now there's nothing left to do! It's time to get out there and get your hands on the best adjustable dumbbells you can find.
Frequently Asked Questions
q:

What are some benefits of using adjustable weights?

a:

While public gyms may have the room (and the money) to line miles of wall space with racks of free weights, you may not have that luxury in your home gym. One of the best features of adjustable weights is that they are incredibly compact. One compact set replaces the need for up to 10 sets of free weights, which takes up quite a bit of room in your home gym.

Many users also prefer adjustable options because they are a little more affordable than free weights. Plus, snappy drop sets are able to be performed with a simple twist of a dial. It also means that you won't need to rack a myriad of weights when you are exhausted after a brutal workout!
q:

Are there any disadvantages?

a:

There are a lot of advantages to these weights, but there is one thing to keep in mind as you shop. To make the adjustments needed, there are fragile mechanisms inside the bar that allow you to adjust the weight. This means that you need to be a little more gentle when ending your set. Even though it feels rewarding, you cannot drop the weights at the end of a brutal set!

For some, the weights are also a little bulkier than your standard free weights. While this won't be an issue for a majority of lifts, you may find them to be a bit cumbersome and awkward when working with smaller muscle groups.
q:

Are these adjustable dumbbells friendly for beginners?

a:

Absolutely! In fact, we think that these are a prime choice for beginners. Not only are they super for space-saving, but they also come with, well, full adjustability! You can move things along as you grow stronger.

However, make sure that you start out on a pretty low weight if you're just starting out. Hurting yourself is counterproductive and your arm muscles are particularly sensitive to that.
q:

Can I drop my adjustable weights?

a:

Nothing feels better than tossing a set of dumbbells to the floor after a particularly brutal set. Even though you have durable mats on the floor, do not drop them! While mats will keep your floor protected, you run the risk of damaging your weights.

The plates are incredibly durable, but the adjustment mechanism in each unit can become dislodged when they are dropped. So, even if your arms feel like noodles, be sure to leave just enough gas in the tank to gently plate your weights carefully on the floor or back on the rack.
q:

Help! Mine's defective! What do I do?

a:

If you receive a defective product from any company you should always reach out to them immediately. Most have amazing return policies or even lifetime warranties!

Ensure that you are not using faulty products- they can cause some real damage to you, especially in the realm of workout gear.

To ensure you're going to have an easy-peasy time, we highly recommend that you pick a set that has a great warranty. That's the best protection you can offer yourself.
q:

Are adjustable dumbbells dangerous?

a:

Absolutely not! We don't include designs on our lists that are known to be faulty or low quality. That just ain't us!

Again, if you suspect you have a faulty set, return them immediately. The only danger posed is the danger that low awareness brings. Always give them a check over and keep them clean.
q:

How do I take care of them?

a:

Most workout equipment can be cleaned with a special spray that you can buy that's designed specifically for these sets. However, since these are special in their design, you're going to want to check in with the manufacturer.

They generally have instructions included. If they don't, shoot them an e-mail!
Subscribe to our newsletter