Review of Wei-Rui Weightlifting Shoes
last updated:
Apr 22, 2021
updated January 1, 2019
Though they've been manufacturing weightlifting shoes for other companies for some time it's only in the last few years Wei-Rui has begun making their own line of weightlifting footwear. That lineup has expanded and diversified lately but their core product remains the groundbreaking value proposition that is the Wei Rui Warrior. In this Wei-Rui weightlifting shoes review we'll have plenty to say about the Warrior as well as Wei-Rui's other fine footwear.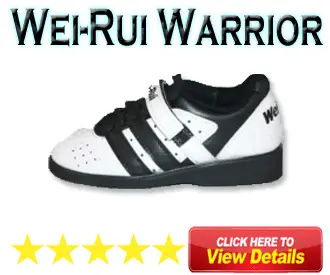 Wei-Rui Weightlifting Shoes Review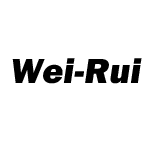 Wei-Rui makes high-quality weightlifting shoes for both men and women. And since we have to start somewhere we're going to begin this Wei-Rui weightlifting review by looking at their two ladies models before moving on to the men's shoes.
#1. Wei-Rui Warrior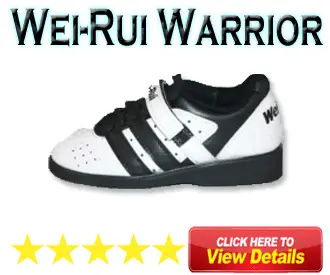 When the Warrior hit the market a few years back it sent shockwaves through the weightlifting community. Here was a quality piece of athletic footwear that could hold its own performance-wise against some of the best shoes out there but cost about one third the price of elite shoes. In the several years since its introduction the Warrior has been creating converts the world over and for good reason. Here are just a few of its many attributes.
Wide toe box
Leather upper
Reinforced heel cup
Solid rubber heel with ¾" rise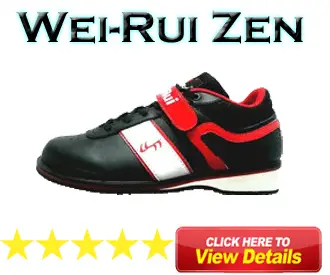 The Zen is Wei-Rui's entry level lifting shoe but it's a nice piece of footwear that can easily compete on its own merits with shoes costing twice as much. Intended for Oly and powerlifting and used by many CrossFitters as well, the Zen has a minimalist look and color scheme along with many of the features that make its big brother the Warrior so attractive. Key features include:
PU leather upper
¾" raised heel
Rubber outsole
Velcro tarsal strap for lateral stability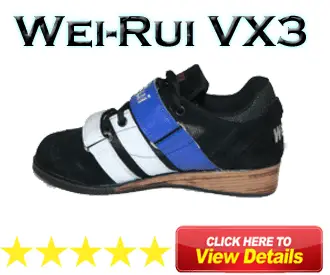 The VX3 is Wei-Rui's most expensive shoe; which in itself is pretty amazing considering the quality of their product line. The VX3 picks up the quality mantel of the Warrior and does it one better by featuring a solid Basswood wood heel for maximum upward projection during lifts. Basswood is relatively light which keeps the overall weight of the shoe under control. The VX3s profile is similar to the Warrior but the second metatarsal strap gives it a more aggressive edge. Features include:
Leather upper
¾" Solid wood raised heel
Lightweight construction throughout
Double metatarsal strap for extra snug fit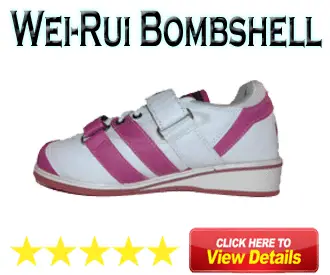 Wei-Rui's mushrooming reputation as a producer of high-quality, affordable footwear has been extended to ladies lifting shoes with the Bombshell, their first effort to directly target female customers. With this product they show they're not just pandering to the female market with pretty colors and snazzy materials. These are serious weightlifting shoes for powerlifters, Oly lifters and CrossFitters alike. Key features of the Bombshell include:
¾" raised heel
Rubber outsole
Double strapping for max stability
Available in US women's sizes 4.5 to 12
#5. Wei-Rui Catalyst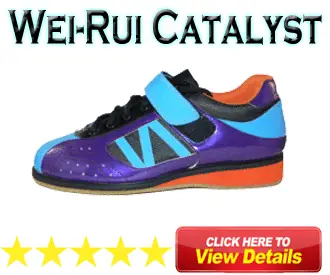 The Catalyst is designed for ladies who want an affordable, high performance weightlifting shoe that also looks great. Colorful without being gaudy and well in keeping with the company's performance standards the Catalyst probably has a lot of guys wondering "How come they couldn't make the Warrior look that good?" Major features of the Catalyst include:
Variety of design enhancements
Forefoot strap for added stability
US women's sizes 4.5 to 9.5
¾" raised heel
Wei-Rui Weightlifting Shoes For Men
If Wei-Rui weightlifting shoes consisted of only the Bombshell and the Catalyst they'd have to be considered a top flight weightlifting shoe manufacturer. But the fact is their reputation was made – and today rests firmly upon – the shoulders of their flagship shoe; the Warrior for men. And it's there we pick up our Wei-Rui weightlifting review.
Conclusion
Wei-Rui has established themselves as the market leader in affordable lifting footwear. But more than that, they established that affordable weightlifting footwear can also manifest the best qualities of far more expensive or stylish shoes. Wei-Rui weightlifting shoes for both men and women provide a high degree of performance and durability comparable to the most expensive shoes on the market and their product line is more well rounded than ever. Check out this video to see Wei Rui weightlifting shoes in action.
Read more on our best flat weightlifting shoes in order to choose the best shoes for yourself.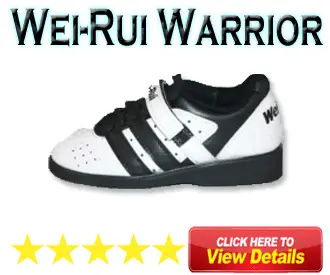 Our #1. Recommendation
​Wei-Rui Warrior

My name is Jim Roose. I'm a former competitive power lifter and gym owner. I've bought millions of dollars of fitness equipment over the last 20 years. This site is my way of giving back to the fitness community that's done so much for me. Every article on here is carefully researched and written by me. Leave a comment if you have any questions.
Subscribe to our newsletter