Best CrossFit Equipment Package Reviews
last updated:
Apr 22, 2021
If you are looking to build yourself an effective home gym and you have the cash, buying gym equipment will save you a ton of money. In this article, we will break down the different gym equipment packages that are currently available. When it comes to home gym equipment, there are three big names that will come into the conversation every. single. time.
Fringe Sport, Vulcan and Rogue Fitness all have monster garage gym equipment packages. The typical Crossfit gym equipment package should, at the very least come with a barbell, bumper plate sets, and a kettlebell (learn how to find the kettlebell that will suit your needs). All of the following packages come with that and more.
Good news: Almost all of the packages below are discounted on Black Friday sale event.
In a Hurry? The test winner after 4 hrs of research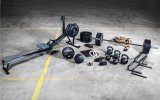 Warrior CrossFit Package
Why is it better?
320 lb Bumper Plate Set
2.5 / 5 lb Pair of Steel Plates
Concept 2 Rower
Rogue Ohio Bar
Rogue HG Collars
Wooden gym rings
2 x 35 lb Kettlebells
2 x 53 lb kettlebells
1 x 70 lb kettlebell
Set of Rogue Parallettes
Medicine ball (4-20lb)
Slamball (8-30lb)
20 ft Climbing Rope
Rogue SR3 Speed Rope
Abdominal Mat
Top 9 CrossFit Equipment Packages
Other Factors to Consider
Bottom Line
Now that you have a much better idea of the standard CrossFit gear packages that are available from the leading names in the industry, you should find it easier to select one that fits your needs perfectly. Don't worry too much about future-proofing your home gym at this point; the very nature of strength training means that unless you spend an absolute fortune in the first place, you will inevitably need to upgrade certain components and add to your equipment at some point in time.
If you would rather not have to look around for a separate rowing machine, you can go for something like the Warrior CrossFit package, one of the high-end Rogue CrossFit bundles that include a Concept 2 Rower, with a PM5 performance monitor. This package includes everything you can find in the Alpha package mentioned above, with an extra kettlebell, set of steel plates, rogue parallettes, and a high-quality American-made slam ball. Although it is undoubtedly one of the more expensive CrossFit packages deals available and probably not something a beginner would be interested in, it could make a great gym for an intermediate or advanced CrossFitter who loves to train at home on a regular basis and enjoys discovering and challenging his or her physical limitations.
If you are just starting, one of the cheaper Rogue CrossFit gym equipment packages, the One Basic from Vulcan or the Bronze package from Fringe Sport represents excellent value for money. For intermediate Crossfitters, the Rogue Bravo package or Charlie package, One Deep from Vulcan or Silver package from Fringe Sport are all well worth considering. For heavy hitters who need a wall-mounted rig, one of the high-end packages mentioned above, with a Rogue W4 Garage Gym, would be an excellent choice.
Subscribe to our newsletter