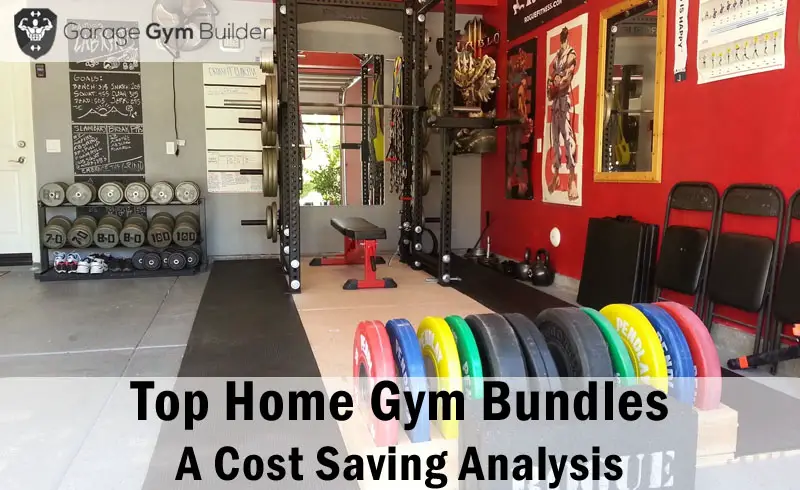 Best Garage Gym Packages – CrossFit Equipment Package Reviews
If you are looking to build yourself an effective home gym and you have the cash, buying an equipment package will save you a ton of money. In this article we will break down the different equipment packages that are currently available. When it comes to home gym packages, there are three big names will come into the conversation every. single. time....
Fringe Sport, Vulcan and Rogue Fitness all have monster garage gym packages. The typical Crossfit equipment package should, at the very least come with a barbell, bumper plate sets, and a kettlebell. All of the following packages come with that and more. Good news: Almost all of the packages below are in discount on Black Friday sale event.

Click here to view comparison chart
BEST VALUE
BEST BANG FOR YOUR BUCK
The Fringe Sport Gold Package is, in my opinion, the best value package you can buy. You get basically everything that all of the other packages offer, plus more. You get 4 kettle bells, 270 lbs of weight and a bunch of other goodies. The only thing this package doesn't come with, is a squat rack, however only 2 of the other packages come with a squat rack and they are either much more expensive, or severely lack in the equipment that is included.
BEST OVERALL
BEST PACKAGE CURRENTLY AVAILABLE (REGARDLESS OF PRICE)
This was actually a pretty hard decision to make, and the Vulcan Deep One package came in a close 2nd. If you don't care about the rower that is included with the Warrior package, and would prefer a squat rack, I highly suggest going with the Deep One package. The Warrior package really does come with everything you could ever need to have a complete Crossfit home gym. With this package you will not be needing to replace or add anything in your garage gym for a LONG time, especially because the package is from Rogue, a company that is known for having extremely high quality products
MOST AFFORDABLE
GREAT CHOICE FOR THOSE ON A BUDGET
The fringe Bronze package is a great beginners package and although it has a pretty small amount of weight included (160 lbs) it comes at a really great price just north of $600
The other option is the Rogue SoCal complete, which is about $130 more expensive than the Fringe Bronze package. The Rogue packages switches out the speed rope and slam ball for gym rings and a medicine ball. Other than that, the packages are essentially identical.
---
Below we have gone into detail about each of the top packages currently available
---
Rogue Fitness Equipment Packages Review
Rogue CrossFit packages are among the best on the market today and include high quality components that will last you for many years, if not a lifetime. Let's take a look at their three most popular packages:
​
​
Fringe Sport Equipment Packages Review
Fringe Sport supplies multi-person packages designed for clubs and home gyms, as well as three very good 1-person home gym bundles. These are categorized as Bronze, Silver and Gold packages:
Bronze -
Who is this for?
This is a great beginners package at a great price point. It's not the most comprehensive of CrossFit bundles on the market by a long stretch but it does include most of what you will need to get started.
What I think:
At this price point, it is a very attractive kit for those who are new to CrossFit training and coming from a reputable supplier such as this, you know that each component will durable and well made.
Includes:
160 lb bumper plate set
Spring clip collars
24 kg kettlebell (53 lbs)
Speed rope
20 lb Slam ball
Silver -
Who is this for?
Mid range beginners. Those who have experience with all the Olympic lifts and Crossfit exercises. Great package for those who likely won't be passing 200 lbs on any of their lifts for a long time.
What I think:
It is still quite cheap as far as CrossFit home gym packages are concerned and is a good mid-range entry package for those who have been training for a few months. The weight is a bit low for a really experienced lifter, however, if your max won't be passing 200 lbs on any lift for a few months this is a fantastic package.
Includes:
200 lb bumper plate set
Spring clip collars
24 kg kettlebell (53 lbs)
16 kg kettlebell (35 lbs)
Speed rope
20 lb medicine ball
Gym Rings
Abdominal Mat
3 sided plyo box
Stud Bar (for pull ups)
Gold -
Who is this for?
Mid range to advanced. Really, anyone can use this package. It has everything, however, I wouldn't recommend purchasing this package unless you plan on using everything that is included.
What I think:
You expect quite a lot and this package does not disappoint. If you are interested in CrossFit gym packages that will serve you well both now and in the future, this one is well worth considering. With more bumper plates, more steel plates, more kettlebells, an upgrade to wooden gym rings, and last but not least, both a medicine and a slam ball, you will be able to make a lot of progress with this set, strength-wise, before you need to start looking around for any extra CrossFit home equipment.
Includes:
270 lb bumper plate set
Super strap collars
12 kg kettlebell (26.5 lb)
16 kg kettlebell (35 lb)
20 kg kettlebells (44 lb)
24 kg kettlebells (53 lb)
Speed rope
25 lb slam ball
20 lb medicine ball
Gym Rings (wooden)
Abdominal Mat
3 sided plyo box
Stud Bar (for pull ups)
Vulcan Equipment Packages Review
This CrossFit specialist has made their range of individual home CrossFit gym packages very simple, with just two from which to choose.
One Basic Package –
Who is this for?
Mid range to advanced. Great for practicing all of the Olympic lifts. Make sure you are familiar with these lifts and can exercise with proper form to get the most out of this package.
What I think:
One of the few packages that includes a squat rack. This is a fantastic set for anyone looking to improve on their Olympic lifts
Includes:
260 lb bumper plate set
Squat Stand
Barbell
Spring Collars
One Deep Package –
Who is this for?
This.. package... is for anyone that wants an absolutely complete home gym. With this package, you will not be buying ANY additional equipment for years.
What I think:
This is one of the more comprehensive home gym equipment packages available at the moment. If you have the money, I can't stress it enough, this will be a fantastic investment for you. The weight included is massive, and the equipment included is incredibly diverse. Most of these components are from Vulcan's own proprietary range, a highly respected name in the industry. Priced just under $2650, it's not cheap but it will last you a life time.
Includes:
340 lb bumper plate set
Weight Holder
Squat Stand
Glute Ham Developer
Olympic Barbell
Spring collars
Plyo Box
12 kg kettlebell (26.5 lb)
16 kg kettlebell (44 lb)
24 kg kettlebell (53 lb)
Wooden gym rings
Medicine Ball (20 lb)
Slam ball (20 lb)
Speed Rope
​
​
Choosing the Right Package for Your Needs
Now that you have a much better idea of the standard CrossFit gear packages that are available from the leading names in the industry, you should find it easier to select one that fits your needs perfectly. Don't worry too much about future proofing your home gym at this point; the very nature of strength training means that unless you spend an absolute fortune in the first place, you will inevitably need to upgrade certain components and add to your equipment at some point in time.
Everything You Need
If you would rather not have to look around for a separate rowing machine, you can go for something like the Warrior CrossFit package, one of the high-end Rogue CrossFit bundles that includes a Concept 2 Rower, with a PM5 performance monitor. This package includes everything you can find in the Alpha package mentioned above, with an extra kettlebell, set of steel plates, rogue parallettes and a high quality American-made slam ball. Although it is undoubtedly one of the more expensive CrossFit package deals available and probably not something a beginner would be interested in, it could make a great gym for an intermediate or advanced CrossFitter who loves to train at home on a regular basis and enjoys discovering and challenging his or her physical limitations.
Conclusion
If you are just starting, one of the cheaper Rogue CrossFit equipment packages, the One Basic from Vulcan or the Bronze package from Fringe Sport represent excellent value for money. For intermediate Crossfitters, the Rogue Bravo package or Charlie package, One Deep from Vulcan or Silver package from Fringe Sport are all well worth considering. For heavy hitters who need a wall-mounted rig, one of the high-end packages mentioned above, with a Rogue W4 Garage Gym, would be an excellent choice.