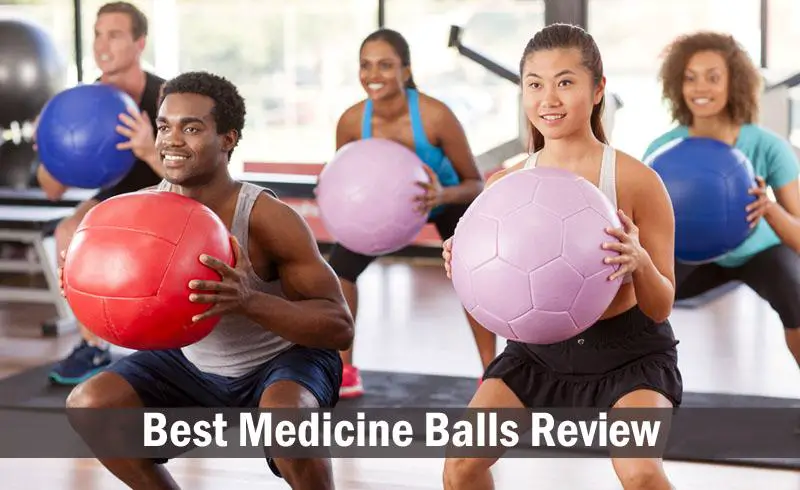 Best Medicine Balls Review 2017
It seems as if the medicine ball has been around forever. Recently, however, the benefits of the medicine ball have been rediscovered by a new generation of fitness enthusiasts. Medicine balls are a great way to improve overall strength, explosive power and speed. In recent years, the medicine ball has had a makeover to appear more hip and modern. In this article, we review the 10 best medicine balls on the 2017 market.
A Quick Overview of the Best Medicine Balls
The best medicine ball of 2017 is the SPRI Dual Grip Xerball, which features double hand grips for a great core workout, a textured outer surface and a great training DVD. The second best med ball is the Rogue Med Ball, with it's hand made quality, great gripping ability and 2 year warranty.
Rounding out our top 3 is the Power Rope Rubber Medicine Ball, which includes a power rope, is made from 100% rubber and provides a great deal of versatility.
To allow you to more easily compare the Top 10 medicine balls, we have rated each ball on the basis of price and durability and then given an overall rating out of 5. In the following section, we provide a detailed review of each ball.
| Product | Product Name | Price | Durability | Overall | Product Link |
| --- | --- | --- | --- | --- | --- |
| | | 4.5/5 | 5/5 | 4.75/5 | |
| | | 4/5 | 4.75/5 | 4.5/5 | |
| | | 4.25/5 | 4.75/5 | 4.5/5 | |
| | | 4.25/5 | 4.25/5 | 4.25/5 | |
| | | 4.5/5 | 4.25/5 | 4.25/5 | |
| | | 4.5/5 | 4.5/5 | 4.5/5 | |
| | | 4/5 | 4.5/5 | 4.5/5 | |
| | | 4.25/5 | 4.25/5 | 4.25/5 | |
| | | 3.75/5 | 4.5/5 | 4/5 | |
| | | 4/5 | 4/5 | 4/5 | |
The Top 10 In Depth
The SPRI Dual Xerball is a dual handle, easy grip medicine ball. The handle makes it easy to grip the ball in general, but makes the ball perfect for rotational ab exercises. Lower body dynamic and locomotive drills are also ideal choice for this versatile ball. Made from 80% rubber and 20% PVC plastic, this ball is extremely durable. It has a dimpled surface to make catching the ball more comfortable.
The textured outer surface of the SPRI exercise ball with handles gives it a very grip friendly feel. The ball has a medium level of bounce. It will stay solid with very little flex.The two tone color scheme looks great. This product come with a free training DVD.
PROS
Dual handles
Textured outer surface
Free DVD
Rogue Medicine Balls are individually hand stitched at Rogue's US manufacturing plant, so you know you are getting attention to detail. Balls are 14 inches in diameter and are coated with a moisture and scuff resistant vinyl shell. An extremely durable nylon thread seam make this an extremely durable leather ball.
The size range is from 4 pound all the way up to 30 pounds. A top stitch has been added to the heavy range to add strength. The interior filling is solid but still allows for a little give. Rogue Medicine Balls are finished on black leather and feature the Rogue logo in white lettering. All Rogue medicine balls come with a full 2 year manufacturer' warranty.
PROS
Hand made
4 pounds - 30 pounds
2 year warranty
The Power Rope rubber medicine ball is a 100% rubber ball with a rope threaded through the center. This makes the device a very efficient tool for performing rotational and swinging type movements that focus on working the core area. Their is no filling of sand or water inside the ball, meaning that it is evenly weighted. The cord is firmly attached to the ball so there is no danger of it coming loose.
The thick double cord of this medicine ball with rope attached provides a firm grip in your hand and is very comfortable to hold. Power Rope adds versatility to your medicine ball workout, allowing you to do many more exercises than you could with a conventional ball.
PROS
Power Cord
100% Rubber
Versatile
The Blue and Black classic Valeo Medicine Ball provides you with a very solid rubber ball to work your entire body. Their is no filling material that can leak our or alter the balance of this unit. Instead you get a very stable ball that is able to bounce off of surface and will retain its balance for years.
The textured finish of the Valeo Medicine exercise ball allows you to get a very solid grip on the ball when throwing and catching. It is available in 4, 6, 8 10 and 12 pound weights. Your purchase also includes a full color exercise wall chart. This ball can also be used in the water for aqua fitness applications.
PROS
Solid rubber
Evenly balanced
Textured finish
CONS
Many leave scuff mark on some surfaces
The Amazon Basics medicine ball is a very ruggedly designed unit. It features sturdy rubber that provides just the right amount of bounce that you need in a med ball. The textured finish provides you with a very secure, comfortable grip. This ball provides you 10 pound of resistance, which is an ideal weight for people who are undergoing rehabilitation along with those who are new to resistance exercise.
The Amazon Basics ball feature textured panels that enhance the gripping effectiveness of the ball. It come in an attractive blue and black color scheme. This is a great ball for doing dynamic core moves such a wall ball and floor slams. Amazon Basics balls are available from 4 to 10 pounds.
PROS
Textured finish
Rubber core
Textured panels
The CAP Barbell Medicine Ball has been specifically designed to provide you with the best possible grip when throwing and catching. It has a tacky feel that enhances the ability to hold on. This ball also has a good level of bounce, making it ideal for use with a partner. It is constructed from single texture rubber, providing you with a uniform weighting and ensuring that it will never leak.
The CAP Med swiss medicine ball is available in poundages from 2 through to 12, so you can incrementally add to your weight as you get stronger. It also comes in your choice of six colors. This ball is not intended to be used for slamming exercises. It carries a 30 day warranty.
PROS
Tacky feel
Good level of bounce
Single texture rubber
The Champion Sport Leather Medicine Ball is one of the few true leather balls remaining on the market. As such, it offers a level of quality of construction and durability that you just can't get with rubber or synthetic leather balls. The thick leather cover ensures that this ball will last for many years. The leather outer also provides an ideal gripping surface for both throwing and catching.
The Champion Sport Leather Med Ball has a relatively soft core, providing some give when it is dropped. It is an ideal ball to use for Crossfit training, along with rotational core movements. This ball comes with a 12 month warranty.
PROS
Leather outer
Very good grip
Soft core
The Empower Fingertip Grip medicine ball is a unique looking clear plastic ball which has fingertip grips around it. This innovation make the ball easier to throw, hold and swing. The ball is filled with sand, providing you with a variable weighting that makes it ideal for balance type training. This ball comes in 6, 8 and 10 pound options.
The Empower Fingertip Grip medicine ball comes with a training DVD Power Ab workout, hosted by fitness personality Gin Miller. You also get an illustrated Bootcamp workout guide. This is a very good ball for doing kettlebell like exercises. The ball has a 7 inch diameter. It is a semi soft medicine ball.
PROS
Fingertip Grip
Variable weighting
Free training DVD
If you're into yoga and pilates, be sure to check out our Best Exercise Ball for Yoga and Pilates Review 2017 - we've reviewed and rated the best balls on the market.
The Rogue Froning Series Med ball is the ultimate medicine ball for use in CrossFit training and competition. It has a double vinyl coated shell for maximum protection along with double paracord stitching. This ball has been customized to fit the needs of CrossFitters with the assistance of the legendary Rich Froning.
This 14 inch diameter mall has a very solid filling to help retain it's shape.​
The Froning ball features a red shell with large black panels on each side. The coated vinyl shell is both moisture and scuff resistant. Each med ball is individually crafted, stitched and filled at the Rogue factory in Ohio. The cool red and black design features both the Rogue logo and the Froning emblem.
PROS
Developed by Rich Froning
Customized for CrossFit
2 year warranty
If you're looking for a top quality stability ball to fit out your home gym, don't miss our Best Exercise Balls Review 2017 analysis of the top 10 fitness balls on the market.
The Dynamax Med ball is the latest from the pioneers of 14 inch med balls. The durable, leather PVC exterior of this ball makes it a great choice for a ball for gripping power. It has solid-packed interior materials that make it ideal for balance. This ball also provides a small amount of squishiness, making it ideal for exercises like pushups. However, it still retains the firmness needed for basic resistance moves.
The Dynamax med ball comes in a range of sizes from 6 to 30 pounds. It features thick double cross stitching that ensures extreme durability. It is made from PVC leather and cotton stuffing. With your purchase comes a 12 month warranty.
PROS
Leather PVC exterior
12 month warranty
Great gripping power
Unsure about what to do with your new gym medicine ball? Check out this cool video that demonstrates 33 mega effective medicine ball moves below. Click here to learn how to inflate your exercise ball.
Conclusion
The best medicine ball brand is the SPRI Dual Grip Xerball weighted exercise ball with handles, with its dual grip handles, workout DVD and superior gripping ability. The Rogue Med Ball is another very high quality offering, with excellent durability and gripping power.
Our third best med ball is the Power Rope Rubber Medicine Ball, which has a rope to allow for extra core work, and is constructed from 100% rubber.