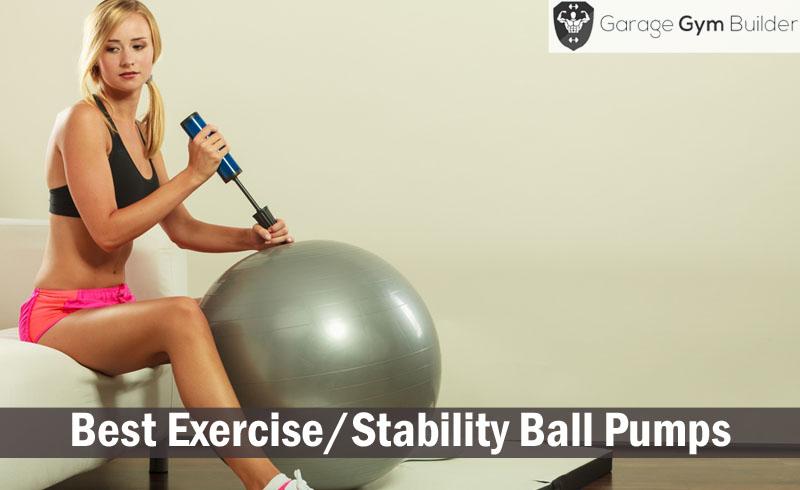 How to Inflate an Exercise Ball / Best Stability Ball Pumps Review 2018
The little things make all the difference. When it comes to balance and strength training, it doesn't matter how good your exercise ball is if you don't have a quality pump to inflate it. A lot of fitness balls come with free pumps that are of very low quality. They won't do the job that you need them to do. In this article, we will identify the best stability ball pumps on the current market.
How to Inflate an Exercise Ball
The first thing you should do when inflating your exercise ball is to locate where the pin is on the ball. Gently lift the pin out. Now grab your pump and position it inside the hole. Inflate the ball until it is pretty firm. When you have achieved your desired inflation level, remove the pump and quickly replace the pin.
The correct level of inflation of a bosu ball pump should allow you to have a line from your knee to your hip that is parallel to the floor. The more you put in the ball, the more instability you will have. So, to increase the difficulty of your exercises, you can add more air. To make your moves less difficult, take a little air out of the ball.​
The Best Stability Ball Pumps at a Glance
Our favorite stability ball pump is the Revivl Ball Pump, which provides a dual action pump effect to double your fill rate, has an ergonomic grip and air escape prevention nozzle ring. We also love the Isokinetics Air Pump which has a heavy duty 2 liter chamber, air escape locks and comes with 6 nozzles.
The third best ball pump is the Miracol Dual Action pump, with its dual action, ergonomic handle and lifetime warranty.
In order for you to easily compare the Top 10 exercise ball pumps, we've rated each one on the basis of price and durability. Then we've given each one an overall rating out of 5. In the following section, we provide an depth review of each medicine ball pump.​
The Top 10 in Detail
The Revivl Ball Pump has dual action technology which doubles the effectiveness and halves the time of your pumping job. That's because it inflates in both the in and the out pumping action. This pump is a one size fits all model, meaning that you can use for all of your gym ball requirements plus any of your other household requirements.
The Revivl Ball Pump has been designed with an ergonomic grip to allow you to comfortably hold it while pumping without any palm or wrist discomfort. It is fitted with special nozzle rings that prevent any air from escaping during the inflation process. This is very rugged hand pump made from heavy plastic, giving you the confidence that it will last. It comes with 3 needles and a hose. The pump is very compact, coming in at pny 6 inches in length.
Ergonomic design
Nozzle rings to prevent air escaping
Hardy plastic
The Isokinetics hand air pump is a heavy duty pump that will allow you how to fill your fitness ball faster. The pump action is up and down and the pump chamber has a two liter capacity. This will allow you fill your fitness ball with air much faster than the small hand pumps offered by other providers.
The total length of Isokinetics hand air pump is 18 inches and it comes with 6 different nozzles, allowing you to fill all of your fitness gear. With this pump you'll be able to inflate you fitness ball in about 90 seconds. The hose is very well anchored, allowing the pump to easily handle any filling requirement. Air hoses lock in place to prevent air escaping.
Heavy duty chamber pump
6 nozzle
Air hose locks
Not compatible with needle nose nozzles
The Miracol Dual Action Pump is a stylish hand held device which allows you to pump up your fitness balls faster. It features a dual action system which infuses air into the ball on both the in and out action of the pump. The grip friendly, ergonomic handle allows you to have a very comfortable hold as you pump.
The body of Miracol pump is made of soft touch rubber, giving you an even more comfortable pumping experience. With your purchase, you get four extra needles. The compact, minimalistic design means that the Miracol pump will easily fit into your pocket. This device come with an impressive lifetime warranty, giving you total peace of mind.
Dual action
Ergonomic handle
Lifetime warranty
Air may escape through the handle
The FlagHouse Exercise Ball Pump is a very simple, affordable and functional little pump. Measuring about 10 inches in length, this is the ideal portable pump for any use. It is ideal to store in your home gym for whenever you need to pump up your exercise balls. The hardy plastic construction and simple one piece design makes this device very sturdy and long lasting.
Two way hand action pump has a minimalistic design that makes it much easier to use than many of the other pumps on the market. It does a good job of inflating and will not allow air to escape as you go through the process. The cone shaped nozzle easily fits into the hole on the fitness ball.
Simple design
Effective pumping action
Well priced
Takes a long time to pump a ball
The Fitness Factor Dual Action Ball Pump is a great little device that makes it easy to pump up your Pilates fitness ball. This hand pump has a dual action which fills the ball with air on both the in and out action as you are pumping. This allows you to fill the ball in only half of the time.
This is a very economical model that has a minimalistic design. It is compact, so you can easily carry it in your pocket. It will inflate your Yoga ball in just a few minutes. You get 3 needles with this pump, along with a nozzle cap to prevent your needles from breaking.
Double pump action
Economical
Not suitable for medicine balls
The Sports Stable Ball Pump is a compact dual action pump that does an effective job at a good price. The hand shank on this pump is both comfortable and rugged, so that it won't come out during the pumping action. This device is made from environmentally friendly materials. It has a high quality, lusterless paint job. It is simple and easy to use.
You get three nozzles with your purchase of the Sports Stable Ball pump.. You also get a 12 month warranty.
Comes with 3 needles
Rugged design
12 month warranty
Some air escapes while pumping
The Apple Round hand held air pump is a very simple minimalistic design. It will do a good job of filling your fitness ball. It comes with a pair of replacement nozzles, so you are able to fill most type of exercise balls. Because the device pump on both the up and down strokes, you are able to fill your ball quicker than with other pumps.
The AppleRound hand held pump is made from hard wearing plastic, making it very durable. It's compact size allow you to carry it with you in your pocket. A 12 month warranty come with this product. This pump is not compatible with a needle nozzle, so you cannot fill sports gear like a basketball with it.
Simple design
Dual pumping action
12 month warranty
The Dimples Excel Ball Pump is a small economic pump that does an effective job. It features a 8 inch length and has a sturdy plastic handle. The pumping arm is securely attached to the air chamber, so you can be assured that it will not detach. With your purchase, you get 3 inflating metal needles and a removable flexible hose.
The Dimples needle pump is ideal for adding extra inflation to your exercise fitness ball. However, it is not suitable for filling a ball from a complete state of emptiness. This pump is very good value for money.
8 inch length
Sturdy design
3 nozzles supplied
Not suitable for medicine balls
The Deke Sports 8-Inch Ball Pump hand is a very simple mini pump that will do a great job of adding extra inflation to your fitness stability balls. The total length of this unit is just 8 inches, making it ideal for carrying around in your pocket. The simple design makes this item much easier to use than foot or chamber pumps.
The Deke Sports pump features high quality construction with rigid plastic, ensuring that it will last for a long time. You get 3 extra needle nozzle supplied with this mini pump. It features a dual action pump system that doubles the effectiveness of your pumping action.
Compact design
Rigid construction
Dual action pumping system
3 xtra nozzles
The Valiant Sports Ball pump is a double action hand pump that speed up the time it takes to complete your pumping job. It features a dual pump action that deliver air on both the positive and the negative part of the pump. It has a very sleek ergonomic design that molds to the hand and provide a sure grip. You also get two extra needles and a handy carry bag.
The Valiant Sports Ball Pump is made from very durable plastic. That makes it very hardy. It' simple, functional design also makes it extremely portable. Your purchase of this hand pump comes with a two year warranty.
Double action pump
Ergonomic design
Two extra needles
Some air may escape while pumping
Conclusion
The best stability ball and pump on the market is the Revivl Ball Pump, with its dual action pump effect, anti air escape rings and compact design. Our second favorite is the Isokinetics Air Pump, which is a free standing model with a two liter cylinder.
Our third favorite pump is the Miracol dual action pump, a compact design with a dual action pump and form fitting grip.
My name is Jim Roose. I'm a former competitive power lifter and gym owner. I've bought millions of dollars of fitness equipment over the last 20 years. This site is my way of giving back to the fitness community that's done so much for me. Every article on here is carefully researched and written by me. Leave a comment if you have any questions.